Intel Compute Stick STCK1A32WFC 2GB Windows 8.1 Review
The future is here. The desktop now fits in a shirt pocket and probably costs less than the display. Say hello to Intel's Compute Stick.
Published Wed, Apr 22 2015 10:11 AM CDT
|
Updated Tue, Nov 3 2020 6:59 PM CST
Rating:

90%
Manufacturer: Intel
Introduction, Specifications, and Pricing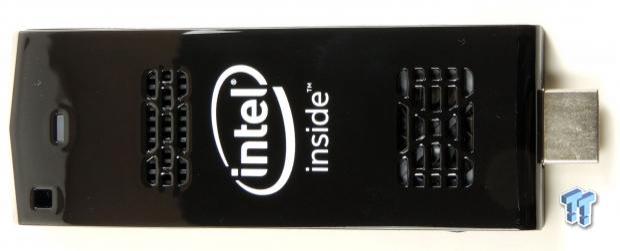 Years ago, some theorized in the future we would buy the software and the hardware would be provided for free. This isn't a notion I was very comfortable with, and at this point, it still isn't true. However, Intel's Compute Stick is basically like paying for the hardware and getting the software for free.
With the introduction of a $150 Windows 8.1 PC which can fit in your pocket, a new era of affordable computing has arrived. At CES, Intel gave the media a sneak peak at the little HDMI dongle sized Windows 8.1 PC, and as promised, it has hit the market. Today, I venture into the world of the ultra-mini-tiny-PC, the Intel Compute Stick.
Specifications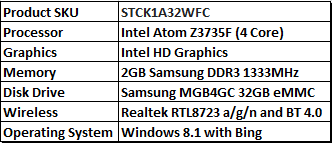 Our unit has a quad-core Intel Atom Z3735F processor which has a base speed of 1.33GHz with bursts up to 1.83GHz and 2MB of cache. The Intel Compute Stick comes with 32-bit Windows 8.1 with Bing and has 2GB of DDR3L memory. It features Intel HD graphics and supports only a single display. With a 4W TDP, it accepts power through a micro USB port (like many Android phones). Included is a 2A USB power adapter which can theoretically provide 10W is power.
Pricing
Intel is launching two SKUs, the STCK1A8LLC ($110) and the STCK1A32WFC ($150). The $150 version is the one I am testing today; the $110 version has only 1GB of memory and an 8GB drive. That isn't the only difference, the $150 SKU comes with Windows 8.1 with Bing, while the $110 version comes with an Ubuntu 14.04 LTS operating system.
At $150, the Intel Compute Stick is an extremely affordable full-fledged PC.
Packaging and System
Packaging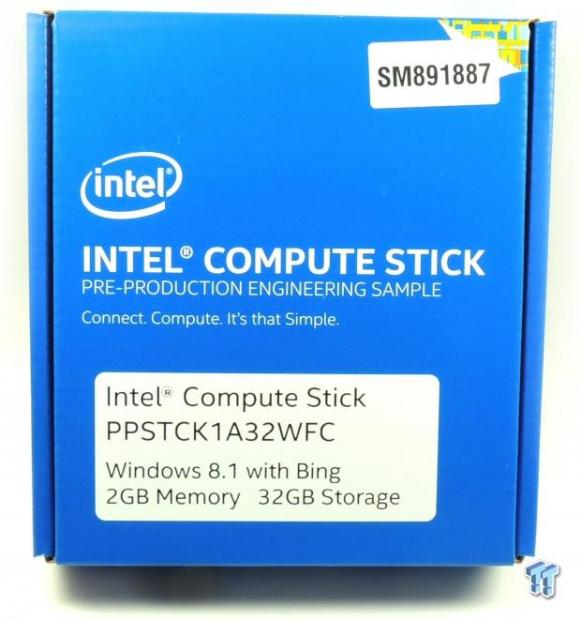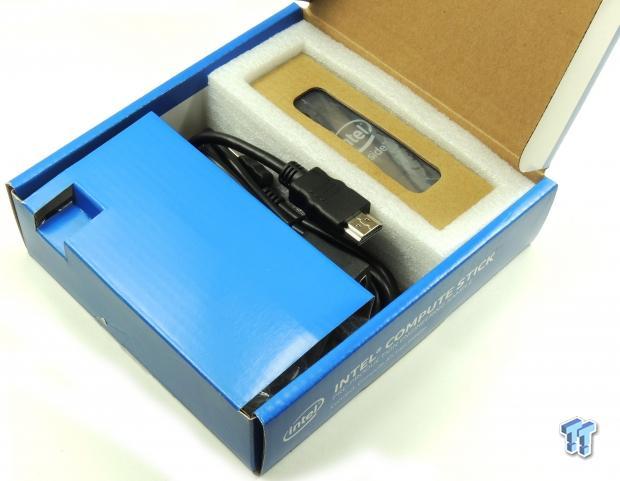 This is an engineering sample, so the box isn't the final box. Inside the components are well protected from the elements, especially the Intel Compute Stick.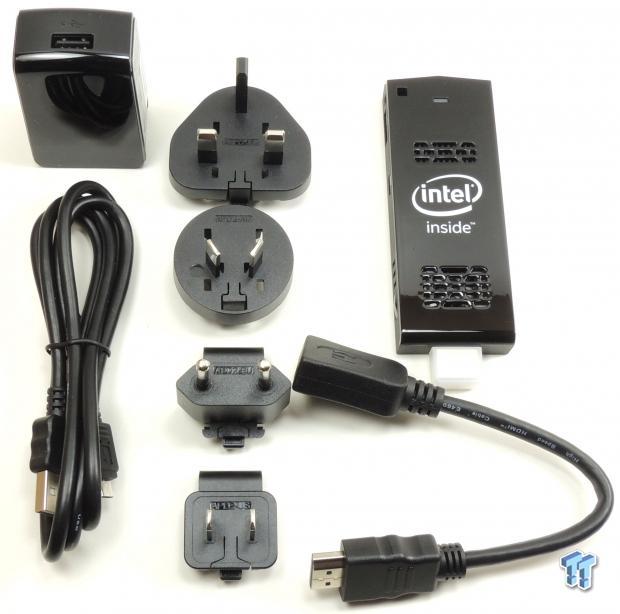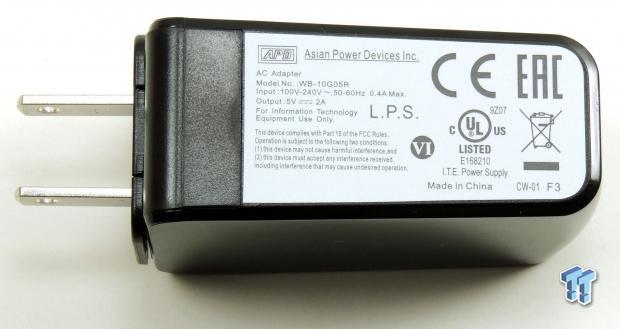 The accessory package is meant to support the product around the globe with many different power plug options. The Intel Compute Stick requires microUSB power, and a microUSB cord is provided. An HDMI extension cord is also provided in case the HDMI connector on the display is at an angle. The power adapter outputs 2A DC which should be more than enough for the 4W TDP device. Theoretically, the USB power adapter should provide up to 10W.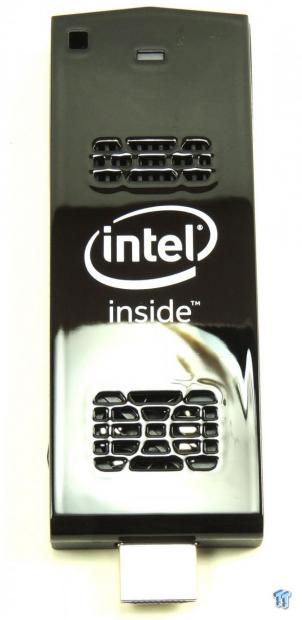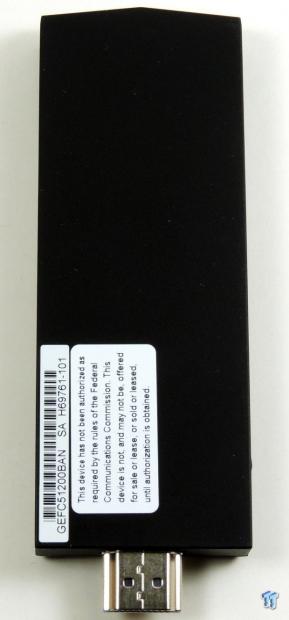 The casing is a tough plastic, and has slots for ventilation. There is a blower fan built into the device. A little LED indicator on the front shows system power. The back of the device is bare.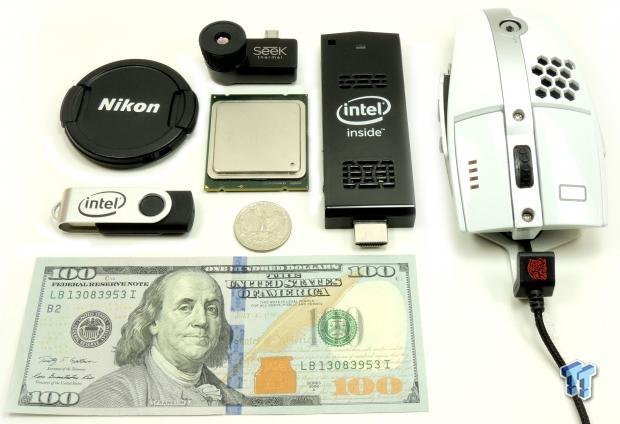 Just so you can get a feel for the size of the Intel Compute Stick, I have put it next to a variety of objects.


The Intel Compute Stick carries a power button, a micro USB port for power, a single full sized USB port, and a microSD card slot. On either side, you will find slots for more ventilation.
Teardown of the Intel Compute Stick
The Teardown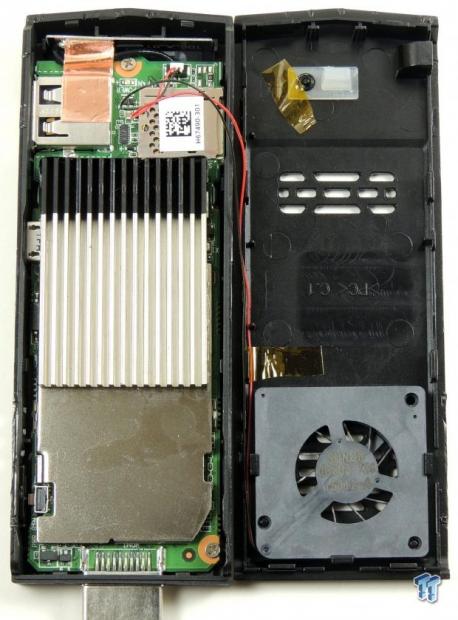 Removing the cover isn't easy and I don't recommend you try it. The cover snaps into place, and is very secure, so removing it can result in damage to the body. You will notice most of the Intel Compute Stick is shielded and heatsinked. Since the device will be in vicinity of TV's and other electronics, it's prudent to try and isolate the PCB from EMI from other devices. The large swatches of aluminum are meant to protect against EMI.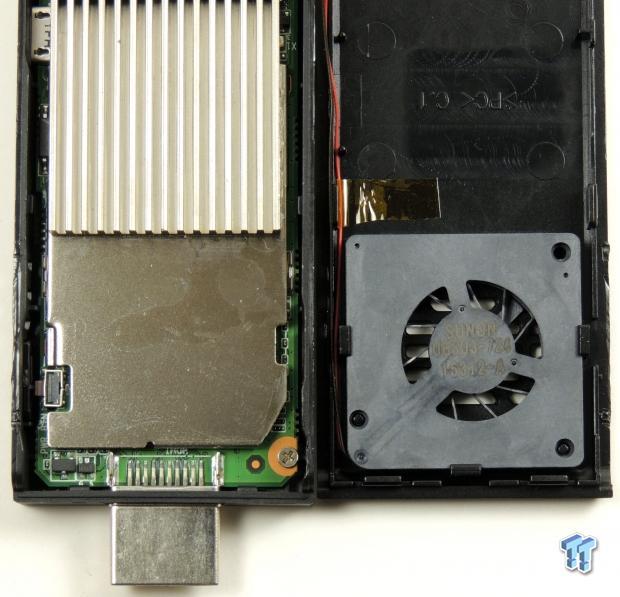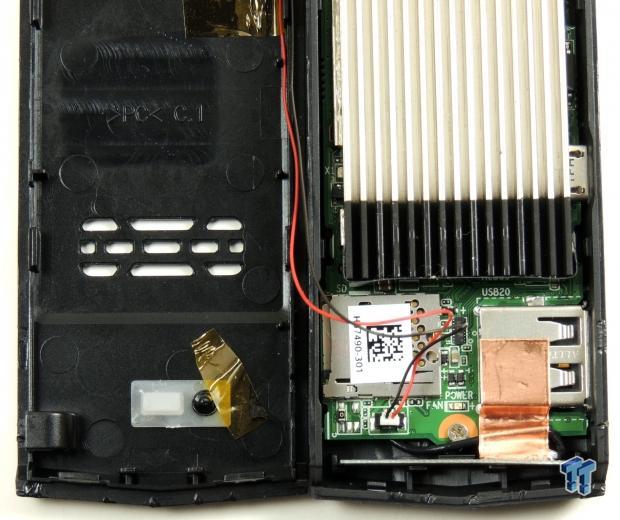 A tiny blower fan is present, during operation it only turns on when needed and is very quiet. Some heat resistant Kapton tape is used to route the wires for the blower fan.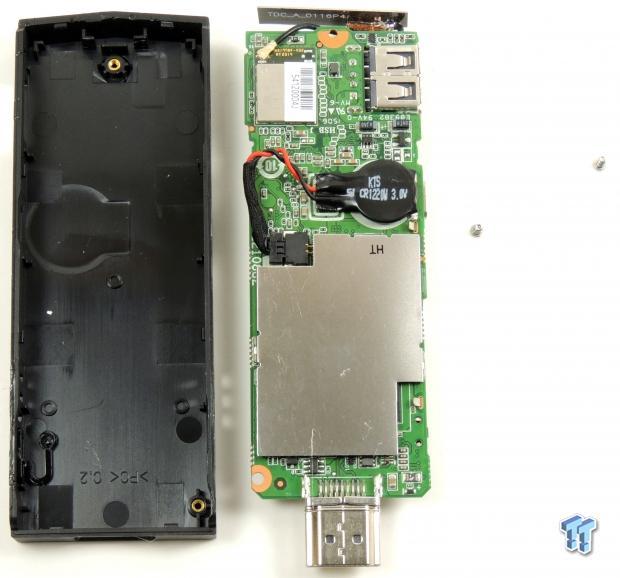 This is the bottom of the device, and there is a battery for the CMOS, as well as another shield/heat sink.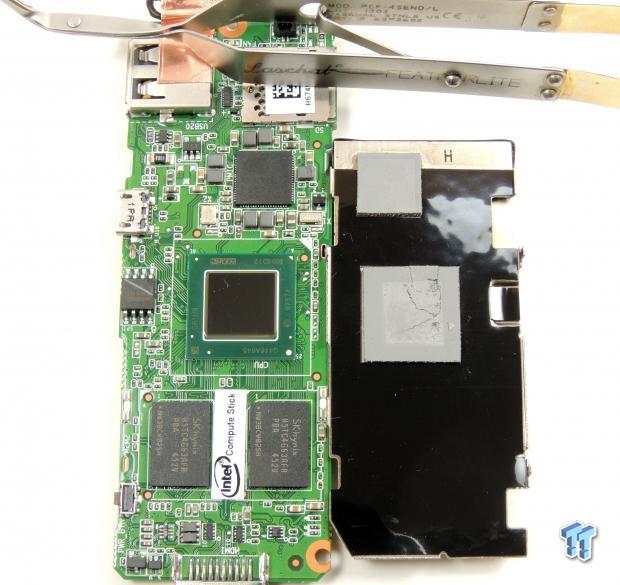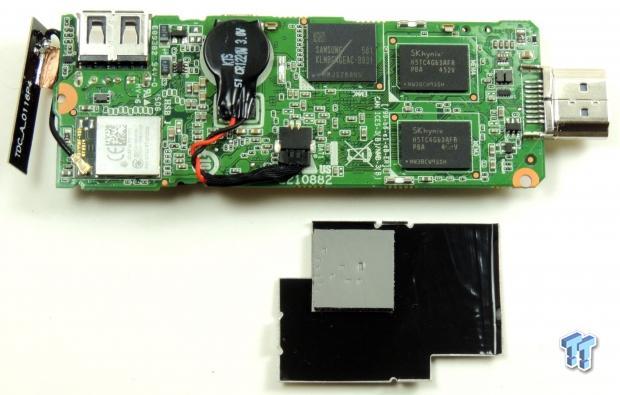 The metal shielding you see all around (the black tape is the underside of the shield) is held down by tiny latches and slots, and some thermal pads are added to cool important areas. On the image on the left, the thermal pads cool down the processor chip as well as a power regulator I will cover down below. On the image to the right, the thermal pad is positioned right on the PCB to cool the back of the processor through the PCB.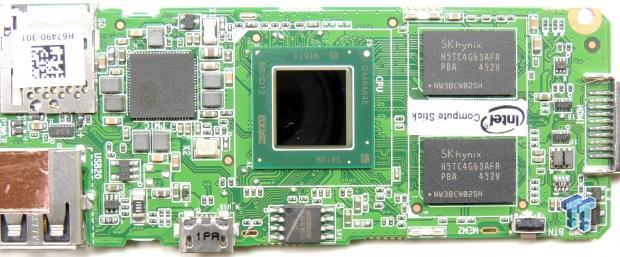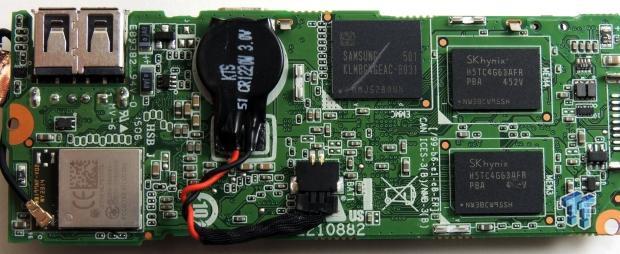 The Atom processor is located dead center with 2GB of Samsung DDR3 (H5TC4G63AFR x 4) and a Winbond 64Mbit BIOS ROM on the topside. On the back of the stick a Samsung 32GB eMMC (KLMBG4GEAC) drive is provided, along with the rest of the DDR3.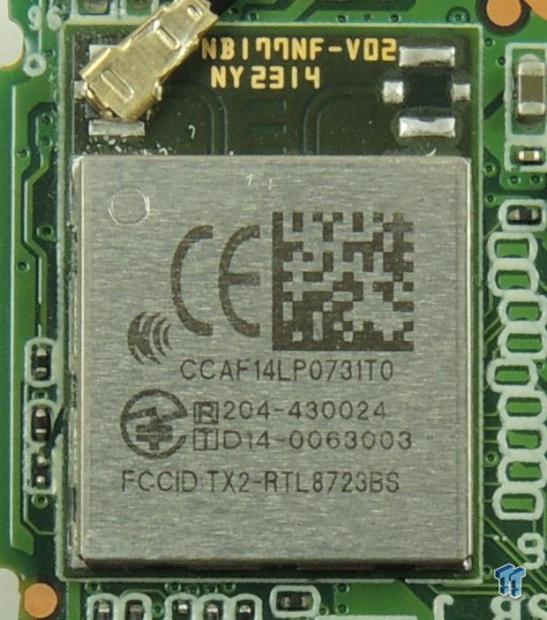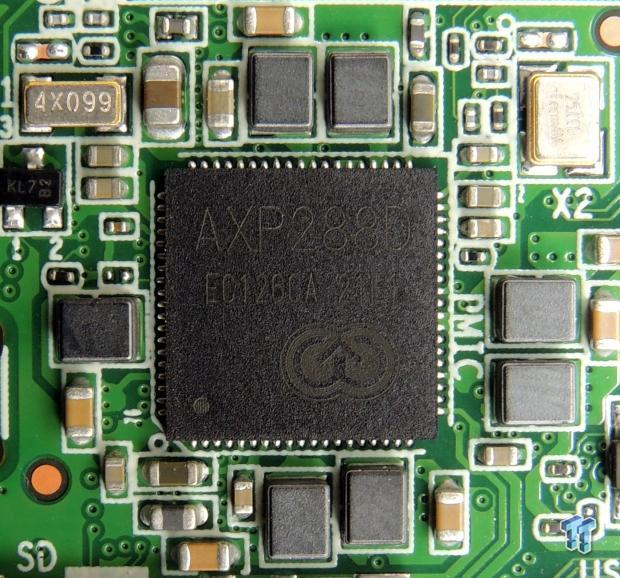 On the left there is a Realtek RTL8723 which is a WIFI a/g/n and Bluetooth 4.0 wireless adapter. On the right is an X-Power AXP288D, a specialty power management IC designed for Bay Trail and Cherry Trail. It provides six buck converters with different outputs, 14 LDOs and a variety of options to handle all the power management on the stick.
The BIOS
BIOS
Intel has provided a pretty basic BIOS interface. There isn't much room for tuning things considering the set nature of the system. However, that doesn't mean they lock out all power settings.
There is a setting called "Power Mode" that can be set to Low Power (less heat and power consumption), Balanced (default option), or Performance.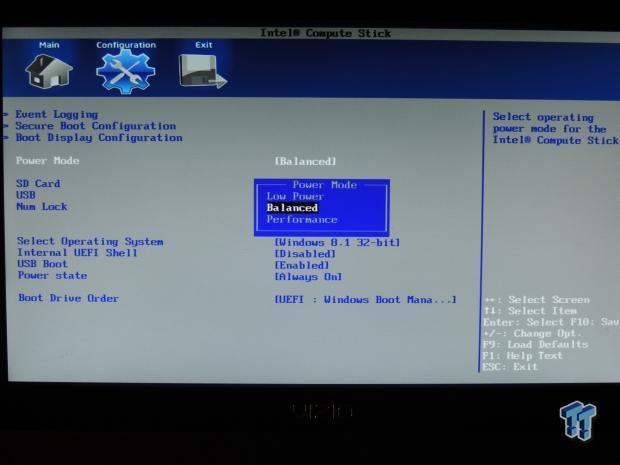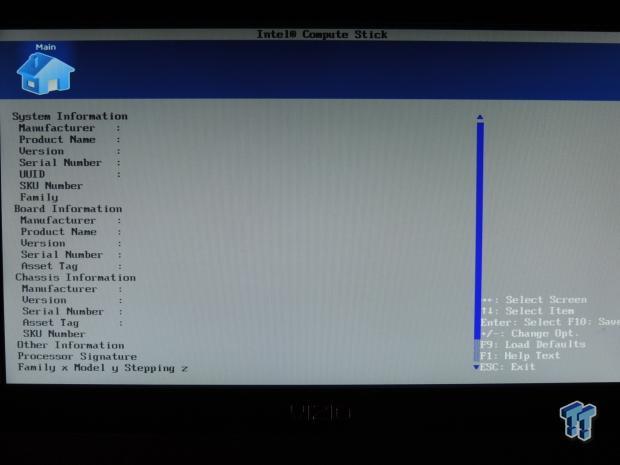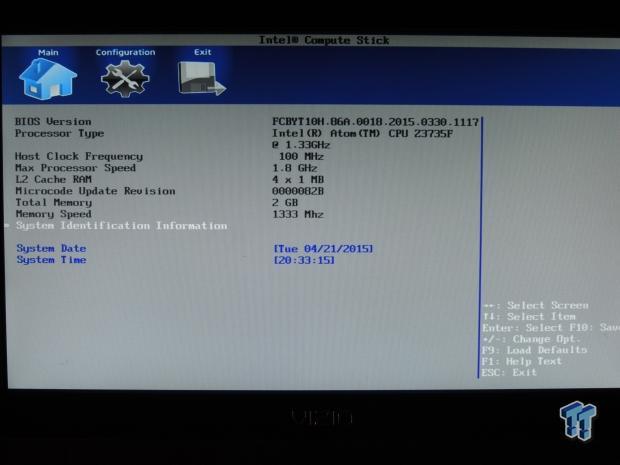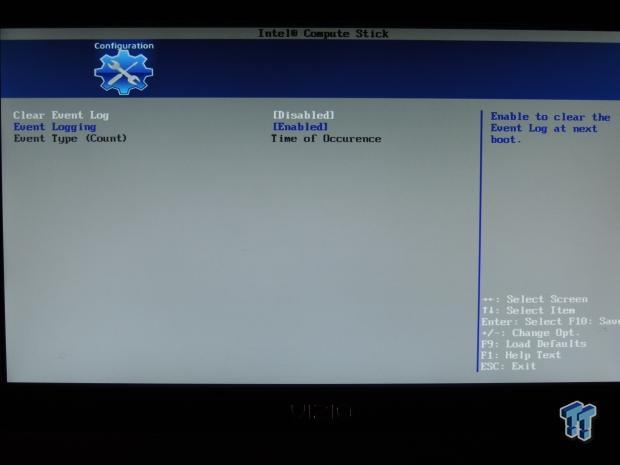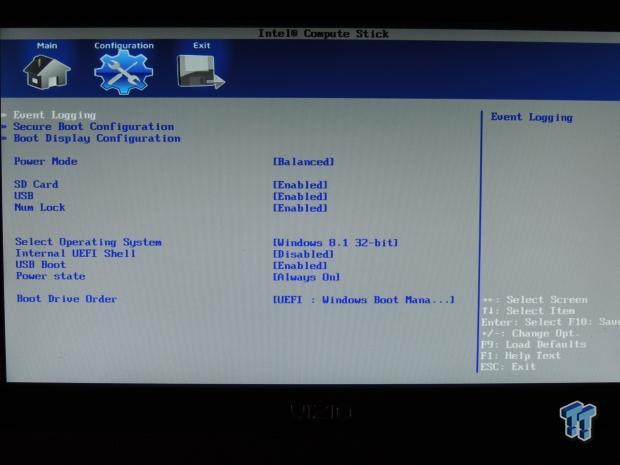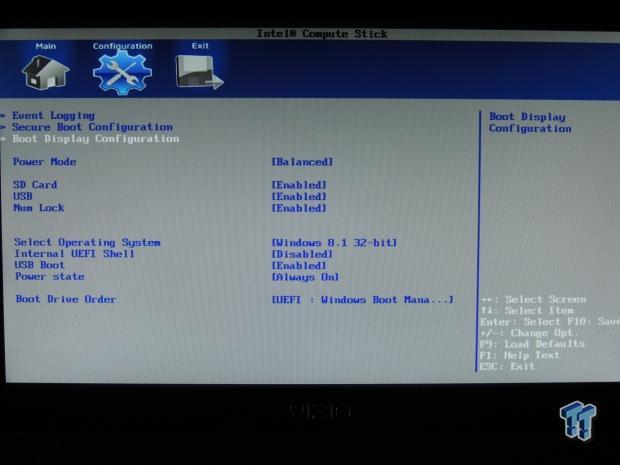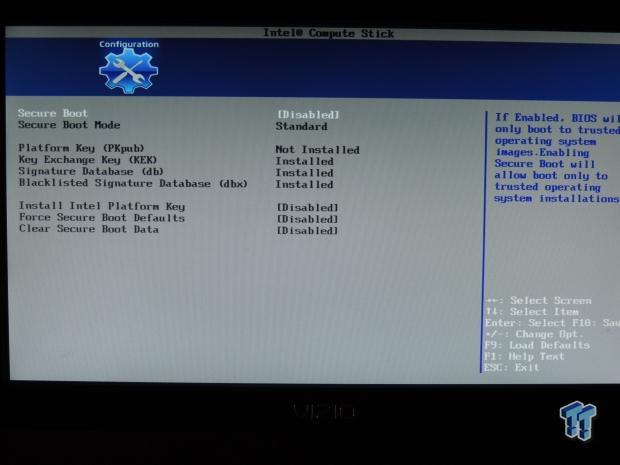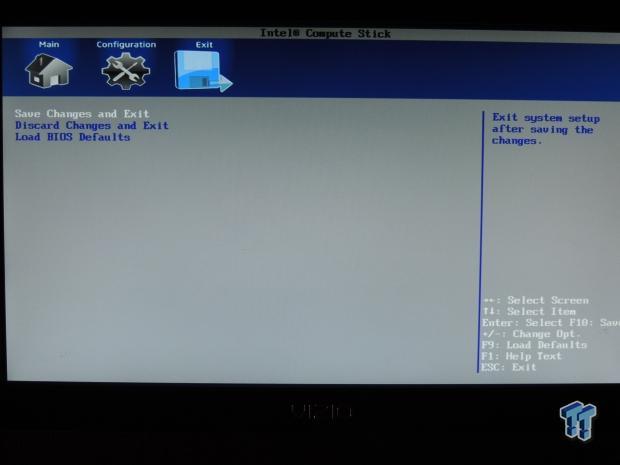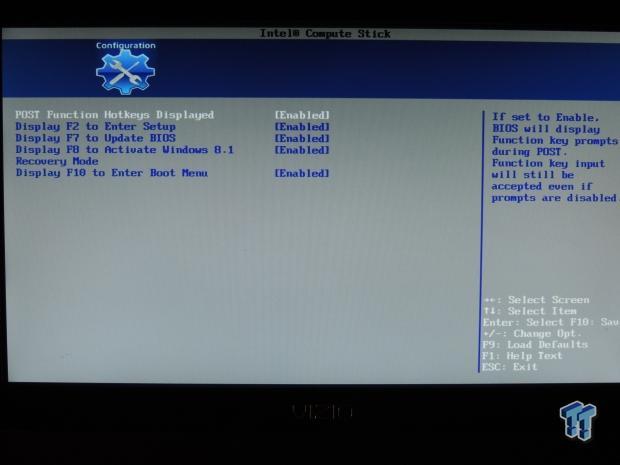 Test Setup and Benchmarks
Test Setup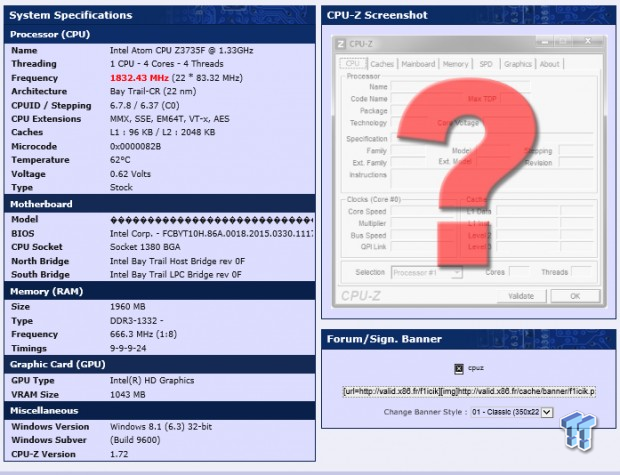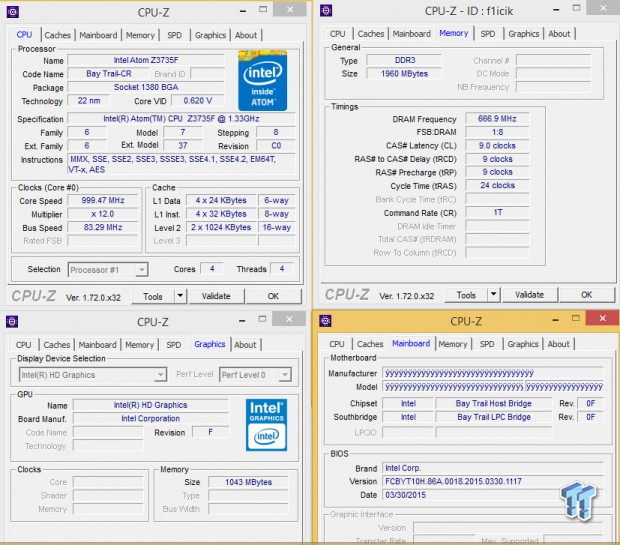 This is what CPUz provided me. Not too many details on the BIOS version as this is an engineering sample. I used the "Balance" power setting in the UEFI for all tests. I used the HDMI extension cord and tucked the Intel Computer Stick behind my TV and I used a Logitech K400r for the keyboard and mouse (trackpad).
It is important to note that the benchmark section of this review isn't as important as the rest of it, as this isn't a product meant to perform like a real desktop, but rather provide much of the functionality at a lower price and smaller form factor. I did much more extensive real-world testing with Netflix and Steam (you can stream games from a desktop to your TV).
CPU, Memory, System, and Graphics Benchmarks
CINEBENCH 11.5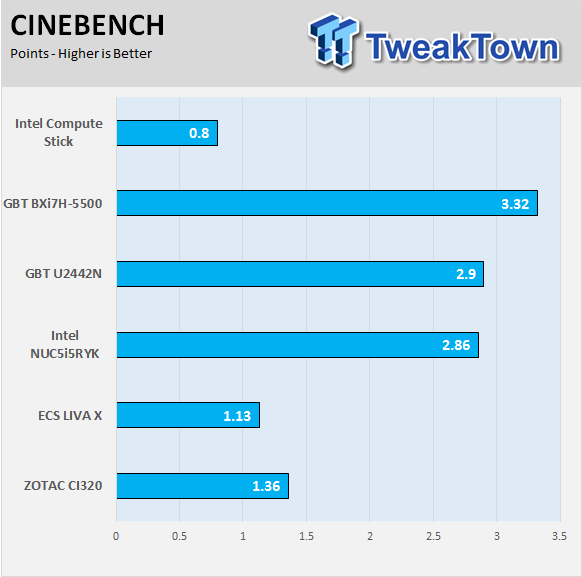 HyperPI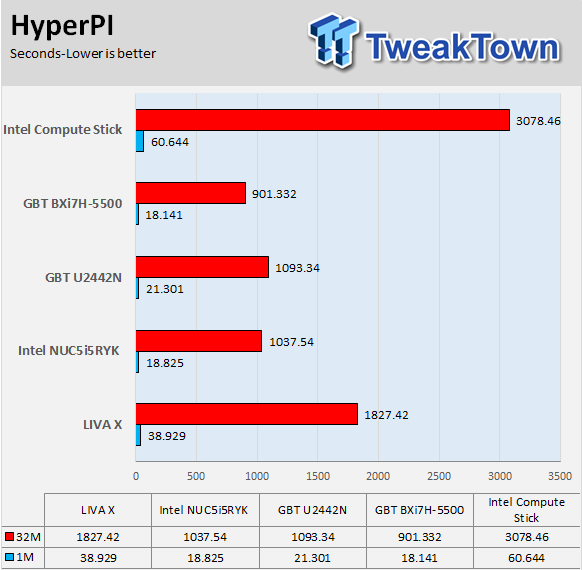 AIDA64 AES and HASH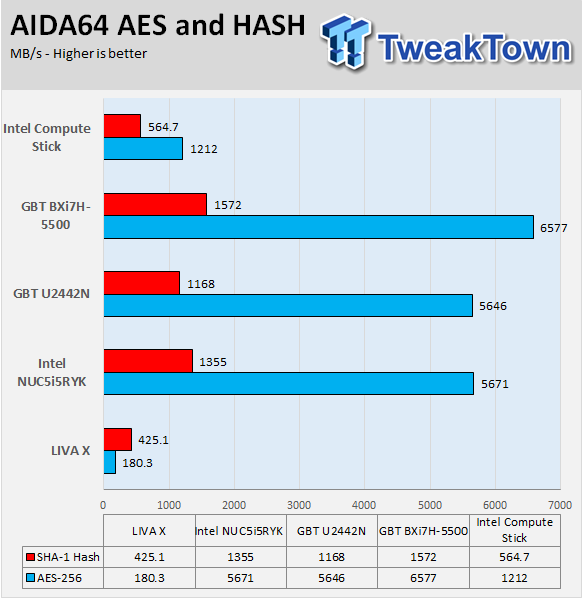 wPrime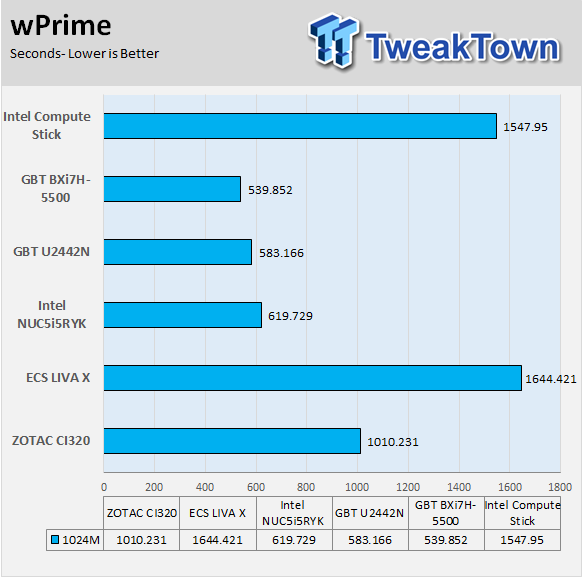 AIDA64 Memory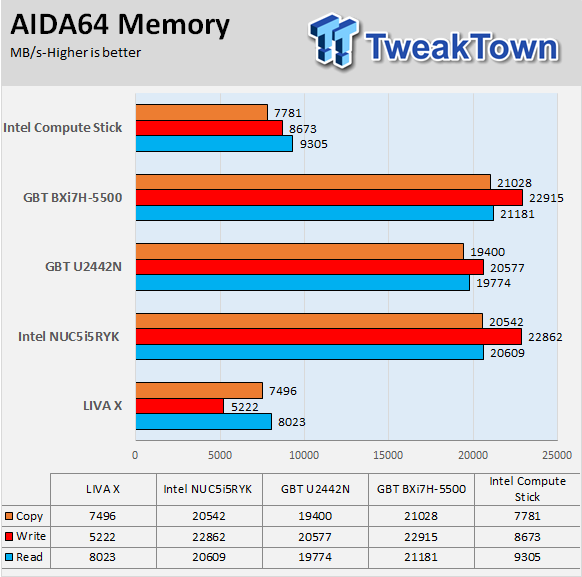 Graphics Benchmarks
3DMark11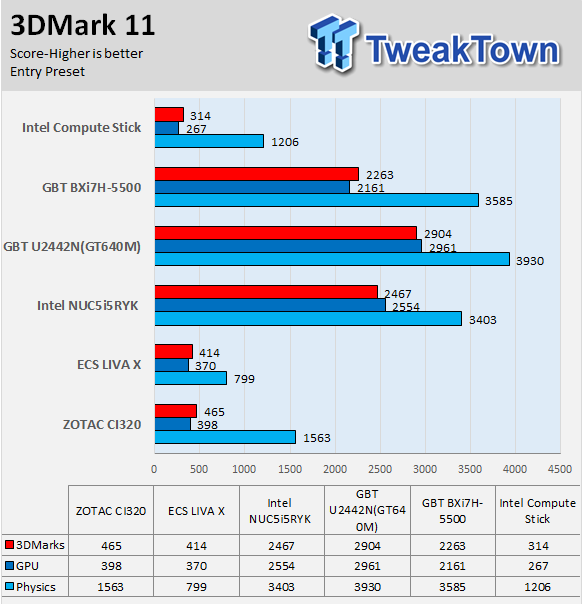 System Benchmarks
PCMark8 Work Test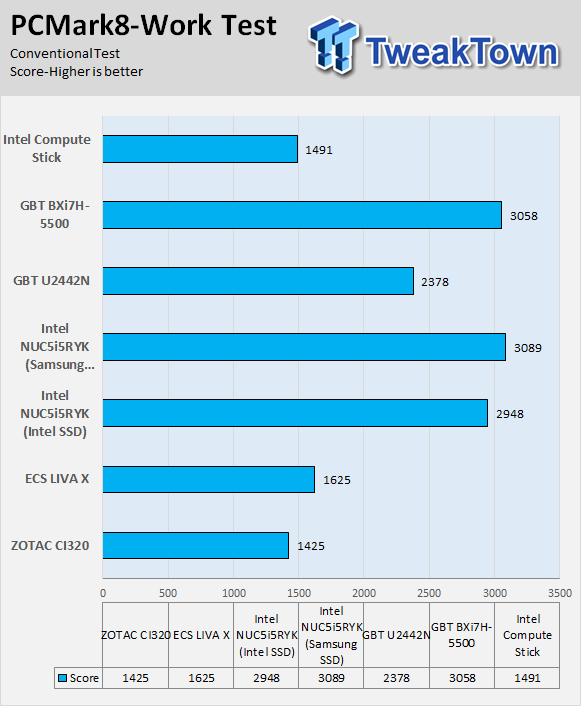 Web XPRT 2013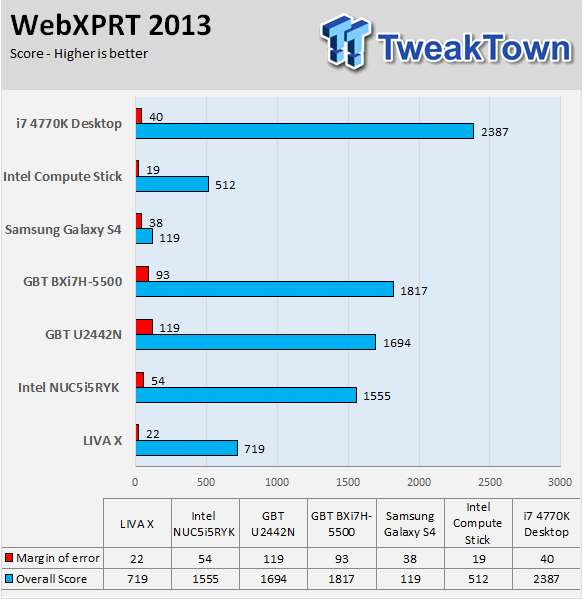 I added in the benchmark Web XPRT 2013 for a web enabled device benchmark. Overall, I am kind of surprised that in some benchmarks the Intel Compute Stick beats the LIVA X, which is due to its faster memory performance and four real processor cores opposed to a processor with hyper threading and a higher core speed.
However, in some benchmarks, the Compute Stick doesn't do as well, and that is because it has a 32-bit OS opposed to the 64-bit OS on the other systems. CINEBENCH is a perfect example of this, as I had to use the 32-bit version instead of the 64-bit I normally use.
Overall, these results show the shortcomings of the Intel Computer Stick (low 3D/32-bit) and some of the up sides of the device. Overall, performance was quick with tasks such as moving files and surfing the web. Installing programs and updates was a bit faster than I expected.
System IO Benchmarks
Storage and Network Performance
CrystalDiskBench-Read: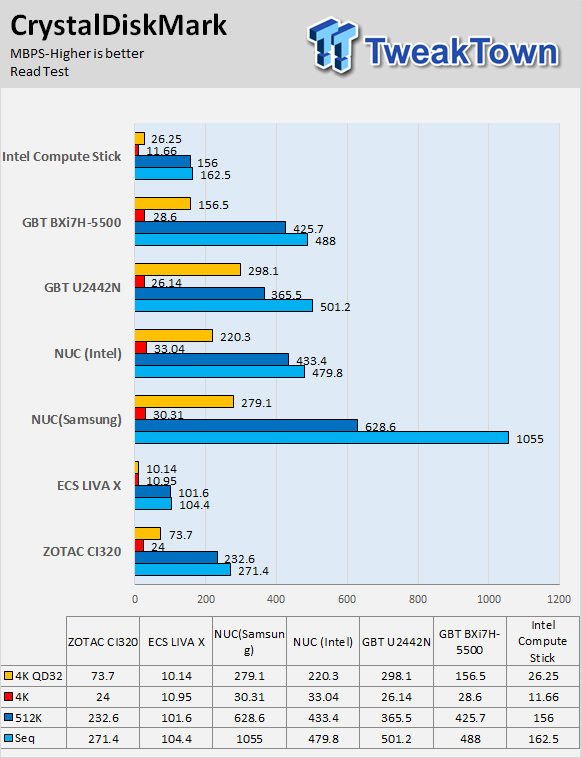 CrystalDiskBench-Write: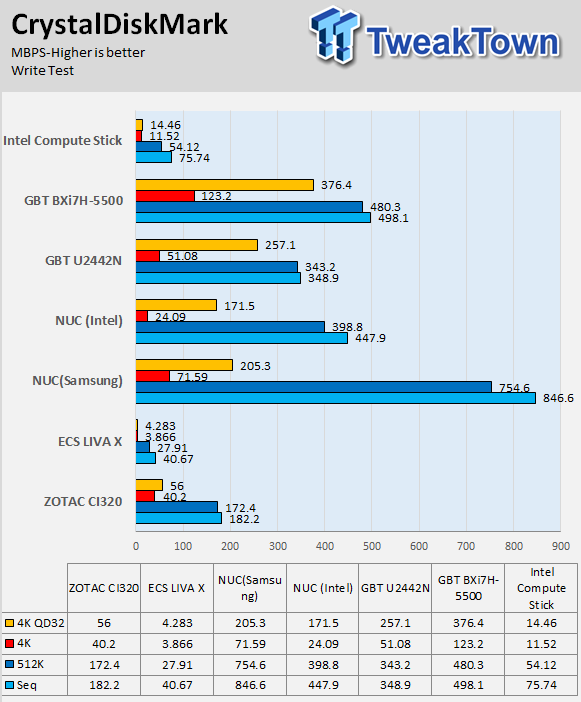 USB Drive Performance (Diskbench):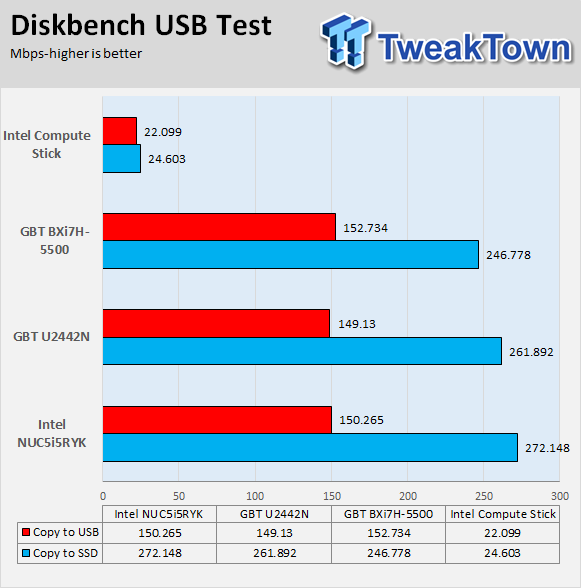 ixChariot Network Throughput: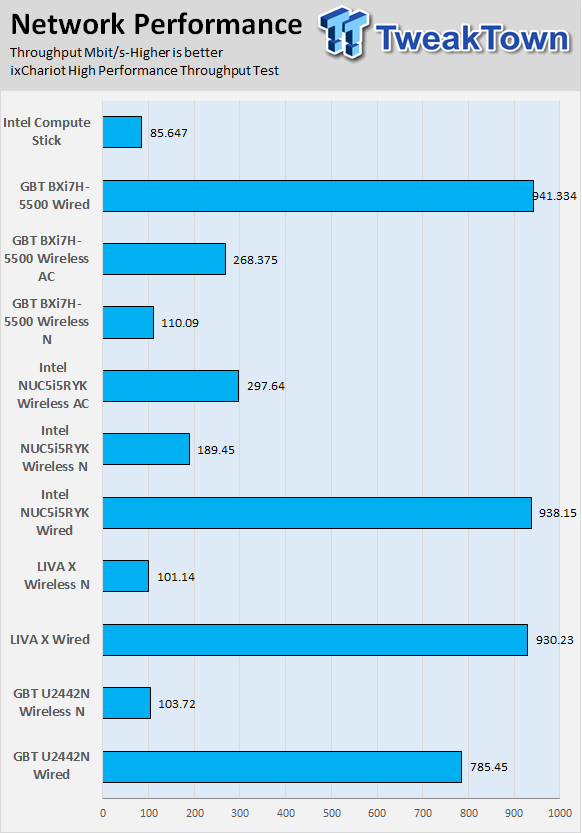 Overall, the Intel Compute Stick can compete with the LIVA X, however, the lack of wireless AC is apparent, and the wireless N solution isn't the fastest. I would suggest that you invest into a hub of some sort if you plan on using this as a home PC instead of an attachment to your TV.
Temperature and Power Consumption
Power Consumption Testing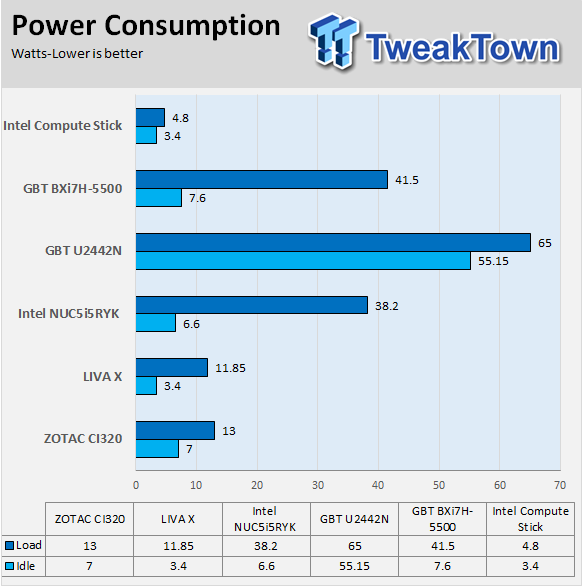 The Intel Compute Stick has a TDP of 4W, and I measured about 4.8W max with high GPU/CPU load. The Intel Compute Stick doesn't use much power. I bet if you had a good enough USB power bank you could power it without being connected to a wall socket.
This would be an interesting route to go if you lose power.
Thermal Testing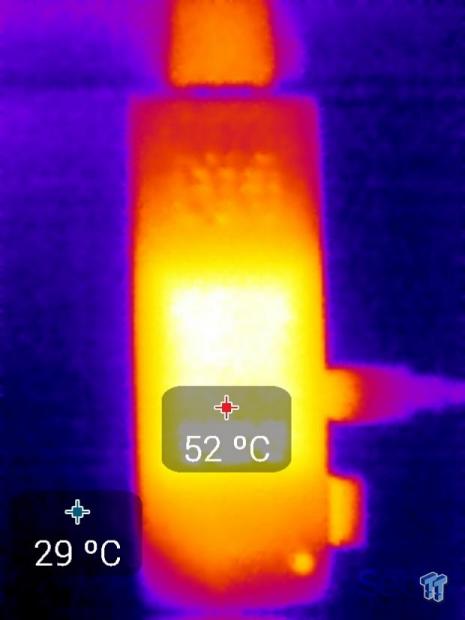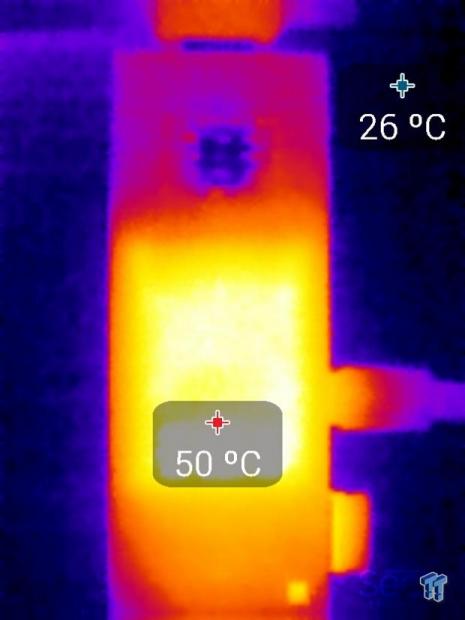 On the left is a shot at idle with a temperature of 52C, then a CPU/GPU load was initiated and I left the device until the fan came on around 55-58C (about 5 minutes), after 2 minutes the temperature had dropped to 50C (image on the right) and with the same load still applied it went to around 53C until I removed the load.
Intel Compute Stick runs on the warmer side, however, it is built to do so, and temperatures in the 50s (probably closer to 60s inside) are nothing to worry about. This device has a fan that doesn't run unless a heavy load is applied, I am sure they are using some algorithm to reduce noise while maintaining performance.
If you are hanging this below a TV like I did, then you should take into account that the TV adds heat, and some good airflow isn't a bad idea, even if you have to use the included HDMI extender to do so.
Final Thoughts
I have had the Intel Compute stick for a little over a week now and I have to say I am impressed.
I was expecting an overly weak and sluggish machine; what I got was a quick responding computer, capable of fulfilling tasks for most people. It's as fast (if not faster) than most tablets I have encountered and it has more possibilities. I went as far as to stream a game from Steam to my large TV, and it worked, granted there was a tiny bit of lag (but I opted to use the built-in Wireless N, instead of the wireless AC USB adapter that is recommended for Steam streaming).
The plug and play compatibility with Steam was perfect, all I had to do was set the Intel Compute Stick to "enable hardware decoding" under the advanced settings menu and it found my host PC and connected at the press of a button. This device is an excellent candidate for a remote PC controlled by programs like TeamViewer. If you want to use the USB port for something else, you can still control the Intel Compute Stick remotely. The device is quick enough so that lag when remotely accessing it is unnoticeable.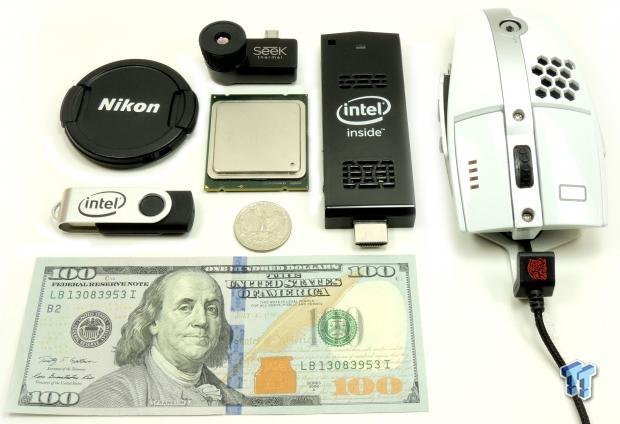 Over this past week, I have thought of endless uses for the Intel Compute Stick. However, there are some downsides to the device; it can't game, it has only 23GB of usable space (there is a built-in backup image of Windows 8.1 with Bing) by default, and its IO is extremely limited. Overlooking those weaknesses and considering its extremely low price (you are getting Windows 8.1 ($80) included in the $150 price tag), it's the perfect PC for a very wide variety of uses.
I think this PC could do 90% of office tasks including using the web browser (it has pretty good streaming capabilities as well), using the MS Office suite, and conference calling. It's quick and nimble, and I would honestly recommend something like this to those who need a PC, but don't want to spend a lot of money on it since they will only be surfing the web or using it for Netflix. It's perfect for a remote console, especially in businesses where it can be used for a display board or an ordering kiosk.
The included Windows 8.1 with Bing makes the Intel Compute Stick an exceptional value, providing agility and compatibility at an extremely affordable price range. There are so many possibilities to this tiny PC, yet its most enticing aspect is its versatility.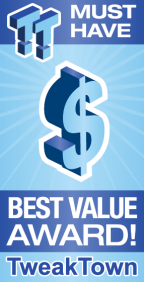 | | |
| --- | --- |
| Performance | 79% |
| Quality including Design and Build | 95% |
| General Features | 82% |
| Bundle and Packaging | 95% |
| Value for Money | 98% |
The Bottom Line: The included Windows 8.1 with Bing makes the Intel Compute Stick an exceptional value, providing agility and compatibility at an extremely affordable price range. The future is here people; the desktop now fits in a shirt pocket and probably costs less than the display it's attached to.
PRICING: You can find products similar to this one for sale below.

United States: Find other tech and computer products like this over at Amazon.com

United Kingdom: Find other tech and computer products like this over at Amazon.co.uk

Australia: Find other tech and computer products like this over at Amazon.com.au

Canada: Find other tech and computer products like this over at Amazon.ca

Deutschland: Finde andere Technik- und Computerprodukte wie dieses auf Amazon.de