Andromedia Curve Mini Bluetooth NFC Speaker Stand Review
Looking for a unique device to hold your smartphone and playback music via Bluetooth or NFC at the same time? Andromedia's Curve Mini could be for you.
Published
5 minute read time
TweakTown's Rating: 80%
The Bottom Line
Andromedia's Curve Mini offers an extremely sturdy design coupled with decent sound quality, making for a good travel companion.
Introduction, Specifications and Availability & Closer Look
The first thing that comes to mind when taking this product out of the box is Cyclops. Mimicking something like the glasses worn by this X-Men original, Andromedia's Curve Mini won't exactly shoot lasers, but it will project sound.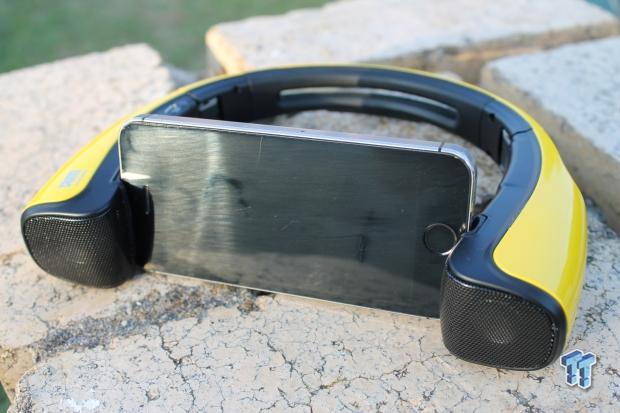 Designed with portability in mind, this device will not only connect to your smartphone through various means, you can also prop it up on a nice angle making for a hands-free experience while watching movies, browsing social media searching or simply pumping music beats.
With the ability to support almost-all smartphones big and small, you'll be able to find a use for this product no matter what the device - ranging from Apple's iPhone 4 to the Samsung Galaxy Note 2 in sizing.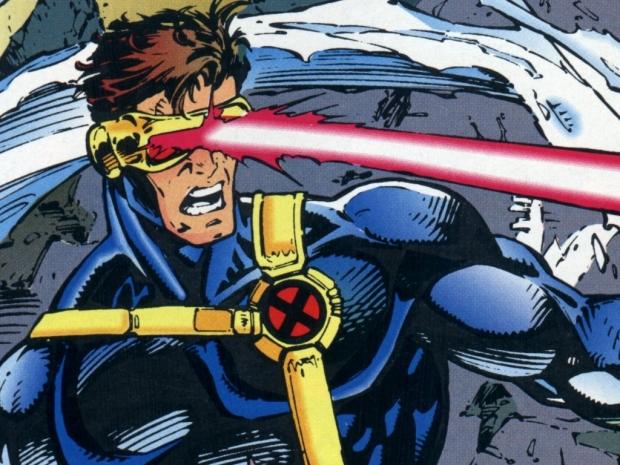 Specifications and Availability
With Bluetooth, NFC and AUX connectivity, the Curve Mini speaker and stand will provide you with various options for connecting your preferred device.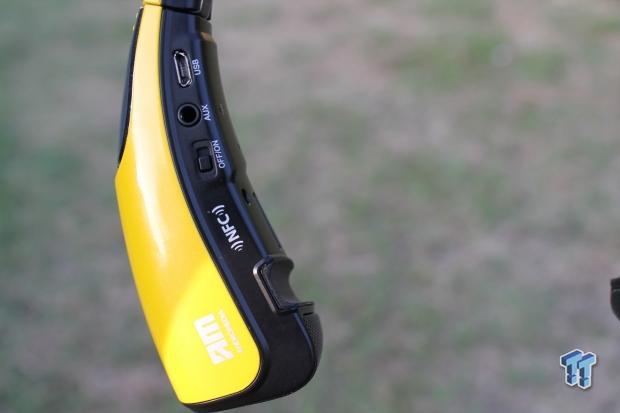 Available in black, white, yellow, blue and red color schemes, we've been provided with the yellow edition for review purposes. Not only do we feel it looks the best, it's also the closest imitation to Cyclops.
As for speaker specifications, the drivers will give you what Andromedia claim as a "home theatre effect." This is achieved through the two speakers giving you a total 4W output rated at a frequency response of 50Hz~20KHz. Powered by a 600mAh lithium-ion battery and all wrapped up within the 155 x 37.8 x 150.2mm package, this device can be made even smaller given the fact that it can neatly fold - a very similar design as seen with some headphone brands.
As with most portable speakers, there is an included microphone jack for taking phone calls - however, this device follows the trend, meaning it's quite unreliable and you're better off disconnecting and picking up the phone yourself.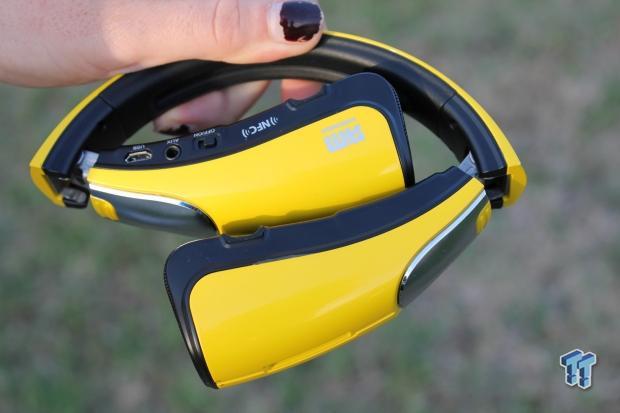 A Closer Look and What's in the box
Now this is one of the coolest portable speakers I've seen, but can it perform with the best? Testing out the stand with a few different devices showed positive results - at first it seemed that the product was a little brittle and mightn't allow for me to fit in my large Samsung Galaxy S4, let alone with my thin silicon case attached. I was proven very wrong - with an extremely solid grip, the Curve Mini does a great job of housing my phone, case, Defqon 1 sticker and all!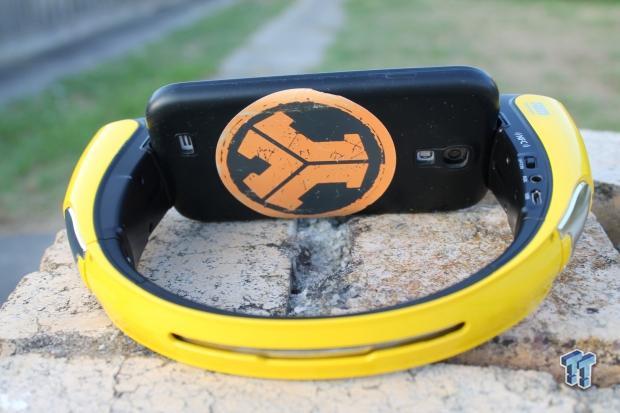 Testing a smaller iPhone 5 brought a similar outcome, with yet again a solid grip being achieved thanks to the extremely thick, sturdy and metal-framed chassis. This does add a bit of weight into the product, but I see it as a necessity when it's handling sensitive items.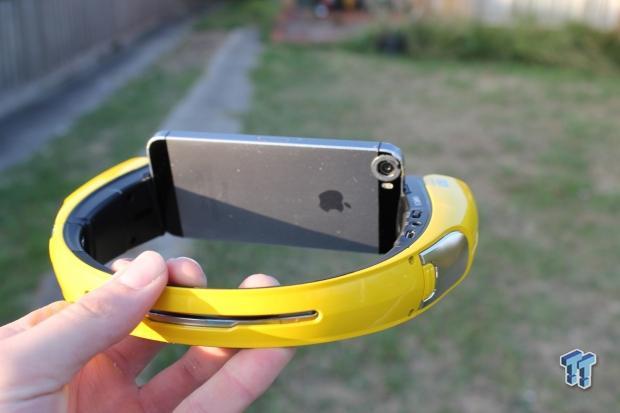 As for optional extras within the box, you're presented with the standard USB charging cable and short AUX 3.5mm male-to-male connection. There's nothing else that I can really see is needed with a product like this.
A Closer Look & How it Performs
Let's dig deeper
So, how does it perform? As stated previously, Andromedia claim this device will give you a "home theater effect," through the utilization of two separated speakers on each side of your smartphone. Sitting at my home desk and listening to Spotify through a wide variety of tracks brought me to appreciate how the separated speakers work. They don't provide you with a full surround sound cinema experience, but they certainly sound fine.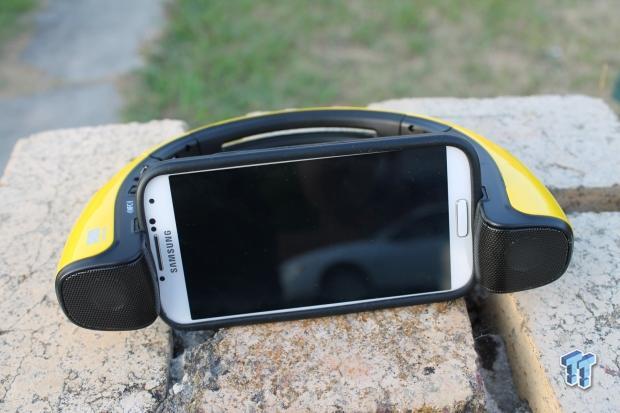 There's one main issue with this product and it's the same as you will see with basically any small speaker system - a lack of bass. Thanks to the small product design and the speakers only providing you a 4W output, lovers of punchy or big bass need skip over portable speakers completely - unless you're willing to cart around something that's much larger and more expensive.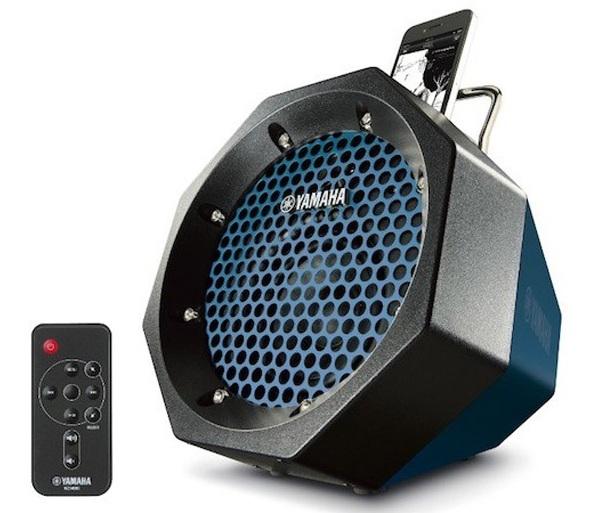 As for further testing - playing music in my kitchen while I was preparing meals saw the device shine. Not only is my phone propped up nicely for me to be able to change songs as I see fit, but it also helps tie it in with the total package. Not only does the whole set-up look great, because the grip is so firm, you can easily pick up the phone and device together by picking up the back of the device.
The NFC and Bluetooth connections are extremely easy as you would expect, alongside the 3.5mm AUX-in jack working as it should. As per usual, the quality is slightly better when using the Bluetooth connection - it's well worth the trade-off in battery life.
There's another use that you probably haven't thought of yet. If you're not holding the phone within the curved body, the whole device actually fits quite well around your neck - making you an awesome portable speaker at any party or home-event. There will be no-one cooler on the premises, that's for sure.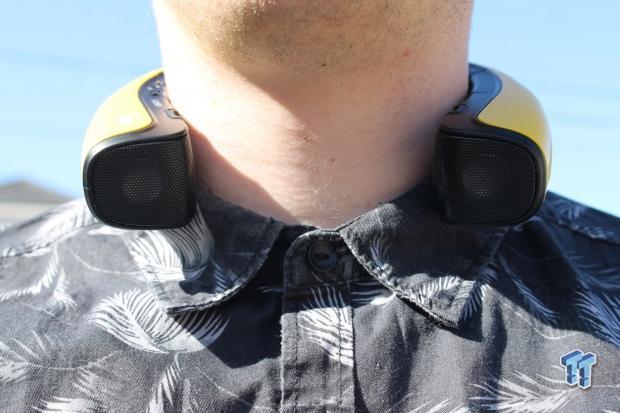 There are a couple of issues with the device that I'd like to point out, though. Thanks to the design, there's next-to-no way for you to be able to charge your phone and prop it up at the same time, alongside there being no 3.5mm out jack meaning that this device couldn't be used on a plane trip or library - if they could implement this, I think the final review score could jump as high as 10% up.
There's also the issue of a small battery, thanks to the physical size of the product. Coming in at 600mAh, it's certainly enough for a few hours of play-time, however, if you're camping, expect your phone and speaker to die within eight hours' time.
What's Hot, What's Not & Final Thoughts
What's Hot
Extremely sturdy design: You can see the metal backbone after only a few short seconds inspecting the speaker. This makes for an extremely sturdy and well-built product. I can see it surviving many different camping, beach and global trips.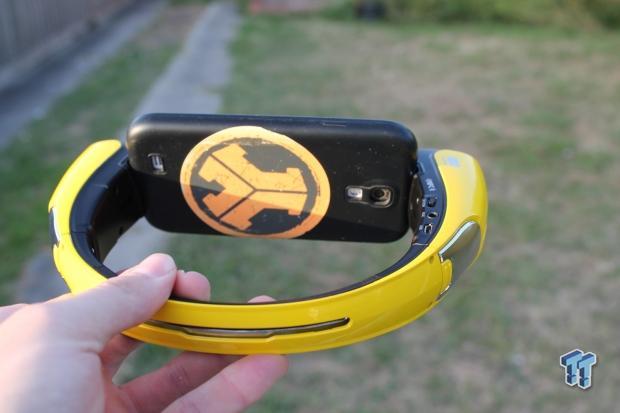 Tight-clamping: Even with the smaller iPhone 5, I had no issue lifting this product off the ground completely without supporting the phone with my hands at all - the clamp is great enough to remove any slippage issues but will not damage your phone.
Portable: Thanks to the way it folds, the Curve Mini will easily fit in your laptop bag or backpack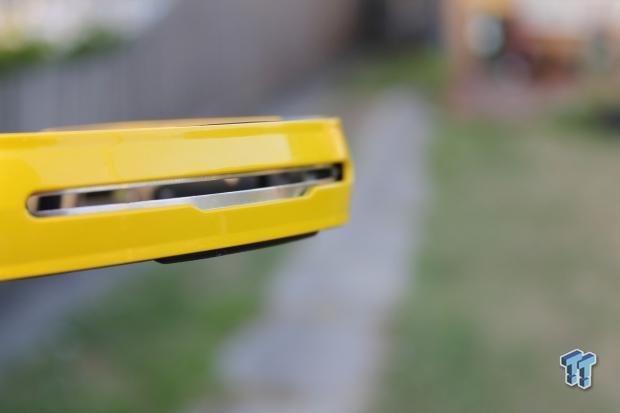 What's Not
The weight: Unfortunately, due to the thick metal back-bone and solid plastic exterior, it's quite a heavy product. It's also a weird shape, meaning that the weight is oddly balanced - so you need to pick it up with care. Although it's so solid you could probably drop it and not care either way, as long as your phone survives the fall.
The bass: As seen with all of these small portable speaker options, there's a severe lack of punch, rumble and boom. Listeners of bass-heavy music and punchy offerings ranging from house music to heavy metal will be left disappointed if this is to be a main at-home product. However, if it's for travel, it's quite good.
Final Thoughts
Providing you with a solid package, plenty of hours of battery use and a firm clamp on your phone, we suggest the Andromedia Curve Mini speaker stand to any user looking for a travel alternative speaker solution.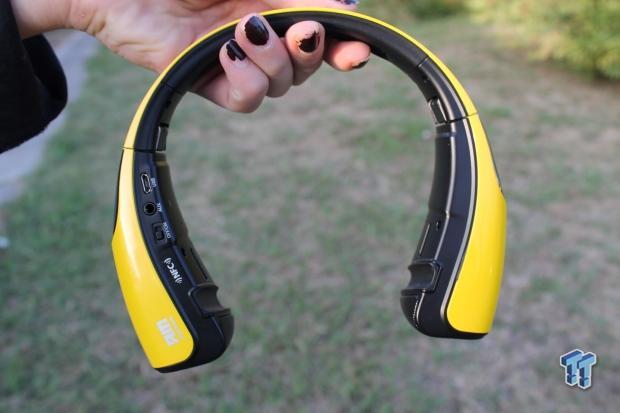 If you're wanting a punchy and big-sound at-home solution, you should look into proper speakers, or our previously reviewed Arctic S113BT will be slightly more suitable.
This speaker does exactly what the company states and it does it well.
| | |
| --- | --- |
| Performance (audio quality) | 75% |
| Quality including Design and Build | 90% |
| General Features | 80% |
| Bundle and Packaging | 75% |
| Value for Money | 80% |
The Bottom Line: Andromedia's Curve Mini offers an extremely sturdy design coupled with decent sound quality, making for a good travel companion.
PRICING: You can find products similar to this one for sale below.

United States: Find other tech and computer products like this over at Amazon.com

United Kingdom: Find other tech and computer products like this over at Amazon.co.uk

Australia: Find other tech and computer products like this over at Amazon.com.au

Canada: Find other tech and computer products like this over at Amazon.ca

Deutschland: Finde andere Technik- und Computerprodukte wie dieses auf Amazon.de
We openly invite the companies who provide us with review samples / who are mentioned or discussed to express their opinion. If any company representative wishes to respond, we will publish the response here. Please contact us if you wish to respond.
Related Tags