ASRock Rack C2550D4I (Intel Avoton) Mini-ITX Server Motherboard Review
Once again, we have a Mini-ITX server motherboard in the lab, and we are really starting to like these tiny server boards like the ASRock Rack C2550D4I.
Published Nov 28, 2014 9:12 AM CST
|
Updated Tue, Nov 3 2020 6:59 PM CST
12 minute read time
TweakTown's Rating: 93%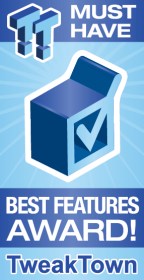 The Bottom Line
ASRock Rack'a C2550D4I Mini-ITX motherboard is an excellent small form factor server board. Passive cooling, low power use, and a large amount of storage capacity are the key points to this well designed motherboard.
Introduction and Packaging
Based on the Intel Atom processor C2000 product family (codenamed Avoton and Rangeley), the small form factor ASRock Rack C2550D4I provides passive cooling, low power use, and a large storage capacity.
ASRock Rack built the C2550D4I based on the Avoton platform, which is the next generation System-on-Chip (SoC), built on Intel's 22 nanometer process technology that targets NAS, Microserver, entry-level communication, and cloud storage markets.
The compact size of the C2550D4I makes it ideal for slim form factor appliance servers. Its uses also include desktop type NAS solutions, and it is a perfect fit for short depth chassis, and increasing the density in a rack to provide higher compute/storage power per rack.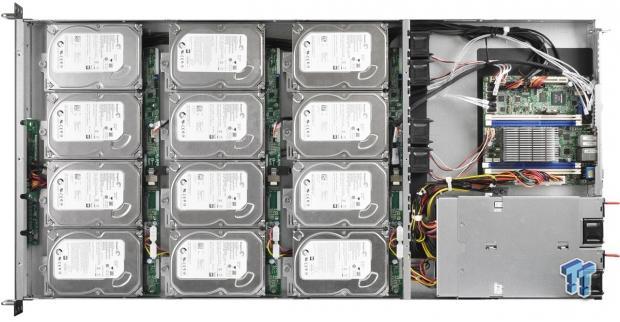 ASRock Rack uses the C2550D4I in several of its product lines, and that includes systems like the 1U12LX-C2550. Its small size allows for plenty of space to use for storage, and in this case, 12 hard drives can fit in this 1U network storage appliance. Now, let's move on and look at the C2550D4I.
Packaging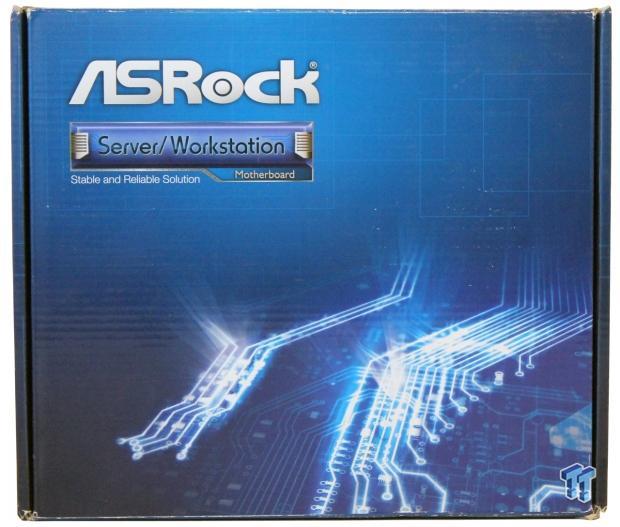 The ASRock C2550D4I comes packaged in a simple retail box; nothing flashy here. We need to look at a side label to see what motherboard is packed inside.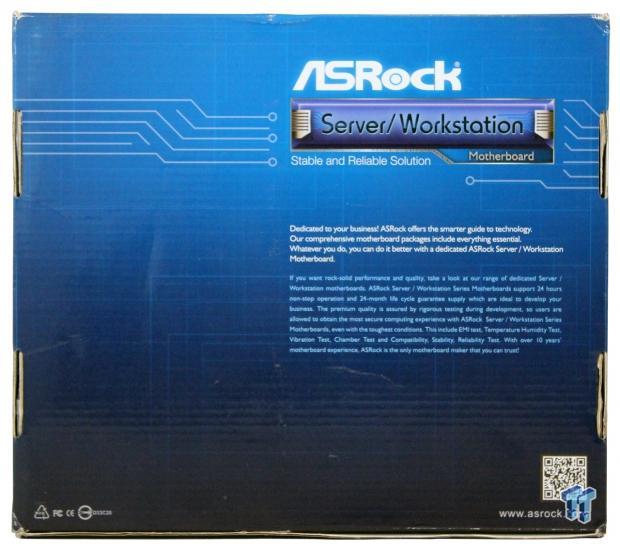 The back of the shipping box also shows a simple design.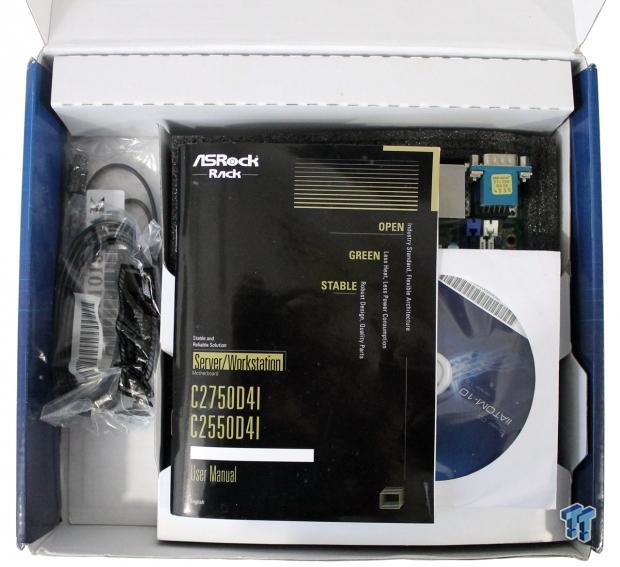 After opening the retail box for the ASRock C2550D4I, we get our first look at the contents. The inside is simple, clean, and has everything you need to get the motherboard up and running. The motherboard comes padded in foam, which should keep it well protected during transit.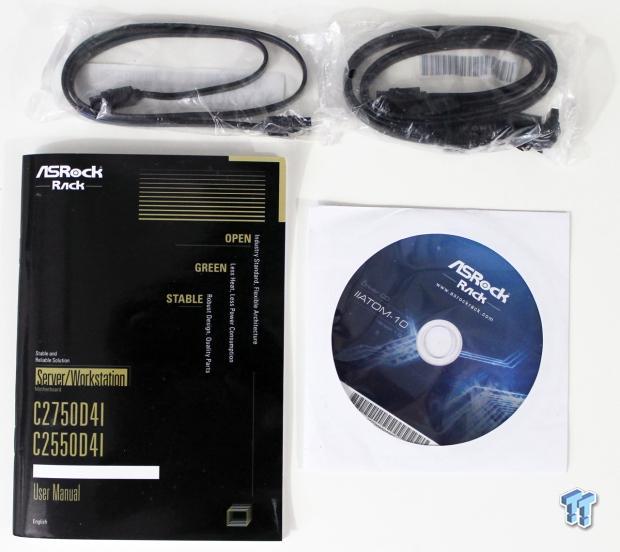 The retail accessory package is simple, but complete. The parts list for the retail box is as follows:
ASRock Rack C2550D4I Motherboard

Support CD

User Manual

Six Serial ATA (SATA) Cables (Optional)

One I/O Shield
Our package was previously used, and we did not receive the I/O shield, or all of the SATA cables.
PRICING: You can find the ASRock C2550D4I for sale below. The prices listed are valid at the time of writing, but can change at any time. Click the link to see the very latest pricing for the best deal.
United States: The ASRock C2550D4I retails for $299.99 at Amazon.
Specifications, Layout, and Installation
Specifications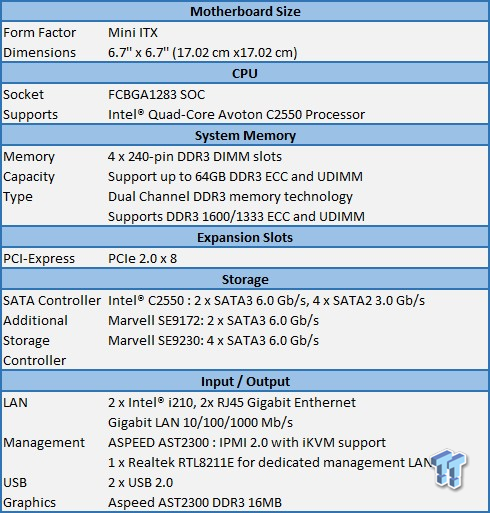 One of the main outstanding features of the C2550D4I is the large number of SATA ports, which makes this motherboard ideal for storage applications. The next feature we like is 4x DIMM slots, which enable you to add a large amount of memory in comparison to other motherboards of this type.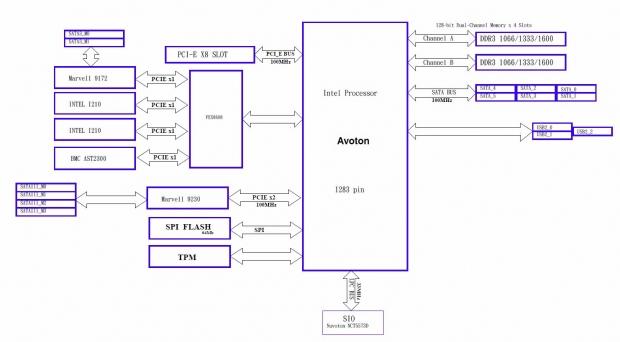 All of the Avoton platforms have a simple block diagram, and this one is no different. You can see what controllers the SATA ports use on this diagram, and how the PCIe interfaces with the system.
Layout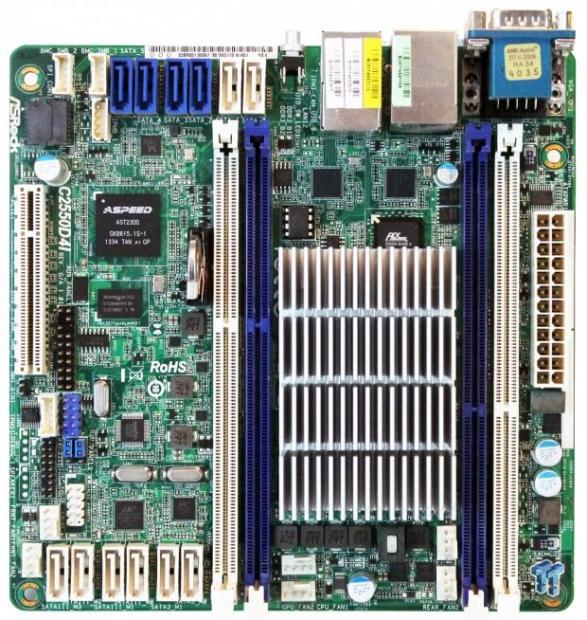 Here we get our first look at the ASRock C2550D4I. With a size of 6.7" x 6.7", this is a very small motherboard, but there are a massive amount of features packed into this tiny area.
The ASRock C2550D4I supports the Intel Atom C-Series FCBGA processors. This SoC (System-on-Chip) has memory and PCIe controllers integrated to support two-channel (four DIMMs) DDR3 memory, and the PCI express 2.0 lanes. The C2550D4I also has improved CPU performance, integrated voltage regulators, and is very energy efficient.
The onboard Marvell SE9230 supports 4x SATA 3.0 6.0Gb/s (blue), followed by a Marvell SE9230, which supports 2x SATA 6.0 Gb/s (white). On the other side of the board, we have 2x SATA3 6.0Gbps, and 4x SATA2 3.0Gbps supported by C2550.
For network connectivity, there are Dual Intel i210 Gigabit LAN ports (which support Teaming function). The C2550D4I also includes a BMC controller, ASPEED AST2300 that includes IPMI 2.0, and iKVM support through a dedicated IPMI LAN port.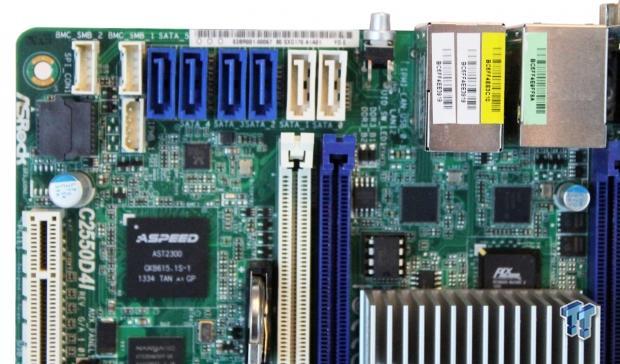 Here we get a look at the 4x SATA 3.0 6.0Gb/s (blue), followed by a Marvell SE9230, which supports 2x SATA 6.0 Gb/s (white) ports that are controlled by the onboard Marvell SE9230. Just below the SATA ports, we can see the ASPEED AST2300 chip that supports IPMI and iKVM. Also, at the left of the picture, we see two BMC SMB Headers, and the Intelligent Platform Management Bus header.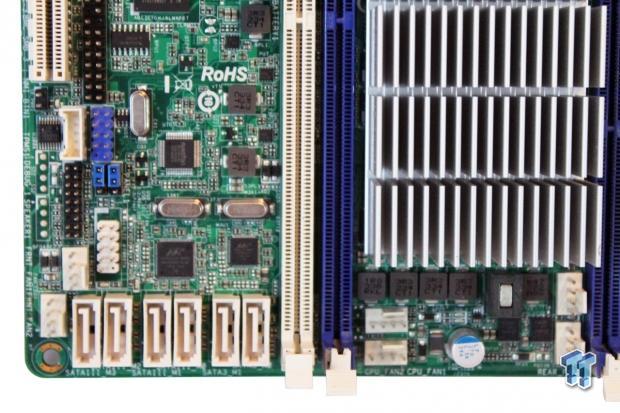 At the front of the board we can see 2x SATA3 6.0Gbps, 4x SATA2 3.0Gbps supported by C2550 chip. Just below the CPU heat sink we have two rear fan headers, and on the right, two CPU fan headers; these are for case fans to control airflow through an enclosure.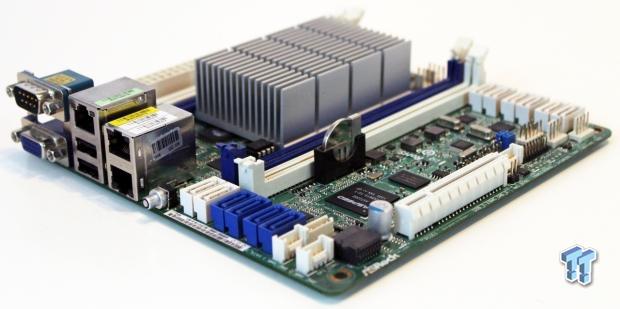 In this picture, you can see that the main CPU heat sink is rather large. This works very well for the Avoton CPU because it generates very little heat. We ran our test system without a fan blowing across here, and it ran just fine in this configuration. Our test bed was an open-air bench type setup, so this was not an issue for us. Inside of an enclosure, we would recommend using a fan to help keep the system cooler.

Now we are looking at the back IO ports. On the left side of the board we have video output, and a COM port above that. The next stack has a LAN RJ-45 port with two USB 2.0 ports below. This LAN port can be used for BMC functions. The last stack has two LAN RJ-45 ports, and a UID switch/LED next to it.
BIOS, Software, & Remote Management
BIOS
The BIOS for this motherboard is standard for server motherboards, so we will only show a few BIOS screens.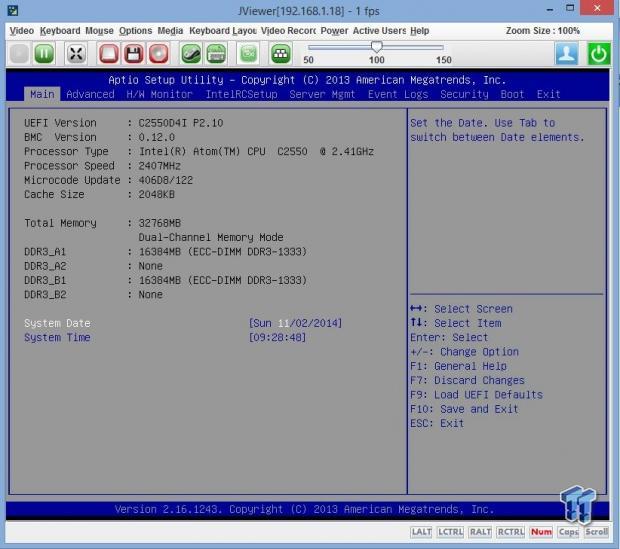 This is the main BIOS screen, which shows basic system information.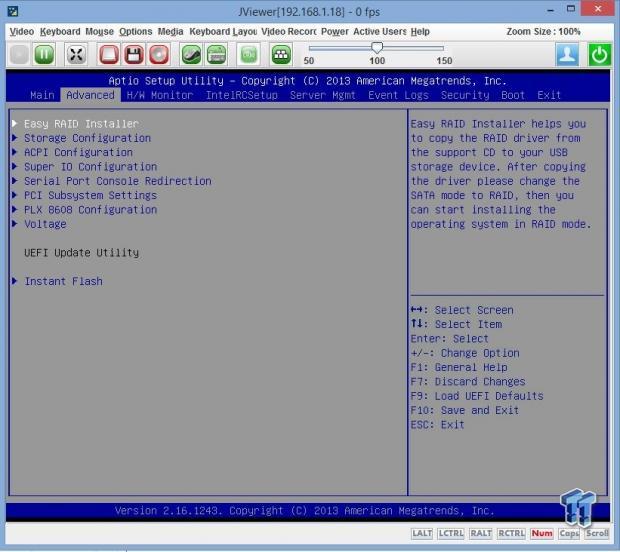 The Advanced tab brings you to the main advanced screen.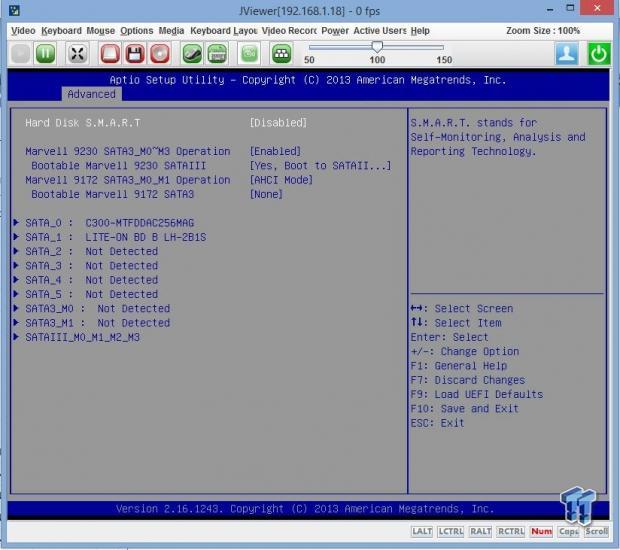 The Advanced Storage menu provides settings to control the Marvell controllers and SATA ports.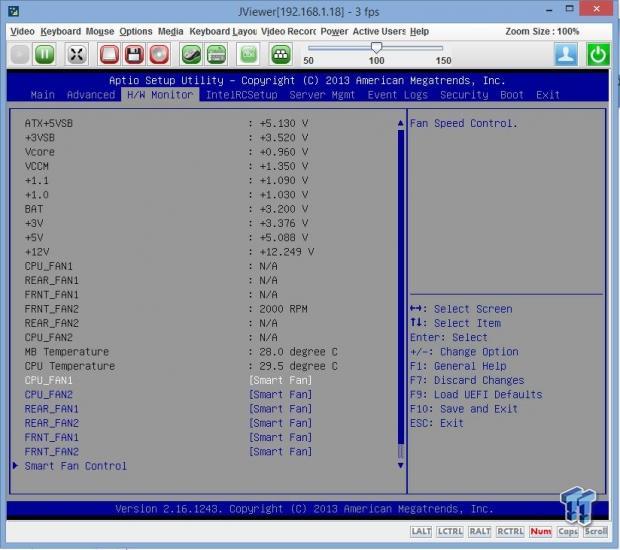 The H/W Monitor menu permits various fan control modes depending on enclosure types, and settings to control how you would prefer the system to run.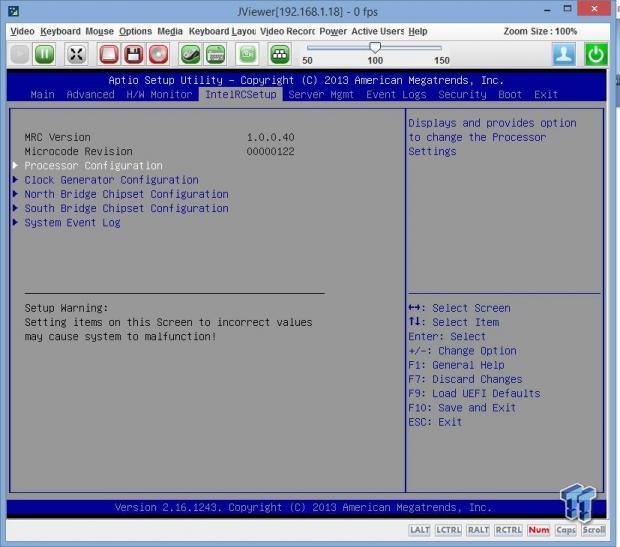 The IntelRCSetup menu has options to control processor, and north/south bridge chipset configurations.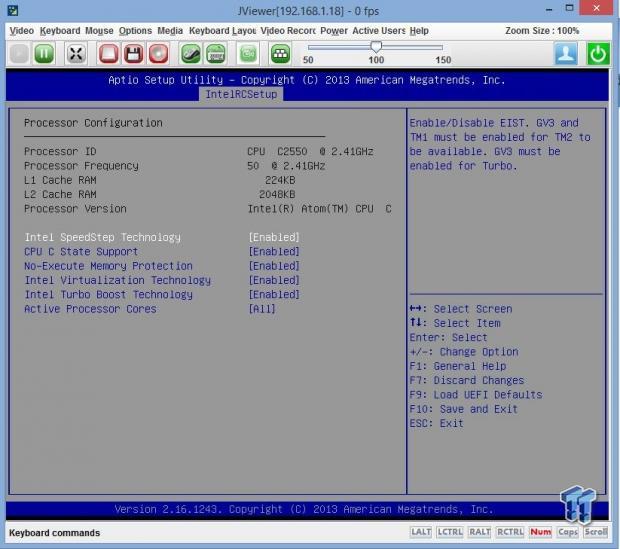 The Processor Configuration menu has settings to control C-States, and other energy efficiency options.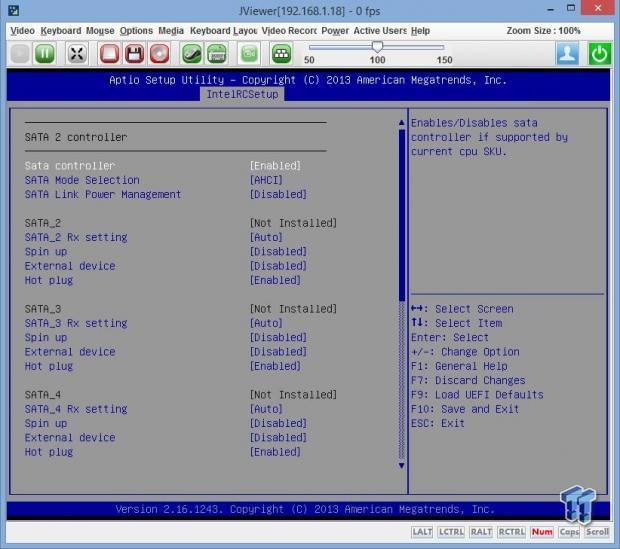 Here are the advanced SATA controller settings in the IntelIRCSetup menu.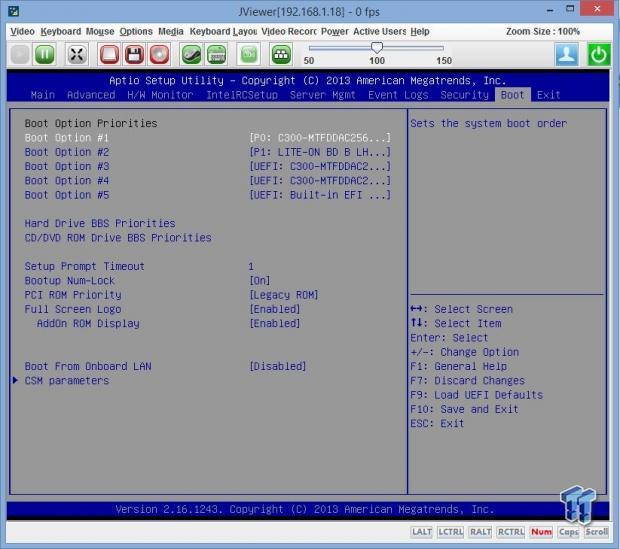 Here we can see the different options for how you would like the system to boot up.
Software
The ASRock C2550D4I Server Motherboard comes with a single DVD that has all the drivers you need.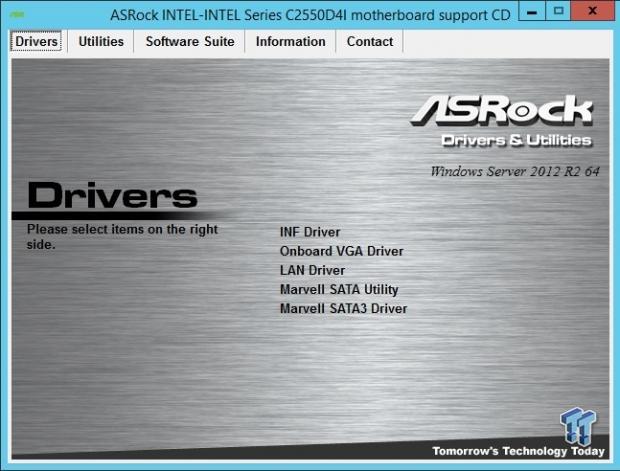 Here we see the drivers' installation screen that you get after inserting the C2550D4I driver DVD. It takes five items to install everything you need. We wish there was one menu to click that would install everything to make this easier.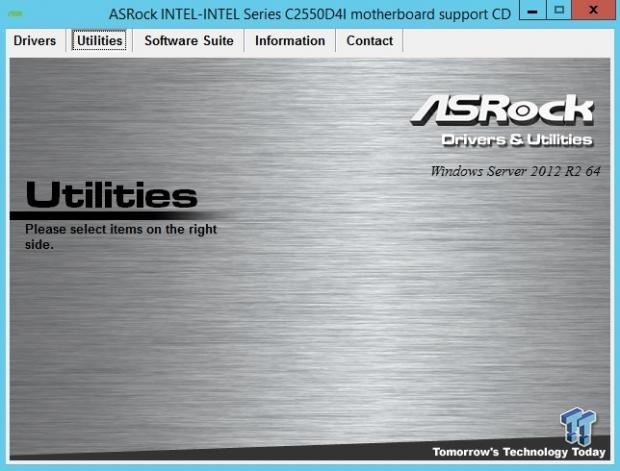 The Utilities menu shows no utilities available for the C2550D4I.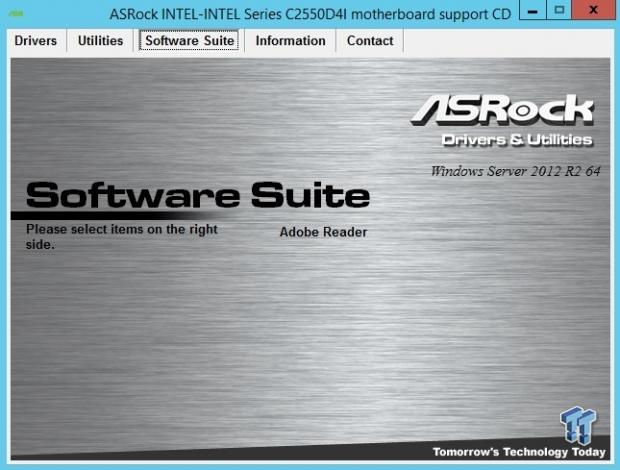 For the software suite, there is only Adobe Reader to install.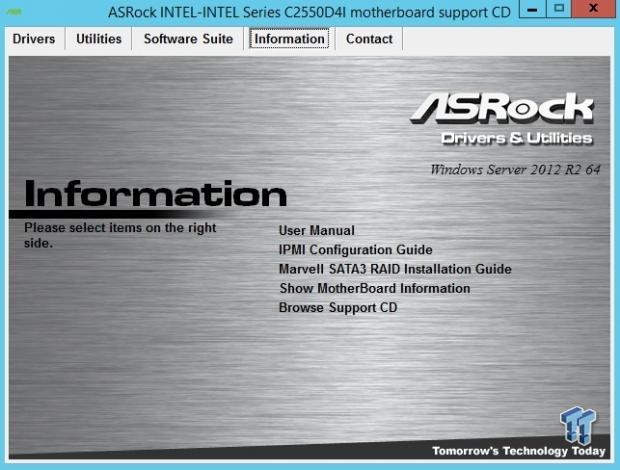 The Information menu has a selection of manuals for the C2550D4I.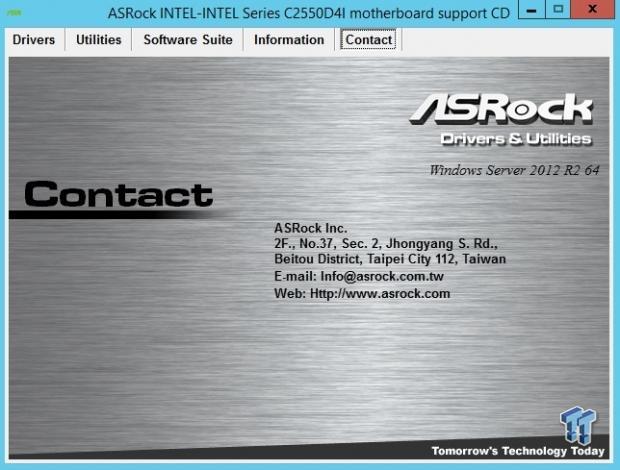 The Contact menu contains contact information in case you should need it.
Remote Management
The IPMI 2.0 with virtual media supplies remote access over LAN, and KVM over LAN support. Be sure to have a LAN cable plugged into the dedicated IPMI LAN port.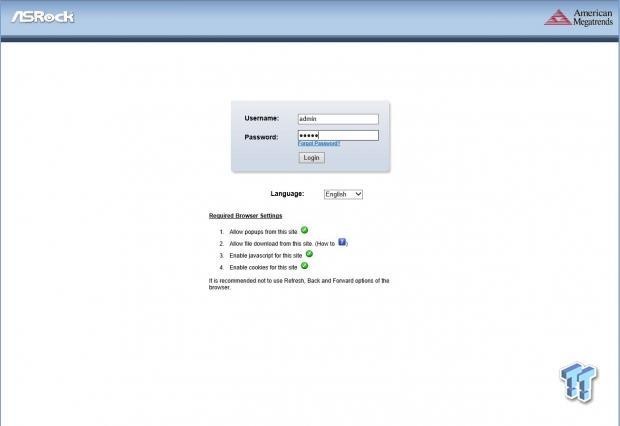 We find our remote access IP address located in the BIOS under the IPMI Tab. In our case, this was 192.182.1.18. Enter that into your browser, and you will see the login screen.
To login use:
Username: admin
Password: admin
As a best practice, Administrative users should change factory default username/password logins before connecting any new server to their network.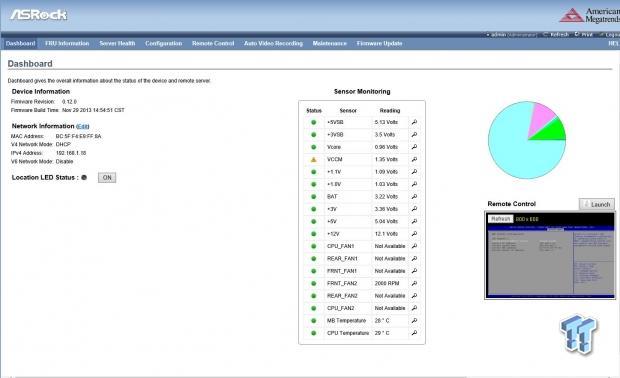 After logging in, we come to the home screen, and system information is displayed.
There is also a remote control option for iKVM.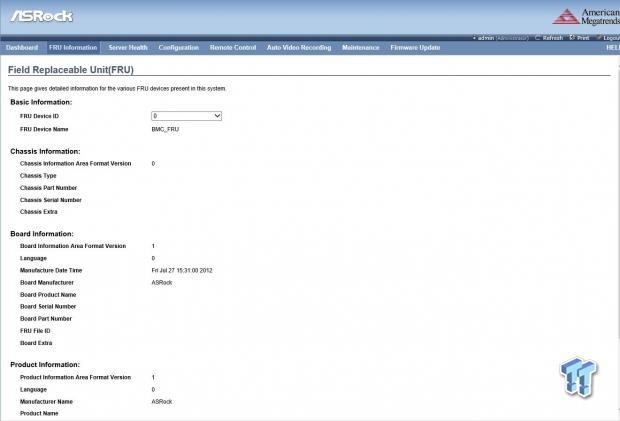 The next tab is the FRU (Field Replacement Unit) menu.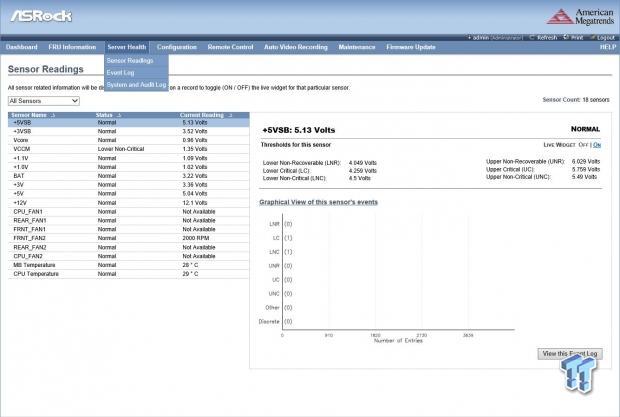 Next up is the Server Health menu. This shows temperatures and voltages for the server.
The Configuration menu allows you to change many features on the server, like Active Directory settings, DNS, LDAP, and many more.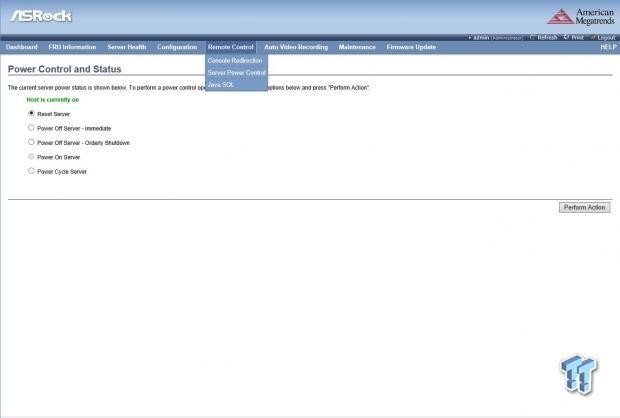 The Remote Control menu allows you to power on, shut down, restart, and cycle the server.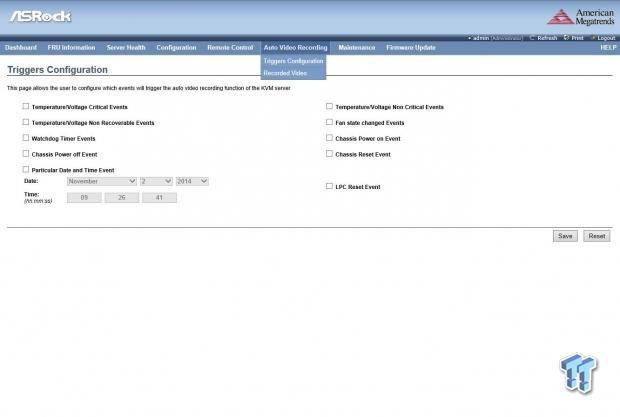 The auto video recording menu allows you to configure events that will trigger auto video recording on the KVM server.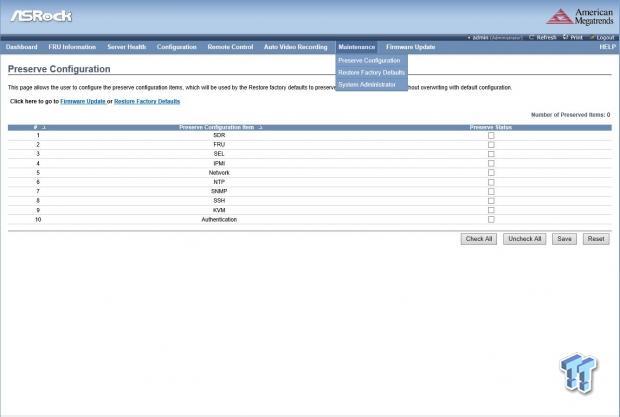 Here we see the Maintenance menu, and the available options.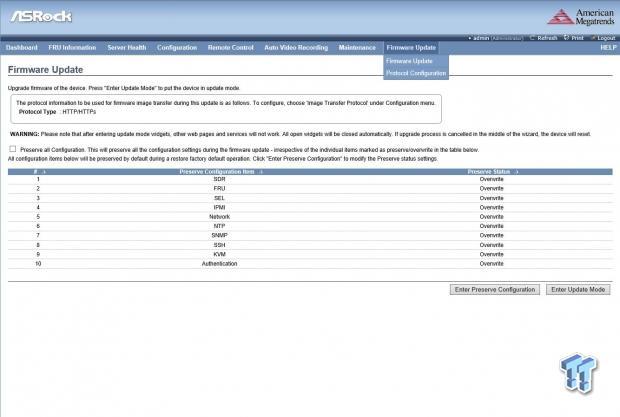 The Firmware Update menu has different options to update the firmware on the C2550D4I.
Test System Setup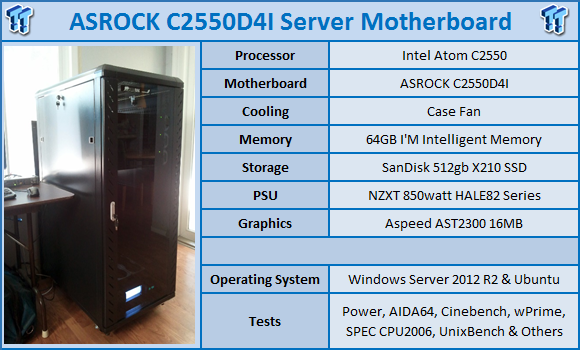 We would like to thank ASRock Rack, I'M Intelligent Memory, SanDisk, Yokogawa, SPEC, and AIDA64 for their support in providing parts for our test system.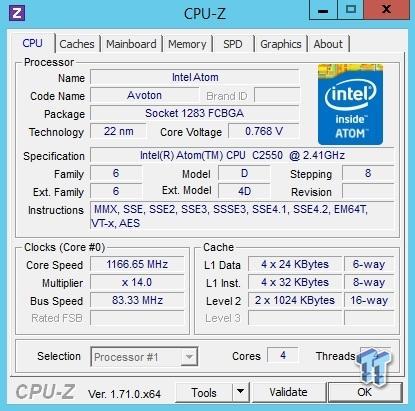 Code named Avoton, the Atom C2550 comes in with four cores, and a TDP of only 14 watts, which allows this CPU to be cooled with a passive heat sink. The normal clock speed of the C2550 is 2.4 GHz, and it will turbo up to an impressive 2.6Ghz using Intel Turbo Boost Technology 2.0.
The max number of PCIe lanes supported by the C2550 is 16, which allows it to feed the large number of storage and network options on the P9A-I/C2550/SAS/4L. The C2550 does not support Hyper Threading. However, it does support Intel Virtualization Technology (VT-x), and extended page tables (EPT).

Here is the preferred memory installation for best practices. It is rather simple since there are only four memory slots. If you plan on only using two memory sticks, then use the blue slots; otherwise, fill all slots.

The memory we used in our tests is 64GBs of I'M Intelligent Memory 16GB DDR3 UDIMM Memory that we reviewed earlier this month.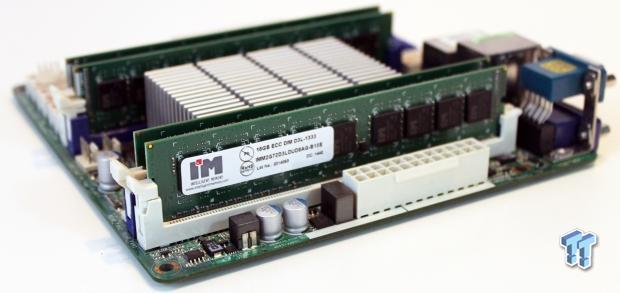 With all memory slots filled with the I'M Intelligent Memory 16GB DDR3 UDIMM Memory, we can see that the platform has a very low profile, which allows it to fit in very compact systems.
System and CPU Benchmarks
Cinebench 11.5
CINEBENCH is a real-world, cross platform test suite that evaluates your computer's performance capabilities. The test scenario uses all of your system's processing power to render a photorealistic 3D scene. This scene makes use of various different algorithms to stress all available processor cores. You can also run this test with a single-core mode to give a single-core rating.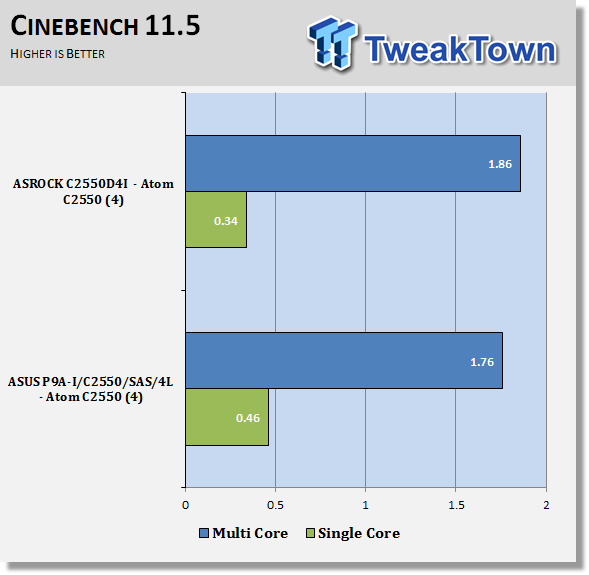 As we expected, the Atom C2550 is not a strong number cruncher, but it does do ok in the multi-core score. The scores shown are very good for a system that has a TDP of only 14 watts.
Cinebench R15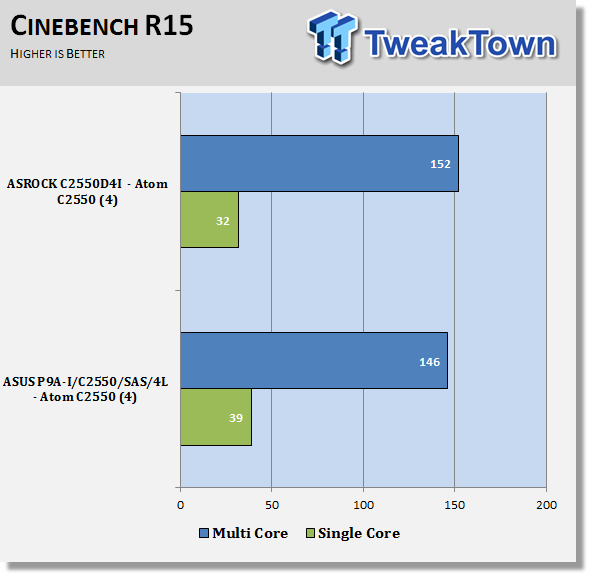 Just like in the CINEBENCH 11.5 results, the Atom C2550 is stronger in the multi-core scores. Single-threaded performance is still on the weak side.
wPrime
wPrime is a leading multi-threaded benchmark for x86 processors that tests your processor performance. This is a great test to use to rate the system speed; it also works as a stress test to see how well the system's cooling is performing.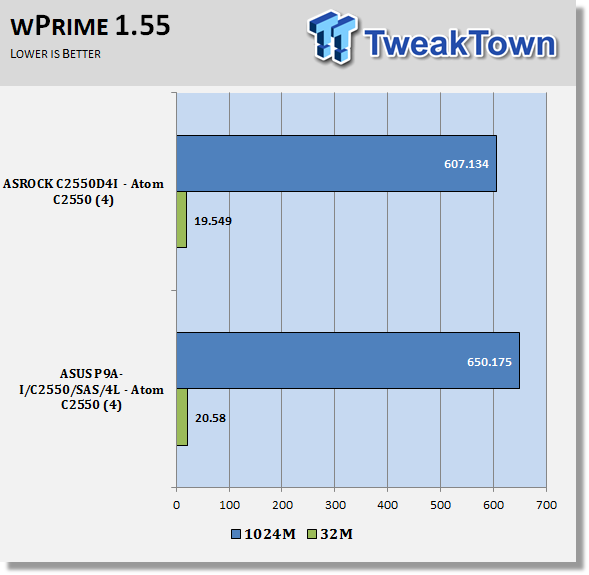 wPrime scores are not that impressive with the Atom C2550. Clock speed is what really holds this back. The C2550D4I server motherboard has a slightly better score in this test.
Memory & UnixBench Benchmarks
AIDA64
AIDA64 memory bandwidth benchmarks (Memory Read, Memory Write, and Memory Copy) measure the maximum achievable memory data transfer bandwidth.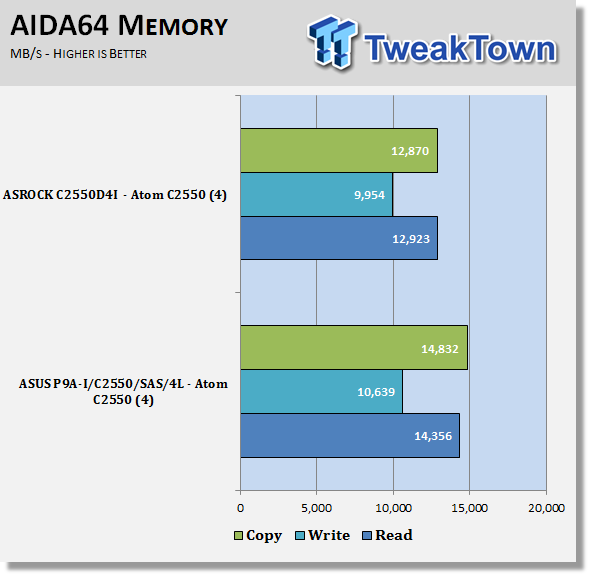 Memory bandwidth for the Atom C2550 is looking very good for a CPU of this type. This works out very well for IO dependent services such as the network controller, and SATA storage controllers.
LinX
LinX 0.6.4 is a CPU benchmark that measures floating-point operations per second (FLOPS) and is used to compare CPU performance; it is also a very good stress test to run.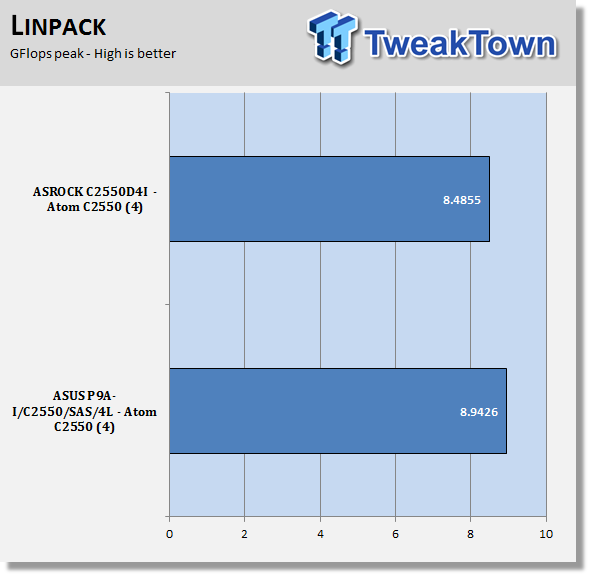 Linpack shows the Atom C2550 is also performing fairly well in bandwidth tests, just like the AIDA Memory tests.
UnixBench 5.1.3
UnixBench has been around for a long time now, and is a good general-purpose benchmark to test on Linux-based systems. This is a system benchmark that shows the performance of single-threaded and multi-threaded tasks.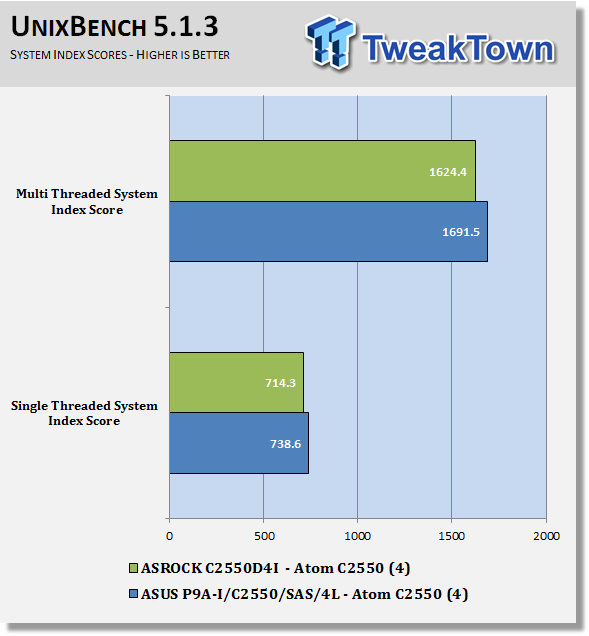 Here we start seeing some good numbers. The scores for the Atom C2550 are very close to other quad-core CPUs that we have tested before.
SPEC CPU2006v1.2 Benchmark
SPEC CPU2006 v1.2
SPEC CPU2006v1.2 measures compute intensive performance across the system using realistic benchmarks to rate real performance.
In our testing with SPEC CPU2006 we use the following basic commands to run these tests:
" Runspec --tune=base --config=tweaktown.cfg ," then " int " or " fp ."
To do multi-threaded, we add in " --rate=4 ."
When SPEC CPU first came out, these tests could take up to a week to run, but as computers become faster, our tests now take up to four days for a full run, and even less on some systems.
The user can do many things to effect the results of CPU2006 runs, such as compiler optimizations, add-ons like SmartHeap, and different commands used to start the tests.
Just like in UnixBench, we had not started using CPU2006 on the earlier platforms that we did reviews on, so we have no data to compare to.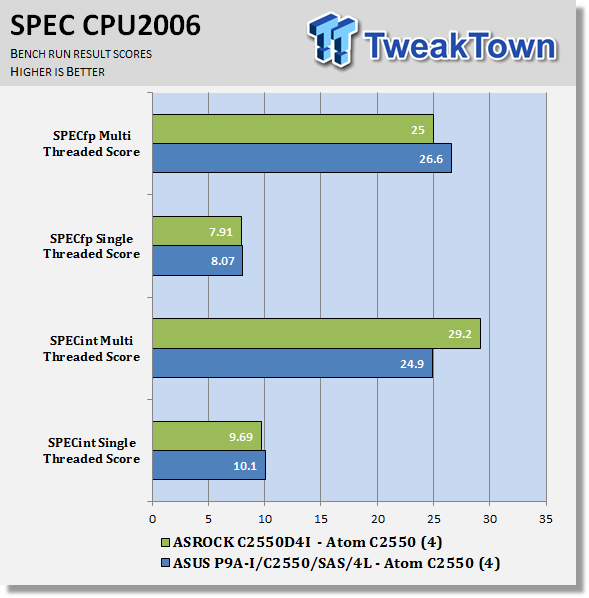 This benchmark has many different commands to use depending on what the user is looking for. For our tests, we used basic commands that run a full test with a base tune.
You can see here the SPEC scores after full runs for Integer (int) and Floating Point (fp) tests.
Single-core runs show how fast (speed) a CPU can perform a given task. In the multi-core runs, we set SPEC CPU2006v1.2 to use all threads to measure the throughput of the system.
The additional cores/threads of this system have a huge impact on performance in these tests, and really shows the amount of horsepower that a dual-socket system has over a single-socket board.
Single-threaded results are still very important, but when you need many single-threaded apps to run, moving to a CPU with more cores is the way to go.
In CPU2006, we start to crunch the Atom C2550 hard. The system actually performed very well for a CPU in this class. Heat was also not much of an issue during these tests, and that shows that this platform can handle stress very well. When testing the C2550D4I, we did see temperatures raise a fair amount, but this had no real impact on the system.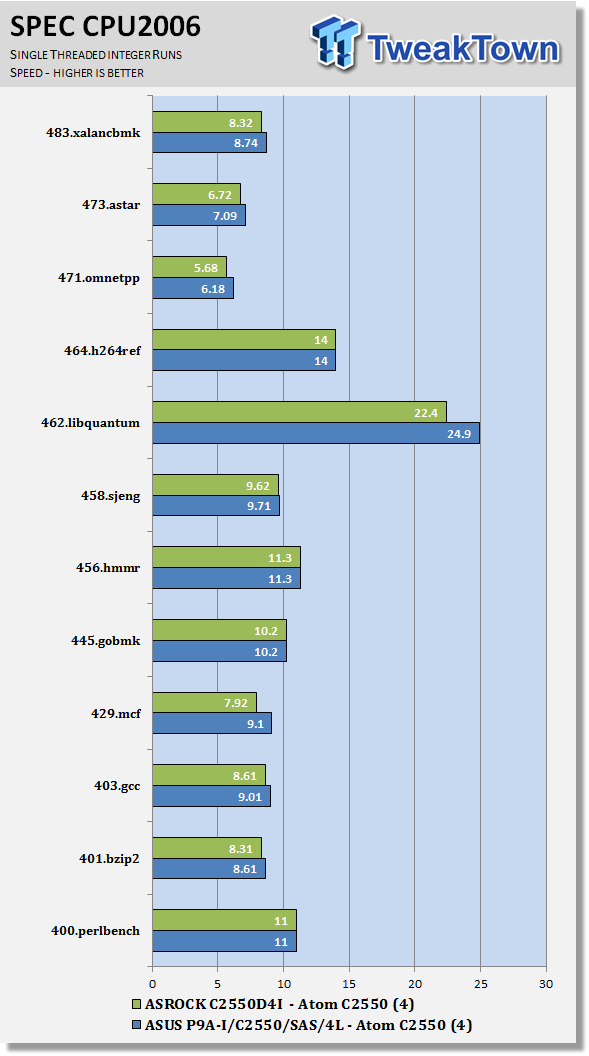 By looking at the results of single-threaded integer runs, we can get an idea of speed at which the Atom C2550 can crunch through the different integer tests. Not all CPUs are equal here, and ones that have a higher speed will perform these tests faster. Naturally, using an overclocked system, or CPUs with a higher stock speed, will generate higher results.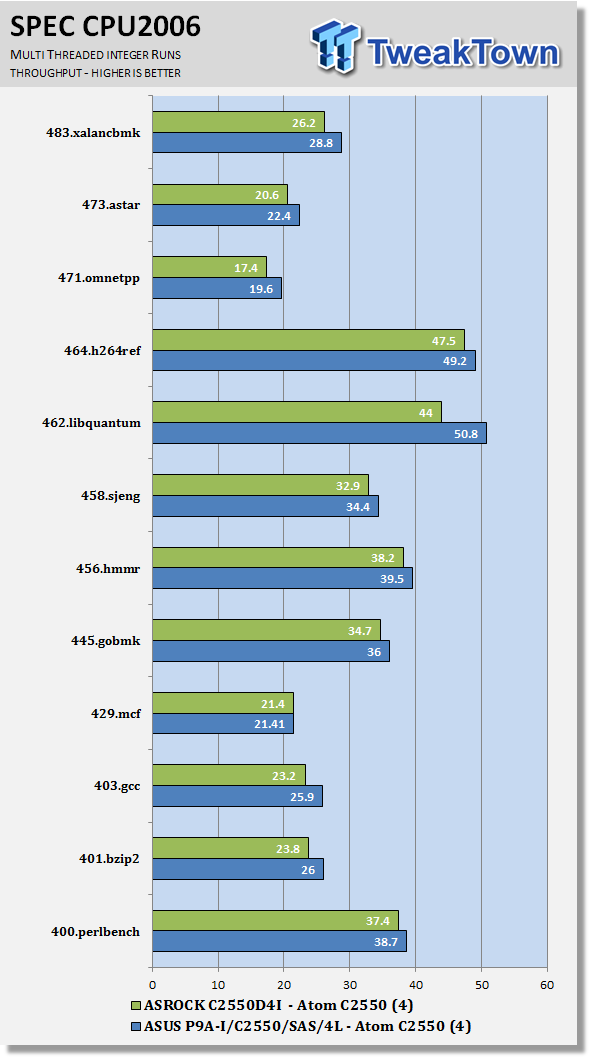 Now we run the test using all four cores on the Atom C2550 to measure the throughput of the system. In this test, more cores/threads will have a greater effect on the outcome.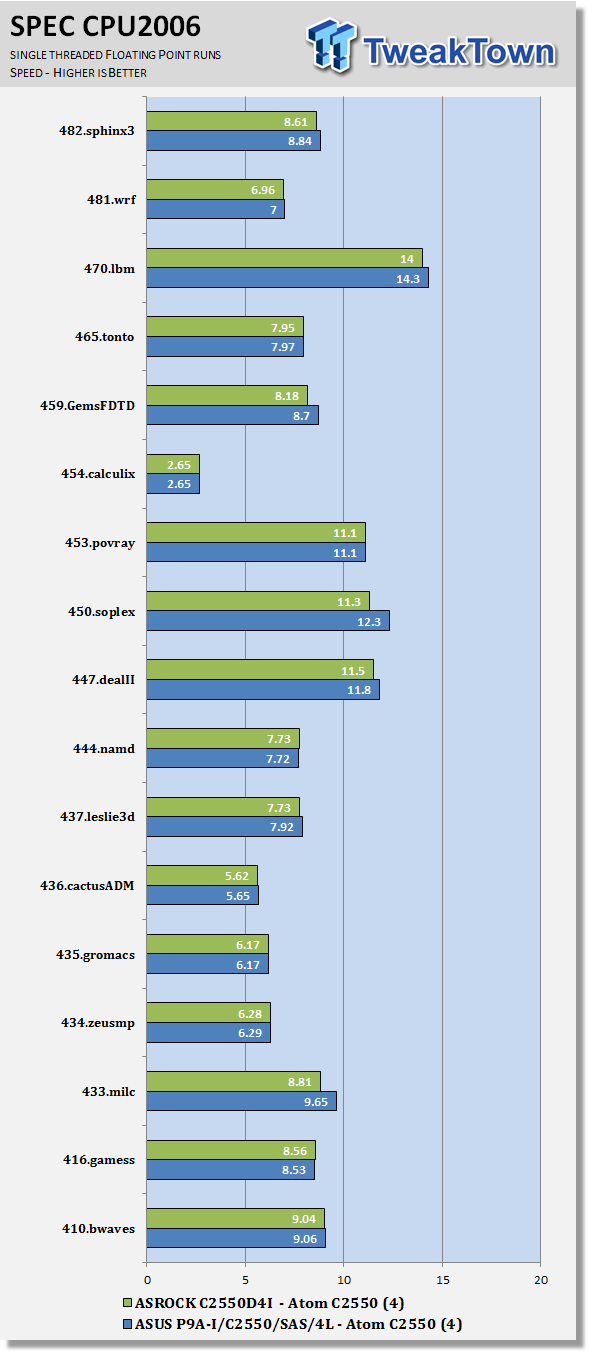 Just like the integer tests, we now run the floating-point tests in single-threaded (speed) mode.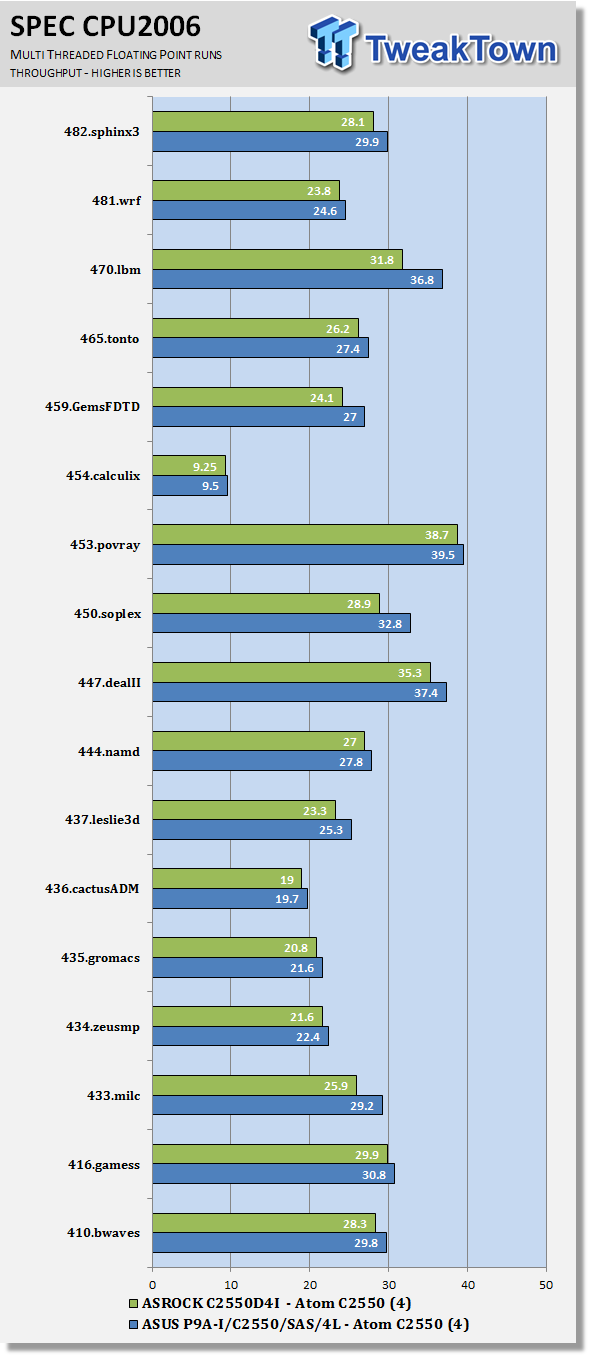 Here we see the results of the multi-core floating-point run that uses all four cores on the Atom C2550. Like the multi-threaded integer test, more cores/threads will have a greater impact on the test.
Power Consumption & Final Thoughts
Power Consumption
We have upgraded our power testing equipment, and now use a Yokogawa WT310 power meter for testing. The Yokogawa WT310 feeds its data through a USB cable to another machine where we can capture the test results. To test total system power use, we used AIDA64 Stability test to load the CPU, and then recorded the results. We also now add in the power use for a server from an off state, to hitting the power button to turn it on, and take it all the way to the desktop. This gives us data on power consumption during the boot up process.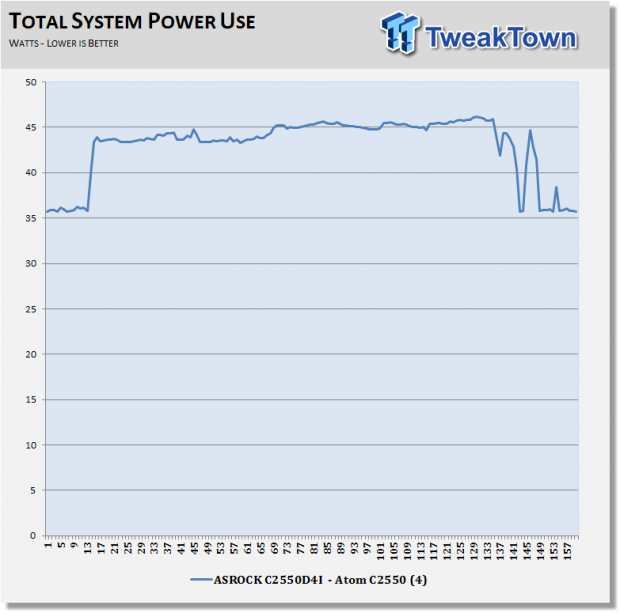 Here we can see that the system with the Atom C2550 uses a little more power. Power use jumps right up to a peak of about 47 watts when we start the tests. In some of our SPEC CPU2006 tests, we did see peak power use in the range of 52 watts. Our tests showed rather low power use numbers - about 10 watts lower than on other platforms. This helps to keep the system cool, and lower running costs.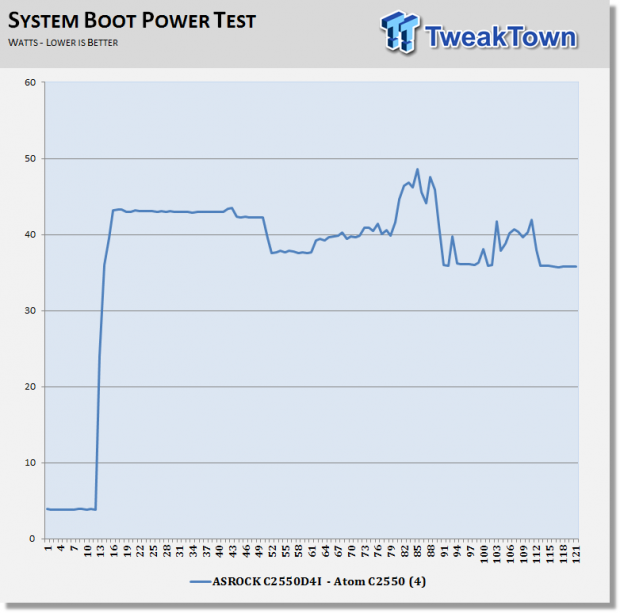 When turned off, the C2550D4I uses about four watts to keep IPMI active. After powering on, power jumps to about 48 watts, and then peaks out at about the same load. After a brief run up of the server, and booting the OS, the ASRock C2550D4I Server motherboard will settle down to the 37 watt range. It is useful to know what the boot up power demands would be like when powering up a rack of these servers.
Final Thoughts
The ASRock C2550D4I is a very compact server motherboard, which includes a great number of SATA ports that can power a large storage server like the ASRock Rack 1U12LX-C2550.
The C2550D4I is impressive because it uses such low power; it uses less power than other motherboards of this type that we have tested, yet performance does not seem effected by the lower power draw.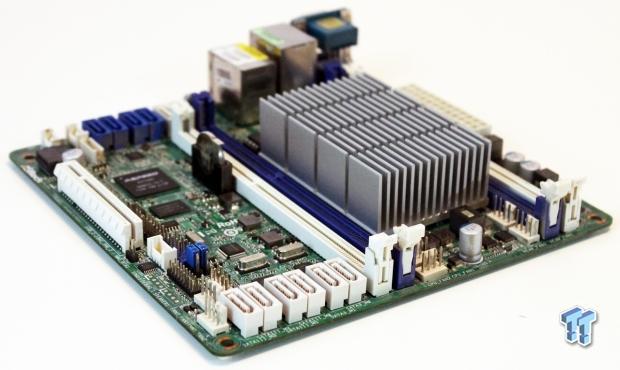 The motherboard itself uses very low power, and requires only passive cooling. We had no issues with running the test setup with no fans, although it did get rather warm to the touch under very heavy loads. However, under normal conditions, we do not think this would be a problem.
As we expect, the performance of the Atom C2550 is not its primary focus; the strengths of the C2550D4I are its storage capabilities. Several systems we have looked at can handle twelve hard drives in a 1U server case. This makes a very compact system that can expand the server rack to increase storage capabilities.
The C2550D4I would also make a great project board for small PCs and home servers. It has plenty of power to handle most desktop applications, and even some games; do not expect much in the gaming area though. One of the good things about this board is its passive heat sink that does not require a CPU fan to keep cool, so it can make for a silent running PC in a small form factor.
PRICING: You can find the ASRock C2550D4I for sale below. The prices listed are valid at the time of writing, but can change at any time. Click the link to see the very latest pricing for the best deal.
United States: The ASRock C2550D4I retails for $299.99 at Amazon.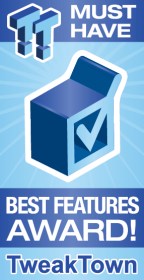 | | |
| --- | --- |
| Performance | 90% |
| Quality including Design and Build | 95% |
| General Features | 95% |
| Bundle and Packaging | 90% |
| Value for Money | 95% |
The Bottom Line: ASRock Rack'a C2550D4I Mini-ITX motherboard is an excellent small form factor server board. Passive cooling, low power use, and a large amount of storage capacity are the key points to this well designed motherboard.
PRICING: You can find products similar to this one for sale below.

United States: Find other tech and computer products like this over at Amazon.com

United Kingdom: Find other tech and computer products like this over at Amazon.co.uk

Australia: Find other tech and computer products like this over at Amazon.com.au

Canada: Find other tech and computer products like this over at Amazon.ca

Deutschland: Finde andere Technik- und Computerprodukte wie dieses auf Amazon.de
We openly invite the companies who provide us with review samples / who are mentioned or discussed to express their opinion. If any company representative wishes to respond, we will publish the response here. Please contact us if you wish to respond.