TYAN S7076 (Intel C612) Server Motherboard Review
TYAN's S7076 Intel C612 server motherboard goes under the spotlight. This dual Xeon CPU board offers loads of features, especially concerning storage.
Published
14 minute read time
TweakTown's Rating: 91%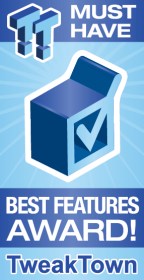 The Bottom Line
TYAN's S7076 is a mini-SAS heavy product with a variety of other connectivity options to meet server need. If you are looking for a server ready for heavy CPU, memory, and storage workloads, the S7076 is worth a look.
Introduction, Specifications, and Pricing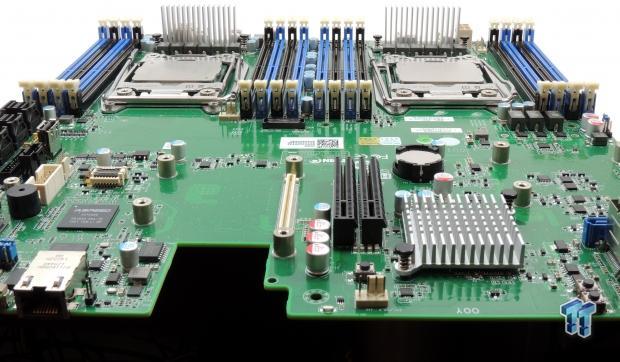 Today I'm looking at a server motherboard from TYAN, a subsidiary of MiTAC, a well-known multinational corporation. The S7076 utilizes the Intel C612 chipset and is not focused on GPU computing as much as it is focused on storage. The modern X99 chipset is almost equivalent to the C612, but the C612 is more targeted towards enterprise with features such as trusted execution. The TYAN S7076 supports two Xeon Haswell-EP E5-2600 V3 series processors and supports the top of the line 18-core model. This review will utilize two E5-2683 v3 processors, which are 14 core/ 28 threads with a 2GHz base and 3GHz Turbo clock at 120W TDP.
I will look at this board not from the point of view of an enterprise developer for a multinational corporation or government entity, but rather as a standalone server for a smaller business, which requires a flexible server capable of handling a multitude of tasks with the latest software. These days with increased demand for converged solutions, server hardware has to be able to facilitate many things such as an email server on the same physical server used for database management.
Server hardware is much more important that it might have been before. In the past if your email server went down then your SQL server would probably still be functioning, but now if a converged solution goes down, it could have a significant impact on the bottom line since each server is virtualized on a single physical server. This review will take a look at general performance but focus on design and utility of the motherboard.
Specifications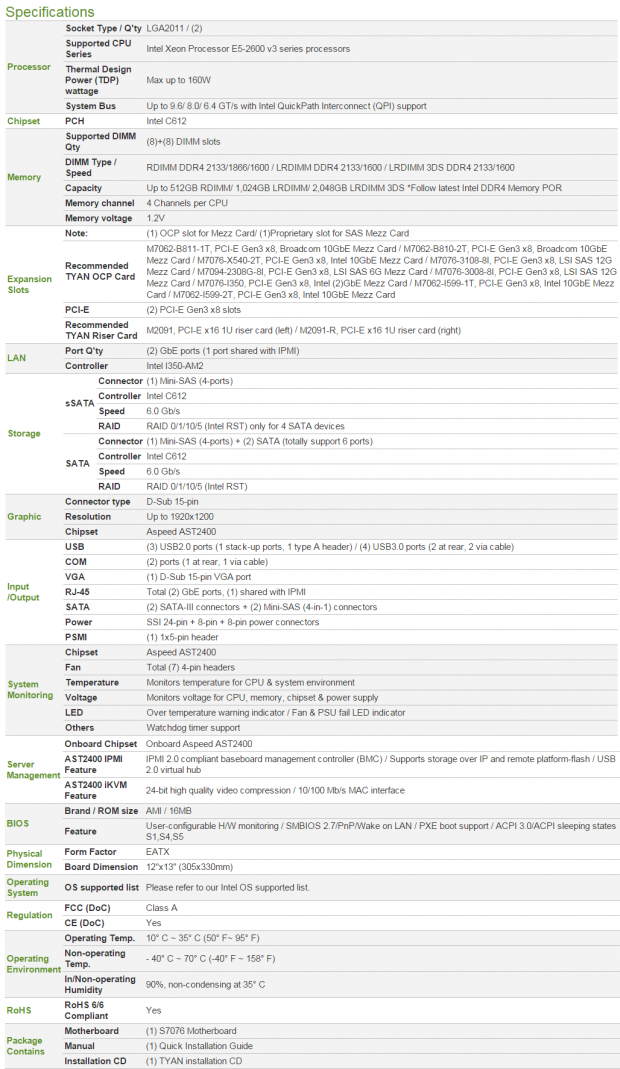 There are two versions of the S7076, and we are looking at the "E" version with four extra mini-SAS HD connectors. The TYAN S7076 supports 512GB/1TB/2TB of DDR4 RDIMM/LRDIMM/LDRIMM 3DS RAM. One CPU will provide all of its PCI-E lanes to two open PCI-E 8x slots, an OCP slot for a Mezz card (not included), and to a proprietary SATA Mezz card (not included). The other CPU will provide its PCI-E lanes to four mini-SAS HD ports with NVMe support. The PCH provides 2x SATA 6Gb/s ports and 2x mini SAS (6Gb/s) with RAID support. Two 1Gbit RJ-45 NICs are provided by an Intel I350-AM2 controller. There are also two back panel USB 3.0 ports and an internal header for USB 3.0 and another for USB 2.0. The board is in the EATX form factor, but beware of PCI-E spacing as the board will not fit a long graphics adapter, but it should comfortably fit a PCI-E slot based storage device.
Pricing
The TYAN S7076 S7076GM2NRE is listed for $395 which is quite affordable for a dual socket LGA 2011-V3 motherboard.
Packaging and S7076 Overview
Packaging and Overview
The S7076's box is very simple and is just large enough to fit the motherboard. I wanted to note that this is a review sample, and the board did not come with any accessories. I believe that the retail package comes with two SATA cables, an IO shield, a quick installation guide, and a driver CD.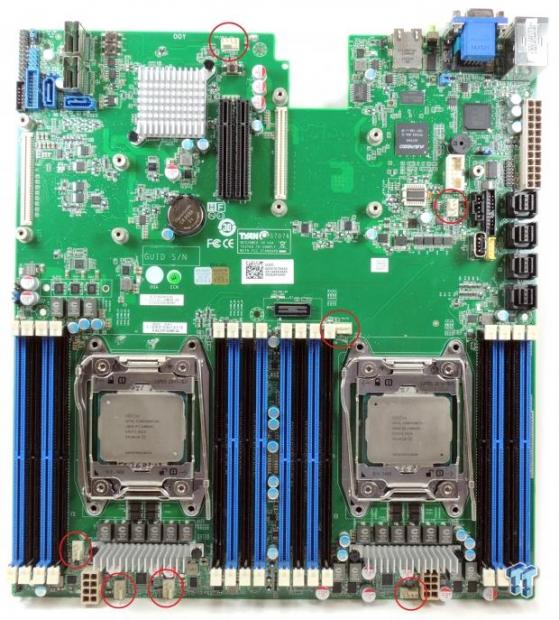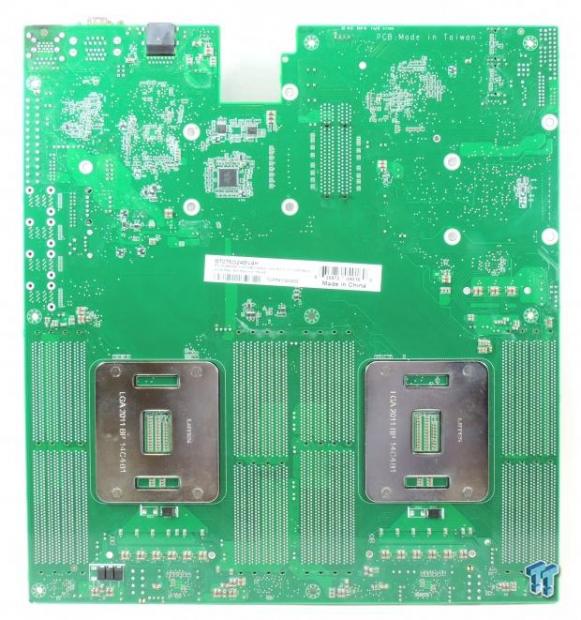 The TYAN S7076 has seven 4-pin PWM fan headers, and I will detail how you can control them when I look at the BIOS. TYAN claims the motherboard's layout is optimized for racks, and overall that does seem to be the case. The positioning of the OCP Mezzanine card slot allows a networking mezz card's ports to exit out of the back panel while the proprietary mezzanine card slot is positioned for internal storage (expanded SAS). There are two PCI-E 8x slots that can fit 16x cards, but they will not fit in a full-sized consumer video card. The back of the motherboard is almost bare except for an external clock generator and some standard SMD capacitors.
The IO panel on the S7076 is very basic, two RJ-45 ports for networking (the port nearest the ID LED button can be used for IPMI), two USB 3.0 ports, a COM port, a D-SUB port, and an ID LED button.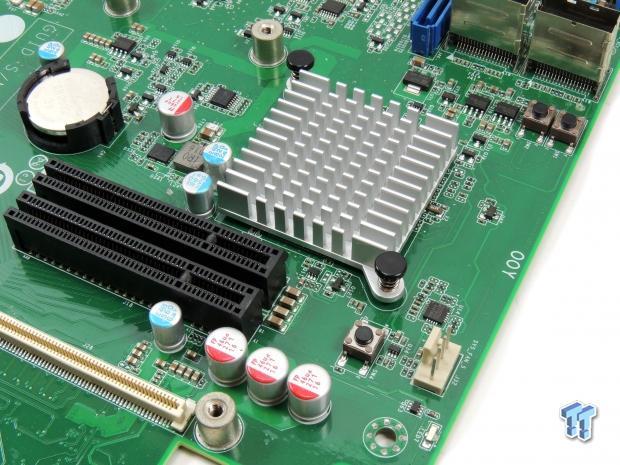 To make things a bit more convenient, TYAN includes onboard power, reset, and clear CMOS buttons for easy access. TYAN also provides a list of recommended PCI-E riser cards in the manual in case you want to expand the PCI-E slots. The typical OCP Mezzanine card slot is positioned so that if the card has external ports (such as a 10Gbit NIC) then they can be accessed from outside the rack.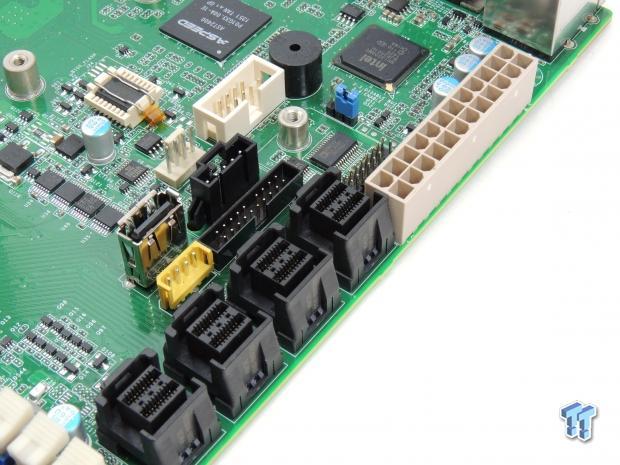 The "E" version of the S7076 comes with the four black mini-SAS HD (supporting NVMe) connectors pictured above in line with the 24-pin connector. Behind that is a vertical USB 2.0 port for devices such as a USB based encryption key or license for enterprise software. There is also a white COM port near an internal speaker, a socket with BIOS ROM, a TYAN module header, a PSMI connector (black), an IPMB header (yellow), and a fan connector header for barebones.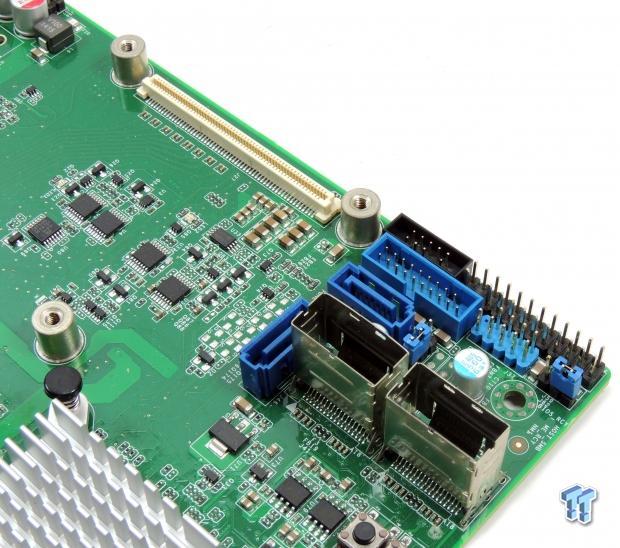 On the other end of the motherboard are two mini-SAS 6Gb/s ports, two SATA6Gb/s ports, a USB 3.0 header (blue), a USB 2.0 header (blue without wall), a front panel header array (black without wall), and a PCH SATA GPIO header (black with wall). There is a proprietary mezz card slot meant for SAS expansion, and TYAN includes a list of compatible cards. Scattered around the motherboard are jumpers for COM2/COM5 selection, BMC reset, BIOS recovery mode, NMI, ME recovery mode, and ME security override.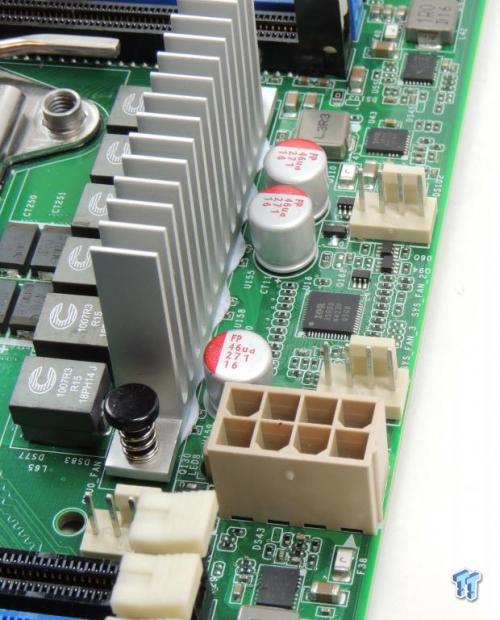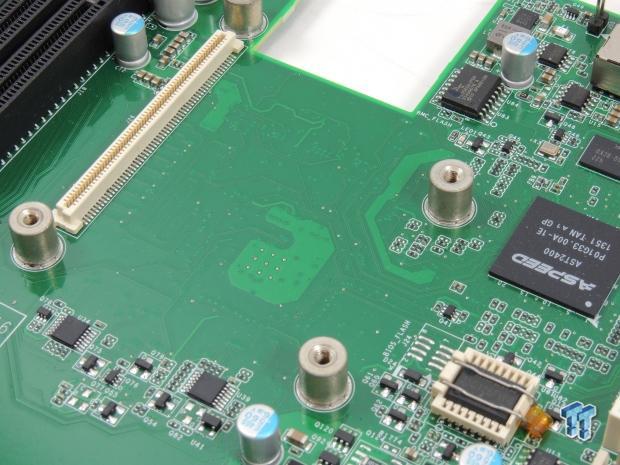 Each CPU is provided an 8-pin header for dedicated power, and each CPU socket is surrounded by at least two 4-pin PWM fan headers. These headers fit very tight against the fan's connector to ensure a snug fit. A single OCP mezzanine card slot is provided at the center of the board.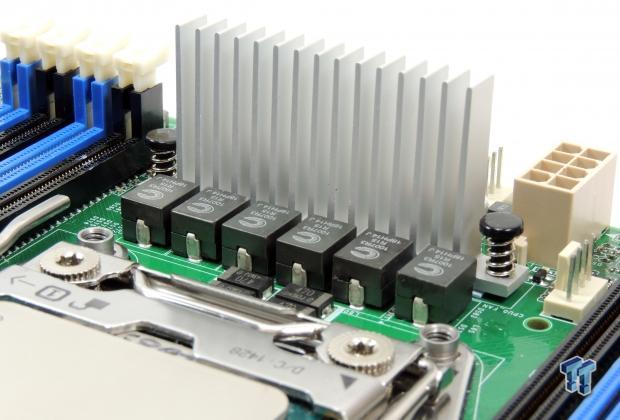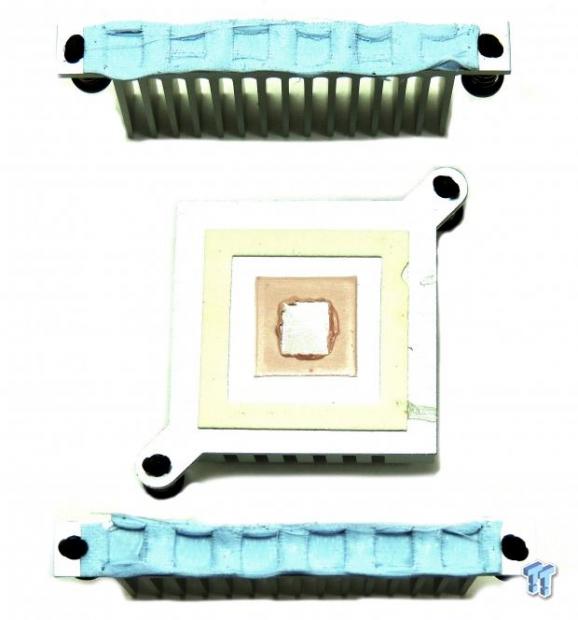 Each CPU has a 6-phase VRM providing power, and each of these VRMs is cooled by an aluminum heat sink. These heat sinks and the one that cools the PCH chipset are held to the board with pushpins. The condition of the thermal pads used to conduct the heat between component and heat sink reveals excellent contact.
TYAN S7076Circuit Analysis
Circuit Analysis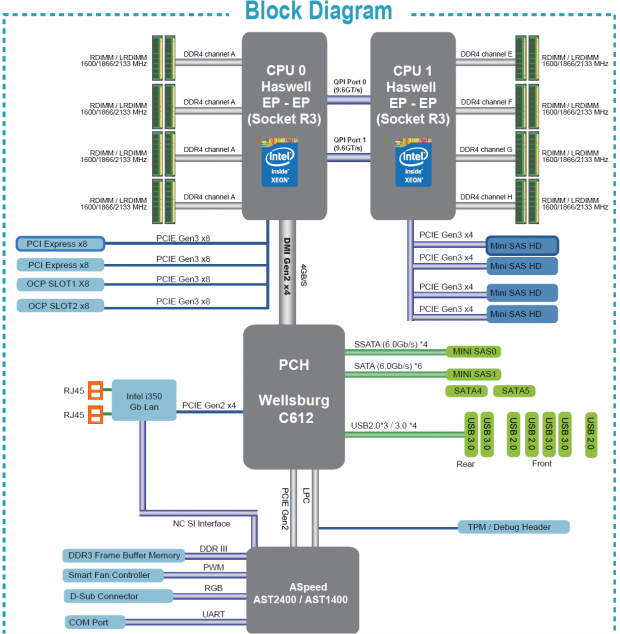 The S7076 has a simple block diagram; the board is designed to provide a healthy assortment of storage options and expandability while maintaining the minimum in networking.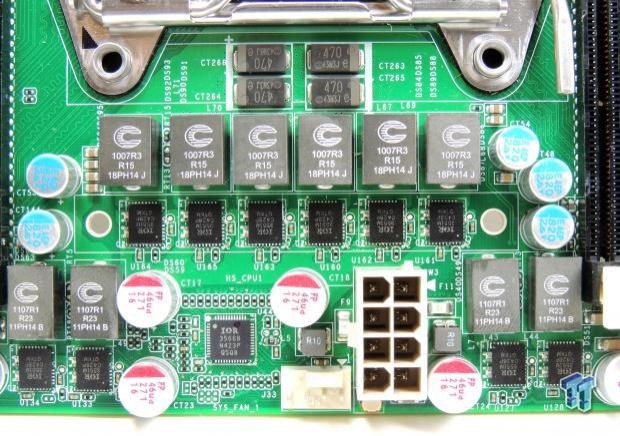 Each CPU has the same VRM. Each of those VRMs consists of a mixture of solid polymer and tantalum-based capacitors, six 76A CooperBussmann 1007R3-R15 power inductors, 6x International Rectifier 50A integrated power stages and a 6-phase International Rectifier IR3566 digital PWM. A few consumer motherboards meant for overclocking carry close to the same components used here, except when you overclock an 8-core consumer processor it can pull over 300W, here each CPU will not even pull over 250W because you cannot overclock these CPUs on this board. These VRMs are being used to optimize heat and provide constant enterprise grade power to the CPU.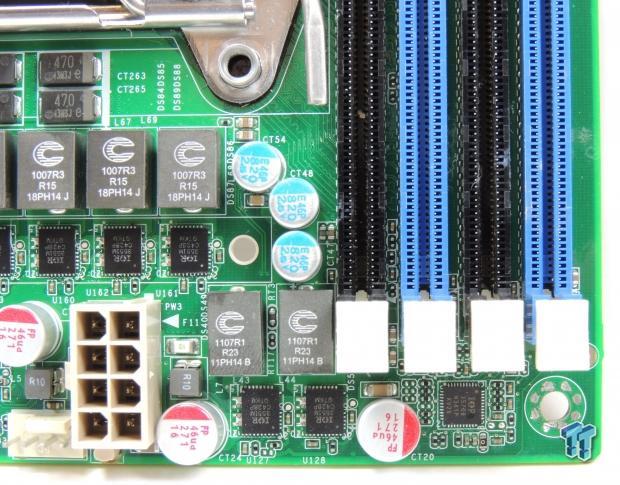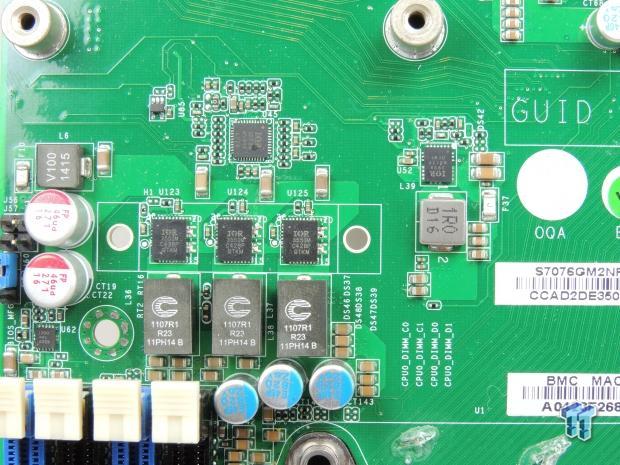 The previous image also displayed some parts of the DRAM VRMs, and on this motherboard, the DRAM VRMs are a bit different although they use the same power stage and filter components like the CPU VRMs. CPU0's two sets of four DIMMs are fuelled by a single 3-phase VRM controlled by an IR3570. CPU1's two sets of four DIMMs each gets a 2-phase VRM and each is controlled by an IR3570.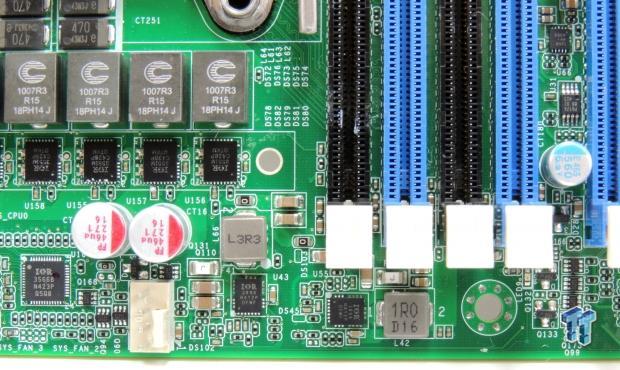 One of the features of DDR4 is its lower power consumption; this is partially due to the introduction of the VPP rail, which is usually around 2.5v. Other rails such as power for the PCH, a CPU IO rail, and other IOs are powered by 6A high integrated buck converters also from International Rectifier. Two of them are pictured above, and there are many others scattered around the motherboard.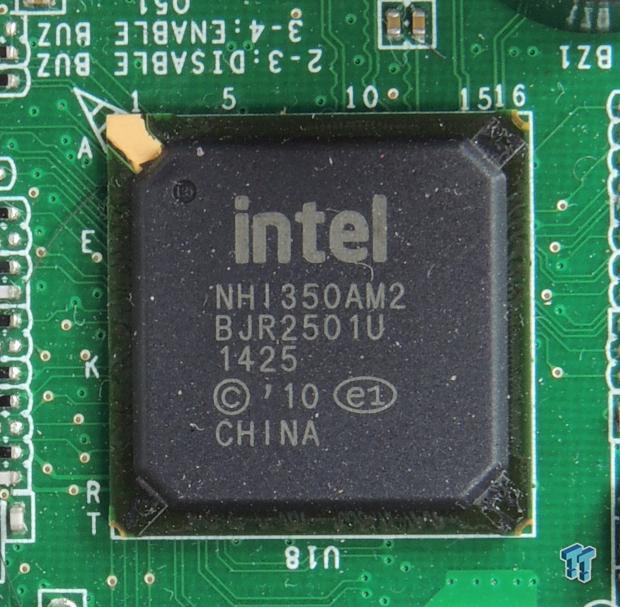 For networking support, Intel's NHi350AM2 is provided 4x PCI-E 3.0 and outputs two 1Gbit NICs. One of these is connected to the BMC controller for IPMI.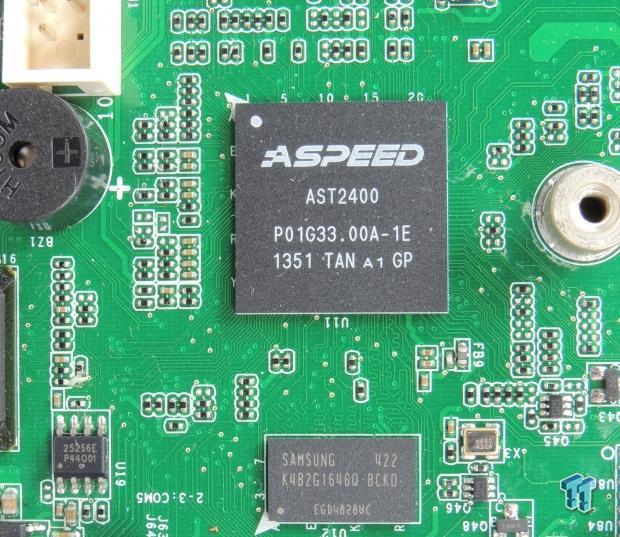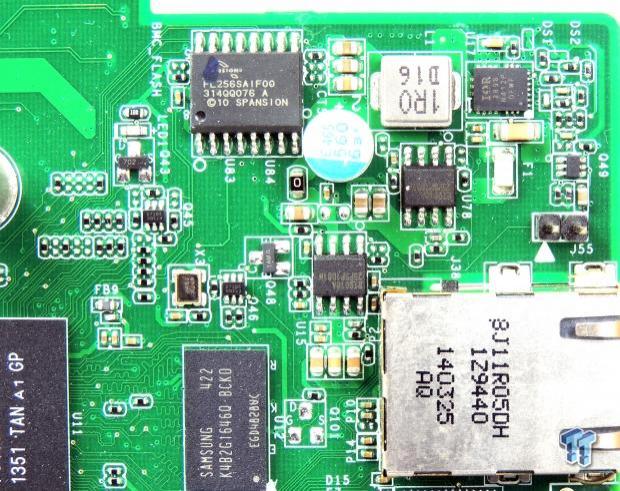 TYAN is using the ASPEED AST2400 as its server management processor. It utilizes an ARM9 processor, has its own Samsung DDR3 and dedicated voltage regulator and flash storage. This management processor not only provides BMC (baseboard management controller) features but also provides the display capabilities (up to 1920x1200) on the back, so there is no need for an additional GPU. When it comes to remote management this controller is well equipped, providing voice over IP, USB over IP, storage over IP, and even remote platform flashing. For iKVM, it provides 24-bit video compression over a 10/100Mbps MAC, and through a TYAN Java application can allow for video recording.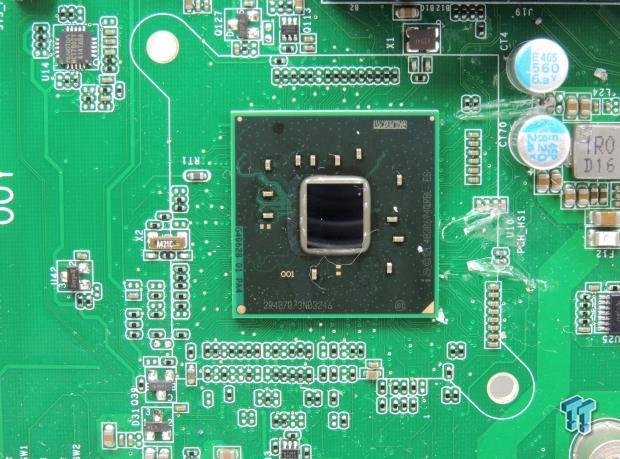 The Intel C612 chipset is part of the Wellsburg family (same as X99) and has a TDP of 7W with a multitude of PCI-E 2.0 connectivity. It supports RSTe 4.0 with multiple RAID modes and has a decent number of USB 2.0 and 3.0 ports.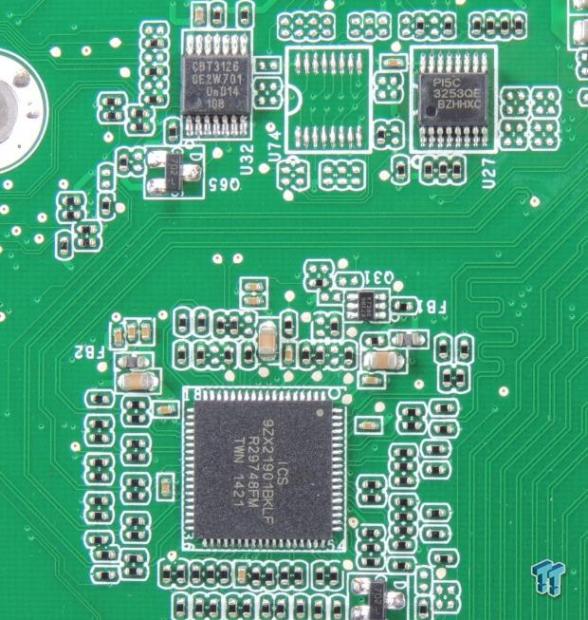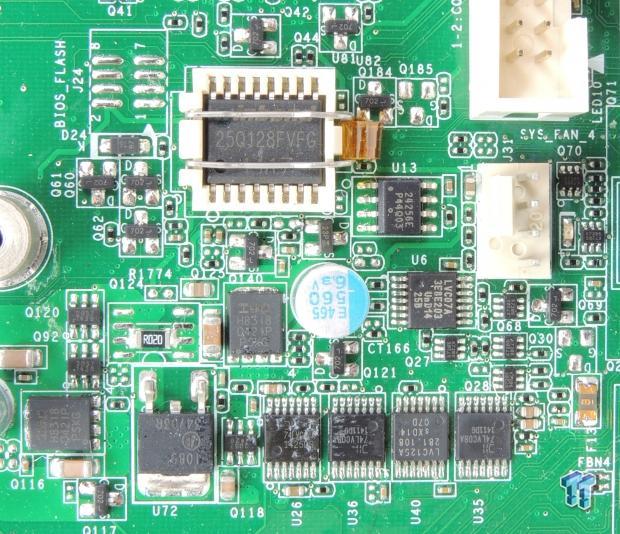 An ICS 9ZX21901BKLF clock buffer and some bus switches are located on the backside of the motherboard. On the topside are many more voltage translators, gates, and buffers used to connect the different controllers and provide an extra level of protection and features. The BIOS ROM used on this board is a 128Mbit (16MB) ROM from Winbond, which can be replaced in case of corruption.
BIOS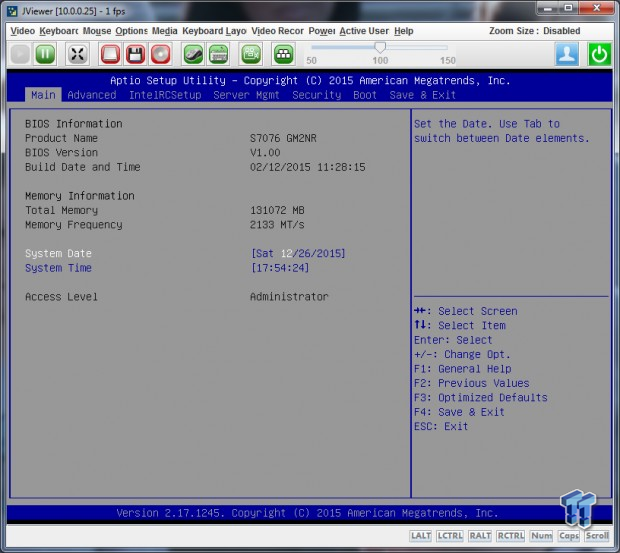 I used the S7076's console redirection to capture screenshots of the BIOS. Overall the BIOS looks basic but is loaded with features ranging from fan control to security key implementation.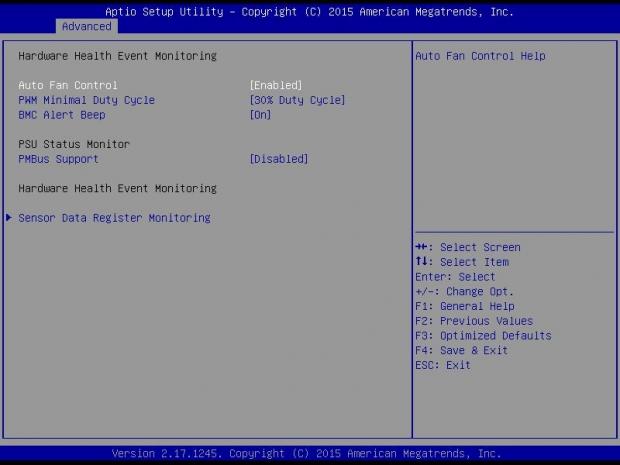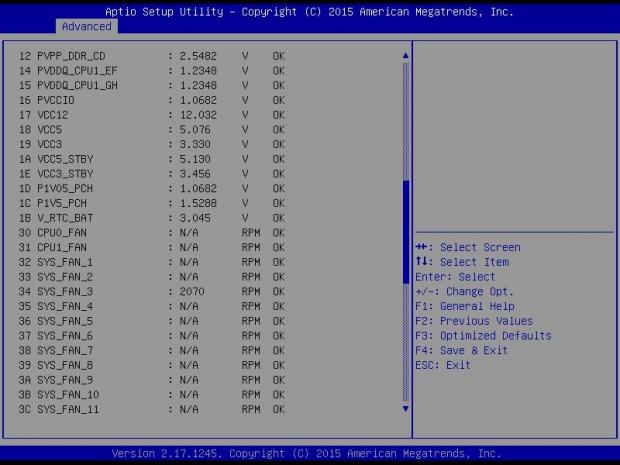 Fan control is designed to be automatic and manual control is a little restricted, the minimum PWM duty cycle is 30%. Hardware health readings are extensive, and fan readings are as well. In fact, if you expand fan control through the barebones header, fan monitoring is still provided remotely and in the BIOS.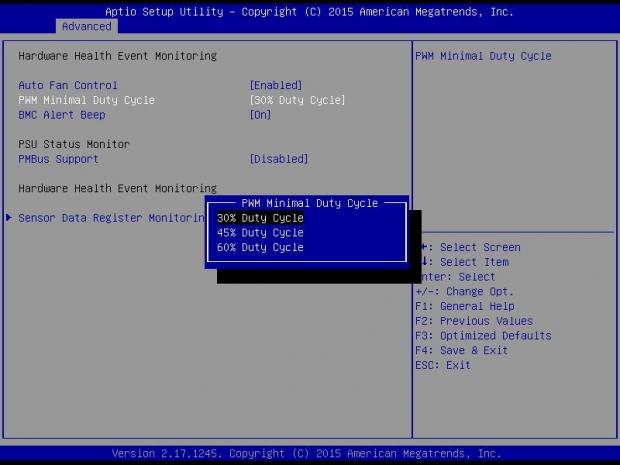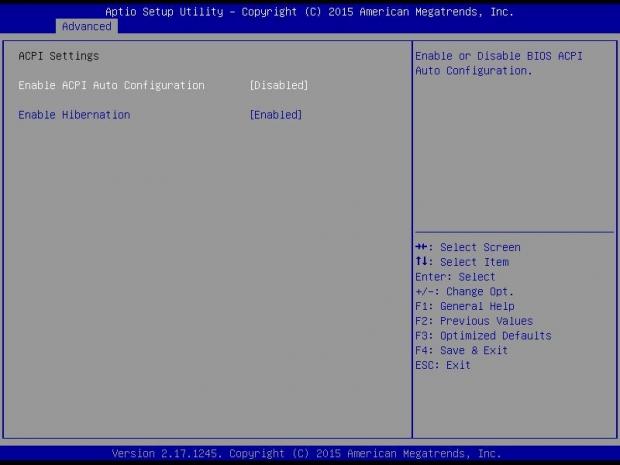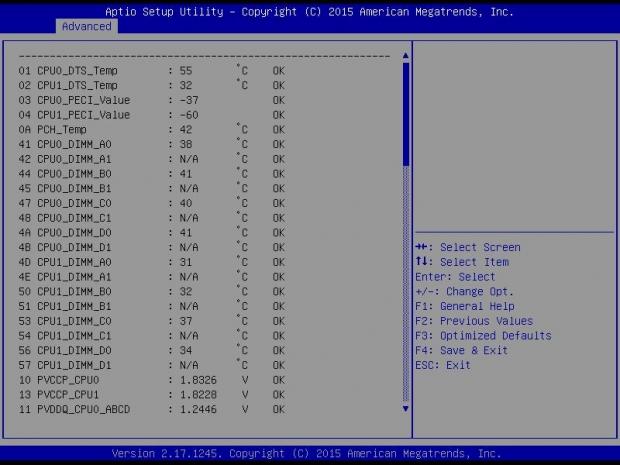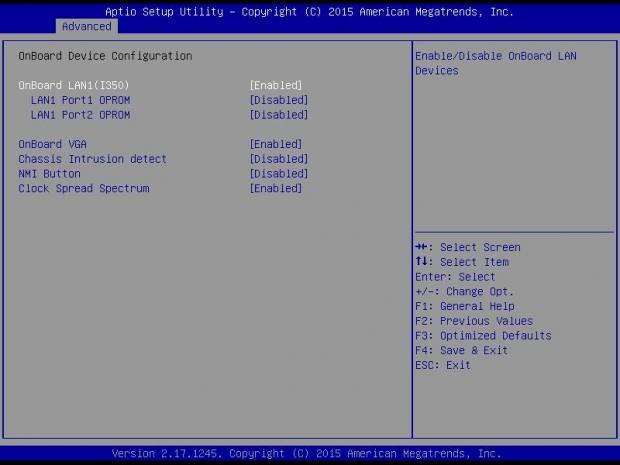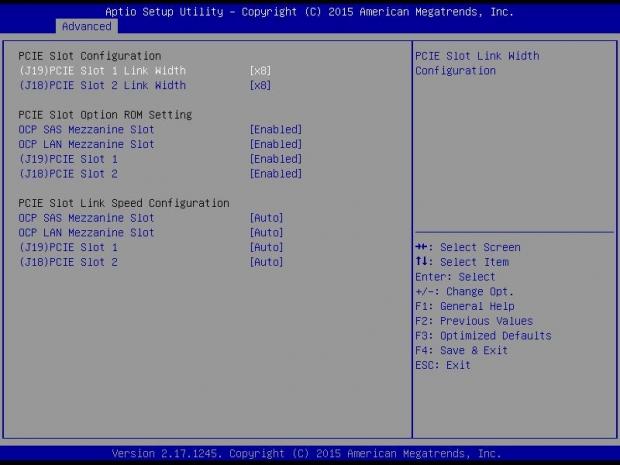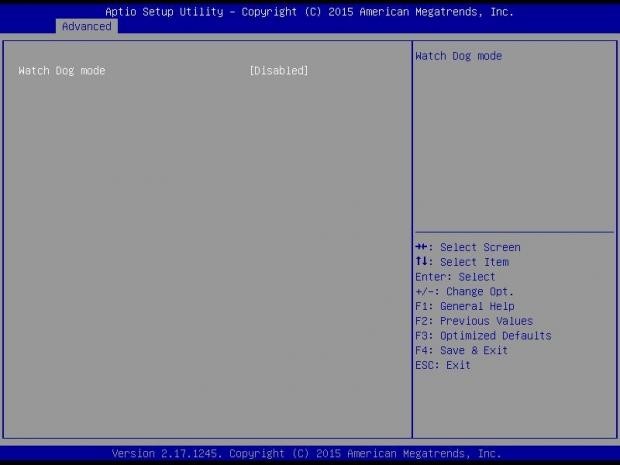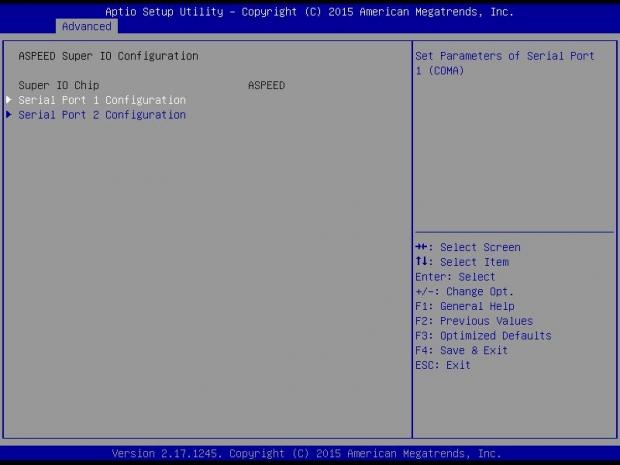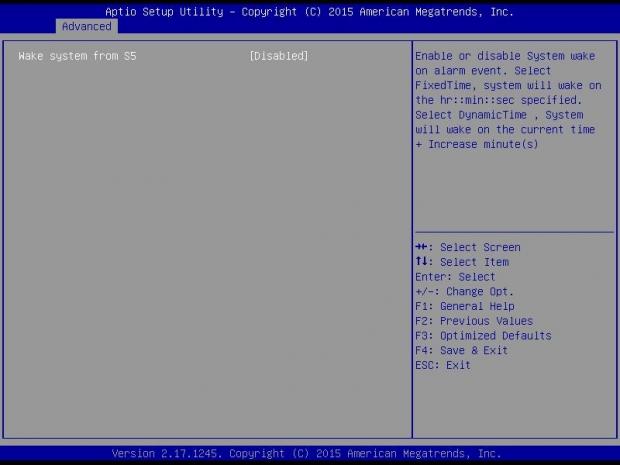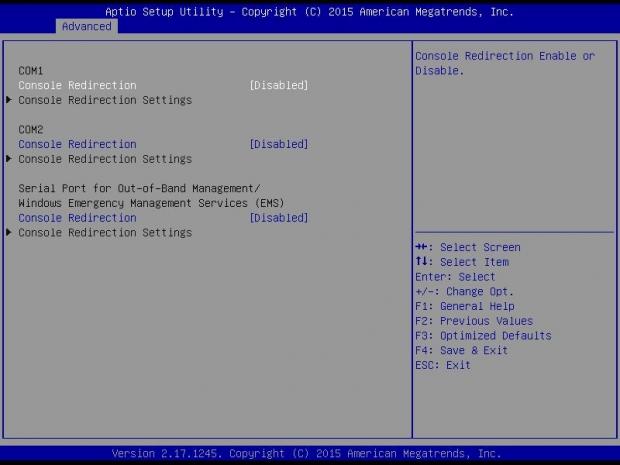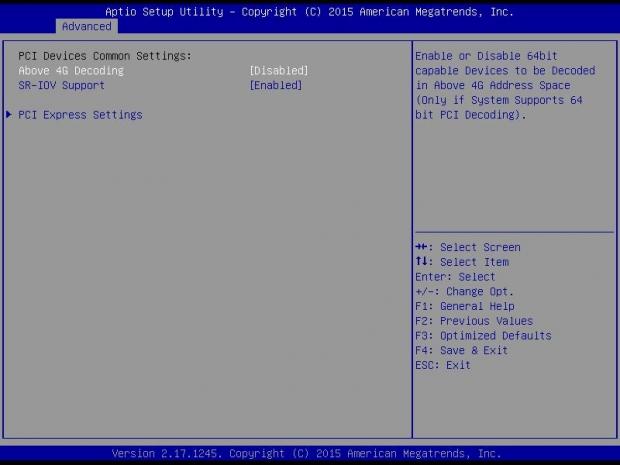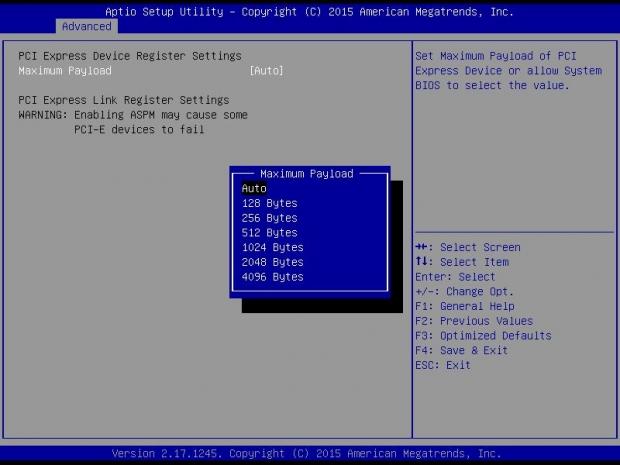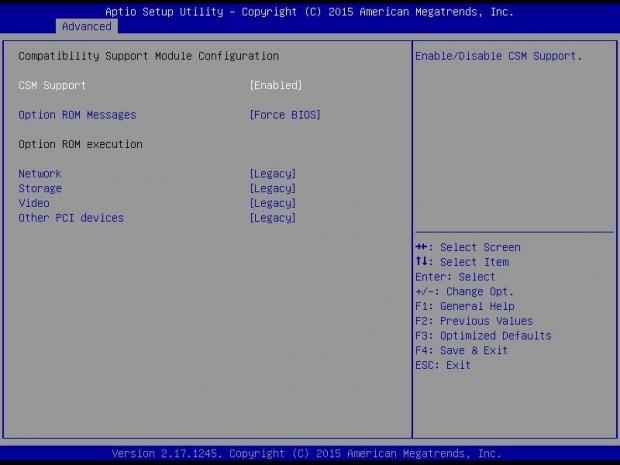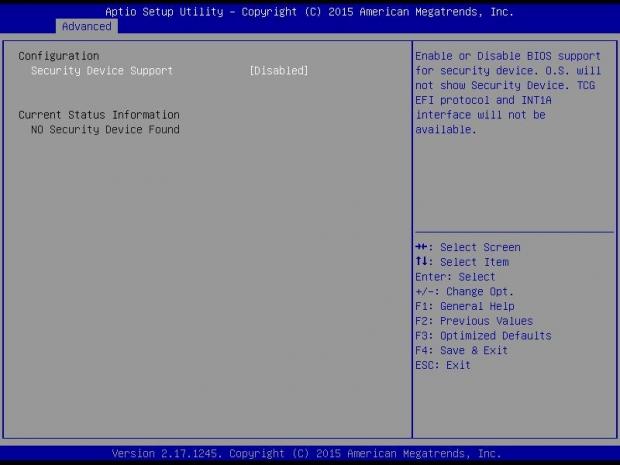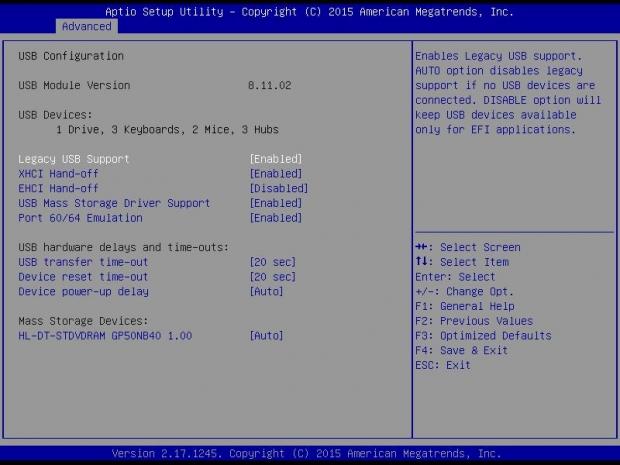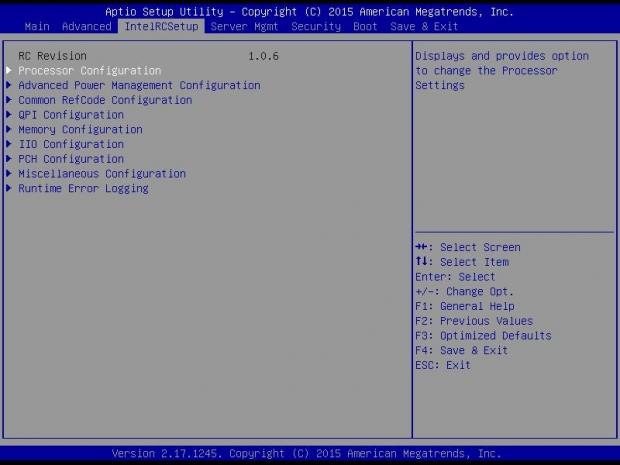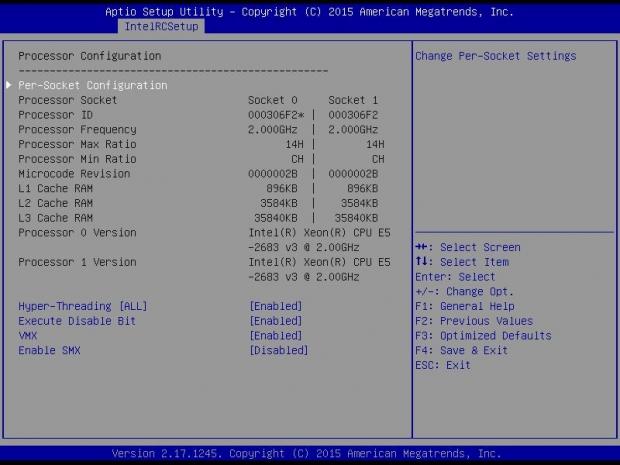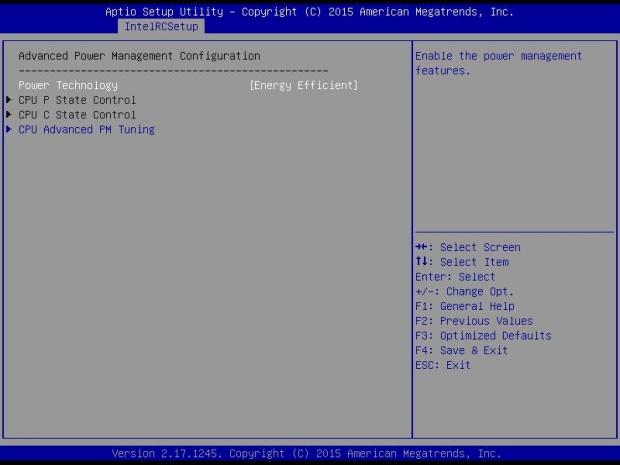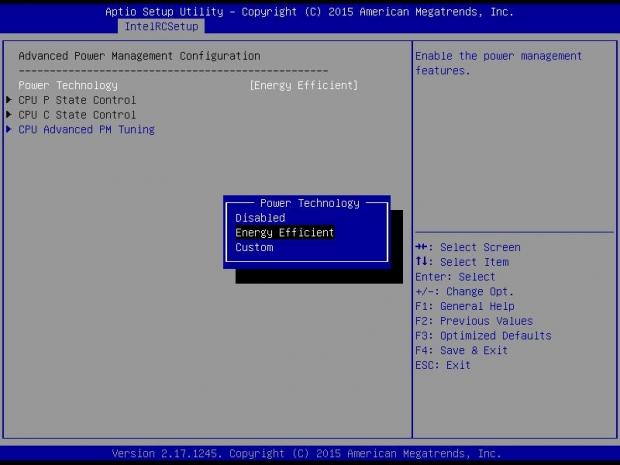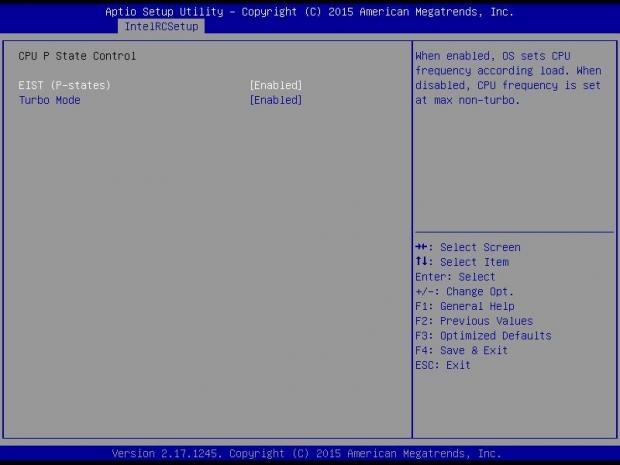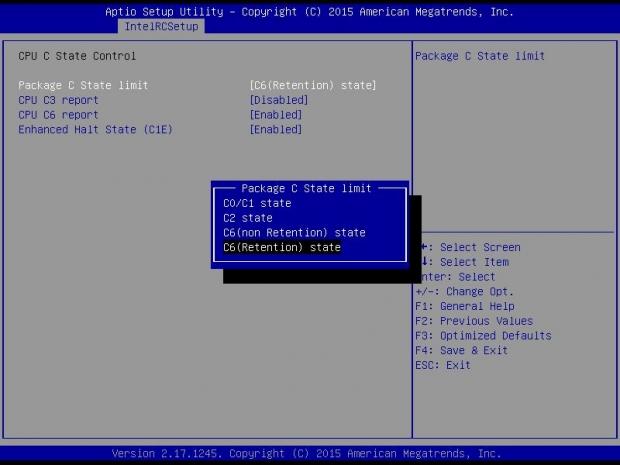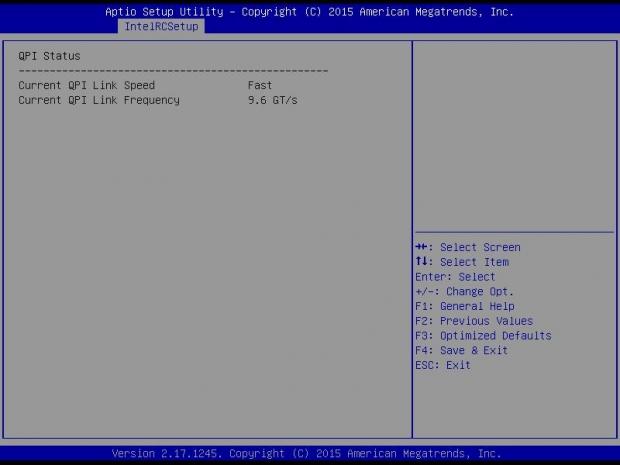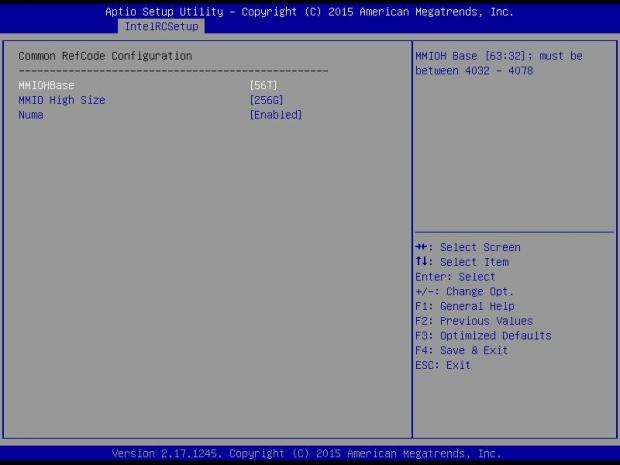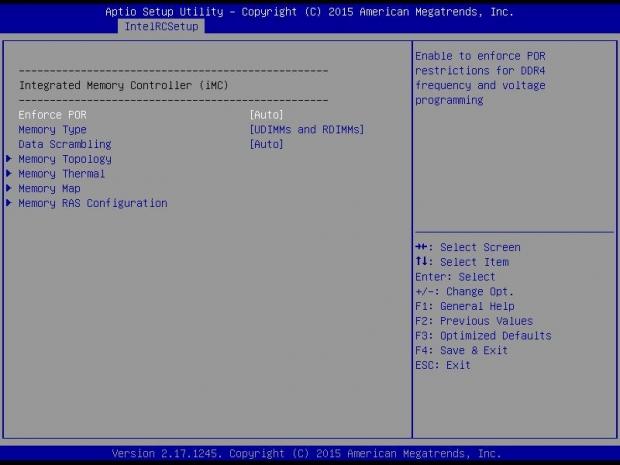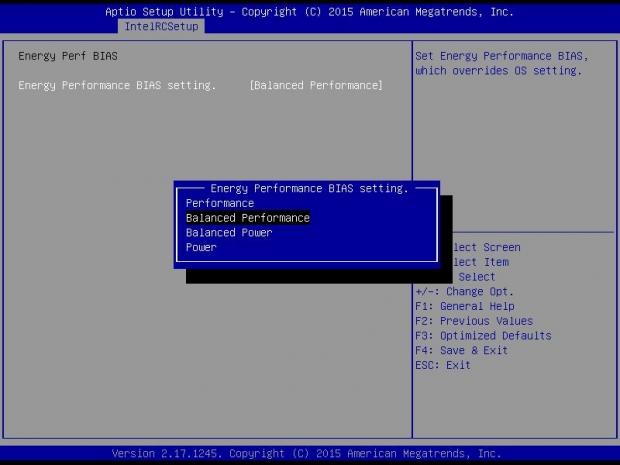 The BIOS also provides power tuning for the CPU, but it does not provide anything regarding voltage or BCLK control. That means you cannot increase or decrease the VCCIN or DRAM voltages.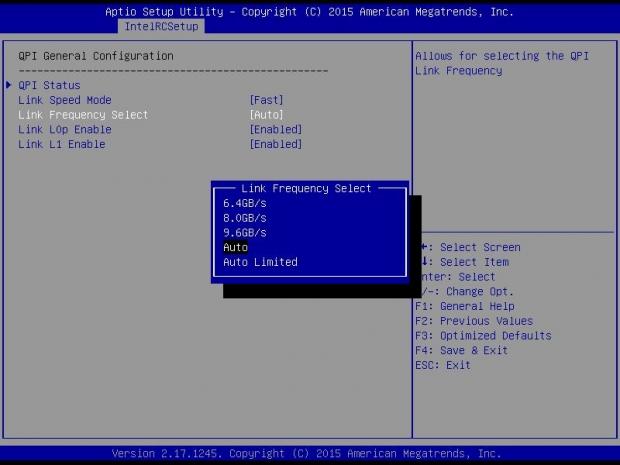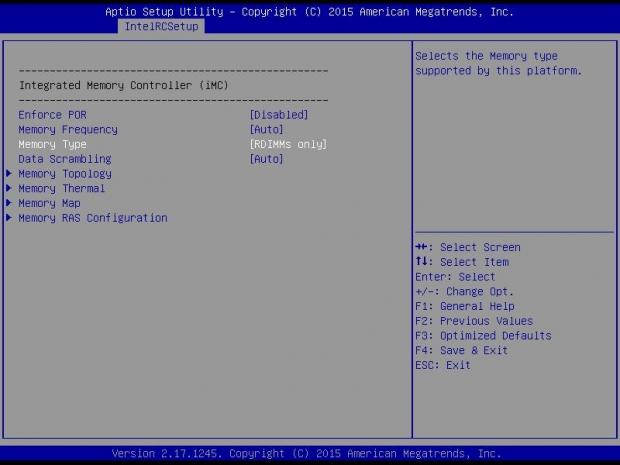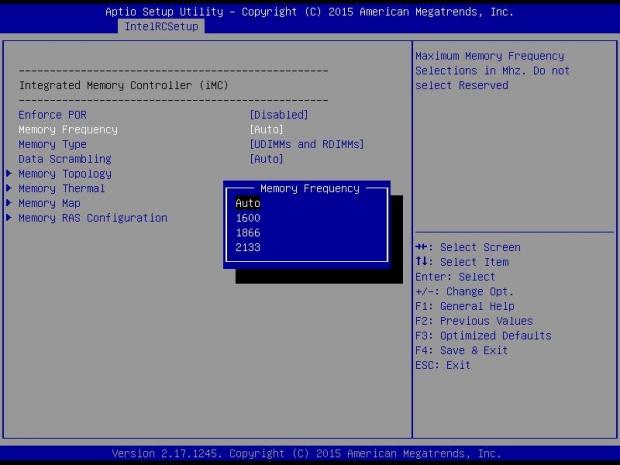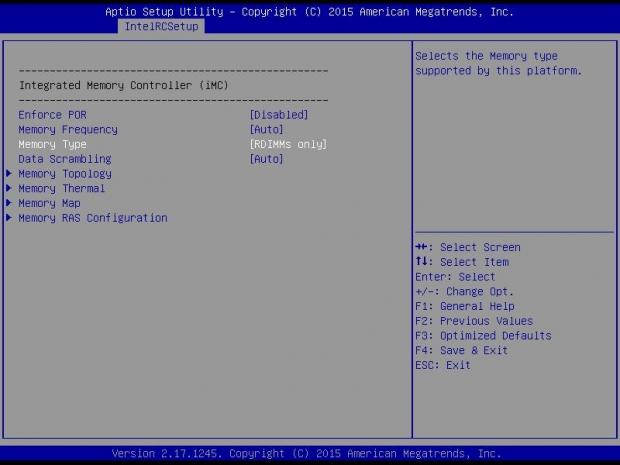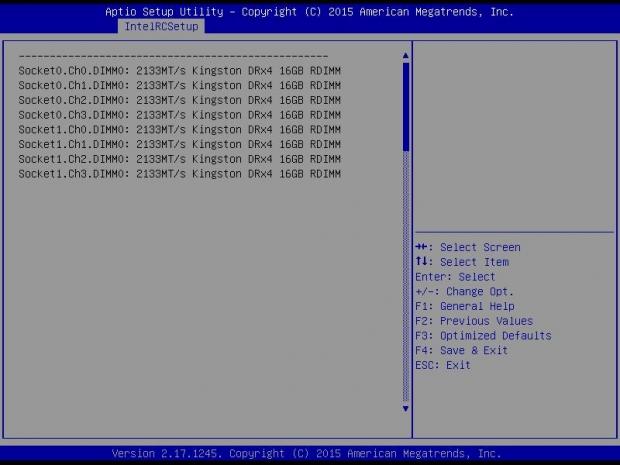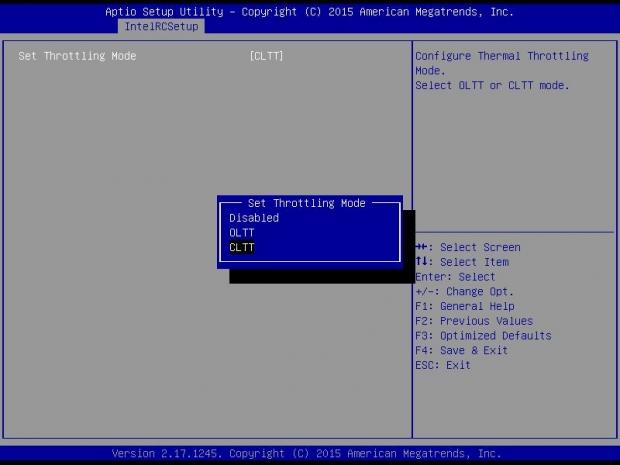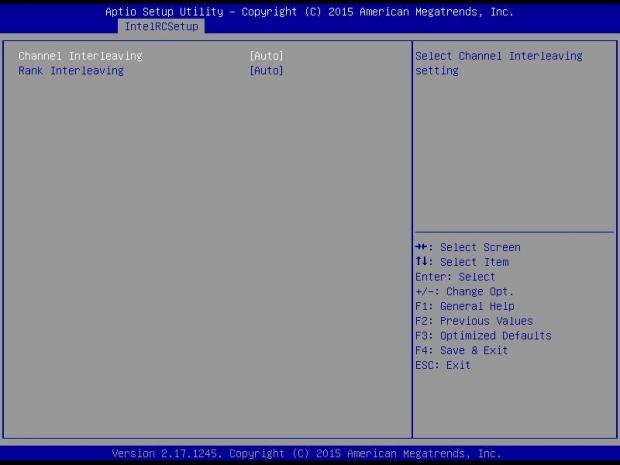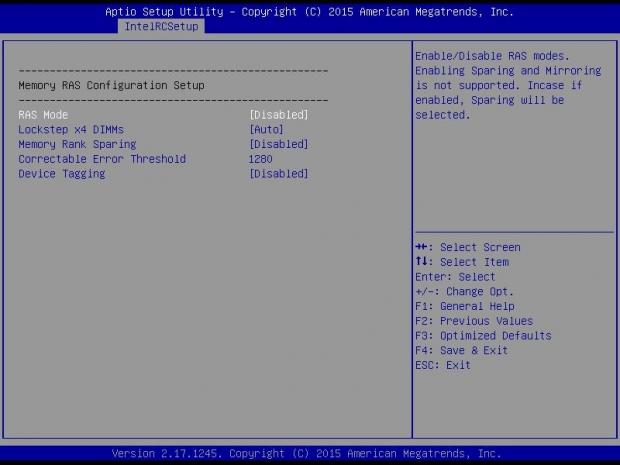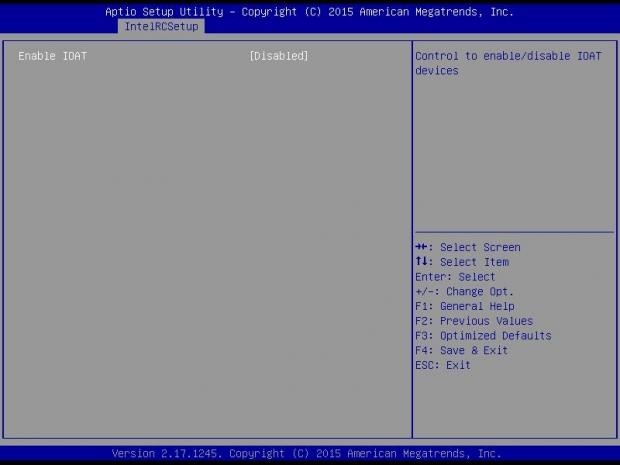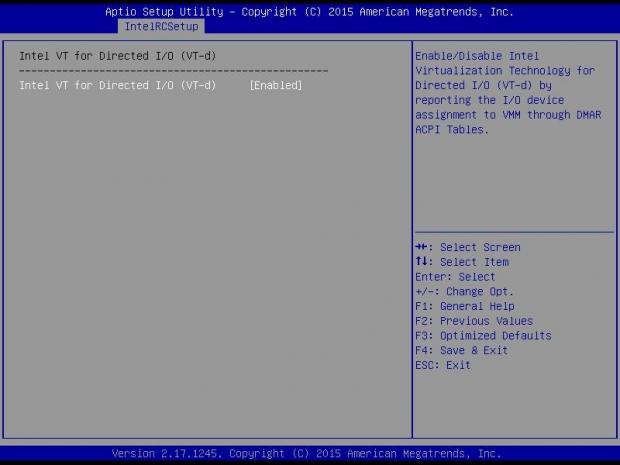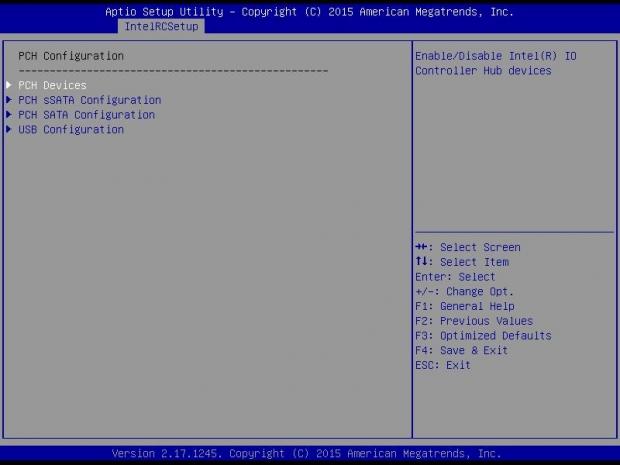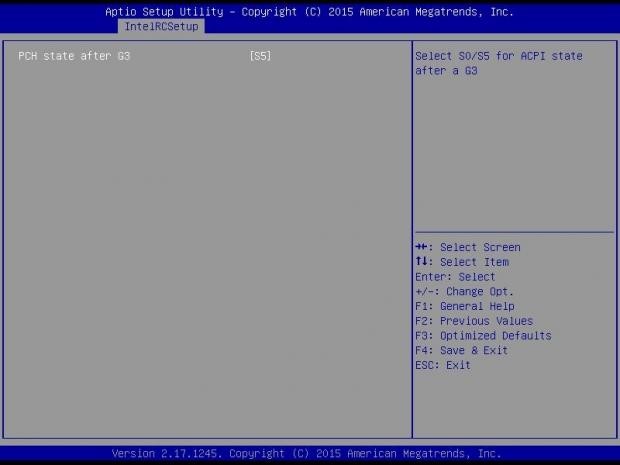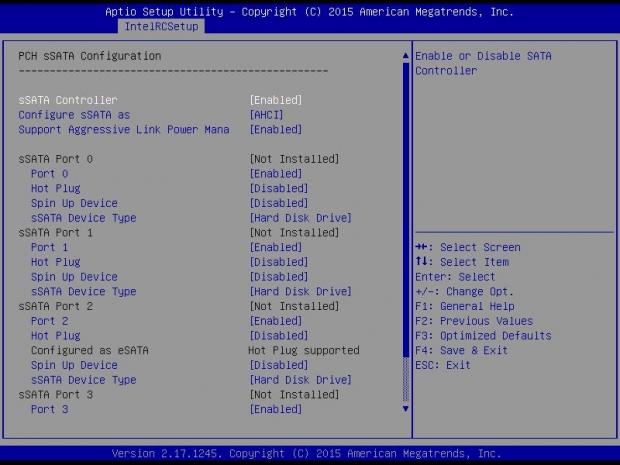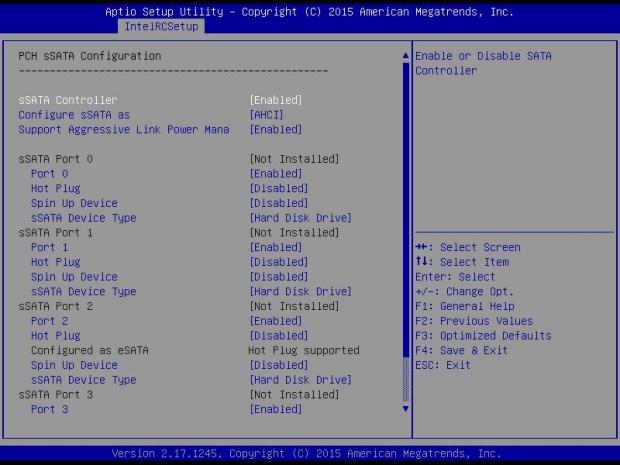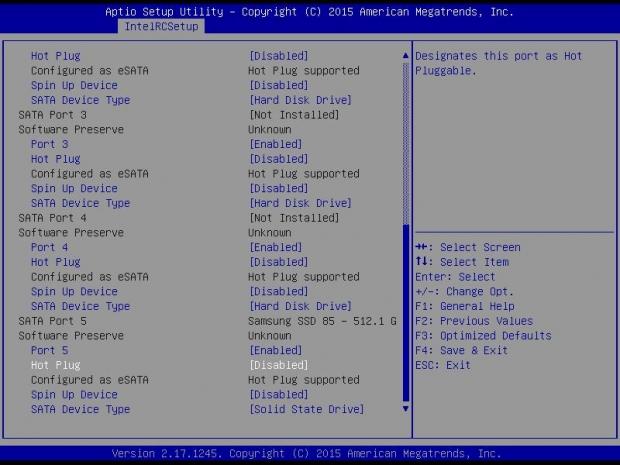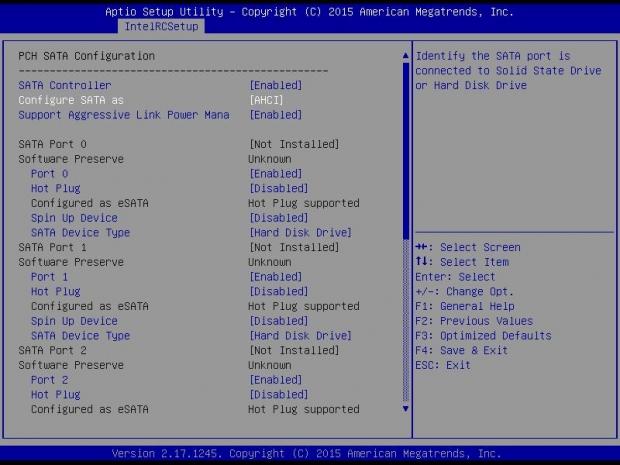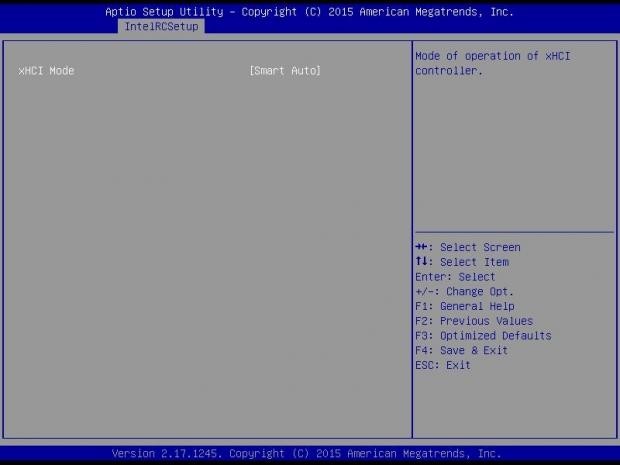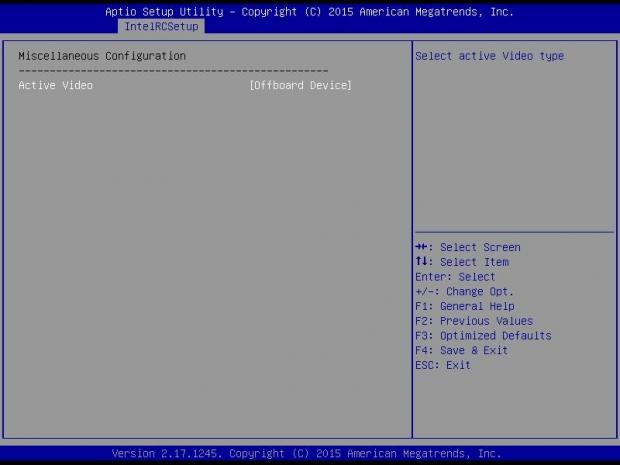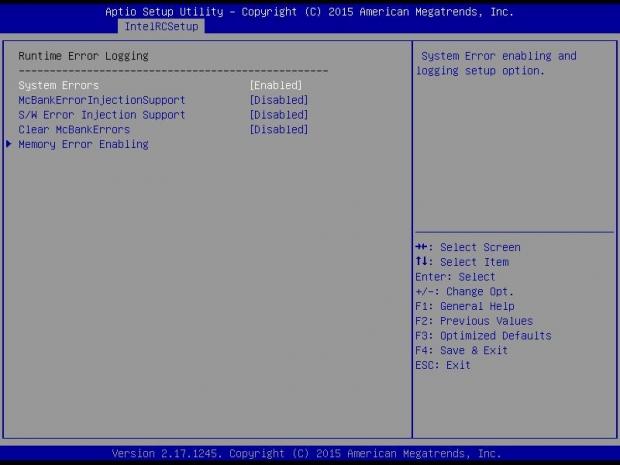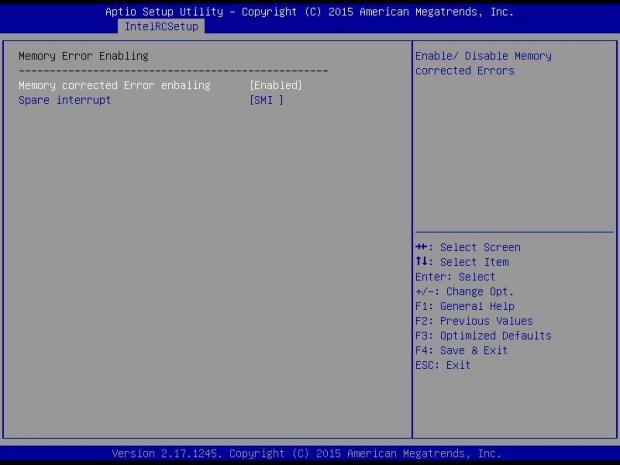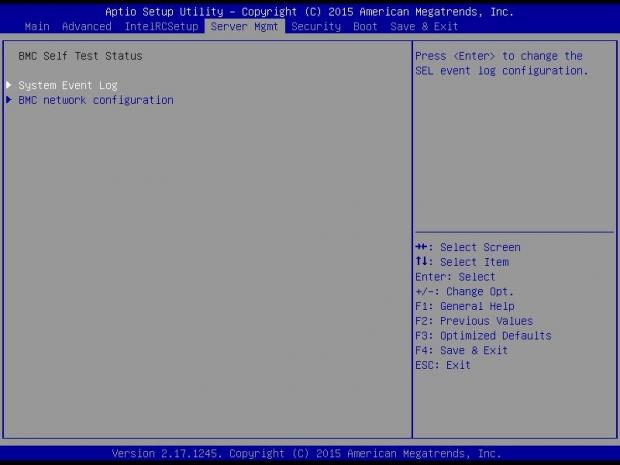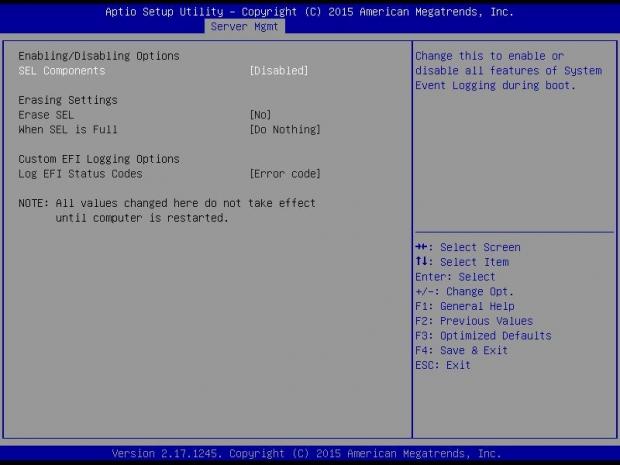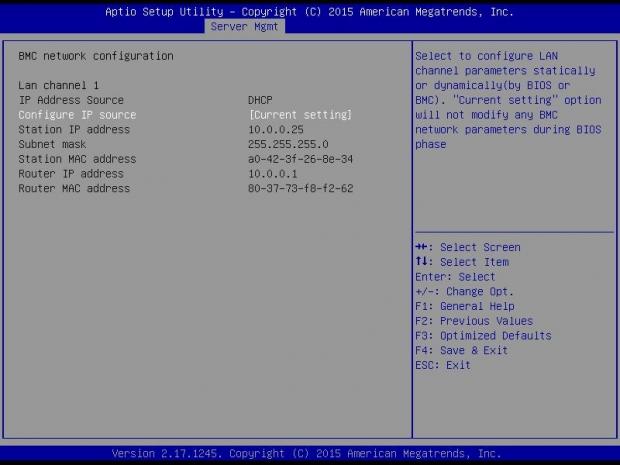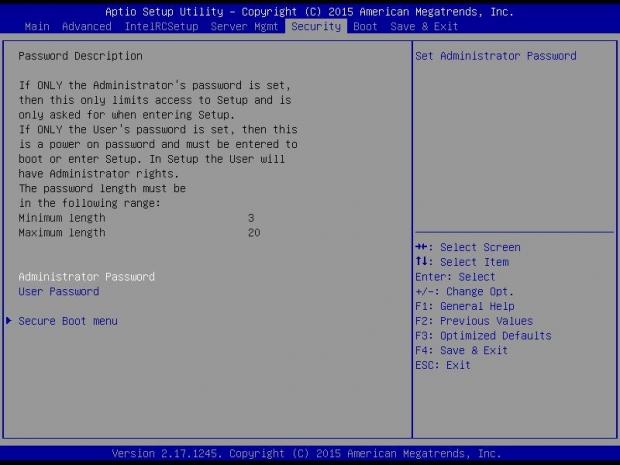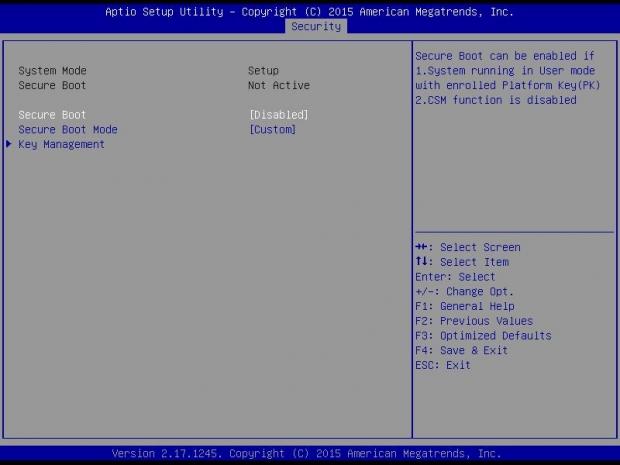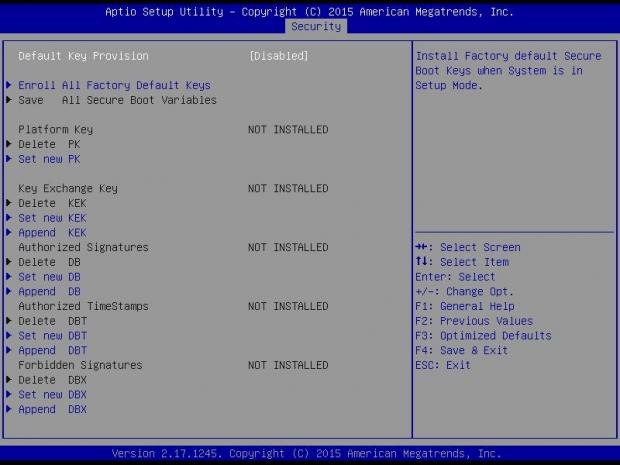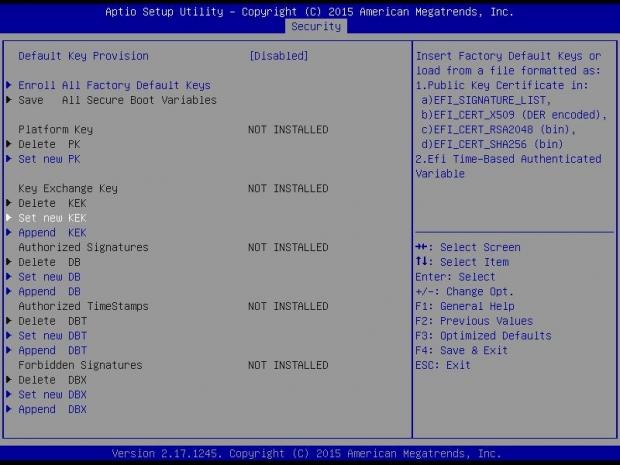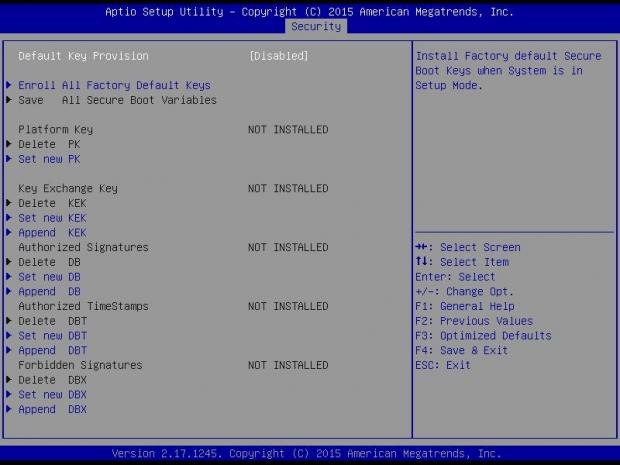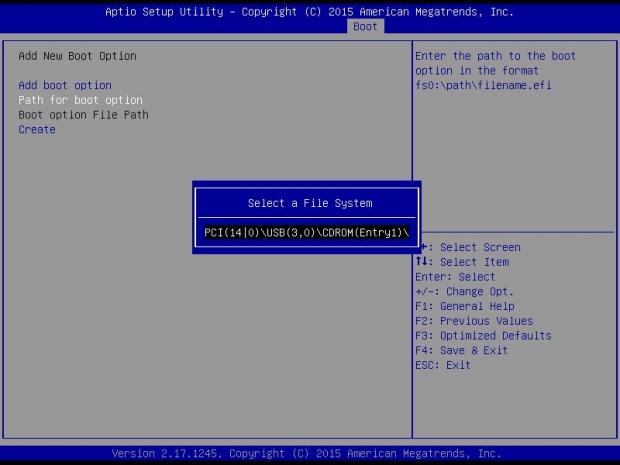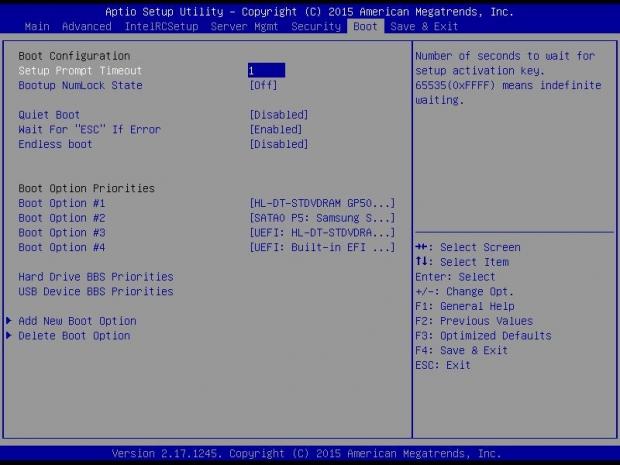 Remote Management
IPMI and Console Redirection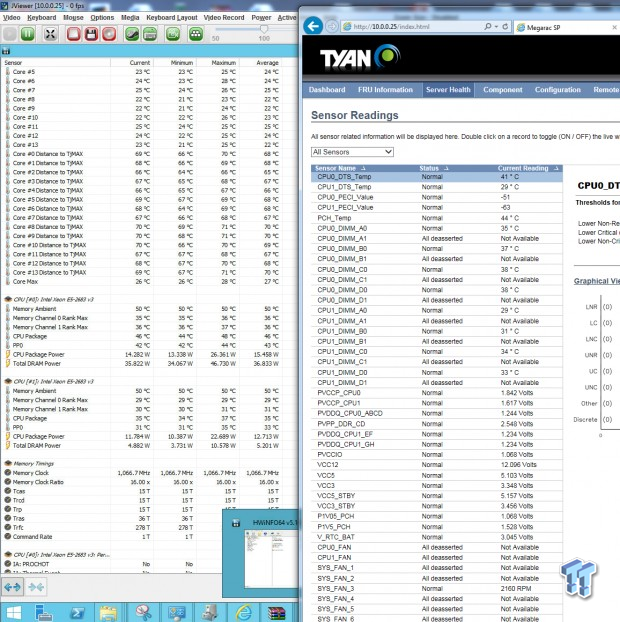 I used the S7076's console redirection to compare sensor readings through HWinfo against the remote monitoring readings. You need to install a Java browser plugin for remote control of the system to work, and you might have to tinker with the security levels of Java and your browser to allow for the execution of the plugin. Overall I found that TYANs options in their IPMI interface were quite extensive.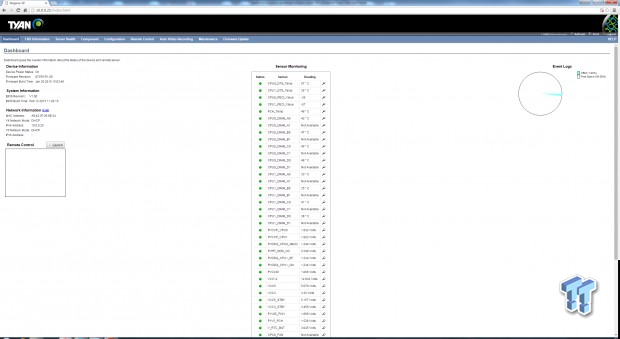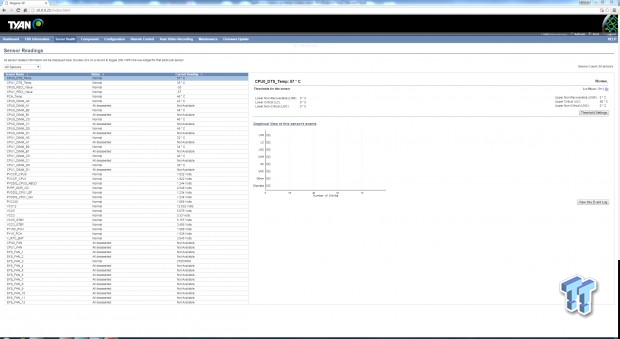 To access the interface on a remote computer on a local network (in my case a DMZ) you just need to type in the IP address that can be found in the BIOS. Overall, TYAN provides many features such as video recording, BSOD screen capture, system parameter monitoring, network settings, and even remote firmware updating.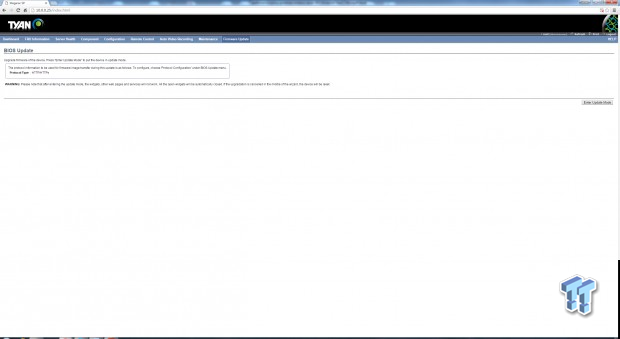 You can even remotely update the BIOS through the interface.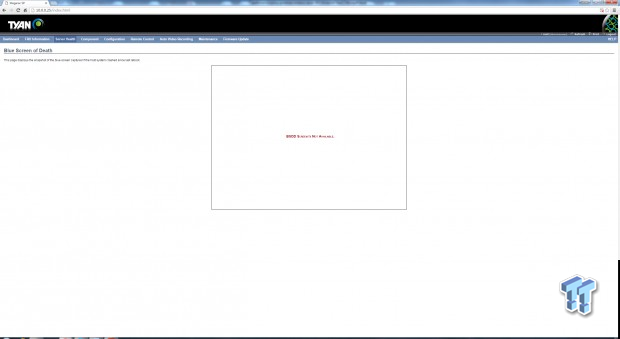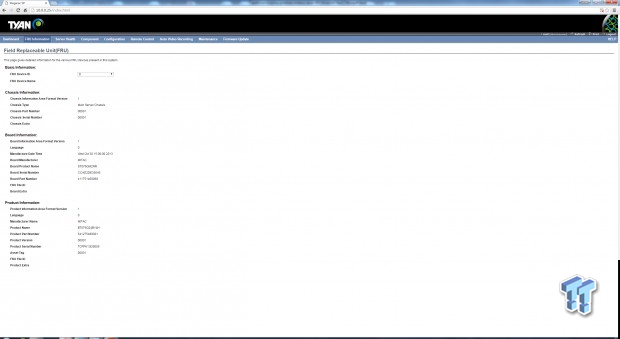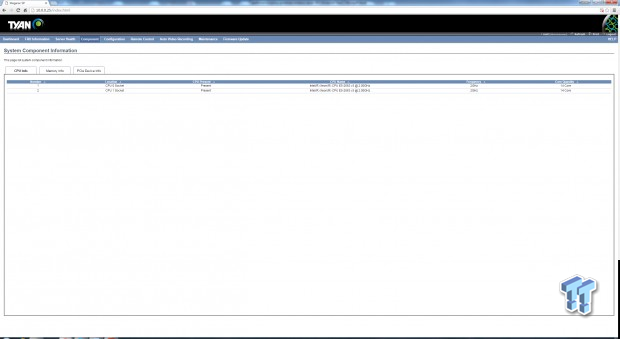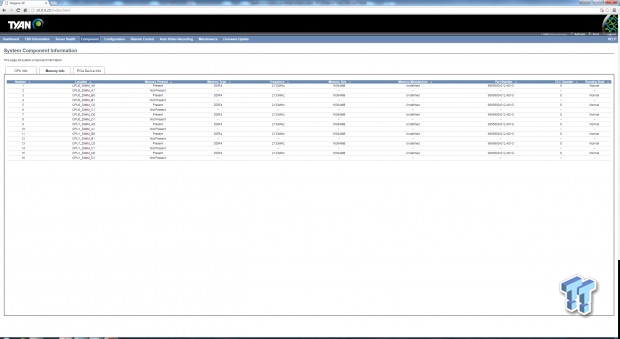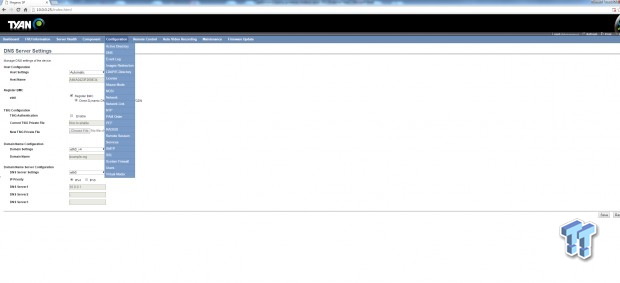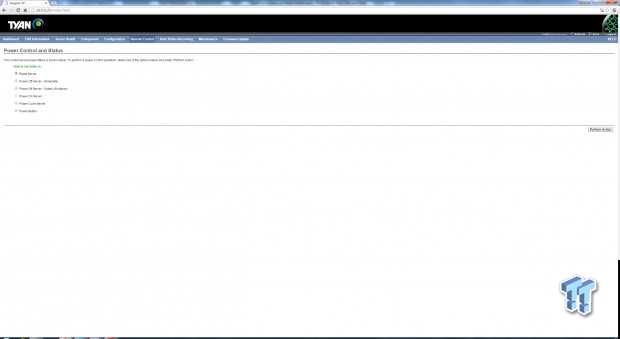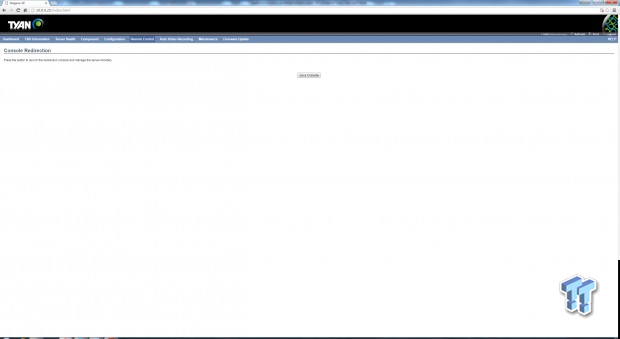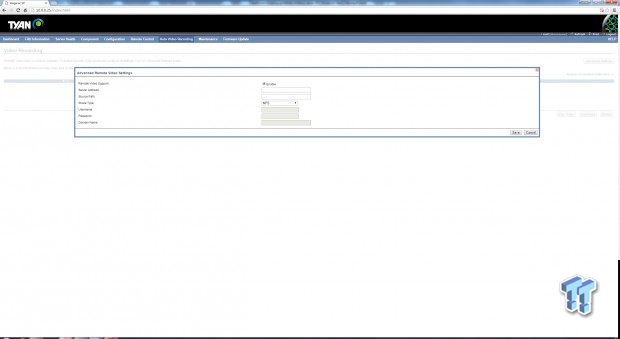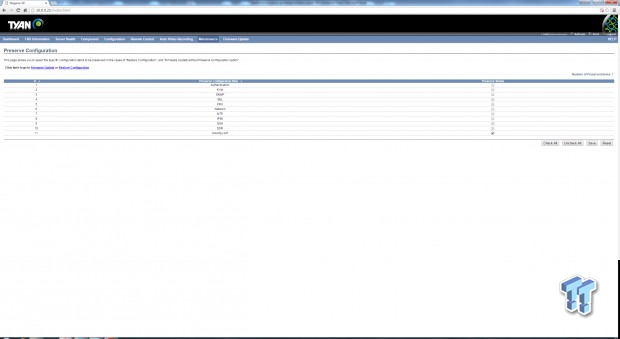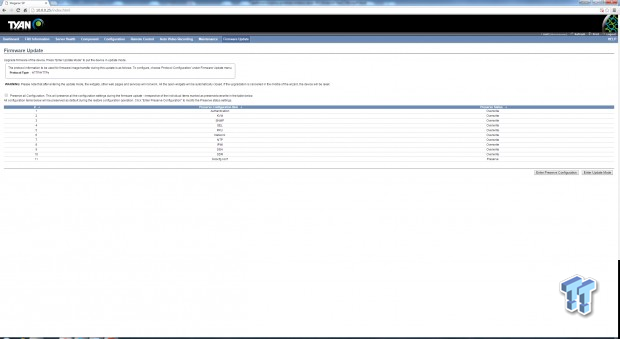 Test System Setup and Memory
Steven's Motherboard Test System Specifications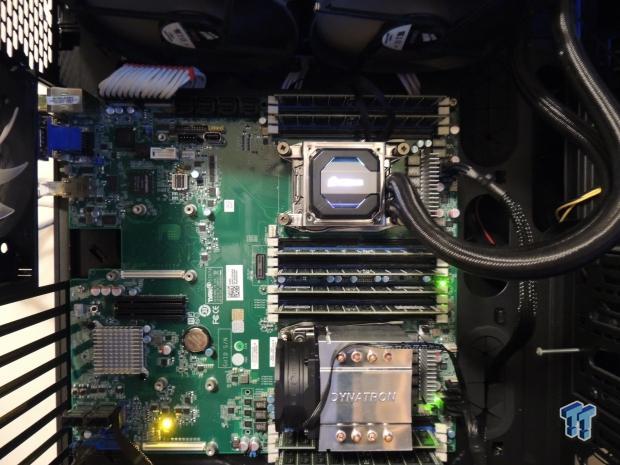 I am using a lot of consumer parts, such as a huge Corsair case, a Samsung 850 Pro SSD, and a Corsair AX1200i PSU. The server board does work fine with these parts and is fully compatible.
For cooling, I am using a mixture of one air cooler from Dynatron and Corsair's H110i GT with a slim ILM adapter (not sold anywhere as to my knowledge). Make sure that you purchase coolers for the slim ILM, as the square ILM will not work.
Memory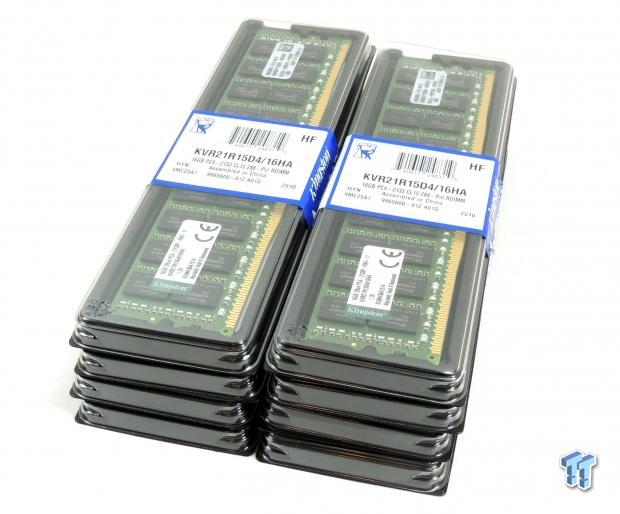 Kingston was nice enough to lend us 128GB of DDR4 RDIMMs, and they are entirely compatible with this motherboard. Eight KVR21R15D4/16HA DIMMs worked flawlessly and required no configuration.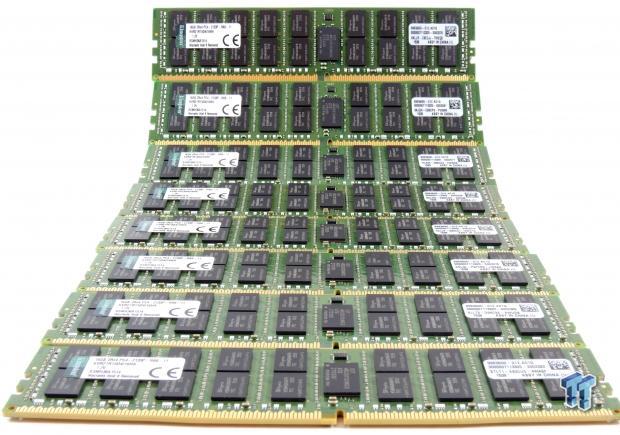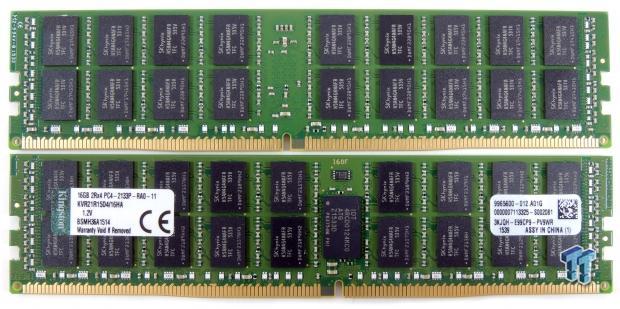 This Kingston memory falls into their ValueRAM series and is made up of 2G x 72-bit modules, and runs with a CAS latency of 15. The memory is registered memory, and each module is 2Rx4 and supports ECC. This memory is based on the Hynix A-Die, and while it is not on TYAN's Compatibility list, it is on Kingston's compatibility list.
CPU and Memory Performance Metrics
CPU, Memory, and System Benchmarks
CINEBENCH 11.5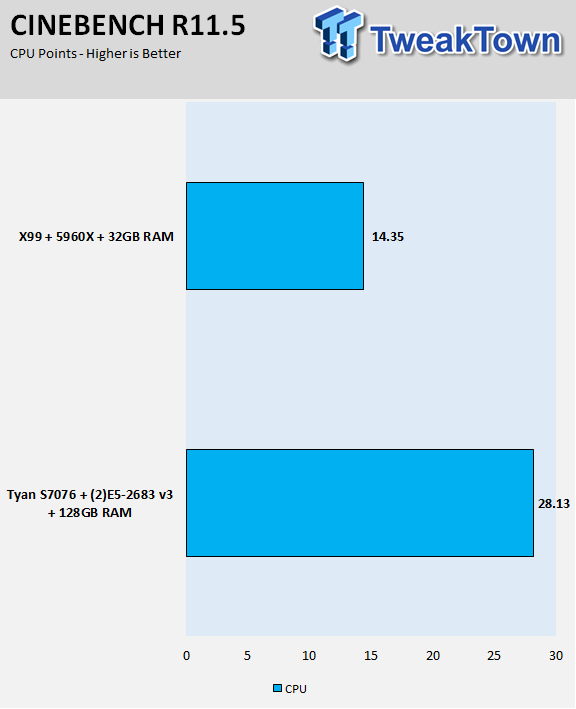 wPrime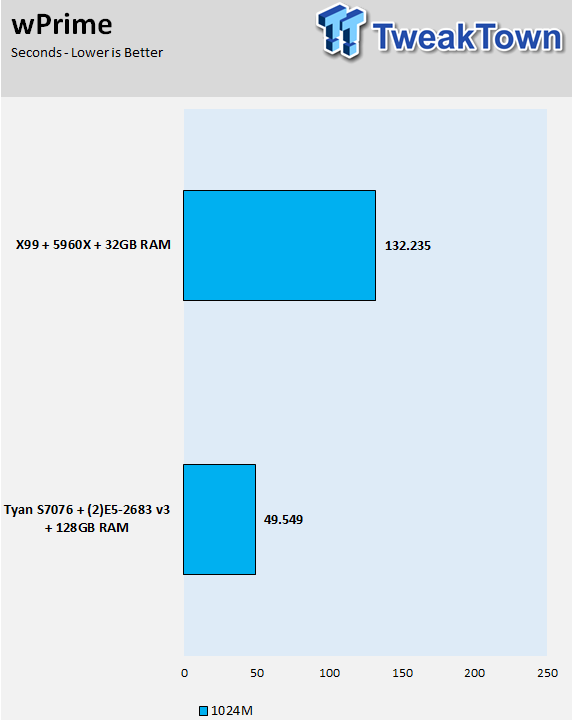 HandBrake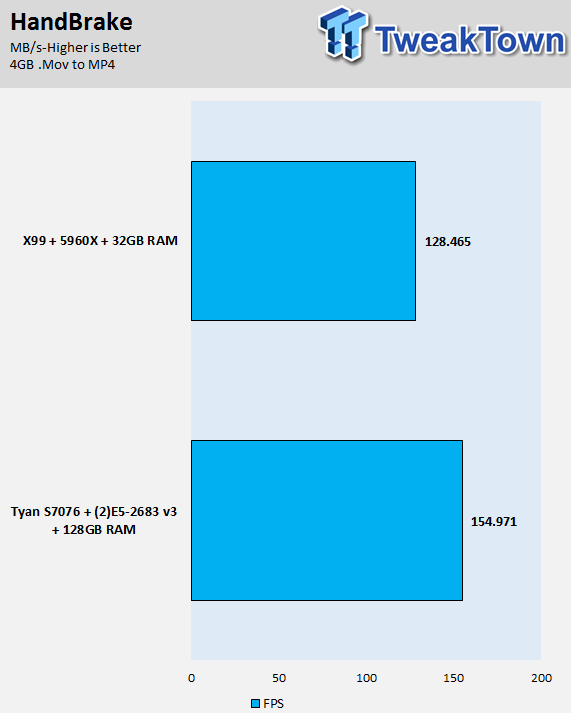 AIDA64 Engineer Edition Mixed CPU/FPU Tests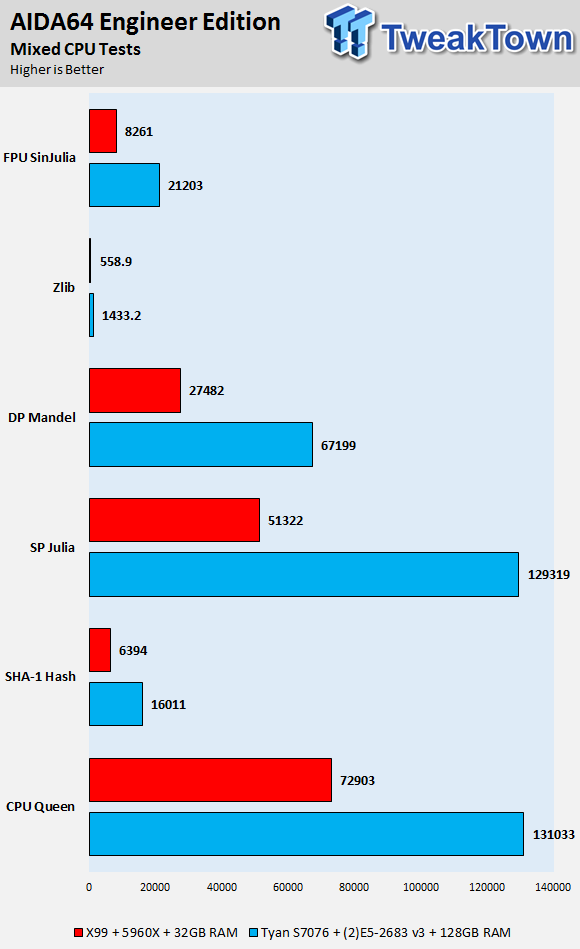 SPECwpc v2.0 Mixed Tests
AIDA64 Engineer Edition Memory Bandwidth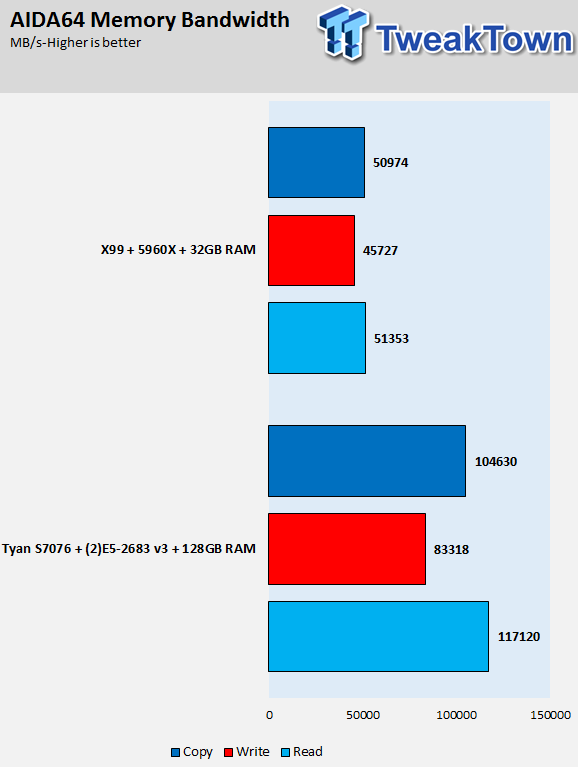 AIDA64 Engineer Edition Memory Latency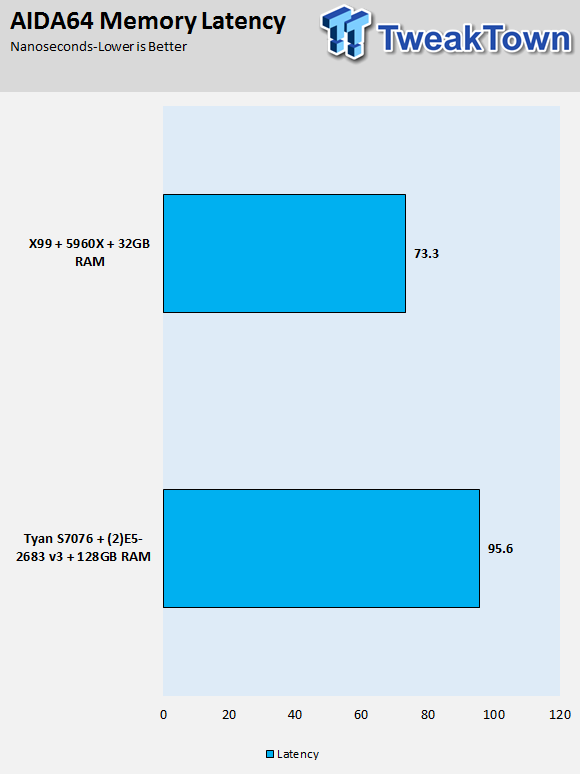 TYAN's S7076 paired with two 14 core/28 threaded Xeons produces excellent multithreaded results in benchmarks such as CINEBENCH and in many of the AIDA64EE and SPECwpc tests where multithreaded performance is valued. However, in some tests where multithreaded capabilities are not significant and where CPU frequency plays a role, we see a that the dual socket Xeon server might not be so much faster than the single socket X99 motherboard. The X99 system has a 5960X that uses the same Haswell microarchitecture as the Xeons but has fewer cores and threads.
The advantage of the 5960X is that it runs almost a 1GHz higher in base speed, and we can see in some of the SPECwpc tests it does very close to the dual Xeon machine and even beats it in one test. Handbrake is interesting because I wasn't able to find a way to get the program to utilize all 56 threads, it would only work on one physical CPU (node) at a time. Add in the faster clock of the 5960X, and even though its 28 threads versus 16 threads, the extra boost in CPU frequency helps close the gap.
Memory bandwidth is much higher on the dual Xeon system, but that is to be expected considering there are two CPUs in quad channel versus a single in quad channel.
Power, Network, and Database Tests
System IO Benchmarks
HammerDB Database Testing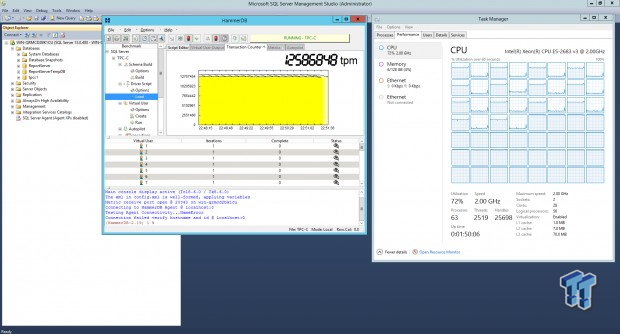 HammerDB works with many different database suites including Oracle, MS SQL, and MySQL. I opted to use MS SQL, and I had to install Microsoft SQL 2016 to utilize all cores and threads of the CPU. All these tests were done on Server 2012 R2 with all updates. The program allows you to build a database; in this case, I built one with 507 warehouses and created 57 virtual users (one per core, the first virtual user controls the rest).
The point of the benchmark is to hammer the system CPU, memory, and storage. Building the test schema took about 3 hours, the 507 warehouses total to about 30GB of data. You cannot see it in the screenshot since this was taken shortly after starting the benchmark, but memory utilization peaks to around 30GB. It is hard to find the right combination of virtual users and warehouses to produce a constant transaction count, as it is common for the transaction counter to dip and then spike up (not ideal), which it isn't doing.
The system was able to process about 12,586,848 transactions per minute steadily until each virtual user executed 5 million transactions; each transaction is a random SQL query to try and produce real results. Databases are used in everything from your local dentist's office server to Facebook's mega warehouses.
Network Testing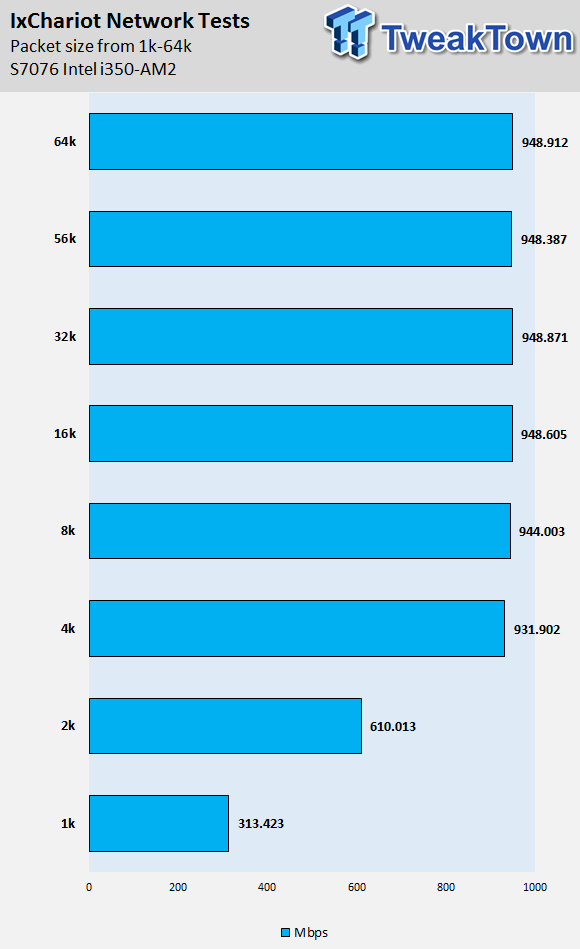 The TYAN S7076 uses a server grade Intel i350 Gbit NIC. I used varying packet sizes from 1K to 64K and ran a looped test with IXIA.
Results were quite good, with performance not dipping until reaching much smaller packet sizes. However, if you are looking to support many clients, I would look to grab a 10Gbit NIC in the form of a mezzanine card for the OCP slot provided. TYAN even offers a list of compatible modules in their manual.
Power Testing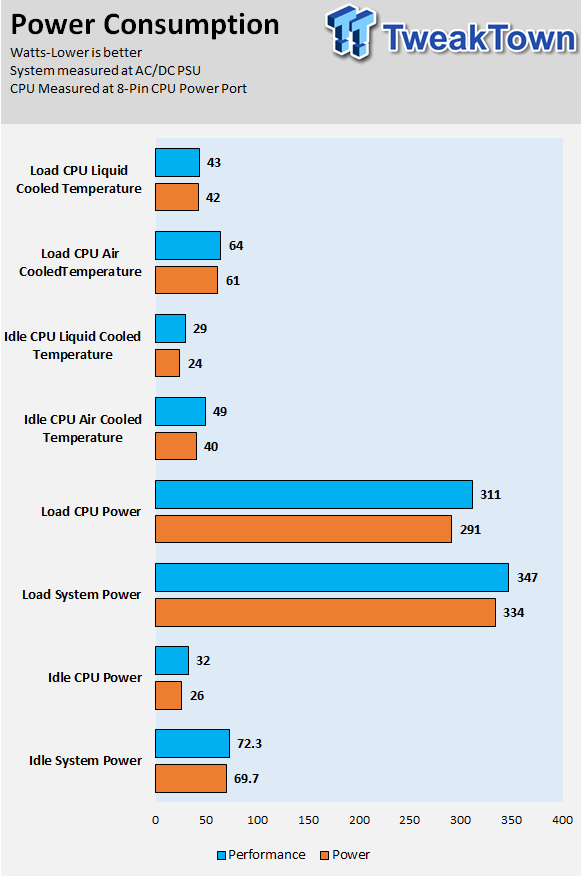 There are no voltage or frequency controls other than manual power state control in the BIOS. Therefore, you cannot overclock the CPU. There are however profiles; "Power", "Balanced Power", "Balanced Performance", and "Performance". You can either have the system balance to save power, or balance to increase performance.
I took power and temperature measurements of the system and CPUs to see what the difference between the "Power" and "Performance" settings provided. There is a difference, and it could be quite large considering servers run 24/7.
Thermal Imagining and Voltage Monitoring
Thermal Imaging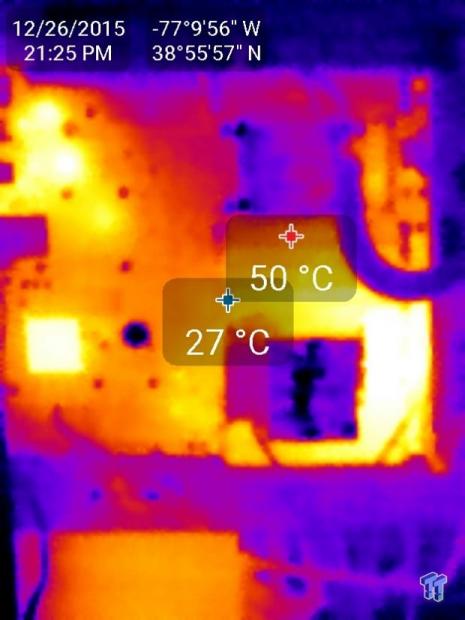 Under the thermal camera, it's obvious there are a few hot spots, but the highest temperature is only 50C as this mode looks for the highest temperature in the frame. The water-cooled CPU (top) also seems to do a much better job of also drawing heat away from the general area of the CPU.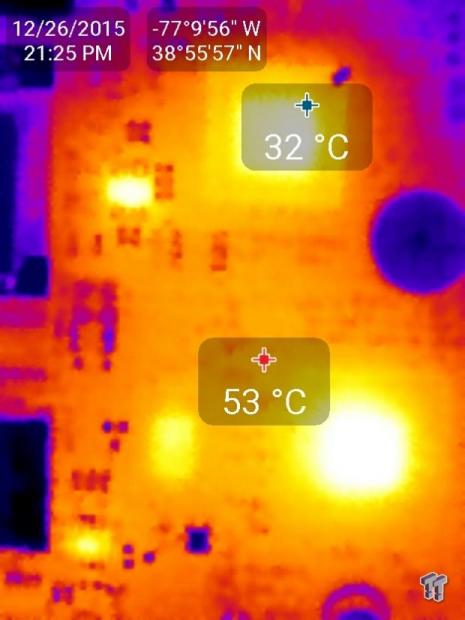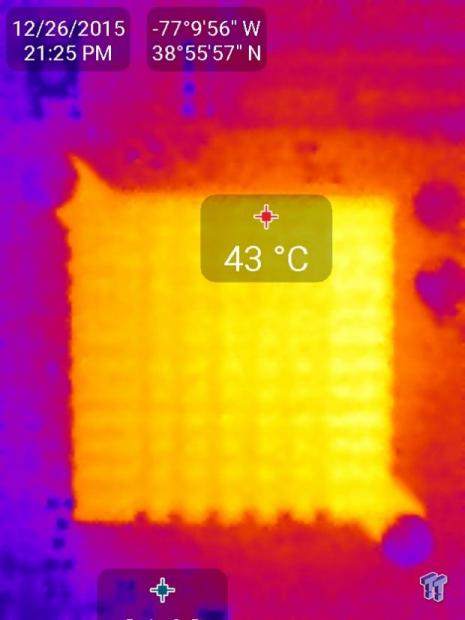 There are a few hotspots that I zoomed into, and it is the ASpeed chip that is the server management controller and the Intel i350 NIC. The ASpeed chip is noticeably warmer, but it also is acting like the graphics processors for the system in this case. The PCH is also warm, but at 43C, it isn't a problem.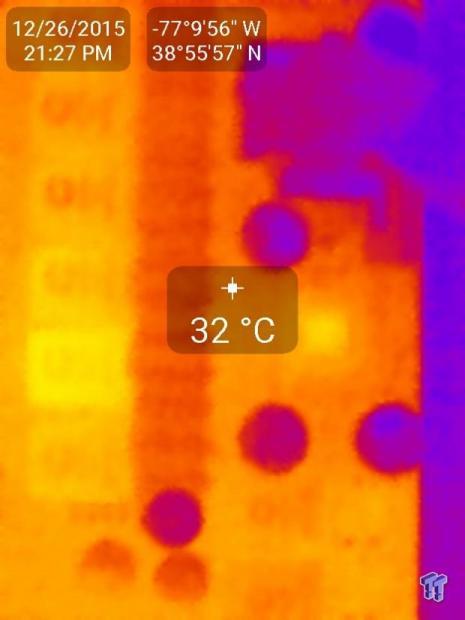 There is an IntelBurnTest synthetic load occurring at this point, and that is why the VRM is warm. However, heat is evenly distributed, and the heat sink seems to be drawing the heat upwards for the fan from the Dynatron cooler to cool down.
The image on the right is from the water-cooled CPU, which has no load applied to it. Notice that there is one inductor warmer than the rest, indicating the phase shedding is occurring to save power. Overall this motherboard performs very well under the thermal camera.
Remote Voltage Monitoring
I wanted to compare software readings from the remote monitoring (IPMI) to real voltages that I measured with a digital multimeter. I figured these results would be of use to network administrators because it's quite hard to measure these voltages when the motherboard is installed, plus the voltage read points are always different on each board (and you have to know where to find them).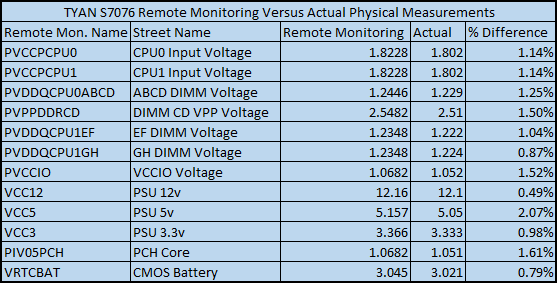 The results are quite good, and it seems that TYAN has tuned the ASpeed chip to report a voltage always slightly higher than what is provided to components. Trigger points are set for when a voltage is too high or too low, but damage usually occurs when voltages are too high.
Voltages too low indicate failing power supplies. In this case the difference between the real voltage and reported voltage was not more than 2.07%, and that was on the PSU's 5v rail (software readings of main AC/DC PSU rail voltages is usually always off). Overall, these results are impressive.
What's Hot, What's Not, & Final Thoughts
Here are key points about the TYAN S7076.
What's Hot
Mini-SAS Galore: The S7076 is obviously built for storage, and the "E" version I just reviewed has a lot of connectors with room for even more expansion. The four NVMe mini-SAS HD connectors are excellent for the latest in NVMe based drives. TYAN even makes a point to provide a mezzanine slot specifically for their proprietary module for SAS expansion. The board combines both PCH based SAS/SATA 6Gb/s and the CPU NVMe compatible ports so that you can mix and match.
High-Quality Components: There are many International Rectifier parts found on this motherboard, actually all of the power delivery is basically from IR. I have seen these same components in close to the same configurations push almost 250W for a single CPU during overclocking, and similar configurations have pushed even more with CPUs such as the 5960X. Considering that the server won't be overclocked, and Xeon TDPs aren't above 200W, these quality components will instead run at peak efficiency, leading to lower power conversion losses and lower temperatures.
Remote Control: I have used IPMI in the past, and I think TYAN did a nice job with their interface. Everything was simple to use, and features were abundant; even a novice could figure it out. Once you set the system up you will never need to visit it again, you can even update the motherboard's BIOS remotely. TYAN's iKVM is pretty good as well, and there wasn't any noticeable lag even over a 1Gbit home network.
What's Not
Only two SATA ports: While mini-SAS is quite common, SATA is still demanded in certain fields, especially when you are dealing with smaller businesses where cost might play a larger role. While the mini-SAS HD connector offers much greater bandwidth, it comes at a much higher price tag. Obviously, this motherboard is built to be expanded upon, meaning you will need to spend the big bucks on compatible storage options, which isn't an issue for most enterprise buyers considering the gains in reliability and speed.
Final Thoughts
TYAN's S7076 is a well-built server motherboard with a heavy mini-SAS focus. The use scenario for the S7076 is obviously not rooted in powerful graphics processors, and as such there isn't room to use them without a riser card. Apart from that pitfall and the lack of SATA ports, the motherboard is loaded with other features. Overall manageability of the product was quite good, IPMI and console redirection were easy to use and worked quite well.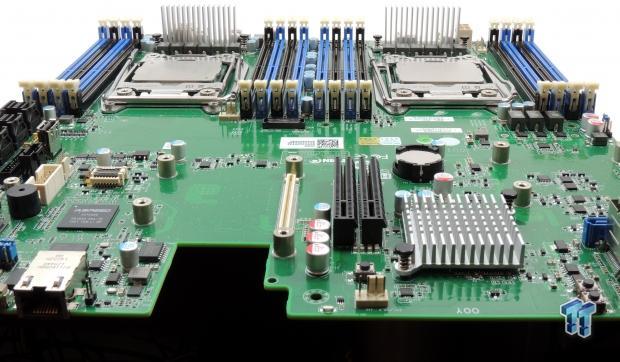 The TYAN S7076 can handle heavy workloads and easily supports processors with 140W TDPs. Overall thermals and power consumption numbers are where I expected them to be. I was also impressed with the accuracy of the remote monitoring of voltages.
At $395, the S7076 isn't too expensive, especially when compared with competitors. The availability of two mezzanine card expansion slots and the included storage options is sure to fit many business use cases. If you are in the market for a dual socket LGA2011-V3 server board with the latest in storage technologies, the TYAN S7076 is definitely worth a look.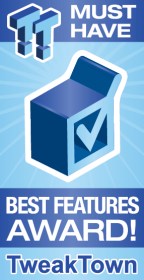 | | |
| --- | --- |
| Performance | 95% |
| Quality including Design and Build | 93% |
| General Features | 95% |
| Bundle and Packaging | 83% |
| Value for Money | 90% |
The Bottom Line: TYAN's S7076 is a mini-SAS heavy product with a variety of other connectivity options to meet server need. If you are looking for a server ready for heavy CPU, memory, and storage workloads, the S7076 is worth a look.
PRICING: You can find products similar to this one for sale below.

United States: Find other tech and computer products like this over at Amazon.com

United Kingdom: Find other tech and computer products like this over at Amazon.co.uk

Australia: Find other tech and computer products like this over at Amazon.com.au

Canada: Find other tech and computer products like this over at Amazon.ca

Deutschland: Finde andere Technik- und Computerprodukte wie dieses auf Amazon.de
We openly invite the companies who provide us with review samples / who are mentioned or discussed to express their opinion. If any company representative wishes to respond, we will publish the response here. Please contact us if you wish to respond.
Related Tags