Supermicro X10DRX (Intel C612) Server Motherboard Review
Today we have another motherboard designed for maximum I/O, the Supermicro X10DRX, based on Intel's C612 server chipset. Here's our full review.
Published
10 minute read time
TweakTown's Rating: 94%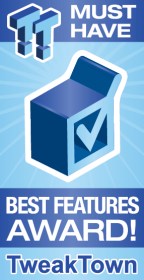 The Bottom Line
Supermicro takes advanced I/O servers to the next level with the X10DRX which provides the maximum number of PCI-E 10x PCI-E 3.0 for 11 total slots making this the most powerful I/O board you can get.
Introduction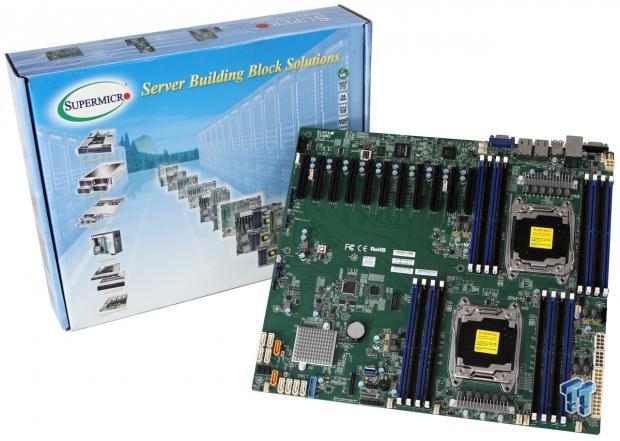 Supermicro's X10DRX server motherboard is the most advanced I/O platform available featuring the maximum number of PCI-E slots that can be fitted into a standard 4U case. High density I/O platforms require huge amounts of high performance connectivity which can only be provided through PCI-E expansion cards.
The X10DRX is the base motherboard used in Supermicro systems such as SYS-6038R-TRX and SYS-6048R-TRX geared for Network Gateways, Surveillance DVR, Industrial Server Solutions, Head-node controller, and Flash Array Appliances. The key features of the X10DRX server motherboard are:
Dual E5-2600 v3 CPUs up to 145W

16 DIMM, 1TB Reg. ECC DDR4 up to 2133MHz

10 PCI-E 3.0 x8 & 1 PCI-E 2.0 x4 in x8 slot

10x SATA3 ports

SuperDOM, TPM support

Intel I350 Dual port Gigabit LAN

Proprietary form factor 15.2" x 13.2"

IPMI 2.0 and KVM with dedicated LAN
This motherboard can handle up to 145W processors which allows it to run the E5-2699 v3 (16 core) CPU's. 10x SATA ports is very common on the new platforms so you should no issues with storage options. This board also includes 9 USB ports, 5 of those are USB 3.0. This allows a large number of external devices to be connected.
Let us take a closer look at the X10DRX server motherboard.
Specifications and Layout
Specifications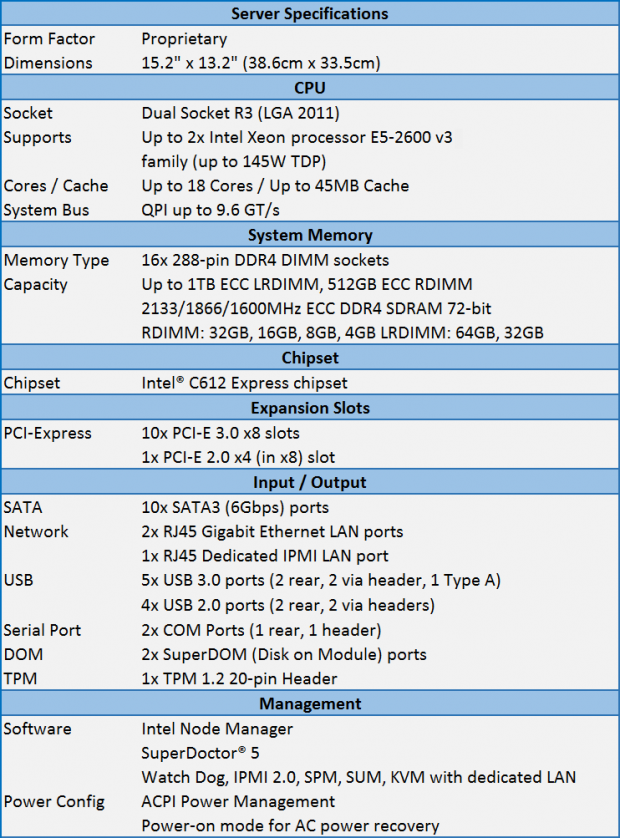 The main supporting features of the X10DRX are the large number of PCI-E slots, with 10x PCI-E 3.0 x8 and 1x PCI-E 2.0 x4 slots. 10x SATA3 ports provide for storage solutions and 9x USB ports supply additional I/O. We only received the X10DRX motherboard for our tests, but the retail package should contain:
Six (6) Serial ATA cables (CBL-0044L x6)

One (1) I/O Shield (MCP-260-00042-0N)

One (1) Quick Reference Guide (MNL-1725-QRG)
Optional accessories are:
Heat Sinks

TPM security module - TPM module with Infineon 9655, RoHS/REACH, PBF; Vertical or Horizontal depending on the server layout and expansion cards used

SuperDOM - Supermicro SATA DOM Solutions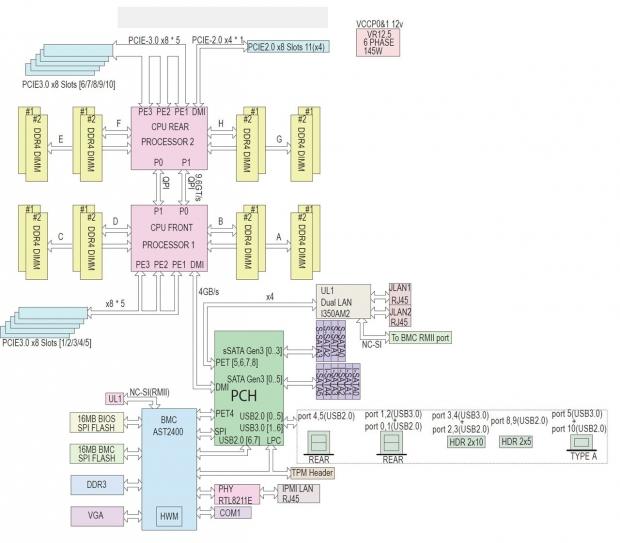 Here we get a look at the block diagram of the X10DRX motherboard, which shows how all the input and output devices connect to the C612 Chipset.
Layout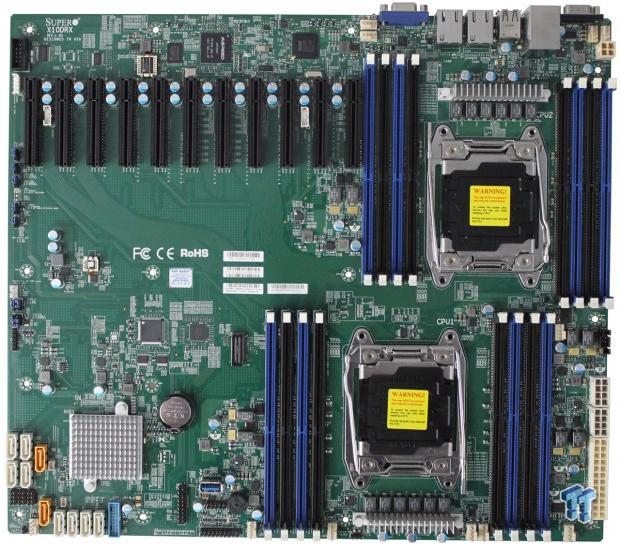 With a size of 15.2" x 13.2" (28.6cm x 33.5cm), Proprietary form factor the X10DRX is a large motherboard that will fit systems such as SYS-6038R-TXR and SYS-6048R-TXR. If you choose to install this motherboard in non-Supermicro cases, be sure that the case allows for its size and the number of PCI-E slots that this board provides.
The overall layout of the X10DRX is clean, not cluttered, and the CPU Sockets are staggered to offer better airflow to the processor heat sinks. In addition, a large area in front of the PCI-E slots provides clearance for expansion cards. This area also should provide for good airflow for cooling expansion cards.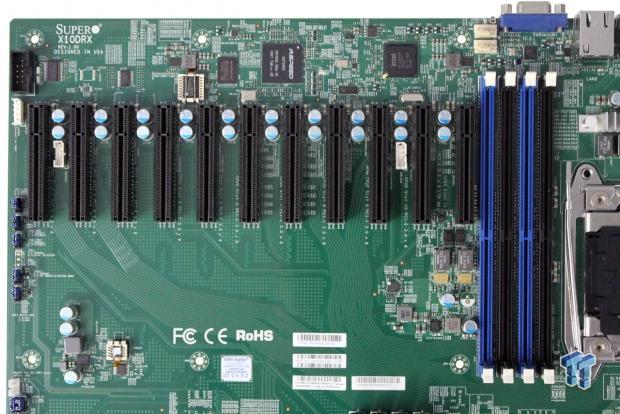 Here we see the PCIe slots, which are:
10x PCI-E 3.0 x8 slots

1x PCI-E 2.0 x4 (in x8) slot, located next to the RAM slots
Two VPP headers for NVMe add-on cards are located In-between PCI-E slots for solutions that require this.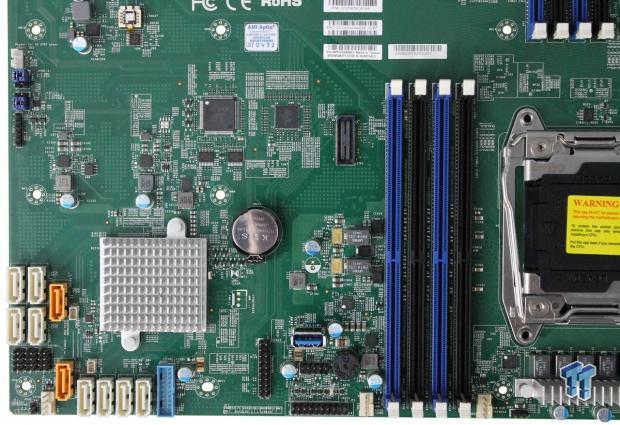 Now we are looking at the lower left side of the motherboard. There are 10x SATA ports controlled by Intel PCH C612 chipset located in the lower left corner of the board. The position of these ports allows for easy access for cables without being hidden under expansion cards.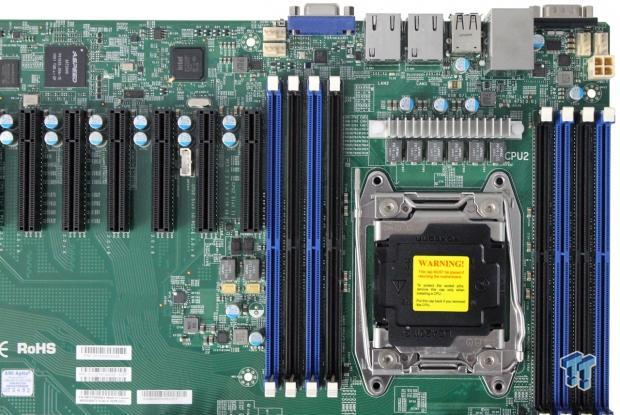 Here we are looking at the upper right section of the motherboard. There are only 4x fan headers located here and 4-pin Auxiliary power connector on the far right edge. This area is not cluttered and should provide good clearance for heat sinks.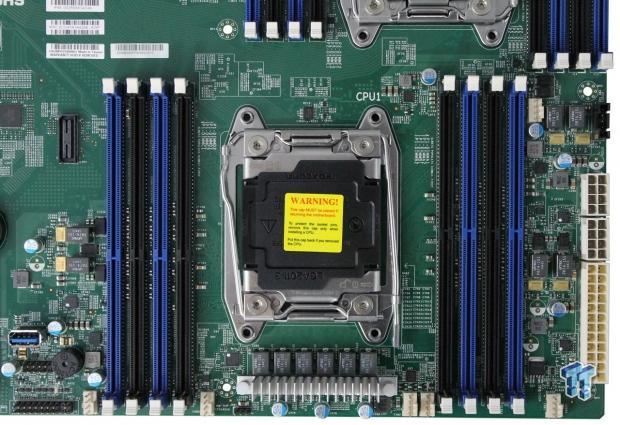 The lower right side of the motherboard has its main power connectors over on the right edge on the motherboard. Fan headers are located on the edge and provide easy access. Again, we see nice clean areas that help to keep the board running cool.

Now we are looking at the back I/O ports. At the left, we see a COM port. Next, we find 2x USB 3.0 ports and a IPMI dedicated LAN port just above. Following that, we have 2x USB 2.0 ports. Then we find Two Gigabit Ethernet ports. Then there is a video output port at the end.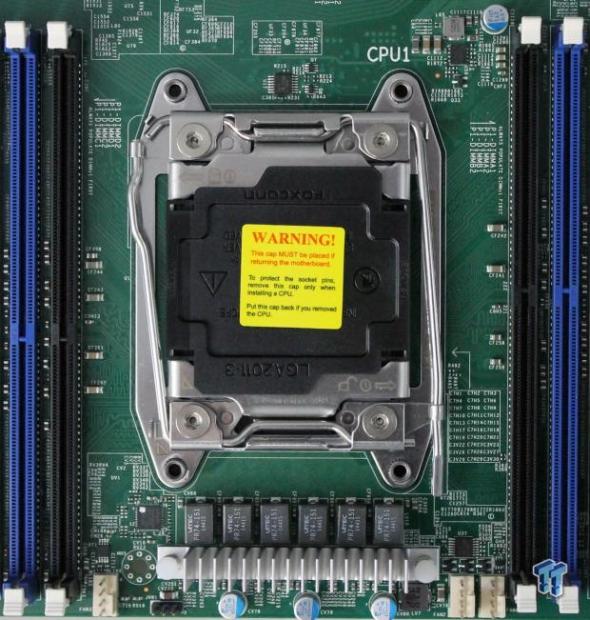 This is a close up of the new Socket 2011 R3. As you can see, it looks very much like the normal Socket 2011 that we have seen on past boards. However, last gen processors will not fit this new socket because it has a different pin configuration and notches inside the socket will only work on the new Haswell-EP E5-2600 v3 processors. The mounting holes for heat sinks are the same compared to those used on Socket 2011 systems so you should have no problems using those heat sinks. The Socket 2011 R3 that are used on the X10DRX are the narrow versions.
BIOS and Remote Management
BIOS
The BIOS for this motherboard is standard for server motherboards, so we will only show a few BIOS screens and go over new menu options.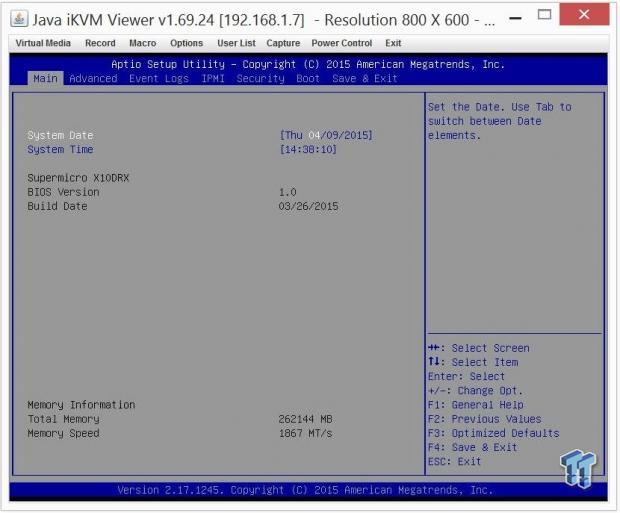 This is the main BIOS screen, which shows basic system information.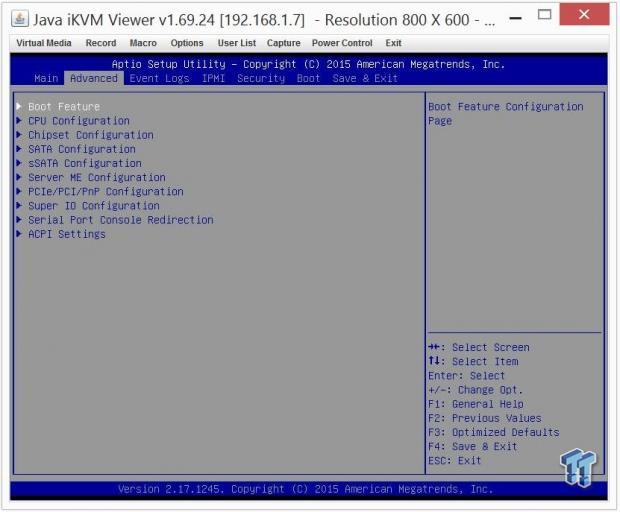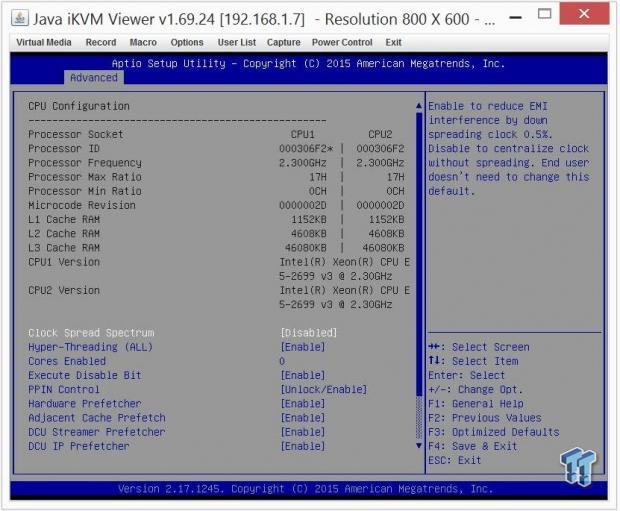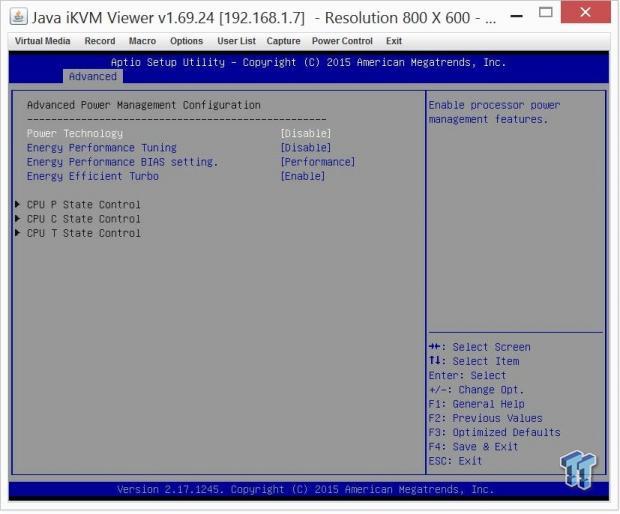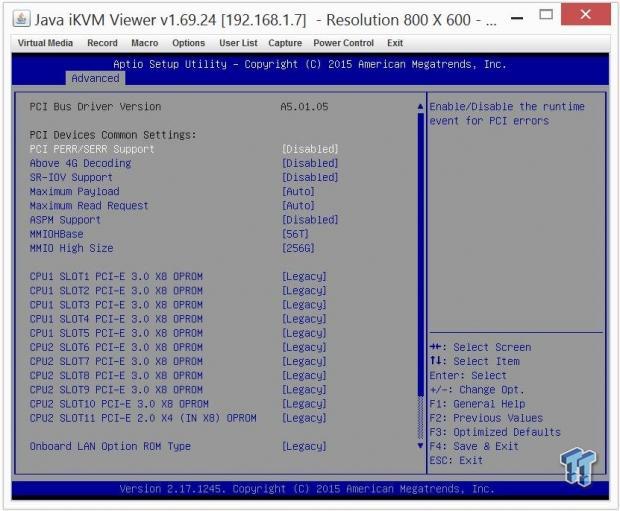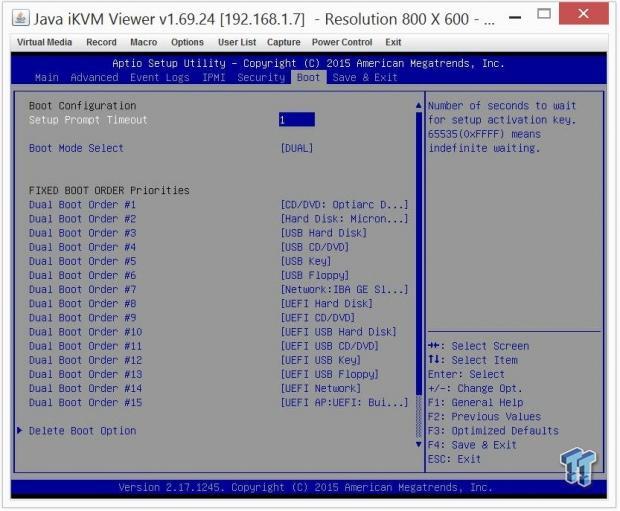 Remote Management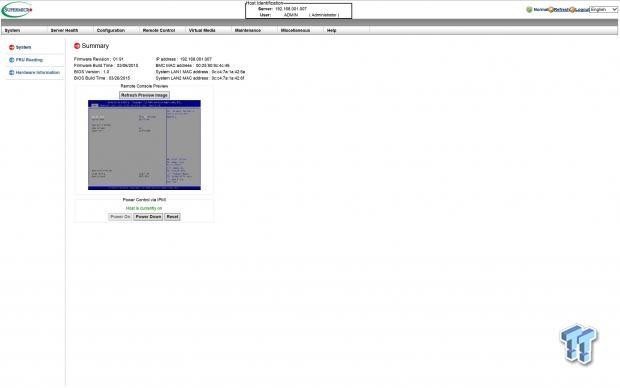 We find our remote access IP address located in the BIOS under the IPMI Tab. In our case, this was 192.182.1.07. Enter that into your browser, and you will see the login screen.
To login use:
Username: ADMIN
Password: ADMIN
As a best practice, Administrative users should change factory default Username/Password logins before connecting any new server to their network. The rest of the screens are typical for Supermicro remote access so we will just show the screens here.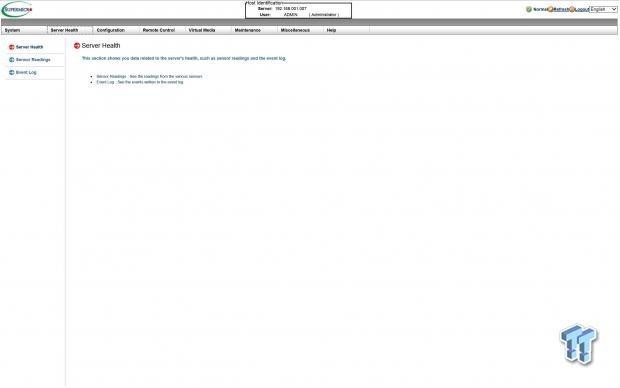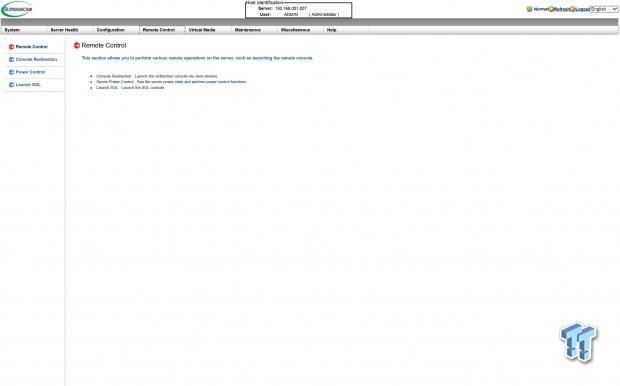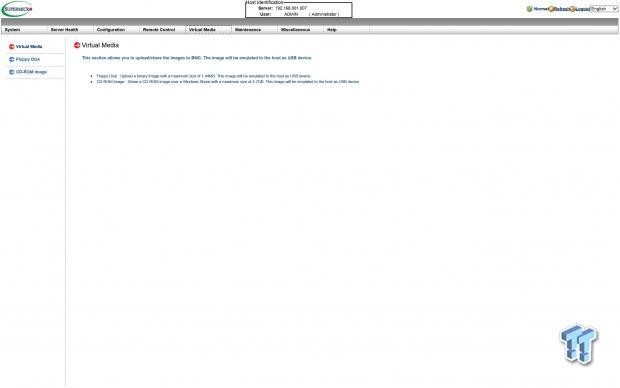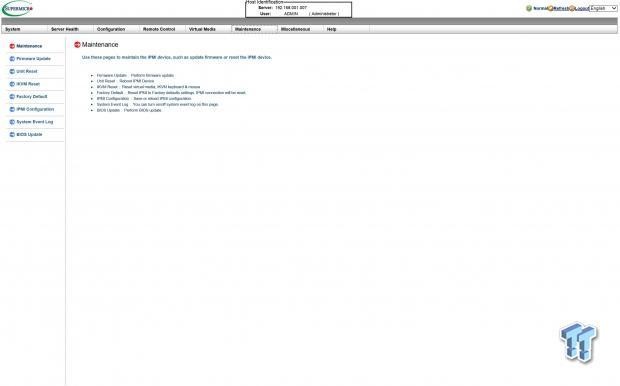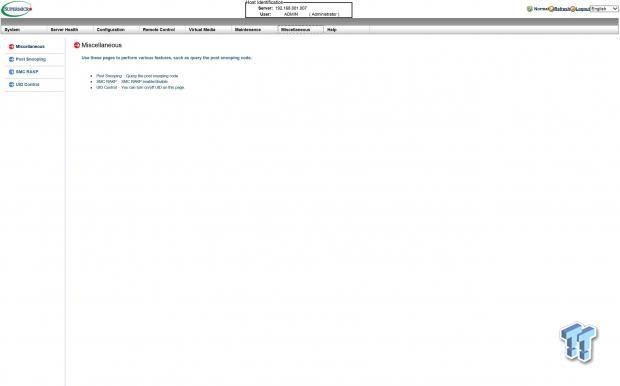 Test System Setup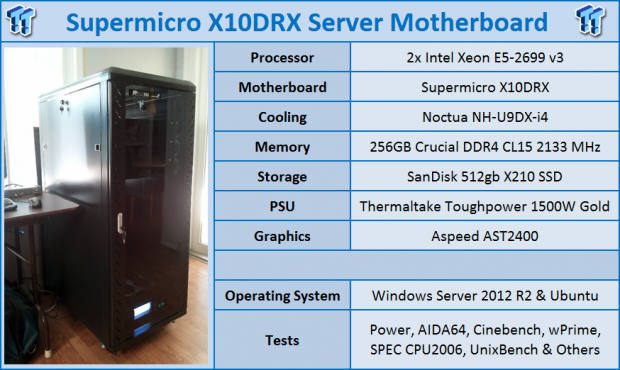 We would like to thank Supermicro, Crucial, SPEC, Yokogawa, Thermaltake, SanDisk, HWiNFO, AIDA64 and Noctua for their support in providing parts for our test system.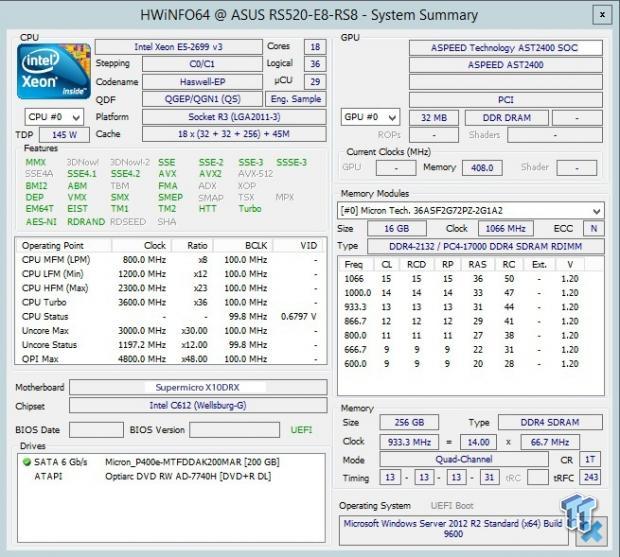 The platform that the X10DRX uses is the Wellsburg (Intel C612) and new Haswell-EP processors. The processor we will be using is the Intel Xeon E5-2699 v3, which features 18 cores with hyper-threading used on these tests and will supply the processing power.
The Wellsburg Platform (Intel C612) will have support provided for 4 to 18 cores with dual socket capability. TDP ranges from 55W up to 160W for workstations. Memory is now DDR4 and can gave a frequency of up to 2133 MHz. The E5-2600 v3 processors use 2x QPI 1.1 channels with up to 9.6 GT/s. These processors support PCIe 3.0 with up to 8 GT/s and 40 lanes. The chipset will be Wellsburg PCH. This gives support for a huge number of SATA ports at 10. A large number of USB devices can be used with 6x USB 3.0, 8x USB2 ports. Wellsburg (C612) also supports DMI2 with 4x lanes.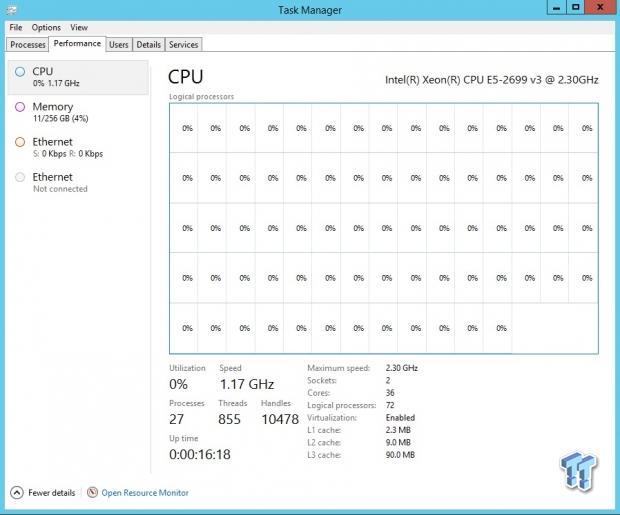 With two E5-2699 v3 processors running on the X10DRX, we have a huge number of threads at 72 available for this system.

In our tests, we will be using the new Crucial DDR4 memory, which has a speed of 2133 MHz, and rated at CL15. We have already taken a look at these memory kits which you can find here: Crucial DDR4 Memory Performance Overview Early Look vs. DDR2 & DDR3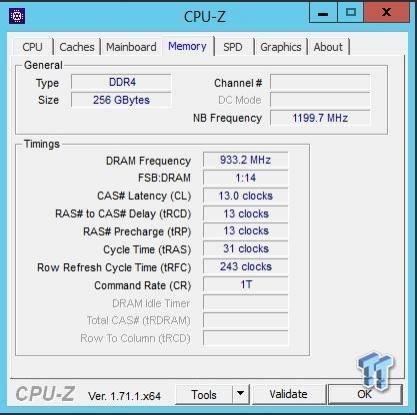 Here we can see the timings of the Crucial DDR4 memory that we will be using in our tests.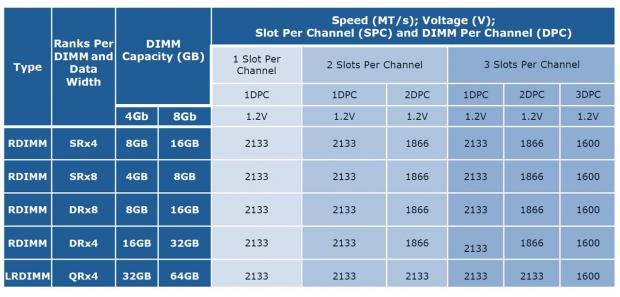 Here we see how memory in Slot / DIMM's per channel can affect memory speed.
CPU Benchmarks
Cinebench R15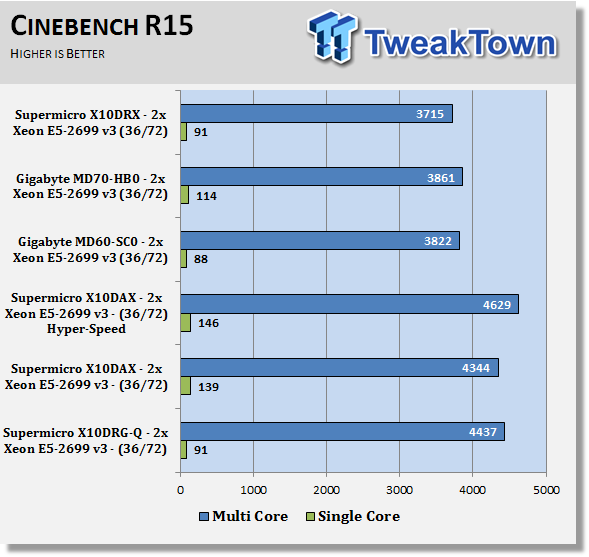 The X10DRX is showing average scores in these tests. The strength of the X10DRX is the number of PCI-E slots this board has, it is tuned for PCI-E bandwidth.
wPrime
wPrime is a leading multi-threaded benchmark for x86 processors that tests your processor performance. This is a great test to use to rate the system speed; it also works as a stress test to see how well the systems cooling is performing.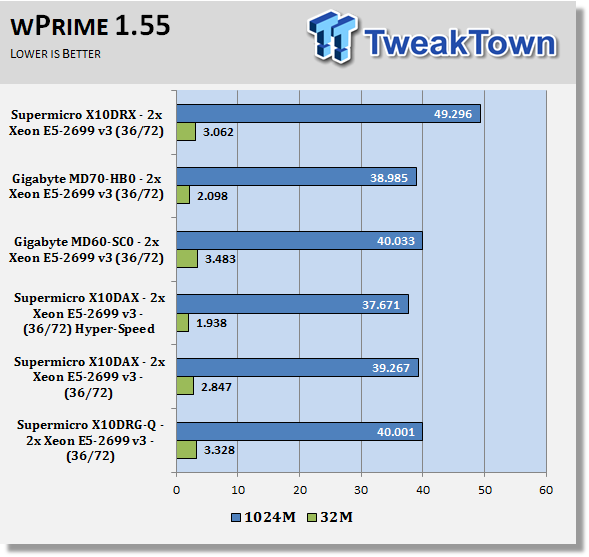 In wPrime, the X10DRX has a slower score. As we said before, this motherboard is tuned for PCI-E bandwidth.
Memory & System Benchmarks
AIDA64
AIDA64 memory bandwidth benchmarks (Memory Read, Memory Write, and Memory Copy) measure the maximum achievable memory data transfer bandwidth.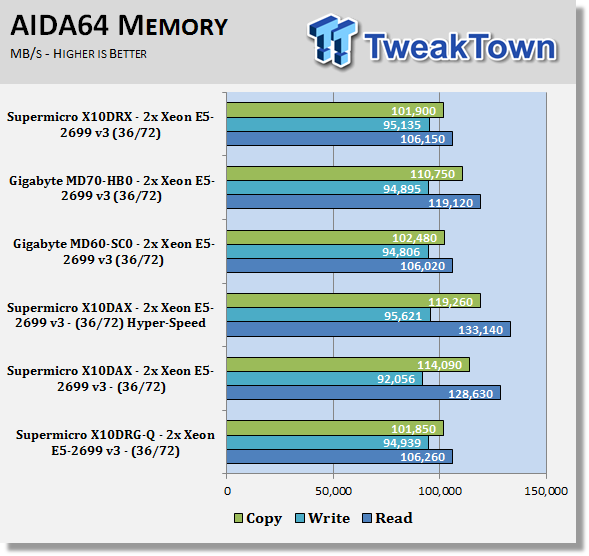 Memory bandwidth for the X10DRX is looking to be average also.
Linpack
LinX 0.6.4 is a CPU benchmark that measures floating-point operations per second and is used to compare CPU performance; it is also a very good stress test to run.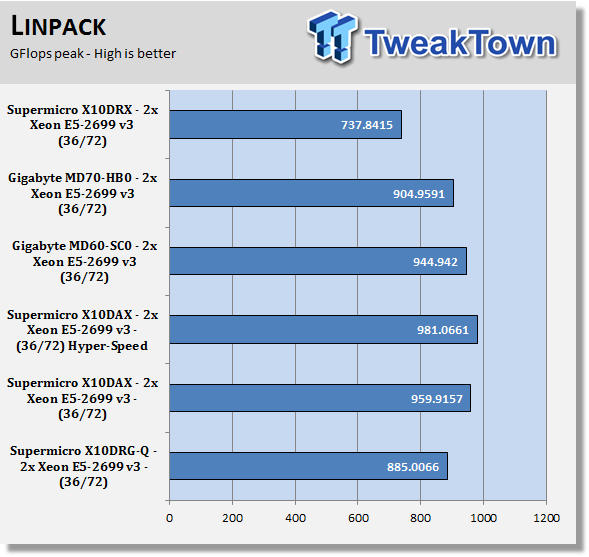 Linpack shows strong bandwidth numbers and is comparable to other motherboards we have tested. These results are almost 2x's faster than our Ivy Bridge-EP tests and shows just how well the new Haswell-EP platforms perform. These speeds coupled with fast DDR4 should give a real boost to application performance.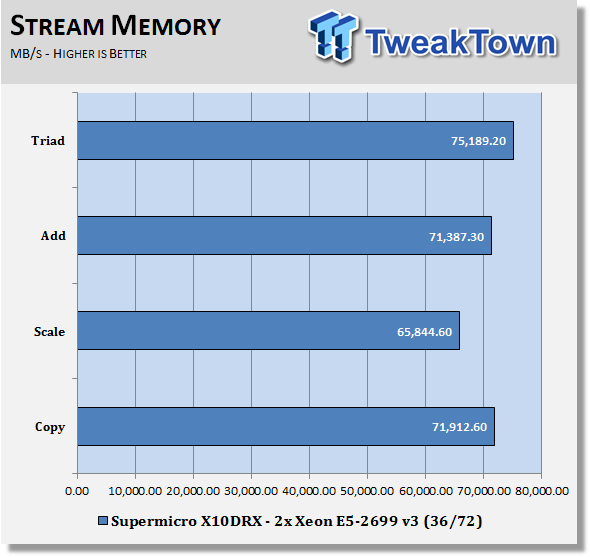 In Stream benchmarks, the X10DRX shows strong bandwidth numbers, this is needed to keep the PCI-E lanes moving data along at a strong speed.
UnixBench and SPEC CPU2006v1.2
UnixBench 5.1.3
UnixBench has been around for a long time now, and is a good general-purpose bench to test on Linux based systems. This is a system benchmark, and it shows the performance of single threaded and multi-threaded tasks.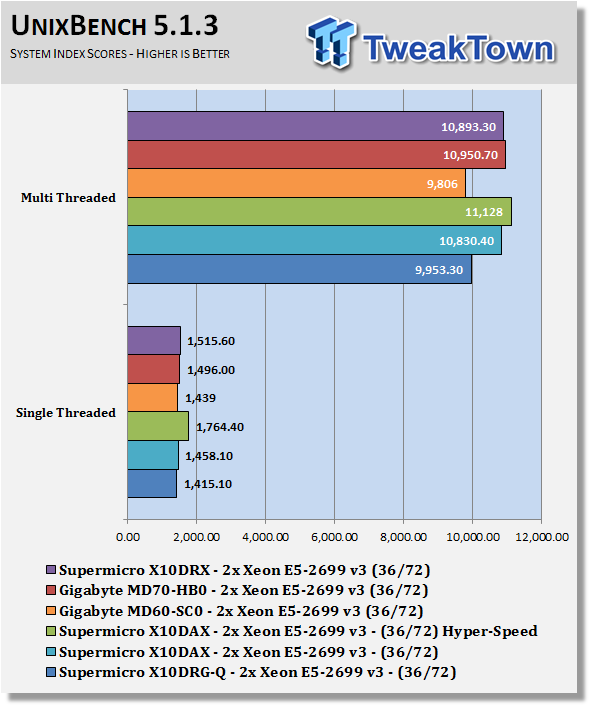 Synthetic benchmarks only show part of the performance of a motherboard. When using tests that are more complex we will start to see a different trend in the scores. UnixBench starts to show what the X10DRX can really do well and that is multi-threaded workloads.
SPEC CPU2006 v1.2
SPEC CPU2006v1.2 measures compute intensive performance across the system using realistic benchmarks to rate real performance.
In our testing with SPEC CPU2006 we use the basic commands to run these tests.
Runspec --tune=base --config=tweaktown.cfg then int or fp
To do multi-threaded we add in --rate=72.
When SPEC CPU first came out these tests could take up to a week to run, but as computers become faster, our tests can take up to four days for a full run now and even less on some systems. The user can do many thing to effect the results of CPU2006 runs, such as compiler optimizations, add-ons like Smartheap and different commands used to start the tests.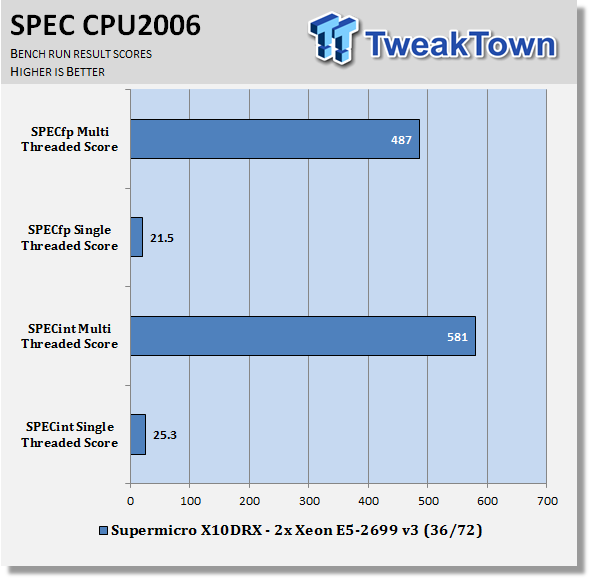 This benchmark has many different commands to use depending on what the user is looking for. For our tests, we used basic commands that run a full test with a base tune.
You can see here the SPEC scores after full runs for Integer (int) and Floating Point (fp) tests. Single-core runs show how fast (speed) a CPU can perform a given task. In the multi-core runs, we set SPEC CPU2006v1.2 to use all thread to measure the throughput of the system.
The additional cores/threads of this system has a huge impact on performance in these tests and really shows the amount of horsepower that a dual-socket system has over a single-socket board. Single-threaded results are still very important, but when you need many single threaded apps to run, moving to a CPU with more cores is the way to go.
This is where the X10DRX starts to shine, multi-threaded integer workloads.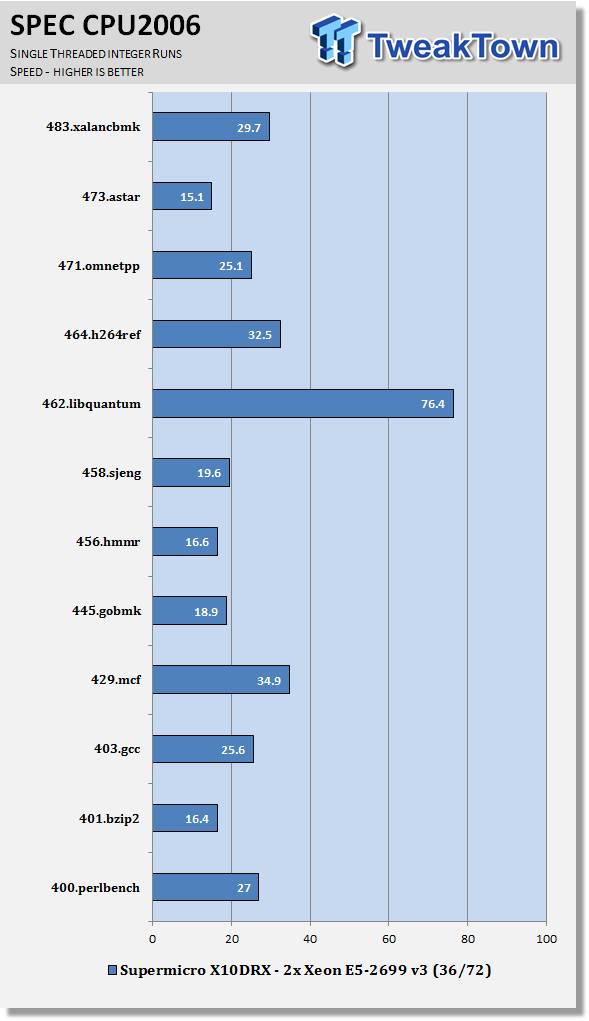 Looking at the results of single-threaded integer runs, we can get an idea of speed at which the E5-2699 v3's can crunch through the different integer tests. Not all CPUs are equal here, and ones that have a higher speed will perform these tests faster. Naturally, using an overclocked system or CPUs with a higher stock speed will generate higher results.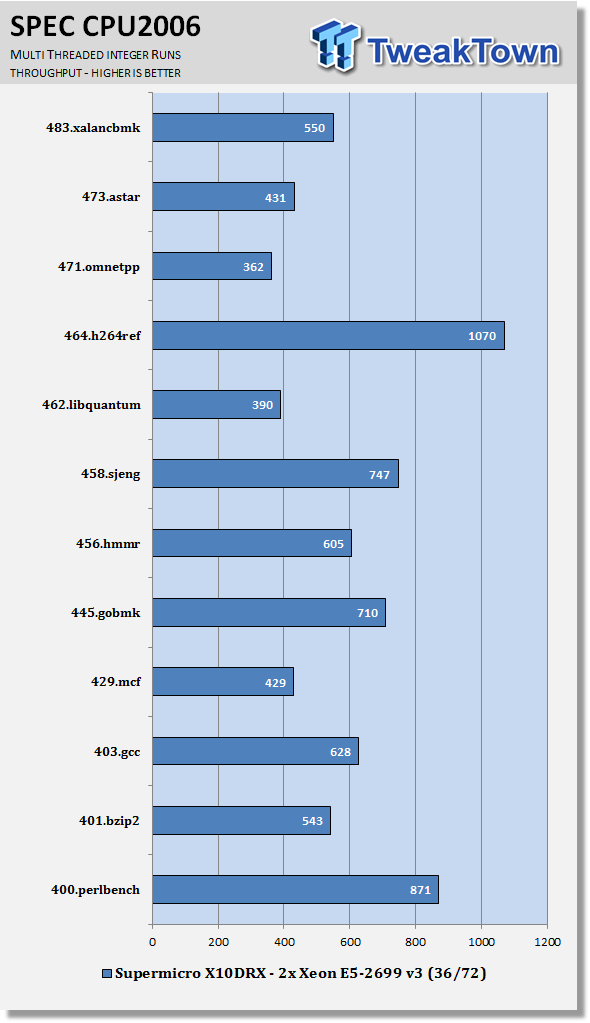 Now we run the test using all 36 cores/72 threads cores on the E5-2699 v3 processors to measure the throughput of the system. In this test, more cores/threads will have a greater effect on the outcome.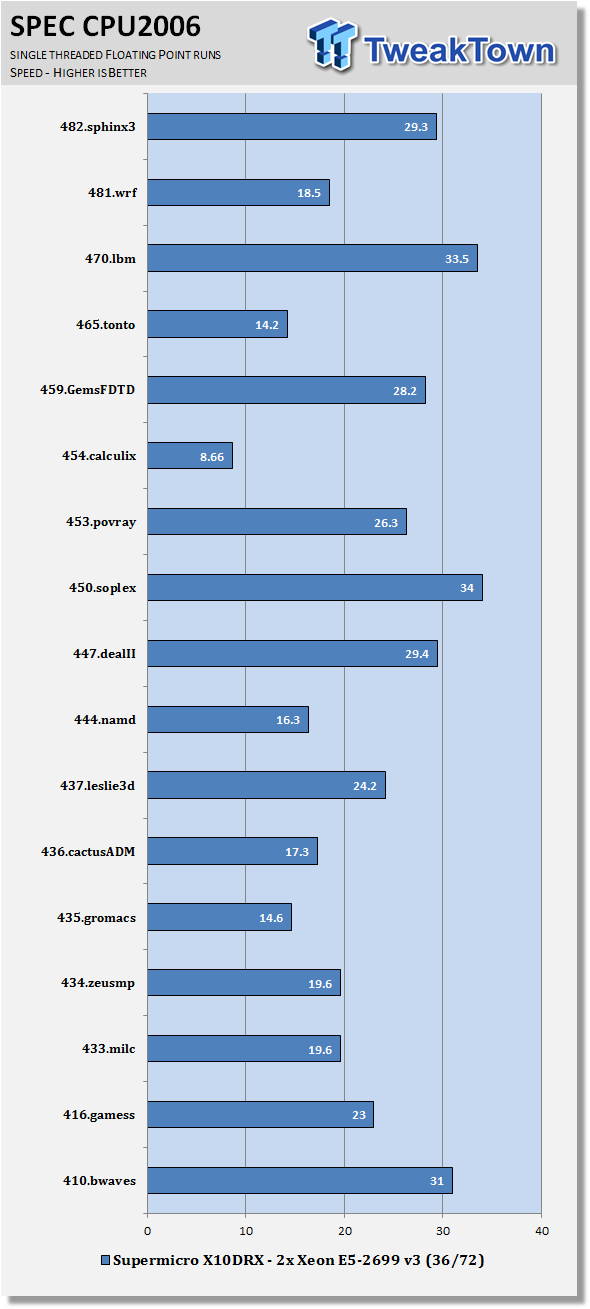 Just like the integer tests, we now run the floating-point tests in single threaded (speed) mode.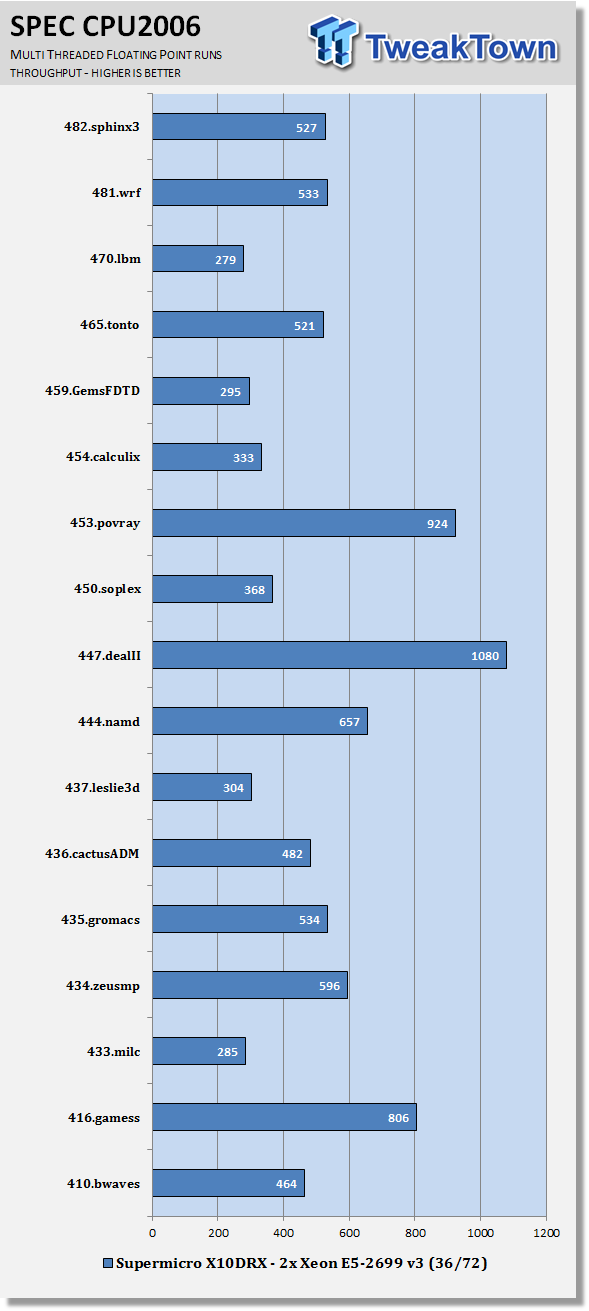 Here we see the results of the multi-core floating-point run that uses all 36 cores/72 threads cores on the E5-2699 v3 processors. Like the multi-threaded integer test, more cores/threads will have a greater impact on the test. Just like the integer multi-threaded tests, the X10DRX really takes off here.
Power Consumption & Final Thoughts
Power Consumption
We have upgraded our power testing equipment and now use a Yokogawa WT310 power meter for testing. The Yokogawa WT310 feeds its data through a USB cable to another machine where we can capture the test results.
To test total system power use, we used AIDA64 Stability test to load the CPU, and then recorded the results. We also now add in the power use for a server from off state to hitting the power button to turn it on and take it all the way to the desktop. This gives us data on power consumption during the boot up process.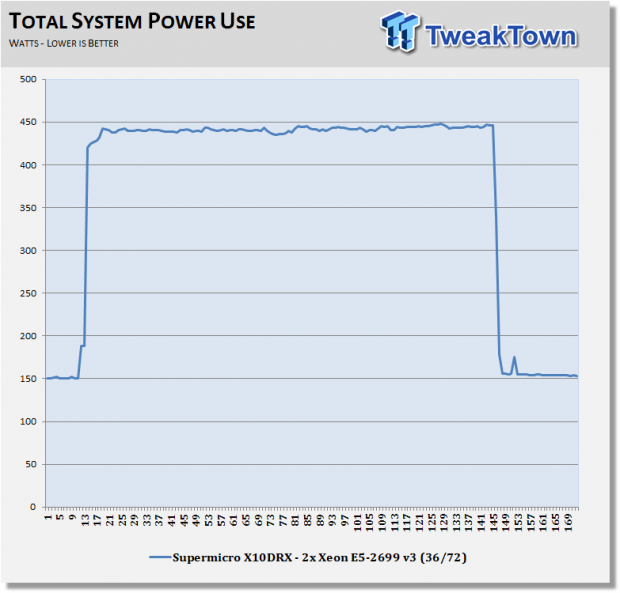 The X10DRX uses ~150 watts at idle on the desktop. The X10DRX does use more power than most of our motherboards we have tested; this is because of the added PCI-E slots on the motherboard.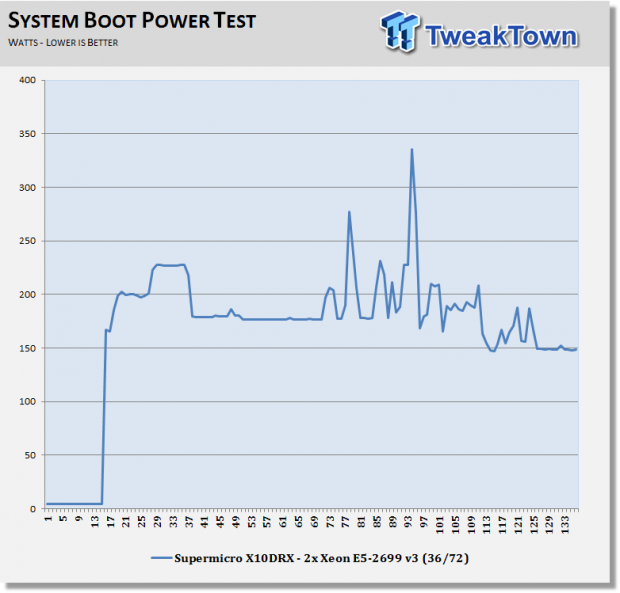 With the X10DRX, we see peak power use of ~340 watts during the boot up process. The system then settles down to ~150 watts after the boot up is completed.
Final Thoughts
Supermicro is well known for creating motherboards and systems that meet many different client needs, in this case a motherboard that can handle the maximum number of PCI-E slots. As high-density systems evolve, there is a need to provide as much connectivity that can fit in standard boxes, in this case 10x PCI-E 3.0 x8 and 1x PCI-E 2.0 x8 slots.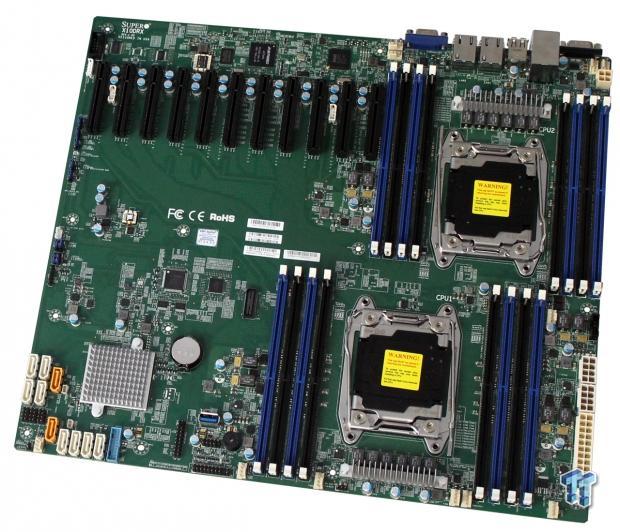 The X10DRX is designed to handle the needs of Network Gateways, Surveillance DVR, Industrial Server Solutions, Head-node controller, and Flash Array Appliances. These systems can use as many PCI-E slots as they can get, with 11 PCI-E slots available the X10DRX can serve these needs very well.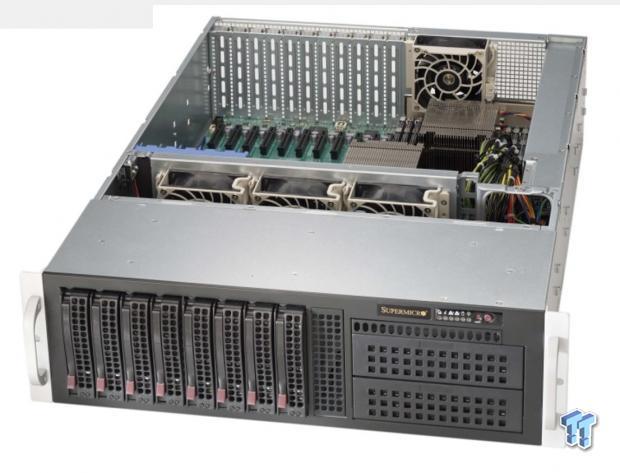 Systems designed by Supermicro such as SYS-6038R-TRX and SYS-6048R-TRX provide the maximum I/O installed in standard boxes. Standard features such as 1TB DDR4, 8x Hotswap storage bays, Intel Gigabit LAN and Redundant power supplies are also included on these platforms.
We found the X10DRX to perform as expected, but its true capabilities will be unleashed when it is fully loaded with expansion cards, this is the focus of this motherboard, it should be a high performer in applications it is designed for. The X10DRX is a beast of a motherboard and offers up huge amounts of I/O capabilities that would normally take several other servers to handle.
We were very pleased with operating the X10DRX, benchmarks could be higher, but as we have said, this board is tuned for PCI-E performance. Overall, this board operates just like other Supermicro boards, ease of IPMI and iKVM setup and use makes managing the X10DRX effortless. Setup was also a breeze and we had our system up in running in short order. We only wish we had enough PCI-E expansion cards to fully test out the motherboard.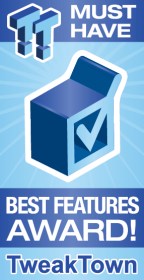 | | |
| --- | --- |
| Performance | 90% |
| Quality including Design and Build | 96% |
| General Features | 97% |
| Bundle and Packaging | 90% |
| Value for Money | 95% |
The Bottom Line: Supermicro takes advanced I/O servers to the next level with the X10DRX which provides the maximum number of PCI-E 10x PCI-E 3.0 for 11 total slots making this the most powerful I/O board you can get.
PRICING: You can find products similar to this one for sale below.

United States: Find other tech and computer products like this over at Amazon.com

United Kingdom: Find other tech and computer products like this over at Amazon.co.uk

Australia: Find other tech and computer products like this over at Amazon.com.au

Canada: Find other tech and computer products like this over at Amazon.ca

Deutschland: Finde andere Technik- und Computerprodukte wie dieses auf Amazon.de
We openly invite the companies who provide us with review samples / who are mentioned or discussed to express their opinion. If any company representative wishes to respond, we will publish the response here. Please contact us if you wish to respond.
Related Tags