Digital Storm Bolt 2 SFF Gaming Desktop PC Review
Trace takes a close-up look at Digital Storm's new Bolt 2 SFF gaming desktop PC. It's incredible to think how much performance they've managed to pack in.
Published
12 minute read time
Introduction & Specifications, Configurations and Pricing

Today, we're getting the chance to look at another Digital Storm system. This system is an upgrade from a previous model that we've looked at in a prior review. This is one of our favorite things to do, as it allows us to show a direct comparison on how it has been improved--or hurt--by the changes.
Digital Storm is a custom PC builder based out of the California Bay Area. Many of Digital Storm's PCs make use of custom cases that are designed and manufactured in the United States. This is the case (pun intended) for the Bolt 2.
One of the most interesting improvements from the original Bolt comes in the case. It has seen a bit of a remake and now has better fit and finish. We noted in the prior review that the custom case of the Bolt had a few small issues. We are happy to report this isn't the case for the Bolt 2.
But enough about that. We'll be interested to see all of the improvements Digital Storm has packed into the Bolt 2. So, without further ado, let's dive into the meat of this review.
Specifications, Configurations and Pricing
We've got a ton of computing performance stuffed into a tiny package. The heart of the system is Intel's latest Core i7-4790K. This 4GHz CPU can boost all the way up to 4.4GHz when thermals and power consumption allow. It features four cores and four threads and is the successor to the i7-4770K, a favorite for gaming.
Cooling the CPU is a custom watercooling setup. This compact system makes use of a 240mm radiator, allowing for plenty of cooling potential for massive overclocks.
One of the most important components, the motherboard, in this system is the very capable ASUS Z97I-PLUS. This mini-ITX motherboard makes use of Intel's latest Z97 chipset. It features just one PCIe x16 slot for expansion, along with four SATA III 6Gbps ports, six USB 3.0 ports, four of which are on the back I/O panel, and six USB 2.0 ports, again with four on the back I/O.
Digital Storm has slotted two 8GB sticks of Corsair Vengeance Pro DDR3 RAM into the motherboard. These sticks come with a rated speed of 1866MHz and timings of 9-10-9-27, or an SPD speed and timings of 1,333MHz and 9-9-9-24, respectively.
Graphics are provided by an NVIDIA GeForce GTX 780 Ti 3GB GPU. This is one of NVIDIA's best GPUs and is a very capable video card. We have a feeling it will do quite well in our charts, which is incredible based upon the size of the overall system.
Windows 8.1 64-bit is installed upon the 500GB Samsung 840 EVO SSD. Mass storage is provided by a 2TB Western Digital 7,200RPM Black drive. Digital Storm has overclocked the 4790K with a "Stage 2" overclock, which sees the speed being boosted to between 4.5GHz and 4.8GHz. Our specific unit comes clocked at 4.6GHz.
This configuration is available from Digital Storm for $3,489. A wide range of customization is available through Digital Storm's online tool. You can choose from different GPUs, including both AMD and NVIDIA offerings, different motherboards, and different processors.
Packaging, Bundle & System Pictures
Packaging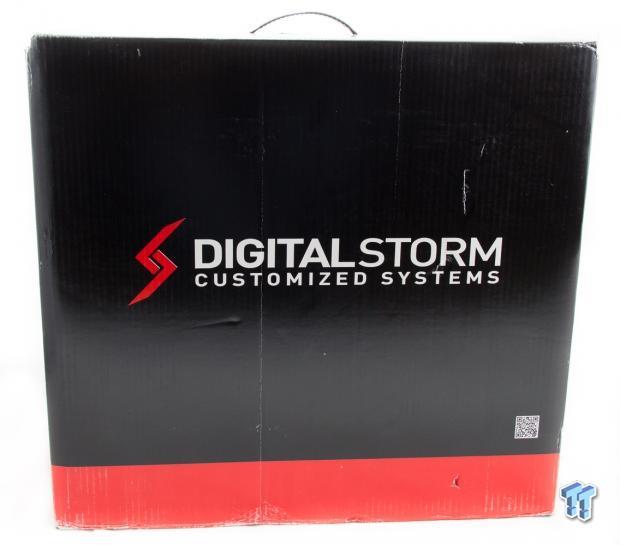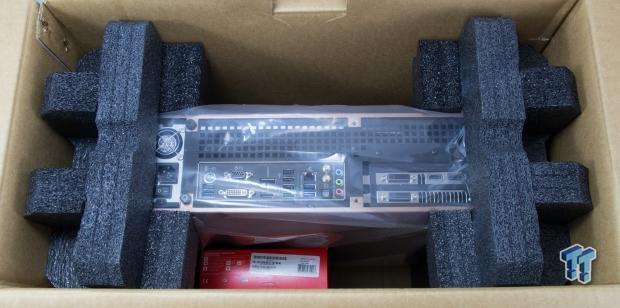 Above, left, you can see the standard Digital Storm PC box design that the company uses on all boxes. Above, right, you can see that the system is wrapped in a thick plastic bag and placed inside foam supports.
The system arrived without issue. We didn't find vacuum foam inside the chassis, mainly due to how tight everything is put together.
System Pictures
The following pictures are of the system: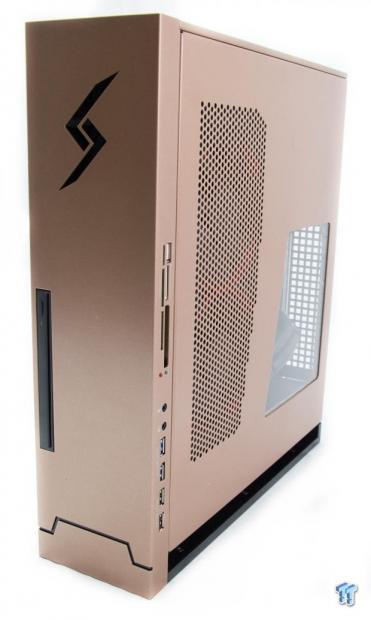 This is the right side of the system, when looking from the front. It's the side the front I/O is on and is the side you open to gain access to the motherboard. It's opposite of most cases, which I like because it puts the window on a side where I will actually see it. My PC is almost always to the left as the right side is reserved for the mouse pad and mouse, in my case.
The I/O panel contains a multi-function card reader with support for more than five different types of standard cards, microSD and SD included. There are also three USB 2.0 ports, two USB 3.0 ports, and the standard microphone and headphone jacks.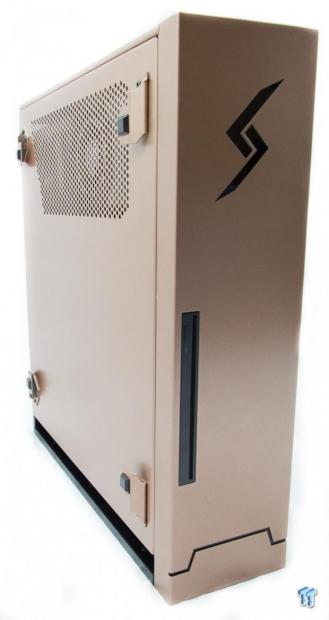 This is the left side of the machine and is the panel you would remove in order to gain access to the video card. You can see that it features a vent for the video card to pull in air as well as feet for if you want to lay the system on its side in a console-like manner.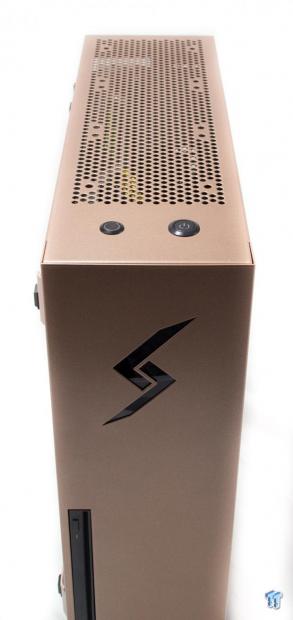 Here you can see the power, right, and reset, left, buttons as well as part of the slot-load Blu-ray player and DVD writer.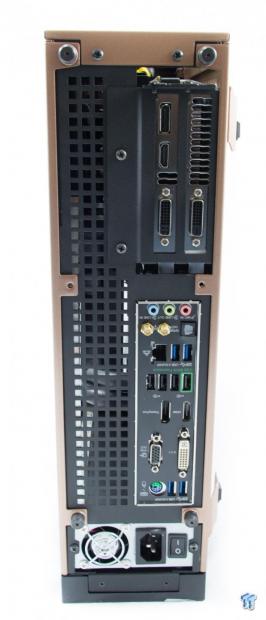 Here we see the I/O panel of the Bolt 2. The motherboard used includes Wi-Fi and has a plethora of connections, including four USB 2.0 ports, four USB 3.0 ports, a combo PS/2 keyboard/mouse port, gigabit Ethernet, Display Port and HDMI out, and DVI and D-Sub (VGA) out.
Here we can see the internals and how they are tightly packed into the system. RAM can easily be switched out, and you can see that the different removable components are labeled as such.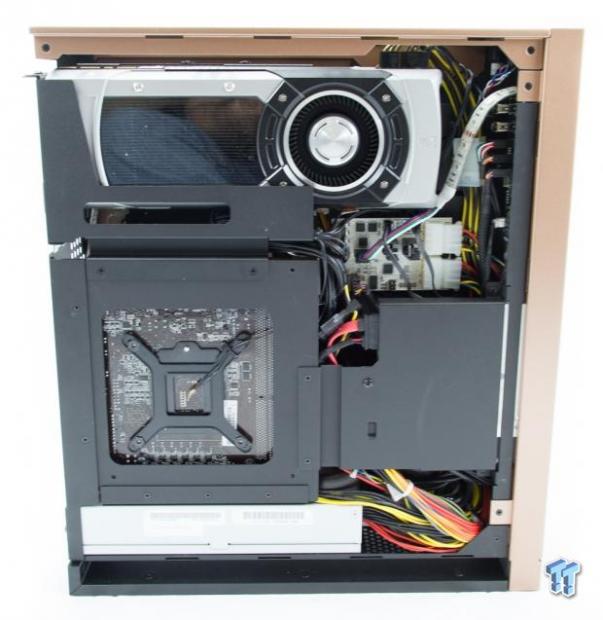 Here is the backside of the system. You can see the GPU, the fan controller (white/grey PCB), RGB lighting strip (by the GPU and fan controller PCB), and the generally clean wire management.
Testing Methodology
We appreciate the support provided by Corsair, GIGABYTE, and ASUS. Without their support, our job would be much more difficult.
Benchmarks and Testing Methodology
- CPU Tests
Cinebench R11.5 starts off our tests. The multi-threaded rendering test is ran and the score reported.
wPrime is ran for both the 32M calculation and 1024M calculation with the number of threads available on the system.
- Storage Tests
CrystalDiskMark is run to put a number on how well the system hard disk drive / SSD runs. It measures five different metrics, of which higher is better for all. The higher the numbers, the snappier the operating system will feel, especially if the "4K" number is high as most operating system files are small files.
HD Tune is run on any storage drives installed in the system. Maximum, minimum and average read and write speeds are reported in the charts.
- System Tests
PCMark 8 Creative is run to get an idea of how the system performs as a whole. It tests all aspects of the PC and puts a score on how well it performs overall. In this test, a low scoring area can affect the overall score, so it's important to read the analysis. A higher score is better.
- Gaming Tests
3DMark Vantage is ran on the Extreme preset to get a feel for how the computer would manage gaming. The CPU, GPU and combined scores are reported. A higher overall score is the best and a high GPU or CPU score shows particular prowess with tasks that use that part of the computer.
3DMark 11 is run on the Extreme preset and the Physics, GPU and combined scores are reported. This test is only run if the system supports DirectX 11. A higher overall score is the target, though a high individual result shows prowess in a particular area.
3DMark- Fire Strike Extreme Test is run on the system to measure DirectX 11 performance and CPU performance. 3DMark is the latest version of Futuremark's widely used gaming benchmarking software. The combined, GPU, and Physics scores are all reported in the charts.
Battlefield 4 is run at 1080p and 4K resolution with the graphics preset set to "Ultra." FRAPS is used to record 60 seconds worth of FPS data. The game is played in a similar manner each time.
Crysis 3 is run at 1080p and 4K resolution with the graphics specifications set to "Very High." No anti-aliasing is used. See picture on actual test page to see full details. FRAPS is used to record 60 seconds worth of FPS data. The game is played in a similar manner each time.
- Heat, Noise and Power Consumption
The system is fully loaded using Furmark and Prime 95. Component temperatures are recorded using CoreTemp and Furmark. Noise is recorded in front of the system, midway up, six inches from the machine using a decibel reader.
Idle power consumption is system consumption while sitting at the desktop, as recorded by a Kill-a-watt style meter. Loaded consumption is recorded during the load of Prime 95 and Furmark using the same meter.
Benchmarks - CPU Tests
Cinebench
Version and / or Patch Used: R11.5 build CB25720DEMO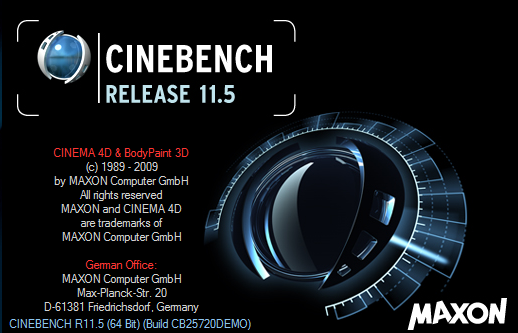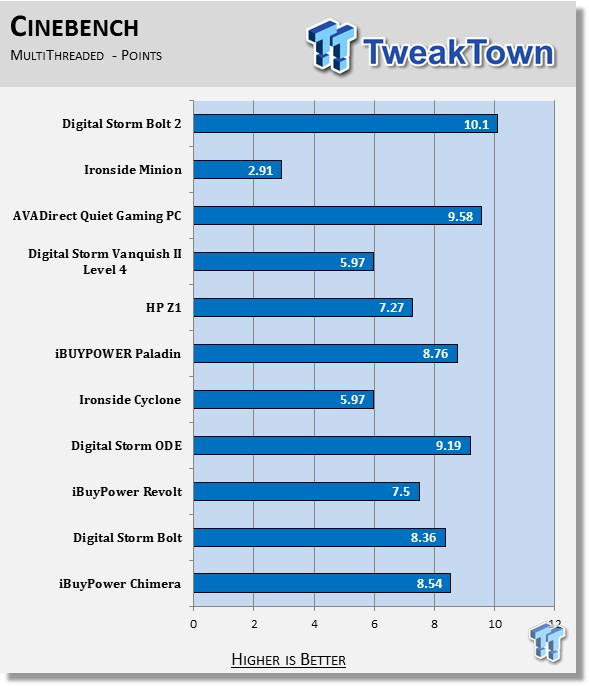 It seems like just yesterday that I was introducing AVADirect's Quiet Gaming PC as having the top-performing CPU. Well, I can now introduce the Bolt 2 with that title, and the first system we've reviewed to break into the double digits with a score of 10.1.
wPrime
Version and / or Patch Used: 2.09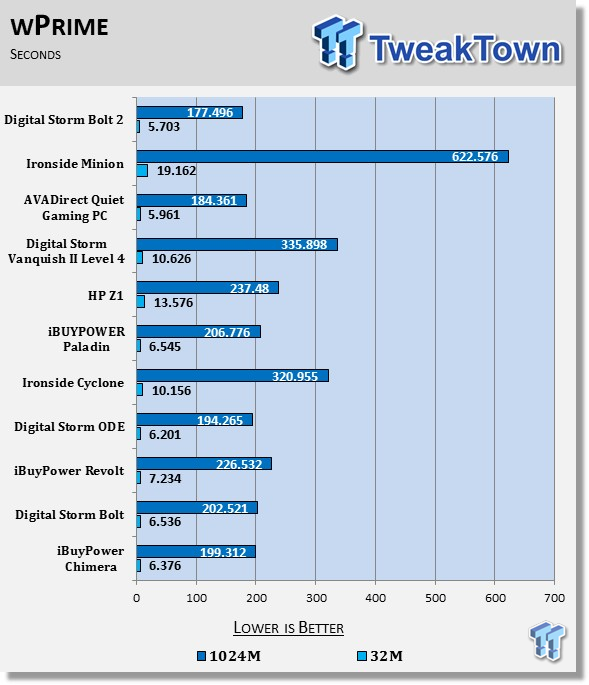 Looking at wPrime, we see the exact same as above: the overclocked Bolt 2 CPU is blistering fast at 4.6GHz, and is again the top performer. This from a SFF system... Wow!
Benchmarks - Storage Tests
CrystalDiskMark
Version and / or Patch Used: 3.0 Technical Preview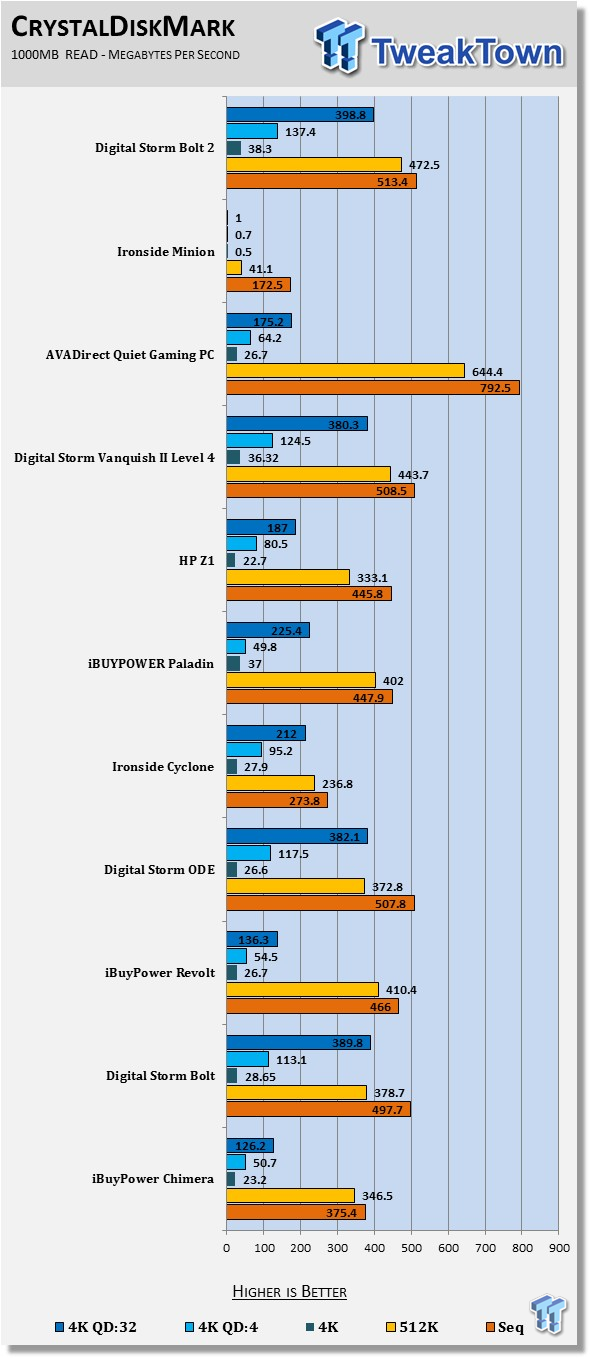 The Bolt 2's speedy 500GB Samsung 840 EVO SSD produces our best 4K read speed at all queue depths. Sequentially, it is beat out by the Quiet Gaming's RAID 0 SSDs. 38.3 MB/s is an excellent result for the 4K read speed.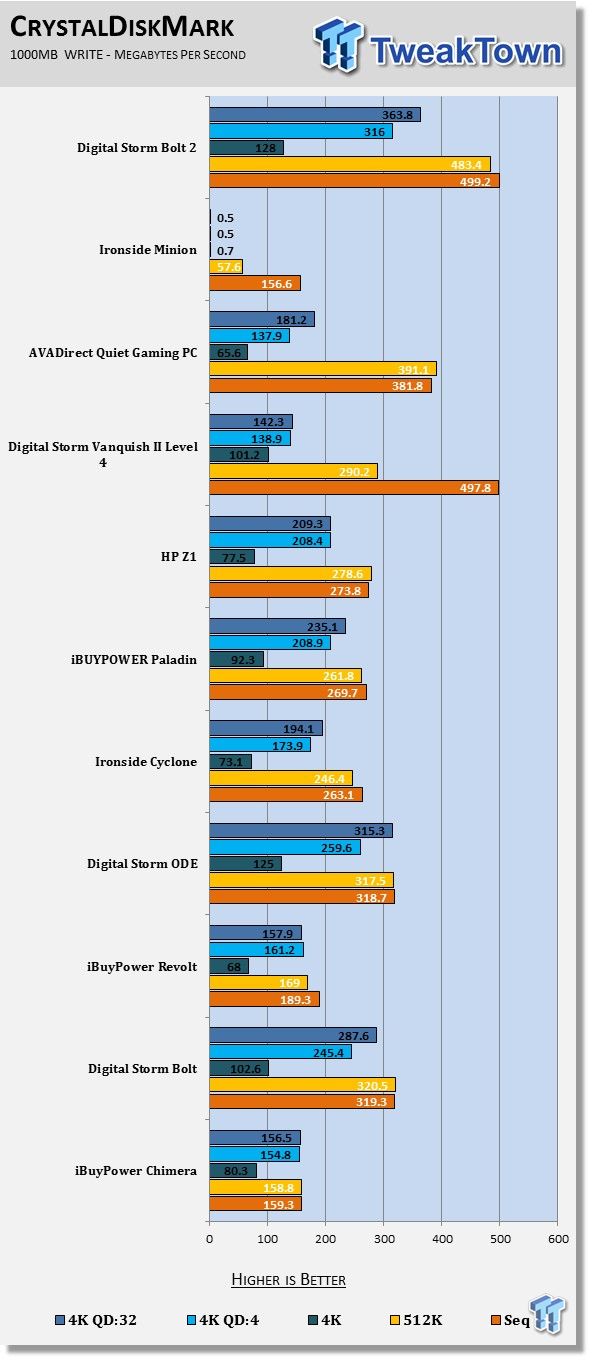 Write speeds are equally impressive, again coming in as the best in terms of 4K write speeds at all queue depths. Its sequential write speed is also the top of our chart. So far, the Bolt 2 has delivered top-of-chart performance.
HDTune
Version and / or Patch Used: 5.00
HD Tune Pro gives us accurate read, write and access time results and for the last couple of years has been gaining popularity amongst reviewers. It is now considered a must have application for storage device testing.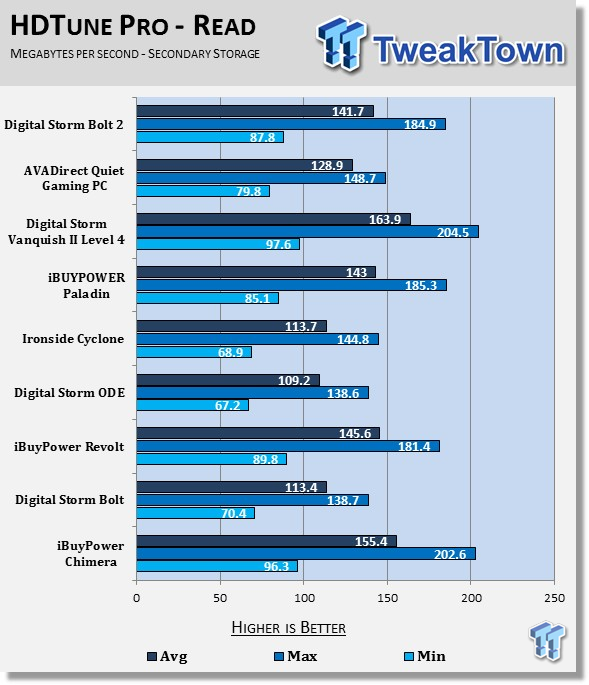 The 2TB Western Digital Black used in the Bolt 2 isn't the fastest spinner for mass storage we've seen used, but its average sequential read speed of 141.7 MB/s is plenty good for loading those mostly sequential large game files.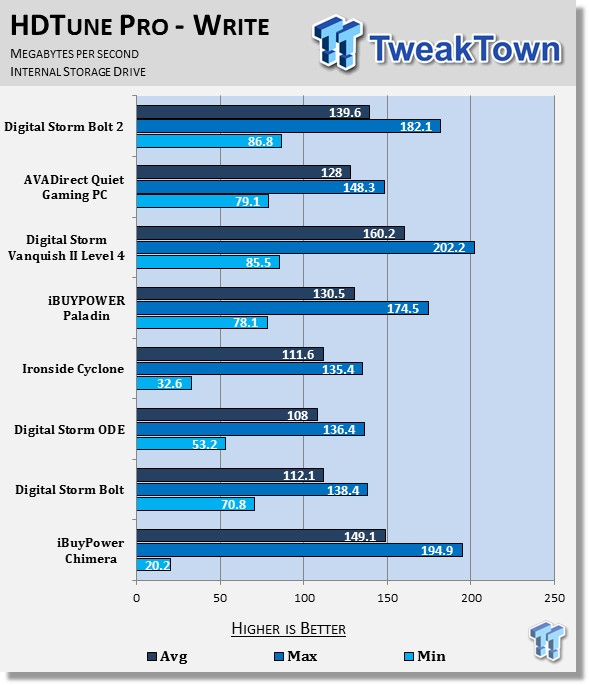 Write speeds see the same as above: good, but not chart-topping. We find the drive manages an average sequential write speed of 139.6 MB/s.
Benchmarks - System Tests
PCMark 8 - Creative Test
Version and / or Patch Used: 2.0.228
PCMark 8 comes with various benchmarks to assess PC performance in key areas. As we are testing performance desktop systems, we utilize the Creative Test, non-CL accelerated.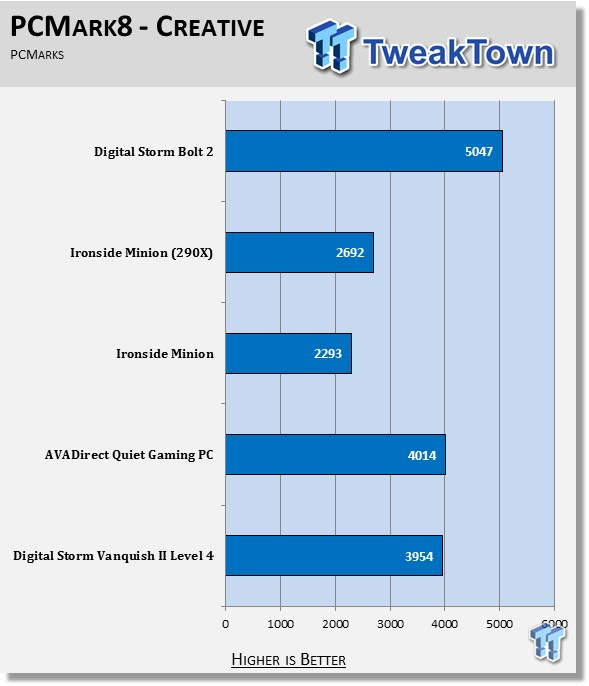 Wow - our first system to break into the 5000s.
At 5047, this system is over 1000 points higher than the next nearest competitor, the Quiet Gaming PC from AVADirect. As you can see from this incredible result, the Bolt 2 makes one hell of an all-around PC for content creation, and gaming.
Benchmarks - Gaming Tests
3DMark Vantage
Version and / or Patch Used: 1.1.0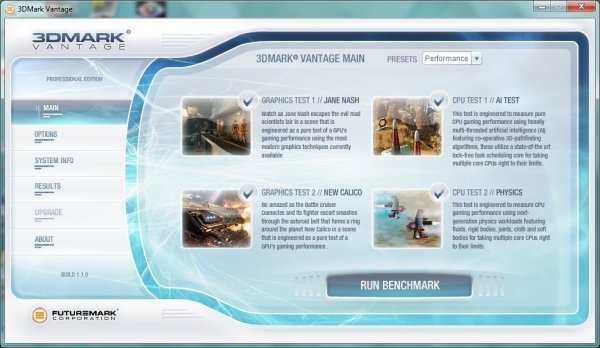 3DMark Vantage tests both processor and graphics performance and is a good indication of how systems compare. The results are generally more repeatable and consistent than other forms of benchmarking. Vantage uses DirectX 10 and can handle multi-core CPUs.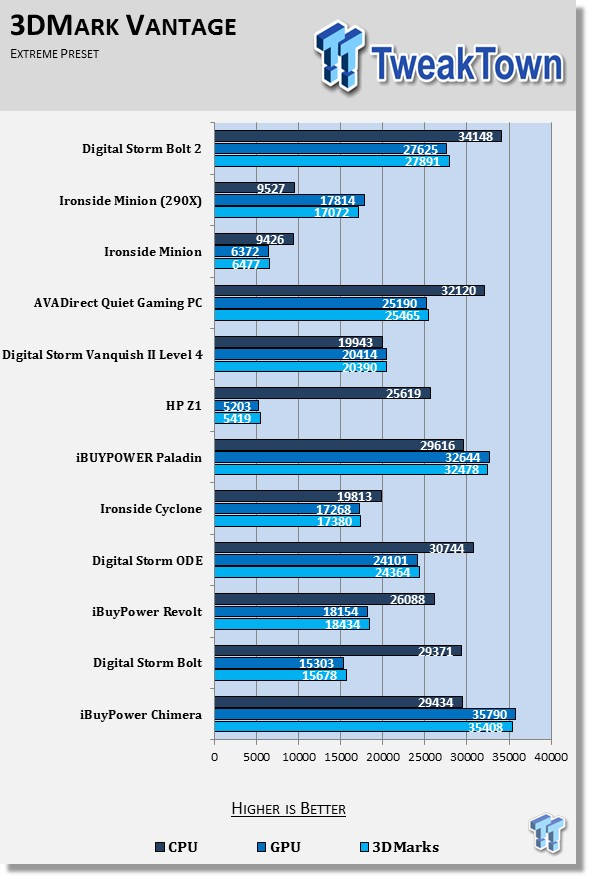 Considering it's lacking an SLI setup, the Bolt 2 does admirably well in our Vantage test. Producing an overall score of 27,891, it manages to make third place. However, its CPU score of 34,148 is the number one CPU score we've seen from any system. The GPU is bested by multi-GPU setups.
3DMark 11
Version and / or Patch Used: 1.0.3.0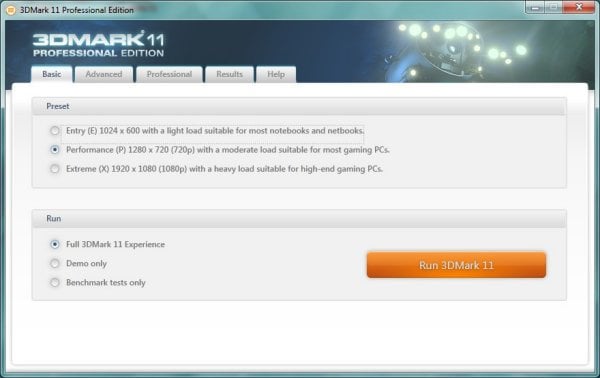 3DMark 11 is the latest version of the world's most popular benchmark. Designed to measure your PC's gaming performance 3DMark 11 makes extensive use of all the new features in DirectX 11 including tessellation, compute shaders and multi-threading. Trusted by gamers worldwide to give accurate and unbiased results, 3DMark 11 is the best way to consistently and reliably test DirectX 11 under game-like loads.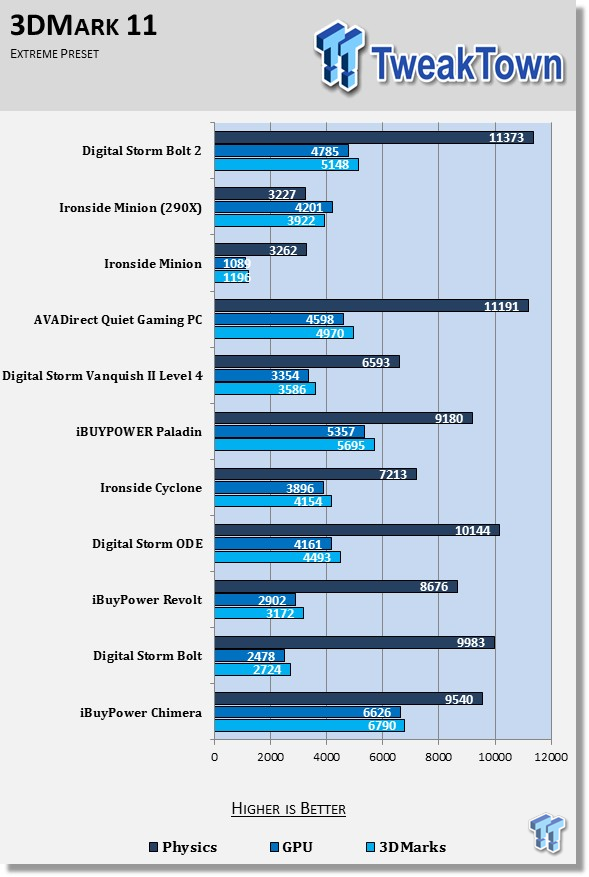 3DMark 11 closes the gap, but the Bolt 2 still sees the highest CPU score with 11,373. Its overall score of 5,148 is in third place, again behind multi-GPU setups. In this test, we'd be hard pressed to say that it's better than the Quiet PC from AVADirect, as it just barely beats it.
3DMark - Fire Strike Extreme
Version and / or Patch Used: 1.0.0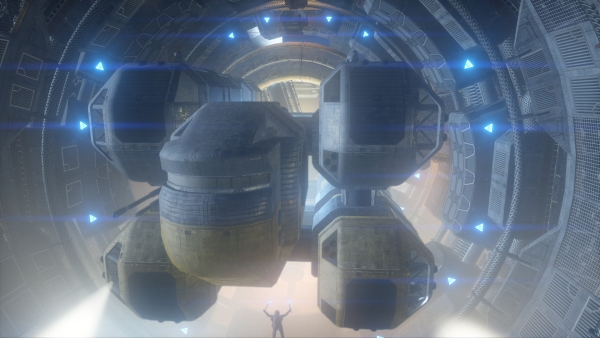 Fire Strike is a new test that is designed for powerful gaming desktops. We have checked the "Extreme" test option to make it that much more torturing on the system. Overall, CPU, and GPU scores are reported.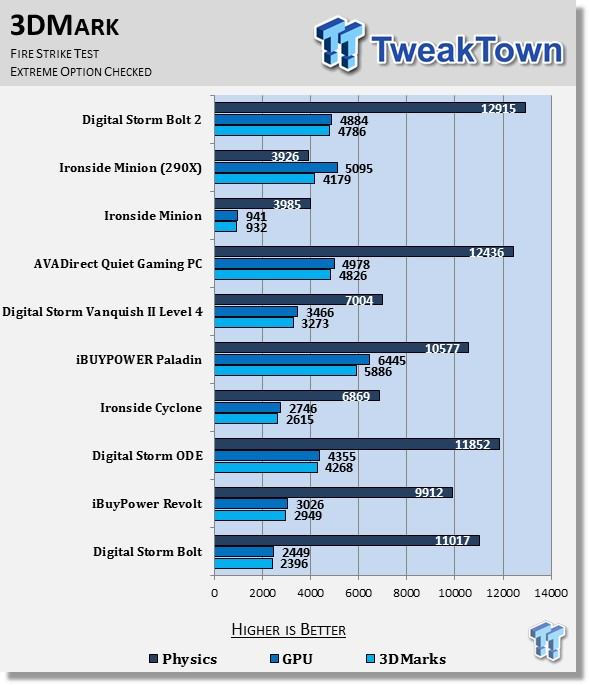 Interestingly enough, the chart-topping Bolt 2 is bested by the Quiet Gaming PC, despite just barely winning in the 3DMark 11 test. Its overall score of 4,786 is just behind the 4,826 of the Quiet Gaming and is a third place finish, though the difference is easily within the testing margin of error. Its CPU score, however, bests that of the Quiet Gaming.
Battlefield 4
Version and / or Patch Used: Latest Origin Update
Battlefield 4 is the latest installation in the Battlefield franchise. We benchmark BF4 with a custom 60 second run played in a similar manner each time. Settings are 1080p and 4K for the resolution with the "Graphics Quality" set to Ultra.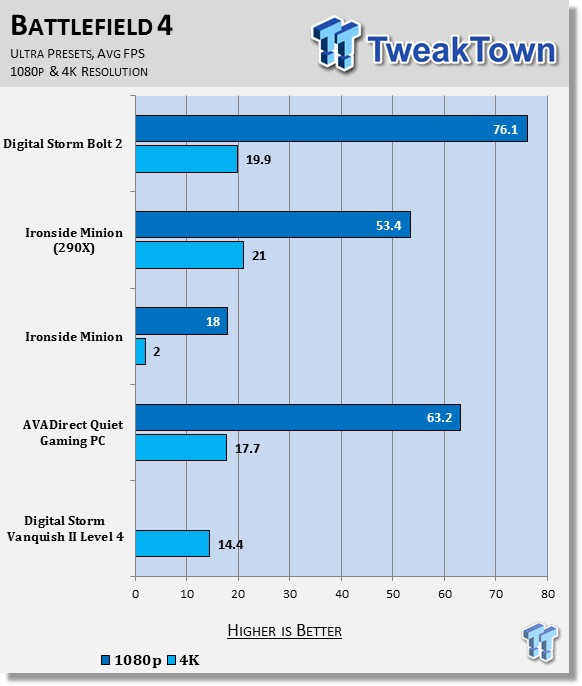 As you can see in the chart above, 1080p gaming at Ultra detail is totally within reach. We found an average of 76.1 FPS in Battlefield 4. 4K gaming, however, is something that is out of reach, at least at Ultra Presets. A detail drop could likely bring it into reach, but if you really want 4K gaming, you should check out Digital Storm's 4K-capable PCs.
Crysis 3
Version and / or Patch Used: Latest Origin Update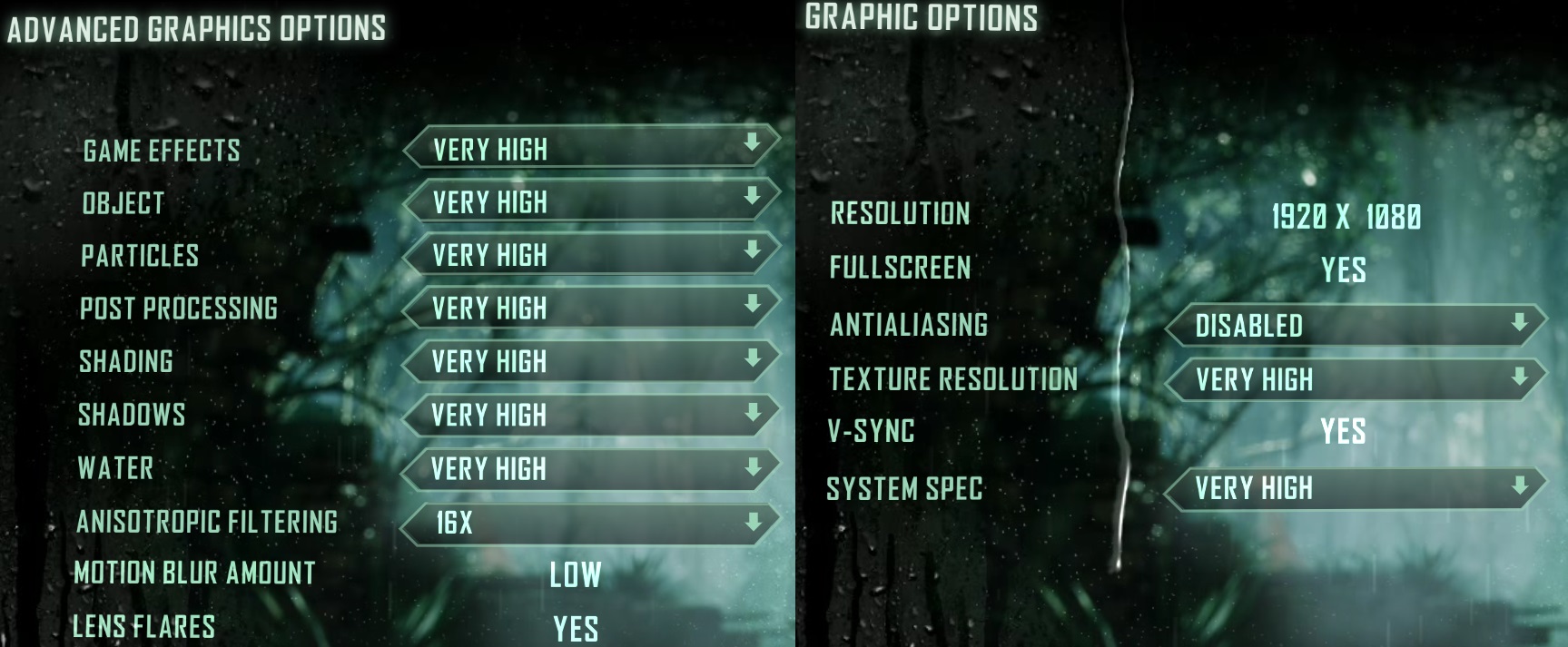 Crysis 3 is run at 1080p and 4K resolution with the graphics specifications set to "Very High." No anti-aliasing is used. See picture above for full details, aside from resolution. FRAPS is used to record 60 seconds worth of FPS data and recording starts at the start of the campaign and finishes most of the way up the tower. The game is played in a similar manner each time.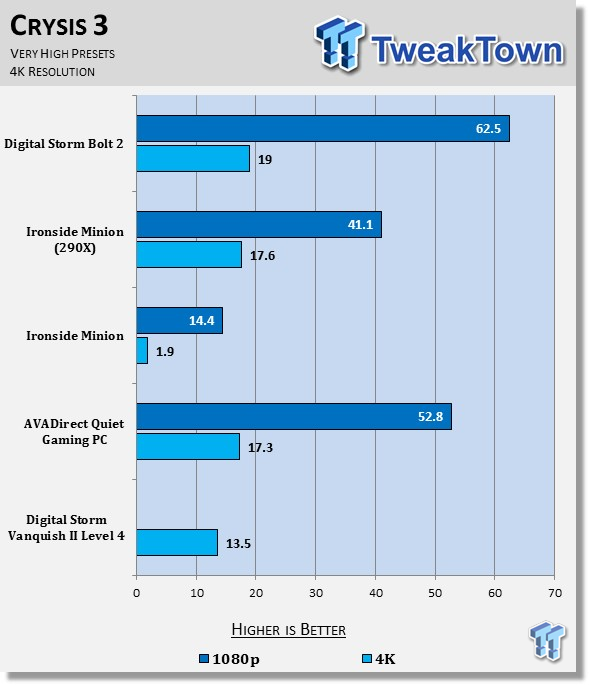 Again, we see very similar results to BF4. 1080p gaming at Very High detail is completely reasonable, with an average of 62.5 FPS. 4K is again out of reach, with just 19 FPS being seen. A detail drop could bring it into reach, but you'll again likely want a multi-GPU setup to do 4K gaming at high detail.
Temperatures and Noise & Power Consumption
Temperatures, Cooling and Noise
The system is fully loaded using Furmark and Prime 95, similar to our laptop testing. The sound recordings are made in front of the machine, about 6 inches from the center of the tower. Temperatures are reported as recorded by CoreTemp and Furmark.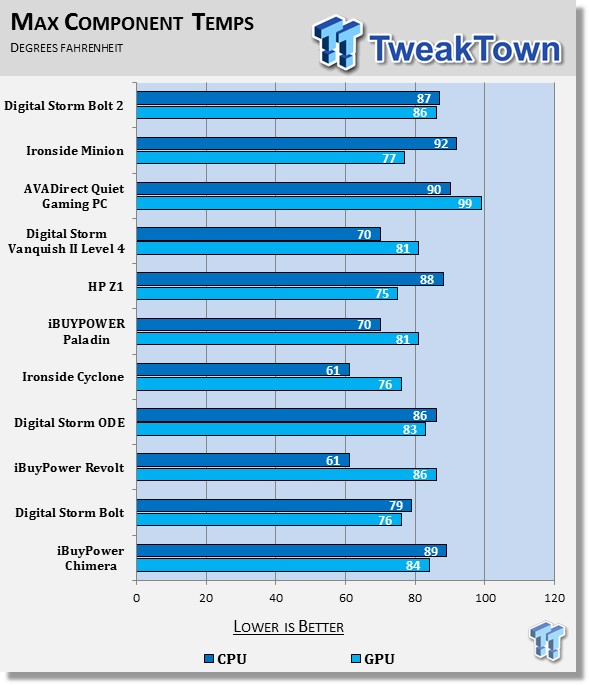 Despite having watercooling, the overclocked 4790K (an already hot CPU) reached a max temperature of 87C. We would, of course, like to see it lower, and these temperatures are an extreme and not something you're likely to encounter often, unless you do lots of encoding or other tasks that peg the CPU at 100 percent.
The GPU reached a modest 86C, which is in the middle of the pack in terms of GPU temperatures. 86C is acceptable for a GPU, though lower is always better.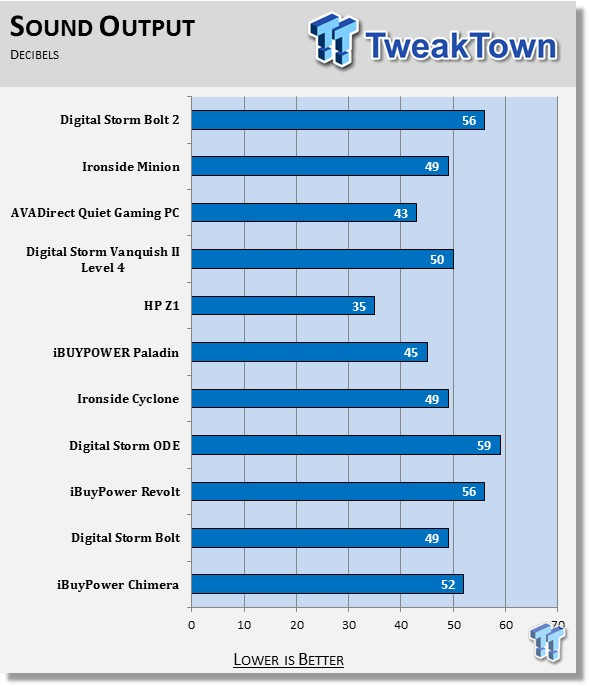 And here is where the drawbacks of a SFF come readily into focus. Our review unit, while not the loudest system we've tested, produced 56 decibels of noise while under full load. But, this is to be expected when pushing lots of components into a small space, such as in a SFF system.
Power Consumption
Power consumption is measured while the system is loaded for the temperature test and while sitting idle at the desktop. Measurement is taken at the wall, so it includes everything running in the system, not including the monitor.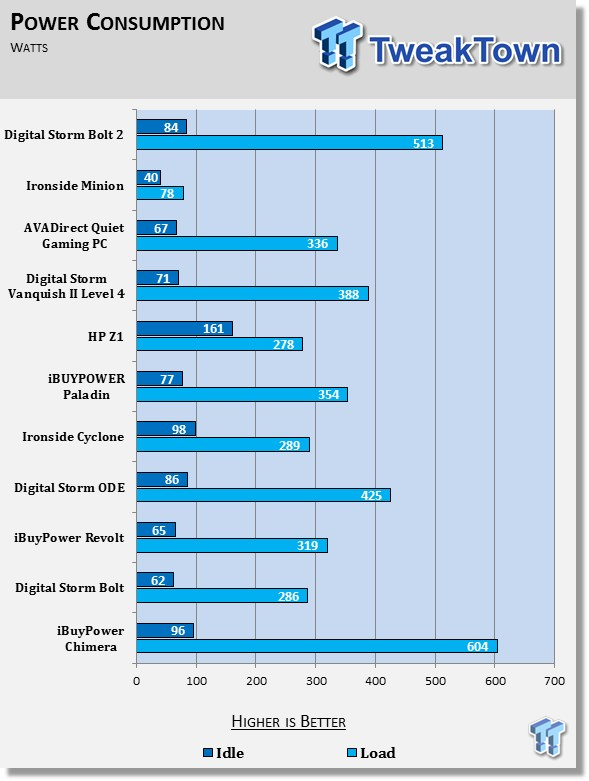 The overclocked CPU and high-performance GPU combine to make a rather large load power draw. Coming in at 513W, it is the second highest draw we've seen, only outpaced by the dual-GPU and overclocked Chimera. Idle consumption is just 84W, which is fifth highest on our chart. However, it's a reasonable idle consumption result.
Final Thoughts
Now that we've looked at the performance of the Bolt 2 in depth, it's time to take a step back and see how we like the package as a whole.
Digital Storm's custom Bolt 2 case in Copperhead finish looks stunning. The case packs a ton of components and performance into a pint-sized PC. Incredibly, this system hangs with - and beats - the larger systems we've reviewed. This usually isn't the case for a SFF PC.
We also like how the custom case can be placed on its side much like a console or other HTPC cases. It makes it perfect for the shelf beneath your TV for some living room gaming. Furthermore, Digital Storm's controllable RGB lighting allows you to customize the lighting effects as your tastes change.
While the system might be small in stature, it certainly isn't small in terms of weight. While I don't have an accurate measurement of it, I can tell you that it easily weighs the same as the larger systems that it beats. The weight certainly detracts from the portability, but the small size easily exceeds this negative and results in an easy-to-tote system for LAN parties. It also fits perfectly in space-constrained spots (can you say college dorm?).
There really isn't much more that I need to say as the preceding charts should do the majority of the talking. You get unbeatable performance in a tiny package. This does, however, bring me towards my conclusion and one of the most important aspects of the review: price and value.
In order to get a tiny system such as this with watercooling, top-of-chart performance, and a custom case, you're going to pay a premium. A pretty large premium in the case of the Bolt 2. For the items you can actually put a price on, you're looking at over $1,700 in components. This doesn't include the incredibly compact custom case, the watercooling, fan controller, or lighting. Designing a case isn't cheap, and managing to pack in this much performance into such a small package is also not cheap.
In other words, you're going to pay a premium for the space-saving Bolt 2. But for that premium, you do get a top-of-chart performing system, one of the very best systems we've seen in our lab. The system is listed at $3,489, which is a bit steep and daunting to look at.
But, in addition to what we've covered, you also get lifetime US-based Expert Care and a three-year labor and one-year parts warranty. We'd love a longer hardware warranty-an option they have available-but for this price, it should be longer to start with in my opinion. You'll also get lifetime labor free upgrades on components purchased from Digital Storm. This is really nice as working in a tight space such as the Bolt 2 can be very frustrating.
I'm not able to say that the Bolt 2 represents great value; it doesn't. But, chart-topping performance comes at a price, and so does space. Therefore, if you are limited in space, but want a top-of-the-line gaming PC, the Bolt 2 is an excellent choice. As it is the highest-performance gaming PC we've had through our labs, we're awarding it with our Best Performance award. I'm still speechless that I get to say this about a small-form-factor PC.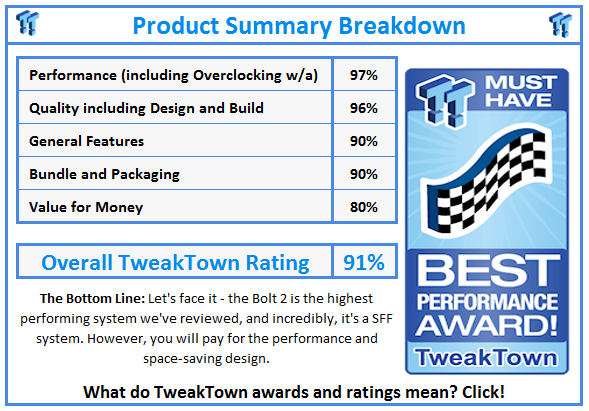 PRICING: You can find products similar to this one for sale below.

United States: Find other tech and computer products like this over at Amazon.com

United Kingdom: Find other tech and computer products like this over at Amazon.co.uk

Australia: Find other tech and computer products like this over at Amazon.com.au

Canada: Find other tech and computer products like this over at Amazon.ca

Deutschland: Finde andere Technik- und Computerprodukte wie dieses auf Amazon.de
We openly invite the companies who provide us with review samples / who are mentioned or discussed to express their opinion. If any company representative wishes to respond, we will publish the response here. Please contact us if you wish to respond.