AVADirect Quiet Gaming PC Review
If "quiet" and "gaming" together in the same sentence seems impossible, read our review of AVADirect's Quiet Gaming PC, which lives up to its name.
Published
14 minute read time
Introduction & Specifications, Configurations and Pricing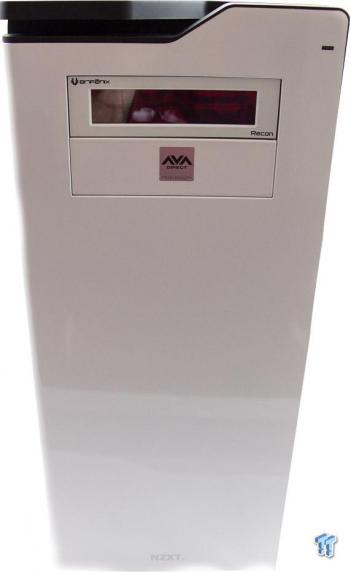 AVADirect isn't a name you hear every day when discussing gaming systems. AVADirect is more known for its professional systems, including government contract systems and high-end workstations, which I'm sure we'll see reviews of on here soon enough.
We're most interested, however, in AVADirect's Quiet Gaming PC. The name seems to be somewhat of a misnomer. It's not all that common to combine the words "quiet" and "gaming." I speak from experience. I've seen numerous gaming PCs come through the lab, and none are what I would call "quiet." My test system for monitors sports a pair of reference ASUS Radeon R9 290Xs, and I usually have the fans cranked to 70+ percent to keep them from throttling. It's not quiet by any stretch of the imagination.
Without giving away too much of the review, I can confirm that the Quiet Gaming PC from AVADirect lives up to its name by being the quietest gaming PC we have tested in our labs. Without further ado, let's dive into the meat of this review.
Specifications, Configurations and Pricing
We're looking at a top-notch system in terms of components and performance. The heart of the system is provided by Intel's latest Haswell processor, the i7-4790K. The 4790K is the refresh of the 4770K and comes with a stock clock of 4.0GHz and a max Turbo speed of 4.4GHz. These are blistering speeds, but our review found that it doesn't seem to overclock quite as well as the older 4770K. The 4790K is otherwise identical to the 4770K for all intents and purposes, save for the support of VT-d. A brief note: VT-d allows for direct pass-through of I/O when virtualizing systems. At PDXLAN, we saw a virtualized system playing four copies of Battlefield 4 with just one CPU, motherboard, and RAM. The GPUs were passed through to each VM, along with one USB controller for each VM.
AVADirect has done a good job in choosing a CPU cooler for this system. It's important to pick a cooler that is capable of running at a low noise level, while still providing acceptable temperatures. AVADirect equipped our Quiet Gaming PC with ZALMAN's FX100 Ultimate.
Forming the backbone of the system, GIGABYTE's G1.Sniper Z97 motherboard is a gaming oriented motherboard. With features such as Killer E2200 gaming networking and an onboard Creative Sound Core3D quad-core audio processor, this motherboard makes for a great backbone in a gaming machine.
Slotted into the backbone, four 4GB sticks of Kingston Genesis HyperX LoVo 1600MHz RAM makes for a system total of 16GB. These DIMMs run at CL9-9-9 at just 1.35 volts. They are covered in green heat spreaders to keep RAM temperatures down.
Graphics are provided by an NVIDIA GeForce GTX 780 3GB video card. In our system, we have a GIGABYTE GV-N780OC-3GD, which makes use of GIGABYTE's WINDFORCE 3X cooler. It features a base clock of 954MHz with a boost clock of 1006MHz. We're happy that AVADirect has chosen to install Windows 7 upon the two-drive RAID 0 array of Kingston HyperX 3K SSDs. Each drive features a capacity of 120GB, so the combined array is 240GB in size.
Housing all of these components is the NZXT H630 Glossy White chassis. The inside of the side panels of this system feature foam to help keep noise inside, and the system features numerous adjustable fans on the inside - we reviewed it back in 2013.
AVADirect offers a plethora of customization options, ranging from different cases to different custom multisleeved cables. Our system spec'd out to $2792.50 plus tax and shipping. Not exactly easy on the wallet, but is it worth it? Keep reading and you'll find out.
Packaging, Bundle & System Pictures
Packaging
Sitting on my doorstep (not really--AVADirect requires signature at the time of delivery) was a nondescript white box. I actually really like this as it makes it unlikely that it will be pilfered during shipping, since it's hard to tell what's inside. What I found next, however, was the stuff of nightmares: packing peanuts.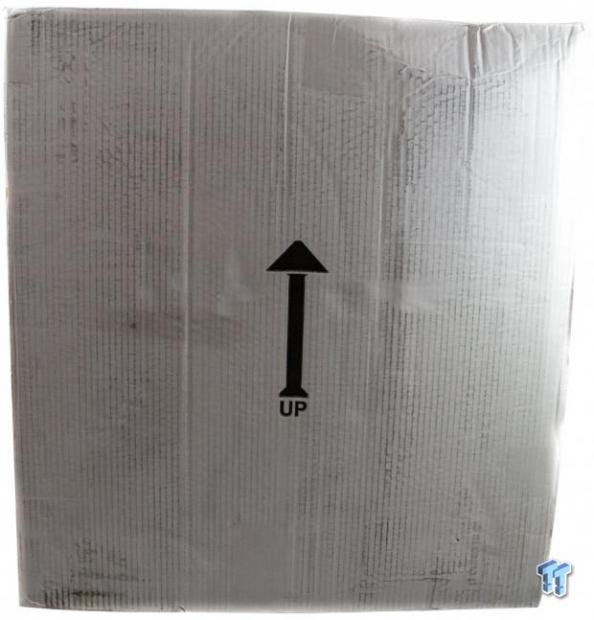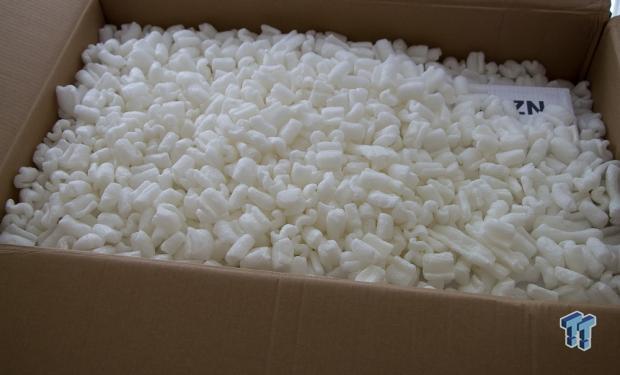 While this method of shipping does a damn great job of protecting the system, it sure makes a mess when taking out the inner box. I removed a bunch of peanuts from the top and stored them in grocery bags, but some still found their way onto my floor. This does protect the system from piercings during the shipping process. Note: Make sure to dig around in the peanuts. Our motherboard box was at the bottom and contained various extra cables and such.
The system itself is shipped inside the original case box, making use of the original foam packaging.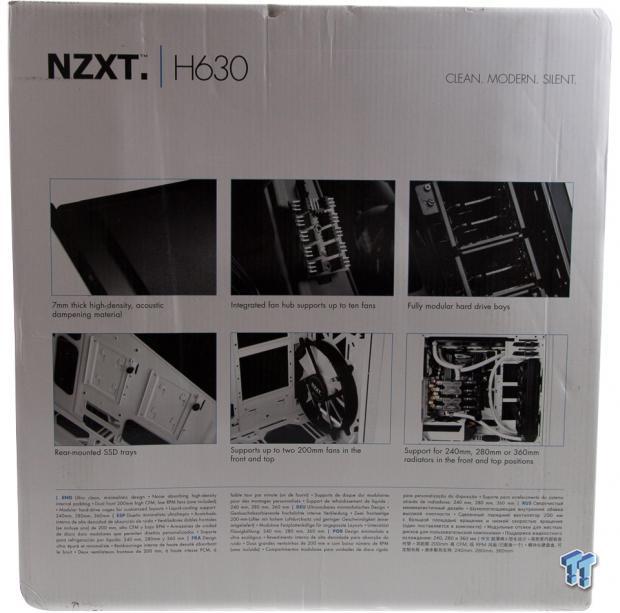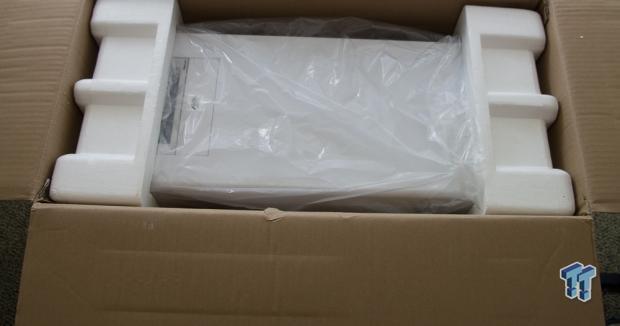 AVADirect makes use of what I would argue is the industry standard vacuum foam to protect the heat sink and GPU during transit. Make sure to remove this before booting the system. To remind you, AVADirect tapes an 8.5x11 piece of paper over the back I/O panel, making it difficult to plug in the necessary cables, without first reading the piece of paper.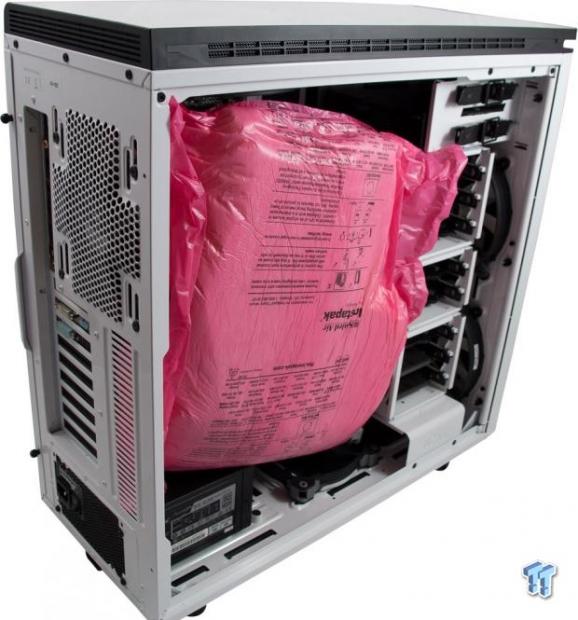 System Pictures
The following pictures are of the system: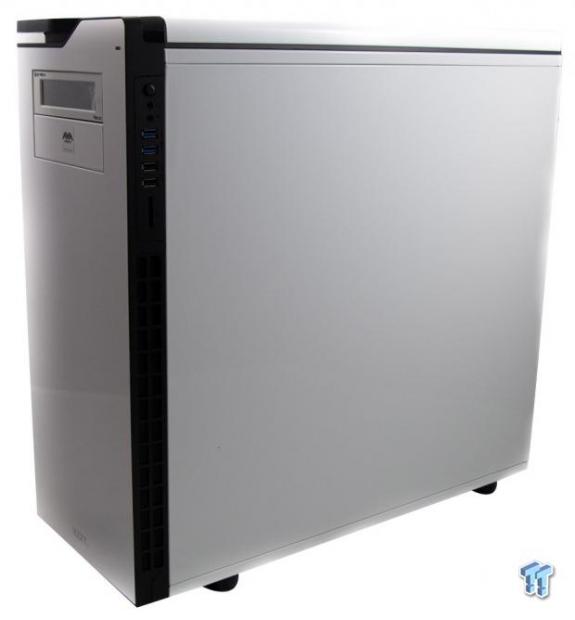 This is the right side of the system, when looking from the front. It's the side the front I/O is on and the side the motherboard mounts to.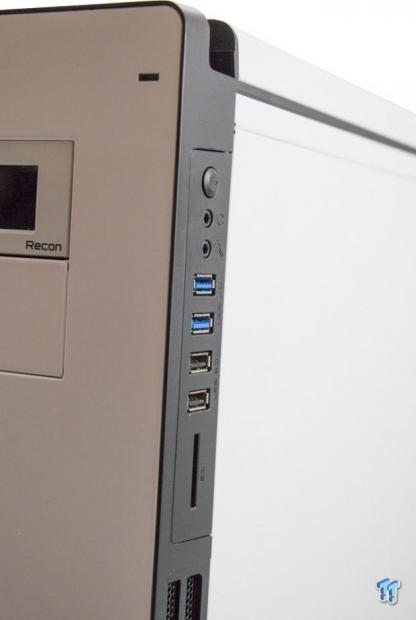 Here's a close up of the I/O. There is a headphone jack, microphone jack, two USB 3.0 ports, and two USB 2.0 ports, along with a card reader at the bottom. The power and reset buttons are on the top of the case (not pictured). The button on the top of the I/O turns lights on and off on the back of the system to light up the back panel I/O.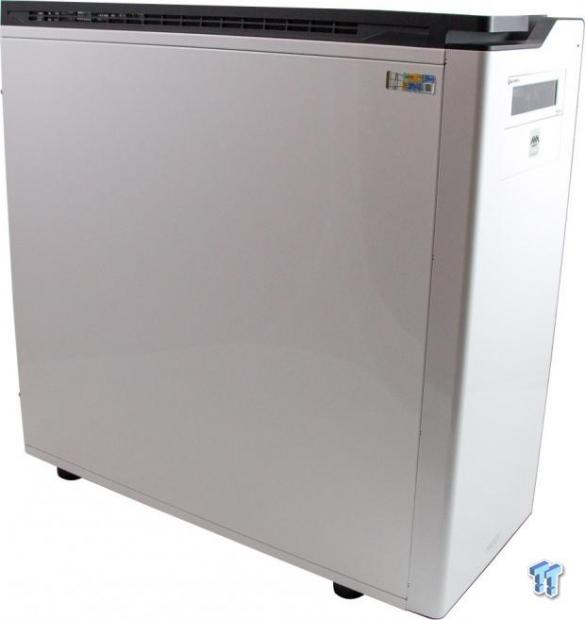 This is the left side of the machine and is the panel you would remove in order to gain entry to the system's main components.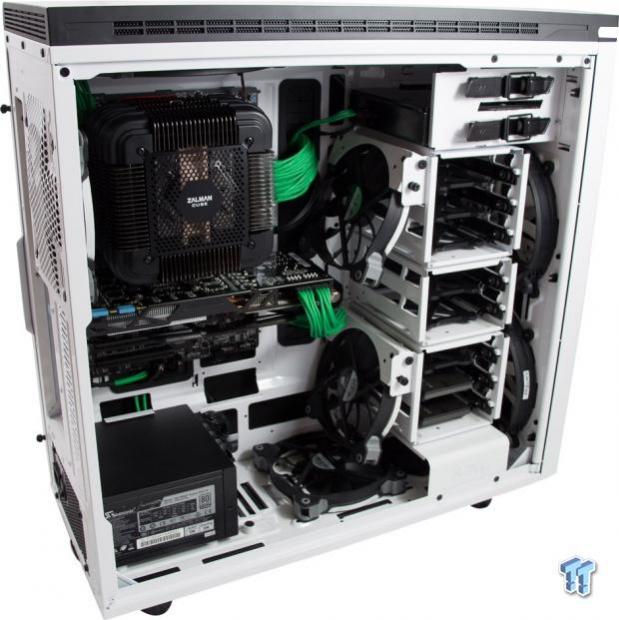 Removing that panel reveals the clear interior of the system. AVADirect has sleeved the PSU cables in green, with each wire being individually sleeved. The wires have then been tied back and routed behind the motherboard tray, which we'll see in a second.
It's a bit of a shame that this case doesn't feature a window to show off the beautiful work AVADirect did on the wire management and system overall. One complaint is that the green doesn't go with the red theme on the G1.Sniper motherboard.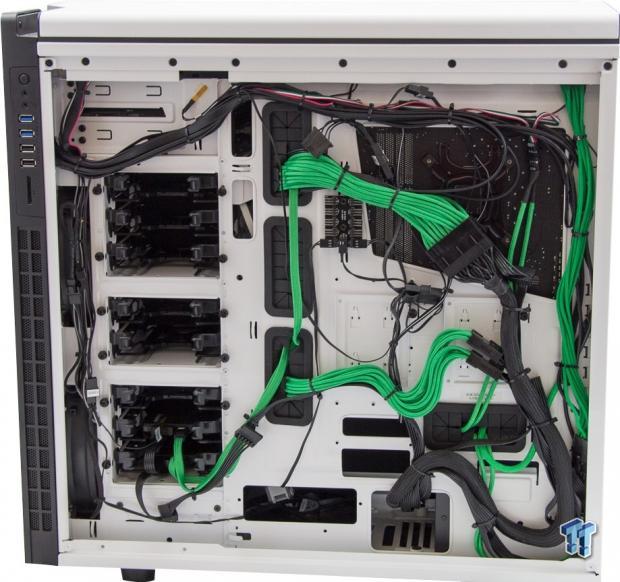 The backside of the motherboard is about as clean as you can get it. AVADirect has tied up the cables in a multitude of locations to keep them from moving around. It's unlikely that this routing could be cleaned up much more than it already is.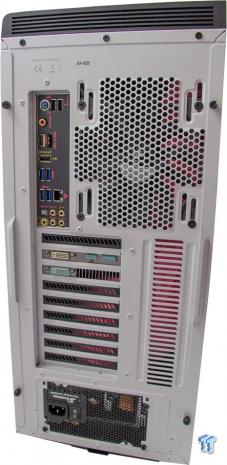 Here we see the back of the case. There are plenty of expansion slots left open for future GPU upgrades. There are lights above the rear I/O, and the expansion slots in order to make seeing what you're plugging a cable into easier.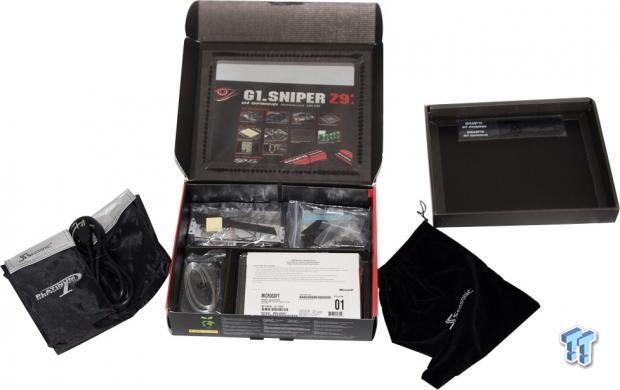 We finish with a quick look at the motherboard box that is filled with the various "extras" left over from building the PC. This includes SATA cables, the extra modular PSU cables, cable zip ties and Velcro straps, driver CDs, manuals, and even the various socket protectors and thermal paste. Also included is a Windows 7 Home Premium disk, which is the installed operating system should you need to do a fresh install.
Testing Methodology
We appreciate the support provided by Corsair, GIGABYTE, and ASUS in providing us with test system equipment and parts for our reviews. Without their support, our job would be much more difficult.
Benchmarks and Testing Methodology
CPU Tests
Cinebench R11.5 starts off our tests. The multi-threaded rendering test is ran and the score reported.
wPrime is ran for both the 32M calculation and 1024M calculation with the number of threads available on the system.
Storage Tests
CrystalDiskMark is run to put a number on how well the system hard disk drive / SSD runs. It measures five different metrics, of which higher is better for all. The higher the numbers, the snappier the operating system will feel, especially if the "4K" number is high as most operating system files are small files.
HD Tune is run on any storage drives installed in the system. Maximum, minimum and average read and write speeds are reported in the charts.
System Tests
PCMark 8 Creative is run to get an idea of how the system performs as a whole. It tests all aspects of the PC and puts a score on how well it performs overall. In this test, a low scoring area can affect the overall score, so it's important to read the analysis. A higher score is better.
Gaming Tests
3DMark Vantage is ran on the Extreme preset to get a feel for how the computer would manage gaming. The CPU, GPU and combined scores are reported. A higher overall score is the best and a high GPU or CPU score shows particular prowess with tasks that use that part of the computer.
3DMark 11 is run on the Extreme preset and the Physics, GPU and combined scores are reported. This test is only run if the system supports DirectX 11. A higher overall score is the target, though a high individual result shows prowess in a particular area.
3DMark- Fire Strike Extreme Test is run on the system to measure DirectX 11 performance and CPU performance. 3DMark is the latest version of Futuremark's widely used gaming benchmarking software. The combined, GPU, and Physics scores are all reported in the charts.
Battlefield 4 is run at 1080p and 4K resolution with the graphics preset set to "Ultra." FRAPS is used to record 60 seconds worth of FPS data. The game is played in a similar manner each time.
Crysis 3 is run at 1080p and 4K resolution with the graphics specifications set to "Very High." No anti-aliasing is used. See picture on actual test page to see full details. FRAPS is used to record 60 seconds worth of FPS data. The game is played in a similar manner each time.
Heat, Noise and Power Consumption
The system is fully loaded using Furmark and Prime 95. Component temperatures are recorded using CoreTemp and Furmark. Noise is recorded in front of the system, midway up, six inches from the machine using a decibel reader.
Idle power consumption is system consumption while sitting at the desktop, as recorded by a Kill-a-watt style meter. Loaded consumption is recorded during the load of Prime 95 and Furmark using the same meter.
Benchmarks - CPU Tests
Cinebench
Version and / or Patch Used: R11.5 build CB25720DEMO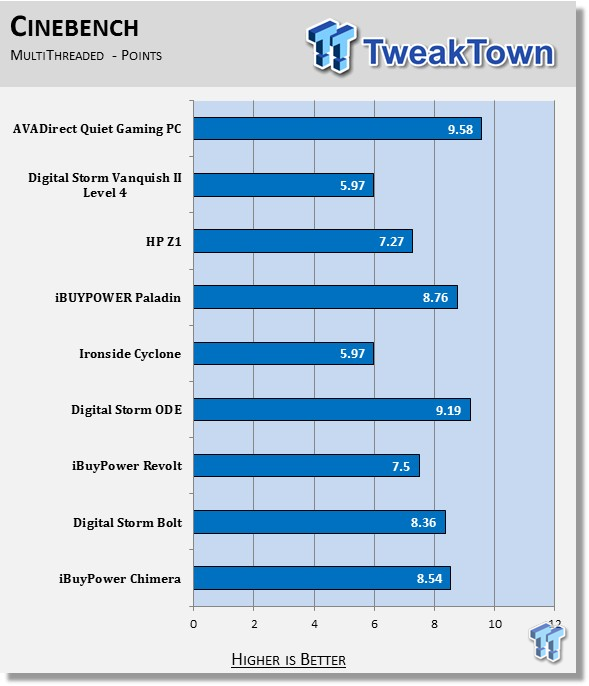 Say hello to the fastest CPU we've had through our benchmarks.
Between being Haswell and coming with such high clocks, the Quiet Gaming PC rockets to the top of our chart producing a score of 9.58 points. The next closest competitor was an i7-4770K powered machine at 9.19 points.
wPrime
Version and / or Patch Used: 2.09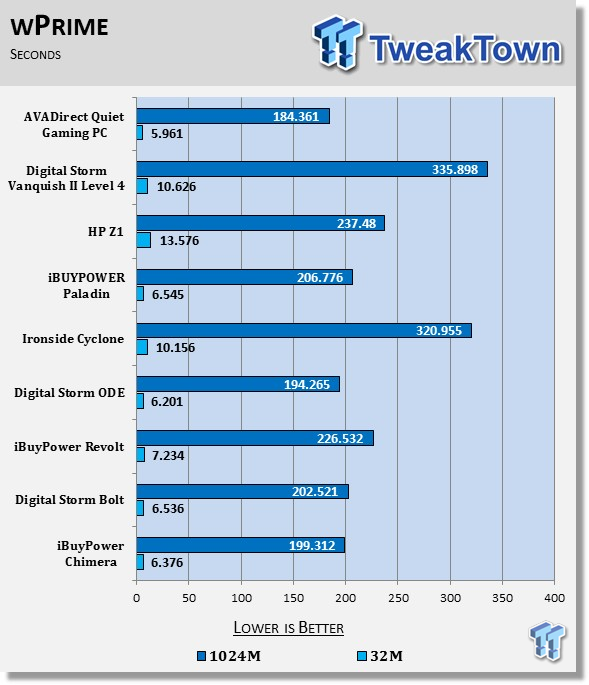 Looking at wPrime, we can again see that this system puts up the number one score in our charts.
Partly due to the CPU and partly due to the RAM, this system can crunch through numbers at lightning speed.
Benchmarks - Storage Tests
CrystalDiskMark
Version and / or Patch Used: 3.0 Technical Preview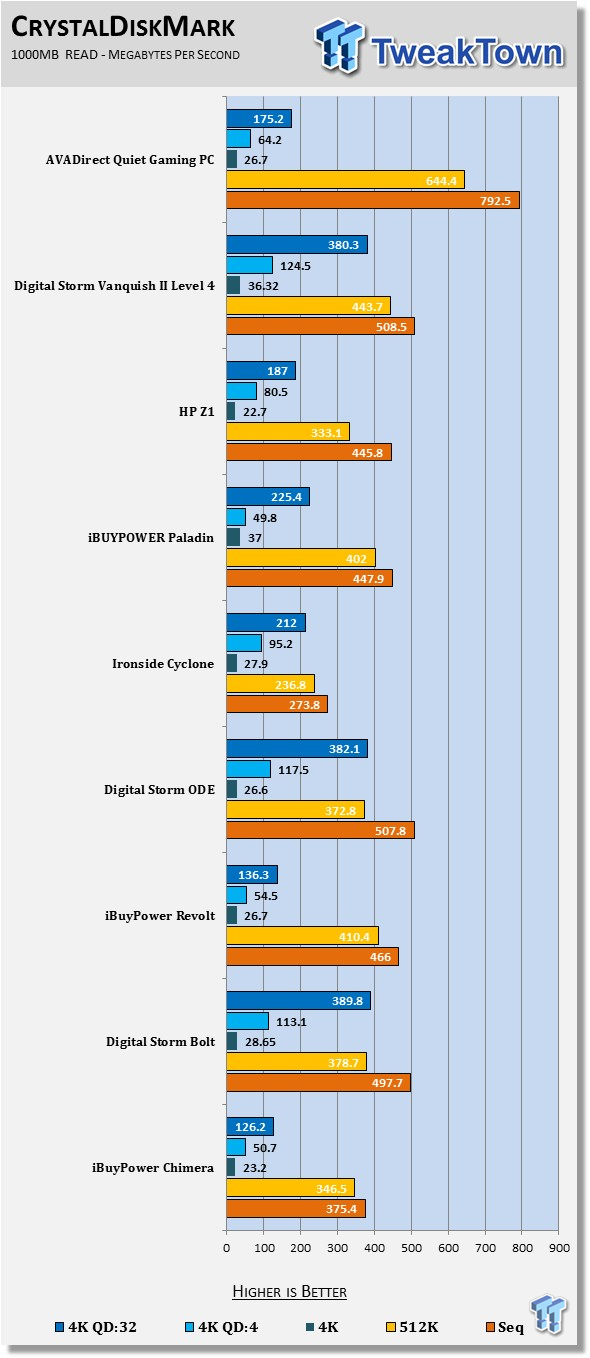 Moving on to what some would call the most important part of the system, we find that the RAID 0 array of Kinston drives performs quite well, putting up the fastest sequential read speed of all the systems we have reviewed. In the all-important 4K metric, you can see we're about 10 MB/s behind the Vanquish II and the Paladin.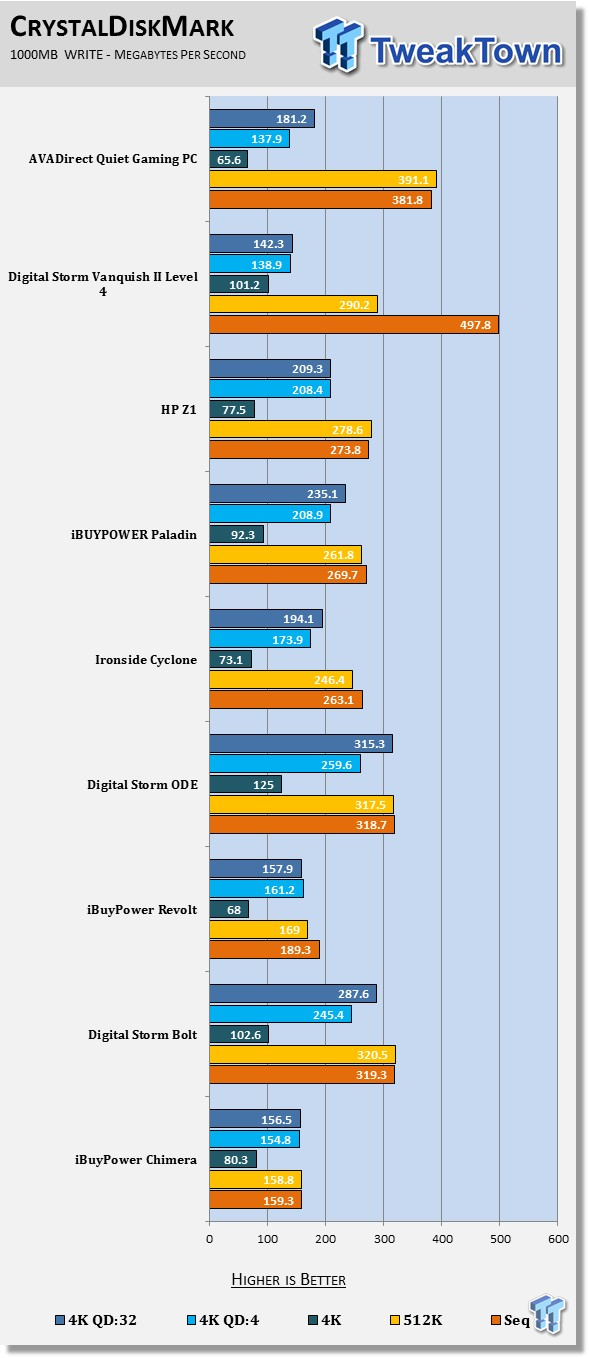 Sequential write speed, interestingly enough, falls to the Vanquish II's 497.8 MB/s, producing just 381.8 MB/s. It would appear that these drives don't like RAID as it produces the lowest 4K write speed of all of the systems we have reviewed. Either that or the RAID has been setup sub-optimally. For more details on these drives, you should check out our storage reviews that cover them in depth.
HDTune
Version and / or Patch Used: 5.00
HD Tune Pro gives us accurate read, write and access time results and for the last couple of years has been gaining popularity amongst reviewers. It is now considered a must have application for storage device testing.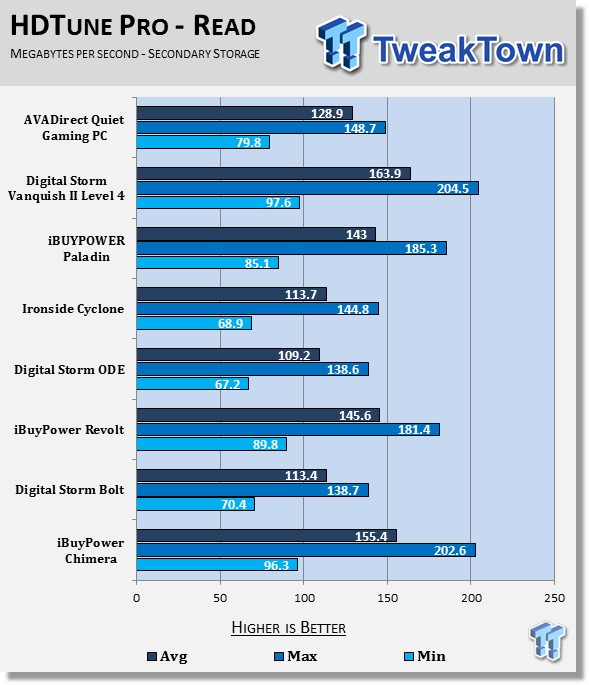 The 2TB Western Digital Black is stored away in a noise-isolation cage installed in a 5.25-inch bay. It performs in the middle of the pack in terms of average read speed compared to the other systems at 128.9 MB/s.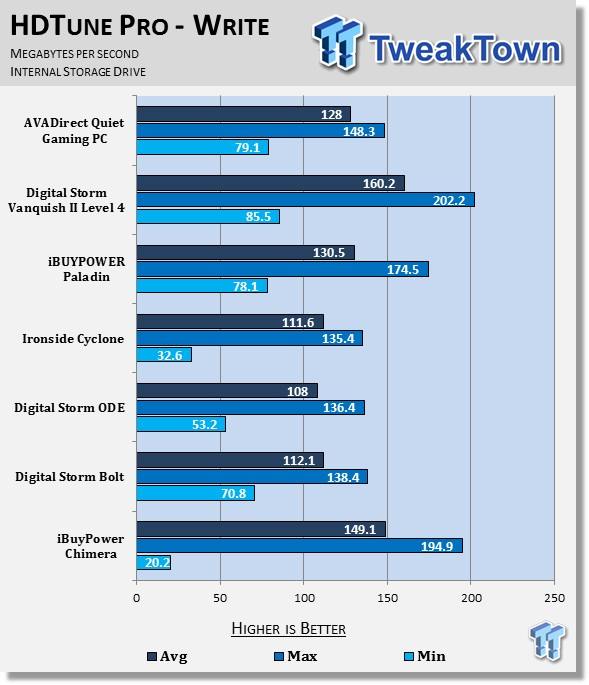 The same trend holds true for the write speeds of the system, with the system again coming in around the middle of the pack at 128 MB/s write.
Benchmarks - System Tests
PCMark 8 - Creative Test
Version and / or Patch Used: 2.0.228
PCMark 8 comes with various benchmarks to assess PC performance in key areas. As we are testing performance desktop systems, we utilize the Creative Test, non-CL accelerated.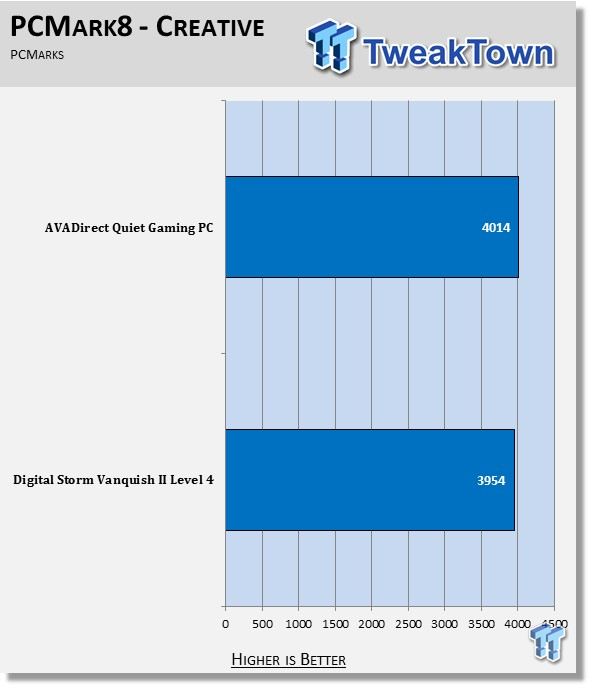 We have officially moved on to PCMark 8 as our go-to system test, though we are currently investigating some other options to add in addition to PCMark 8.
As you can see above, the Quiet Gaming PC scores just marginally higher than the budget-oriented Vanquish II. It's hard to see just where it stacks up since we only have the two systems in our chart, but as we review more systems (we have several on the way), this chart will fill up quickly and give us a better idea of where it stacks up.
Benchmarks - Gaming Tests
3DMark Vantage
Version and / or Patch Used: 1.1.0
3DMark Vantage tests both processor and graphics performance and is a good indication of how systems compare. The results are generally more repeatable and consistent than other forms of benchmarking. Vantage uses DirectX 10 and can handle multi-core CPUs.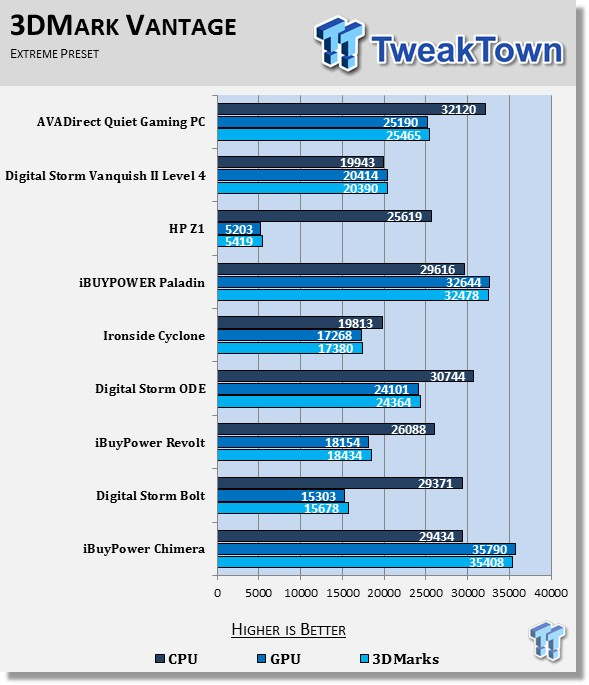 Considering it's lacking an SLI setup, the Quiet Gaming PC performs quite well in our Vantage test. Overall, it produces a third-place-earning score of 25,465. We can see that the score was hampered by its GPU score of just 25,190. Its CPU score, however, tops the charts at 32,120.
3DMark 11
Version and / or Patch Used: 1.0.3.0
3DMark 11 is the latest version of the world's most popular benchmark. Designed to measure your PC's gaming performance 3DMark 11 makes extensive use of all the new features in DirectX 11 including tessellation, compute shaders and multi-threading. Trusted by gamers worldwide to give accurate and unbiased results, 3DMark 11 is the best way to consistently and reliably test DirectX 11 under game-like loads.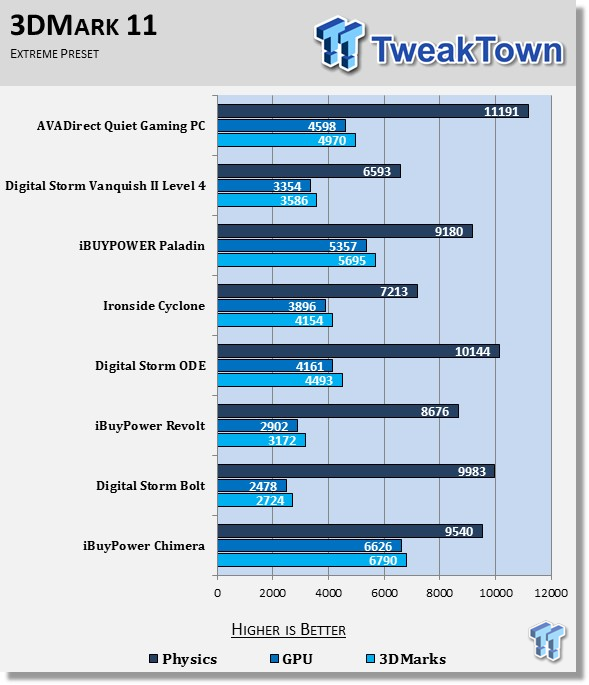 As we saw in Vantage, the lack of an SLI setup leaves the Quiet Gaming PC behind some of the other systems we've seen. Its overall score of 4,970 is brought down by the GPU score of just 4,598. The CPU is again the highest we've seen, coming in at 11,191, over 1,000 higher than the i7-4770K equipped ODE.
3DMark - Fire Strike Extreme
Version and / or Patch Used: 1.0.0
Fire Strike is a new test that is designed for powerful gaming desktops. We have checked the "Extreme" test option to make it that much more torturing on the system. Overall, CPU, and GPU scores are reported.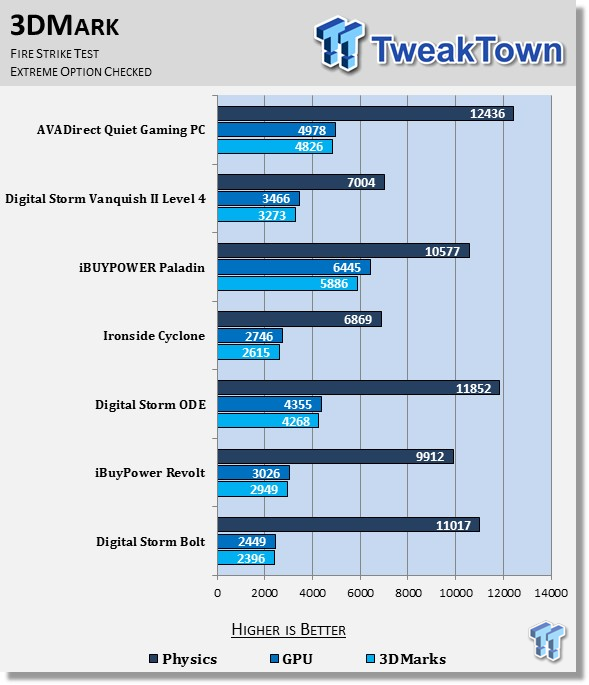 Since we don't have the Chimera in this chart (the benchmark was released after the review), the Quiet Gaming PC comes in second place, at 4,826, behind the Paladin from iBUYPOWER. Its CPU score, however, is again a chart-topper at 12,436.
Battlefield 4
Version and / or Patch Used: Latest Origin Update
Battlefield 4 is the latest installation in the Battlefield franchise. We benchmark BF4 with a custom 60 second run played in a similar manner each time. Settings are 1080p and 4K for the resolution with the "Graphics Quality" set to Ultra.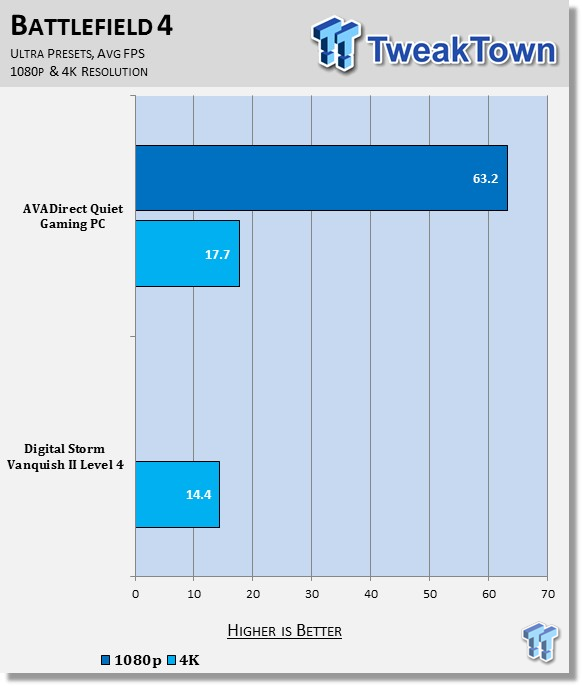 We realized not everyone is ready to be gaming at 4K quite yet, so we're testing at both 1080p and 4K. As you can see, the Quiet Gaming PC is quite adept at playing Battlefield 4 at 1080p with Ultra Presets. At 4K, however, you can see that a detail drop and possibly a second card would be required to play with a decent frame rate.
Crysis 3
Version and / or Patch Used: Latest Origin Update
Crysis 3 is run at 1080p and 4K resolution with the graphics specifications set to "Very High." No anti-aliasing is used. See picture above for full details, aside from resolution. FRAPS is used to record 60 seconds worth of FPS data and recording starts at the start of the campaign and finishes most of the way up the tower. The game is played in a similar manner each time.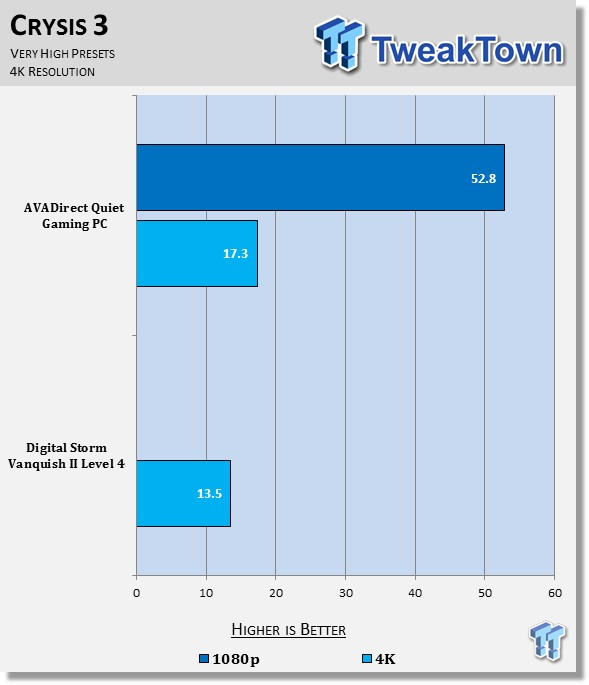 Looking at the above chart, we can see that Crysis 3 is generally playable at 1080p with Ultra High presets, though a detail drop to get the average above 60FPS would be advised.
At 4K, you're looking at a detail drop or a second card, or possibly both.
Temperatures and Noise & Power Consumption
Temperatures, Cooling and Noise
The system is fully loaded using Furmark and Prime 95, similar to our laptop testing. The sound recordings are made in front of the machine, about 6 inches from the center of the tower. Temperatures are reported as recorded by CoreTemp and Furmark.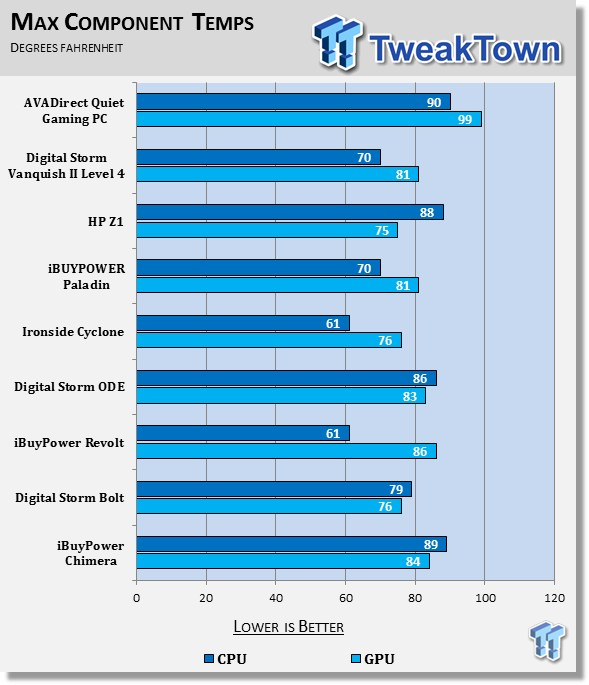 I wish our noise testing came first as it explains why these temperatures are high. On the CPU, we measured a max temperature of 90C, making it the hottest CPU we've recorded. We note that the CPU cooler seems to not have enough socket pressure as it spins easily while installed. As far as we can determine, it would appear to be by design as all screws are tight.
On the GPU side of things, the GTX 780 reached a maximum temperature of 99C, making it the hottest GPU we've tested.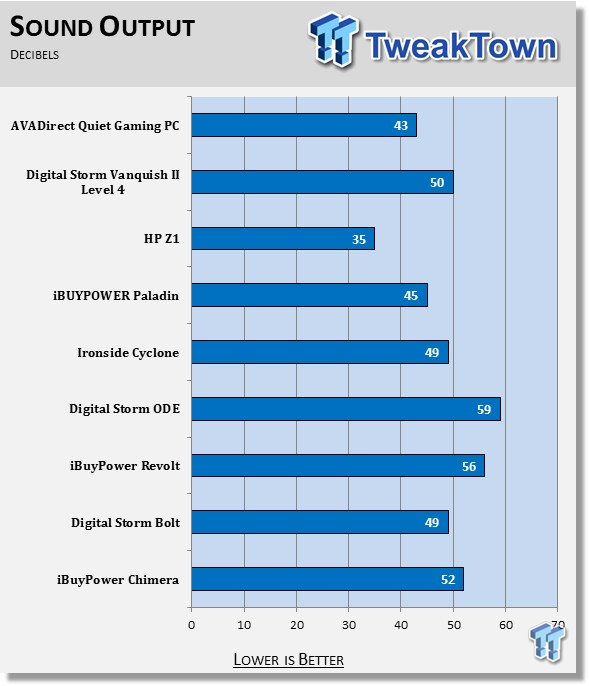 Here is where those temperatures pay off. Since your system is unlikely to be fully loaded while gaming, it's unlikely that you'll reach those temperatures, especially on the CPU. But if you find yourself pushing a full load, you'll find solace in the whisper-quiet 43 decibels produced by this machine. The only machine quieter is the Z1, an all-in-one workstation, not a gaming powerhouse.
Let me put it this way: my refrigerator is louder than the system at full load. A bit of music at any level would easily cover it up.
Power Consumption
Power consumption is measured while the system is loaded for the temperature test and while sitting idle at the desktop. Measurement is taken at the wall, so it includes everything running in the system, not including the monitor.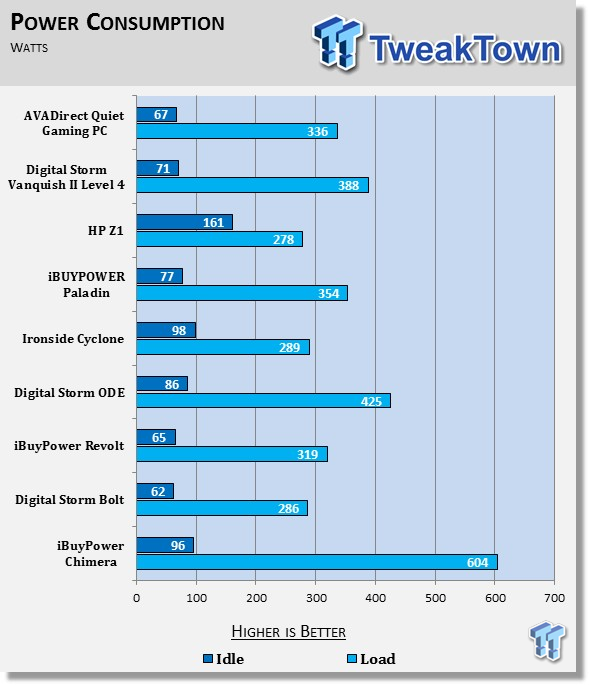 Power consumption is solid, with an idle draw of just 67 watts. Under full load, the processor and GPU crank up and suck a total of 336 watts. This isn't particularly high, especially when you start looking at the performance and how it stacks up to the others in the chart above.
The Bolt and Revolt are both SFF systems featuring lower GPUs, and the Cyclone is bested by the performance of the Quiet PC. The ODE and Vanquish were both beaten in nearly every test and they used more electricity performing worse.
Final Thoughts
Let's tally up the results of the tests above and see where AVADirect's Quiet Gaming PC stacks up in our book. I'll start with the bad, move to the good, and finish with the value proposition.
Probably my single biggest complaint--or maybe a pet peeve--is the use of shipping peanuts in the outer box. While it did a great job of protecting the system, I thought we had finally moved past shipping peanuts to other shipping technologies. This is the first package with peanuts that I have received, personal or otherwise, in a long time. On the flip side, I do like the plain white outer box for its secrecy during shipping as to what's inside the box.
Another complaint is the individually sleeved wires. Don't get me wrong, they look great and the cable management is fantastic, but it's a waste in this system. You can't see the wires inside since there isn't a window in this case, and it costs an extra $150 to do it. That money could be spent on bigger or faster SSDs, a faster GPU, or kept in your pocket. Additionally, the wires should have been sleeved red to match the motherboard's colors.
As noted on the Temperature page, the Zalman FX100 CPU cooler seems to feature an incredibly low socket pressure, allowing the cooler to spin easily while installed. This likely contributed to the high CPU temperatures noted. While unable to make a definite determination, we feel it was installed correctly and is by design.
It's not all bad, however. We appreciate how hard it is to make a quiet PC, and AVADirect has done an excellent job in that regard. This system is barely audible while under full load, and that makes gaming on this system a pleasure. We also like the performance on offer in the Quiet Gaming PC, though we do wish it were to come with a bit lower price tag. You know how they say silence is golden? Well, in order to achieve it, you have to pay a premium.
Even if you take out the custom wire sleeves--I would since there is no window--you're still looking at a fair bit of a price premium. This premium goes to the engineering of coming up with a quiet system, the three-year labor and three-year parts warranty, the building of the system, and of course, the company's overhead and profits. For this premium, you get top-notch cable management, a pre-assembled system with operating system and drivers all installed, and free lifetime technical hardware-related support. And, of course, you get the whisper silence provided by this system.
We're exceedingly impressed by this system's quietness and the performance, while managing to stay nearly silent. If we had our way, it wouldn't feature the sleeved cables and we'd opt for a different cooler due to the low socket pressure, but on the whole, the system is impressive. Just be ready to pay for that impressiveness.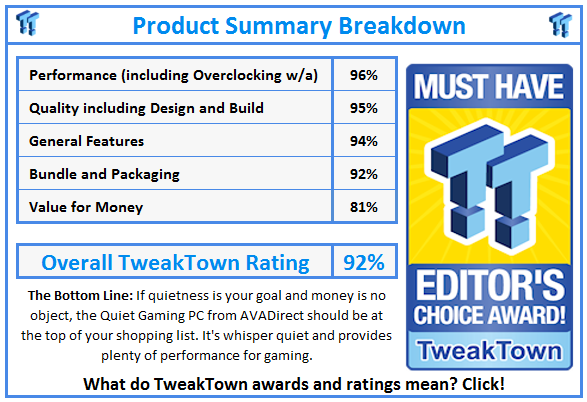 PRICING: You can find products similar to this one for sale below.

United States: Find other tech and computer products like this over at Amazon.com

United Kingdom: Find other tech and computer products like this over at Amazon.co.uk

Australia: Find other tech and computer products like this over at Amazon.com.au

Canada: Find other tech and computer products like this over at Amazon.ca

Deutschland: Finde andere Technik- und Computerprodukte wie dieses auf Amazon.de