QNAP TS-451 Four Bay SOHO NAS Review
We take the latest product from QNAP into the lab and find out what it's capable of. Let's see what Tyler says about the new TS-451 four bay SOHO NAS.

Published
6 minute read time
Introduction & Pricing and Availability

A few years ago, I acquired my first NAS appliance. The unit was initially to be used as a pure storage solution, but that quickly changed as the NAS market began to change. What began with lackluster Marvell SoCs that could barely reach 70 MB/s transferring data, rapidly turned into Atom processors and HDMI ports that started showing up on the back of NAS appliances.
Now three years have passed, and most, if not all, NAS appliances ship with a HDMI port and an Intel CPU or SoC. While the latter is usually similar in performance to the Marvell setup, today QNAP aims to change that with the release of the TS-451.
The TS-451 is QNAP's response to the overwhelming customer demand for media. Customers want the ability to play, record, and share their media more than ever before; did I mention transcoding?
The latest appliance from QNAP, takes is design from Intel's Bay Trail D platform; more specifically, the Celeron J1800 SoC (System on Chip). This SoC carries a clock speed of 2.4GHz, with a turbo frequency of 2.58GHz, but that's not the main selling point of the platform. Many customers buy this platform because of Intel's Quick Sync technology.
Quick Sync is Intel's hardware video encoding and decoding technology, which was first launched with the Sandy Bridge platform. Now in its 3rd generation, Quick Sync supports H.264/MPEG-4 AVC, VC-1, and H.262/MPEG-2 Part 2 standards.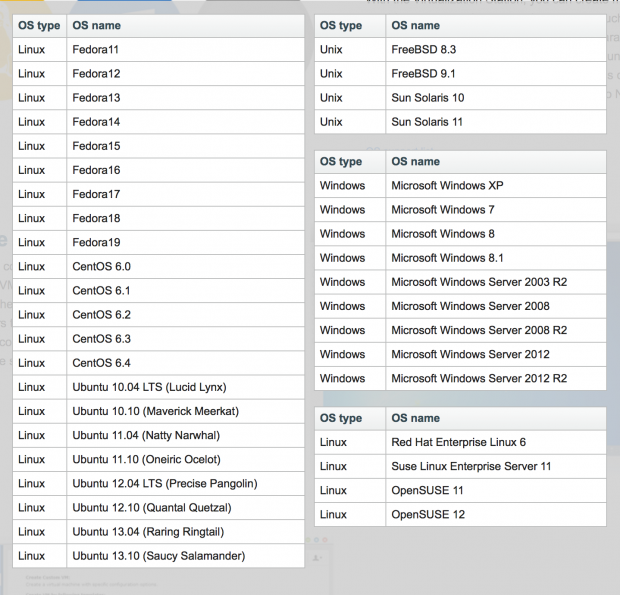 Virtualization Station is also launching with the TS-451. QNAP Virtualization Station enables virtualized desktop operations on the Turbo NAS, allowing you remote access to your OS of choice right on your NAS. As you can see in the image above, many modern operating systems are supported.
Pricing and Availability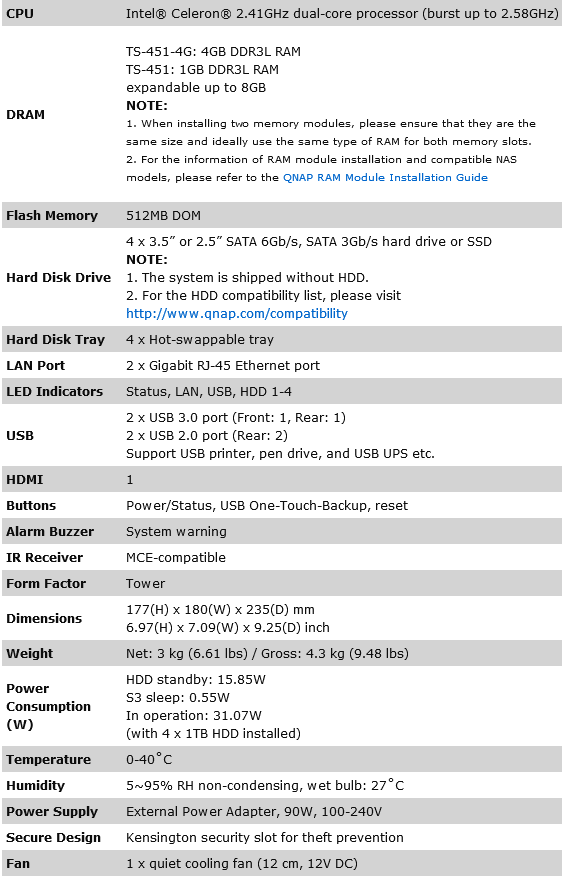 MSRP for the QNAP TS-451 is set at $699.99, with a two-year warranty.
PRICING: You can find the QNAP TS-451 for sale below. The prices listed are valid at the time of writing, but can change at any time. Click the link to see the very latest pricing for the best deal.
United States: The QNAP TS-451 retails for $699.00 at Amazon.
Canada: The QNAP TS-451 retails for CDN$917.97 at Amazon Canada.
QNAP TS-451 NAS
Packaging, and a Closer Look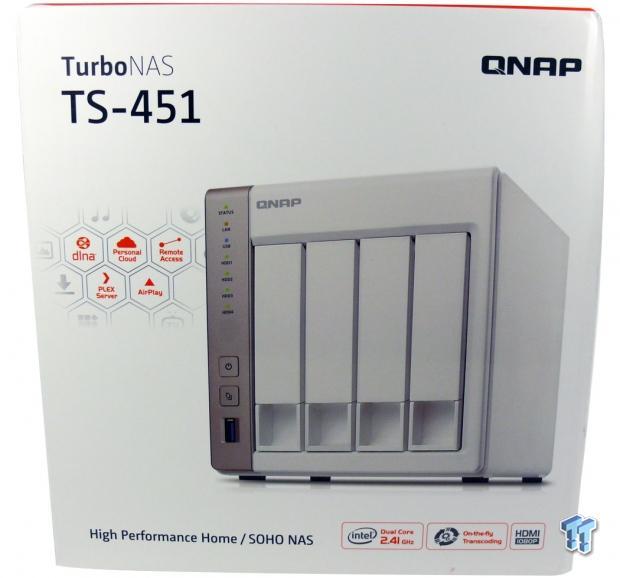 The packaging for the TS-451 features the more consumer friendly white design. An image of the NAS takes front and center on the box, while features of the appliance surround the image.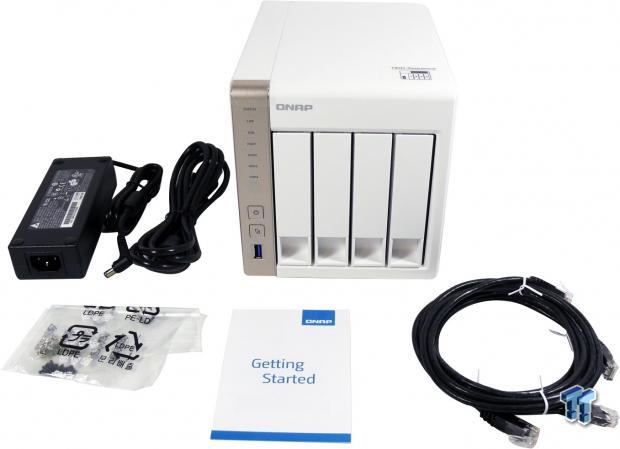 The scope of delivery for the TS-451 includes the power adapter, dual Ethernet cables, reading materials, and drive screws.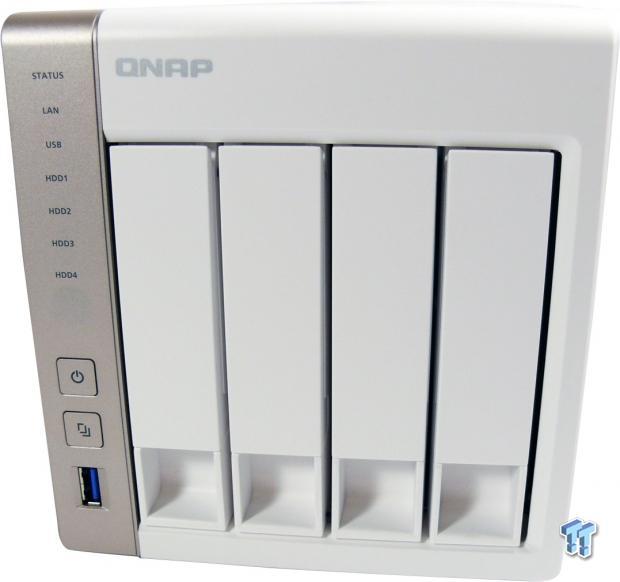 The TS-451 takes a new approach to consumer focused NAS appliances. The white design moves away from the traditional brushed aluminum and black aesthetic of QNAP products.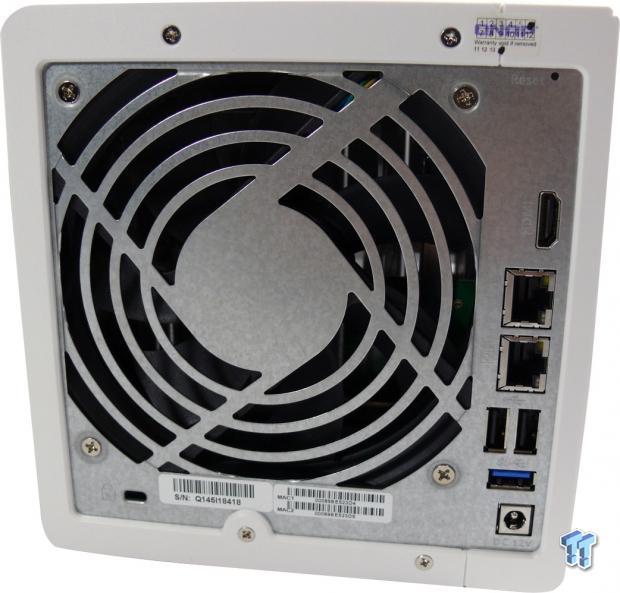 The back of the NAS houses a large 120mm cooling fan. Next to the cooling fan we have HDMI, dual Gigabit LAN, dual USB, and a single USB 3.0 port.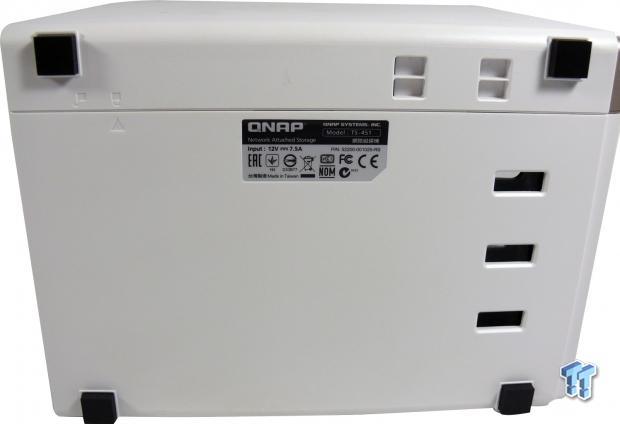 The bottom of the NAS houses a locked symbol, and an unlocked symbol.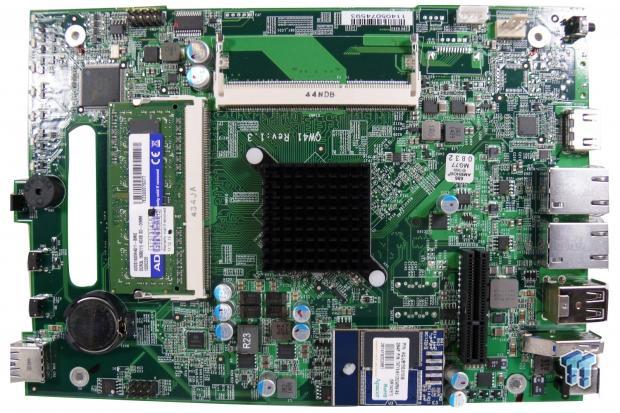 Here we have our first look at the motherboard. The bottom right houses a single PCIe connection for the storage backplane. To the left, we have a single stick of ADATA DDR3L at 4GB, and Apacer manufactures the DOM down below.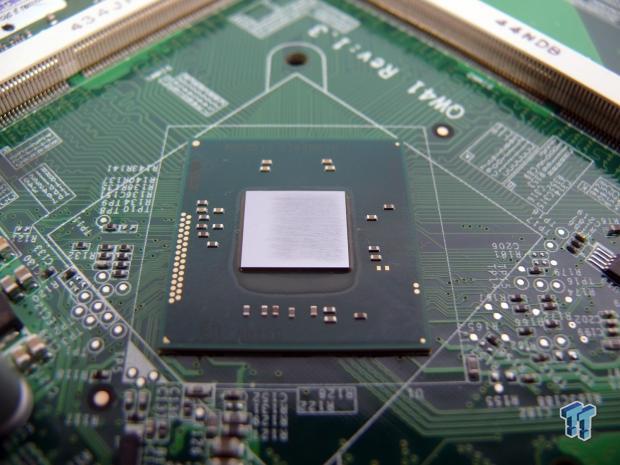 Here is a look at the Celeron J1800 SoC.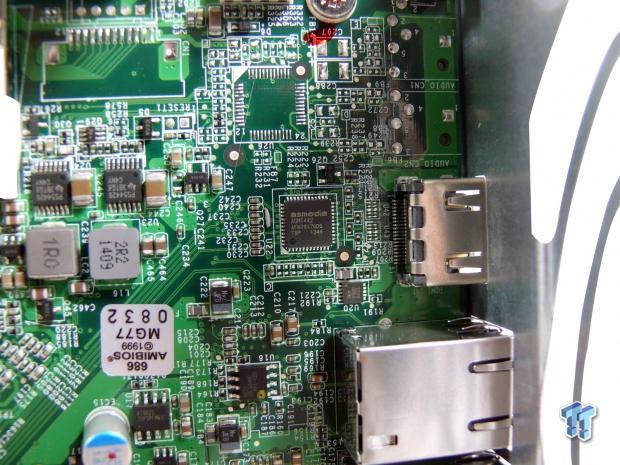 Tucked away in the top right corner, we found the ASMedia 1442, enabling HDMI 1.3a support.
Test System Setup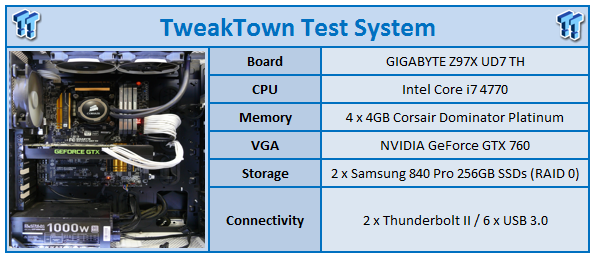 Our Consumer NAS test 'system' is setup similar to what you have at home. Here we have the base of a GIGABYTE Z97X UD7 TH, housing an Intel Core i7 4770 with 16GB of RAM supporting. Our Operating System of choice is Windows 8 x64 Enterprise, with all available updates and patches installed on a pair of Samsung 840 SSDs.
On the networking side, we utilized the Intel PRO1000 PT Server Adapter, with a direct connection to each NAS appliance. This eliminates the need for a switch, and any bottlenecks that may occur.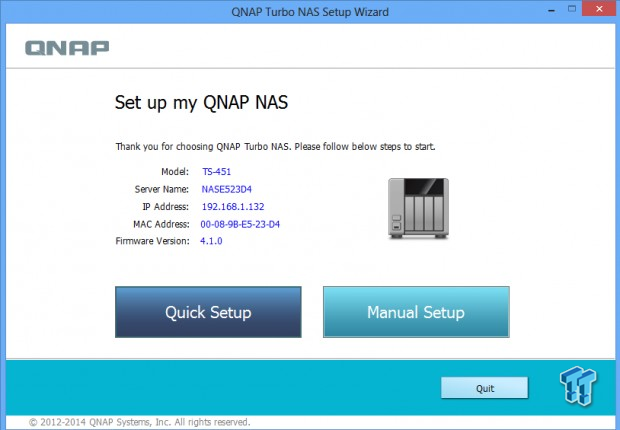 Setting up the TS-451 started with the QFinder application. From there we entered initial detail, and started setup. Moving further, we have the option of Manual or Quick Setup.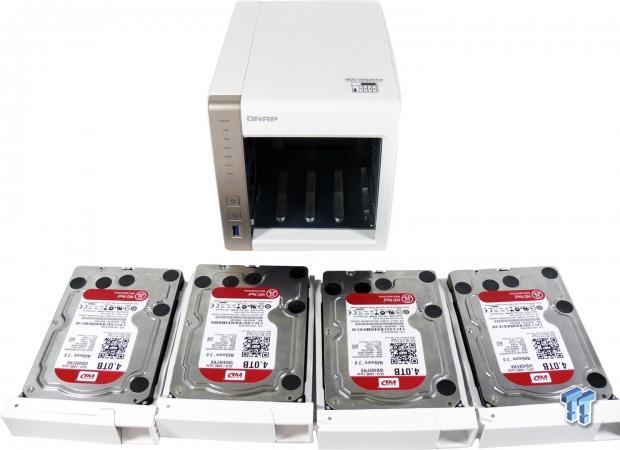 Virtualization Station and CodexPack Transcoding
Virtualization Station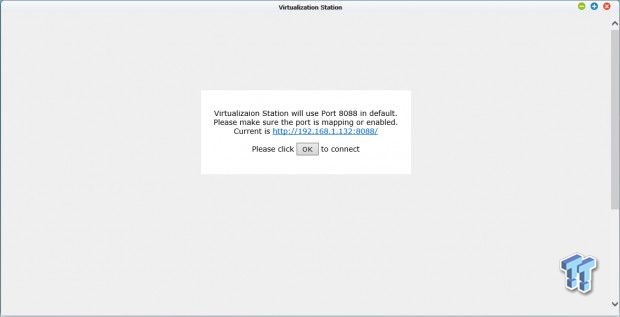 When first loading up Virtualization Station, we were prompted by this port warning seen above.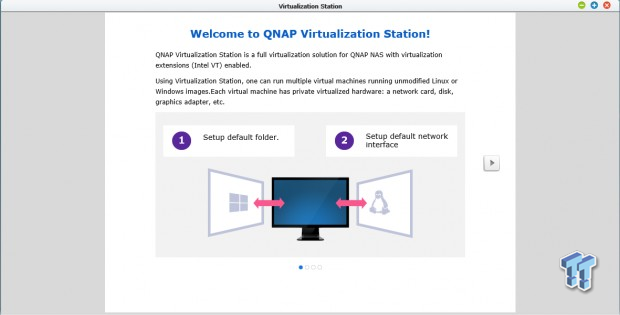 Continuing with the setup.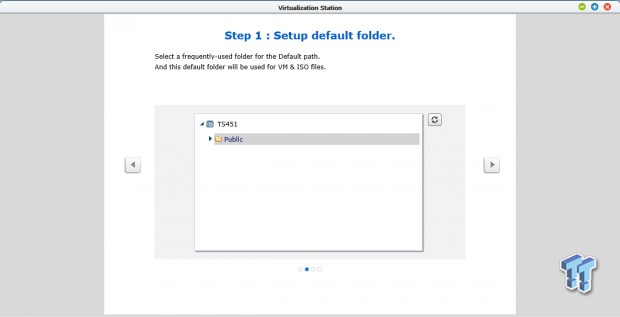 Here you will need to choose your default folder. When first running through these steps, I would advise against using Internet Explorer, as it prevented the selection screens from functioning correctly in my testing.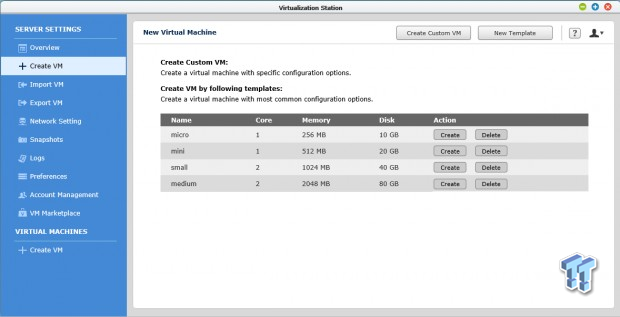 Once you finish up with those initial options, you will land here. From here, as you can see, QNAP has a few profiles setup for different sizes of VMs. At the top, you can choose to run a custom VM as well.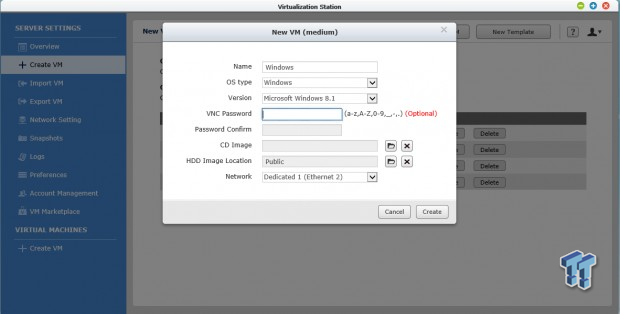 Above, you can see that we chose to setup a Windows 8.1 VM with 1 core, and 2GB of RAM.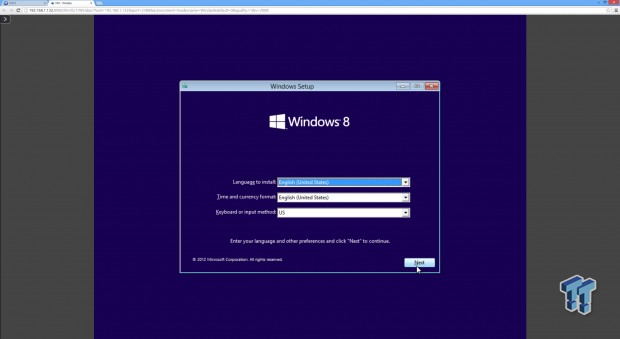 This is a familiar setup screen for those of you that have installed Windows 8.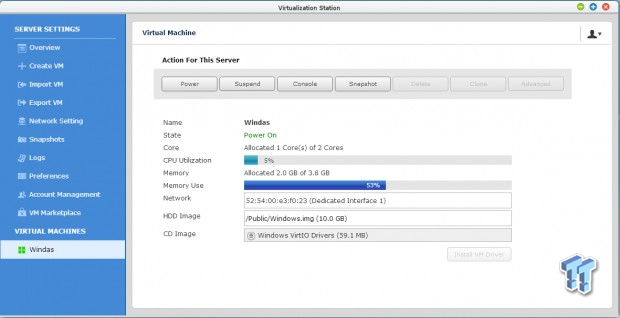 Here we have idle CPU and memory usage after getting the VM completely setup. A tip for using the VM is to remote into the machine, instead of using the console. I found the console to be a bit laggy at times, while RDC provided a seamless environment.
CodexPack Transcoding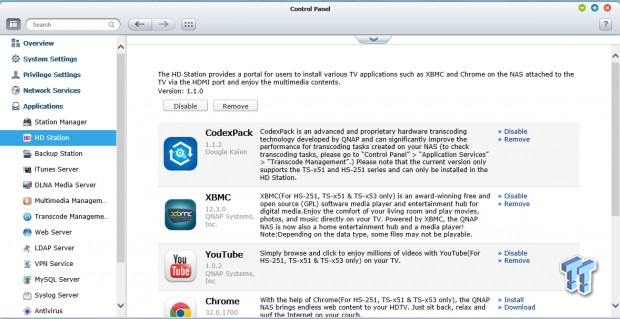 As you can see above, CodexPack is QNAP's hardware transcoding technology. My own educated guess is that this enables Quick Sync for transcoding through Intel's VA-API.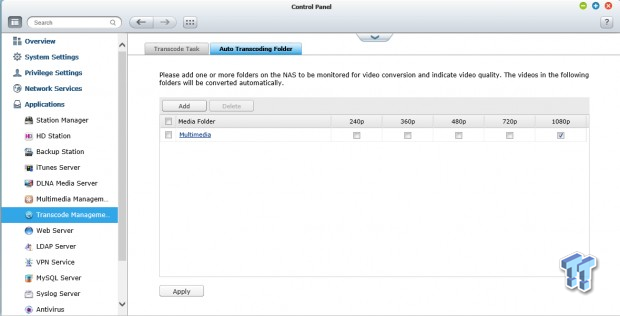 Here I have setup a folder to have all videos transcoded to 1080p for playback on my MacBook Pro.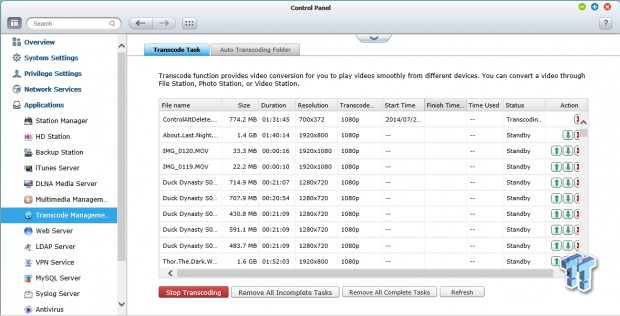 Above, you can see we have quite a list of videos in the queue. What I can say is this list did take quite a while to transcode; the further away from 1080p, the longer it took. For a standard DVD quality film, it took about a minute or two for the task to be complete.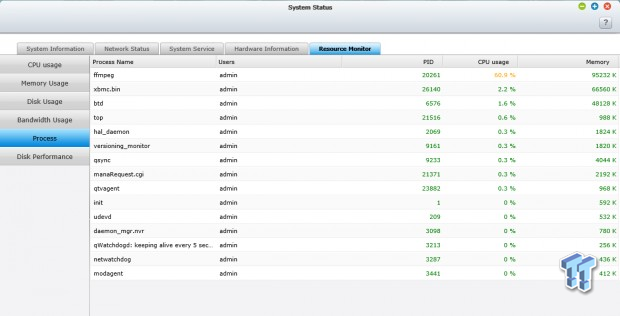 Here we have the CPU usage during transcoding; not that it proves quick sync is working, but it does show a good amount of processing is going on.
Benchmarks - Single Client Throughput
Workload
HD Video Play - 720p HD stream from Windows Media Player, 256kB reads
2HD Video Play - 2x playback
4HD Video Play - 4x playback
HD Video Record - 720p HD stream, 256kB writes
File Copy From NAS - 4GB file copy, 64kB reads
File Copy To NAS - 64kB writes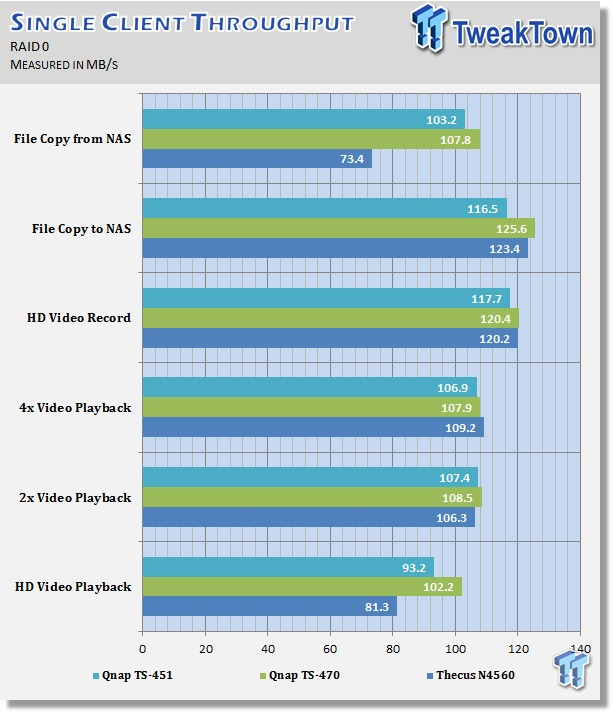 Starting off with the RAID 0 results, we found the TS-451 to be on par with the performance of our trusted TS-470.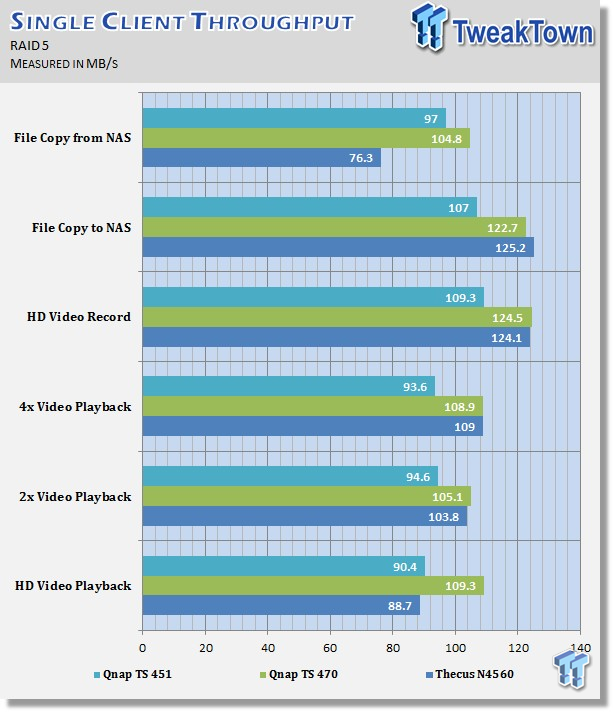 RAID 5 saw the NAS take a small performance hit, but it still managed over 100 MB/s.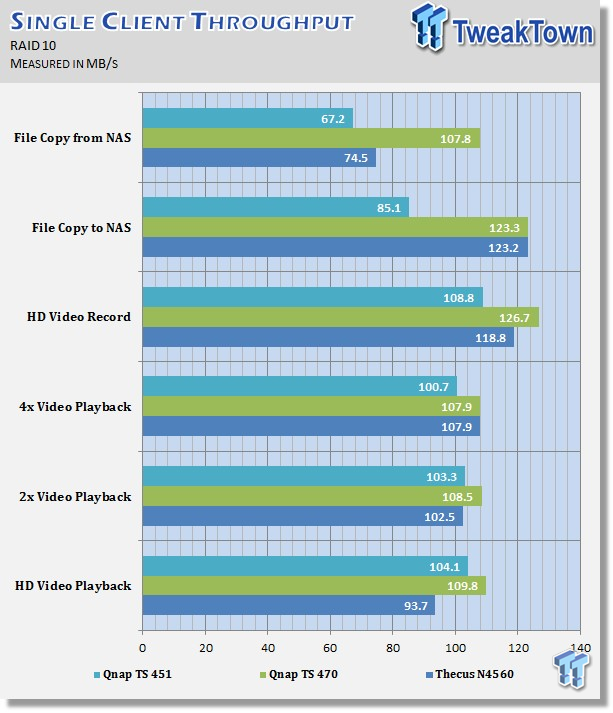 RAID 10 showed another performance hit. However, the TS-451 was able to manage over 100 MB/s in many of the video tests.
Benchmarks - Sequential and Mixed Workloads
Our Sequential read/write workload is centered on 1MB transfer sizes; again, with sixteen threads, and a Queue Depth of eight.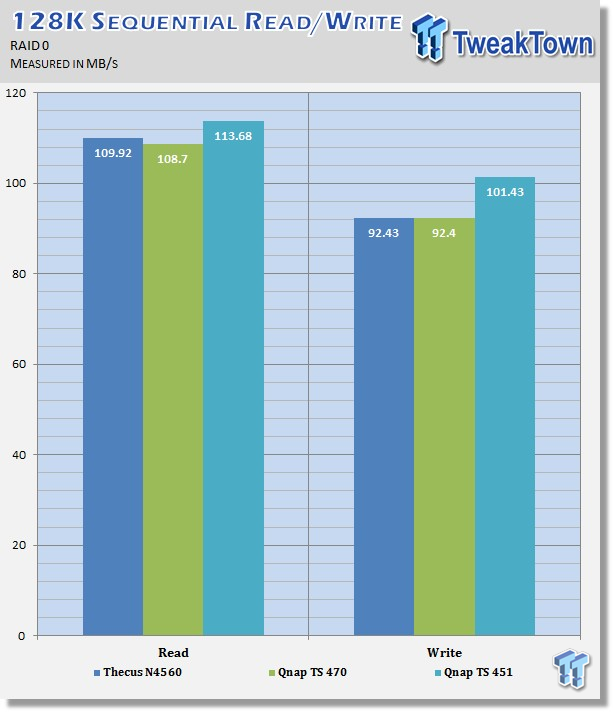 Starting off with RAID 0, we found the 451 actually took the lead with performance topping 113 MB/s read, and 101 MB/s write.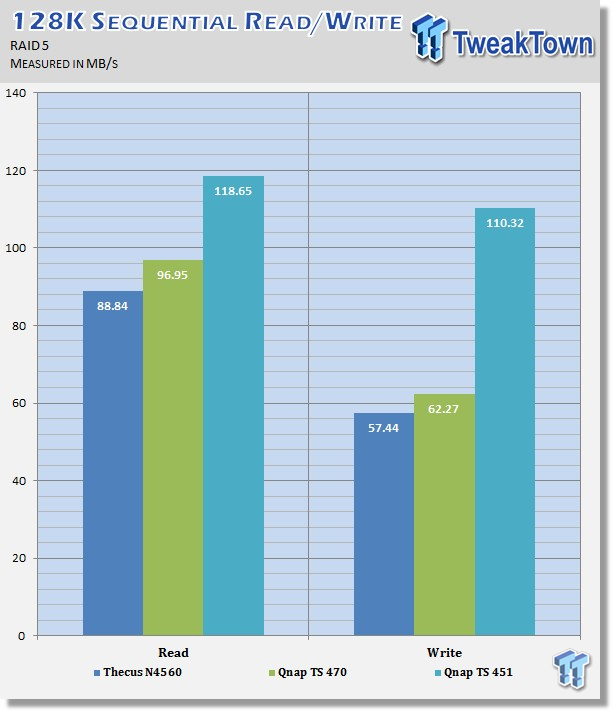 Moving to RAID 5, the TS-451 stayed on top with 118 MB/s read, and 110 MB/s write.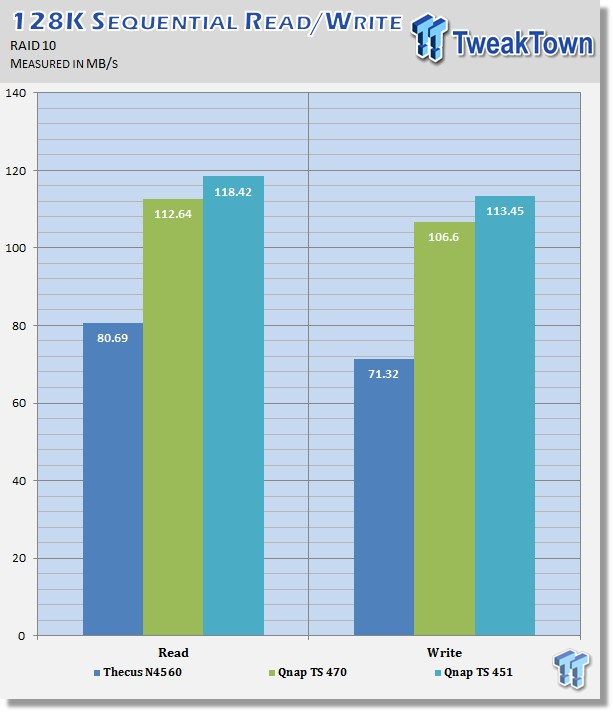 RAID 10 had the TS470 fighting back, but the TS-451 rose to the challenge once more, and turned in 118 MB/s read, and 113 MB/s write.
Mixed Workloads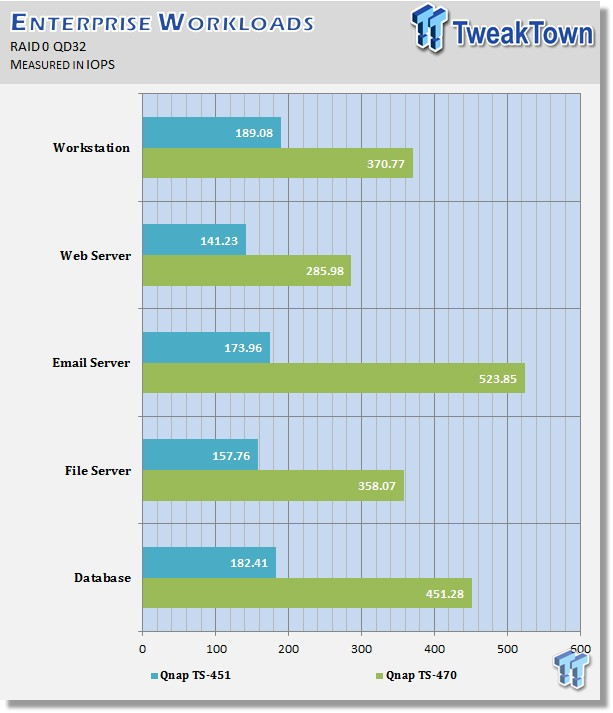 Mixed workloads allowed the TS 470 to take over, thanks to its extra muscle in terms of processing power. Even so, the TS-451 didn't back down, and turned in 189 IOPs in workstation, and 182 IOPS in OLTP.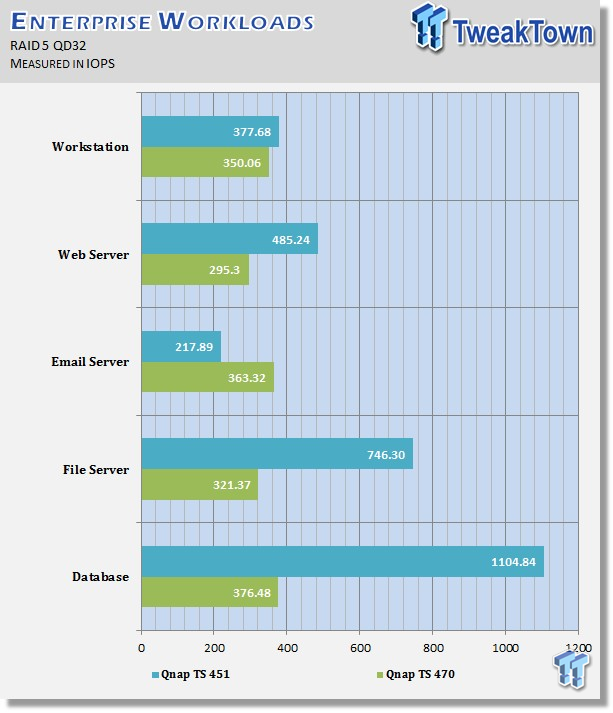 Moving to RAID 5, the TS-451 stepped it up, and pulled out 1104 IOPS in OLTP; that is nearly 800 more than the TS-470.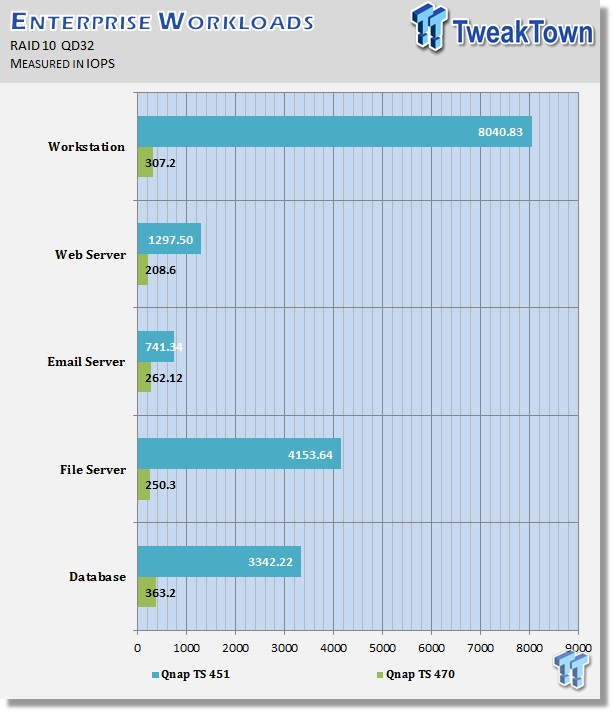 RAID 10 showed similar results, but at the same time, I am still questioning them myself, even despite the fact I have gone back three times to confirm.
Final Thoughts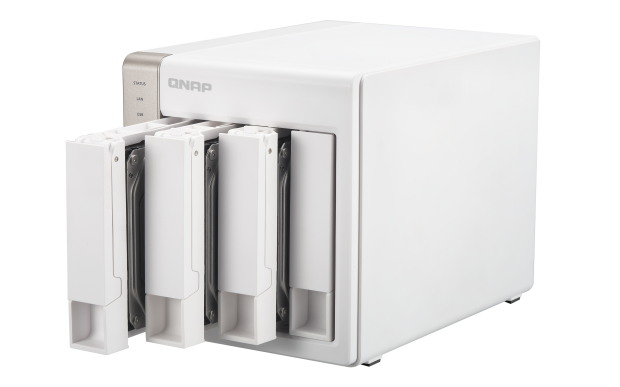 This latest addition to the QNAP family is quite a surprising NAS solution. With the TS-451's intended audience being the SOHO / home user marketplace, I am simply taken back by the shear amount of power this little white box has. During testing, I had the opportunity to run through and use many of the features QNAP is focusing on with this release, and I am really impressed by things like Virtualization Station.
As you have seen, we were able to setup a Windows 8 VM, which I still use on a daily basis. The Windows 8 VM allows me to go about my activities on my MacBook Pro without having to install boot camp, and subsequently partitioning my SSD for another OS.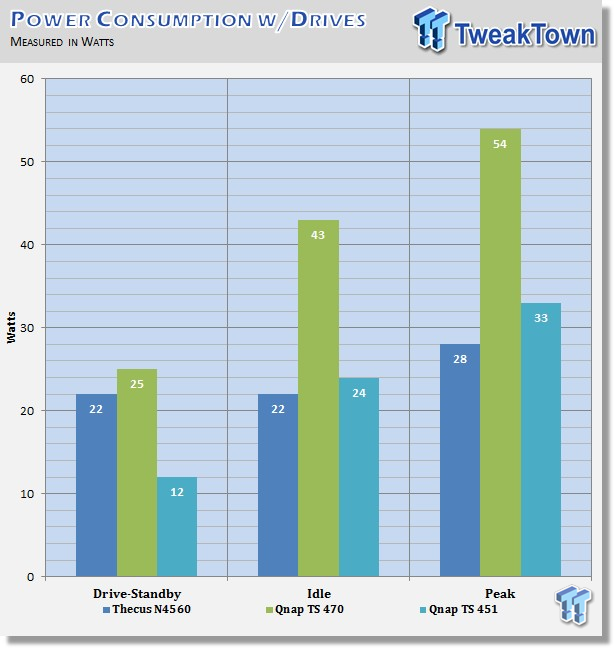 Storage performance for the TS-451 was another area the TS-451 shined. While I have already run the tests several times, it makes me want to go back a few more times, and recheck the comparable units in this review. With that being said, the sequential performance, along with the mixed workloads in RAID 5, were outstanding. On another note, if you take a look at the chart above us, you will notice the TS-451 uses very little power, even with drives installed.
Overall, this unit is certainly a NAS the typical home user would enjoy. It encompasses what we have been wanting for years, and it has finally been delivered in a small, lightweight box labeled TS-451.
PRICING: You can find the QNAP TS-451 for sale below. The prices listed are valid at the time of writing, but can change at any time. Click the link to see the very latest pricing for the best deal.
United States: The QNAP TS-451 retails for $699.00 at Amazon.
Canada: The QNAP TS-451 retails for CDN$917.97 at Amazon Canada.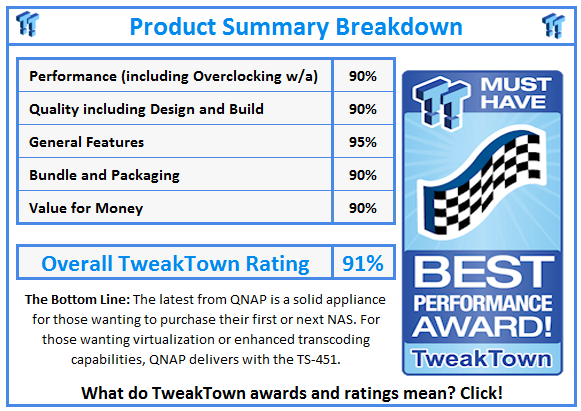 PRICING: You can find products similar to this one for sale below.

United States: Find other tech and computer products like this over at Amazon.com

United Kingdom: Find other tech and computer products like this over at Amazon.co.uk

Australia: Find other tech and computer products like this over at Amazon.com.au

Canada: Find other tech and computer products like this over at Amazon.ca

Deutschland: Finde andere Technik- und Computerprodukte wie dieses auf Amazon.de
We openly invite the companies who provide us with review samples / who are mentioned or discussed to express their opinion. If any company representative wishes to respond, we will publish the response here. Please contact us if you wish to respond.