SanDisk Extreme PRO 240GB SSD Review
The Extreme PRO only goes down to 240GB, but it tops our chart as the fastest consumer SSD you can buy today. Check out Chris' full review of this new SSD.
Published
13 minute read time
Introduction & Specifications, Pricing and Availability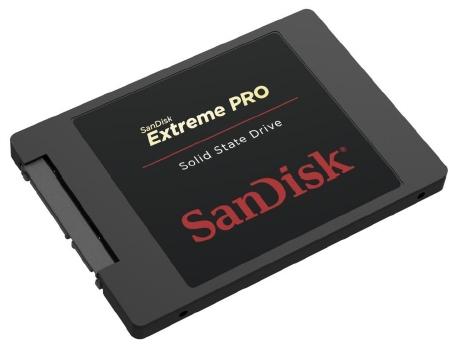 We've already tested the two larger capacity Extreme PRO SSDs from SanDisk and found each to dominate their capacity class in performance. On paper, the 240GB Extreme PRO is even faster than the 480GB and large 960GB models, so it shouldn't come as any surprise that this is the fastest consumer SSD money can buy.
The Extreme PRO 240GB is so fast that money is even an issue. The drive has an MSRP of just $189.99, but you can't buy the drive at that price. Most e-tailers have settled on $199.99 due to high demand, and some are charging even more. SSDs are a low margin category for discount e-tailers, but when the market and product are right, some do what they can to make an additional profit.
If you are just now reading about the Extreme PRO series from SanDisk, that should tell you quite a bit about this drive. Not only is the supply limited, but end users are also paying more than MSRP just to get the fastest consumer SATA SSD available today.
Specifications, Pricing and Availability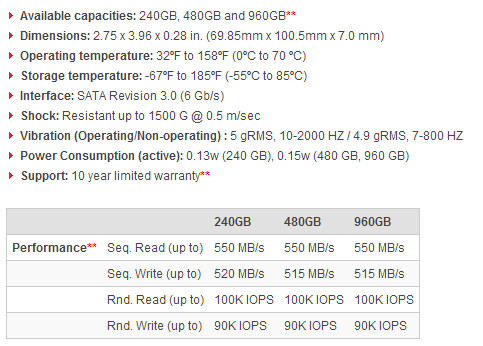 SanDisk went with three capacity sizes for the Extreme PRO: 240GB, 480GB, and 960GB. These are overprovisioned capacity numbers. Each drive has flash area reserved for background activity like garbage collection and other flash management tasks. The sequential read performance for all three capacity sizes is the same at 550 MB/s. The sequential write performance is a bit higher on the 240GB model, 520 MB/s, and 515 MB/s for the 480GB and 960GB models. SanDisk is very conservative with its published performance numbers, and as we've shown several times in the past, 4-corner performance doesn't equate to real-world performance.
Random reads and writes come in at 100k IOPS read and 90k IOPS write. Over the past several months, several products tested performed significantly slower in smaller capacity sizes. SanDisk didn't follow suit with the shift to 128Gbit die that robs lower capacity products of performance. The entire Extreme PRO series uses premium 1Ynm (A19, 19mm x 19.5mm) ABL MLC Toggle flash in 64Gbit capacity. While more expensive than using 128Gbit die, 64Gbit die allow for higher interleaving and thus higher performance. The Extreme PRO is a performance product despite the mild specifications.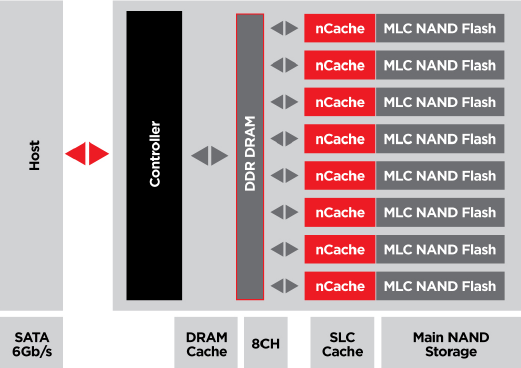 To coincide with the release of 1Y 19nm flash, SanDisk has also updated nCache. nCache debuted on the Ultra Plus SSD quite a while ago and went unchanged on the Extreme II SSD a few months later. The technology of using a small amount of MLC flash in SLC mode has gone bi-directional in the latest revision, which is now optimized for mixed workloads. SanDisk calls the latest revision nCache Pro.
Until you see the actual performance data, the biggest news surrounding the Extreme PRO series has to be the new 10-year warranty. To put 10 years into perspective, 10 years ago I tested the fastest consumer hard drive on the market, a Western Digital Raptor with 74GB of capacity. For some of you, that was enough, but to really drive the point in, ten years ago Cameron was at Quakecon in Texas and a majority of PC gamers still used bulky CRT monitors. SanDisk's commitment to Extreme PRO users isn't just a nice marketing pitch, either. As one of only six NAND flash manufacturers, the company will be around ten years from now to support the products.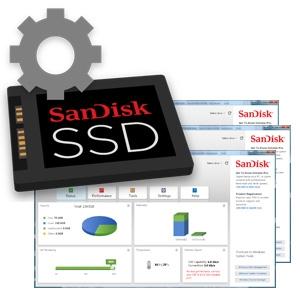 Another new feature with the Extreme PRO actually works with all of SanDisk's consumer SSDs. SSD Dashboard is free for all SanDisk SSD owners and works to keep system performance high and give users additional, value added features such as drive cloning. At the time of writing, not all of the features were working. In the coming weeks, we'll have an SSD Software Face-off and compare each company's software.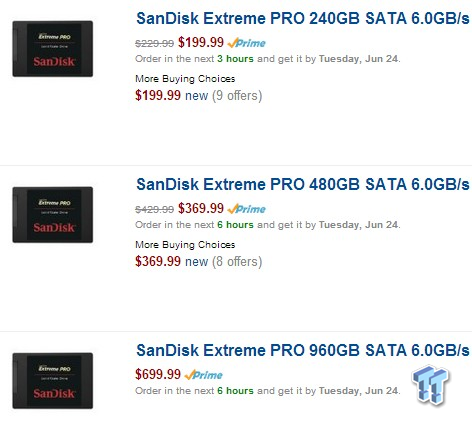 When we published the 960GB model, Amazon had sold out of every Extreme PRO capacity size and Newegg had increased the price to slow demand. Newegg was sold out of the largest capacity size, and the two smaller models were higher than MSRP. Amazon shows all three capacity sizes in stock, and the 240GB model we're focusing on today is at $199.99, $10 more than MSRP.
PRICING: You can find the SanDisk Extreme PRO (240GB) for sale below. The prices listed are valid at the time of writing but can change at any time. Click the link to see the very latest pricing for the best deal.
United States: The SanDisk Extreme PRO (240GB) retails for $199.99 at Amazon.
SanDisk Extreme PRO SSD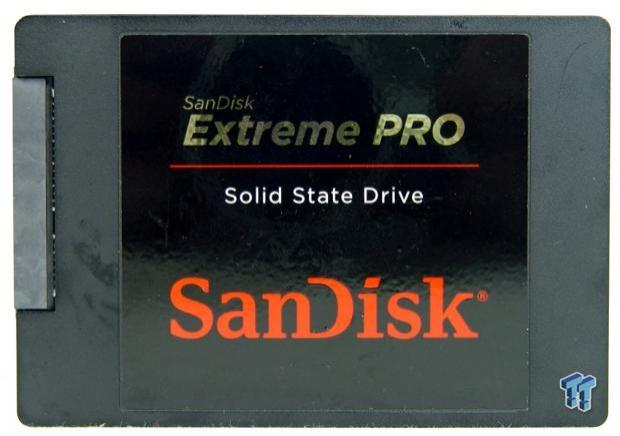 In order to get the first shot at testing the Extreme PRO, we received all three capacity sizes in bare drive form, without the retail package. The retail package does include a 7mm to 9.5mm adapter bracket.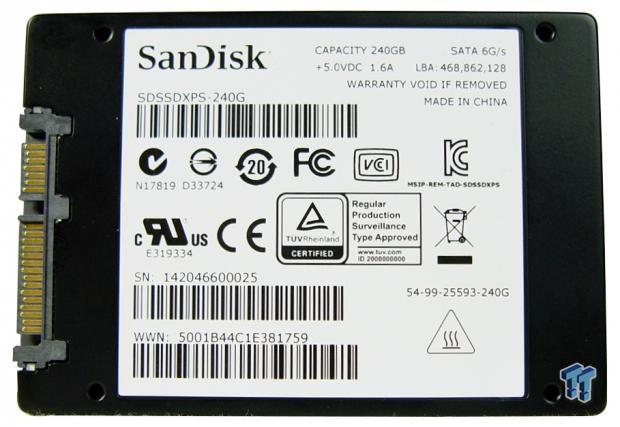 The Extreme PRO styling dates back to the original Extreme SSD. The label on the back of the drive gives us the model number, capacity size, and serial number.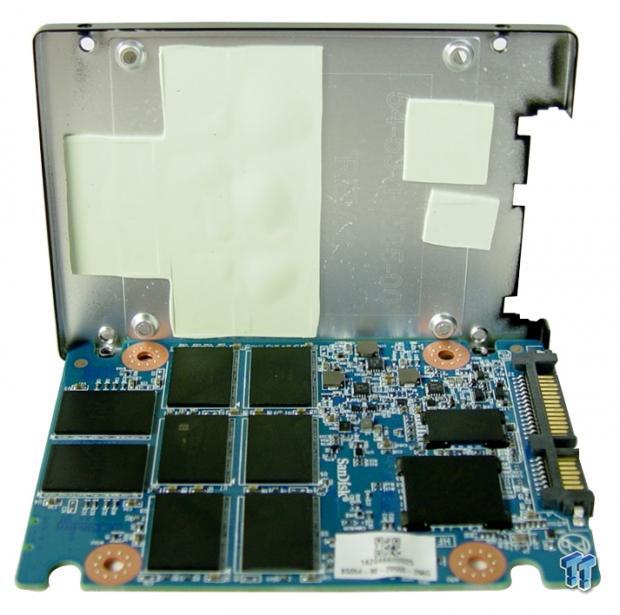 The Extreme PRO uses the same Marvell 88SS9187 controller found in the Extreme II, but the clock frequency has increased from the previous generation. SanDisk made sure to keep the internal components cool by using the case as a heat sink.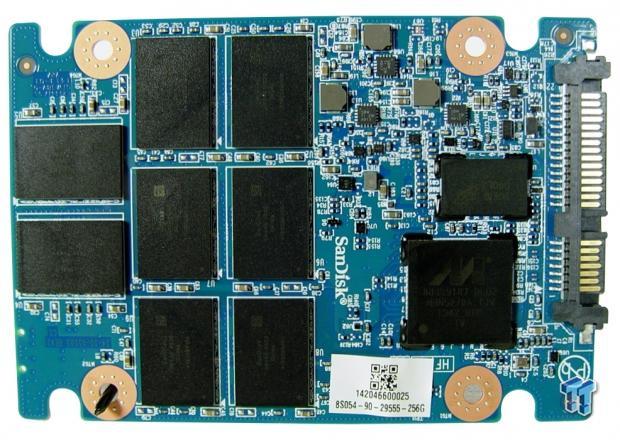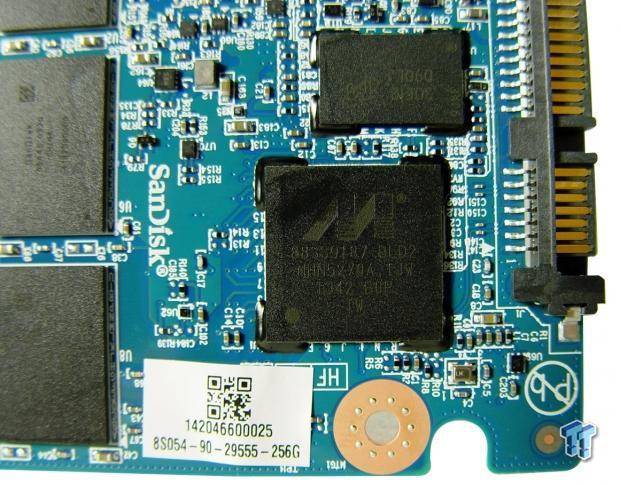 The controller and DRAM have epoxy that keeps the components firmly planted to the PCB. We rarely see this on consumer SSDs. Every military grade SSD we've seen uses epoxy, though.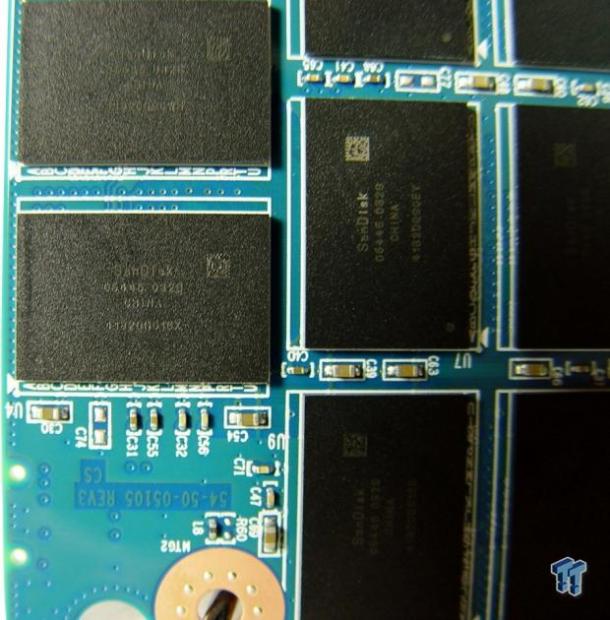 There are eight NAND flash packages on the Extreme PRO 240GB SSD. These are SanDisk's latest 1Ynm Toggle flash with 64Gb die capacity.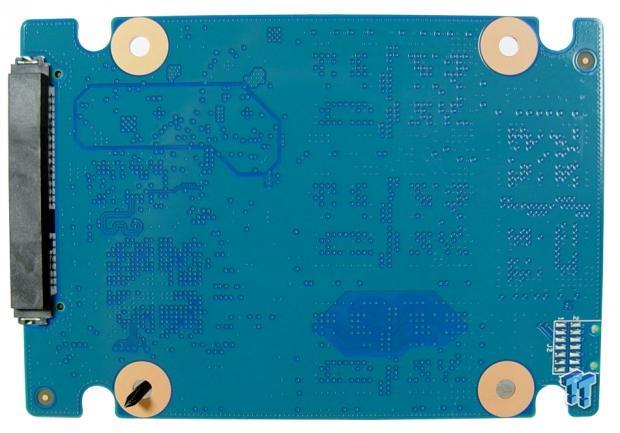 All of the surface-mount components are on the same side, and that leaves the back blank.
Test System Setup and ATTO Baseline Performance
Desktop Test System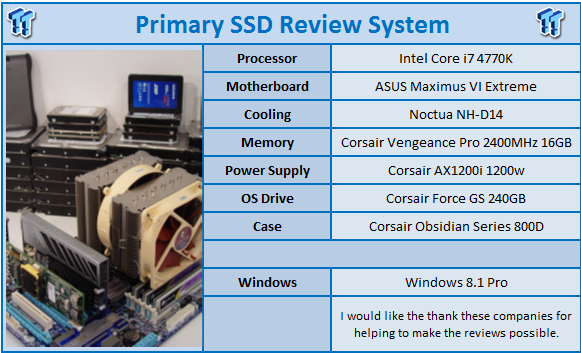 Lenovo W530 - Mobile Workstation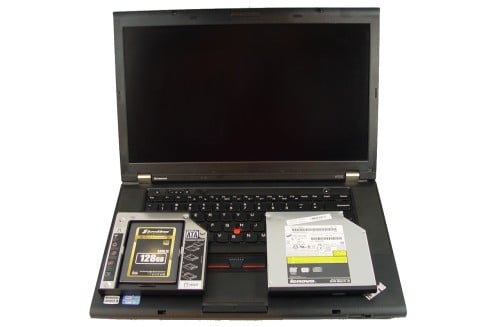 We use two systems for SSD testing. The desktop runs a majority of the tests, and the Lenovo W530 runs the notebook power tests as well as the real-world file transfer benchmark.
ATTO - Baseline Performance
Version and / or Patch Used: 2.34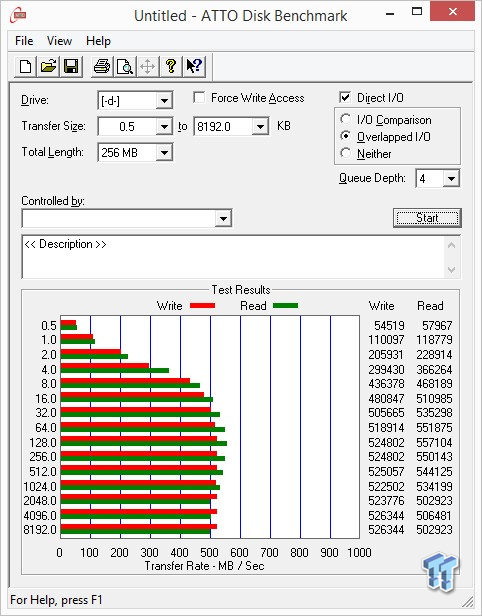 SanDisk uses Crystal Disk Mark for its specification numbers, but to stay consistent with our other reviews, we still use ATTO with a queue depth of four. In our test, we measured the sequential performance of the Extreme PRO 240GB at 557 MB/s read and 525 MB/s write.
Benchmarks - Sequential Performance
HD Tune PRO - Sequential Performance
Version and / or Patch Used: 4.55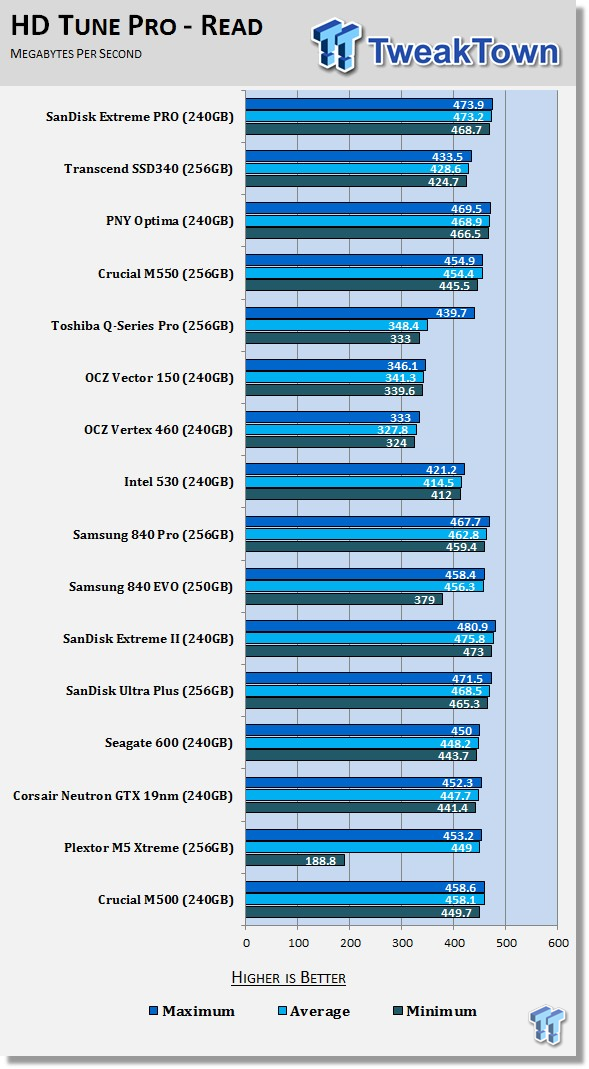 This is a fun capacity size for us to look at because it's rapidly changing right now. Several manufacturers released new products in the last month. Some of the products focused on performance, others on cost, and none were as fast as the Extreme PRO.
SanDisk's use of 64Gb size die pays off in this capacity size as it delivers exceptional performance. In this series of tests, we start to wear the flash down. Before writing to the drive, we read from the user available LBA range to see formatted read performance on a fresh drive. The Extreme PRO 240GB outperforms the other drives on the chart, some by a large margin.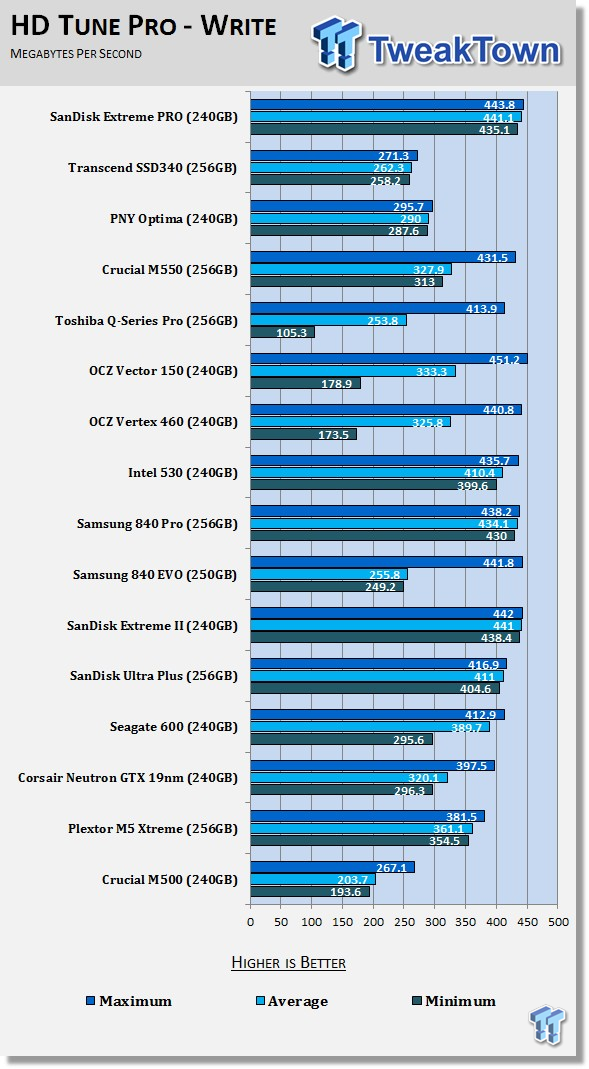 It's not difficult for the latest batch of consumer SSDs to read data quickly, but when writing to the full user capacity, the drives start to fan out. Here we easily see the performance leaders, the mid-tier, and the true bottom of the barrel drives. The Extreme PRO is in the first group, but we should point out that the Extreme II is actually a little faster in these early sequential tests.
HD Tach - Sequential Write Performance after Random Writes
Version and / or Patch Used: 3.0.4.0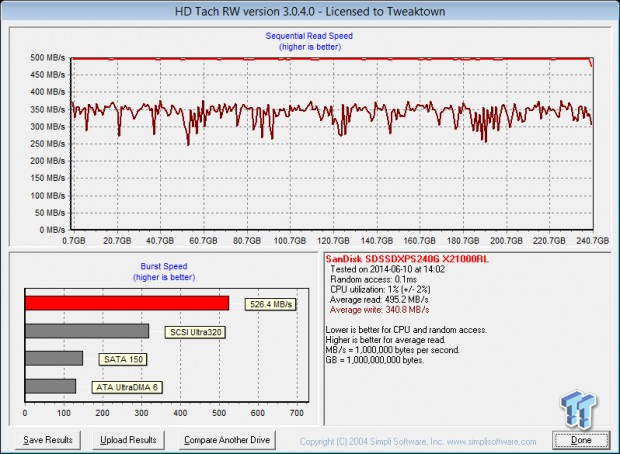 After a reasonable number of random data writes to the drive, we tested the Extreme PRO 240GB in HD Tach to see the effect on sequential performance. This is an area where we've observed many new to market SSDs run into performance issues. The smaller capacity size drives with 128Gb die have problems because of the Yahtzee Effect. We'll post a detailed explanation about this in the coming weeks.
Benchmarks - Anvil Storage Utilities
Anvil Storage Utilities
Version and / or Patch Used: RC6
So what is Anvil Storage Utilities? First of all, it's a storage benchmark for SSDs and HDDs where you can check and monitor your performance. The Standard Storage Benchmark performs a series of tests; you can run a full test or just the read or the write test, or you can run a single test, i.e. 4k QD16.
Anvil Storage Utilities is not officially available yet, but we've been playing with the beta for several months now. The author, Anvil on several international forums, has been updating the software steadily and is adding new features every couple of months.
The software can be used several different ways to show different aspects for each drive. We've chosen to use this software to show the performance of a drive with two different data sets. The first is with compressible data, and the second data set is incompressible data. Several users have requested this data in our SSD reviews.
0-Fill Compressible Data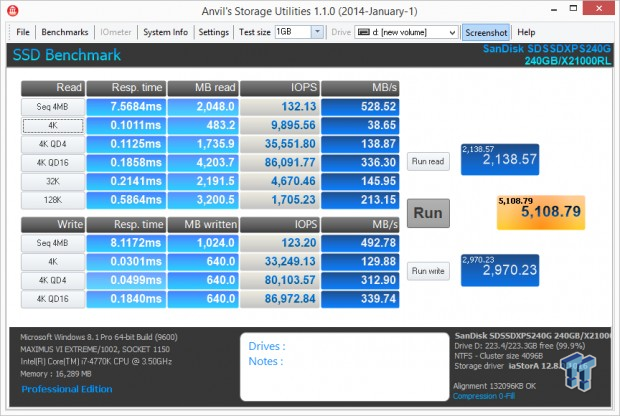 Incompressible Data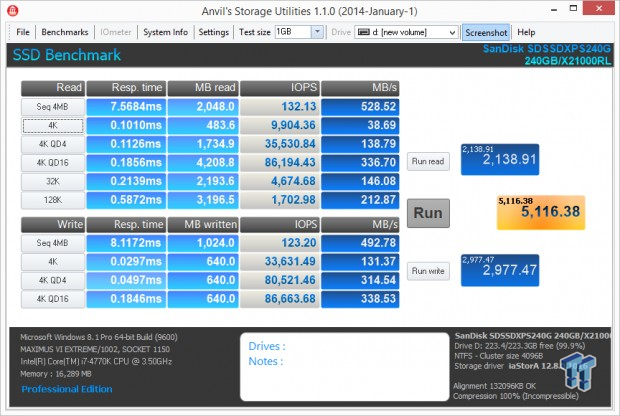 The Extreme PRO writes compressible and incompressible data at the same rate, so you will not lose performance when working with pictures, compressed audio, or video files.
Read IOPS through Queue Depth

SanDisk advertised 100k random read IOPS, and we got very close to that result with our stock clocked system. We like to look at the low queue depth performance anyhow since most users rarely achieve high queue depths under normal workloads. The Extreme PRO 240GB nearly breaks into the magic 10k read IOPS area at QD1. The drive scales well as command queue increases, and we see nearly 20k read IOPS at QD2.
Write IOPS through Queue Depth

Random write IOPS performance starts out strong on the Extreme PRO 240GB and finishes near 90k IOPS at QD32. In our quick burst of 4k data, several drives manage to outperform the Extreme PRO in this test, but few can sustain high levels of performance for a long period of time.
Benchmarks - PCMark Vantage (Drives with Data Testing)
PCMark Vantage - Drives with Data Testing
Version and / or Patch Used: 1.0.0
For a complete breakdown on the Drives with Data Testing, please read this article. You will be able to perform this test at home with the files Provided in the article; full instructions are included.
Brief Methodology
SSDs perform differently when used for a period of time and when data is already present on the drive. The purpose of the Drives with Data testing is to show how a drive performs in these 'dirty' states. SSDs also need time to recover, either with TRIM or onboard garbage collection methods.
Drives with Data Testing - 25%, 50%, 75% Full States and Dirty / Empty Test
Files needed for 60 (64GB), 120 (128GB), 240 (256GB)
60GB Fill - 15GB, 30GB, 45GB
120GB Fill - 30GB, 60GB, 90GB
240GB Fill - 60GB, 120GB, 160GB
Empty but Dirty - a test run just after the fill tests and shows if a drive needs time to recover or if performance is instantly restored.

The Extreme PRO 240GB falls behind some of the other drives in our Drives with Data test. This was the precursor to PCMark 8's Consistency Test. The idle time we give the drives after adding the data benefits some drives but not others.
PCMark 8 Consistency Test
Futuremark PCMark 8 Extended - Consistency Test
Version and / or Patch Used: 2.0.228
Heavy Usage Model:
FutureMark's PCMark 8 allows us to wear the test drive down to a reasonable consumer steady state and then watch the drive recover on its own through garbage collection. To do that, the drive gets pushed down to steady state with random writes, and then idle time between a number of tests allows the drive to recover.
Precondition Phase:
1. Write to the drive sequentially through up to the reported capacity with random data.
2. Write the drive through a second time (to take care of overprovisioning).
Degradation Phase:
1. Run writes of random size between 8*512 and 2048*512 bytes on random offsets for 10 minutes.
2. Run performance test (one pass only).
3. Repeat 1 and 2 for 8 times, and on each pass increase the duration of random writes by 5 minutes.
Steady state Phase:
1. Run writes of random size between 8*512 and 2048*512 bytes on random offsets for 50 minutes.
2. Run performance test (one pass only).
3. Repeat 1 and 2 for 5 times.
Recovery Phase:
1. Idle for 5 minutes.
2. Run performance test (one pass only).
3. Repeat 1 and 2 for 5 times.
Storage Bandwidth
PCMark 8's Consistency test provides a ton of data output that we use to judge a drive's performance.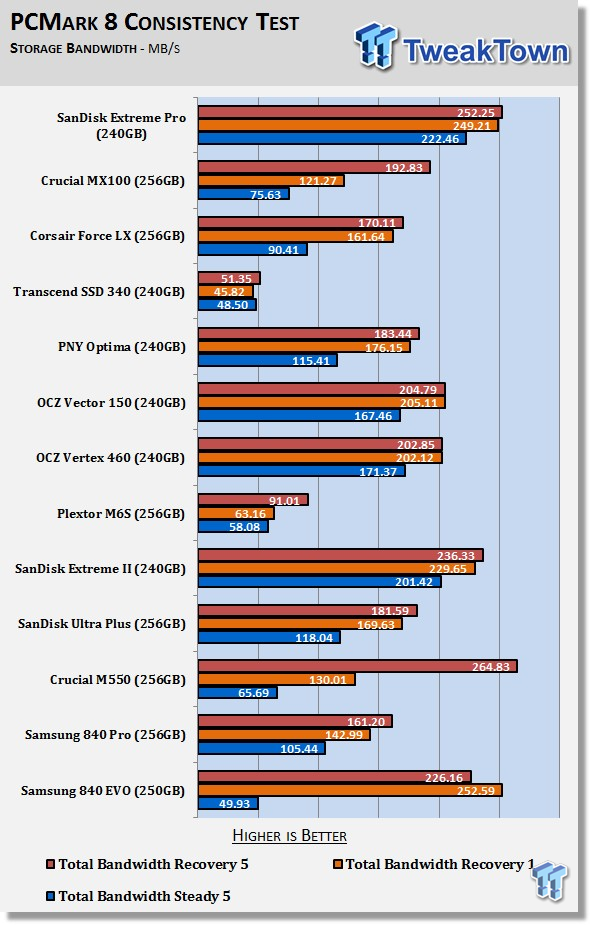 In many of the earlier tests, the Extreme II and Extreme PRO 240GB models were nearly indistinguishable in performance. Here we get to see where the new PRO model leaps ahead of the previous generation. The worst case performance increased by 20 MB/s, and that same margin carried over to the steady state level as well.
Storage Bandwidth - All Tests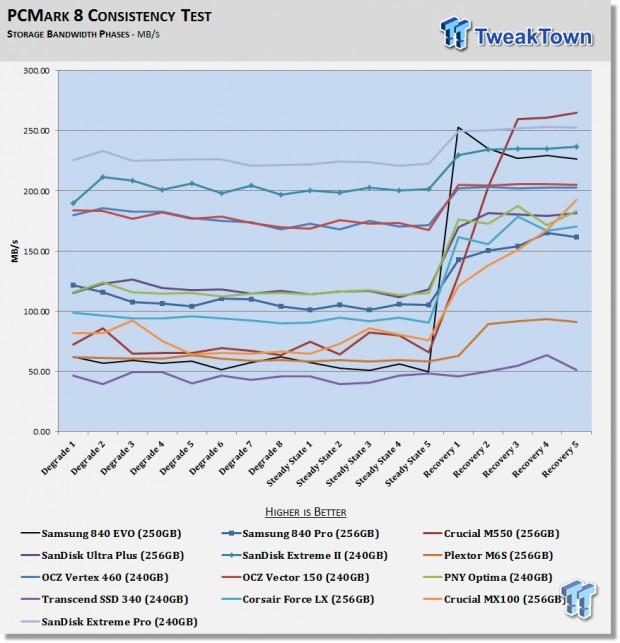 On the chart with all of the phases shown, the Extreme PRO 240GB is easy to spot: it's at the top in nearly every test. Two of the other drives are able to reach Extreme PRO performance levels but only when the flash is clean. The Extreme PRO just marches through the test, delivering solid performance regardless of the flash state.
PCMark 8 Consistency Test - Continued
Total Access Time
The access time test measures the total latency across all 18 tests. This is one of the most important tests we run at this time for consumer SSDs. When your latency is low, your computer feels fast; it's just that simple.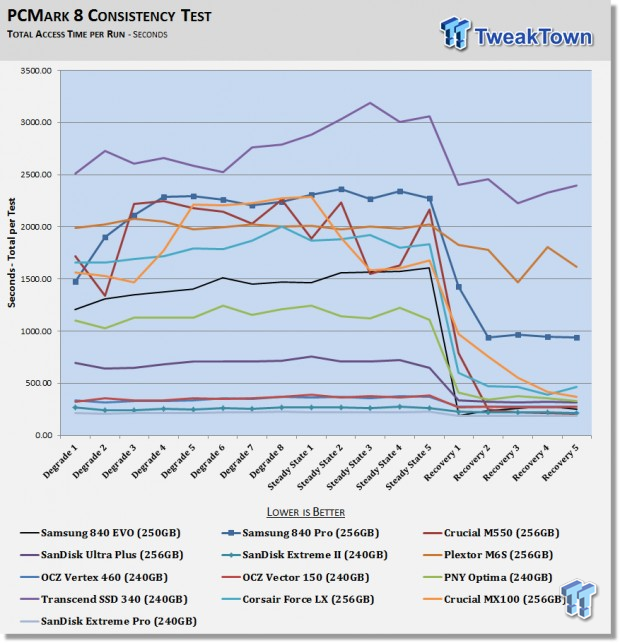 Throughput is an important metric and one that everyone understands, but latency is what makes your computer feel fast. Most manufacturers don't publish latency results because it varies depending on the condition of the flash. In this chart, we see the total access time to complete the tasks in PCMark 8's tests added together. The lower the overall latency, the faster your computer feels when issuing tasks. The Extreme PRO dominated this metric and was built specifically for this purpose.
Disk Busy Time
In the final test, we measure the amount of time the drive worked to read and write the data to complete the test. When a drive is active, it uses more power, so the faster it can complete the tasks, the faster it can fall into a low power state.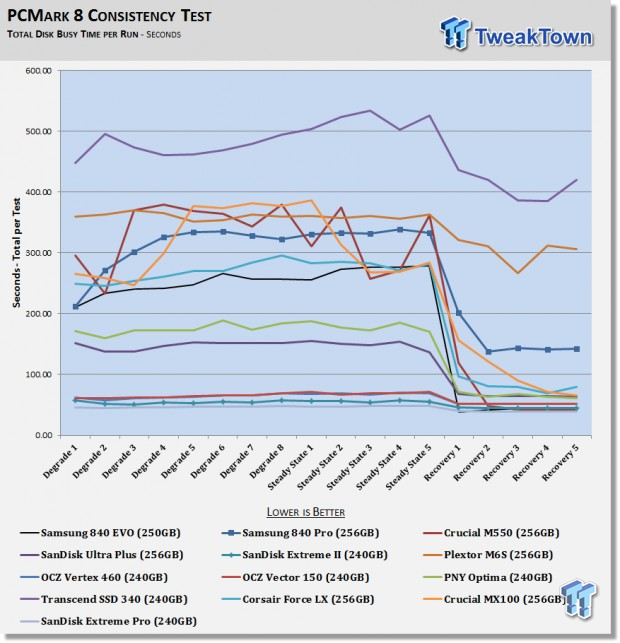 The disk busy time metric shows how long it took each drive to complete the tasks. Drives that complete the actions faster get to return to an idle state faster. This reduces overall power consumption over time.
Benchmarks - Notebook Battery Life
Bapco MobileMark
Version and / or Patch Used: 2012 1.5
Note: In this test, we use the Lenovo W530 Mobile Workstation and a SuperSpeed S301 SLC 128GB SSD to move a 15GB block of data to and from the target drive. This is part of our real-world test regiment. Roughly 45GB of data resides on the target drive before the '15GB Block' is transferred. The 15GB Block is the same data we built for the Data on Disk Testing and is a mix of compressible and incompressible data.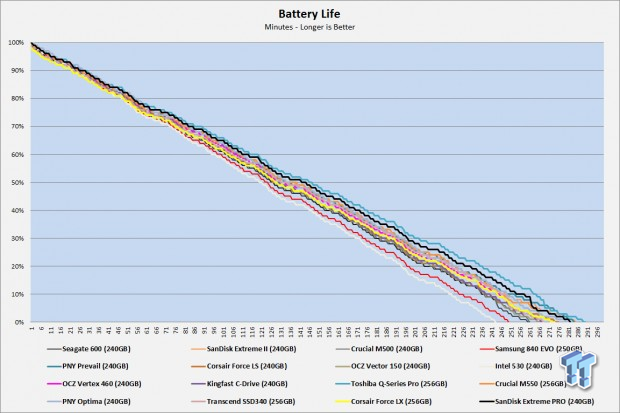 Speaking of power consumption, the Extreme PRO 240GB delivered exceptional notebook battery life in our Ivy Bridge based Lenovo W530. This system does not use DEVSLP for the lowest power states but still allows us to take a good look at how your SSD choice can affect your battery life.
Final Thoughts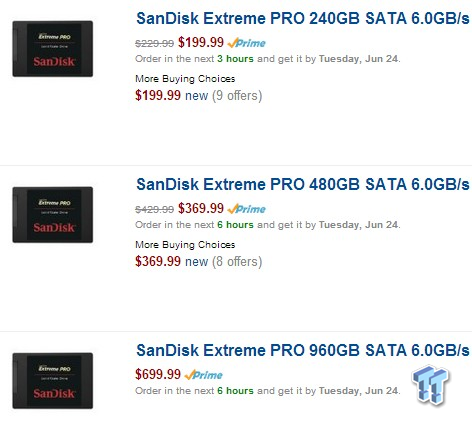 Without a doubt, the Extreme II was one of the best SSDs we ever tested, and I wasn't sure if any company would be able to best its performance with a SATA based product. Little did I know it would be SanDisk looking to raise the bar again, this time with exceptional engineering rather than brute force.
This is our third article with the Extreme PRO SSD, and I feel like we still have a lot to cover. We've talked at length about the new 19nm flash and the increased clock speed on the Marvell controller but not a lot about nCache PRO. The new SLC-like layer in the programming was optimized for mixed read and write workloads. None of us just read or write data to our SSD, so SanDisk tuned the Extreme PRO for closer to real-world use cases. I'm not sure if the acquisition of SMART Data Systems played any role in the new programming, but the Extreme PRO feels like the SMART Optimus I played with a year ago.
The Optimus is still one of the fastest enterprise SSDs on the market today and gained its reputation by delivering consistent performance. The Extreme PRO will go down in history as one of the fastest consumer SSDs on a SATA III bus. We will always wonder how much of the technology inside the Extreme PRO came from the enterprise side.
It really doesn't matter where the tech came from. The Extreme PRO is fast, and in all three available capacity sizes. We like to split the drives up to do analysis on each capacity size since some drives perform better with different interleaving levels. Also, some companies use different flash on smaller capacity size drives than on the larger models. That makes giving a blanket statement difficult when it comes to price and performance. The Extreme PRO is different from other drives, though. We can say with 100 percent certainty that regardless of what capacity size you want to buy, it's the fastest, period. SanDisk hit a three-run homerun with the Extreme PRO.
Not all of the praise comes from the performance either, although it's hard to see past the best-in-class performance. SanDisk also raised the bar when it comes to warranty. The new 10-year warranty is a step above other products, some shipping with a 3-year warranty and others with a 5-year warranty. SanDisk set a new tone with the 10-year warranty, and others will concede defeat or attempt to match the new standard. Time will tell. Coming on the heels of the new Extreme PRO launch is also SanDisk's Dashboard software that works with all SanDisk SSDs. We'll have a feature article on Dashboard in the coming weeks, so keep an eye out for it.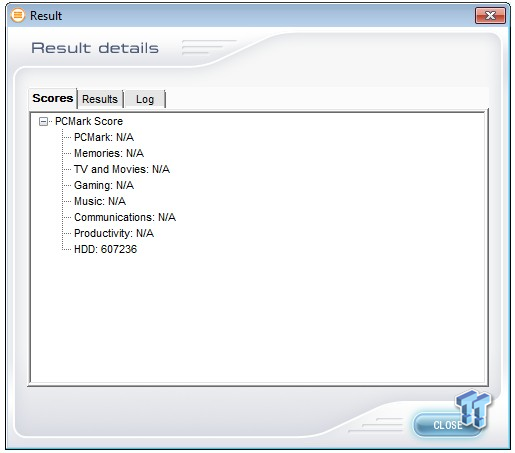 The last topic we need to cover is performance consistency in multi-drive arrays, commonly referred to as RAID. Last year, I handed over RAID Report responsibility to Jon, and he'll have a full RAID Report featuring the Extreme PRO in the coming weeks. The consistent performance makes the Extreme PRO a viable model for performance RAID arrays. If you work with 4K video and want to manipulate it in real-time, then you need a performance RAID array to achieve the high bandwidth needed. Using two consumer SSDs in RAID 0 is an easy and cost effective way to get the performance required.
We're waiting for confirmation from Futuremark before making a big deal about it, but we achieved over 600k Marks in Vantage with the SanDisk Extreme PRO 240GB...well, 16 of them to be exact on an Areca Technology ARC- 1883 Series adapter. One year ago, we set a world record at Computex with 16 Mushkin Chronos Deluxe drives with a score of 592,754 Marks. We believe the new score of 607,236 Marks is a new world record for the PCMark Vantage Storage Test. We'll follow up on this story when we have confirmation. Either way, the Extreme PRO is capable of delivering extreme performance in RAID thanks to its consistent performance.
PRICING: You can find the SanDisk Extreme PRO (240GB) for sale below. The prices listed are valid at the time of writing but can change at any time. Click the link to see the very latest pricing for the best deal.
United States: The SanDisk Extreme PRO (240GB) retails for $199.99 at Amazon.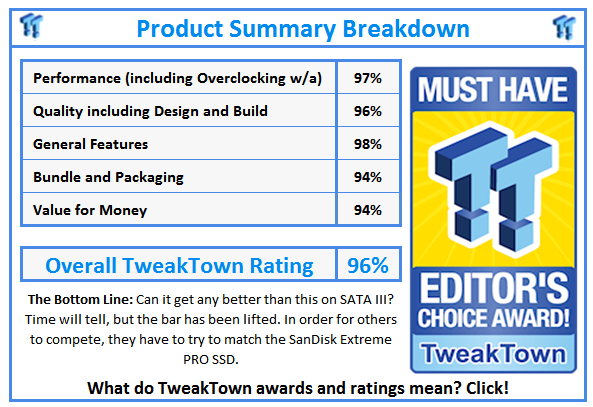 PRICING: You can find products similar to this one for sale below.

United States: Find other tech and computer products like this over at Amazon.com

United Kingdom: Find other tech and computer products like this over at Amazon.co.uk

Australia: Find other tech and computer products like this over at Amazon.com.au

Canada: Find other tech and computer products like this over at Amazon.ca

Deutschland: Finde andere Technik- und Computerprodukte wie dieses auf Amazon.de
We openly invite the companies who provide us with review samples / who are mentioned or discussed to express their opinion. If any company representative wishes to respond, we will publish the response here. Please contact us if you wish to respond.