Buffalo Technology TeraStation 5400r WSS R2 8TB Storage Server Review
Buffalo elevates the TeraStation series with a new 1U, 4-bay unit running Windows Storage Server 2012 R2. Follow on as Chris gives us the full details.
Published
|
Updated Tue, Nov 3 2020 7:00 PM CST
11 minute read time
Introduction & Hardware Specifications and Pricing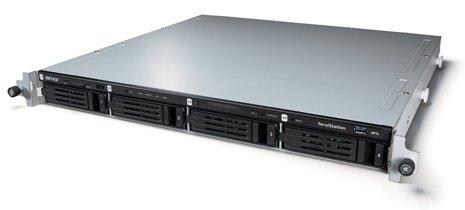 Windows Storage Server 2012 has gained a lot of traction in the SMB NAS market over the last year. Regardless of how easy the Taiwanese NAS makers build a Linux interface, it's difficult for some system administrators to turn away from Windows. I can't say I blame them. Windows Storage Server fits into a Windows office seamlessly without any fuss.
Without any fuss could be the Buffalo TeraStation 5400r Rackmount WSS's motto... aside from the extremely long name. The server integrates well in a network full of Windows clients. With unlimited users and CIFS and iSCSI support, this system can easily become the center hub for your small office's storage. With up to 16TB of data capacity, the system has enough capacity to store a significant number of system backups, and with iSCSI, your office can work from the same server.
Hardware Specifications and Pricing
Modern NAS servers have moved beyond data storage through a wire network. In order to get the most out of a NAS, you need to look at the extra I/O hardware and the mountain of potential software features.

Through four drive bays, the Buffalo Technology TeraStation 5400r WSS supports RAID 0, 1, 5, or JBOD. Our system shipped with four Western Digital Green 2TB drives, making 8TB of total storage space. The operating system was preinstalled on the server, spread across two drives, and took up a total of 200GB. The system shipped with the storage configured in RAID 5. We feel most users will want to keep the server in RAID 5 for data redundancy purposes, and that's how we test four-bay systems.
The heart of the NAS is the Intel 2.13GHz Atom dual-core D2700 processor with HyperThreading. Playing a supporting role is 4GB of DDR3 DRAM. Connectivity comes from two gigabit Ethernet ports, two SATA 2.0 ports, and three SATA 3.0 ports.
Buffalo has four model numbers for the 5400r product line. Divided by capacity size, 8TB or 16TB, and operating system, the four combinations are the 5400r options available. Newegg Business actually shows a diskless version available as well for $1,949.99. After further investigation, we found six other product SKUs at Newegg Business under the Buffalo 5400r search term. Four of the systems have 2GB DRAM, and two systems have 4GB of DRAM with Windows Storage Server. The unit we're testing today tips the scales at an even $2,600 and uses four Western Digital Green 2TB HDDs. The larger 16TB model is available at Newegg Business as well for $3,599.99.
The TeraStation 5400r WSS ships with a three-year warranty, and Buffalo offers an additional two years of coverage for a fee. For the 5400r WSS, the extended two years comes out to $559.99. The system ships with everything you need to install the NAS in a 4-post rack, including rack rails.
PRICING: You can find the Buffalo TeraStation 5400r WSS (8TB) for sale below. The prices listed are valid at the time of writing but can change at any time. Click the link to see the very latest pricing for the best deal.
United States: The Buffalo TeraStation 5400r WSS (8TB) retails for $2,660.57 at Amazon.
Canada: The Buffalo TeraStation 5400r WSS (8TB) retails for CDN$3,546.58 at Amazon Canada.
Software Features
NAS products are equal parts hardware performance and software features. One complements the other in a balanced product. You need more hardware performance to run more software features at the same time.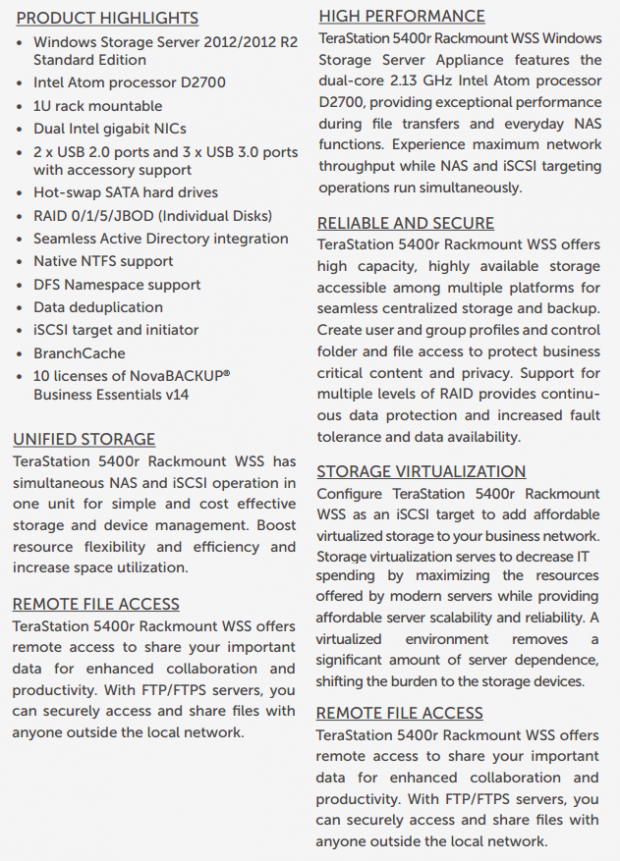 Since the server we're testing today uses Windows, the possibilities are nearly endless. It's not that Linux systems are incapable of the same functions, but it's that not everyone is versed in Linux configuration and software.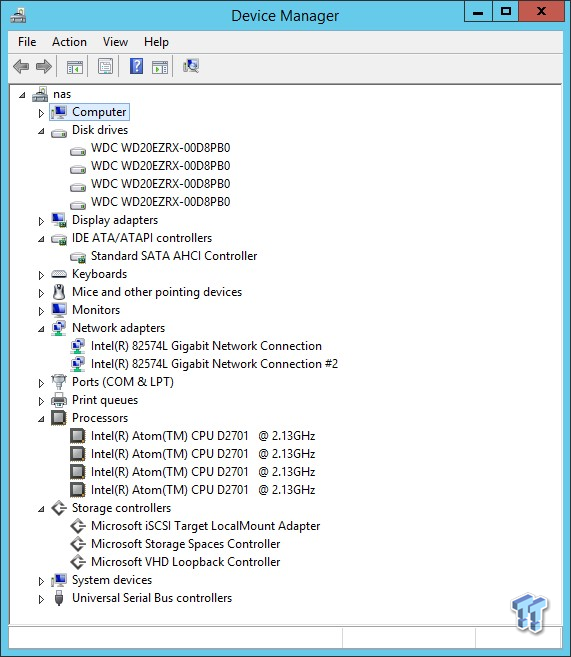 The real limiting factor is the hardware itself. The Intel Atom D2700 is a nice processor for Linux systems, but it feels unreasonably slow in the 5400r when we use RDC to access the system. The processor is limited to just 4GB of RAM as well, so the server is at full capacity when shipped. Data transfers to and from the server are swift, so the input latency we noticed during RDC didn't affect our primary use.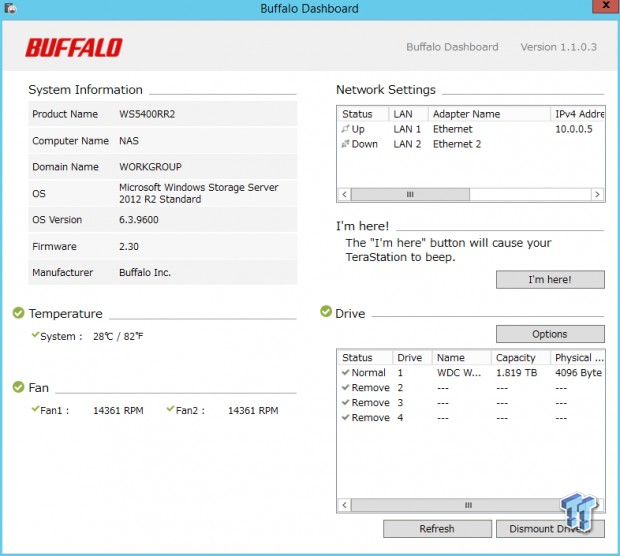 Buffalo includes several software bits with the system like Buffalo Dashboard, a preinstalled feature that is a straightforward interface for configuring the system. The Dashboard software also shows system temperature, fan performance, and a host of other useful features.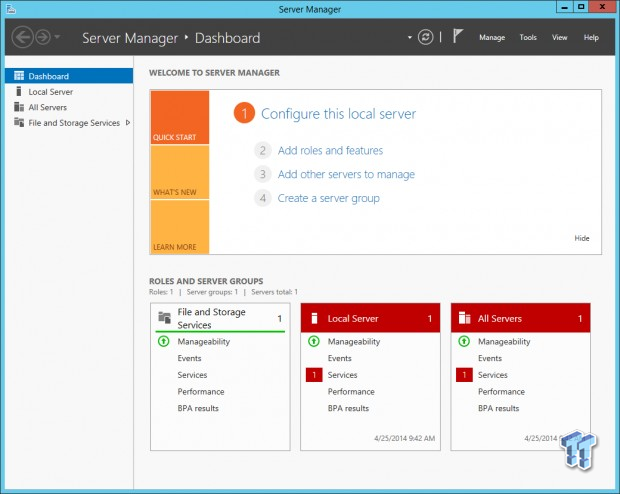 Windows Storage Server 2012 R2 has a built-in Dashboard that is identical to Windows Server 2012 R2.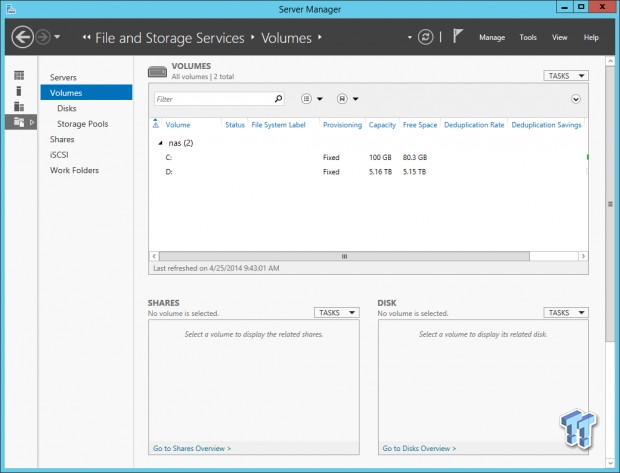 If you are well versed in Windows Server, you may prefer to use the Windows Dashboard for building Storage Pools, Shares, iSCSI, and Work Folders.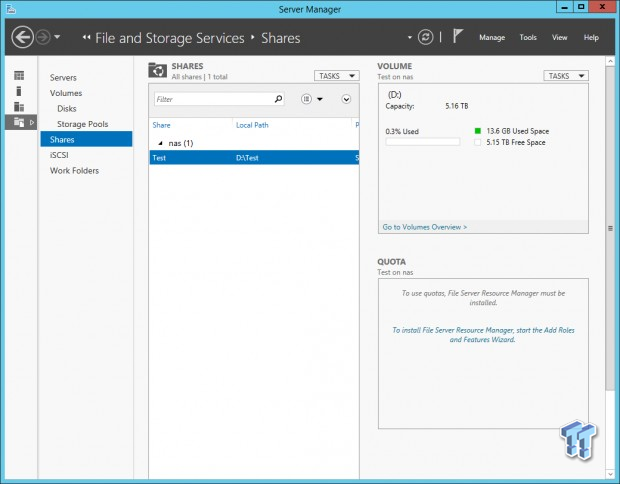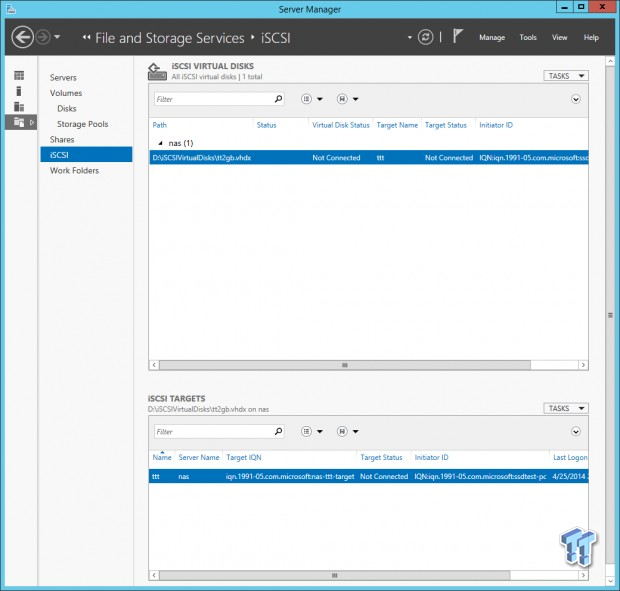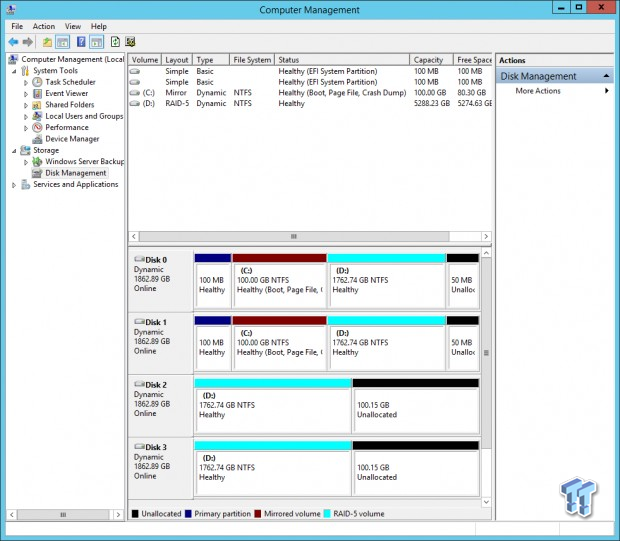 Above, we see the default disk configuration with the operating system in RAID 1 on two drives. This chews up 200GB of disk space right off the bat. Four drives then use RAID 5, with 1762GB coming from each dedicated to storage. Users can configure the remaining 200GB available on two drives, but the space isn't used right out of the box.
Packaging and Accessories
Packaging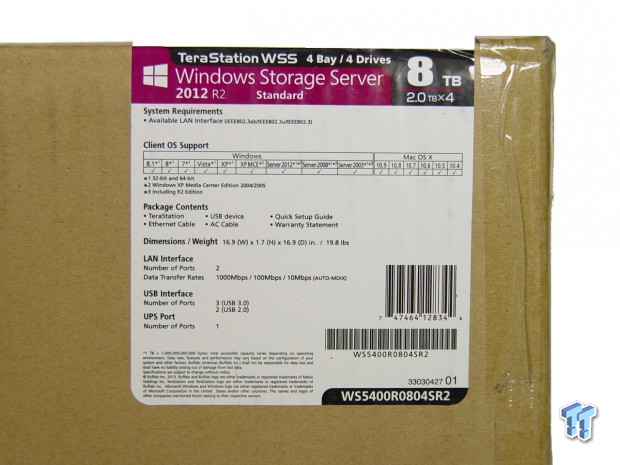 On the package is a sticker that shows the configuration, package contents, and some of the specifications.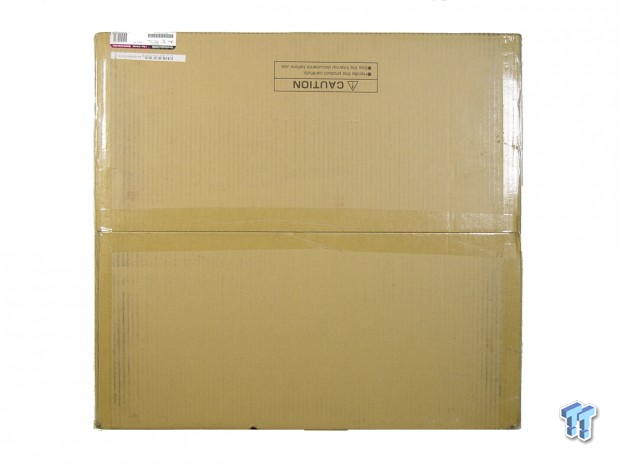 The server ships in a thick box, and the package is surprisingly smaller than what we expected. The NAS isn't full depth, so it didn't require a massive package to keep it secure.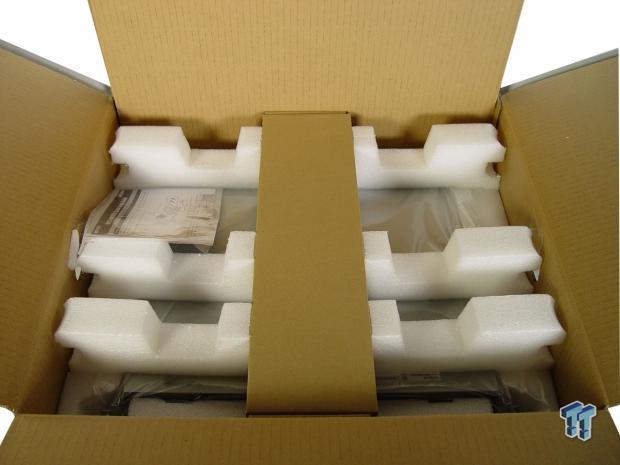 Inside, we found a well-packaged server with good protection for shipping. The drive rails were in a separate box inside the package.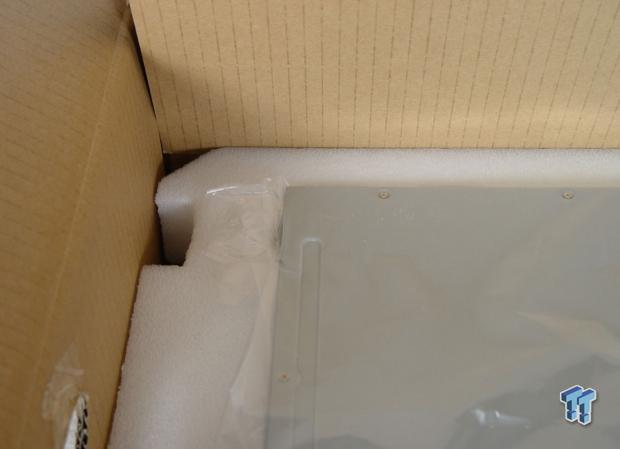 I prefer two inches of dense foam on all sides, but we didn't get that on the 5400r WSS. The foam on the sides is only around an inch thick, but the box is thicker than most.
Accessories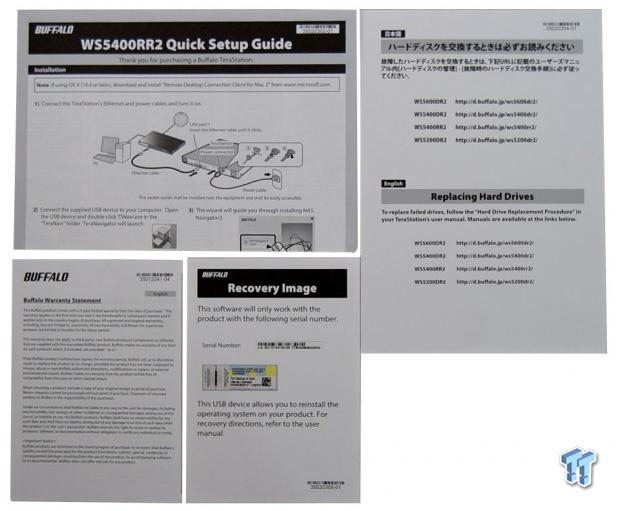 Inside, we found four paper manuals and instruction sheets.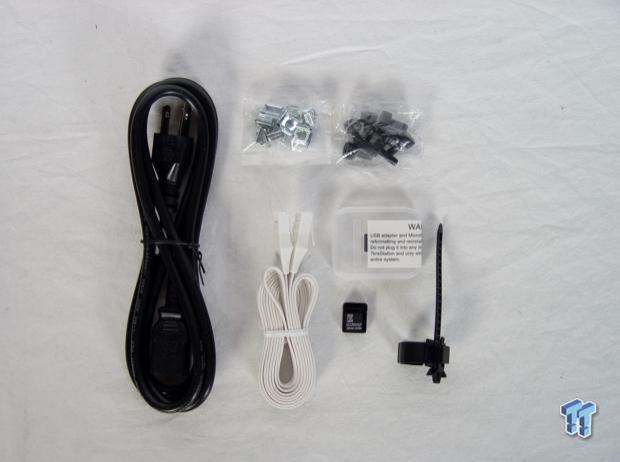 The server ships with cage nuts, screws, one Ethernet cable, a power cable, a reusable zip tie, and a USB flash drive and system restore flash-based media.
Rack rails are also included and shouldn't be over looked. Many NAS products ship without rails, and the manufacturer sells them as an add-on. We've never really liked the 'add-on' approach since you can't rack a server without them in a graceful manner, and $150+ seems a bit much for an add-on accessory that is a necessity.
Buffalo TeraStation 5400r WSS

The Buffalo Technology TeraStation 5400r WSS is a 1U server with four front drive bays that ships with mounting hardware from the factory.

The 2TB Western Digital Green HDDs are accessible from the front of the system, but the server does not have disk locking mechanisms.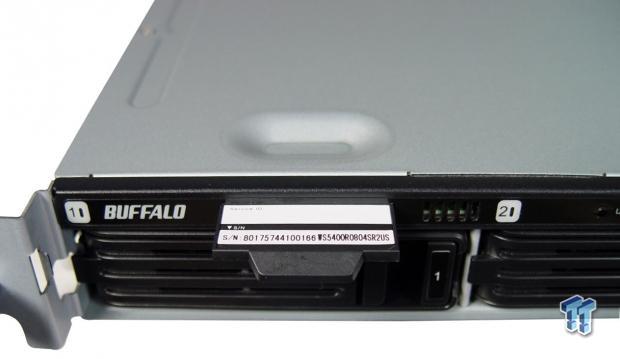 A pull-tab on the front of the unit exposes the serial number.

In the center is a UID locator button. When pressed, a light on the front and rear of the NAS lights, so you can find the NAS easily in a full rack with several units stacked. Next to the UID are LEDs that show LAN activity and if an error has occurred. Just above drive 3 is a small power button used to turn the system on.

A thin LCD display gives us some system details when the system is on. You can change the display with a pair of buttons to the right of it.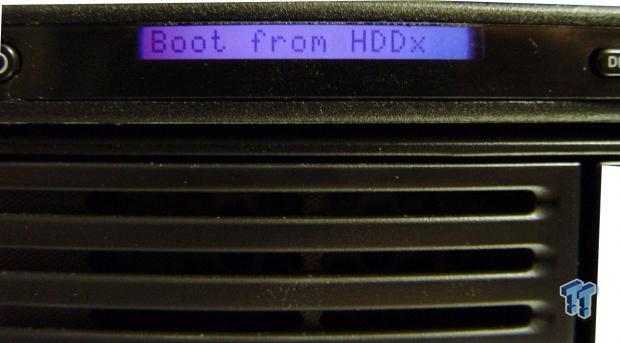 Here we see the display in action.

A recessed reset button and a single USB 3.0 port finish the tour of the front of the 5400r WSS.

Both sides of the server use rollers for easy installation in the rack rails.
Most of the connectivity ports are on the back of the system.

The server has two fans, one on each far end on the back. A UID button with LED indicator light sits next to the fan.
Next to the reset button is a small switch that allows users to easily boot to a USB drive rather than the internal HDDs. This allows users to reinstall Windows or upgrade to a future version of Windows Server.
A 9-pin serial port allows users to connect the server to older battery backup systems that do not use USB to communicate with the server.
Two USB 2.0 and two USB 3.0 ports are next to a pair of gigabit Ethernet ports that can run independently or teamed together for increased network performance or failover.

A VGA port is just a bit further down, and you will need this to configure the server for the first time, along with a USB keyboard and mouse.
The second fan on the far end of the server is next to the 3-prong power plug.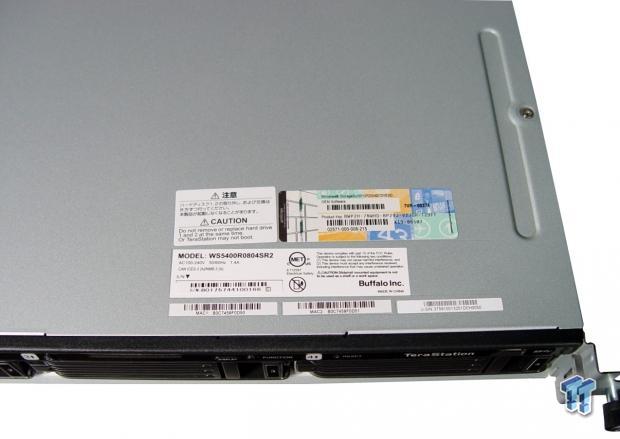 The operating system key, model number, MAC addresses, and serial number are all shown on the top of the server.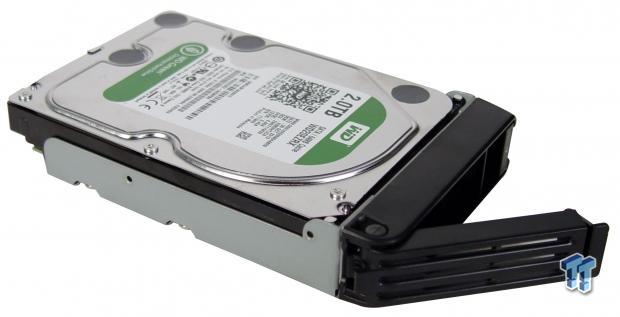 The drive sleds are a mix of metal and plastic. We were surprised to see the drive sleds do not lock in the server for security purposes.
Test System Setup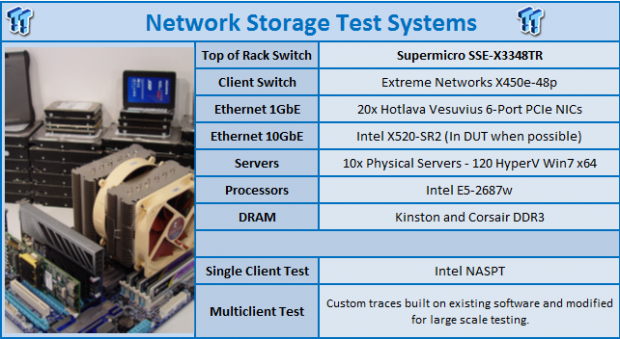 Our NAS test 'system' has migrated to three 42U racks like what you'd find in a datacenter. There are ten servers that attack the target NAS with 120 Hyper-V installations of Windows 7 64-bit, each with a dedicated gigabit Ethernet port. The systems feed to three Extreme Networks X450e-48p switches and then to a Supermicro SSE-X3348TR top-of-rack switch. The device under test connects to the Supermicro switch via 1GbE, 10GbE, or 40GbE. The iSCSI and NASPT tests use a single machine connected to the Supermicro switch.
This level of testing wouldn't be possible without the help and support from several companies, many of which have little to do with NAS products. We extend our thanks to AVADirect, Antec, Corsair, GIGABYTE, Icy Dock, Kingston, LSI, Noctua, Rosewill, Seagate, Thermaltake, and Western Digital for their much-appreciated support.
Intel NASPT
The Intel NAS Performance Toolkit (NASPT) is a file system exerciser and analysis tool designed to enable direct measurement of home network attached storage (NAS) performance. Designed to emulate the behavior of an actual application, NASPT uses a set of real-world workload traces gathered from typical digital home applications. Traces of high definition video playback and recording, office productivity applications, video rendering/content creation, and more provide a broad range of different application behaviors.
TweakTown Custom 120-Client Office Test
The TweakTown Custom 120-client Office Test uses 120 Windows 7 Hyper-V installations and custom software to stress each NAS with traces from Microsoft Office tasks. Both throughput (in Mbits per second) and latency (in milliseconds) are measured.
Supermicro SSE-X3348TR 10GbE / 40GbE Switch

With a switching fabric of 1284 Gbps through forty-eight 10GbE ports with RJ45 connectors and four 40GbE QSFP connectors, the SSE-X3348TR is our switch oh choice for testing SMB and enterprise network attached storage products. Many server and motherboard manufacturers have included 10GbE on top-tier offerings. 2015 will be the year for a 10GbE take over.
Benchmarks – RAID 5 Single Client Performance
Benchmarks – RAID 5
RAID 5: Block-level striping with parity data distributed across all member disks.
HD Video Playback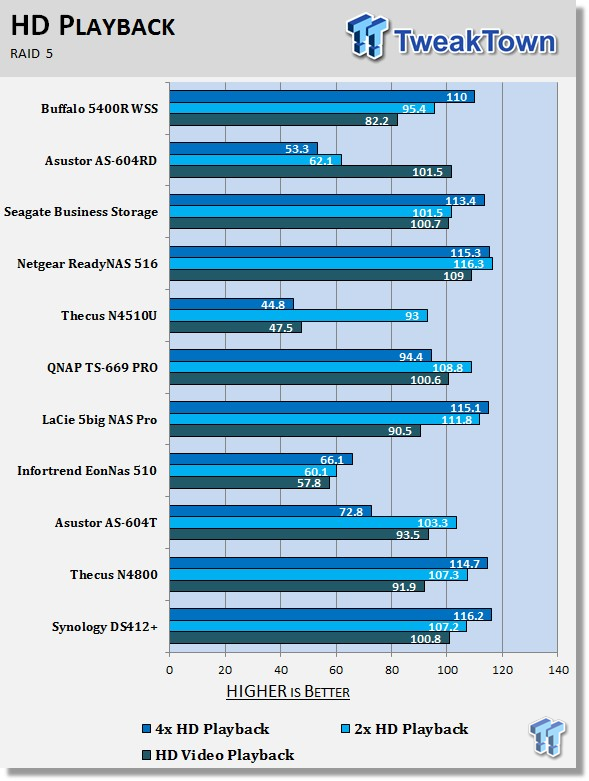 HD Video Play - 720p HD stream from Windows Media Player 256kB reads
2HD Video Play - 2x playback
4HD Video Play - 4x playback
HD Video Record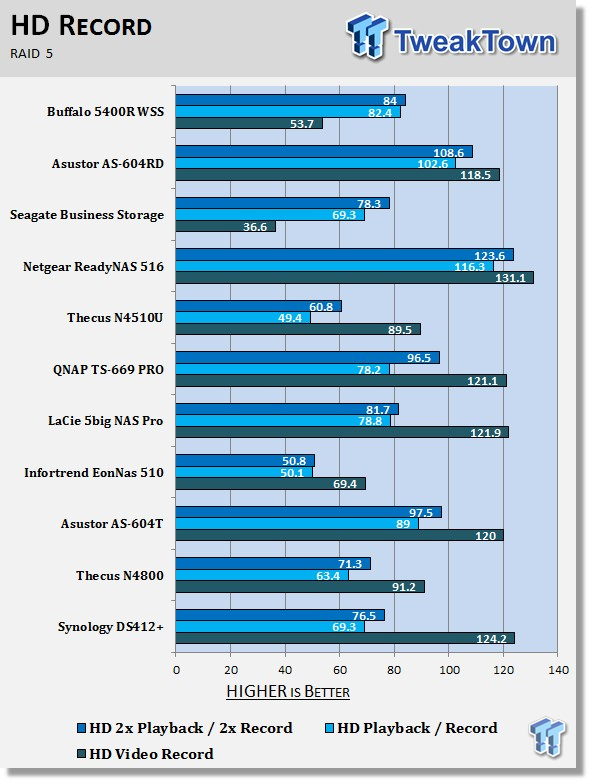 HD Video Record - 720p HD stream, 256kB writes
HD Video Play & Record - 1 playback, 1 record simultaneously
2x HD Video Play & 2x Record - 2 playback, 2 record simultaneously
Content Creation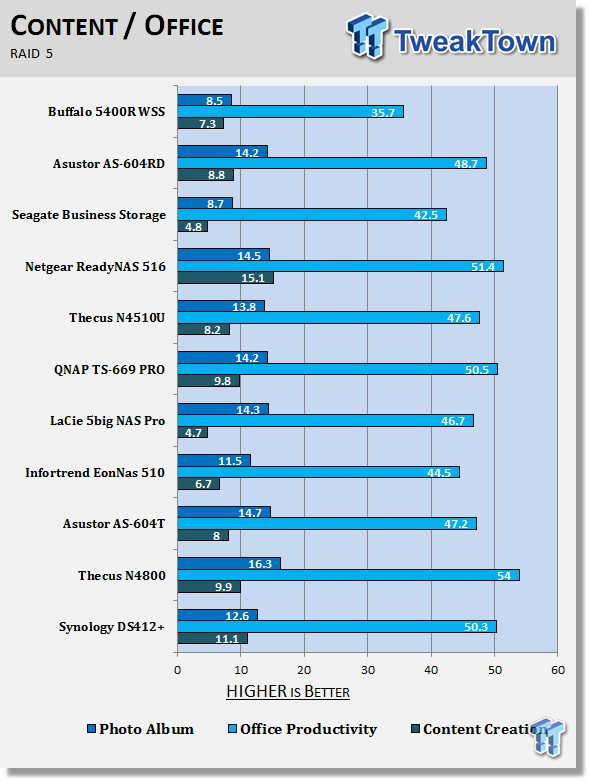 Photo Album - All reads – wide distribution of sizes
Office Productivity – Reads and writes, 1kB & 4kB reads; Mostly 1kB writes
Content Creation - 95% writes; 1k, 4k & little reads; Writes up to 64kB
File / Directory Transfer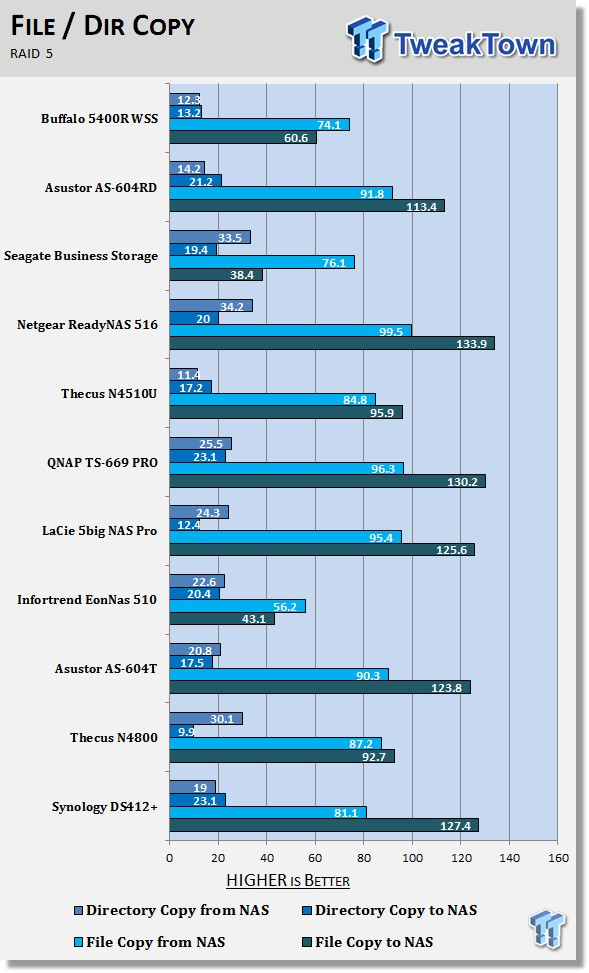 Directory Copy From NAS - 64kB reads
Directory Copy To NAS - Predominantly 64kB writes, wide scattering under 16kB
File Copy From NAS - 4GB file copy, 64kB reads
File Copy To NAS - 64kB writes
Single Client Performance Summary
The Buffalo TeraStation 5400r WSS R2 8TB server performs very well when reading sequential data back to the client. Sequential data writes are a bit slower. This is a trend we often find on Windows servers with software RAID.
Benchmarks – iSCSI Enterprise Workloads
Database
File Server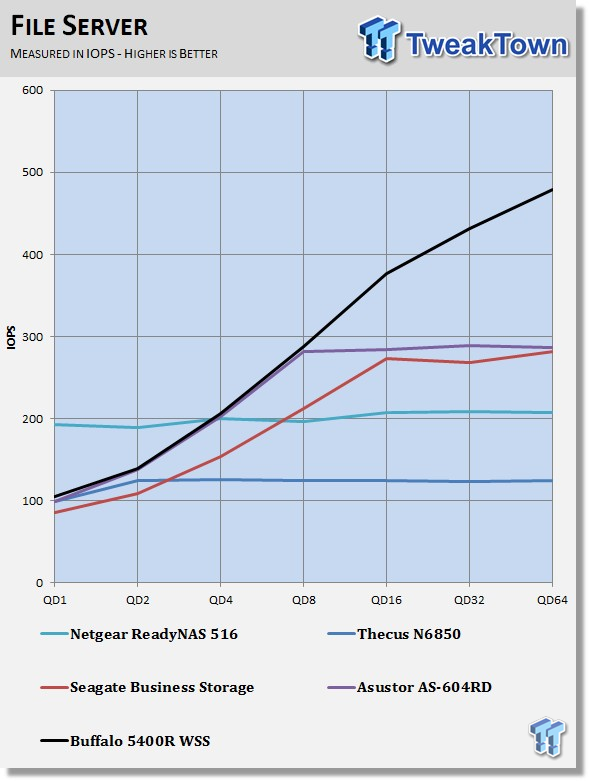 Email Server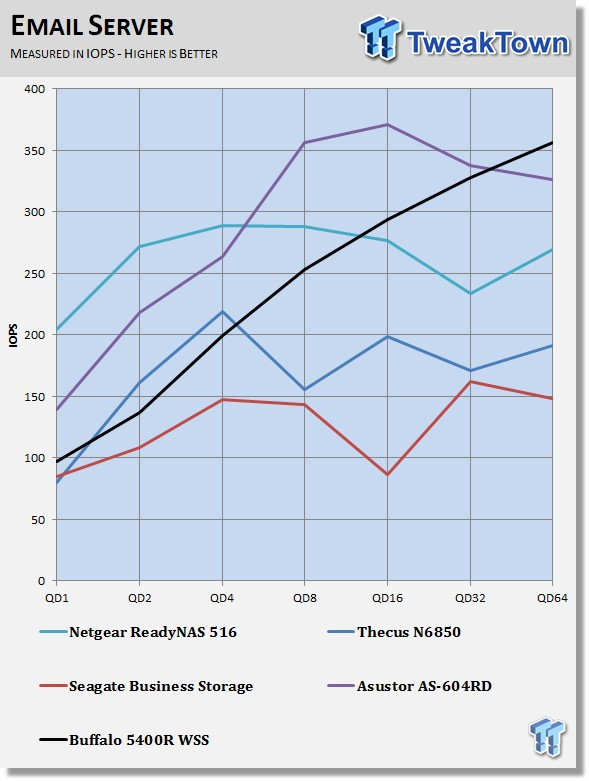 Web Server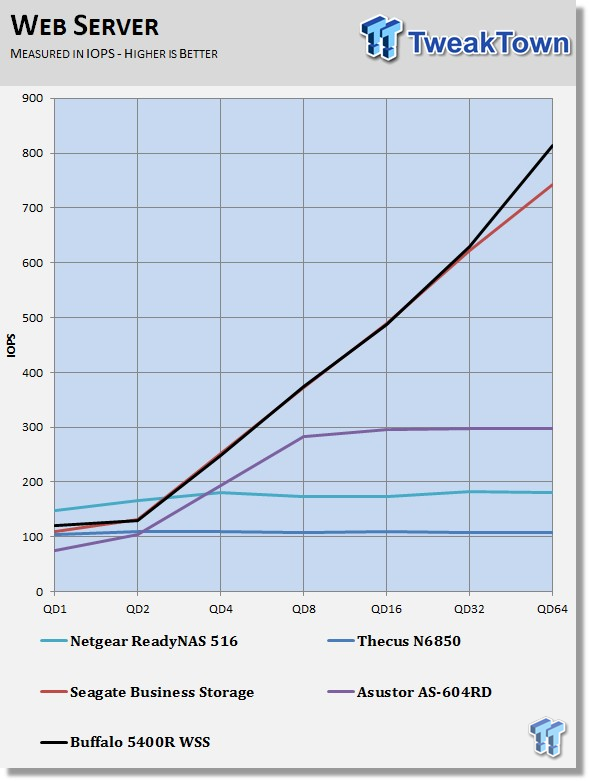 Workstation
iSCSI Enterprise Workload Summary
iSCSI workload performance starts out in the middle of the pack compared to some of the other servers in our roundup of products used in the charts. The performance scales nicely as the queue depth increases, though, and the 5400r performs very well at higher queue depths.
Benchmarks – iSCSI Workload Latency
Database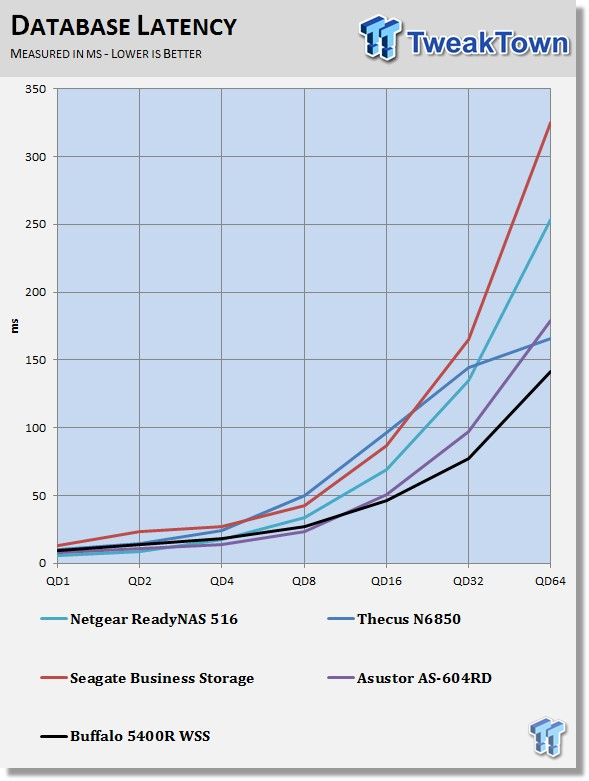 File Server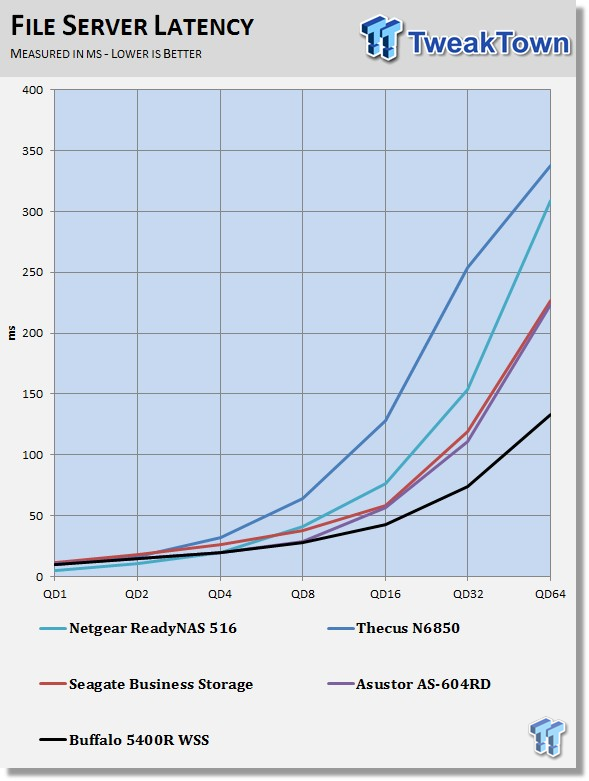 Email Server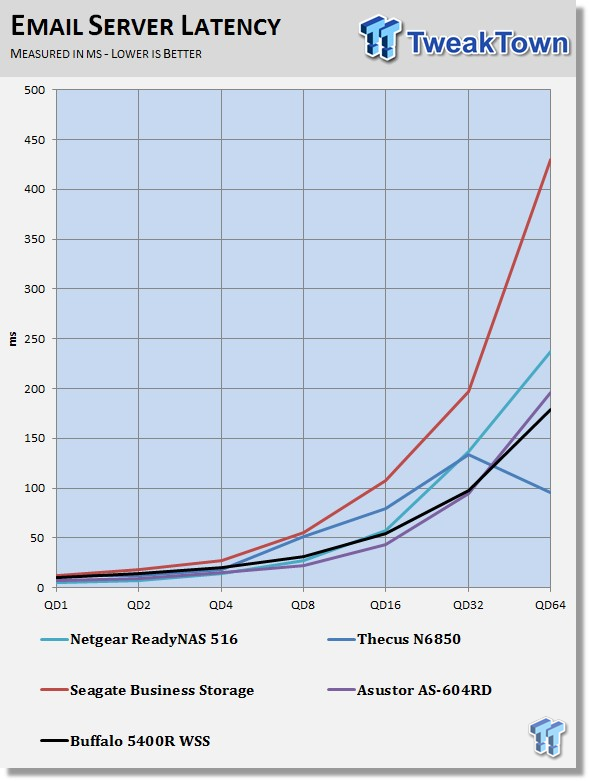 Web Server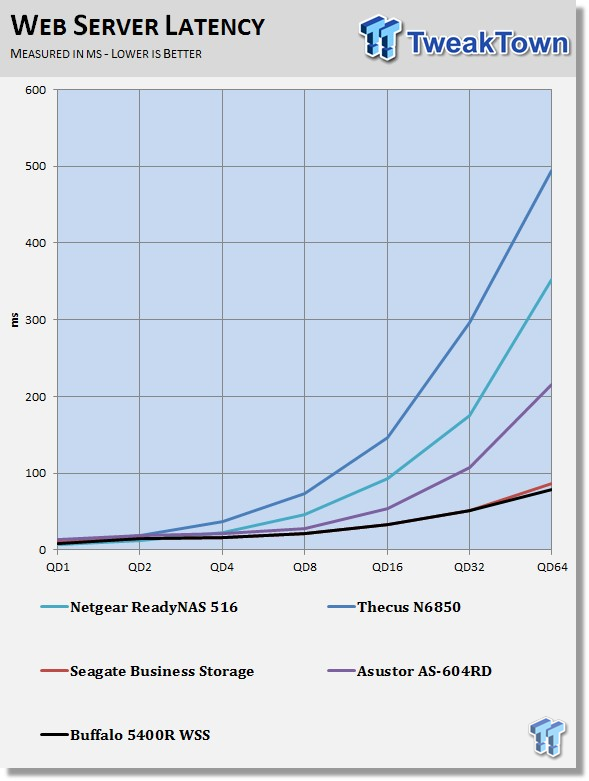 Workstation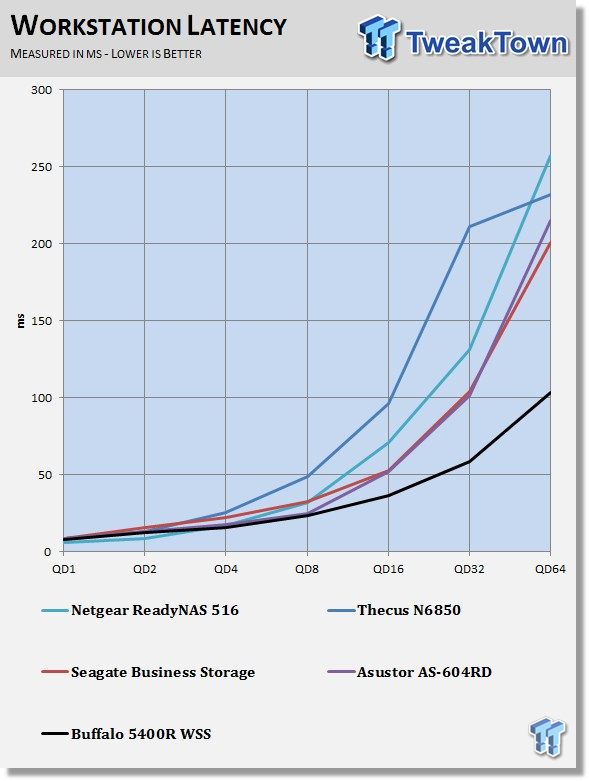 iSCSI Enterprise Latency Summary
The iSCSI latency is very low in our professional tests. We see the 5400r scoring much better than the other units on the chart in nearly every test.
Benchmarks – Multi-Client Test
The Intel NAS Performance Tool (NASPT) is an excellent way to determine NAS performance in a single user environment. Any review that only uses NASPT assumes that only a single computer will access the target NAS at one time. We took issue with this method of testing and spent over a year designing, building, programming, and finally validating the TweakTown Multi-Client Test.
The test uses Microsoft Office data recorded to traces and played back to the NAS from up to 120 client Windows 7 installations (clients). We record total throughput of all clients and average response time per client.
Over time, we'll populate the two multi-client charts with several NAS products from a span of categories. The products range from a dual Xeon server with two 10GbE to a 2-bay NAS with a single gigabit Ethernet connection. The products will fall into their performance categories based on performance and not marketing material or opinion.
Throughput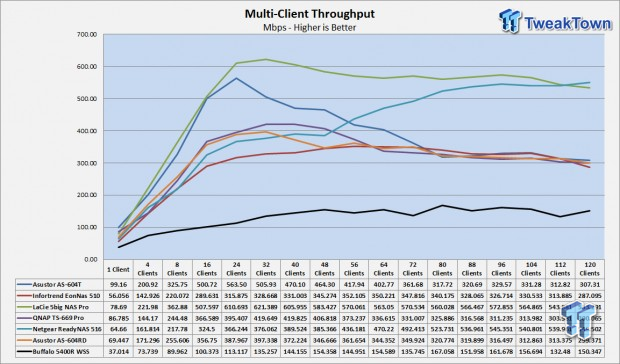 Up to this point, the Buffalo 5400r WSS has performed very well, but the multiclient test shows low performance in a multiuser environment while manipulating office documents over CIFS.
Latency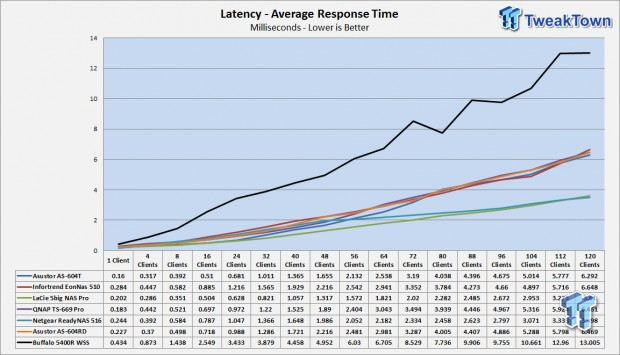 The latency was also surprisingly high in this test. We think the WD Green drives designed for low power consumption are the reason why we see such high latency. The other units were tested with Seagate NAS drives.
Final Thoughts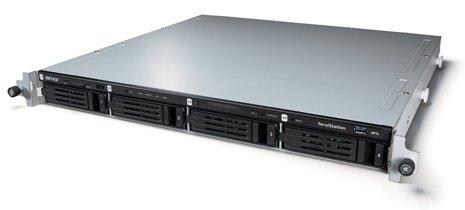 After connecting the server to our test network and logging in for the initial setup, we were worried. The Windows operating system is slow to respond to commands. This is apparent when connected directly with a keyboard and monitor as well as when using remote desktop. There are a couple of reasons for this, and one is self-induced. The first issue is that we are used to the low latency performance from SSDs, so anything using a mechanical disk drive seems slow to respond to commands. It takes a minute to remember that mechanical disk drives are slow to respond to commands, but that isn't the end of the issue. The software RAID 1 spanned across two drives IS actually slow for operating system performance. Once you get the initial setup configured, you can get out of Windows and use the server as a storage station over the network.
Everything gets much better when you use the Buffalo 5400r WSS as a storage server. Our file transfers were very fast, and copy / paste commands moved along with very low latency while issuing commands. Our published tests back this up with solid performance in both CIFS and iSCSI.
Our multiclient test did show slower than expected performance when many users read and write small office files on the server. We've used servers with the same Intel D2700 processor and 4GB of DRAM with Linux and not had the same issue. Other Windows Storage Server 2012 R2 servers we've tested showed the same lack of multiclient throughput and latency as the 5400r, so we can point directly to the operating system for our performance issue.
The Buffalo TeraStation 5400r WSS is also expensive in both 8TB and 16TB configurations. At $2,600 as tested today, we've seen products that offer a higher value but without Windows and without drives preinstalled. The 5400r WSS does ship preconfigured, which is very nice, and you can start using it after less than 5 minutes of setup time.
The 5400r WSS is a nice unit with a familiar interface for everyone who grew up on Windows. We feel that the system is a bit underpowered for a Windows server with the Atom D2700 dual-core for large offices, but this system will work well for a small office for data storage / backup purposes.
PRICING: You can find the Buffalo TeraStation 5400r WSS (8TB) for sale below. The prices listed are valid at the time of writing but can change at any time. Click the link to see the very latest pricing for the best deal.
United States: The Buffalo TeraStation 5400r WSS (8TB) retails for $2,660.57 at Amazon.
Canada: The Buffalo TeraStation 5400r WSS (8TB) retails for CDN$3,546.58 at Amazon Canada.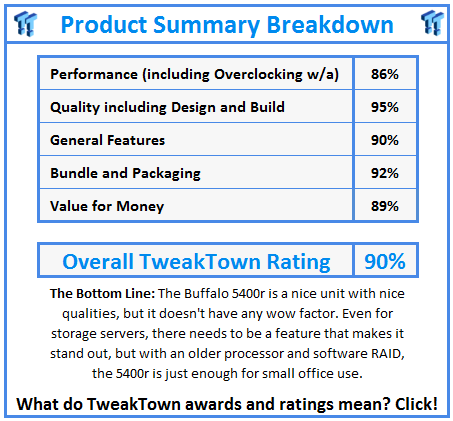 PRICING: You can find products similar to this one for sale below.

United States: Find other tech and computer products like this over at Amazon.com

United Kingdom: Find other tech and computer products like this over at Amazon.co.uk

Australia: Find other tech and computer products like this over at Amazon.com.au

Canada: Find other tech and computer products like this over at Amazon.ca

Deutschland: Finde andere Technik- und Computerprodukte wie dieses auf Amazon.de
We openly invite the companies who provide us with review samples / who are mentioned or discussed to express their opinion. If any company representative wishes to respond, we will publish the response here. Please contact us if you wish to respond.