ASRock Rack 1U12LW-C2750 12-Bay Storage Server Review
Intel's Atom processor has taken several twists and turns over the last year. ASRock Rack takes the new Avoton 8-core model to storage servers.
Published
|
Updated Tue, Nov 3 2020 7:00 PM CST
12 minute read time
Introduction & Hardware Specifications and Pricing

It's not uncommon to find Intel's Atom processors in NAS servers. These low power processors have dominated the 4-bay NAS market for a few years. Over the last year, Atom processors have crept into larger NAS servers with up eight bays. Now, it seems that isn't enough. Late last year, Intel released the most ambitious Atom processor, codenamed Avoton, to date.
The Atom C2750 is an 8-core SoC with a clock speed of 2.4GHz (2.6GHz Turbo) with support for up to 64GB DDR3-1600 DRAM. The 2750 also supports 16 PCIe 2.0 lanes, two SATA III buses and four USB 2.0 ports. The 2750 is a 64-bit processor built on 22nm lithography. Intel has five models in the Avoton family that range from two cores to eight.
ASRock has taken the Intel Atom 2750 (8-core) and Atom 2550 (4-core) and built two unique motherboards with twelve SATA ports, dual gigabit Ethernet, and a PCIe 2.0 8-lane connector. The motherboards are impressive on their own, but the barebones server kit is spectacular.
Today, we're looking at the ASRock Rack 1U12LW-2750, a 12-bay cold storage server that is low power, high capacity, and powerful enough for small business NAS duty. The open PCIe port means 10GbE is an option, and the large DRAM capacity means you can run applications on it as well.
Hardware Specifications and Pricing
Modern NAS servers have moved beyond data storage through a wire network. In order to get the most out of a NAS, you need to look at the extra I/O hardware and the mountain of potential software features.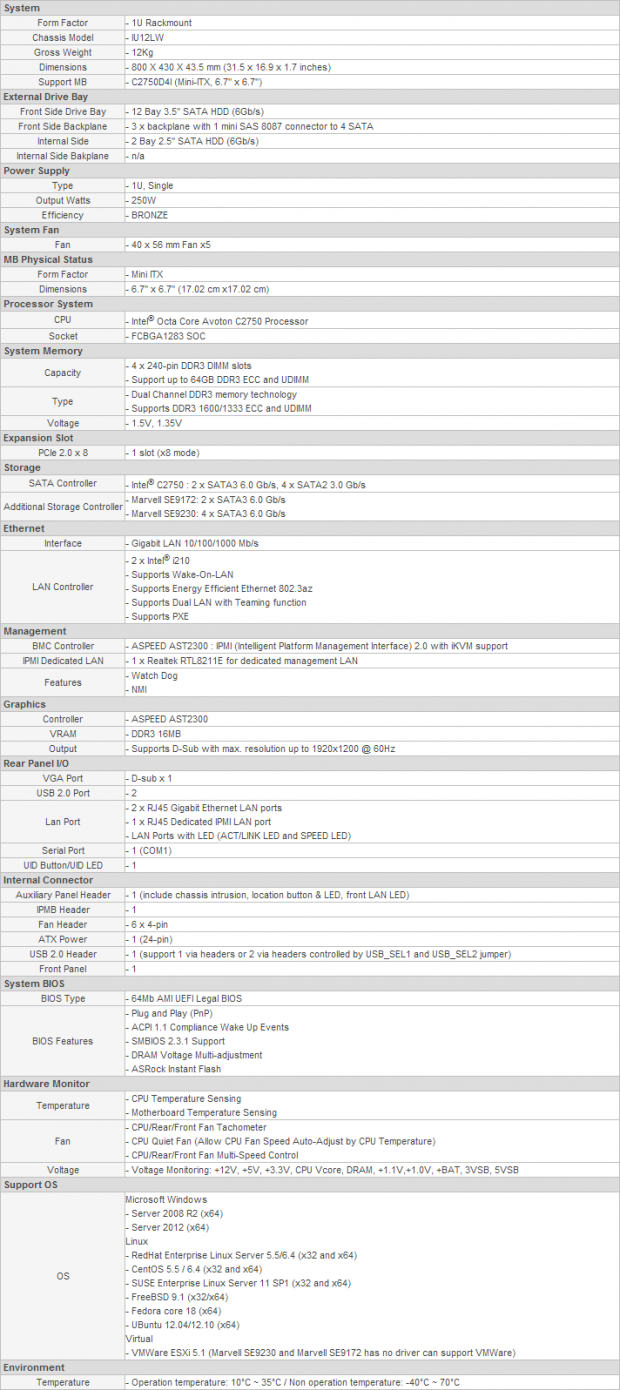 The ASRock Rack 1U12LW-C2750 12-Bay Storage Server is unlike most of the NAS products we write about here. This is a barebones server, which ships with a motherboard, built-in processor, 1U server case, power supply, and cables. End users add RAM, storage (hard drives or solid state), and an operating system. There are two models in the 1U12LW product family: the 8-core Avoton model we're testing today and the 4-core Avoton model we're testing next week.
The 1U12LW-C2750 is currently listed at Amazon in the US for $1059.83 with free shipping. The price is in line with several eight-bay diskless NAS products on the market. You do need to add RAM and an operating system. DDR3 1600MHz is fairly cheap, and a single 4GB stick can cost as low as $30. The 1U12LW products can use either ECC or non-ECC DRAM. Operating systems come in all shapes and sizes, from Windows Storage Server to any number of free Linux operating systems, and a few are even tuned for NAS like FreeNAS.
The PCIe 2.0 8-lane opens the door to 10GbE connectivity or a dedicated RAID controller. 10GbE is an easy endeavor; just add the PCIe card. A dedicated RAID controller like an LSI 9271-8i means some assembly is required since you'll need to change the cabling to the drive sleds.
Sadly, the server does not ship with rails, but ASRock offers them separately. The server does ship with a 250-watt power supply.
PRICING: You can find the ASRock 1U12LW-C2750 for sale below. The prices listed are valid at the time of writing but can change at any time. Click the link to see the very latest pricing for the best deal.
United States: TheASRock 1U12LW-C2750 retails for $1,059.83 at Amazon.
Software Features
NAS products are equal parts hardware performance and software features. One complements the other in a balanced product. You need more hardware performance to run more software features at the same time.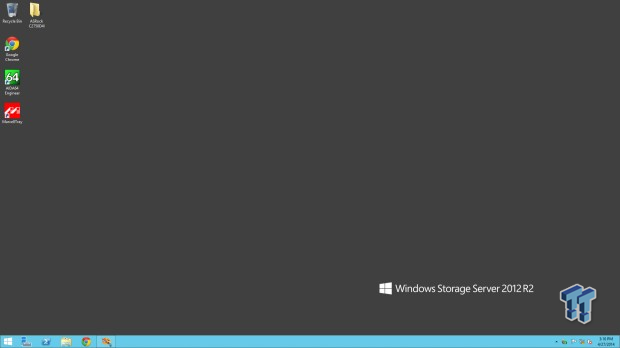 The ASRock 1U12LW-C2750 ships as a barebones system, so you have your choice of operating systems. IXSystems sells a preconfigured 4-bay NAS with the same ASRock motherboard running FreeNAS (currently in for testing now). FreeNAS is a great option but one that requires some tweaking and deep insight to configure properly. Other options include NAS4Free, Open Indiana, and Windows Server / Windows Storage Server.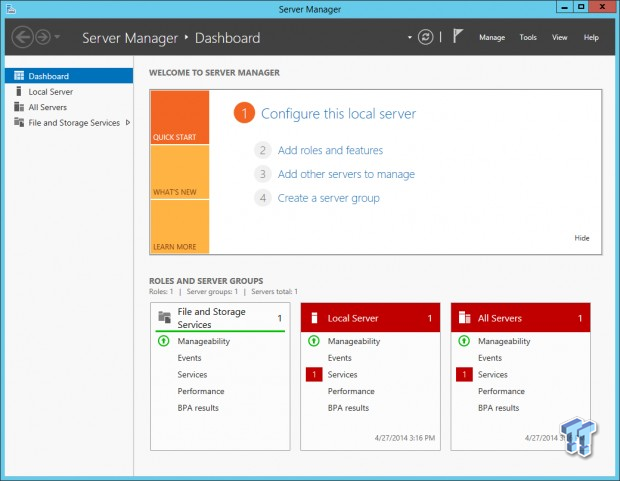 We chose Windows Storage Server 2012 R2 since we have several NAS in the lab with this operating system. Windows Storage Server is familiar as well since it's based on Windows.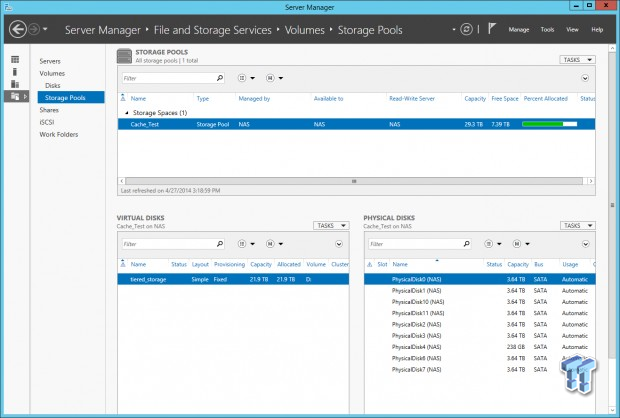 Windows Storage Server 2012 R2 opens the door for some interesting options inside the operating system. iSCSI is very easy to build, but Storage Pools is the real highlight. Storage Pools also allow us to build arrays with an SSD cache at the front end for very high-performance systems.
Packaging & ASRock 1U12LW-C2750 Server
Packaging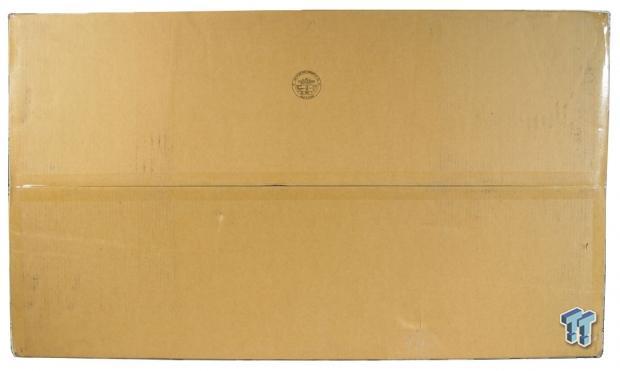 It's a good thing Amazon offers the 1U12LW with free shipping because the package is massive. This is a full length server, so it's important to have solid packaging to keep the internals safe.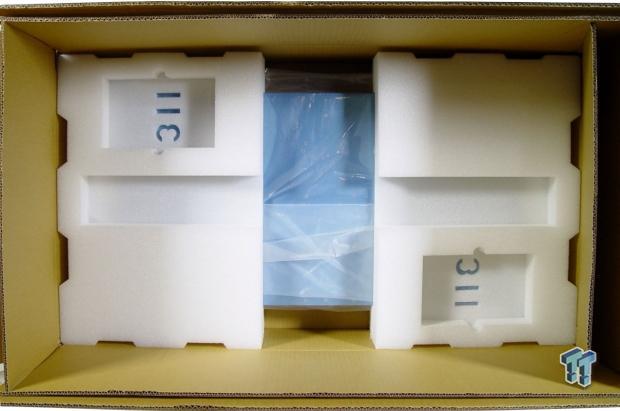 Our sample arrived double boxed and with dense foam around the actual server.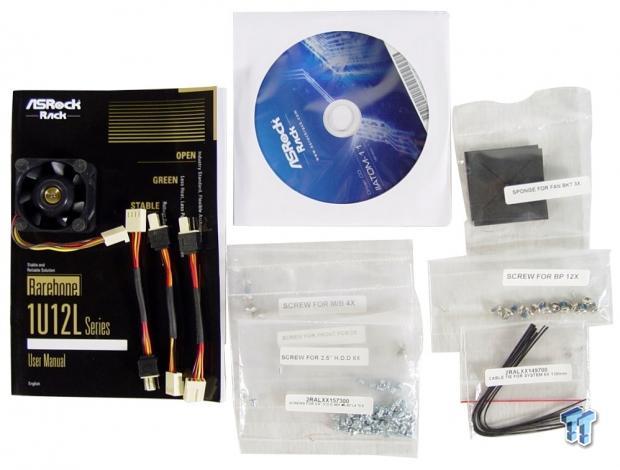 The accessory package consists of drive mount screws, fan cable extensions, a spare fan, driver disk, cable ties, and a full printed user manual.
ASRock 1U12LW-C2750 Server

Here we get our first look at the storage server. We were impressed with Seagate's ability to put eight drives in a 1U package, so we just about did a backflip after learning that ASRock managed to fit twelve 3.5-inch drive bays in the same 1U height.

On the front of the server, we found two USB 2.0 ports, a recessed reset button, a power button, and a server ID button. The server ID button lights up blue when you press it and also lights another button on the back of the server. This makes it easy to work on the system from the one side to the other.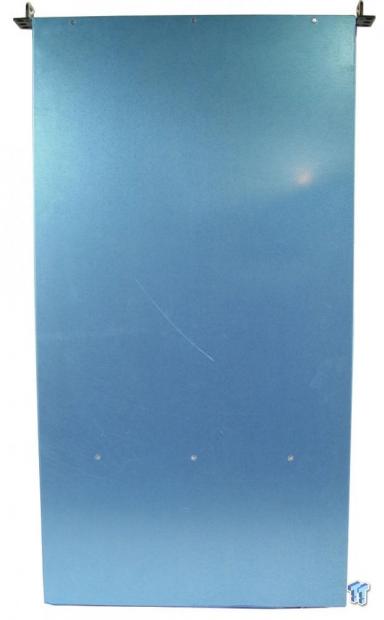 The system is a full length server, but we wouldn't expect anything less from a system that can hold twelve 3.5-inch HDDs.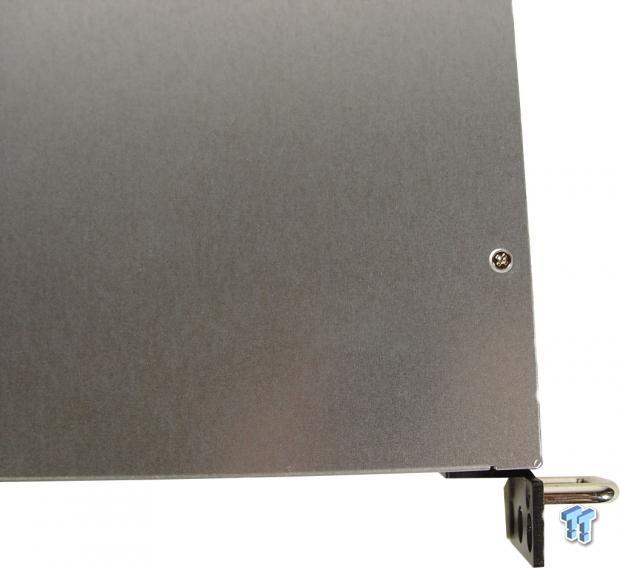 To get into the system to install or swap HDDs, you have to unscrew the top panel.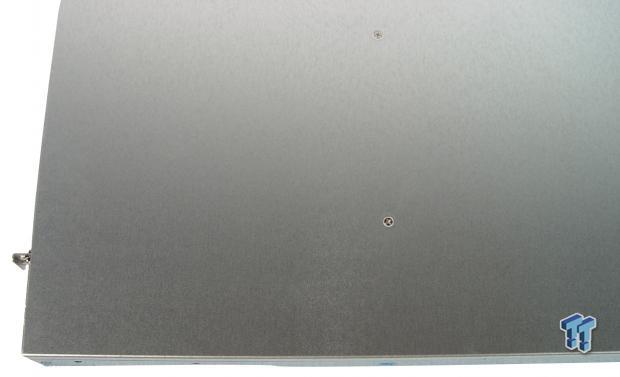 There are a couple rows of screws, but with sliding drive rails, this shouldn't be an issue other than the time consumed to get inside the system.

The back of the server is where we found most of the goodies. Going from left to right, we found the power supply and its cooling fan; a serial port above the VGA display port; two USB 2.0 ports on the back under an IPMI (out of band management) next to two gigabit Ethernet ports; and on the far right is a PCIe slot.


Here we filled the PCIe slot with an Intel X520-SR2 10GbE adapter.
Inside the 1U12LW-C2750 Server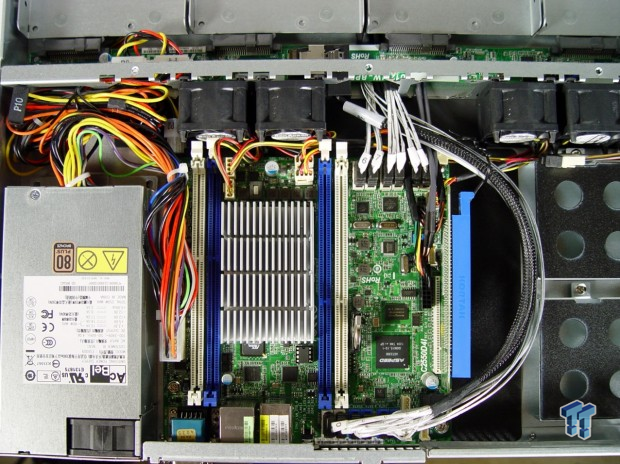 The heart of the system is a Mini-ITX motherboard that ASRock sells as a stand-alone component if you don't need the full server kit.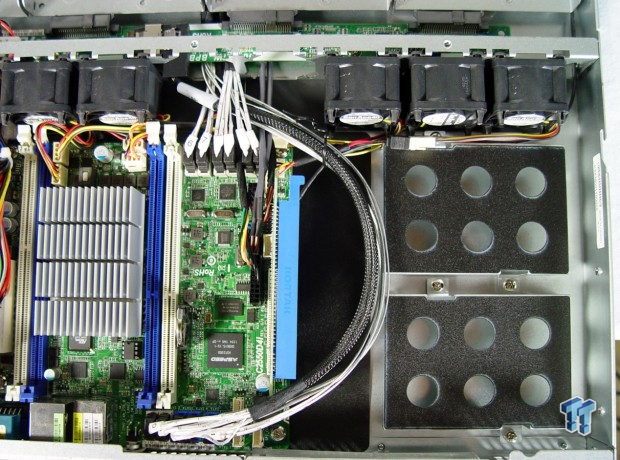 Two 2.5-inch HDD bays on the right of the server can hold hard drives, but it becomes a tight fit if you install a PCIe card.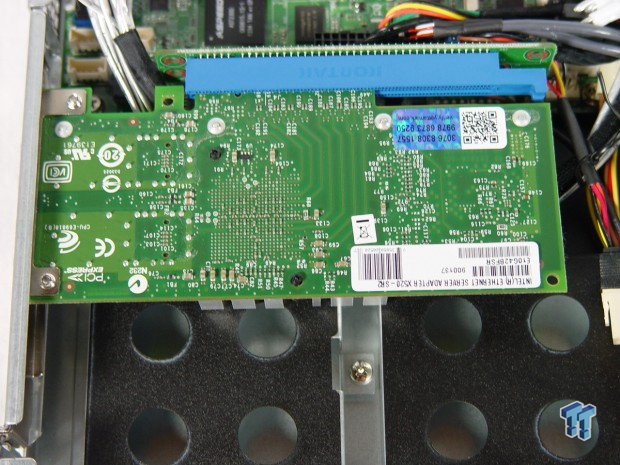 Here we have a half-height, half-depth PCIe card installed in the server.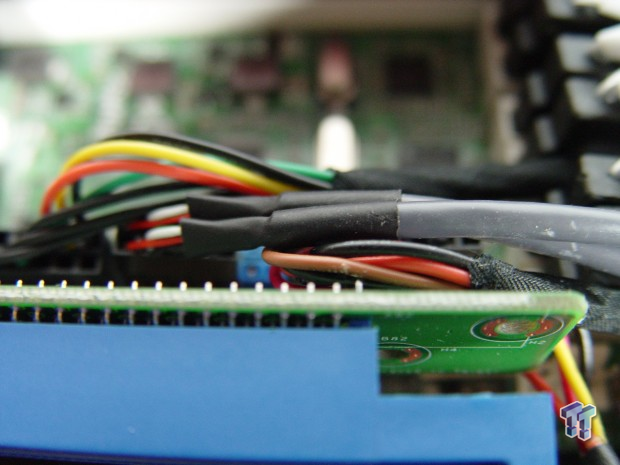 We didn't find a lot wrong with the server, but there were a few issues that popped up. We see the first here. The sharp pins sticking out of the PCIe adapter can rub against the cables.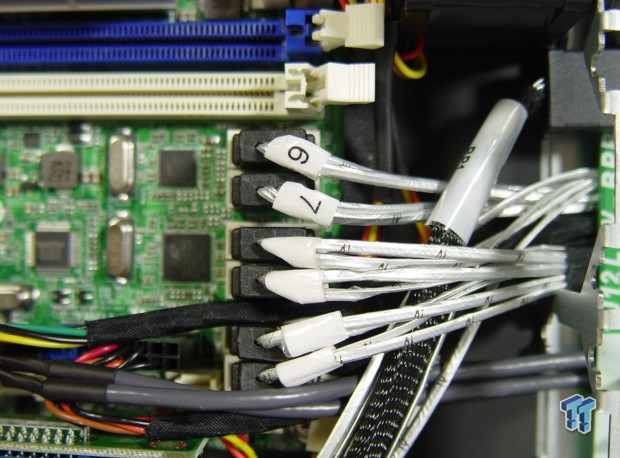 Most users will never need to swap out the motherboard in their server, but since we wanted to test both the 8-core Avoton and the 4-core, we needed to pull the motherboard to do so. The SATA cables are very tight and fragile. We ended up damaging two ports on two cables. We went out of pocket to replace them even though the special reverses (SFF-8087 to SATA reverse) are difficult to find.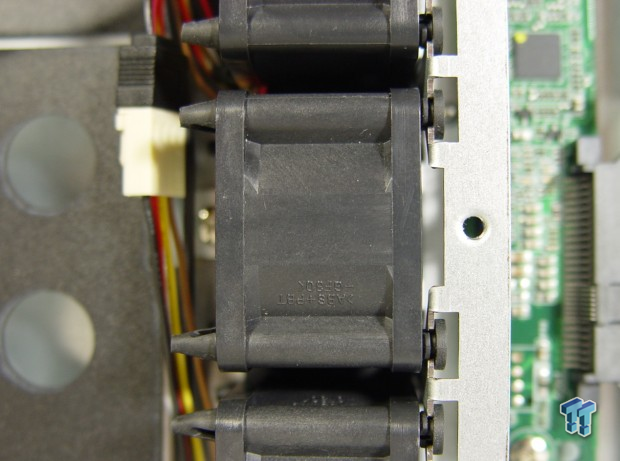 Fan replacement is quick and easy with ASRock's simple mounting components. The barebones server even ships with a spare in the package.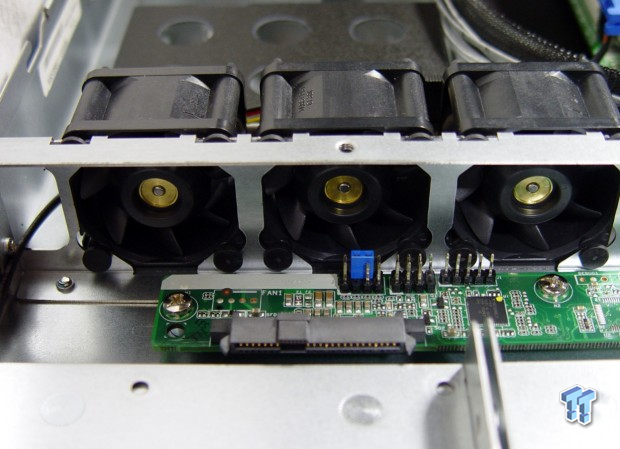 The system isn't as loud as you might expect, but it's far from quiet. This isn't a system you would use in your theater room or a regular computer room.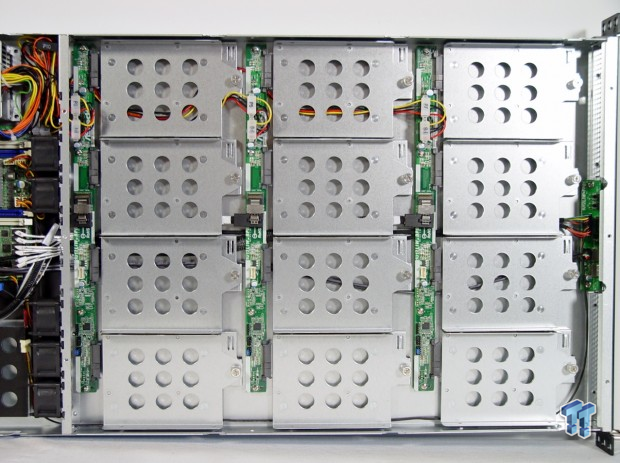 Three rows of four drives gives this server unmatched capacity in a 1U form factor.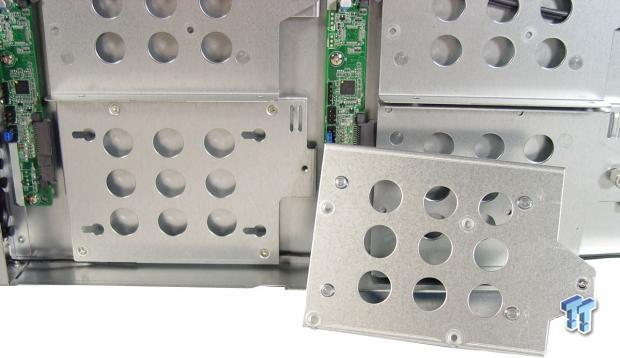 The drives mount to metal cages, and then the cages slide into the server. 2.5-inch and 3.5-inch form factor drives are supported.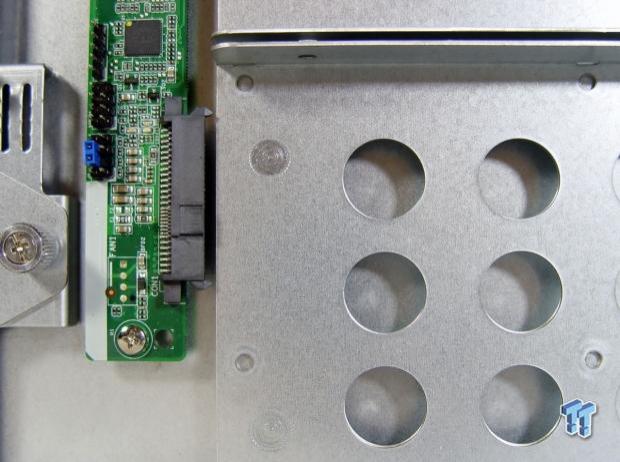 The drives then slide into place, and the cage locks in place with a single thumb screw.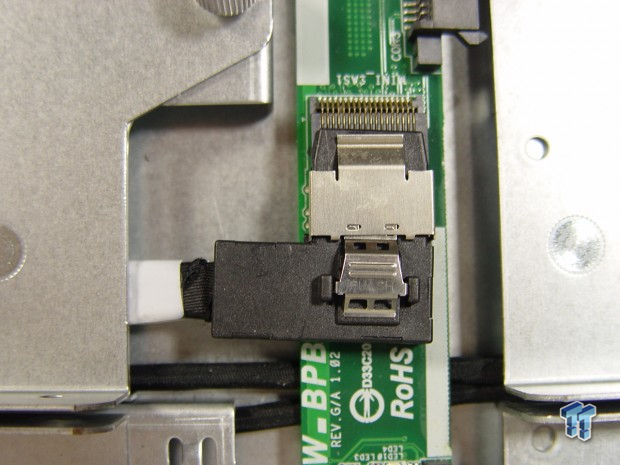 The backplane uses an SFF-8087 connector, so you get full speed without funneling the data through an expander.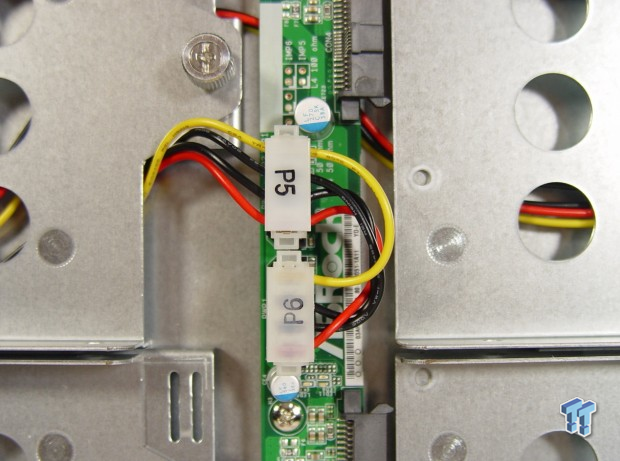 Each backplane has two power connectors to split the power.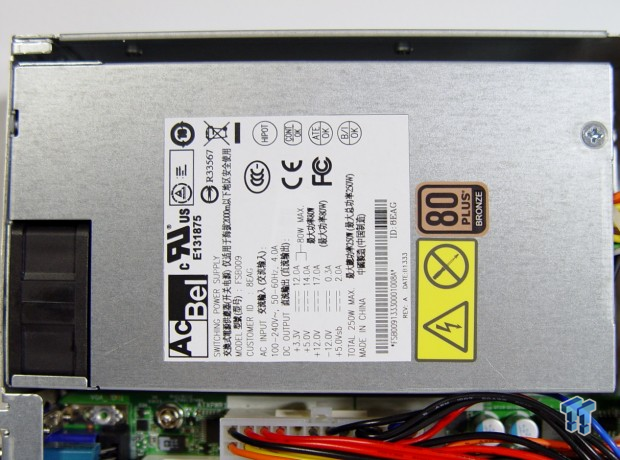 The 250-watt power supply is rated 80 Plus Bronze.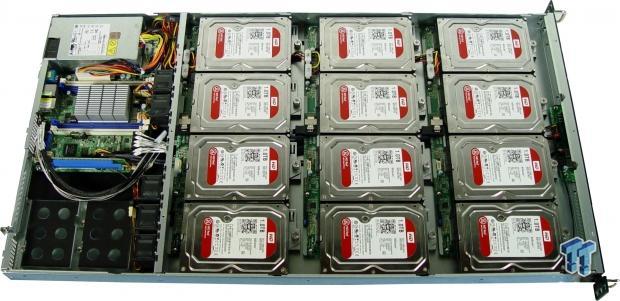 Here we see the system fully loaded with twelve drives installed in the bays. With 4 TB drives, you can get 48TB in a 1U space. New 6TB drives increase the density to a massive 72TB! We used Seagate 4TB NAS drives for our final test even though you see Western Digital Reds in this image.
Test System Setup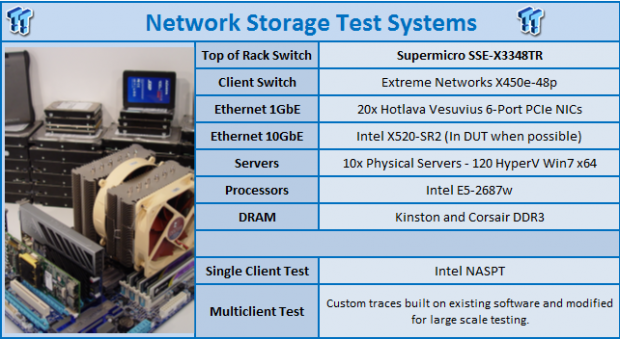 Our NAS test 'system' has migrated to three 42U racks like what you'd find in a datacenter. There are ten servers that attack the target NAS with 120 Hyper-V installations of Windows 7 64-bit, each with a dedicated gigabit Ethernet port. The systems feed to three Extreme Networks X450e-48p switches and then to a Supermicro SSE-X3348TR top-of-rack switch. The device under test connects to the Supermicro switch via 1GbE, 10GbE, or 40GbE. The iSCSI and NASPT tests use a single machine connected to the Supermicro switch.
This level of testing wouldn't be possible without the help and support from several companies, many of which have little to do with NAS products. We would like to thank AVADirect, Antec, Corsair, GIGABYTE, Icy Dock, Kingston, LSI, Noctua, Rosewill, Seagate, Thermaltake, and Western Digital for their much-appreciated support.
Intel NASPT
The Intel NAS Performance Toolkit (NASPT) is a file system exerciser and analysis tool designed to enable direct measurement of home network attached storage (NAS) performance. Designed to emulate the behavior of an actual application, NASPT uses a set of real-world workload traces gathered from typical digital home applications. Traces of high definition video playback and recording, office productivity applications, video rendering/content creation, and more provide a broad range of different application behaviors.
TweakTown Custom 120-Client Office Test
The TweakTown Custom 120-client Office Test uses 120 Windows 7 Hyper-V installations and custom software to stress each NAS with traces from Microsoft Office tasks. Both throughput (in Mbits per second) and latency (in milliseconds) are measured.
Seagate NAS HDD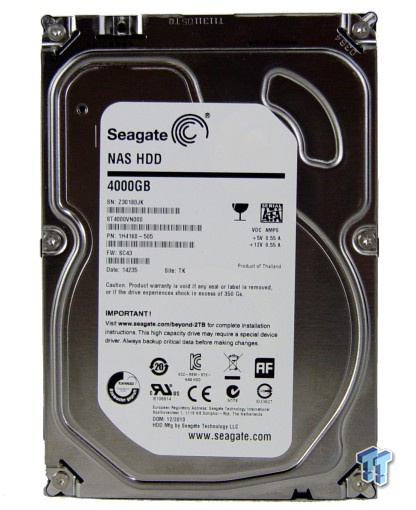 TweakTown uses Seagate NAS hard drives for all of our NAS tests. You can read our full review of the Seagate NAS HDD here.
Supermicro SSE-X3348TR 10GbE / 40GbE Switch

With a switching fabric of 1284 Gbps through forty-eight 10GbE ports with RJ45 connectors and four 40GbE QSFP connectors, the SSE-X3348TR is our switch of choice for testing SMB and enterprise network attached storage products. Many server and motherboard manufactures have included 10GbE on top-tier offerings. 2015 will be the year for a 10GbE take over.
Benchmarks - RAID 5 Single Client Performance
Benchmarks - RAID 5
RAID 5: Block-level striping with parity data distributed across all member disks.
HD Video Playback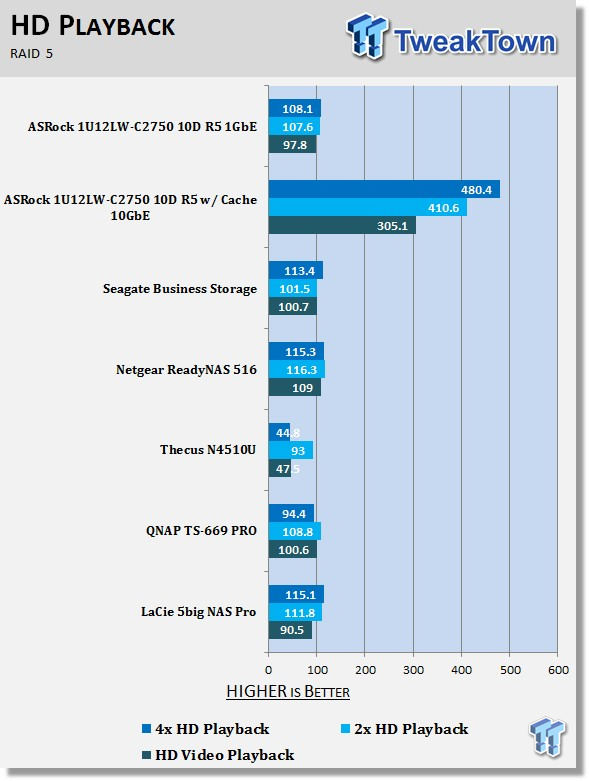 HD Video Play - 720p HD stream from Windows Media Player 256kB reads
2HD Video Play - 2x playback
4HD Video Play - 4x playback
HD Video Record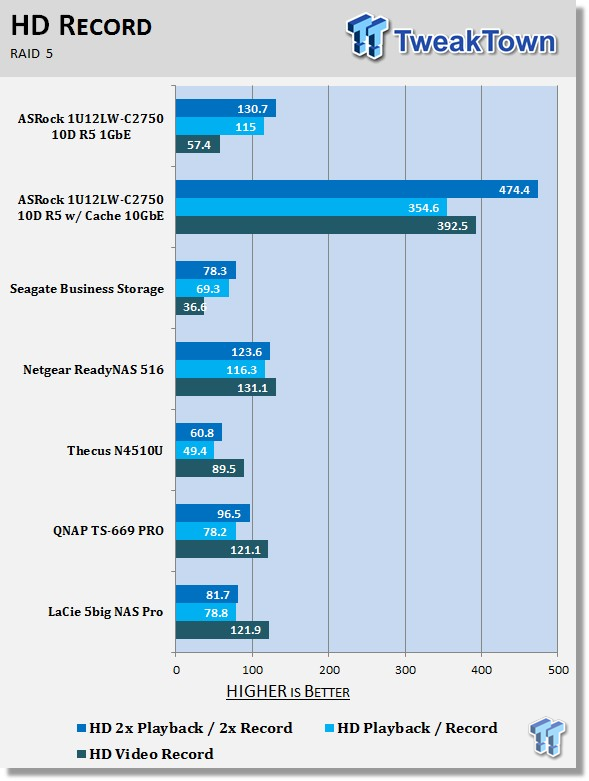 HD Video Record - 720p HD stream, 256kB writes
HD Video Play & Record - 1 playback, 1 record simultaneously
2x HD Video Play & 2x Record - 2 playback, 2 record simultaneously
Content Creation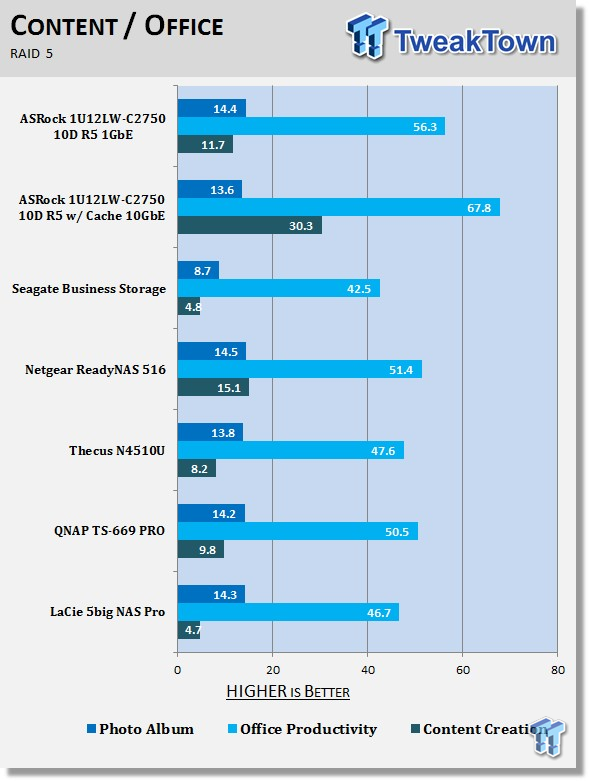 Photo Album - All reads - wide distribution of sizes
Office Productivity - Reads and writes, 1kB & 4kB reads; Mostly 1kB writes
Content Creation - 95% writes; 1k, 4k & little reads; Writes up to 64kB
File / Directory Transfer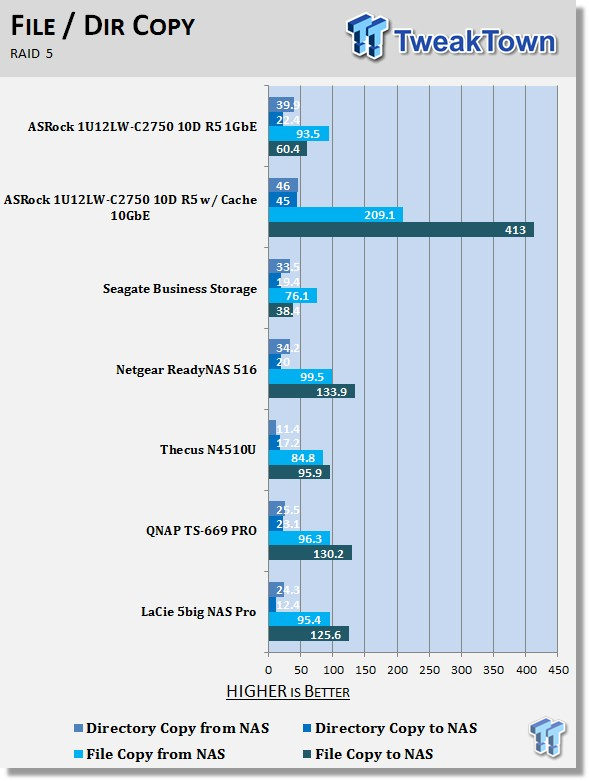 Directory Copy From NAS - 64kB reads
Directory Copy To NAS - Predominantly 64kB writes, wide scattering under 16kB
File Copy From NAS - 4GB file copy, 64kB reads
File Copy To NAS - 64kB writes
Single Client Performance Wrap Breakdown
It doesn't come as a surprise to see the ASRock 1U12LW-C2750 at the top of most tests, both with and without the 10GbE add-on card. With the addition of 10GbE, the server performs amazing well with 10 drives in RAID 5 and a SanDisk X210 cache drive. The 1GbE test does not use the cache drive but still has 10 Seagate NAS drives in RAID 5.
Benchmarks - iSCSI Enterprise Workloads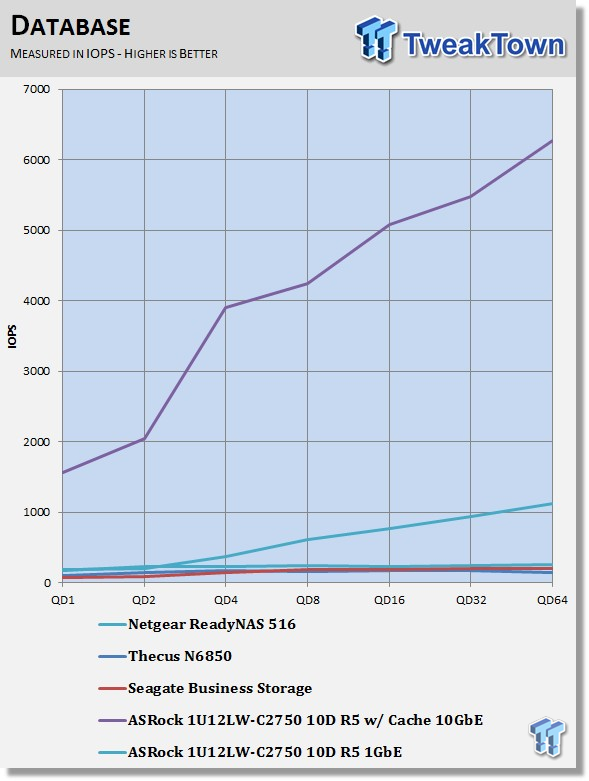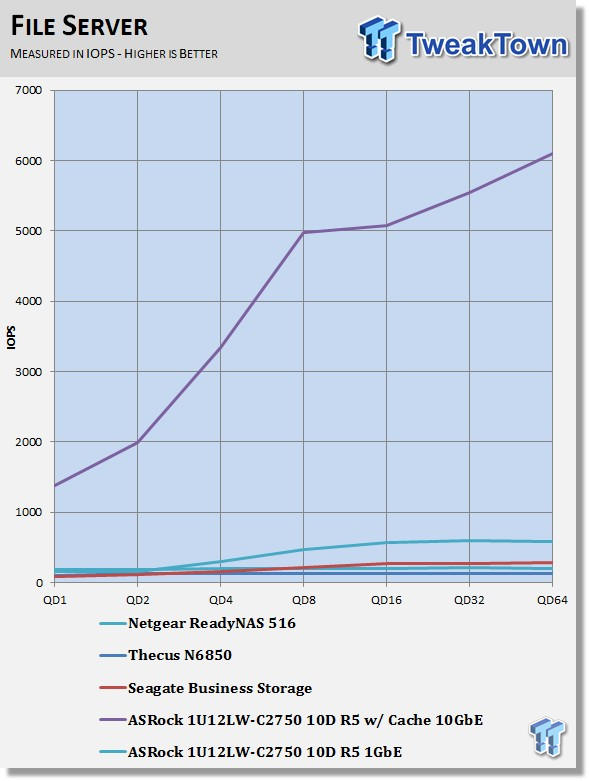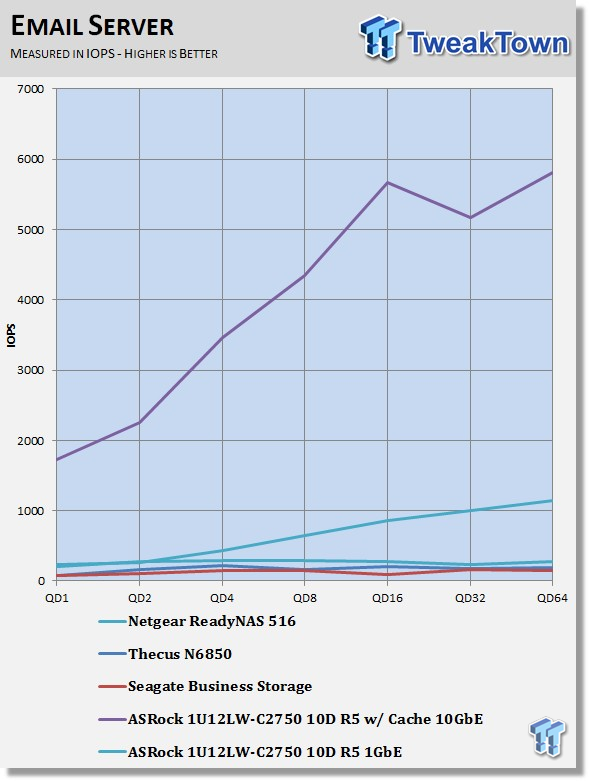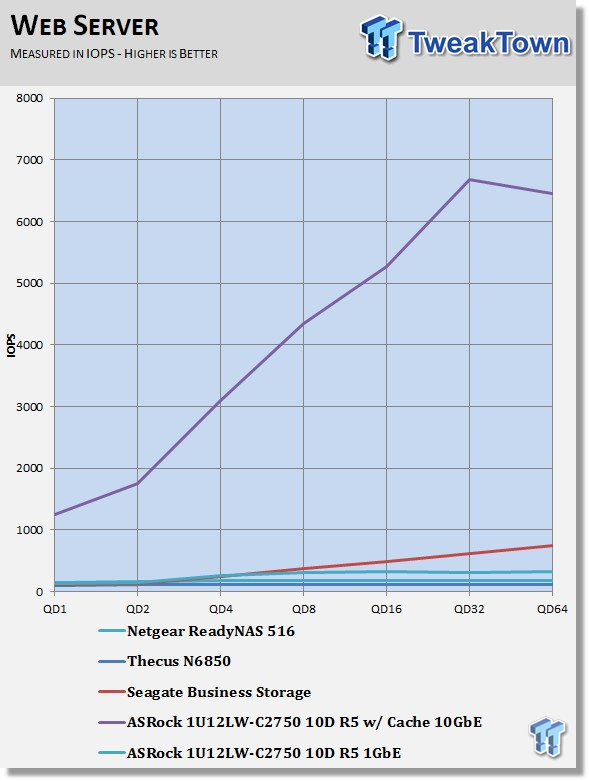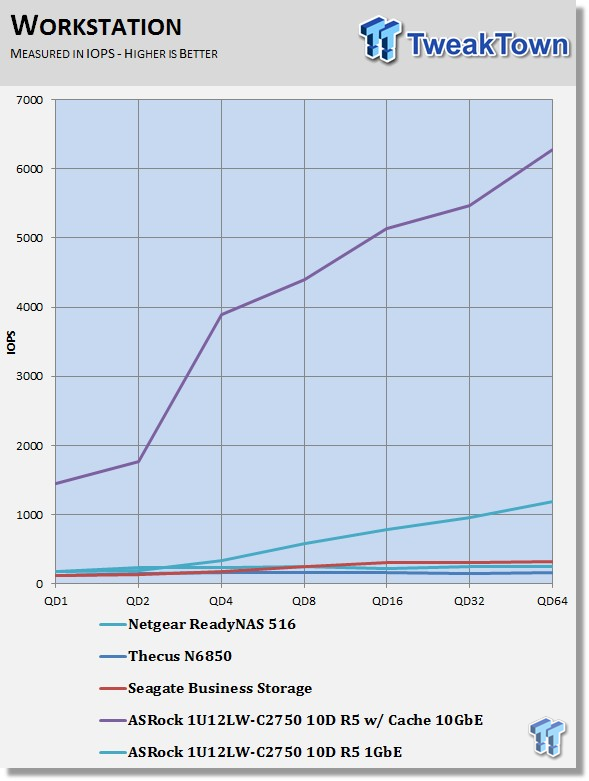 In the IOPS tests, we again see the two configurations with the ASRock 1U12LW at the top. The 10GbE with a cache SSD shows a level of IOPS performance the other products can't match.
Benchmarks - iSCSI Workload Latency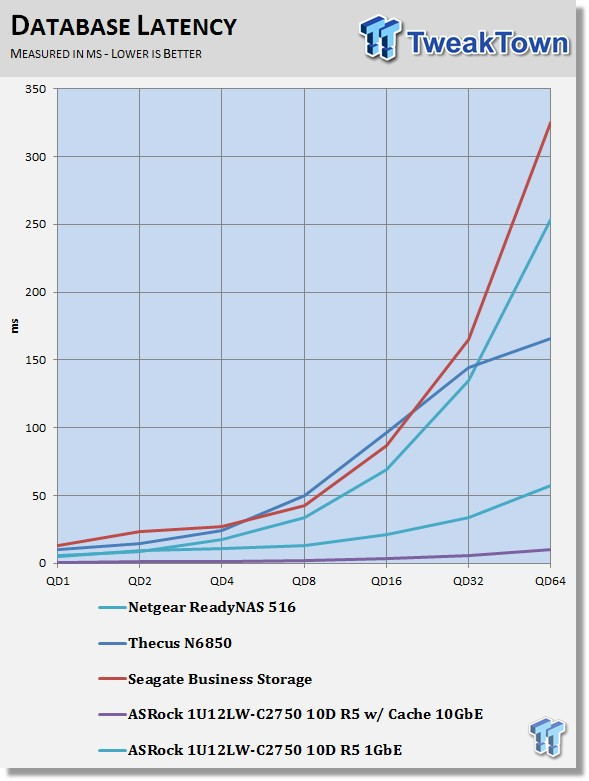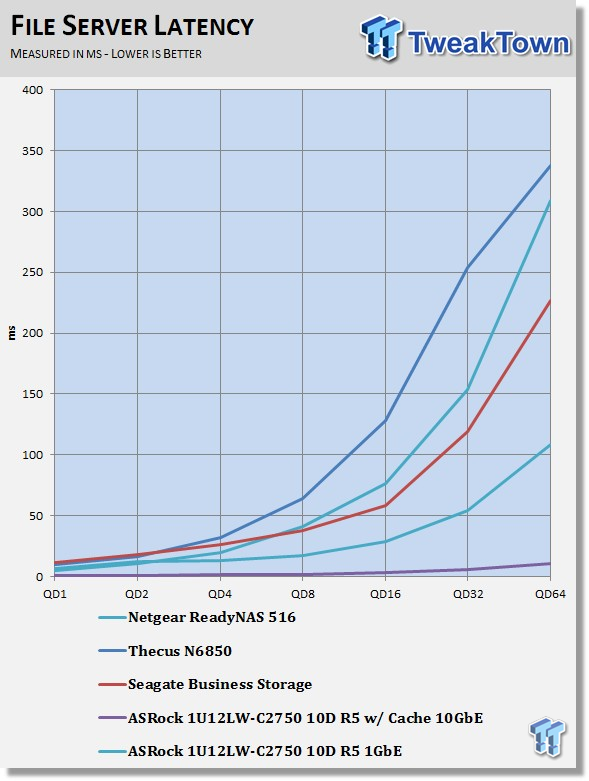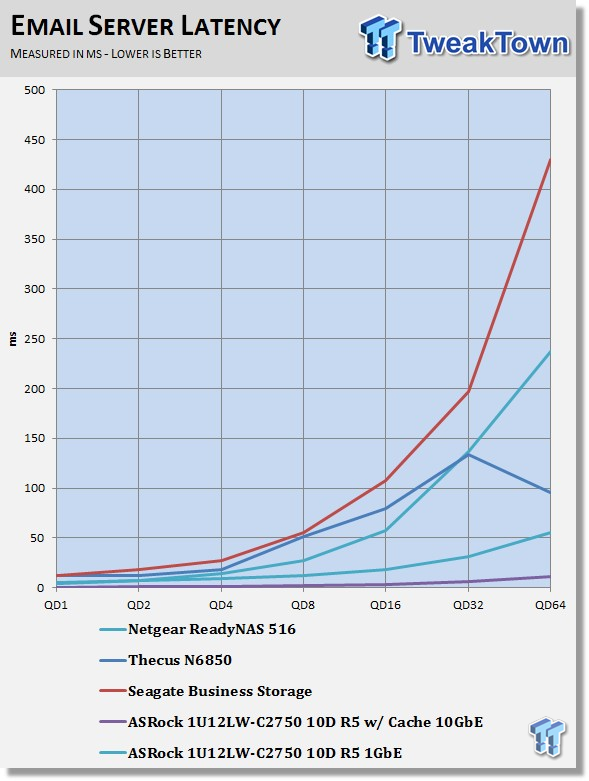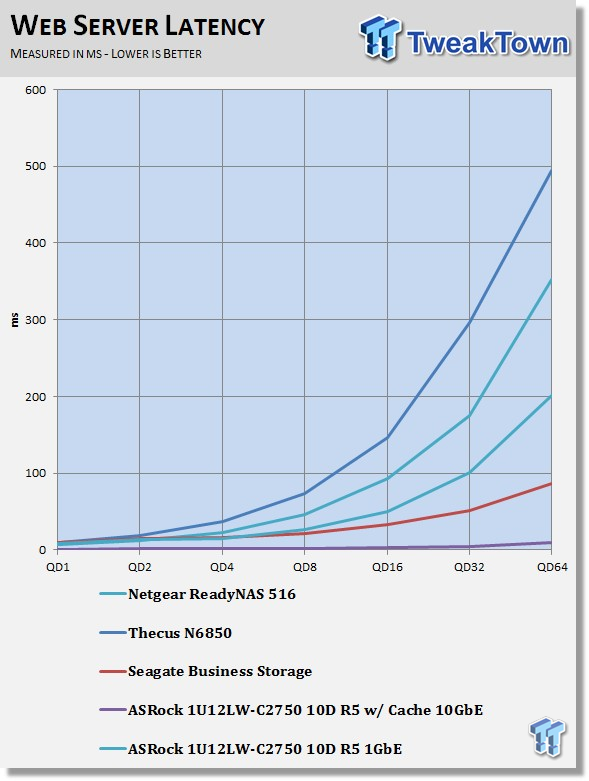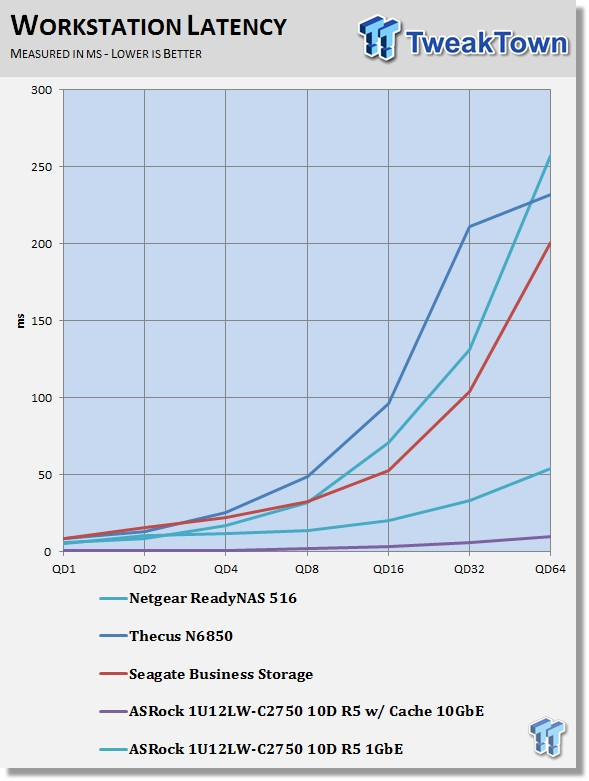 In all but one latency test, the ASRock server in the 1GbE configuration outperformed the others. The web server test actually went to the Seagate Business Storage NAS, the 1U 8-drive model. The 10GbE configuration blew the others away.
Benchmarks - Multi-Client Test
The Intel NAS Performance Tool (NASPT) is an excellent way to determine NAS performance in a single user environment. Any review that only uses NASPT assumes that only a single computer will access the target NAS at one time. We took issue with this method of testing and spent over a year designing, building, programming, and finally validating the TweakTown Multi-Client Test.
The test uses Microsoft Office data recorded to traces and played back to the NAS from up to 120 client Windows 7 installations (clients). We record total throughput of all clients and average response time per client.
Over time, we'll populate the two multi-client charts with several NAS products from a span of categories. The products range from a dual Xeon server with two 10GbE to a two-bay NAS with a single gigabit Ethernet connection. The products will fall into their performance categories based on performance and not marketing material or opinion.
Throughput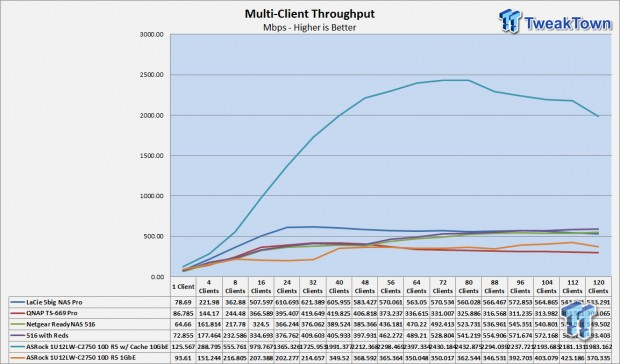 The 10GbE configuration delivers massive throughput with the 10 HDDs in RAID 5 and a single Seagate X210 SSD for cache in Windows Storage Server 2012 R2. The 8-core Avoton Atom processor has the processing power to let this configuration run at very high speeds.
The 1GbE configuration without a cache drive has a difficult time delivering the same throughput as the Linux based systems. We have four NAS in the lab now with Windows Storage Server 2012 R2 and all have the same issue in RAID 5 (single parity) compared to the Linux based systems.
Latency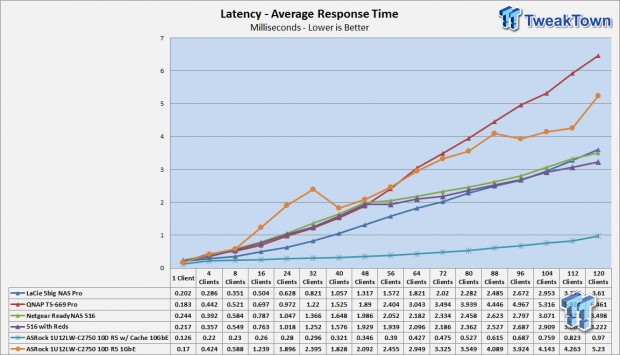 The same is true in the latency results from the same test. Here, though, the ASRock 1GbE configuration actually manages to do a bit better than the Seagate 1U 8-drive configuration, but only from 64 clients to 120 clients. The 10GbE configuration delivers very low latency throughout the test, though.
Final Thoughts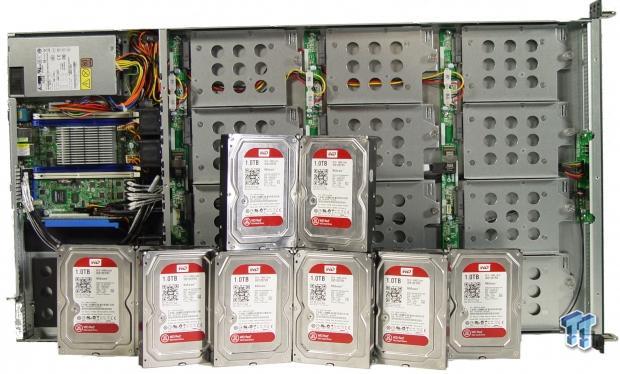 In order to get to twelve drives, ASRock had to use the Intel PCH SATA ports and two Marvell add-on chips. It's not the best solution possible, but it gets the job done while keeping the cost low. An LSI SATA / SAS solution would have increased the price, and we still wouldn't have had 12 SAS drives working in the system. ASRock has positioned this system as a cold storage server, so performance and enterprise SAS drives are less of a concern than just long term storage with an interface either to the network or to the cloud.
That said, we did find a way to make this system a high performance NAS by adding an Intel X520-SR2 10GbE card. The X540 uses SFP+ fiber, so it's an expensive option, but eBay is full of Broadcom based RJ45 10GbE cards for as low as $120; we recently purchased ten for a project. Netgear is leading the 10GbE switch market in cost per port. We've already tested the XS712T (12 ports, $1545.99) and XS708E (8 ports, $779.00), both great additions to a business network where performance on a budget is required. 10GbE is set to pick up speed in 2015 as the costs continue to shrink.
The ASRock 1U12LW-C2750 is a nice performer without 10GbE as well. The two Intel i250 gigabit Ethernet ports can run teamed to increase bandwidth to the server. RAID 5 performance is on par with other Atom based NAS products on the market when running Linux, but Windows uses a lot more resources than Linux. As we mentioned in the review, we have a handful of Windows Storage Server 2012 R2 systems in the lab for review, and they all fall short of Linux systems with the same or nearly the same processors.
At less than $1100, the 1U12LW-C2750 is an excellent starting point for those who want very large capacity on the network. The system has a powerful processor, 12 drive bays, and can use up to 64GB of DRAM. For comparison, the QNAP TS-1270U-RP is a diskless 2U 12-drive NAS that costs $2999.99 at Newegg at the time of writing. Other 12-drive NAS options are just as expensive from other manufacturers. Even after you add the DRAM to the ASRock 1U12LW-C2750, you still come in much lower than the other options.
We did have a few concerns, though. Our early sample system didn't ship with drive rails, so you'll need to purchase a set to install the system cleanly. You will want a set that allows the server to slide out completely so that you can change drives if needed. The top cover has to come off to do that, so you'll need rails that slide the full length of the case. I would also add some foam to the back of the PCIe bracket so the wires can't rub against the pins. HDD vibration can make this a long term concern with the wires and the sharp pins. Other than those two small issues, everything else is worry free. At one point, we had our doubts about the 250-watt power supply with a full system and twelve HDDs, but our testing at full load proved that power wasn't an issue.
Stay tuned for more reviews. We have the lower cost 4-core option up next--the ASRock 1U12LW-C2550. It uses the same server case and motherboard but uses the 4-core Avoton Atom processor.
PRICING: You can find the ASRock Rack 1U12LW-C2750 for sale below. The prices listed are valid at the time of writing but can change at any time. Click the link to see the very latest pricing for the best deal.
United States: TheASRock Rack 1U12LW-C2750 retails for $1,059.83 at Amazon.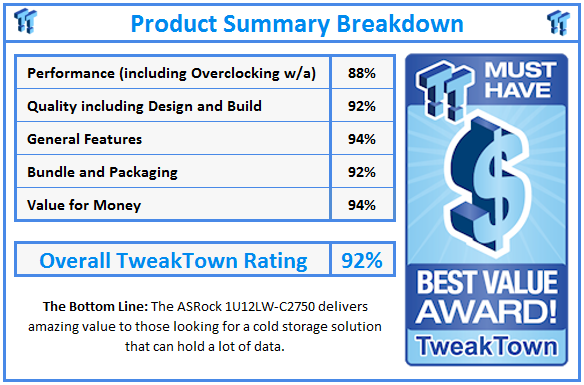 PRICING: You can find products similar to this one for sale below.

United States: Find other tech and computer products like this over at Amazon.com

United Kingdom: Find other tech and computer products like this over at Amazon.co.uk

Australia: Find other tech and computer products like this over at Amazon.com.au

Canada: Find other tech and computer products like this over at Amazon.ca

Deutschland: Finde andere Technik- und Computerprodukte wie dieses auf Amazon.de
We openly invite the companies who provide us with review samples / who are mentioned or discussed to express their opinion. If any company representative wishes to respond, we will publish the response here. Please contact us if you wish to respond.