HP Chromebook 11 with SlimPort Technology Review
Trace checks out HP's Chromebook 11, a Google-inspired Chromebook featuring SlimPort tech. It's affordable, but what does that mean for performance?
Published
7 minute read time
Introduction and Specifications, Configurations and Pricing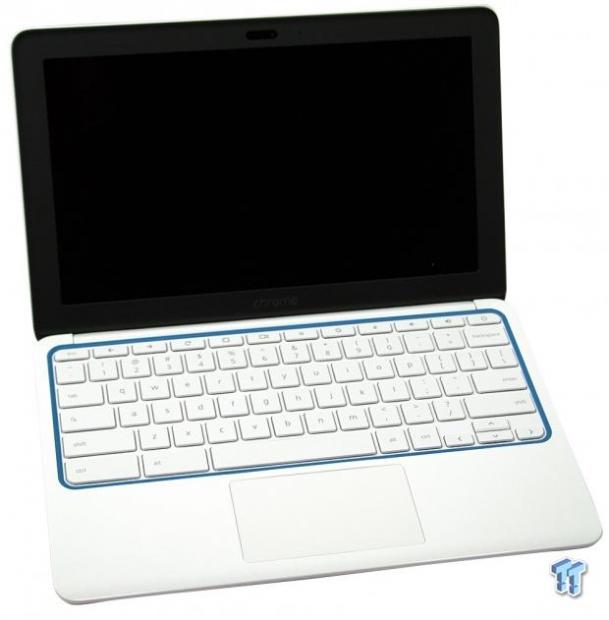 We're getting a chance to take a look at HP's Chromebook 11: a lightweight and portable notebook that features Google's browser-based Chrome OS, and SlimPort technology. The Chromebook 11 makes use of an ARM processor, which should provide long battery life and cool operation, albeit at a cost of performance.
The styling of the notebook is reminiscent of the older plastic shell MacBooks, but definitely has a Google flair added to it, which is something we will go into more detail about later on in the review.
Specifications, Configurations and Pricing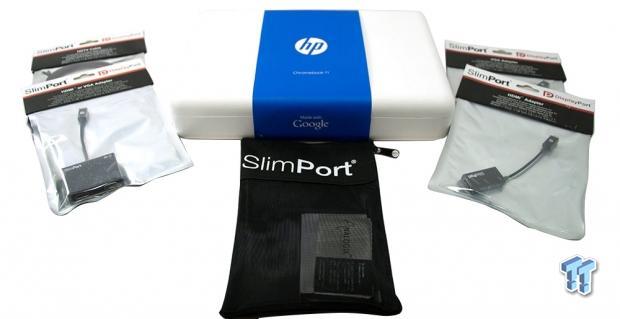 HP's Chromebook 11 runs an ARM processor, making it completely incompatible with Windows. The Chromebook 11 runs an Exynos 5 Dual 5250. This ARM chip runs nice and cool, making the Chromebook 11 completely fanless.
The Exynos 5 Dual is paired with 2GB of DDR3 RAM, which should allow you to open multiple web pages without too much issue.
Chrome OS is installed upon a tiny 16GB SSD, which makes local storage nearly non-existent. You'll need an external drive to store much of anything, or you'll need to turn to a cloud storage solution. The only issue with a cloud storage solution is the lack of access when without Internet.
It also comes with the usual laptop accoutrements: a VGA webcam, dual-band 802.11 a/b/g/n Wi-Fi, Bluetooth 4.0, and will eventually be available with Verizon LTE connectivity.
The display is an 11.6-inch IPS panel with a 1366x768 display resolution. Google and HP claim a 176-degree viewing angle, but this didn't seem to be the case in my testing and use.
PRICING: You can find the HP Chromebook 11 for sale below. The prices listed are valid at the time of writing, but can change at any time. Click the link to see the very latest pricing for the best deal.
United States: The HP Chromebook 11 retails for $277.01 at Amazon.
Canada: The HP Chromebook 11 retails for $428.99 at Amazon Canada.
Keyboard, TouchPad, Screen and other User Interfaces
Keyboard and TouchPad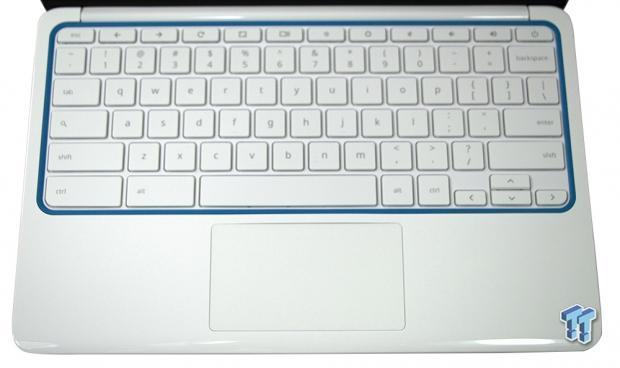 The Chromebook 11 features the Chrome keyboard, meaning it doesn't have a Windows key, or Function keys. The layout is the now standard island-style keyboard, which is full size, making typing a breeze. However, for $279, you don't get a backlit keyboard.
Surprisingly enough, the keyboard offers a fairly good typing experience. The lack of a backlight is not surprising, but it definitely makes typing in a darkened room less enjoyable. The rest of the keyboard, however, is quite exceptional considering the price of the machine that it is on.
The keyboard features virtually no flex, which is again surprising considering the cost of the machine. The full-size keyboard makes transitioning from a desktop to this keyboard a breeze. Key travel, while still less than a desktop keyboard, is enough.
The keys make a very subdued sound, one that is unlikely to annoy people sitting around you. The keys feature a matte coating, and are perfectly flat. The texture of the key surface is different from that of the palm rest; though, this isn't too important, as detecting when you are on the keyboard shouldn't be too difficult at all.
Overall, I'm impressed with the quality of the keyboard equipped to the Chromebook 11. I would have expected it to be much worse given the price of the machine.
The touchpad is wide, yet somewhat stubby. The texture of the touchpad is definitely different than the smooth palm rests. It's a slightly grainy texture. It's also slightly recessed into the palm rests. When I say slightly, I mean it's almost unnoticeable.
Screen
The Chromebook 11 features an 11.6-inch 1366x768 IPS display. According to the advertising material, the display features a 176-degree viewing angle. However, during testing, the screen quickly darkened when looking from a slightly off angle. The surface of the screen is a glossy texture; this makes use in a well-lit environment slightly difficult.
However, the display is quite bright, with HP and Google saying it goes up to 300 nits. It would be nice to see a matte screen, or anti-reflective coating to aid with bright environment viewing.
Accessory Port Layout

The left side, from back to front, features the power port (Micro USB with SlimPort tech), two USB 2.0 ports, and a combined microphone/headphone jack.
General Usage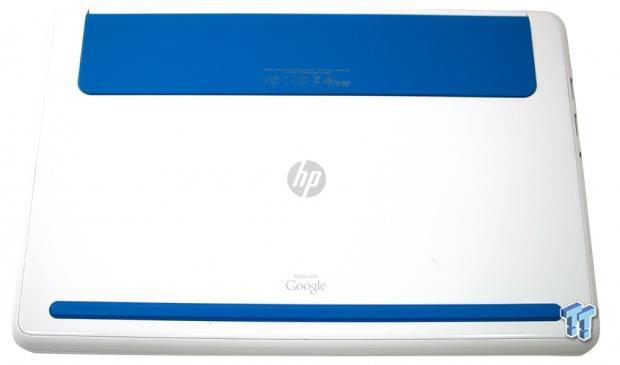 And now: the interesting part of the review. Since Chromebook's don't exactly have benchmarking software-and I can't install windows on this system-I can only discuss how the system performed under normal usage scenarios.
For a Chromebook, normal usage scenarios include surfing the web, Google Doc creation, and Netflix viewing. So how does it perform? In a few words: Not well. Don't get me wrong, the system is capable of playing Netflix, but it never went to HD.
Opening multiple webpages results in lag. Some web pages, such as Facebook, take a good while to load, and render. Opening Google Drive's Slideshow web app takes seconds to load, and it isn't exactly the most responsive Slideshow app I've ever used. But, what did you expect from a system that costs less than $300?
The speakers are quite capable, and loud. They are located behind the keyboard, which keeps the sound from being muffled when used on a lap, or other soft surface. It actually creates a great listening experience. Netflix doesn't even need to be played at full volume.
To be honest, the webcam isn't very good. When I used it on Google Hangouts, video quality was quite grainy, and low quality. Furthermore, the lack of internal storage, and only having USB 2.0 at your disposal, is not an ideal situation to be in.
However, the system does quickly resume from sleep, which makes it an ideal device to have around if you want to quickly get on the Internet. But that's about all you'll be able to do with the device: some light web browsing. Some light document editing is also possible, but it's highly unlikely that this system will replace a Windows-based machine.
SlimPort Technology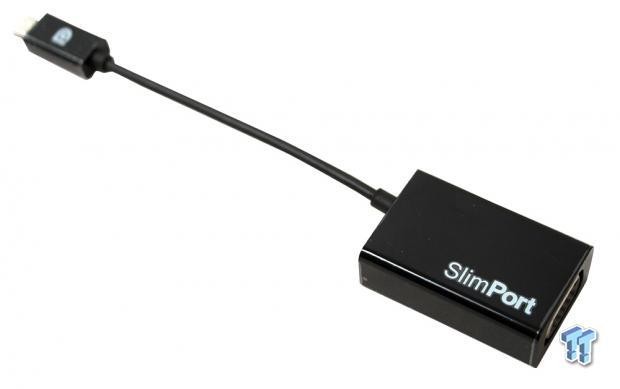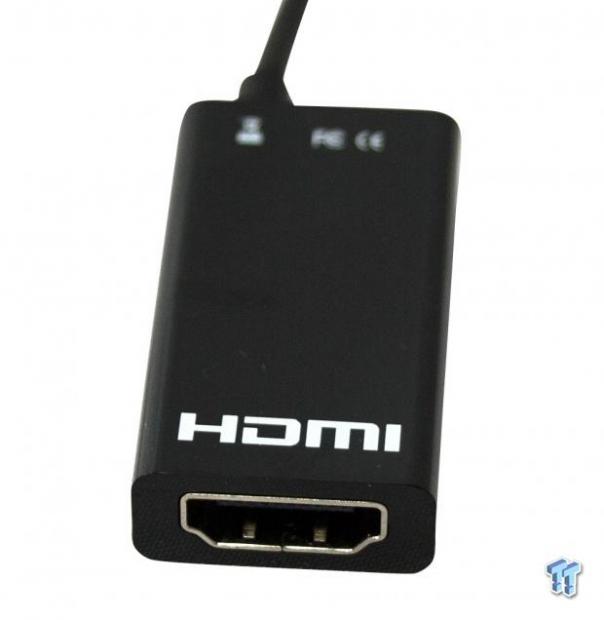 Now we get to the interesting part of the review; the micro-USB charging port also doubles as a SlimPort connector. For those who don't know: SlimPort acts much like a DisplayPort; you can plug in any number of adapters and get VGA, HDMI, or DVI output.
We've covered SlimPort a number of times in the past, with our own Anthony Garreffa reviewing one of their HDMI adapters, and explaining how the technology works.
Let's just put it right out there: SlimPort is awesome. In the race for ever-slimmer laptops, the need to combine ports into smaller and smaller forms is paramount. The SlimPort-enabled micro-USB port retains the ability to charge the notebook, and also output resolutions up to 4K.
While micro-USB charging isn't ideal for a notebook (it takes entirely too long), the idea of having a SlimPort-enabled USB port is highly attractive. It allows you to make use of an adapter to connect your laptop to whatever screen you may have, rather than being limited by the display output ports that the manufacturer chooses to use. This technology would be wonderfully at home in those slim Windows 8 tablets that feature only a micro-USB port for charging.
But just how well does it work? Very well. Simply plug the adapter in, and plug a monitor into the adapter, and you can instantly get crisp video output on another monitor. Lag is not noticeable at all, and the system can either mirror the display, or output to it as a second display.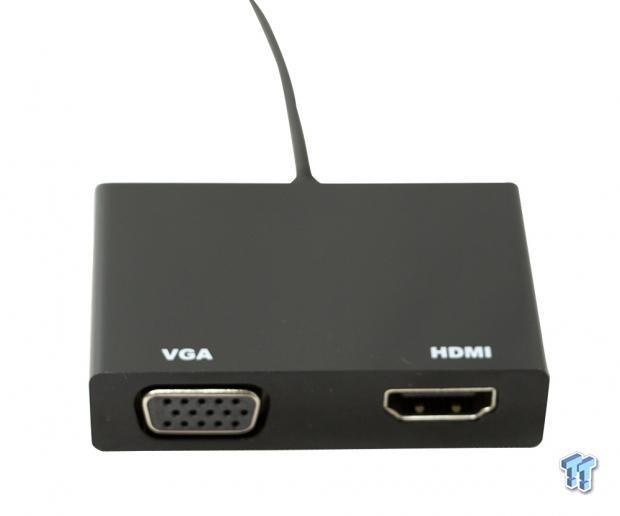 The technology works just like any other video out port, but can output to VGA, HDMI, and various other formats, while still charging your system. Why this technology hasn't been implemented into everything that has a USB port isn't clear, but manufacturers definitely need to get onto it.
While I'm not too sure whether or not this is needed on notebooks as of yet, the technology should definitely be added into all devices that make use of micro-USB for charging; so, Windows 8 tablets, Android tablets, and Android phones should all feature SlimPort technology. It's just so easy, and it works so well that it's a no-brainer for manufacturers. And, the ability to use the same adapter across multiple devices makes the technology that much more appealing. Imagine being able to unplug the adapter from your computer, and plug it into your phone. With SlimPort technology, you can do just that.
Final Thoughts
So, at the end of this review, I'm left with mixed feelings. Yes, the Chromebook 11 has beautiful styling (most definitely stolen from the mid-2000s MacBook). However, performance-wise, I'm left wanting. It's nice that the system is completely fanless and remains cool, but the sluggish webpage loading sort of diminishes the system's overall value.
When you start looking at comparable systems in terms of cost, there are-at least in my opinion-many other options that are much more attractive. For instance: the Dell Venue 8 Pro comes with double the storage, is full x86-compatible, and is much more capable in terms of what the operating system can do and system can do.
Although, if you're looking for a disposable system that is highly interlinked with Google Services, then the Chromebook 11 is a great choice. I'm just not sold on the whole Chrome OS. It does come with a fantastic keyboard though, which is something the above-mentioned tablet wouldn't come with.
What I'm more interested and excited about is the SlimPort technology that HP and Google have integrated into the micro-USB charging port. This is something that I would like to see in future products across the spectrum, though I would love to know whether or not it can be implemented in a normal USB port, as micro-USB charging for systems much larger than the Chromebook 11 is impractical at best.
While I'm not sold on the whole Chrome OS, I can see where it has its appeal. If you are one of those people looking for a cheap Chromebook, then the Chromebook 11 is a good choice due to its solid keyboard, sturdy construction, and stylish good looks.
PRICING: You can find the HP Chromebook 11 for sale below. The prices listed are valid at the time of writing, but can change at any time. Click the link to see the very latest pricing for the best deal.
United States: The HP Chromebook 11 retails for $277.01 at Amazon.
Canada: The HP Chromebook 11 retails for $428.99 at Amazon Canada.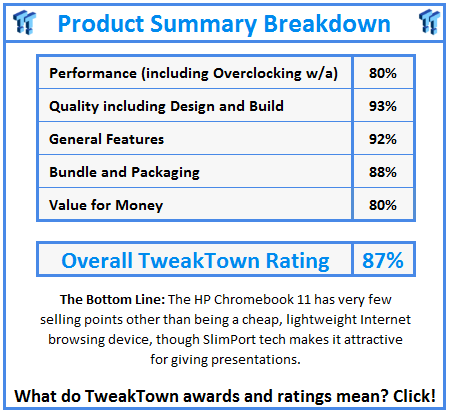 PRICING: You can find products similar to this one for sale below.

United States: Find other tech and computer products like this over at Amazon.com

United Kingdom: Find other tech and computer products like this over at Amazon.co.uk

Australia: Find other tech and computer products like this over at Amazon.com.au

Canada: Find other tech and computer products like this over at Amazon.ca

Deutschland: Finde andere Technik- und Computerprodukte wie dieses auf Amazon.de
We openly invite the companies who provide us with review samples / who are mentioned or discussed to express their opinion. If any company representative wishes to respond, we will publish the response here. Please contact us if you wish to respond.