Introduction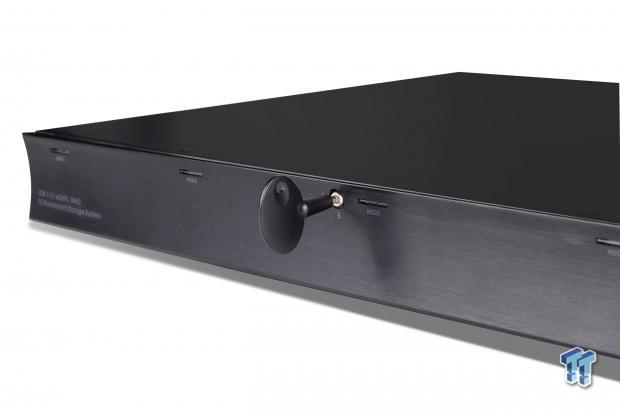 For many of us, storage needs expand at a rapid pace. Such was the case for myself when I had the chance to upgrade my personal NAS appliance from a two bay unit, to a larger, more powerful, four bay appliance. Though, after migrating all of my data, I quickly realized I was running out of storage, and would need to look for a solution. Being that I was using a QNAP appliance, I looked over the expanders directly available from the manufacturer, and soon realized they were out of my budget.
That is when I remembered some of the products I have seen previously from Teratrend; so I decided to go have a look at the possible options they might provide. Lo and behold, they manufacture just what I needed, a rackmount four bay enclosure: the RS431U. The RS431U features four tray-less drive bays.
Each drive bay has its own activity indicator LEDs, in addition to RAID 0,1,3,5, and 10 supports, and combine mode. Data connectivity is managed via the rear mounted USB 3.0 or eSATA ports, which should give plenty of throughput for daily activities.
The Teratrend RS431U carries a street price of $368.99, with a one-year warranty.
Packaging and the Teratrend RS431U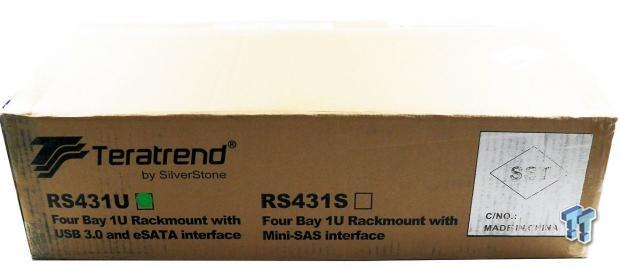 The Teratrend RS431U was delivered to us in a brown cardboard box, which is used for both RS431 models.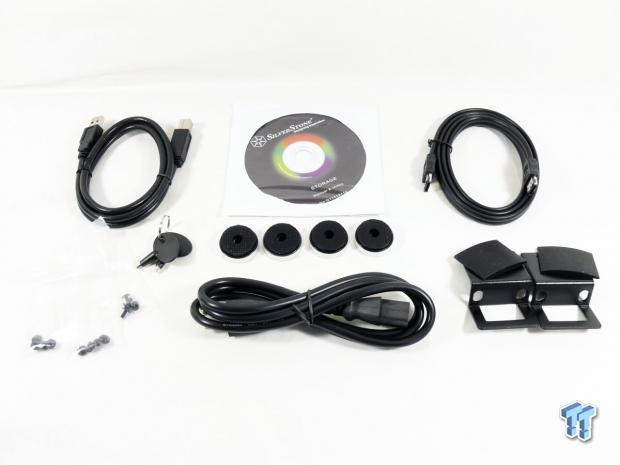 Included with the RS431U, we found USB 3.0 and eSATA cables, keys for locking the door, feet (just in case you don't want to rackmount the unit), and all hardware necessary for rackmounting.

Looking over the enclosure, we found the front of the unit was manufactured from black anodized aluminum; the remaining shell is made from steel. In the center of the door, an Allen key locking mechanism keeps the drives safe.

When opening the front drive door, we see each bay has its own LED setup for activity. To the left, we have both the reset, and power buttons. Additionally, each drive tray has a lever mounted above it, for easy removal of the drives.

The back of the unit houses the power receptacle, three fans, eSATA and USB 3.0 ports, and RAID switches.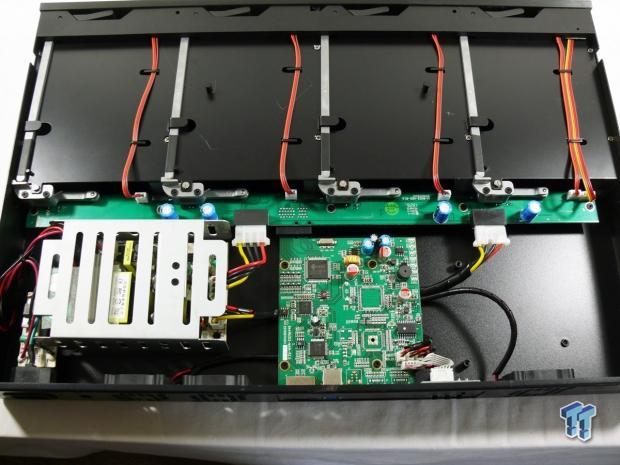 Internally, the RS431U houses its power supply, with the logic board on the right.
Test System Setup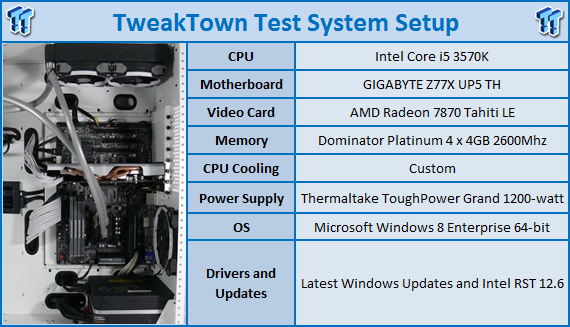 Our Consumer NAS test 'system' is setup similar to what you have at home. Here we have the base of a GIGABYTE Z77X UP5 TH, housing an Intel Core i5 3570K with 16GB of RAM supporting. Our Operating System of choice is Windows 8.1 x64 Enterprise, with all available updates and patches installed on a Corsair Neutron 256GB SSD. USB 3.0 is native to our motherboard chipset, while eSATA is controlled by a Marvell 9172 SATA 3.0 Controller.
This level of testing wouldn't be possible without the help and support from several companies, many of which have little to do with NAS products. We would like to thank Corsair, GIGABYTE, and Western Digital for their much appreciated support.
Western Digital RED - The NAS HDD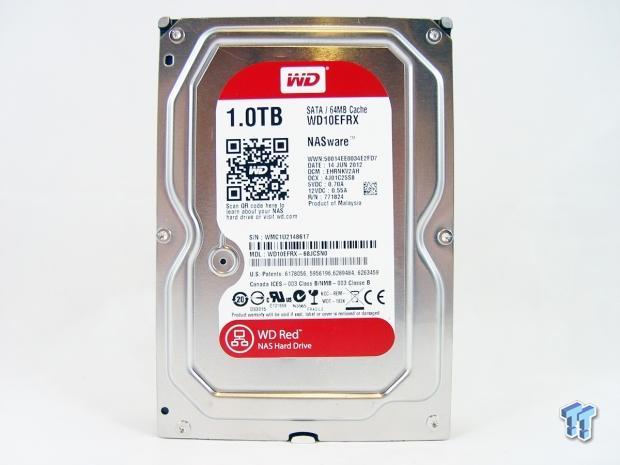 TweakTown uses Western Digital RED 1TB hard drives for all of our DAS tests. You can read our full review of the Western Digital RED 1TB here.
Benchmarks - 4K Random Read/Write
Random Workloads
Our 4K random read/write workload consists of 4K transfers sizes, and results are measured in IOPS (Input Output Operations per Second). We utilize the eSATA interface for all testing, unless otherwise noted.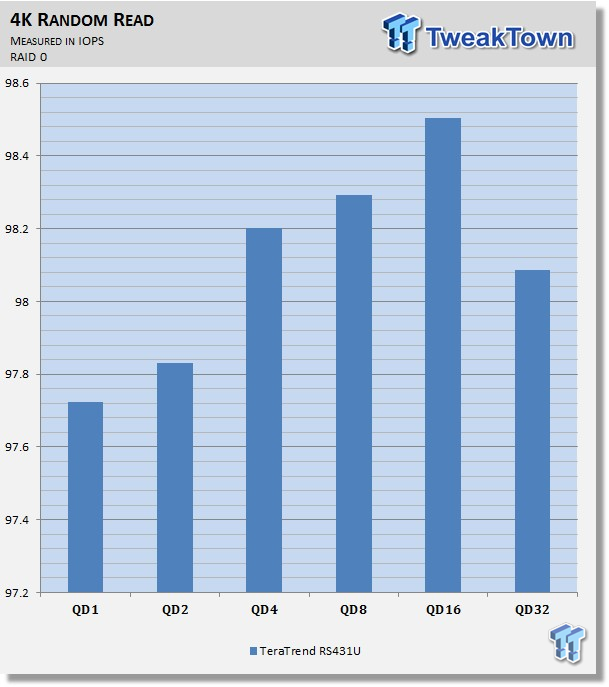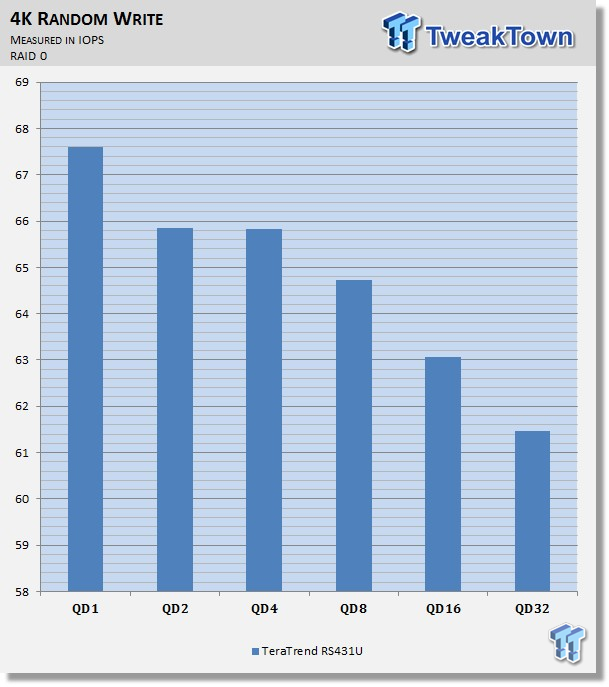 Above, we have our results from RAID 0 random read. As you can see, the 431U maintains performance through the QD scale, peaking around 98.5 IOPS. Moving over to RAID 0 random write, we find the 431U peaks at 67.5 IOPS at QD1.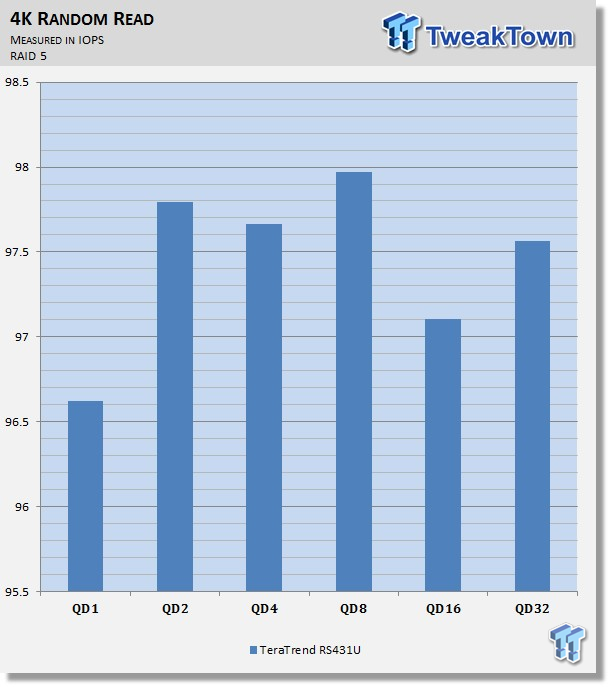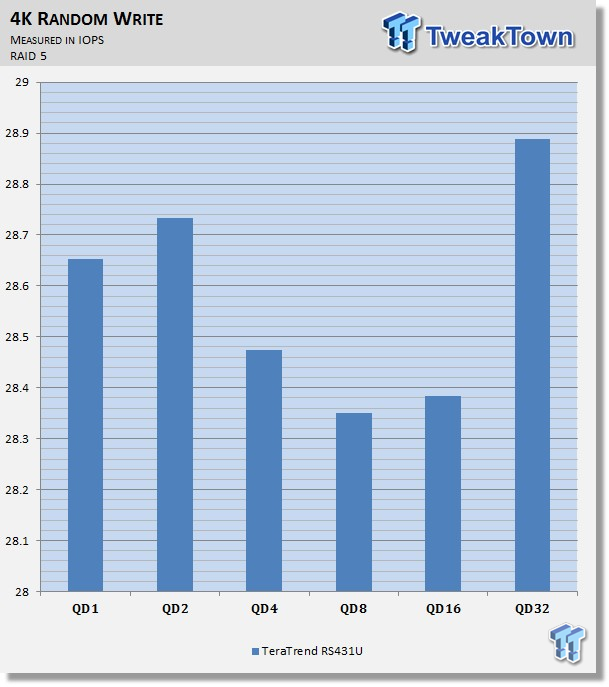 RAID 5 maintained similar performance to what we found with RAID 0, topping out at 98 IOPS read, and 28.9 IOPS write.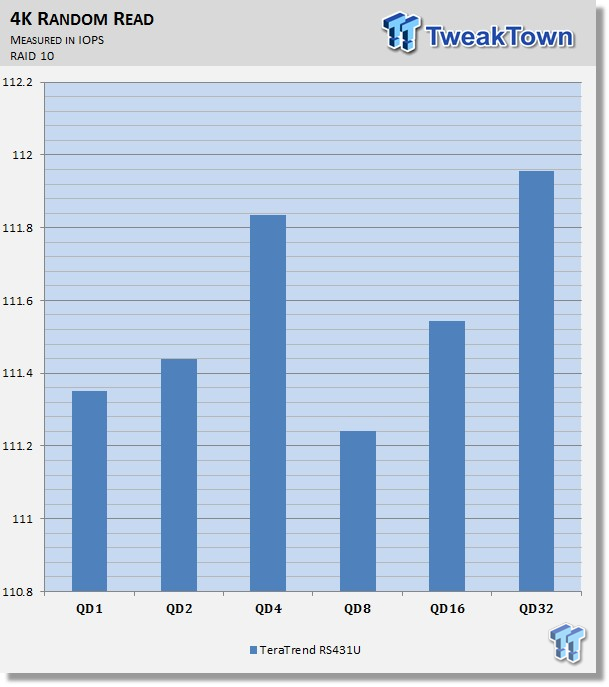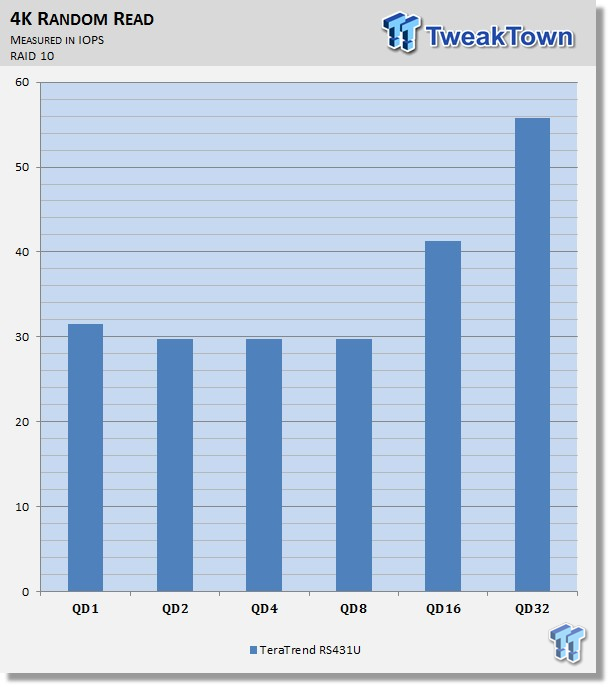 Switching the 431U over to RAID 10, we found a slight increase in performance. Here, we have read IOPS at 112 at QD32, with write IOPS coming in at 56 at QD32.
Benchmarks - Sequential Workloads
Our sequential read/write workload is centered on 1MB transfer sizes.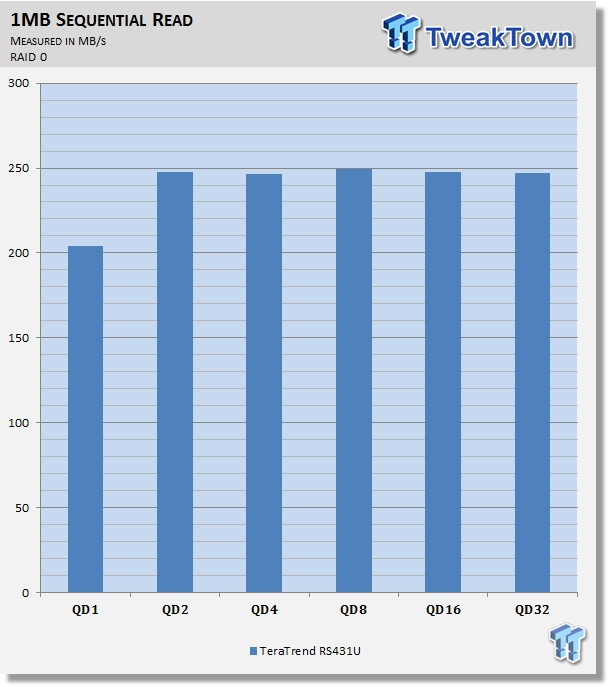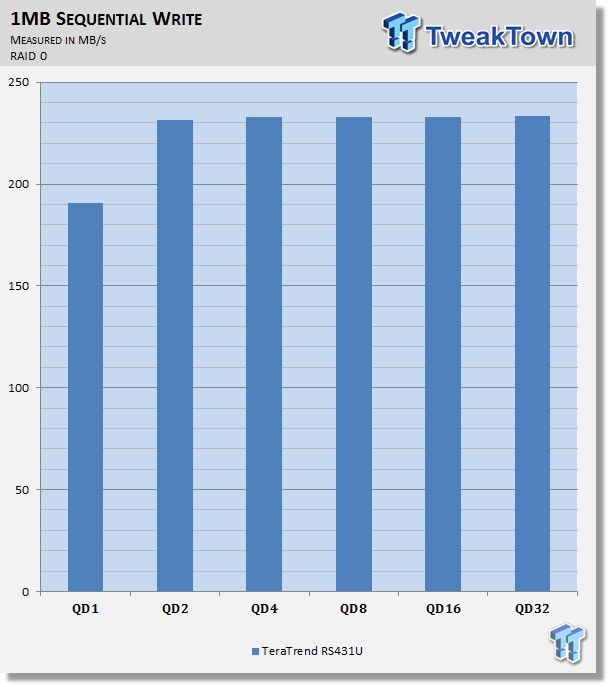 Starting our sequential workload out with RAID 0, we have the 431U reaching 250 MB/s read, with write coming in at 230 MB/s.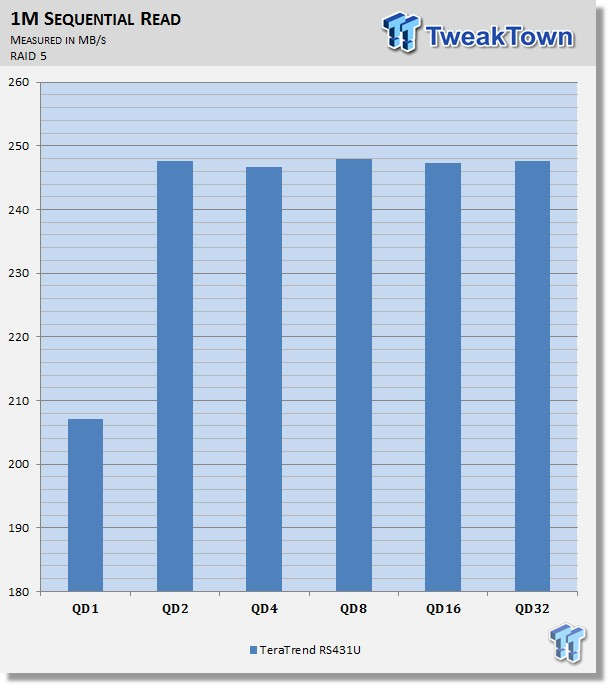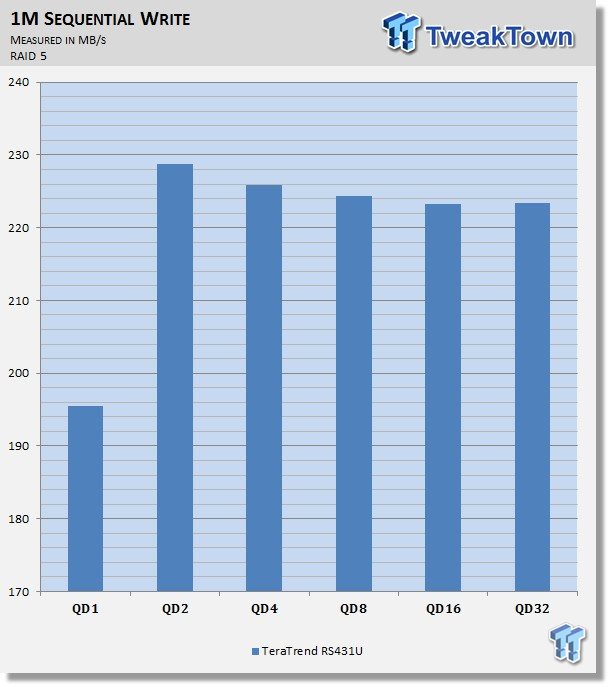 Moving to RAID 5, we have results touching 240 MB/s for read, and 240 MB/s write at QD2.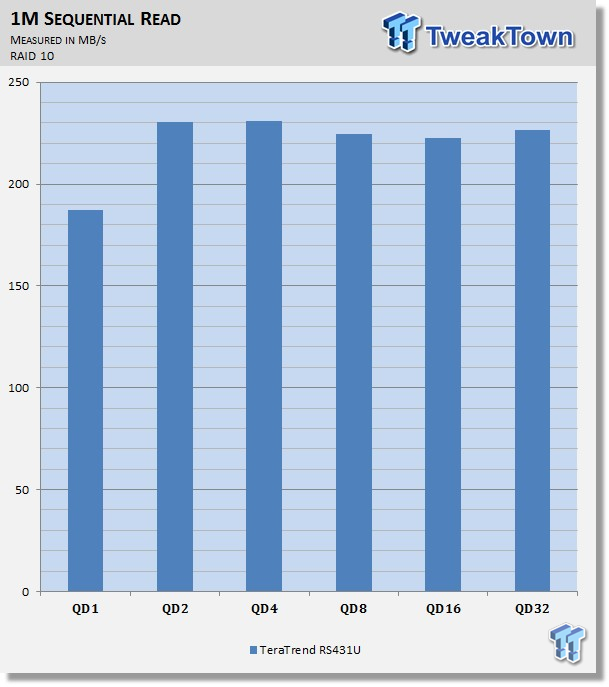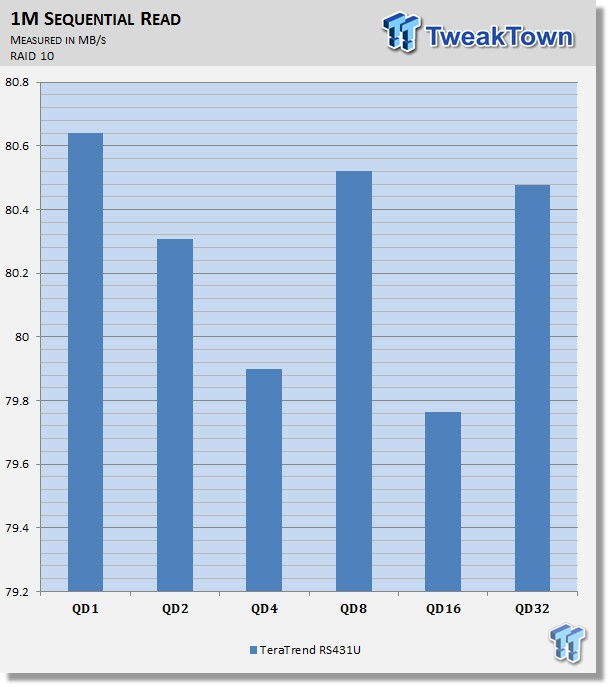 RAID 10 had the RS431U topping 230 MB/s read at QD4, while write peaked at 80.6 MB/s at QD1.
Benchmarks - Workload Latency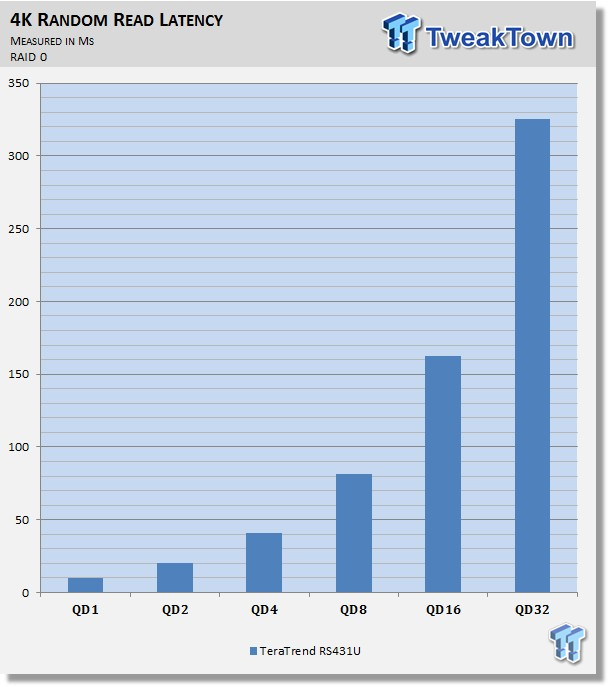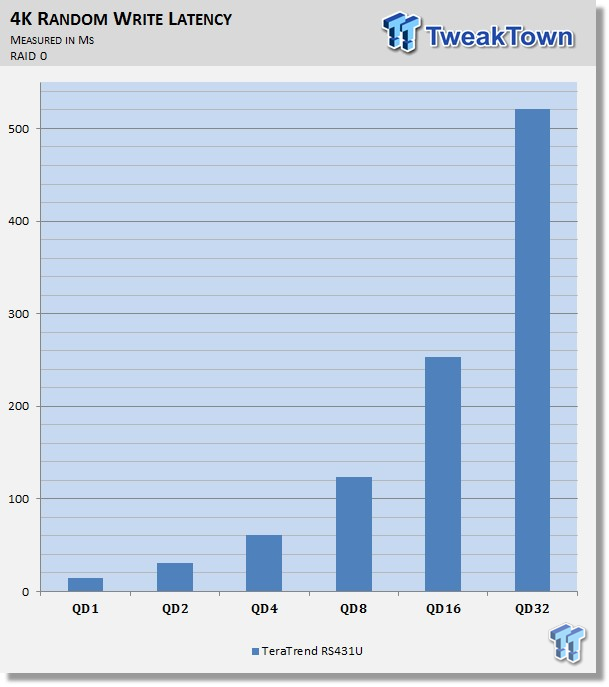 Latency results came in at a low of 10ms for RAID 0 with random read workloads. Write latency started off around 20ms, with a peak 520ms at QD32.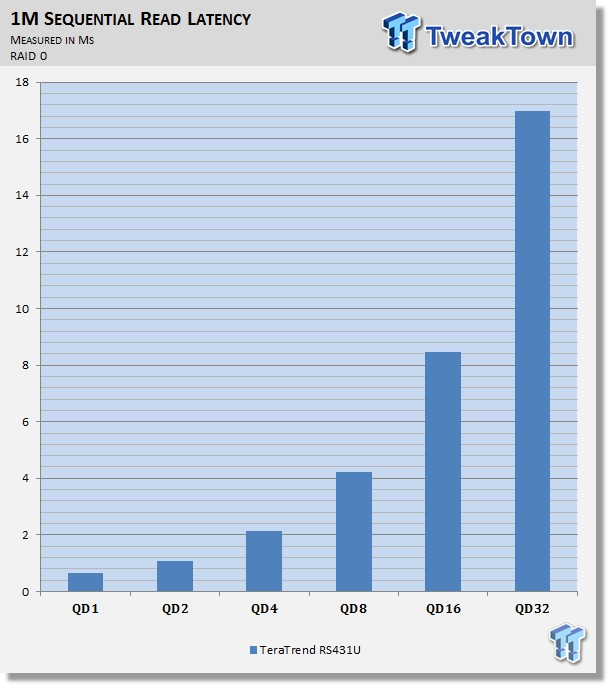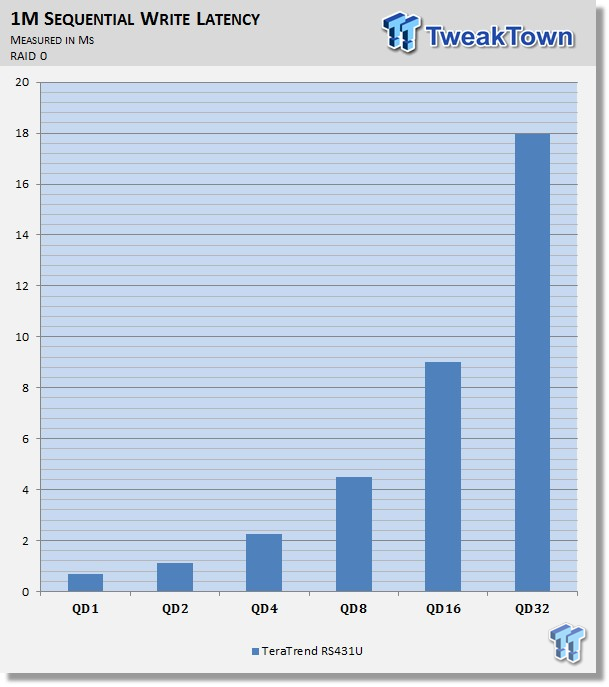 Read latency with sequential workloads was much lower. Here, we have just below 1ms of latency at QD1 read, with write latency starting at 1ms, and peaking at 18ms at QD32.
Final Thoughts

If you are in the market to expand your storage capabilities, whether it be via your NAS (like myself), or your PC, the Teratrend TS431U may be the solution to fit your needs.
While the unit is meant to be racked next to servers and workstations, it does offer a second option with the included rubber feet. The build quality of the unit was rather superb, with both the aluminum front panel, and steel frame construction. The finishing touches, like the built-in drive activity LEDs that are blue when idle, and turn purple when the drives are working, are also excellent.
Performance of the unit was quite good; our sample was able to touch 250 MB/s read and write in RAID 0. Latency results were equally as impressive, especially with sequential workloads where we started under 1ms, and peaked near 18ms at QD32.
Pricing of the Teratrend RS431U, at the time of writing, sits at $368.99, and comes with a one-year warranty from Teratrend.