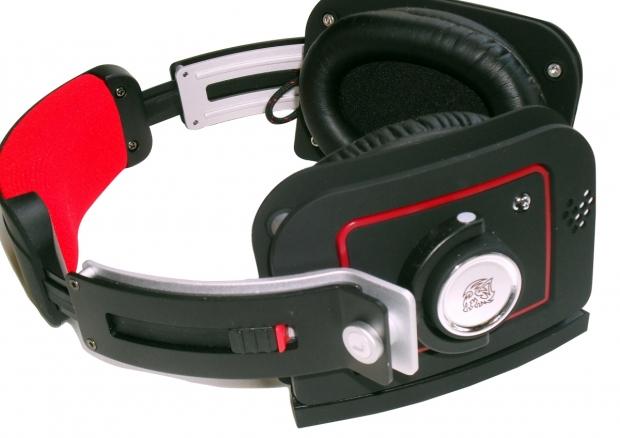 Thermaltake has been in the business of making gear for gaming enthusiasts for quite some time now. One of the products that has really helped them make a name for themselves is the Level 10 case which made a huge impact when it first arrived and is still popular today with later iterations of the design.
And this brings us to the Level 10 M gaming headset that we have today. Like the case of the same name, it has input from BMW U.S design studios to produce what if nothing else is a unique headset in its appearance and a match for the gaming case for those hardcore fans who must have the pair together.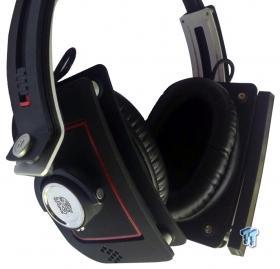 The headset itself is a fairly standard unit, except for the extreme cosmetics that makes it really special. There is no external USB sound card to bulk out the performance and features, and the connection is a standard stereo mini jack, which is almost becoming slightly rare these days.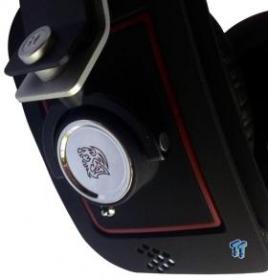 On the side of the headset itself construction and materials have certainly been a heavy point of consideration with an aluminum skeleton used underneath some high quality matte black plastic and comfortable padding also on offer inside of the headband itself. So, it would seem as if this headset is set to make waves in the sports gaming community and with such bold aesthetics, it should certainly catch the eye of many new customers.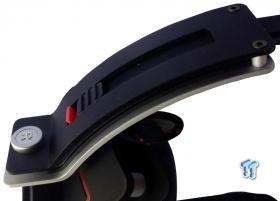 The first thing that strikes attention when viewing the headset initially is the aluminum used in the construction of the chassis. This is quite a unique feature in its own right and one that we have not seen much of over the years, probably because of the fact that this material choice comes at a price premium not usually seen when plastic is used. For the record, we found this to be a great inclusion in the design of the headset and found that the initial appeal offered is really something that could set this product apart from competitors.
Also of interest is the rather interesting Mic included here which is certainly a different design compared to what we are used to seeing. The rather blocky modular unit folds down when needed and back up again when not in use.
Another interesting feature to note is the Bi-lateral USB connection featured here with this headset. What this means is that on each side of the headset can be found a small USB connection that allows the headset to be connected to the user's PC device of choice.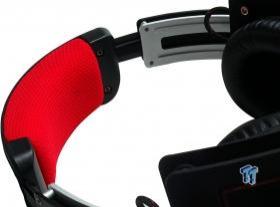 Weight is always a big concern with headsets and in the case of the Level 10 M, the headset weighs in at a modest 300 grams, which is very good considering its strong construction and high quality materials.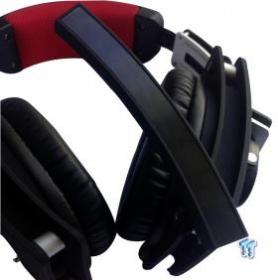 The cable length provided is also really generous, which we thought was a nice touch, and coming in at three meters long, we feel that should be long enough to suit most user's needs.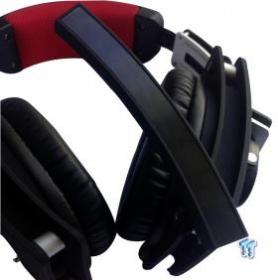 Also of interest is the choice not to use a built-in sound card, which is almost becoming the norm these days as less and less people are featuring a dedicated sound card inside their computer systems. What this means in terms of the real-world is that no matter how well put together the headset is, ultimately the sound will be limited to the capabilities of the hardware of the user's system.
On the package side of things though, we were happy to that no expense has been spared when it comes to including cables and such with the system. Also featured here is an inline volume control with a feature to switch the Mic on and off, which we thought was a very good idea indeed.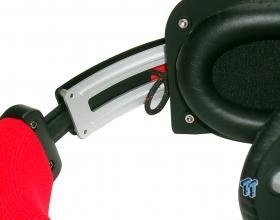 General Thoughts
General testing of the Level 10 M headset produced some very impressive results on an all-around basis with some strong audio being produced, clearly showing that a good driver unit has been used and implemented within the chassis of the headset.
When the headset is worn, both comfort and long term usability can be expected, as the headset is very easy to ware and does not pose a big concern for long gaming or music sessions, due to the materials used and the design of the headband. Overall really is a strong, well-built, standalone headset for the demanding user. Whether or not it's a worthy companion to the much fabled case, well that is for you to decide.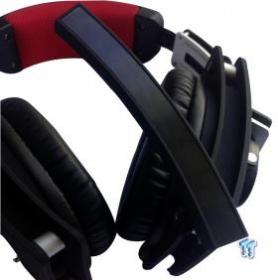 Music and Podcasts
We conducted a lot of testing over a vast array of differing music styles and genres in order to gain an assessment of just how capable this headset was. Testing was conducted across an iPhone 5 running iOS 7.04 and a Windows 8.1 computer system using a variety of different music that tests each area of sound.
We found the low-end to be really impressive during testing overall, with some very decent low-end extension that we found to be really impressive. The bass was also very controlled and linear, which is really important with a headset because things can become overcooked very quickly if the engineer tried to make the headset have a boosted low-end quality.
The balance of the mid-range was simply spot on throughout testing with some great sounding vocals and percussion instruments. The all-important balance of mid-range frequency's is very well implemented, and the dynamic response is very impressive for a headset that is not entirely designed for music listening.
We found the high-end to be very detailed overall with nice extension into the higher frequencies. Also the actual tonality was quite impressive meaning that the high-end had a very true to life feel which we loved.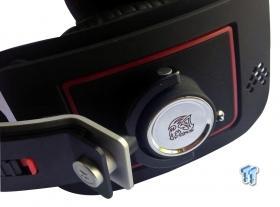 Gaming
During our gaming tests, we found the headset was very impressive overall with high quality sound being delivered to us no matter what the on screen gaming scenario was. This particular headset is not built for dedicated surround sound gaming like many others are, so be aware that if you do require such a thing, there is certainly more suited products out there. However, if you play sport games and just want a relatively simple, yet high performing headset, then certainly look no further.
Today we have certainly been pleased with what we have seen from Tt eSPORTS. Once the headset is sat upon a head, so to speak, things start to get exciting. Packing in top notch build quality and some seriously impressive audio that frankly surprised us at how well it did with music tests since it's primarily a gaming headset.
So then, if you're in the market for an elegant, well-built and overall quite simple headset with top shelf performance, then look no further.