Introduction and Specifications, Pricing and Availability

TRENDnet, which most of you know from their consumer lineup of wireless routers, access points and network adapters also dabbles in the SMB networking market space. From the bottom up, TRENDnet offers a full range of unmanaged five to 24 port switches, in addition to Web Smart switches ranging from eight to 48 ports.
Today, we will be taking a look at one of TRENDnet's Layer 2 switches complete with 24 Gigabit Ethernet ports with an additional four GBIC ports.
First, Layer 2 switches have the ability to learn and build a table from the MAC addresses of your NICs. MAC addresses or Media Access Control address is a 48-bit hardware address burned into the NIC from the manufacturer, this means it does not change like an IP address.
Layer 2 switching is very efficient because its hardware based and thus provides broadcasts at wire speed with low latency.
Specifications, Pricing and Availability

Hardware specifications of the TRENDnet include many of the IEEE 802.x standards we are used to seeing in switches of this capacity. Some of these feature may sound familiar like 802.3ad or LACP in addition to 802.1Q VLAN tagging.
As far as the interface is concerned, we have 24 10/100/1000Mbps Auto-MDIX ports, along with 4 SFP Mini-GBIC ports that are shared with ports 21-24 on the switch. Cabling uses the standard Cat5, 5e or 6 twisted pair copper for distances up to 100 meters.
Another specification of note here is the switch capacity, listed at 48Gbps. When purchasing a switch, it's very important to take into account the fabric of the switch, especially in high network utilization situations. For the most part, the rule of thumb is P x I x 2, where P equals the number of ports times the interface speed which in our case would be 24 ports times 1Gbps equals 24Gbps, and since we account for Tx (Transfer) and Rx (Receive) packets we multiply by two to reach our 48Gbps switch fabric.
In addition to switch capacity, we have forwarding rate. Forwarding rate is measured in packets per second or in the case of most switches these days, Mpps or million packets per second. Forwarding capacity is the highest amount of traffic that can be put through the switch regardless of packet loss or load, and for this one it's 35.7Mpps.
Warranty of the TRENDnet TL2-G244 is listed at three years from date of purchase with pricing sitting at $289.99.
TRENDnet TL2-G244 Switch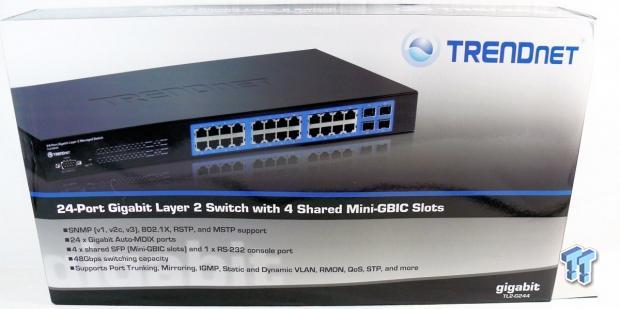 Above, we have the box art with a wide angle shot of the switch. Below there are several key features listed such as the units 48Gbps switch fabric and support for SNMP, RSTP and MSTP.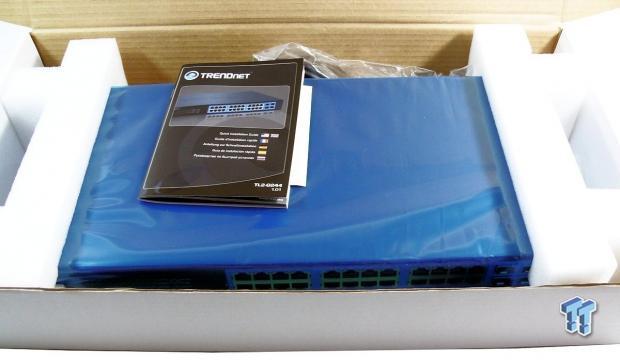 Unboxing the switch, we found it secured in foam at both ends. The remaining cables wrapped in plastic.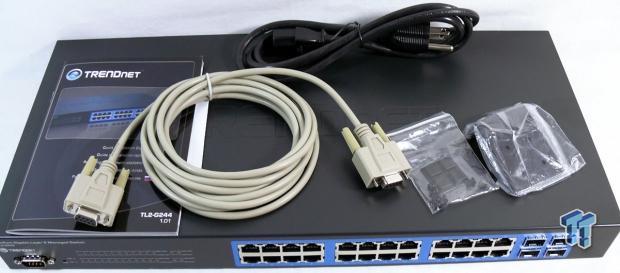 The scope of delivery included the RS-232 cable for connecting to the management port, power cable and reading materials. Another thing of note here the TL2-G244 is rack-mountable and such has ears for doing so. Additionally, if you choose to set this on your desktop or table, it has rubber feet that can be attached.

The front of the TL2-G244 houses all 28 ports. The last four Gbit ports share bandwidth with the GBICs to the far right.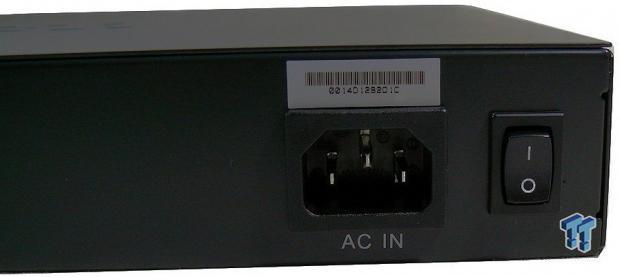 The back of the switch houses the AC input for the internal power supply and power switch.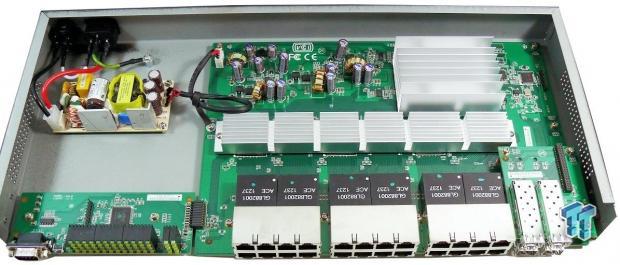 Internally, the G244 is laid out quite well. To the top left we have the power supply, and to the left the mainboard and accompanying daughter boards for the switch.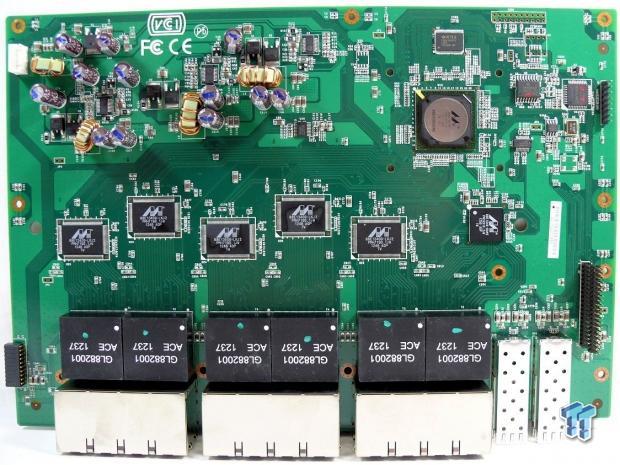 Removing all of the heat sinks, we can get a good look at what we have. To the top right we have a Marvell 98DX Packet Processor, moving down slightly we have an entire row of six Marvell Alaska 88E1340 Quad Port Transceivers.
TRENDnet Management and Web GUI

After logging into the switches management interface, we arrived at the landing page, here TRENDnet offers a quick overview of what protocols the switch supports, among other features. Another thing of note is the layout of the switch and its ports is made available in the banner space of the Web GUI. This serves as an indicator of which ports are active and the accompanying link speed.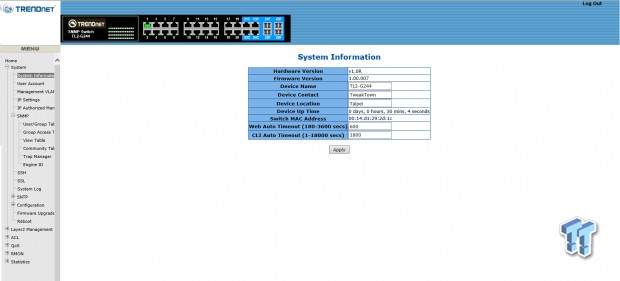 Diving into the management GUI, we first stopped at the system information menu. Here you can set the device name, along with contact information and location.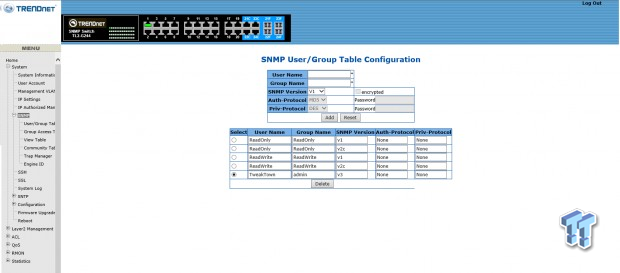 Our next stop was the SNMP menu. SNMP allows you to manage and track the activity of your network devices remotely.

Within the port manager menu, the option to set the MTU of each port is available. Additionally, you can disable ports.

Port control allows you set the rate of each port, by default all ports are set to Auto-MDIX.

VLAN allows you to separate your network devices or run separate networks within one switch. The TRENDnet TL2-G244 supports 256 VLANs.

The port channel menu allows you to setup load balancing and link aggregation.

Above, we have aggregated ports five through eight.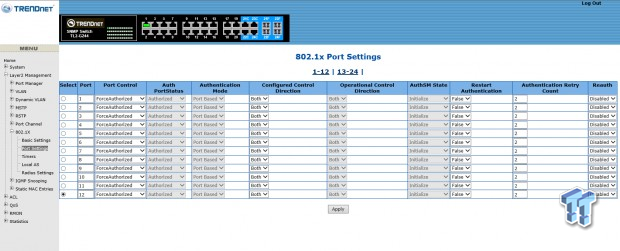 802.1x is port based or switch based security. When setup, this eliminates outsiders from entering your business and plugging in to your network and gaining access to everything stored on the network.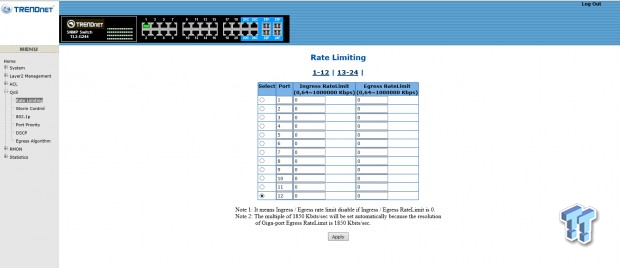 QoS allows you to limit the bandwidth of each port individually.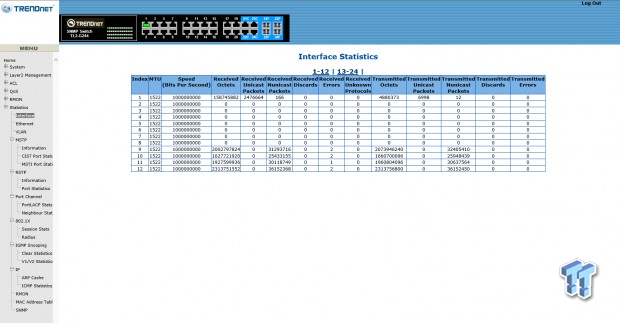 The statistics menu carries quite a few sub-menus and allows you to check in on your switch and its settings.
Final Thoughts

The TRENDnet TL2-G244 offers an ample amount of features that should keep not only the SMB users happy, but also the emerging enthusiast home users. The build quality of the unit was outstanding with its metal shell housing the internal components and for those that enjoy silence, the G244 employs a fanless design, making certain your place of business isn't adorned with the sound of small chassis fans.
While we did not publish any performance results in this review, we did run a few tests on the switch to verify its functionality and in the future as we ramp up our network test system, we should be able to deploy several solutions that will stress each switch to its capacity.
In addition to the performance testing, we will be measuring power consumption during these tests, which we measured at 11 watts for the G244 with ten ports loaded. Marketing does say the unit will consume 21.7 watts, so you are looking at about 1 watt per port on this unit.
The TRENDnet G244 packs in quite a few high-end features including 802.3ad or LACP allowing you multiple links to a device such as a NAS or server. Additionally, we have QoS, allowing you to prioritize traffic based on ports and 802.1Q for tagging VLANs in multiple switch environments and last but certainly not least, security through 802.1x PNAC.
All of these features and many more are found within the TL2-G244 and at a great price that puts it within reach of SMBs and enthusiast home users.