Digital Storm ODE Haswell-powered Desktop Gaming PC Review
We have Digital Storm's ODE system in our labs, customized with Intel's new Haswell processor. Let's dive in and take a close look at this gaming PC.
Published Sat, Jun 1 2013 10:02 AM CDT
|
Updated Tue, Nov 3 2020 7:00 PM CST
Introduction, Specifications, Configurations, Pricing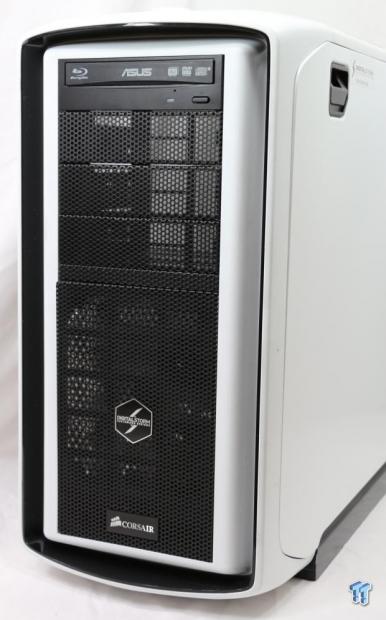 Digital Storm has provided us with their ODE gaming system for review. They've equipped our unit with Intel's new Haswell processor as well as NVIDIA's new GeForce GTX 780 video card, so our system is quite top-tier.
We've previously reviewed Digital Storm's small form-factor Bolt gaming PC, which used a custom case. The ODE makes use of an off-the-shelf case that makes it have a bit better fit-and-finish.
Please note that PCMark 7 has been updated to the latest version, causing previous benchmark results to not be comparable. We have archived these results. Unfortunately, this means that we have few comparison systems for this review.
Without further ado, let's take a look at this powerful gaming PC and see what we think.
Specifications, Configurations and Pricing
Digital Storm was able to provide us a Haswell-powered rig ahead of the NDA, giving us time to check out the latest and greatest generation. Our system is equipped with Intel's newest Core i7-4770K CPU. The 4770K, which has been reviewed by our resident CPU reviewer, features four cores and eight threads. It's clocked at 3.5GHz, but uses TurboBoost to break the 4GHz barrier.
The i7-4770K is cooled by a Corsair H100i integrated water cooling system. This all-in-one cooler should provide good temperatures for Intel's latest CPU. It will also add to the Corsair theme you'll see in this system.
The heart of the machine is supported by an ASUS Sabertooth Z87 motherboard, which is new for the Haswell line of CPUs. It makes use of the Z87 chipset and brings many of the styling cues that the Sabertooth brand stands for. The I/O panel comes with a full-compliment of four USB 2.0 ports and four USB 3.0 ports, two eSATA 6G ports, an HDMI port, Display Port and the usual audio connectors.
Digital Storm has equipped our review system with 16GB of Digital Storm-certified ADATA RAM clocked at 1600MHz. The layout is 2 x 8GB sticks, so it's an easy-and cheap-upgrade to 32GB of RAM should you need it in the future.
Graphics are provided by NVIDIA's latest and greatest GTX 780. It appears our system is rocking the NVIDIA reference card as there is no add-in board partner labeling visible on the card. It features 3GB of RAM and should easily destroy the other systems we've reviewed, save for the dual-GTX 680 powered Chimera we opened our desktop reviews with.
The ODE features a 120GB Corsair Neutron GTX SSD and 1TB Western Digital Caviar HDD. The system is powered by a Corsair 1050W Pro Silver 1050HX PSU. Windows 8 64-bit is the operating system pre-installed on our system's SSD. Users can customize the Digital Storm ODE to come with various 64-bit versions of Windows 7 or Windows 8 Pro 64-bit.
The cost for a system like this is $2,731, give or take a few dollars for sales and other discounts. Configuration is quite high. Digital Storm offers a wide variety of upgrades, component selection and customization. This is aided by the giant Corsair Graphite Series 600T case, which provides plenty of room for multiple video cards, hard drives and high-performance components.
Packaging, Bundle and System Pictures
Packaging
Digital Storm shipped the ODE to our labs inside a massive Digital Storm-branded box. The system was protected by a plastic bag to prevent scratches and was suspended in the middle of the box by cardboard and the new plastic suspension system we've seen laptops shipped in. It was surprising that the system wasn't shipped inside the Corsair box.
Inside the system, the video card was protected by a vacuum-formed foam packaging piece that protected it from flexing. See the embedded unboxing video above to get a better idea of the packaging.
Note: We mistakenly called the system the Digital Storm Virtue. The correct name is ODE.
System Pictures
The following pictures are of the system: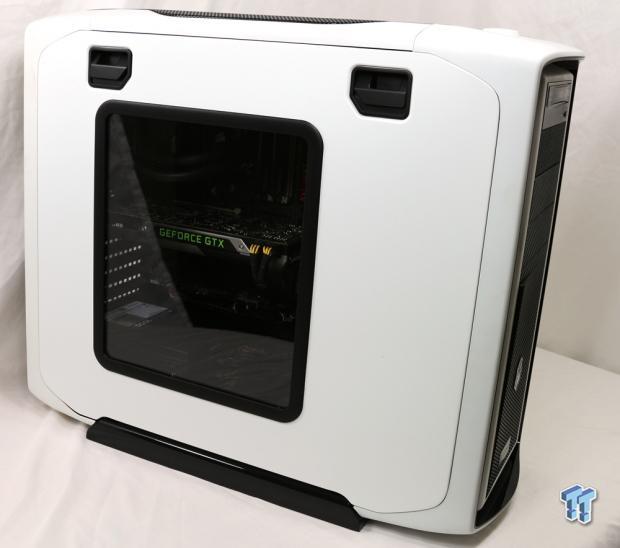 Left side of the system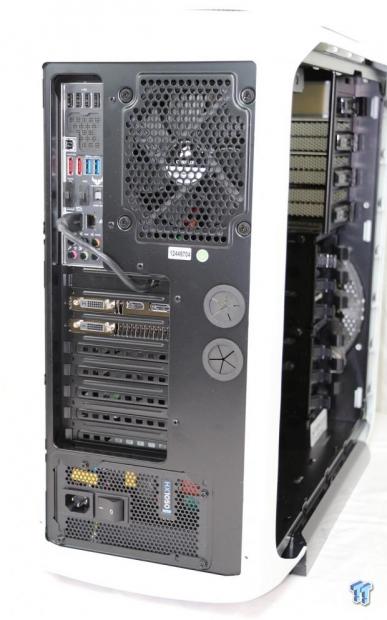 Back panel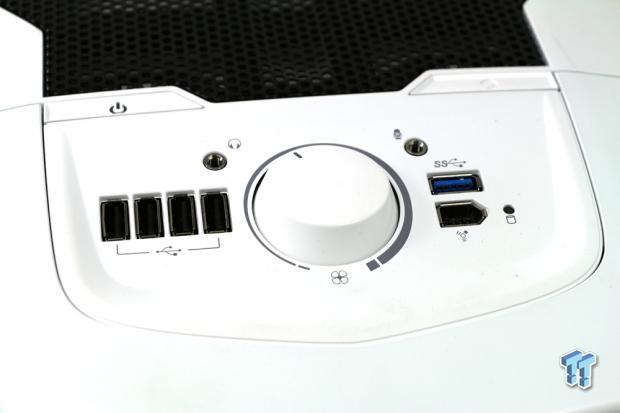 Front panel connectors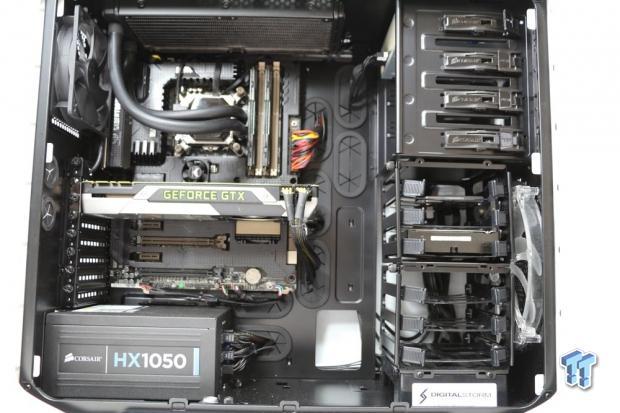 Internals with great cable management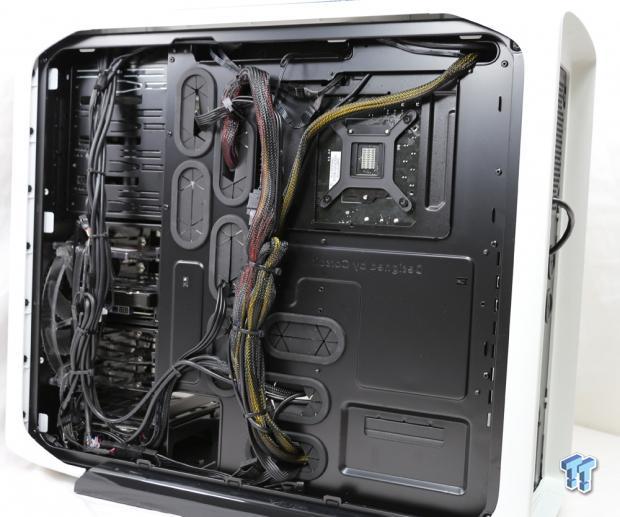 Backside of motherboard tray, including beautiful cable management
Testing Methodology
Benchmarks and Testing Methodology
- CPU Tests
Cinebench R11.5 starts off our tests. The multi-threaded rendering test is ran and the score reported. wPrime is ran for both the 32M calculation and 1024M calculation with the number of threads available on the system.
- Storage Tests
CrystalDiskMark is run to put a number on how well the system hard disk drive / SSD runs. It measures five different metrics, of which higher is better for all. The higher the numbers, the snappier the operating system will feel, especially if the "4K" number is high, as most operating system files are small files.
HD Tune is run on any storage drives installed in the system. Maximum, minimum and average read and write speeds are reported in the charts.
- System Tests
PCMark 7 is run to get an overall idea of how the system performs as a whole. It tests all aspects of the PC and puts a score on how well it performs overall. In this test, a low scoring area can affect the overall score, so it's important to read the analysis. A higher score is better.
- Gaming Tests
3DMark Vantage is ran on the Extreme preset to get a feel for how the computer would manage gaming. The CPU, GPU and combined scores are reported. A higher overall score is the best and a high GPU or CPU score shows particular prowess with tasks that use that part of the computer.
3DMark 11 is run on the Extreme preset and the Physics, GPU and combined scores are reported. This test is only run if the system supports DirectX 11. A higher overall score is the target, though a high individual result shows prowess in a particular area.
3DMark- Fire Strike Extreme Test is run on the system to measure DirectX 11 performance and CPU performance. 3DMark is the latest version of Futuremark's widely used gaming benchmarking software. The combined, GPU, and Physics scores are all reported in the charts.
Battlefield 3 is run at 1920 x 1080 resolution with the graphics preset set to "Ultra." The test is ran three times due to higher variability than the other benchmarks. FRAPS is used to record 60 seconds worth of FPS data and recording starts when the character first picks up the gun at the start of the campaign and usually finishes shortly after the train explosion. The game is played in a similar manner each time.
Crysis 3 is run at 1920 x 1080 resolution with the graphics specifications set to "Very High." No anti-aliasing is used. See picture on actual test page to see full details. The test is ran three times due to higher variability than the other benchmarks. FRAPS is used to record 60 seconds worth of FPS data and recording starts at the start of the campaign and finishes most of the way up the tower. The game is played in a similar manner each time.
- Heat, Noise, and Power Consumption
The system is fully loaded using Furmark and Prime 95. Component temperatures are recorded using CoreTemp and Furmark. Noise is recorded in front of the system, midway up, six inches from the machine using a decibel reader.
Idle power consumption is system consumption while sitting at the desktop, as recorded by a Kill-a-watt style meter. Loaded consumption is recorded during the load of Prime 95 and Furmark using the same meter.
CPU Tests
Cinebench 11.5
Version and / or Patch Used: R11.5 build CB25720DEMO
Developer Homepage: http://www.maxon.net
Product Homepage: http://www.maxon.net/products/cinebench/overview.html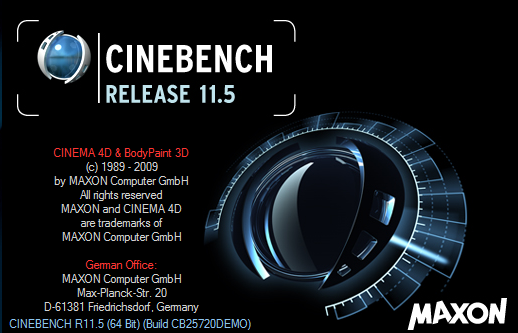 CINEBENCH is a real-world cross platform test suite that evaluates your computer's performance capabilities. CINEBENCH is based on MAXON's award-winning animation software CINEMA 4D, which is used extensively by studios and production houses worldwide for 3D content creation. MAXON software has been used in blockbuster movies such as Spider-Man, Star Wars, The Chronicles of Narnia and many more.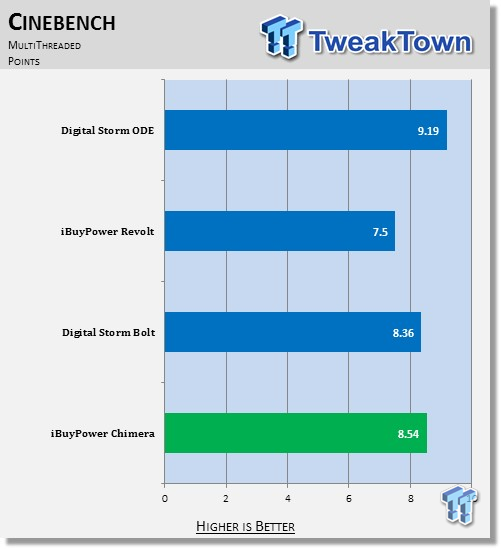 With the new Intel i7-4770K, the Digital Storm ODE easily beats out the rest of the systems we've reviewed as they all rely on the older 3770K. The 4770K wasn't even overclocked from the factory, or the performance would have been even higher.
wPrime
Version and / or Patch Used: 2.09
Developer Homepage: http://www.wprime.net/
Product Homepage: http://www.wprime.net/
wPrime is a leading multithreaded benchmark for x86 processors that tests your processor performance by calculating square roots with a recursive call of Newton's method for estimating functions, with f(x)=x2-k, where k is the number we're sqrting, until Sgn(f(x)/f'(x)) does not equal that of the previous iteration, starting with an estimation of k/2. It then uses an iterative calling of the estimation method a set amount of times to increase the accuracy of the results. It then confirms that n(k)2=k to ensure the calculation was correct. It repeats this for all numbers from 1 to the requested maximum.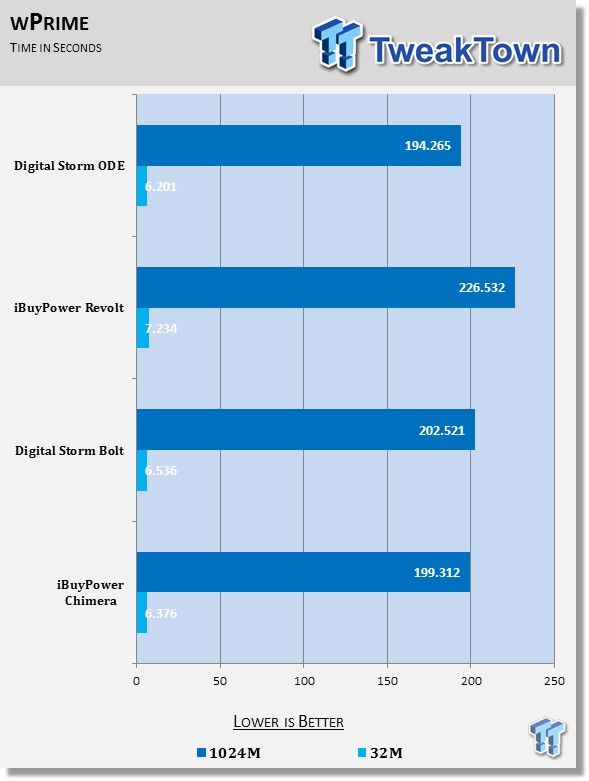 wPrime shows similar performance gains. While not massive, the 4770K shaves five seconds off of the fastest 3770K time posted by the iBUYPOWER Chimera, showing just how well the ODE performs on CPU loads.
Storage Tests
CrystalDiskMark
Version and / or Patch Used: 3.0 Technical Preview
Developer Homepage: http://www.crystalmark.info
Product Homepage: http://crystalmark.info/software/CrystalDiskMark/index-e.html
Download here: http://crystaldew.info/category/software/crystaldiskmark
CrystalDiskMark is a disk benchmark software that allows us to benchmark 4K and 4K queue depths with accuracy.
Key Features:-
* Sequential reads/writes
* Random 4KB/512KB reads/writes
* Text copy
* Change dialog design
* internationalization (i18n)
Note: Crystal Disk Mark 3.0 Technical Preview was used for these tests since it offers the ability to measure native command queuing at 4 and 32.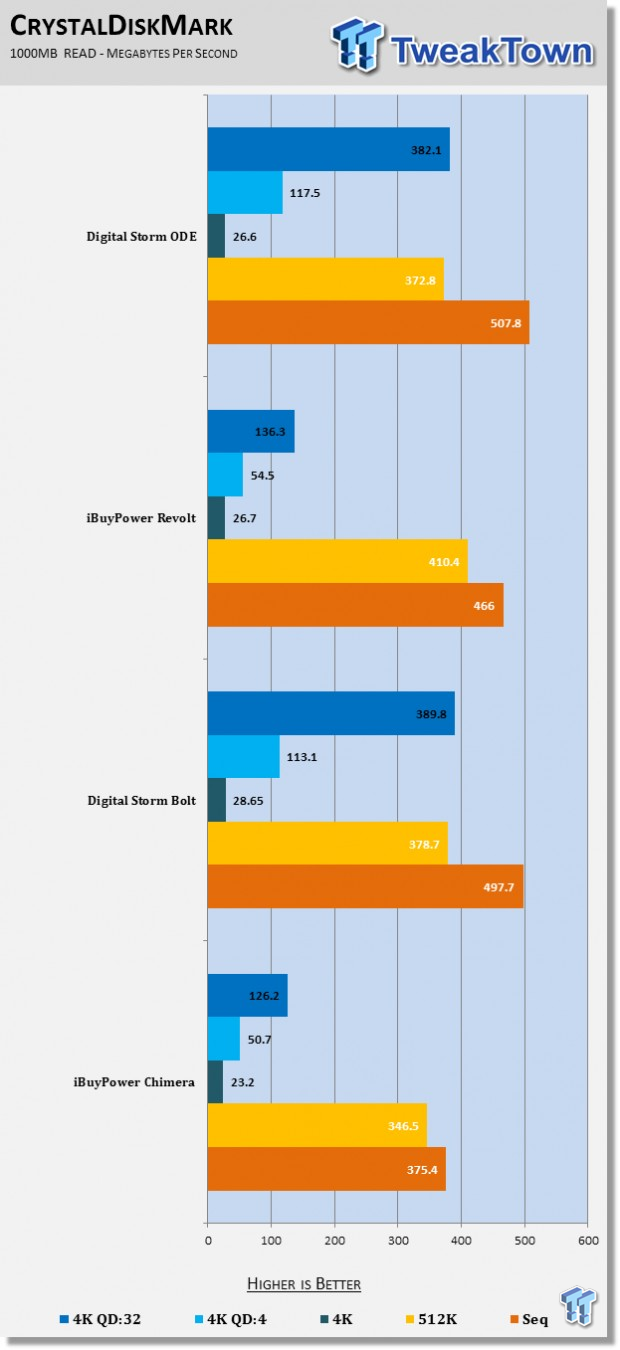 Our review system, equipped with a Corsair Neutron GTX, performs quite well in the system disk read test. It turns out the fastest speeds of any previously tested system. It maxed out at over 500MB/s sequential read.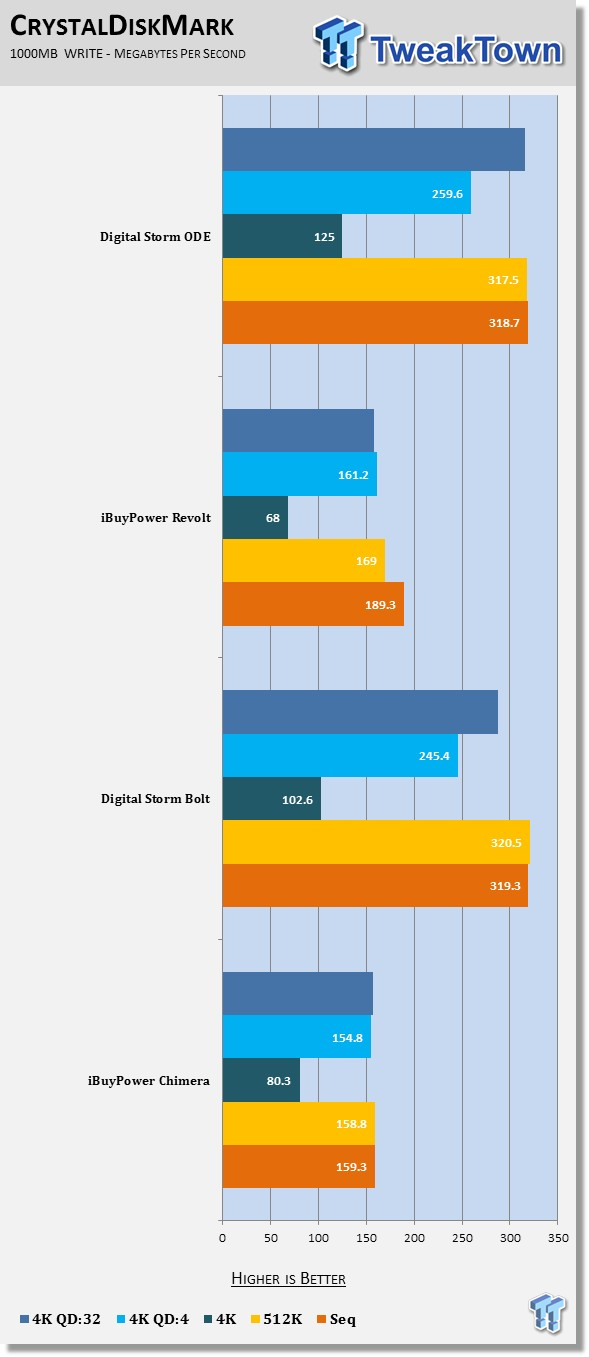 Write speeds were equally impressive, hanging with the Digital Storm Bolt, which made use of the same SSD in this system. Considering the price tag and performance level of this system, we're a bit surprised that it wasn't equipped with dual SSDs in RAID 0.
HDTune
Version and / or Patch Used: 5.00
Developer Homepage: http://www.efdsoftware.com
Product Homepage: http://www.hdtune.com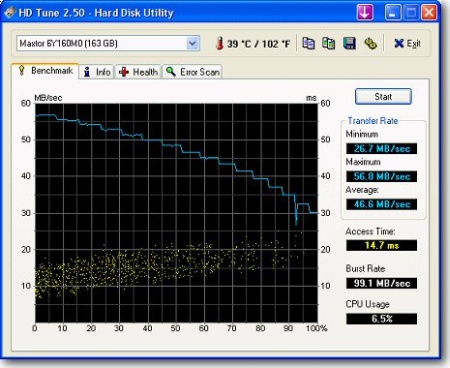 HD Tune is a Hard Disk utility which has the following functions:
Benchmark: measures the performance
Info: shows detailed information
Health: checks the health status by using SMART
Error Scan: scans the surface for errors
Temperature display
HD Tune Pro gives us accurate read, write and access time results and for the last couple of years has been gaining popularity amongst reviewers. It is now considered a must have application for storage device testing.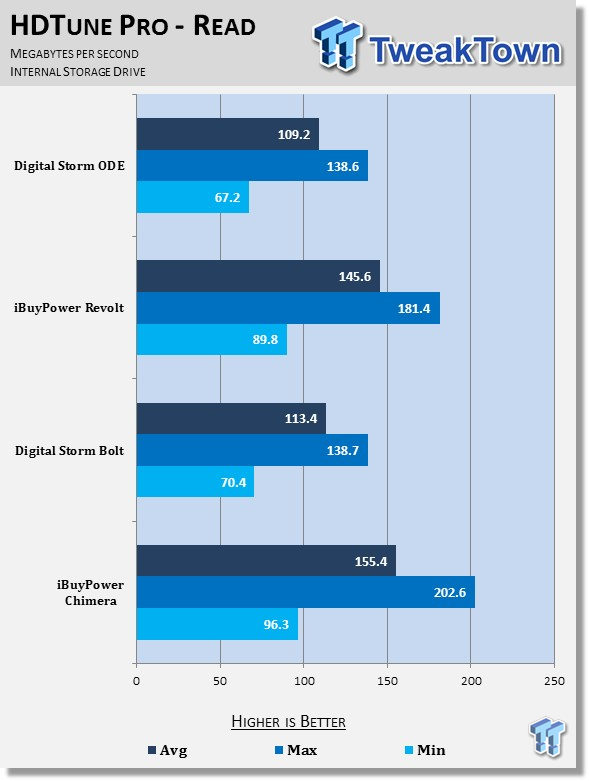 The 1TB hard drive Digital Storm equipped our review unit with proved to be decent, but not spectacular by any means. There are certainly faster mass storage drives available and we suggest you go with one of them when making your configuration.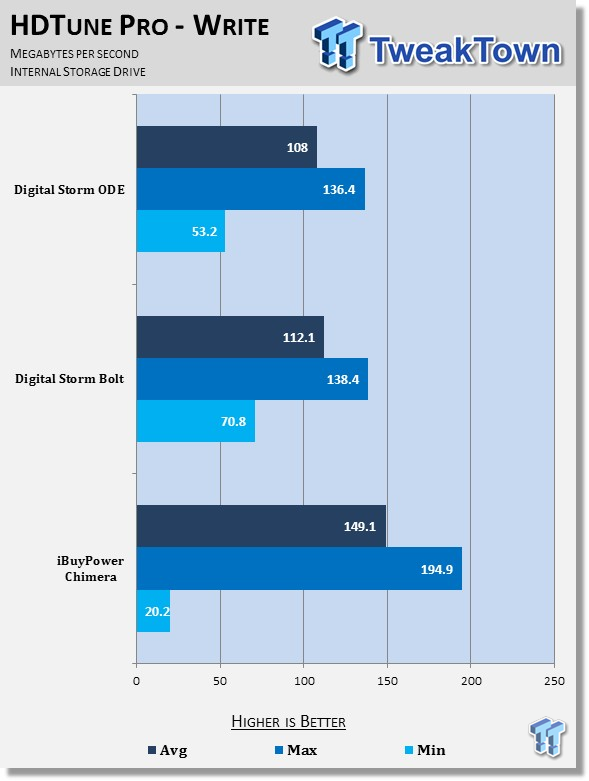 What we saw in read speed continues to hold true for write speeds. It's not terrible, but there are certainly faster drives available. We saw an average write speed of 108MB/s, easily bested by the Chimera's 149.1MB/s.
System Tests
PCMark 7
Version and / or Patch Used: 1.0.4.0
Developer Homepage: http://www.futuremark.com
Product Homepage: http://www.pcmark.com/benchmarks/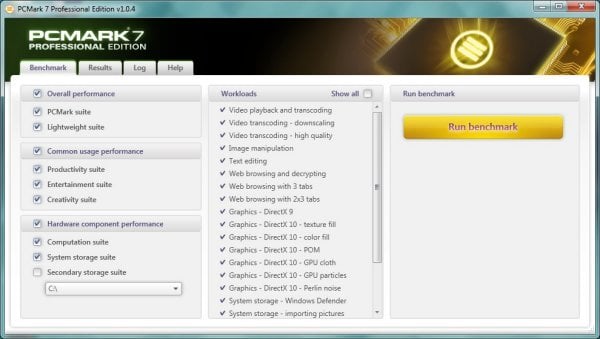 PCMark 7 is a great utility for testing a PC's all-around capabilities. It tests all aspects of the computer, from graphics performance to hard disk performance and attempts to put a score on it, which is not an easy task.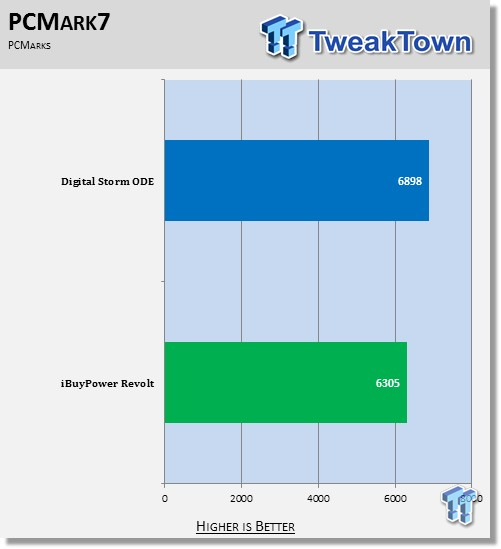 Due to updating PCMark 7 to its latest version, we've had to archive our previous results as they are incompatible with the new version.
The Digital Storm ODE managed to put up a score that almost broke 7000. It easily bested the small-form-factor Revolt and shows how well a 4770K and GTX 780 can be for all-around use. The Corsair SSD certainly helps the score.
Gaming Tests
3DMark Vantage
Version and / or Patch Used: 1.1.0
Developer Homepage: http://www.futuremark.com
Product Homepage: http://www.3dmark.com/3dmarkvantage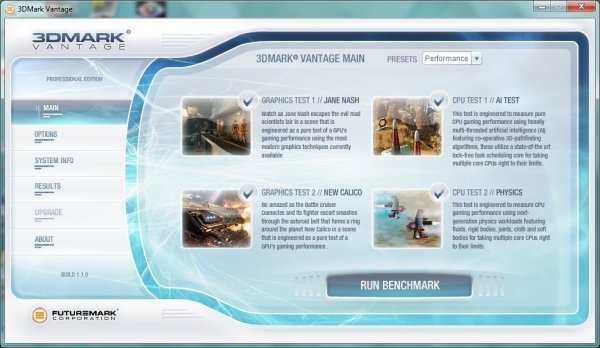 3DMark Vantage tests both processor and graphics performance and is a good indication of how systems compare. The results are generally more repeatable and consistent than other forms of benchmarking. Vantage uses DirectX 10 and can handle multi-core CPUs.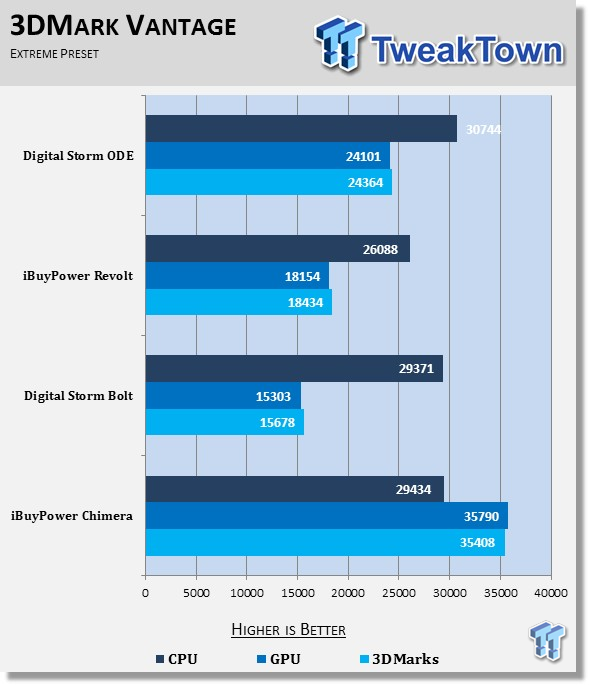 The 4770K paired with an ASUS Sabertooth Z87 show marginal improvements in the CPU tests of Vantage, though the improvements are hardly worth upgrading from a 3770K. The GTX 780 also proves strong, though it can still be bested by the older GTX 680, when used in SLI. The system managed an impressive score of 33,214, almost beating out the iBUYPOWER Chimera and easily beating out the less-powerful SFF systems.
3DMark 11
Version and / or Patch Used: 1.0.3.0
Developer Homepage: http://www.futuremark.com
Product Homepage: http://www.3dmark.com/3dmark11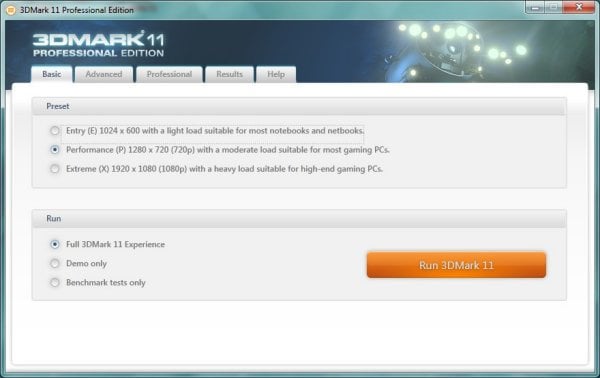 3DMark 11 is the latest version of the world's most popular benchmark. Designed to measure your PC's gaming performance 3DMark 11 makes extensive use of all the new features in DirectX 11 including tessellation, compute shaders and multi-threading. Trusted by gamers worldwide to give accurate and unbiased results, 3DMark 11 is the best way to consistently and reliably test DirectX 11 under game-like loads.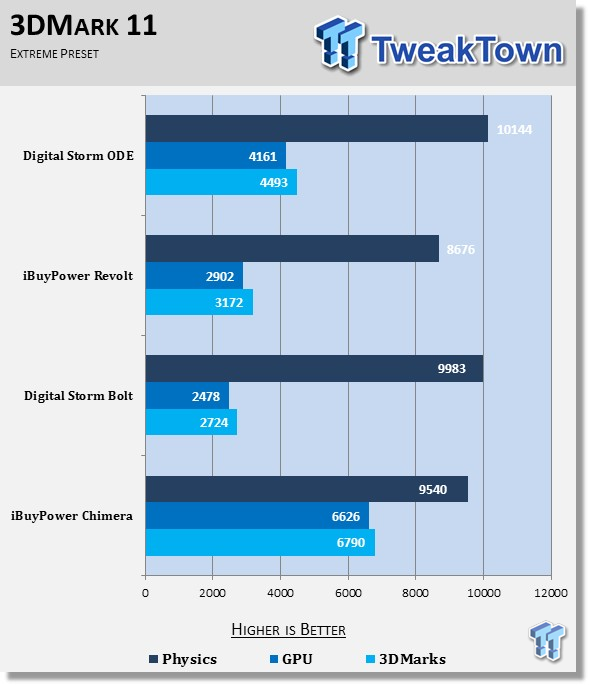 Once again, the ODE shows improvements in CPU performance, though less than 10 percent. Overall, the system is bested by the older Chimera, but only because its single GTX 780 can't keep up with dual-GTX 680s. It manages a score of 4493, beating out the SFF systems we recently reviewed.
3DMark - Fire Strike Extreme
Version and / or Patch Used: 1.0.0
Developer Homepage: http://www.futuremark.com
Product Homepage: http://www.futuremark.com/benchmarks/3dmark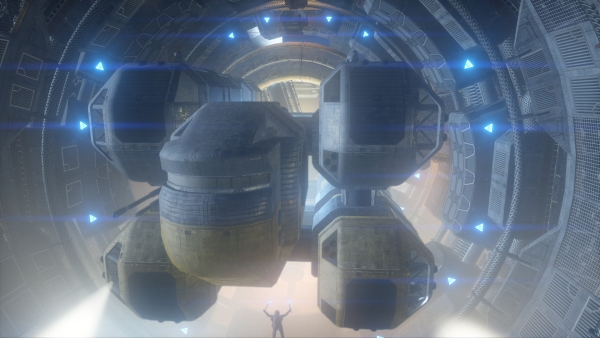 Fire Strike is a new test that is designed for powerful gaming desktops. We have checked the "Extreme" test option to make it that much more torturing on the system. Overall, CPU, and GPU scores are reported.
The 4770K and GTX 780 manage to put the Digital Storm ODE on top in Futuremark's latest benchmark. We still see that the 4770K doesn't justify an upgrade, but the GTX 780 easily overpowers the SFF machines in our benchmark. Since this benchmark came out after we reviewed the Chimera, we can't say how it compares.
Battlefield 3
Developer Homepage: http://www.dice.se/
Product Homepage: http://www.battlefield.com/battlefield3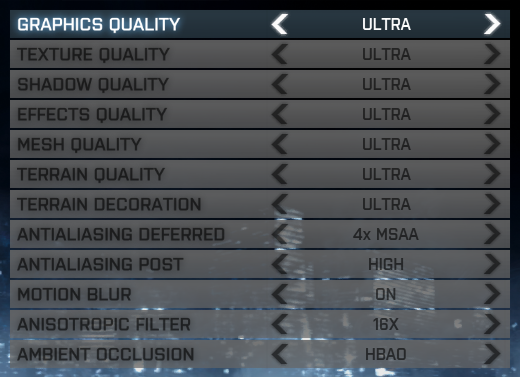 Battlefield 3 is one of the most requested benchmarks, so we have finally added it. Frame rates are recorded for 60 seconds starting in the first part of campaign when the character picks up the gun and is played through until just after the train explodes. The game is played three times in that manner with the results being averaged together and reported.
Settings are 1920x1080 for the resolution with the "Graphics Quality" set to Ultra.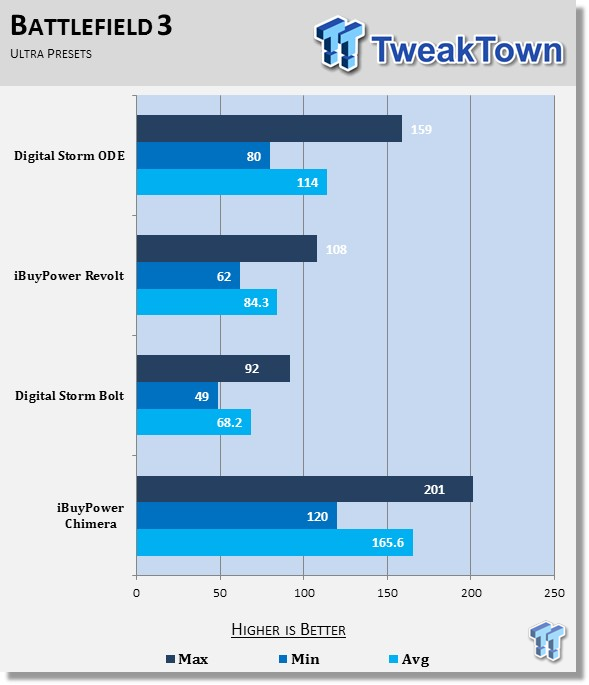 Battlefield is starting to be an aging benchmark as the ODE easily pushes an average of 114 FPS with the Ultra graphics preset. The ODE should be capable of playing all modern games and even ones that have yet to release thanks to its use of next-gen hardware. Should it start to be slow, it has plenty of room for a second or third GTX 780 for SLI.
Crysis 3
Developer Homepage: http://crytek.com/
Product Homepage: http://www.crysis.com/us/crysis-3
Crysis 3 is run at 1920 x 1080 resolution with the graphics specifications set to "Very High." No anti-aliasing is used. See picture above for full details. The test is ran three times due to higher variability than the other benchmarks. FRAPS is used to record 60 seconds worth of FPS data and recording starts at the start of the campaign and finishes most of the way up the tower. The game is played in a similar manner each time.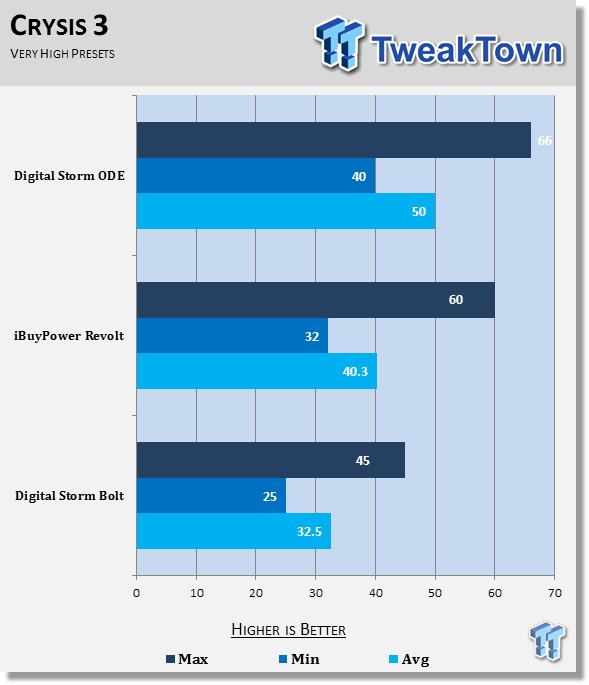 The ODE proves itself capable of powering the latest Crysis game, averaging 50 FPS. The minimum never drops below 40, well above the generally-accepted minimum rate of 30 FPS. This is a testament to the new GTX 780, i7-4770K, and ODE as a system.
Temperatures, Noise, and Power Consumption
Temperatures, Cooling, Noise
The system is fully loaded using Furmark and Prime 95, similar to our laptop testing. The sound recordings are made in front of the machine, about 6 inches from the center of the tower. Temperatures are reported as recorded by CoreTemp and Furmark.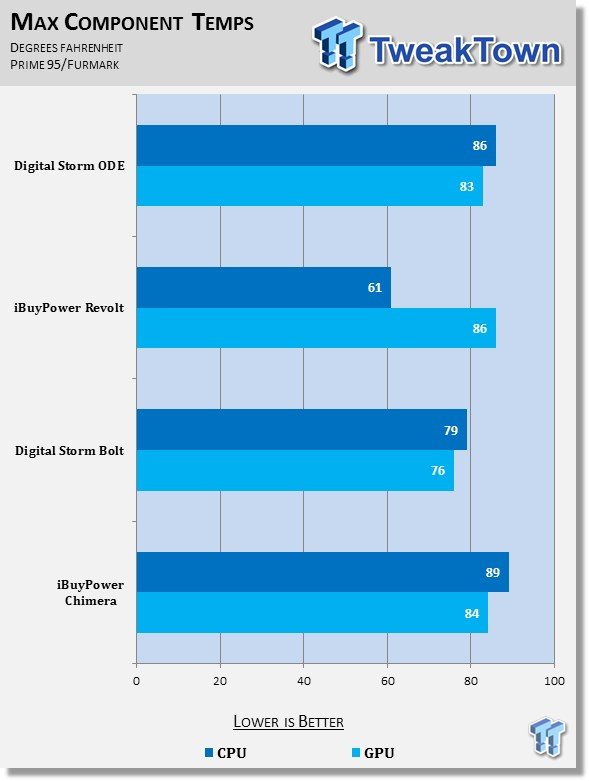 Incredibly, the ODE has trouble keeping the un-overclocked Haswell CPU cool, with it reaching temperatures of 86 degrees Celsius. There are a couple of scenarios for this: either Haswell is a very hot architecture-a problem Intel experienced with Ivy Bridge and something I can't verify due to it being pre-release hardware-or the thermal paste is not applied well. It's not software as warm temperatures were verified in the BIOS.
The new GTX 780 reached temperatures of 83 degrees Celsius, which is much less of a problem for a GPU. It didn't sound like the GPU fan even spun up from its idle setting, indicating the card should have good overclocking headroom.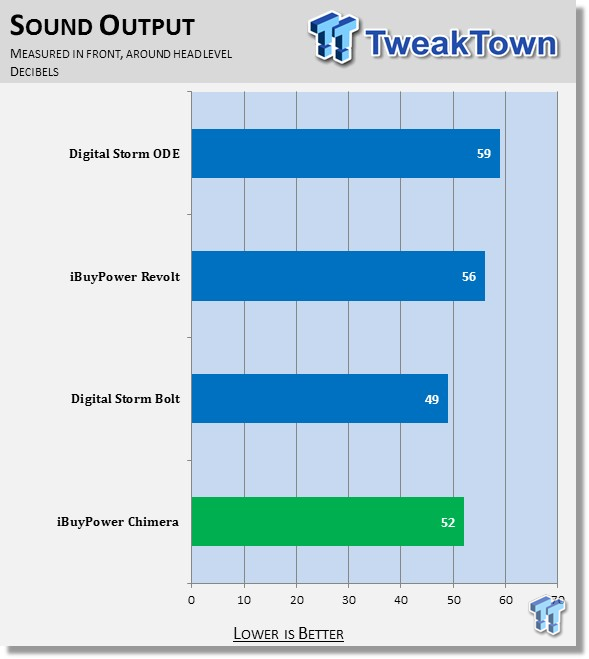 I'm fairly certain the Digital Storm resulted in my hearing loss. While I exaggerate, the system did produce the loudest sound we've seen from any review unit at 59 decibels. It's noticeably loud because the fans were spinning full-throttle due to the high temperatures seen by the CPU.
Power Consumption
Power consumption is measured while the system is loaded for the temperature test and while sitting idle at the desktop. Measurement is taken at the wall, so it includes everything running in the system, not including the monitor.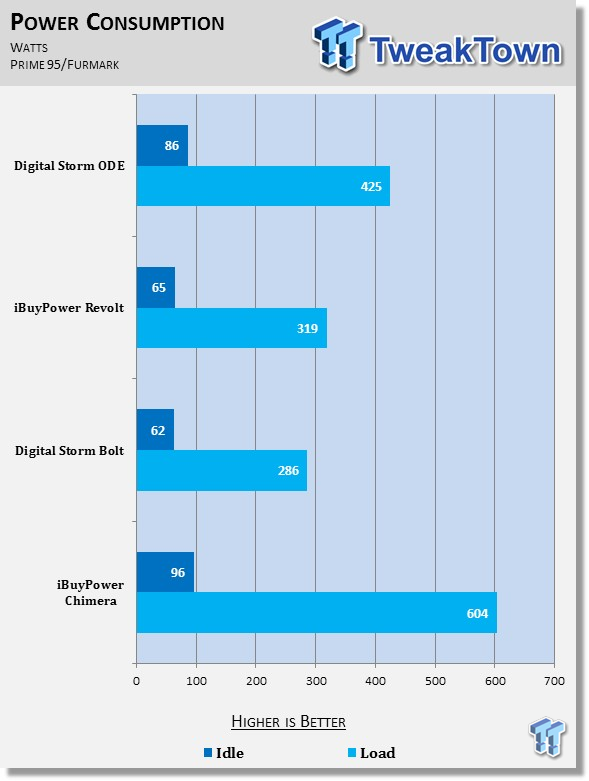 At idle, the machine draws 86 watts. This means it's about the same as leaving one incandescent light bulbs running. During a full load, system energy draw spikes to 425 watts. Haswell is touted to be energy efficient and one of the largest jumps in battery life in the history of Intel architectures. However, the power consumption figures don't fully jive with this claim. I'll be excited to observe this when we receive a Haswell-powered laptop for review.
Final Thoughts
So there you have it: our first review of a Haswell-powered gaming desktop. You've seen the performance and while great, it's not worth upgrading from an Ivy Bridge-powered system. I'll leave the exact i7-4770K performance analysis to our CPU reviewer and head into the touchy-feely of the system.
The case arrived with a few dirty fingerprints on the porous white plastic parts of the case, which makes me have to ask why. The fingerprints/dirt smudges were unexpected as computers generally aren't handled with dirty hands. The smudges came off with some cleaning, but it's still something I didn't expect from a brand-new PC.
While there may have been a less-than-professional job handling the case, the cable management is completely top-notch and some of the best work I have ever observed in a system. It helps that the system is as large as it is, but even the cables hidden behind the motherboard tray were neatly bound and routed. To do a job like this on my own system would easily take an hour or more and is definitely a nice touch.
Noise was definitely an issue. 59 decibels is quite a lot, almost as loud as a normal conversation at three feet. I have to lean towards the heat issue being poor thermal paste or a poor thermal paste application as Intel would be unable to cool this chip with just a normal heatsink if a water cooling unit can't keep temperatures below 80 degrees Celsius. To be fair, however, the chip was Turbo Boosted to 4.2GHz the entire time, seemingly indicating the chip had plenty of headroom in TDP and heat. With some more experience with the Haswell platform, we'll learn for sure if it was an issue with the system, or if Haswell is just a warm / hot running chip at load.
Upgradability is a non-issue. It uses completely standard PC components and has tons of room for additional RAM, hard drives and video cards. Simply drop in more RAM, a new video card, or an SSD for added performance down the road.
Our system is quite high-end and comes with a high-end price tag. At $2,731, this is a massive purchase. As the 4770K isn't officially released (at the time of writing), it's hard to say just how good of a value this is. It comes with a three year limited warranty and life-time "expert customer care." It's built-in the United States, as well, which both help justify any premium over the component cost.
The Digital Storm ODE, when it comes down to the line, is a great system. It's definitely not worth upgrading from a 3770K-powered machine as the performance bonus just isn't there with the 4770K. However, if you're coming from an older machine, it's definitely a worthy upgrade, or also a good choice for a new gaming system. The computer really is a high-end system. The cable management, as noted above, is absolutely gorgeous. The Digital Storm ODE should definitely be on your radar if you're looking for a new Haswell-powered system for your gaming needs.
If the system ran a bit cooler and quieter, along with not arriving with fingerprints and dirt smudges, I would have no hesitations awarding an Editor's Choice award. However, because of the few issues experienced, I can't justify it.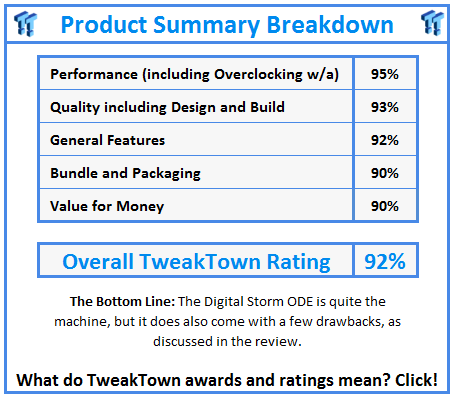 PRICING: You can find products similar to this one for sale below.

United States: Find other tech and computer products like this over at Amazon.com

United Kingdom: Find other tech and computer products like this over at Amazon.co.uk

Australia: Find other tech and computer products like this over at Amazon.com.au

Canada: Find other tech and computer products like this over at Amazon.ca

Deutschland: Finde andere Technik- und Computerprodukte wie dieses auf Amazon.de