Introduction and Specifications, Pricing and Availability
When I first started hearing about Intel's Next Unit of Computing (NUC), I was excited, but a little hesitant. I knew technology had gotten to a point of awesome power in a small package, but what could Intel do to change things up?

Intel's NUC is the result of the chipmaker asking its engineers to make the smallest fully-featured compute unit possible, and boy is it small. The unit measures in at just 4x4x2 inches, which is nothing. It's small enough to fit in your hands - an entire system, which is quite powerful, in your hands. In the world of quad-core smartphones, this is an actual Core i3 processor, with up to 16GB of RAM and a proper, fast mSATA SSD drive.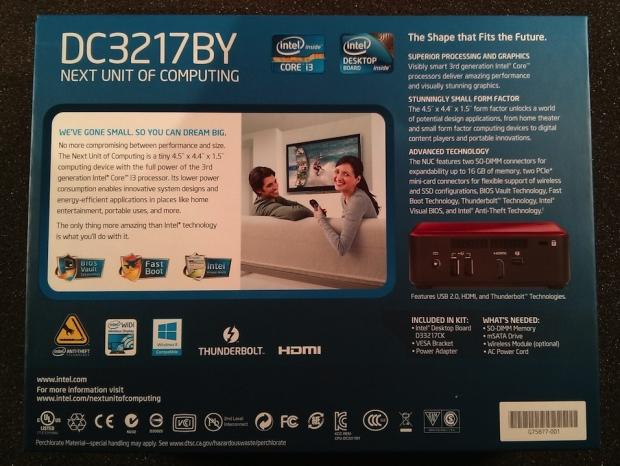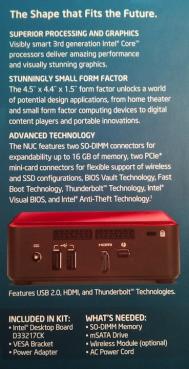 I don't know where Intel want to sell these, is its market the general user? Office users? HTPC users? I see them being very popular among modders and the HTPC market - as it has a Core i3 processor and supports two DDR3 SO-DIMM slots, with super-low power consumption. Oh, and we should also mention, again, it's extremely small total size and weight.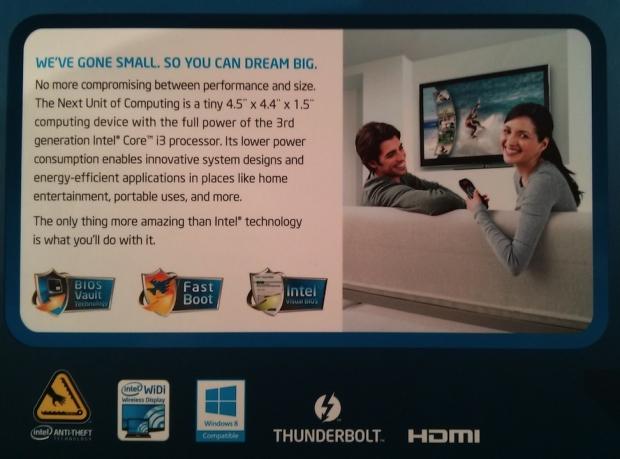 Intel launching a whole new form factor should have the market abuzz - it shows that they're willing to step out of the usual expectations that analysts, tech sites, and most important of all, customers have of them, and change things up. They're spraying on a new cologne, getting a new haircut and walking out in style with NUC.
Specifications, Pricing and Availability
The first-generation NUC has quite modest specifications, sporting a dual-core ultra-low voltage Ivy Bridge CPU, more specifically the Core i3 3217U (17W TDP, clocked at 1.8GHz, no turbo), backed up with HD 4000 graphics with clocks between 350MHz and 1.05GHz.
The NUC unit Intel has supplied us with is the Thunderbolt-equipped model, the DC3217BY.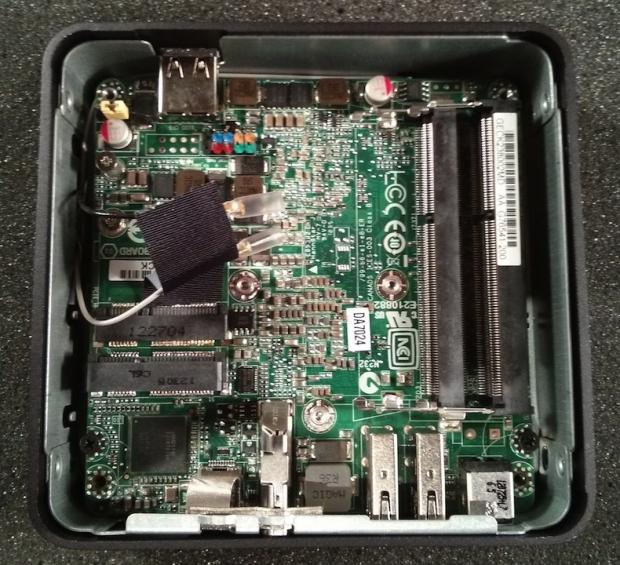 The NUC with its insides showing.
The Intel NUC comes in two different options, the DC3217BY and DC3217IYE. Both devices sport the same Core i3-3217U processor, the same Intel QS77 Express motherboard, two DDR3 SO-DIMM slot, but then things start to change.
The DC3217BY comes with one HDMI output, three USB 2.0 ports, Thunderbolt, and comes in a black with a dark red top color. The DC3217IYE is a little different in the way that it offers up two HDMI ports, Gigabit Ethernet (in place of Thunderbolt) and a stock black color.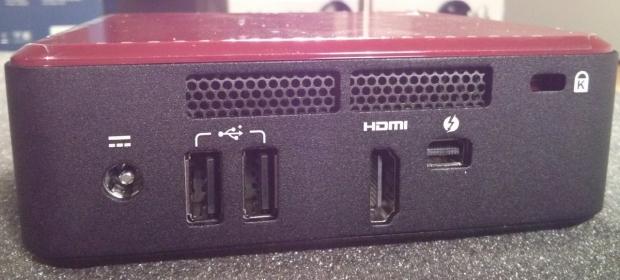 Both NUCs come with one mini PCIe (half-height) slot, and another mini PCIe (full-height) slot that supports mSATA. So the main differences are really just the presence, or lack thereof of Gigabit Ethernet, or you get Thunderbolt. But then Thunderbolt-less model comes with dual HDMI ports, which isn't too bad.
The Thunderbolt-capable NUC is capable of driving a 2560x1440 panel from the Thunderbolt port, which might be the better model if you're looking to drive a large 30-inch screen, or higher-res 27-inch screen.
Both NUC models come with two DDR3 SO-DIMM slots supporting up to two 8GB sticks of RAM for a total of 16GB. 16GB of RAM in a system measuring 4x4x2 inches is just crazy, isn't it? The mini PCIe half-height card is the perfect companion for Wi-Fi, with the top full-height slot for an mSATA drive.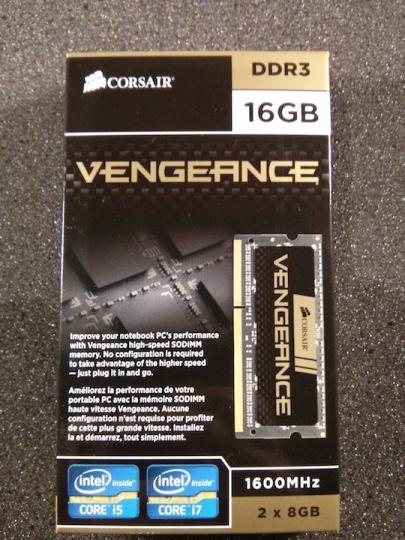 We had some help from Corsair for the RAM, where they've provided us with a 16GB Vengeance DDR3 kit, the CMSX16GX3M2A1600C10.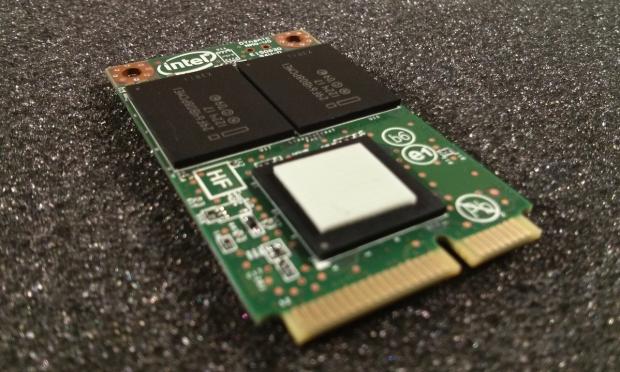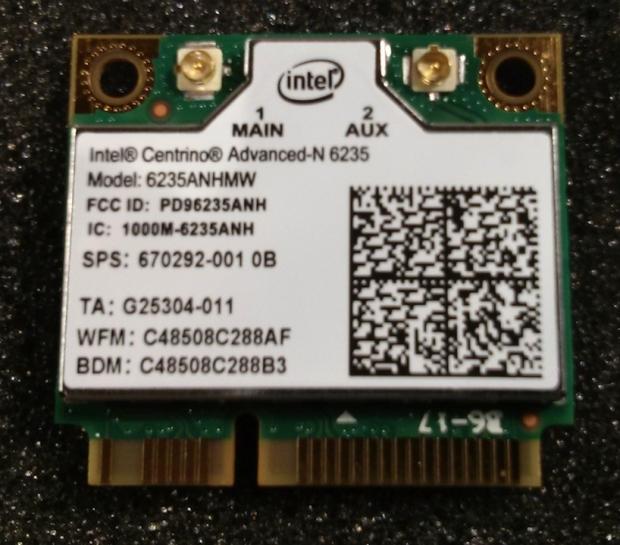 The mSATA drive was provided to us by Intel, which is the Intel SSD 520 Series - the 180GB, 2.5-inch, SATA 6Gbps model. They also provided us with the half-height mini PCIe Wi-Fi card, the Centrino Advanced-N 6235. Normally you do not get the SSD or Wi-Fi card, and of course you need to BYO RAM as well (and the AC power cord to be precise).
Intel will begin selling the NUC systems through Amazon and Newegg early December for $300 - $320.
Out of the Box Experience & First Impressions
I'm a big fan of first impressions and when something is done so radically different, it really needs to be told to the world. Instead of writing, I'm going to show you in a video, then explain underneath.
How. Amazing. Is. That. I was in my office when I first opened it, with my wife sitting on the couch across from me. Bum, bum, bum, bum... the normal Intel noise you hear on advertisements, fills the room. I was shocked, speechless. This is the simplest, smallest touch, but left a huge impression on me.
Intel didn't need to do that - at all, but they did and that's what matters. It feels different, special, and unique. This is its Next Unit of Computing, and this is the Next Generation of Marketing. That little noise left can go a long way to impress a user.
As you can see in the video, the box slides out to the slide very stylishly, exposing the NUC inside. Intel has provided us with the Thunderbolt-based model, the DC3217BY.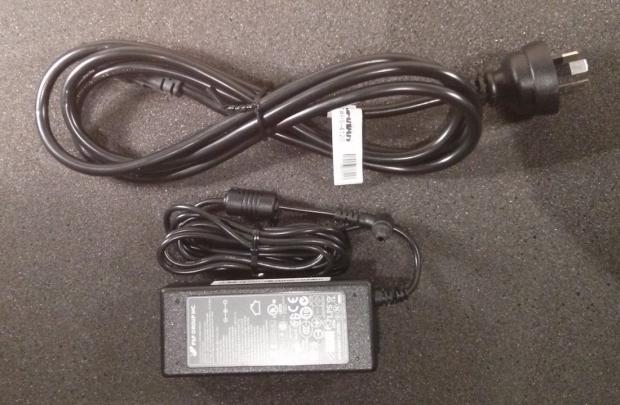 A 3-pin "Cloverleaf" cable that you'll need to purchase separately (the top cable).
Once the device is built, it is a little bit heavier than stock - as the SO-DIMMs, mSATA SSD and Wi-Fi card don't weigh all that much. I did have to run down to my local electronics store and buy a 3-pin "Cloverleaf" power connector, as it doesn't come included in the box.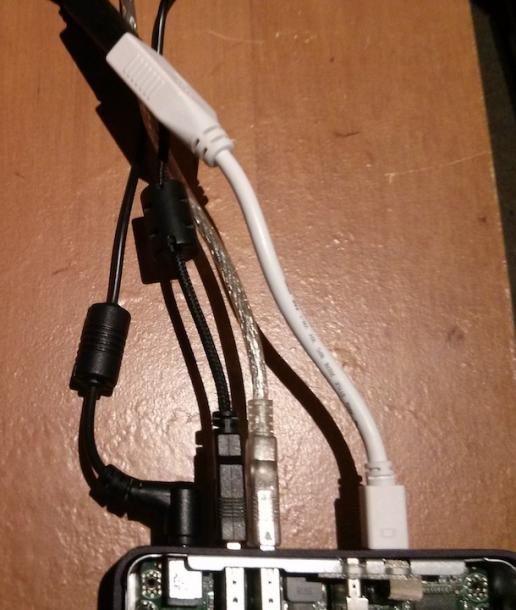 I had a miniDisplayPort to DisplayPort connector that I was able to use on the Thunderbolt port for my monitor connectivity - with my monitor being the Samsung S27A950D, 27-inch, 120Hz, 1920x1080 display. I installed Windows 7 Ultimate x64 from a USB flash drive, and away I went.
Installing the RAM, Wi-Fi card and mSATA SSD
Before installing the RAM, SSD and Wi-Fi card, I took a look at the device in more detail, snapping a few photos as I went. I used this as a bit of a build guide, as we know that everyone loves photos!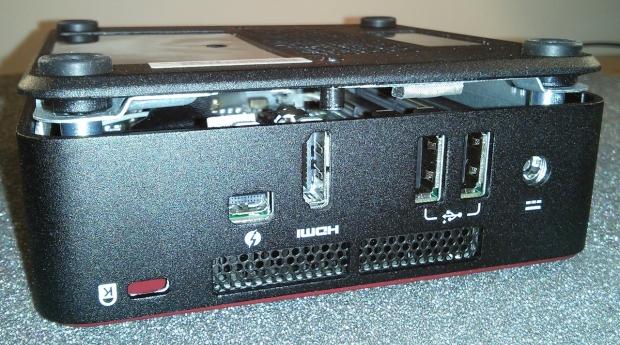 The NUC, open and about to go into PC building surgery.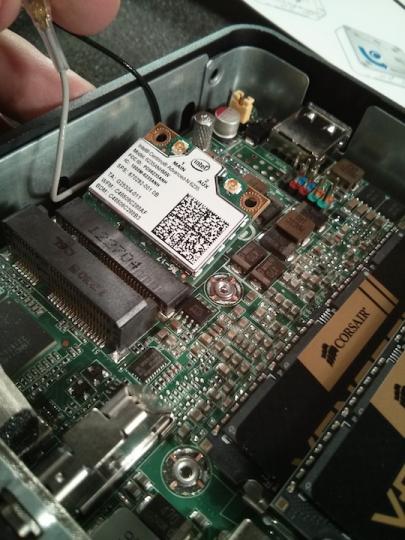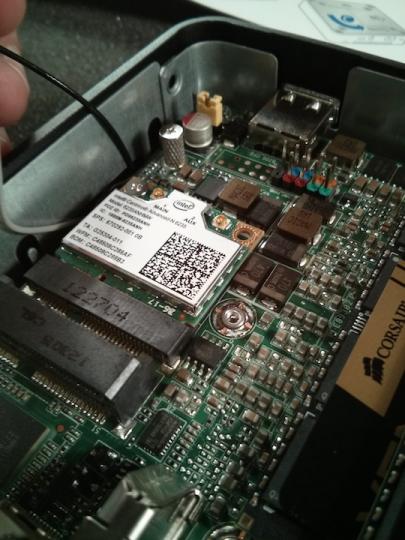 In order to install the Wi-Fi card, you'll need to remove a screw first. Then you slot in the Wi-Fi card, and the screw gets put into the hole on the top left of the Wi-Fi card, securing it into place, as shown above.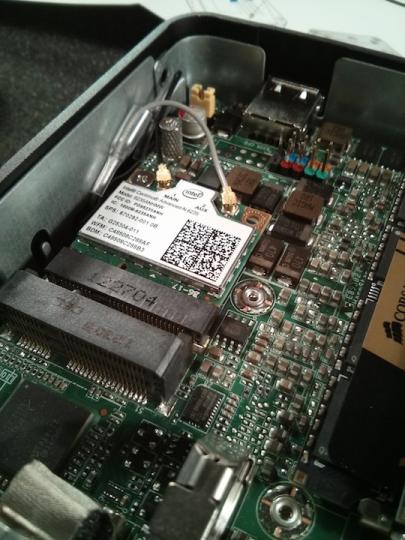 Once you've done this, you'll need to connect the two antennas to the Wi-Fi card, as shown above.
Next up, you'll have to repeat the process with the larger screw - which will be removed, getting ready for the mSATA SSD installation.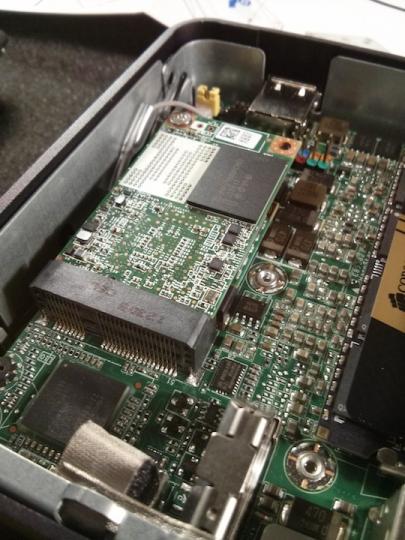 Once installed, it will look like the Intel SSD 520 Series does in our unit, above.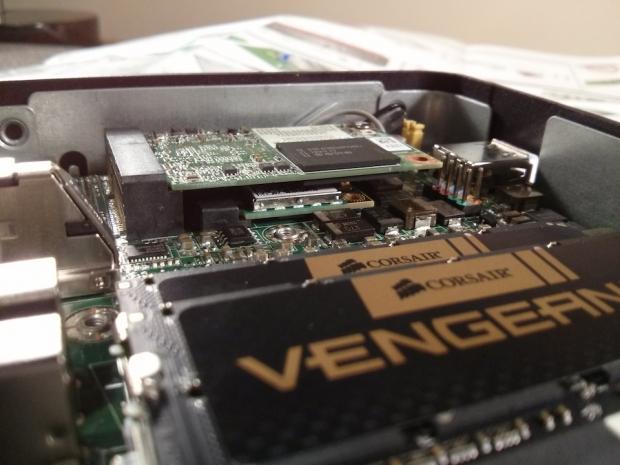 Once it's all installed, the Wi-Fi card and mSATA SSD drive sit awfully close together - but they seem snug. If there are any overheating issues, we should find out soon enough. After I completed the build of the NUC, I've run over some initial impressions in the video below.
I was quite impressed in how quickly the NUC can be built, obviously there's only the RAM, mSATA SSD and Wi-Fi card, but it was still just so easy. A complete novice could do it, without looking at the provided instructions. I have to give Intel credit here - they've taken the hard part out of building a system.
On the bottom of the NUC, Intel has given the PC some ventilation which should help with any heat exhaustion issues.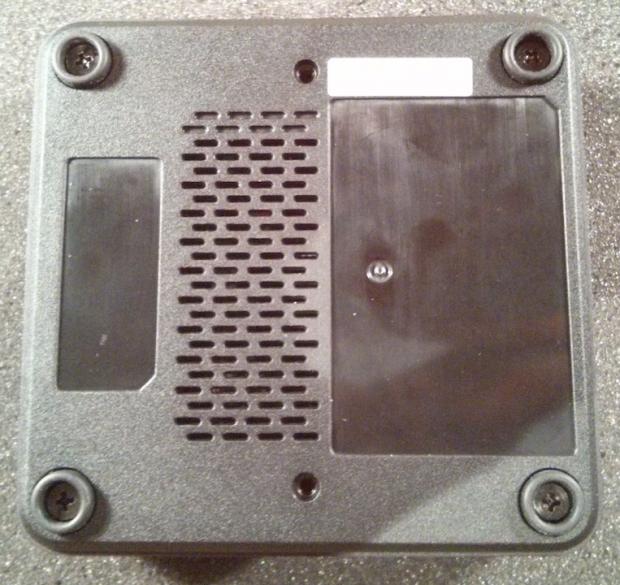 Installing Windows & How Does It Perform?
I decided to install Windows 7 onto the NUC from a USB flash drive, which was a surprisingly quick process. I expected it to be quick, with the 16GB of RAM and an SSD, and I was right. Installing Windows 7 from a USB flash drive took a shave over 10 minutes, which was very impressive for a unit of this size.
Once installed, I configured the NUC to how I would my desktop or notebook system - installing the usual applications and software I use everyday. This includes Google's Chrome browser, Spotify, and the various drivers required to get the NUC up and running.
Once Windows 7 was installed, I noticed that my Samsung S27A950D was running at 120Hz without installing any drivers. This is impressive. My desktop rig can't even do that without the installation of some fresh drivers from AMD or NVIDIA. Not that this is a selling point, but it was a nice surprise.
After the OS installation, I went to Intel's website and downloaded all of the latest drivers for each component installed - chipset, GPU, Wi-Fi, etc. After this was finished, I rebooted the system as I would on a usual system and this is when I ran into my first issue.
I came back to the NUC the next day, and what do you know? It works. I have no idea what it needed, but I had rebooted multiple times before hand and it didn't work - maybe it needed a sleep. Well, this wasn't the only issue I had experienced, unfortunately. After I had wireless working, I began updating Windows 7 through Windows Update - this is when I experienced all sorts of issues. While having Windows Update in the background, I began doing other tasks I'm used to doing on a computer, you know, multi-tasking.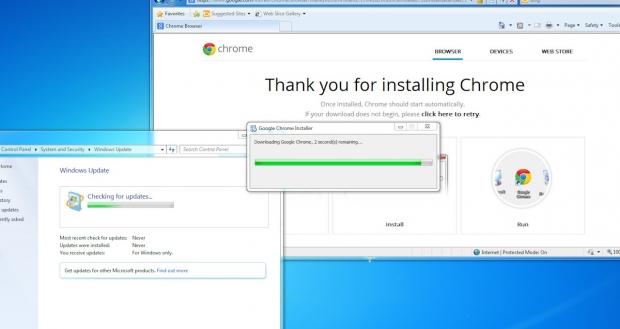 I began installing Google Chrome, Spotify, and some other apps I use on daily - and the NUC locked up. Reboot - doesn't detect the SSD - great. The only way to get it to detect the SSD was to unplug the power cord, and plug it back in. I shouldn't have to do that, and neither should a consumer. This is ridiculous.
So, I continued this method - to fault find what was triggering the lock up - and it seems stress on the SSD is what causes it. Right now, as I type this on my functioning MacBook Air, Windows is updating perfectly - as it is the only thing I'm doing on the NUC.
Just before this test, I was streaming music through Spotify, updating Windows and tried to copy over my TechNet .iso file of Office 2010, and it locked up. It just doesn't like load. I even went as far as taking the back cover off, flipping the NUC on its ass, and letting it get some air - still, nothing. Locks up as soon as the Wi-Fi card begins getting stressed.
Before, and after these issues - I did some general use on the NUC and just loved it. Without audio, it does have its downsides, but luckily I had a Plantronics USB to mic/audio-in adapter, which I plugged into the NUC and it worked instantly - detected, installed drivers automatically and away I went.
General use on the NUC was slick - it felt like a full-fledged, fast desktop PC. The speedy Core i3, 16GB of RAM and fast SSD all combine their respective powers to give the user a fresh, smooth experience. I loved it. It was truly refreshing to look down on my desk and see this tiny unit, look up to my monitor and realize that this tiny thing was a true little powerhouse of a PC.
Sure, it's not going to break any world records in terms of benchmarks or speed - but these days, for general use, you don't need that insane speed. If you're just surfing the web, using social networks, watching YouTube videos and streaming or listening to music, the NUC is an ideal choice.
We snuck a quick benchmark in for the mSATA SSD running HD Tune Pro, with the it capable of delivering an average of 313.2MB/sec - mighty impressive for something so small. It reached a maximum of 362.1MB/sec and a low of 'just' 218.6MB/sec.
Power consumption was just impressive - there are no other words. I'm used to 100W+ of idle power consumption (or around there) on my Core i7-based systems, but this just sets a new record for power consumption.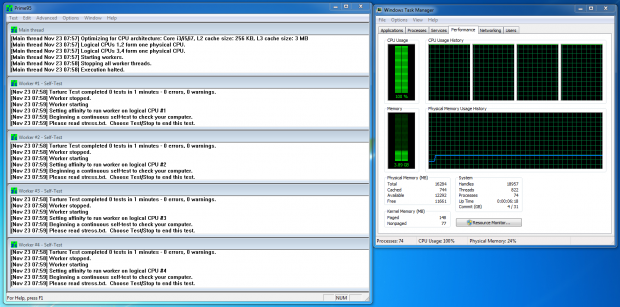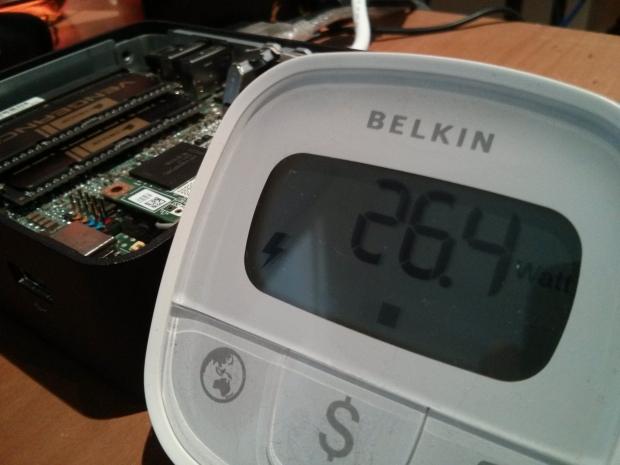 Under Prime95 load, it uses just ~27W of power, as shown above.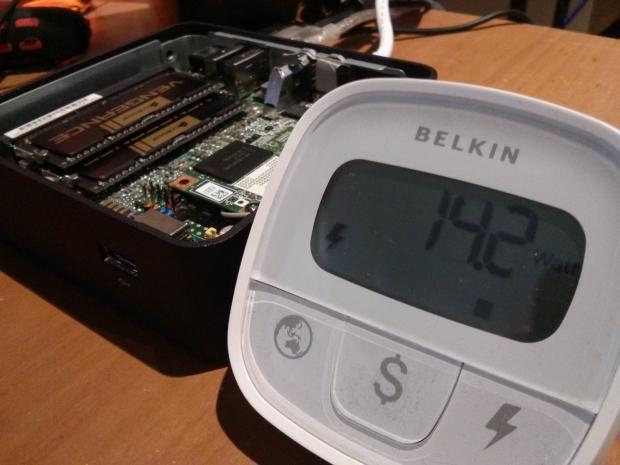 At idle, it uses just ~14W of power. Incredible.
These figures do vary by around 1-2W at any stage, just like any PC would vary in power consumption.
Final Thoughts
I'm a huge fan of first impressions, and the NUC blew me away. That simple Intel sound when opening up the NUC really did go a long way - and keeps the memory fresh in my head. The size of the NUC is utterly impressive, considering it sports a Core i3 processor, 16GB of RAM, a 180GB SSD and uses next to no power.
Compared to my usual desktop, which features Corsair's Obsidian 800D case, the NUC feels like an ant. But, just because it's small, don't let its looks deceive you - it's fast. These days, I don't use my desktop for much outside of typing on it for hours upon hours per day and streaming music through Spotify.
I have Google Chrome setup synced across every device I use, with bookmarks and extensions. I access my QNAP NAS through Chrome, and do most of my reading and writing for TweakTown through Chrome. I'm not a "power-user", who requires a Core i7 @ 5GHz (even though my desktop is clocked at those speeds), and I'm a big fan of SSDs - a big, big fan.
A simple Core i3 processor with 8-16GB of RAM (which is not that expensive anymore) and an SSD can feel like a true powerhouse system compared to a quad-core from a few years ago (Intel's Q6600 for example), and a mechanically driven HDD.
The NUC is going to have its place in the market, but Intel will have to push it as no one is going to know about it unless they look for it. It'll find a home in HTPCs, college and uni students and a select few others, but that is purely my personal opinion. I think we're going to see small business embrace it, for its small, compact size and fast internals but low power draw. We'll most likely see it being used in kiosks to plug into a HDTV to show off a video, or as a point-of-sales device.
I did have some niggly issues with the NUC, but the retail units could have these issues fixed. I'm sure it was just a driver-related issue, but if an end-user was to experience this, it would definitely put a sour taste in their mouth.
Intel's NUC is a step in a different direction for PCs, and one that I think has a future among the world of technology. PCs are getting smaller, chips are getting even smaller, and we're doing more work in the cloud. Intel knows this, vendors and companies know this and the NUC is really going to be remembered as that first real push.
I think Intel have more of a future in NUC than in Ultrabooks - as Ultrabooks are really just thin notebooks, but the NUC is truly different. I loved my time with the NUC, and it has now found its place as my everyday desktop machine, hooked up through Thunderbolt to my Samsung S27A950D monitor, and through HDMI to my Samsung Smart TV.
Thank you, Intel - for reminding me that the PC can be incredibly exciting when you get to use a device as fresh as the NUC.