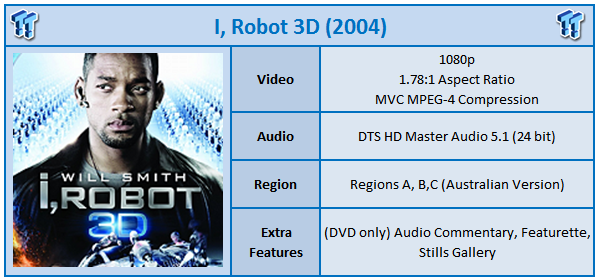 Originally hitting cinemas in 2004, I, Robot has been resurrected in three dimensions for home video, as opposed to theatrical release. With this in mind, it represents a slight gamble on the part of Fox, who are betting on a cheap conversion cost to re-cooping its dollars. Have any corners been cut? Read on.
I, Robot is loosely (and I mean loosely) based on the Isaac Asimov book of the same name. Set in the year 2035, where robots are commonplace in society, cop Del Spooner (Will Smith) is called in to investigate the death, deemed suicide, of the co-founder of U.S. Robotics, Dr. Alfred Lanning (James Cromwell). Robot Psychologist Dr. Susan Calvin (Bridget Moynahan) assists Spooner to navigate the robot world, but when the investigation attempts to interrogate a new model robot who flees, directly contravening one of the three laws of robotics, a larger and more sinister plot begins to unravel.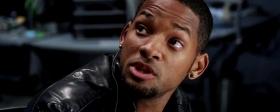 With Twentieth Century Fox hitting big returns from the rather low investment to post-convert such theatrical hits, such as The Phantom Menace and Titanic, it's no surprise that they are looking to further mine its back catalogue of successful films. But what separates those films from the conversion of I, Robot is a newly created method for conversion which significantly lessens the need for manual rotoscoping and therefore cost. This leads to obvious suspicions regarding the quality of conversion...suspicions which are extremely warranted.
Video
I, Robot is presented in the aspect ratio of 1.78:1 (a divergence from the original aspect ratio of 2.35:1), encoded with MVC MPEG-4 compression.
In creating this 3D version, Fox have gone back to the original Super35mm negative and manufactured an open-matte ratio version, which gives some additional vertical information, in exchange for the loss of some horizontal information. This is clearly against the director's intention (and there's been no suggestion that Alex Proyas has been involved in any way), but the bigger image does make for an enhanced 3D effect.
However, this cheap 3D conversion is just that. There's significantly less 3D pop in the image as we are accustomed to and the shortcuts in 3D rotoscoping are painfully obvious. While some sequences have some convincing (and pleasing) 3D effects, for the most part, this is a conversion that will fail to please even the most ardent of the formats supporters.
The quality of the 2D version is very good, albeit not in the original aspect ratio. The image is bright and detailed, but unfortunately inferior to the previous Blu-ray release.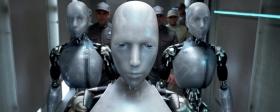 Audio
I, Robot is presented in DTS HD Master Audio 5.1, at 24 bits.
Featuring the same aggressive mix as featured on the previous Blu-ray release, I, Robot is certainly something to behold. Dialogue is strong and no matter how noisy the on-screen action becomes, intelligibility is never an issue. Both the front and rear soundstages play a pivotal part in this mix, with split surround activity extremely common and involving.
LFE activity is again very good, with some deep rumblings, especially during the house demolition sequence around mid-way through the film and the climactic battle.
Marco Beltrami's percussive score is fitting and appropriate, but once the movie concludes the themes will seldom stay with you.
Overall, a fine mix that is as good as one would hope.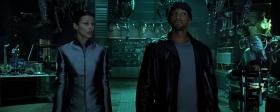 Extras
Somewhat disappointingly, Fox have stuck both 2D and 3D versions on the same disc, rather than retaining the previous 2D Blu-ray release on a separate disc. What they have done, is include a DVD version of the film with some limited extra features on that disc. So, for example if you wish to listen to the audio commentary, you'll only be able to watch it in conjunction with the standard definition DVD version. Sigh. Normally I wouldn't comment on the features of a 'bonus' DVD copy, but since that's all we get...
First up is one audio commentary featuring Director Alex Proyas and writer Akiva Goldsman, a brief making of featurette, and a stills gallery.
This is a pretty terrible result when the four year old previous Blu-ray release had a plethora of audio commentaries, documentaries, featurettes and deleted scenes. Woeful.