Sapphire Radeon HD 7750 1GB Ultimate Video Card Review
We look at an AMD Radeon HD 7750 that peaked our interest - the passive cooled Ultimate version from Sapphire.
Published Wed, Mar 21 2012 10:41 AM CDT
|
Updated Tue, Nov 3 2020 7:01 PM CST

After looking at the Radeon HD 7750 from HIS in a standalone review and then looking at reference model paired with it for some HD 7750 CrossFire action, I swore that I wasn't interested in testing another one. Still if someone was ever going to get our attention with a version it was going to be the folks over at Sapphire and that's exactly what they did.
Due to the fact that the Sapphire HD 7750 we're looking at today carries with it just the default clock we have opted to move away from our typical full video review and move it over to this format. Instead we'll just concentrate on what makes the card stand out and quickly see how the performance of the passive cooler is.
The first thing I've got to say, though, when pulling the box out for the first time is just how awesome the box is. The ninja on the front looks great and it's awesome to see the Ultimate series come back; even if it's not on our most favourite model at the moment.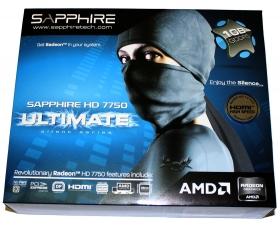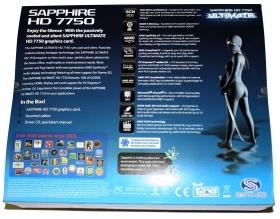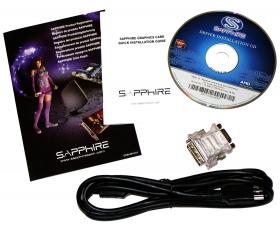 Inside the box we've got quick install guide, information on Sapphire Select Club, driver CD, DVI to VGA connector and HDMI cable. The HDMI cable is probably the item that stands out most for us here as the first thought that comes to mind with this model is; it's perfect for a HTPC!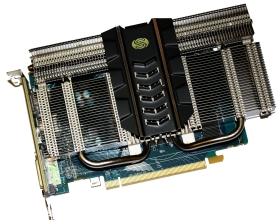 Pulling the card out of the box you can see the massive passive cooler on the card, which looks great. Coming out the bottom you can see we've got some heatpipes that lead into a massive aluminium heatsink.
Looking closer you can see not only does the heatsink hang over the right side of the card slightly, but it also hangs over the top and makes its way to going on the back of the card slightly. This is a dual slot card as you'd expect and that's something worth knowing in the event that you're pushed for space.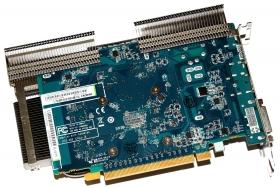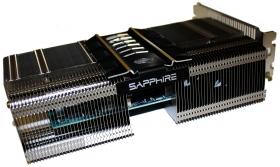 Overall the Ultimate cooler is just as you'd expect. Fairly ultimate! It looks great and while the HD 7750 is the baby model from the new series and isn't exactly our favourite model at the moment. The Ultimate cooler from Sapphire makes the card look really mean and gives us a bit more hope with what to do with the model.
Sliding the card into our testbed the new cooler looks great against our ASUS Rampage IV Extreme motherboard as you can see below. With it in our testbed the main thing we wanted to find out is just how the new cooler goes on this model.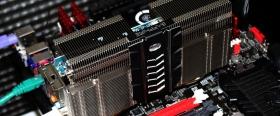 Sitting in Windows and opening up MSI Afterburner we saw the card idle along at 38c which isn't too bad. To give you an ideal the active cooled HIS offering, it sat idle at 27c. What was probably more interesting, though, was doing a run of 3DMark 11 saw the card hit only 53c. This in comparison to the active cooled HIS card which came in at 50c sees an extremely impressive result from Sapphire here.
The power draw side of things at idle came in at 196w while load was 366w. These numbers aren't surprising at all as they're similar to what we saw out of the HIS HD 7750 which had 183w / 348w respectively.
As for performance we saw the card complete 3DMark 11 with a final score of P2744. Compared to the active cooled HIS offering again, this is exactly as you'd expect with that card scoring P2745. Considering both cards are clocked exactly the same there wasn't a huge need to completely retest the card again.
To get a better idea of just exactly how the HD 7750 card performs in our typical benchmark line up, we again recommend you check out our standalone HD 7750 review that we completed the other week.
Since we were already in Afterburner grabbing the temperature of the card I figured we may as well just try and do a little overclocking since it wasn't something we'd looked at so far. We started by moving from 800MHz to 900MHz on the core front and found 3DMark 11 crashed almost instantly. We moved down to 870MHz and got almost all the way through 3DMark 11, but got a crash towards the end. We decided to push it down a little lower to 850MHz to see if we could get a completed run and that still didn't work as it crashed right at the very end.
Almost ready to give up we thought we'd just try 840MHz since we'd already spent a bit of time on the card and in the end that crashed as well. In the end we just stopped bothering as the simple fact is that a 20MHz or 30MHz overclock is going to ultimately make no real difference to performance.
When it came to overclocking, though, the results in the end weren't a shock to us. The lack of voltage adjustment on the model, no push from AMD when it came to HD 7750 overclocking and the simple fact this is a passive cooled card meant that it was something that could well have not happened.
On the price and availability side of things the Sapphire HD 7750 Ultimate 1GB hasn't hit retail yet, but it should start to show up soon. It's going to cost a little more than your typical HD 7750, though, and the bottom line is from a pure performance point of view, that's too much money. Like we've said many times, you'd be better off spending that money on a HD 6870.
Of course you're not going to get a silent HD 6870, nor a silent HD 6850. This is a bit of a niche market and one company's still don't fully focus on. The cooler is also fantastic when it comes to the quality with it running only 3c warmer than an active cooled version.
I honestly didn't think that I'd be giving a HD 7700 series based card an award, but this one deserves it. If you're looking for a new silent card this is just an awesome option. Considering how limited our options are as well, it wasn't going to be hard for Sapphire to stand out in this area.
Of course, if you're not interested in a silent card, then it's just going to be too expensive and it falls in line with our thoughts on the other HD 7700 series cards we've looked at. We'd love to see Sapphire maybe move up the food chain with an Ultimate card as these 28nm GPUs have proven to run extremely cool. Only time will tell what they do, though.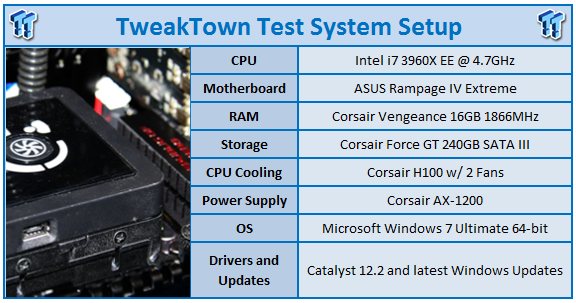 PRICING: You can find products similar to this one for sale below.

United States: Find other tech and computer products like this over at Amazon.com

United Kingdom: Find other tech and computer products like this over at Amazon.co.uk

Australia: Find other tech and computer products like this over at Amazon.com.au

Canada: Find other tech and computer products like this over at Amazon.ca

Deutschland: Finde andere Technik- und Computerprodukte wie dieses auf Amazon.de