When Corsair made their first entry into the headset market, they made a strong one and we have only good memories about what was a very well rounded product. And now as part of an all new Vengeance series of products, we have two new headsets which again, like the first entry, come in two versions; an analog and a USB based digital headset featuring Dolby headphone software support.
Today we will be taking a look at the Vengeance 1500 digital headset which features full sized 50mm drivers and support for 7.1 channel virtual Dolby Digital surround sound. Also featured is a high sensitivity noise canceling Mic.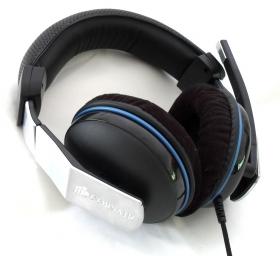 At first glance the overall feel of the fit and finish is really nice to hold and wear which is very important for a headset. With good quality plastic and a large padded headband, it's also clear straight away that the ear cups are going to be comfortable and that the padding is more than enough. Interestingly, the 1500 features the soft fabric ear pads we prefer, while the 'lower end' model, the 1300 does not; instead using the faux leather stuff seen everywhere these days.
The streaks of aluminum down the sides of the headset personally are not a hit for us, but there will be many that enjoy the higher quality finish and let's be honest, it is better than just ordinary plastic, but it's just a little passe these days too see a glint of brushed aluminum highlight somewhere. That's just jogged something else for us, which is that this headset looks very much like something from the 90's that might be used with a Hi-Fi system. But we would not go as far as saying retro, just dated perhaps. Personally, we are still waiting for the fish tank in either ear cup design that must be coming by now; we can only hope. Not sure about the vibrations, though...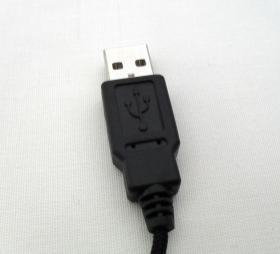 - The System Specifications
Headphones:
Frequency Response: 20hz-20khz
Impedance: 32ohm
Dynamic Range: 95dB
Drivers: 50mm
Microphone:
Frequency Response: 100hz-10khz
Impedance: 2.2Ohm
Sensitivity: -44dB
Requirements:
USB port empty
Windows based PC (Seven, XP, Vista etc.)
Okay, looking at the numbers now and the Vengeance 1500 looks great if you take those figures as gospel . However, we know full well that these numbers can be pumped up a little bit when things need to be made more exciting. With that said, experience has also shown that Corsair are pretty good with reporting accurate figures and the only thing we would like to see is an expansion on the figures given with the packaging. Maybe even some sort of system like Arctic Sound use, which gives a theoretical mark out of five for main performance areas based against the same company's other products in the same range - just an idea anyway.
The construction of the headband is the sort of quality we have come to expect now from Corsair, featuring a great amount of nice thick padding which feels great when worn and clearly shows that this headset is cut out for long sessions of use.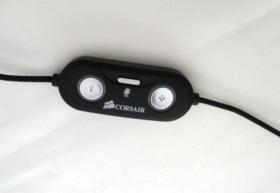 Volume of the Vengeance 1500 headset is handled using a small inline volume control that works very well and is built with enough thought in mind to allow it to be useful and convenient. The length of the cable is also going to be fine for most peoples needs we feel and seems like it's made from a decent material. The included Mic is large and conveniently folds away when not being used.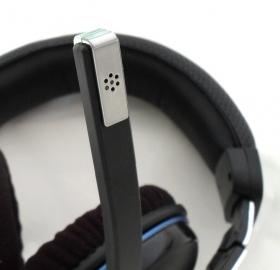 The Vengeance 1500 also features software support including Dolby Headphone which is fantastic. The interface is slick and fast with some nice graphics also being used to give everything a very up to date feel. This software is really the heart of the this package and should be the main selling point given how well it works, yet Corsair do not seem that excited about it for some reason. But to any potential buyer of this headset, just try listening without the software installed and you will see how well it works and frankly is needed to make this a recommended product.
It must be noted that it needs to be downloaded from the Corsair website, so really, an internet connection should be on the minimum requirements list as well.
Our favorite part of the software UI is something called Virtual Speaker Shifter 7.1 which allows you to (in real time while listening) position all 7.1 speakers and even the users virtual head position all within a simulated environment. This is really well done and must be heard to be fully appreciated. And that's before getting into the Dolby Headphone processing which features different room presets as well. Let it be said now, that this software is probably the main reason for buying this headset and yet there is really only a brief mention of it; kind of weird for us, more detail is needed on the packaging we feel.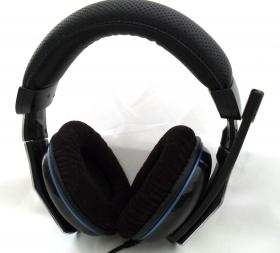 One last thing to mention here before testing and that is the lovely memory foam used in the ear pads. We thought this worked great on the original series and are glad to see it back again. It's because of this foam being used that we feel Corsair headsets are amongst the most comfortable on the market right now in this class of product. We feel that the people who did the padding side of things should consult with the people who designed the box; great things could happen from that marriage.
- Music and Games
Music testing with the Vengeance 1500 was an enjoyable experience overall, aided very much with the use of Dolby Headphone processing and we were quite pleased with what we heard overall. Mid range and low end is a strength of the 1500 headset with very impressive low end extension. In terms of the high end, this would probably be the weaker of the performance areas for music, with some performance suffering from an upper limit of probably something around 16khz, which falls a little bit short of being up in the 20khz ideal range for high end extension. Overall, though, we would say the Vengeance 1500 is 'also' good for music listening rather than it being the main reason to buy one.
Gaming performance again aided by the virtual surround processing was strong overall with the user being able to position themselves in the centre of the action at all times in order to gain any advantage possible. As we have mentioned before, USB (algorithm driven) headsets are looking really strong right now and would have certainly began to whittle away some of the market share held by dedicated 5.1 headset solutions. We have said before; that it really looks to be the way these sorts of headsets are going for a number of reasons.
However, that being said right now, the absolute most accurate way to receive surround information is still through a dedicated surround headset (or speaker) and the Vengeance 1500 while having great state of the art software, cannot really be for this reason recommended solely as a gaming solution.
- Movies and Video
Probably the central resting point for this headset combined with software aided surround; movies sound great with some really nice surround FX and nice deep powerful bass. Even flicking through movie trailers was an experience using the 1500's with Dolby Headphone. Testing with all types of video up to 1080p and even in 'original' format for the Dark Knight trailer really was pleasing with this headset. We felt that it was really hitting its stride at this point.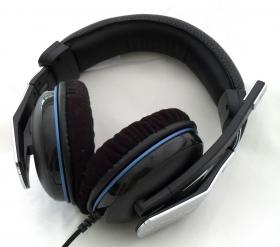 As we have mentioned previously with our coverage of the Vengeance 1300 headset, and in the same vein, does the Vengeance 1500 actually improve on the original HS1 to warrant the purchase if you already have one? Unfortunately we would say no, it does not. You're better off sticking with your original HS1 and saving the money, because the improvements do not warrant a whole new headset being bought. But this is largely due to the fact that the original HS1 was an outstanding product and to better it for around the same money is incredibly difficult. Even for the folks who made it!
That being said, though, the next question is; what If you have never even been close to a headset from Corsair; does the Vengeance 1500 better its competitors for around the same price? And the answer to that one is a resounding yes. Compared with what we have heard, the Vengeance 1500 must be one of the nicest headsets for just shy of one hundred dollars. And when coupled with the software included forms a formidable force to be reckoned with by competitors.