When Corsair made their first entry into the headset market, they made a strong one and we have only good memories about what was a very well rounded product. And now as part of an all new Vengeance series of products, we have two new headsets which again, like the first entry, come in two versions; an analog and a USB based digital headset featuring Dolby headphone software support.
Today to begin with we will be taking a look at the Vengeance 1300 analog headset which features full sized 50mm drivers and support for 7.1 channel virtual Dolby Digital surround sound. Also featured is a high sensitivity noise canceling Mic.
The large wide pads have again memory foam inside to ensure fantastic fit against the users head. This was one of our favorite features of the original series and we are glad to see it back again!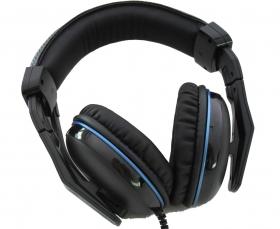 At first glance the overall feel of the fit and finish is really nice to hold and wear, which is very important for a headset. With good quality plastic and a large padded headband, it's clear straight away that the ear cups are going to be comfortable and that the padding is more than enough.
The fit and finish of the headset feels good with high quality plastic being used throughout combined with a generous and well padded headband. Personally, we think it's very important to have a well padded headband, especially during long sessions of use. While the look is not quite as slick when compared with the digital version of the same headset, overall it's not bad and the headset does have the all important feel of good quality construction when placed on the users head, and at the end of the day this box has to be ticked really before anything else happens.
- The System Specifications
Headphones:
Frequency Response: 20hz-20khz
Impedance: 32ohm
Dynamic Range: 95dB
Drivers: 50mm
Cable length: 3m
Interface: 3.5mm male
Microphone:
Frequency Response: 100hz-10khz
Impedance: 2.2Ohm
Sensitivity: -41dB
Mic Interface: 3.5mm male
The Vengeance 1300 features an adjustable headband that should be able to cater to many different sized and shaped heads. The small built in Mic also folds down and can be bent to allow for placement just about anywhere in front of the users face.
Connection of the headset is done using standard 3.5mm male jacks which allow for connection to any sound card on the market at the moment. However, if like us a really high end card is to be used, than a 1/4" adapter must be supplied by the user, as we did not find one inside.
To be honest, while the flexibility of the 3.5mm jack is great in a world of Apple products, honestly in our opinion, just makes the Vengeance 1300 much like a whole lot of other quickly put together headsets for sale now. Here is an idea, instead of pitching a product aimlessly into the never ending void of 'gaming nick knacks' sure to be forgotten before the year is out, how about going out on a limb and making a headset of high quality that people will remember and that sounds great doing things other than making gun shots and explosions?
And frankly, that does nothing to reflect the neutral frequency reproduction (of the headset) at all. Not to mention how mind numbingly boring it is to have nearly every headset of late being an "Intense gaming experience" which nearly always means; It isn't.... Do remember, though, we are not singling out Corsair here as many, many companies are guilty of this uninspired stuff.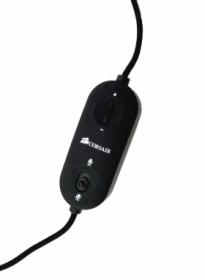 Volume of the Vengeance 1300 headset is handled using a small inline volume control that works very well and is built with enough thought in mind to allow it to be useful and convenient. The length of the cable is also going to be fine for most peoples needs we feel and seems like it's made from a decent material like all Corsair headsets we have tested. The supplied cable is great; we really like the strong woven feel of it and have since the first headset we have tested from Corsair.
Unlike other headsets from Corsair that we have tested, the 1300 does not feature a second set of ear pads to give the user a choice between the two. For example, we actually preferred the fabric option supplied in earlier models as it just felt nicer to hold and on the head.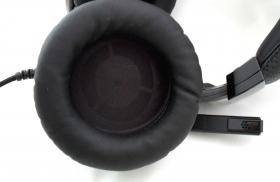 There is just something that we personally do not really like about using this Faux leather stuff over the fabric option; it's probably just that the fabric feels nicer on the head, but is very personal which is why Corsair shipped their first round of headsets with the choice. Honestly, we are still searching for what has really changed for the better in this second round of headsets. Certainly we would have liked the choice of ear pads to stay.
- High End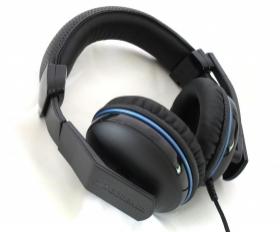 Overall, the high end sounded pretty good during our listening tests with a decent amount of high frequency extension. The large 50mm driver is definitely better suited to producing lower frequencies than higher ones, but there is still plenty to be enjoyed here when listening to treble heavy media.
- Mid Range
The mid range sounded really quite good, aided by the large driver. We were able to enjoy clear and well defined mid range tones that allow the sound stage to sound large and well filled out. Really, nothing surprising here as we are coming to expect a certain level of performance now from the ever increasingly popular 50mm driver size.
- Low End
The low end again not surprisingly is big with the Vengeance 1300 thanks to that 50mm driver. During our testing we found the low end to pack a big punch when it comes to delivering on powerful bass tracks. In fact, when buying a headset like this, the performance of the low end is going to be a big factor because users in this market expect big bass.
The Vengeance 1300 does not feature an active software component like the digital 1500's we will be looking at next . However, since we used an ASUS Xonar Xense sound card, we had the option of using the built in Dolby Headphone function which works very much like the software component featured in the 1500's. Only difference is that the Xense is a $400+ dollar solution and the Corsair headset comes with the software thrown in. Go Corsair!
Anyway, we did indeed test the Dolby headphone function and found that it sounded quite good through the 1300's. It's basically just an option for users who want more from their surround enabled media without using a (dedicated) surround enabled headset. So if you happen to be using a Xense like us, then make sure you enable this setting for gaming and movies!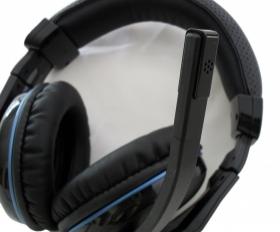 Of course, other sound cards will also have the same option to use Dolby headphone likewise, so just make sure that you seek it out if in fact your hardware does support it. And also make sure those drivers are up to date, because for us the speed of the HUD doubled when updating the drivers for our Xense, under Windows 7.
Overall, though, while we were struggling to find what has really improved in this iteration of Corsairs latest gaming headset, the Vengeance 1300, we remembered something a friend had said earlier in the day which is; if it's not broken, then don't fix it, and we think that caveat really fits here.
But that does not mean we should get all fluffy with our testing criterion and evaluation process, because this is supposed to be a new product and we will score it as such as we always do . However, we must look at this headset in two ways; firstly, as a standalone product this is a strong performer and a well built headset that we would indeed recommend.
Yet, as a follow up product to the original HS1-A we looked at quite some time ago, we truly struggle to find any reason to recommend spending whatever the difference is by now between the old and the new. They both sound within Par of each other, but by now you would be able to save a good $25-30 Aus (only a guesstimate) on the original HS1-A which comes with the extra ear pads that we like so much. So just be aware of this when making a choice, and remember this is only our advice and does not reflect the ultimate needs of each individual user.