Introduction, Specifications, Availability and Pricing
Introduction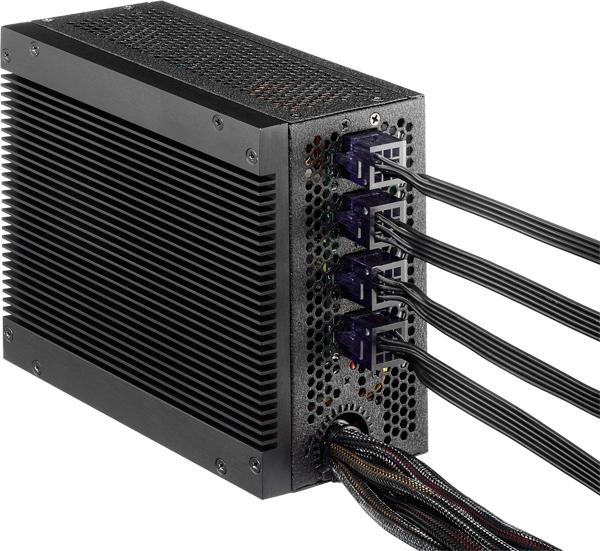 One of the best parts of covering hardware for computer enthusiasts is that there are so many different needs for enthusiasts. Usually when someone thinks of someone as being an enthusiast, they relate them with someone who has the fastest or most powerful equipment available. This isn't necessarily the case, especially with what we are looking at today. HTPC enthusiasts often look for something that is small and unobtrusive, or something that is silent yet powerful. Silent and powerful is something that is hard to come by with a HTPC, especially since fanless power supplies are few and far between.
Thankfully we now have another option thanks to Kingwin launching their Stryker Fanless series. Today we are going to take a look at the 500W model. It boasts quite a few features that will allow it to fulfill a variety of roles and should also appeal to a wide customer base. Not only is the Stryker series a fanless power supply, but it also comes with enough connectors to power multi-GPU systems and has an 80Plus Platinum efficiency rating. Keep reading to find out more about Kingwin's latest.
Specifications, Availability and Pricing
The Stryker 500W packs quite a punch for a 500W power supply. The single 12V rail supplies up to 99% of the power supply's rated output; up to 41.5 amps. The 3.3V and 5V rails offer up to 20A of power each with a combined total output of 100W. This is another one of the "Overclock Version" power supplies, which means it is an under-rated unit and this one is able to output up to 600W, but it does lose some efficiency. At 600W of power available, this opens up some very interesting possibilities for SLI users as well as those seeking to have a silent rig.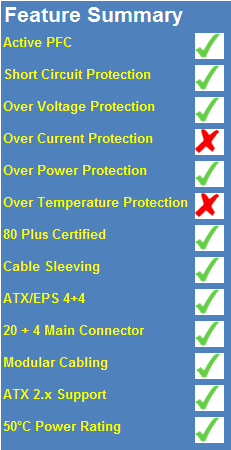 The Stryker 500W power supply from Kingwin comes with quite a bit of features. Perhaps the most interesting combination is that this is a fanless unit rated for 100% continuous output at 50C, without the inclusion of Over Temperature Protection. Kingwin must be rather confident in this unit being able to handle itself under high loads to not ensure that it has some sort of failsafe if it gets too hot.
Kingwin has excellent market penetration with their products and as such, you won't find yourself needing to search very hard to find one of the new Stryker units. The Stryker STR-500 retails for $159.99. What you will find is that the Stryker 500W is in somewhat short supply and even Newegg was out of stock at the time of writing this article. We still managed to track down the Stryker 500W PSU for $159.99, but it has a $9.65 shipping fee on top of it at Amazon, bringing the total up to $169.64. That is quite hefty for a 500W unit, but it is backed by a five year warranty.
The Packaging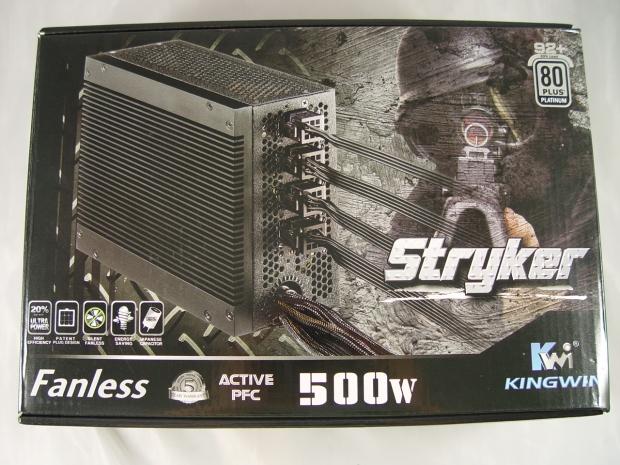 Kingwin gives a ton of information on the front of the box, letting you know that this is a fanless, modular, highly efficient unit capable of 500W of power and backed by a five year warranty. All of that and more without overwhelming you and giving you a great picture of the unit.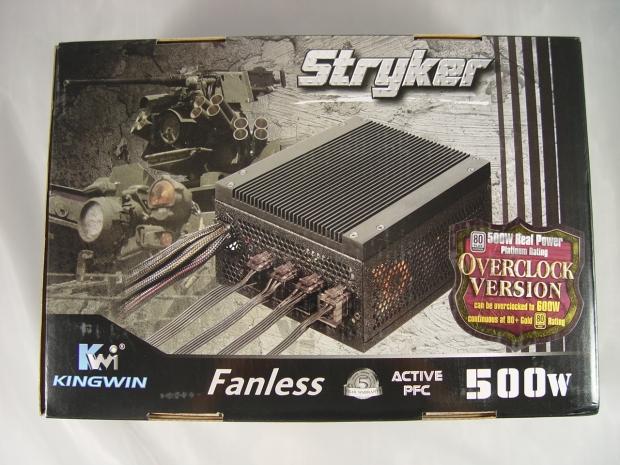 The back doesn't reveal much more, but it does have that annoying "Overclock Version" sticker on it that is somewhat misleading.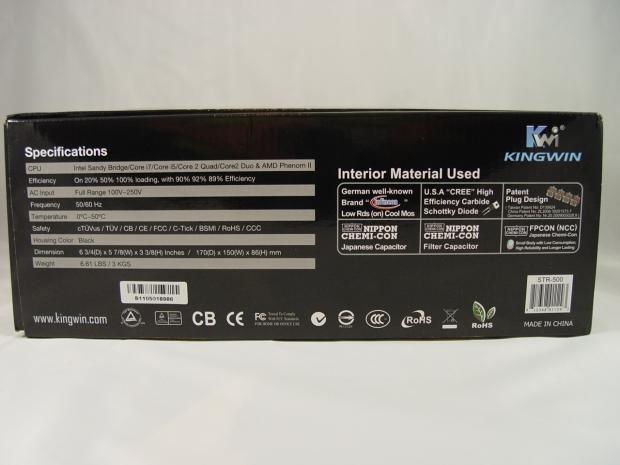 One side of the box shows some specifications and lets you know about the internal parts used such as Nippon Chemi-con capacitors and Infineon Mosfets.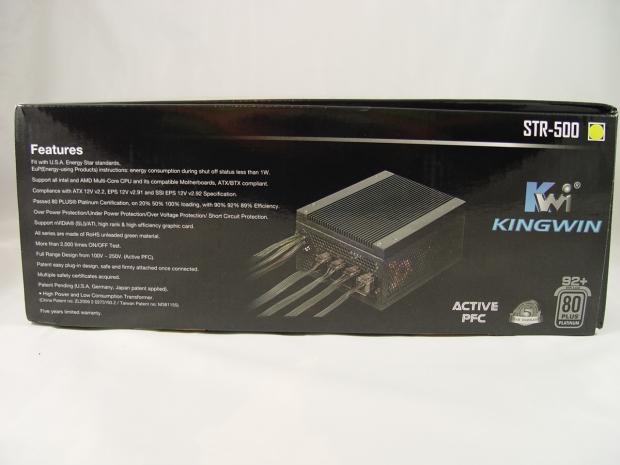 The other side of the box has a good list of features as well as another good shot of the power supply. You can tell that it is well vented on all sides to compensate for the lack of active cooling. The top and bottom simply display the Kingwin logo on one and the Stryker logo on the other.
Inside the Box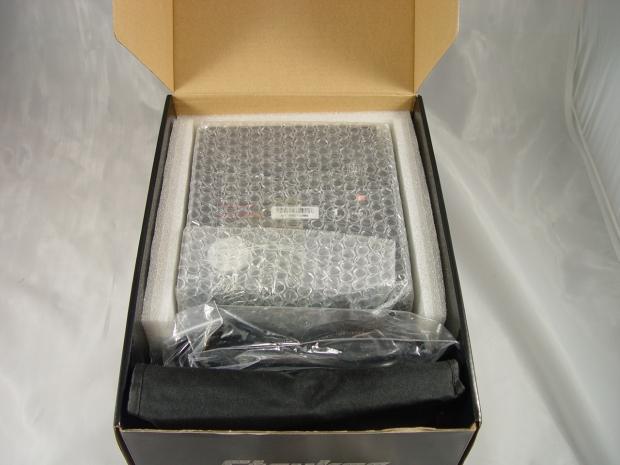 Kingwin does a good job of making sure the unit is well protected. On top of being wrapped in bubble wrap, the unit also has thick foam surrounding it on all sides except the front. In front of the unit are the native and modular cables as well as the power cable to give it some cushioning if it needs it.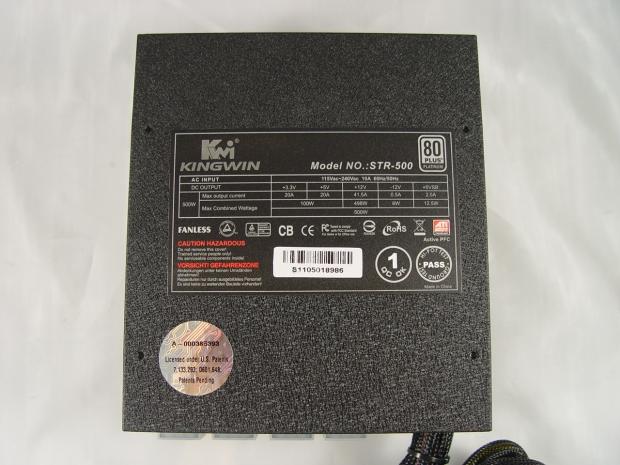 Here we finally get our first good shot of the unit in person. It has a matte black finish on the bottom of the unit. We also find the I/O specification label placed here.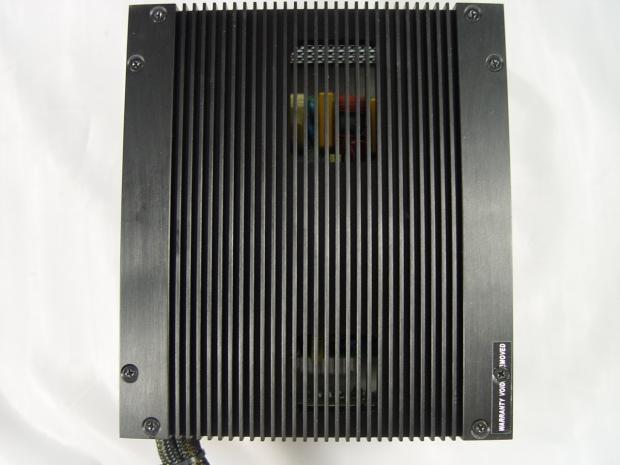 Flipping the unit over, we find the massive heatsink that keeps the STR-500 cool. Notice that there are also two holes in the heatsink that allows for more airflow and increased heat dissipation around those areas.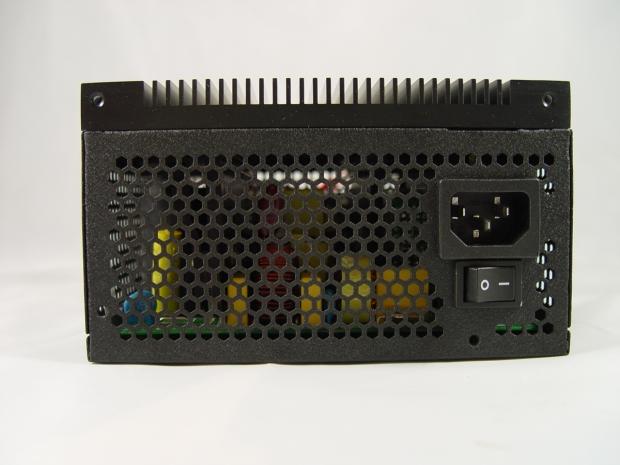 The back shows the typical honeycomb mesh grill that we are used to seeing combined with the AC input and on/off rocker switch.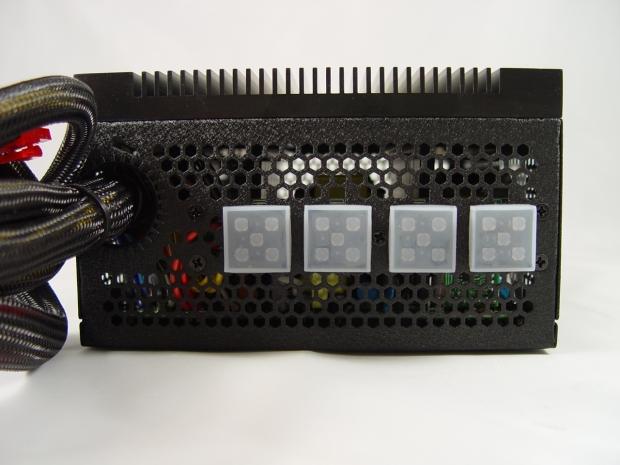 Moving to the front, we see that the Stryker 500W is fully ventilated here. This is something you normally don't see as the goal is to control the exhaust out of the back. With the STR-500, the goal is to simply dissipate as much heat as possible and let the rest of the system deal with removing it from the case.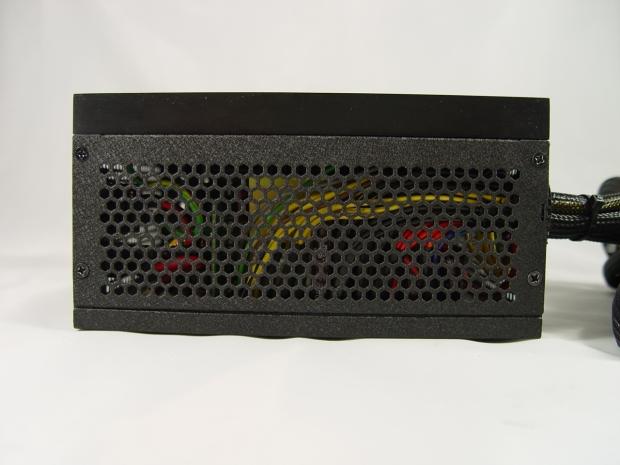 As we take a look at the sides of the units, we can see that we have a lot of venting here too.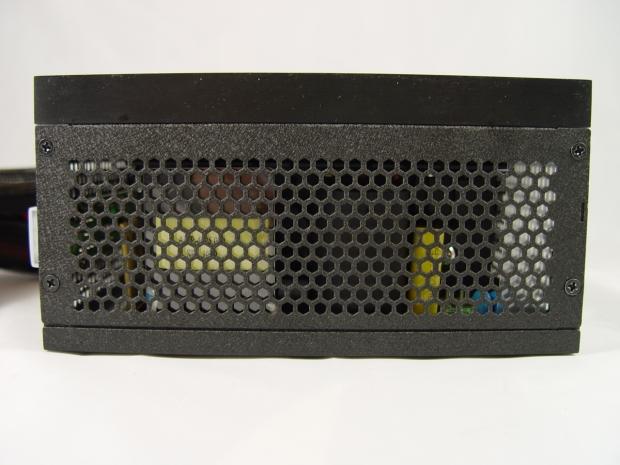 Both sides are vented the same. Providing that your case has sufficient airflow, keeping the Kingwin Stryker 500W cool isn't going to be a problem.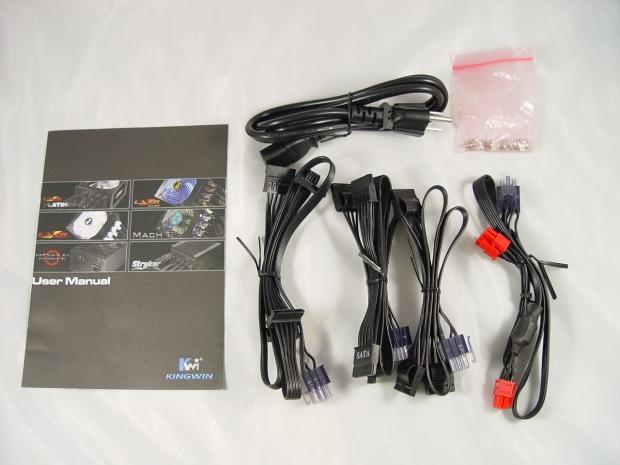 Also included with the Stryker 500W is the user manual, four modular cables, the AC input cable and four thumb screws to mount the unit. It is a shame that these are not black to match the power supply.
Cabling Arrangement & A Look Inside
Cabling Arrangement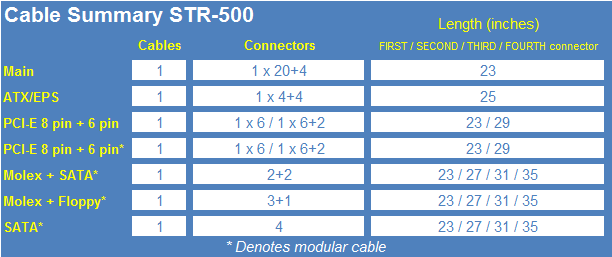 One thing that many will notice is that there is quite the cable selection for a 500W power supply when taking a look at what the STR-500W has to offer. One thing that many will find strange is that there are four PCI-E connectors, but you have to remember that this is an under-rated unit capable of 600W.
All of the peripheral connectors are modular and come in the form of three cables; one for SATA, one for Molex + FDD and one mixed SATA/Molex cable. These three cables combined offer six SATA connectors, five Molex and one FDD.
One thing worth noting is that the modular cables are of the ribbon variety and aren't sleeved. The native cables are sleeved, but not fully. While the sleeving does extend all the way inside the power supply, it stops a few inches short of the connectors.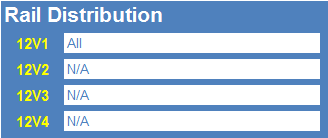 Rail distribution is kept simple with a single 12V rail.
A Look Inside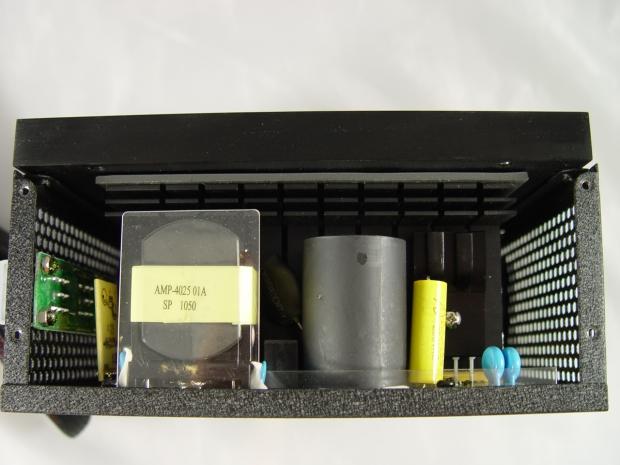 Removing the heatsink of the STR-500 proved to be rather difficult due to the TIM used between the heatsinks. As you can see from above, there are more heatsinks on the inside, so this beast is filled with passive cooling inside and out.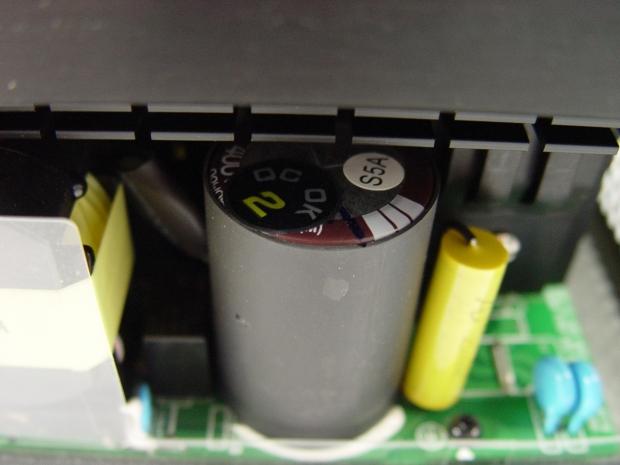 Checking out the primary side, we find a single Nippon Chemi-con capacitor.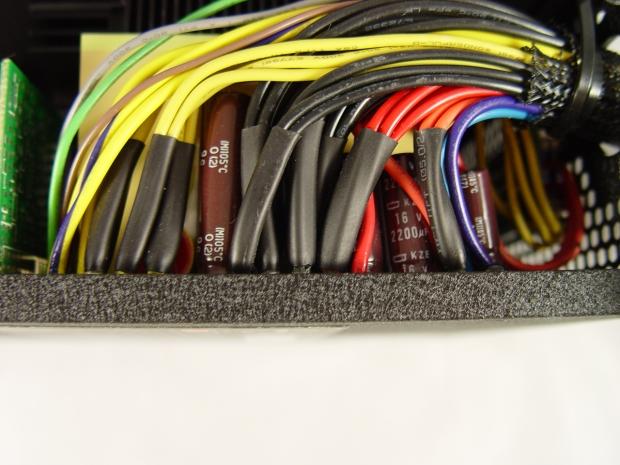 Moving on towards the secondary side, we find several Nippon Chemi-con capacitors present. There is no fan to take a look at since this is a passively cooled unit.
Test Results & Final Thoughts
Test Results
Our load tests utilize a couple of FAST ATE active load testers and a variety of other equipment such as an oscilloscope, power conditioner, temperature probe and a power consumption meter. You can read more about our standard testing approach here.
The tests performed are based around six conceivable setups that are out there and progressively load down the PSU up to the power supply's limits or 1000W, whichever comes first. Since our test equipment's limits are greater than that of the Kingwin Stryker STR-500 500W PSU, we can test it to the maximum.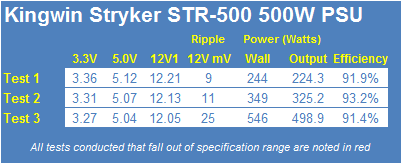 Kingwin has made quite a name for itself lately and as such, we expected great things coming from the Stryker 500W unit. It certainly didn't disappoint and we saw good results right from the start. Voltage regulation wasn't as spectacular as we have seen in the past, but is still excellent with both the 12V and 3.3V rails being within 2% and the 5V rail barely edging into the 3% territory.
The noise that was seen on the 12V rail was spectacular from start to finish and was almost impossible to see on the oscilloscope until we got to 100% load. During the first test, we measure a maximum of 9mV peak to peak on the 12V rail. When we increased the loads during Test 2, we saw this creep up just a tiny bit to 11mV. We were hoping for the same negligible increase when we moved to the full load test, but that didn't quite happen. Instead we saw the noise increase to 25mV which is still a very acceptable amount of noise to see.
Finally, we have the efficiency of the Kingwin Stryker 500W. As the unit is an 80Plus Platinum rated unit, we expected to see efficiency readings of 90%, 92%, and 89% at 20%, 50%, and 100% loads respectively. The Stryker 500W blew those numbers out of the water and showed above 91% efficiency across the board.
Final Thoughts
The Kingwin STR-500 isn't a perfect power supply, but then again, we have never seen one that was. There is always something to give or take with a PSU and often it is in your pocket. At $160, it is one of the most expensive 500W units on the market, but at least you get what you pay for and it is backed by a five year warranty. Other than the price, the only real negative that the unit has going for it is the lack of Over Temperature Protection, but we didn't have any issues with the unit during testing.
Since that is all we can find to complain about, it is safe to say that Kingwin has done a great job upholding their reputation with the Stryker 500W power supply. It performs excellent in every aspect that you could ask it to. The great voltage regulation and low noise will allow for excellent system stability while the high efficiency will allow for you to cut the electric bill a little bit and save some cash. Throw in the fact that it is a silent, fanless unit that can output up to 600W with reduced efficiency and you've got one heck of a power supply.