OCZ Technology Octane 512GB Indilinx Solid State Drive Review
Indilinx is back, this time with a SATA III controller and now under the OCZ umbrella.
Published Wed, Nov 23 2011 10:57 AM CST
|
Updated Tue, Nov 3 2020 7:01 PM CST
Introduction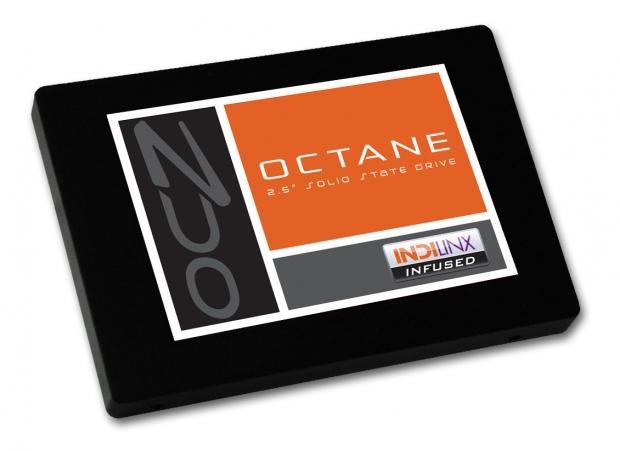 Earlier in the year OCZ Technology announced their plans to acquire Indilinx, the company responsible for bringing some of the first real consumer friendly (i.e. low cost) SSDs to market in 2009. The first fruit from that tree has hit our lab and it sports a new controller from Indilinx and a new era for OCZ. OCZ is now in a unique position, no longer just another RAM turned SSD cloner, but a fully fledged member of the small club that steers technology rather than just rides along. In our next State of Solid State, my annual Q4 editorial that speculates on the year to come based on a little fact and a lot of rumor, we'll go into what Indilinx brings to OCZ's table. Today, though, we're going to focus on the new Octane SSD and what it brings to your table.
Indilinx's new controller has a code name of 'Everest' and aside from a sliver of information once published on Indilinx's website, little was known about this controller. In late 2009 and most of 2010 we caught bits and pieces of information about Jet Stream, another SATA III design from Indilinx. OCZ tells us Jet Stream is still on the road map, but didn't go into great detail. It's very clear that Jet Stream has now been leap frogged and Everest was chosen to bring Indilinx into the SATA III age.
For most of us Everest came out of nowhere. Other than the OCZ acquisition, Indilinx was a company flying under the radar, but the Everest release so close to the acquisition tells us that Indilinx was working hard and focusing like a laser on this release.
Next month we'll talk about what Indilinx brings to OCZ, but today let's focus on what OCZ brings to Indilinx. OCZ has the ability to quickly ramp up production and bring products to market very quickly. This has been proven with the Vertex 2 and Vertex 3; OCZ lead SandForce's charge to market, guns blazing. OCZ also brings superior software that allows users to easily flash firmware from within the operating system. The same Toolbox software suite allows OCZ users to run secure erase commands easily, also from inside the operating system. Toolbox has already been updated to support Octane and after our flawless tests a new firmware was released to reviewers. OCZ is the market leader in ease of use software for SSDs.
Specifications, Pricing and Availability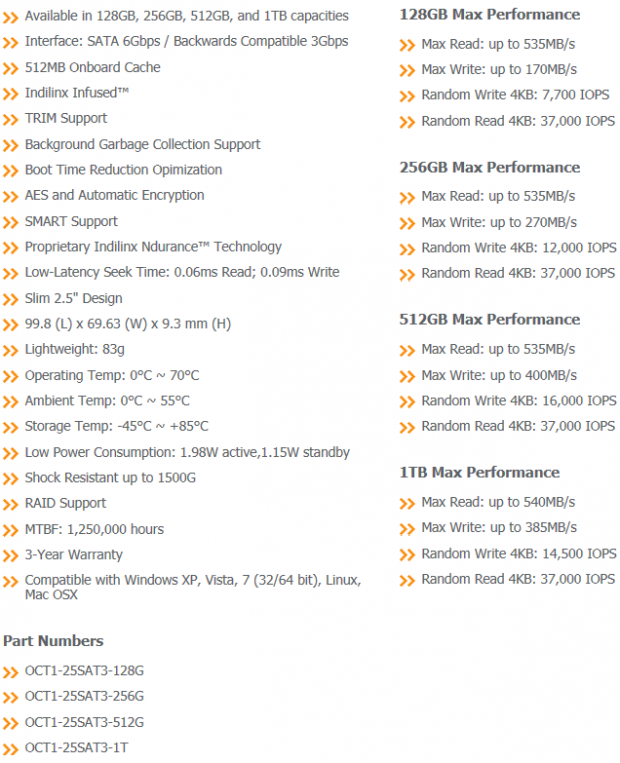 A new era indeed! OCZ's Octane starts out at 128GB and ends with a massive 1TB capacity size. The biggest omission is the 64GB capacity size and hopefully we won't end up with half sizes in the future. For now everything is nice and simple, 128GB is the new 64GB!
Looking at the chart, we see that wide variations to performance profiles are back. The reference to 128GB being the new 64GB is based on the information provided by OCZ. The 128GB drive has very good read performance, 535MB/s, the same as most of the other drives. On the other hand, the 128GB model can only write data at a rate of 170MB/s, the performance envelope is weighted heavily to one side. Things get better for the 256GB model, but the performance is less than ideal. 512GB is the new 256GB as far as reaching best in class performance. With the same read speed, the 512GB is just as capable as the lower capacity in that area, but the write speed jumps significantly; a full 400MB/s. The massive 1TB model gets an extra 5MB/s read, but loses 15MB/s write speed. Obviously this isn't a big issue since you're gaining MASSIVE capacity, enough to overlook the slight write speed difference.
Today we are focusing on the large 512GB Octane, the best performer of the group. While the 512GB offers SandForce like transfer speeds, it lacks SandForce like IOPS performance. We'll have to see how that affects real world performance in the client environment as we work through the benchmarks.
Also unlike SandForce drives, Everest uses a traditional SSD design with a DRAM cache for page mapping and user data. This adds to the final cost, but also gives Octane the ability to perform background garbage collection. The cache of Octane is like just about every other part of the drive, supersized. Octane uses a massive 512MB cache buffer, the largest we've seen and only matched in size by the Western Digital Silicon Edge Blue from last year.
At the time of writing OCZ had announced their MSRP pricing, but Newegg, Tiger and other e-tailers were still being held back by the NDA. The MSRPs list as follows; 128GB (199.99), 256GB (369.99) and the 512GB (879.99). No price has been officially set for the 1TB at the time of writing, but we'll update this article when we have some indication; if you need to sever an arm, leg or kidney.
Obviously the MSRP prices aren't looking that great right now considering what we're seeing from Team SandForce manufacturers over the last few weeks. 120GB Vertex 3's are now selling for around 165 Dollars after a quick mail-in rebate, but I think Octane will be on par with that price pretty quick. I could be wrong, but usually I'm right.
Backing me up with my thoughts on pricing is the OCZ bundle accessories. Simply put, there aren't any other than the sticker and paper manual. The Octane ships without a desktop adapter bracket and uses a new, economy focused package. You still get the standard OCZ 3 year warranty that includes access to support forums and a fast response ticket support.
After writing this review, OCZ also released an updated Toolbox software that allows for easy firmware updating and secure erase commands.
The Packaging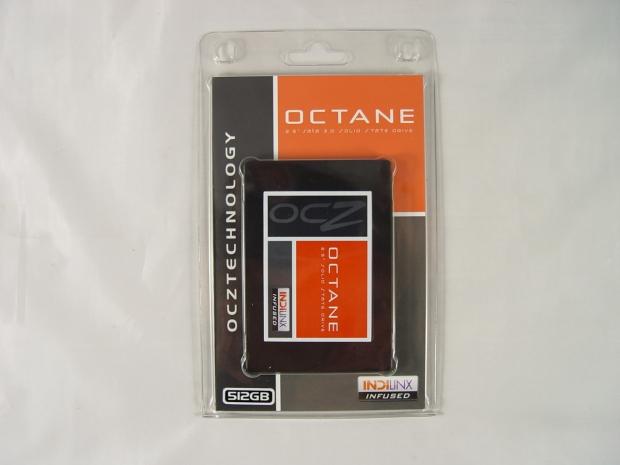 A new look from OCZ, the economy packaging will help push SSDs into commodity status. We've had SandForce Driven for two years now, but Indilinx has Indilinx Infused - it says so right on the front. In all seriousness, there really isn't a lot to go into with the front of the packaging, but we can report the capacity size is listed and easy to see.
On the back OCZ lists a few of the product features, you can find them at the top under Advanced Performance Architecture. No performance claims are listed, but given the massive increases in performance we saw on Barefoot via firmware updates, this could prove to be a good move by OCZ.
The accessory package consists of what you see here.
The OCZ Octane 512GB SSD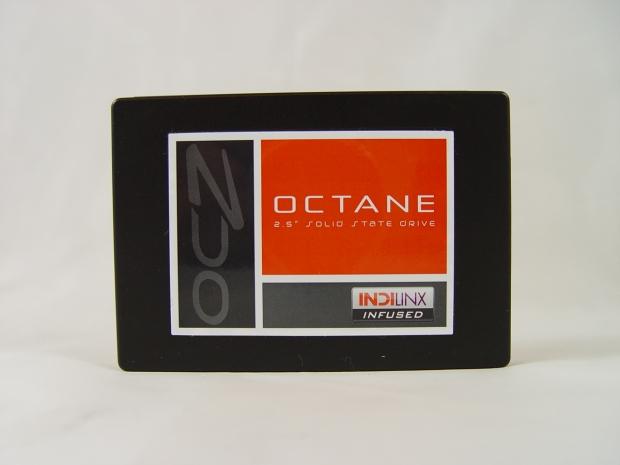 Here we get our first look at the Octane. We've seen this case before; well, sort of. The Octane uses the plastic case we saw on later Vertex 3 drives, but this one doesn't have the funky edges that gave Lenovo and HP notebook owners fits. Version 2 of this case now fits in my Lenovo drive sleds, so you aren't going to have to worry about fitting issues.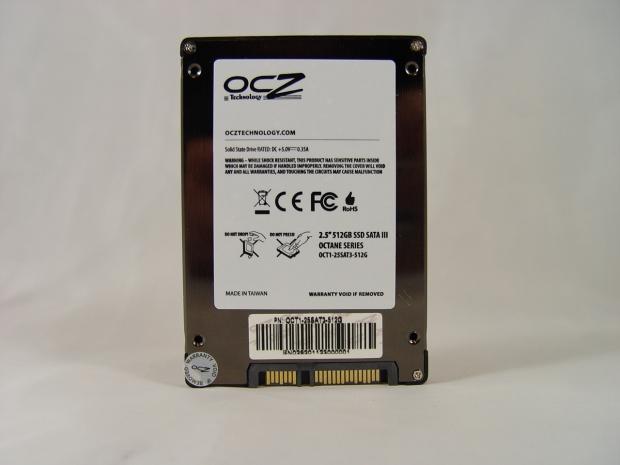 The back of the drive shows the model number and serial number. The official model number for the 512GB drive is OCT1-25SAT3-512G.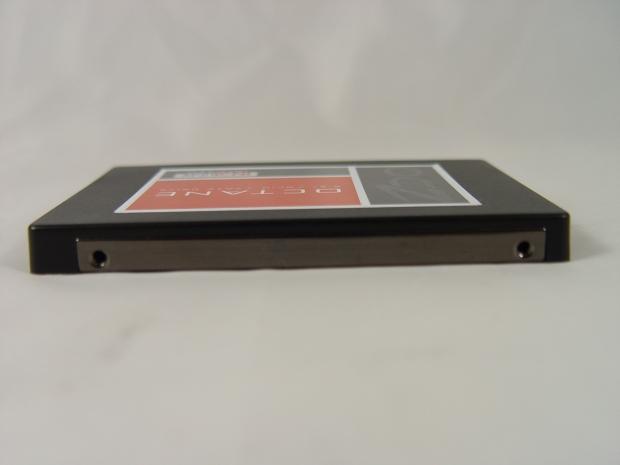 The case isn't all plastic as you can see here. OCZ uses a split design; the bottom is actually an alloy of some sort. The metal portion is also where the side mounting screws are located, a much better choice than the plastic side.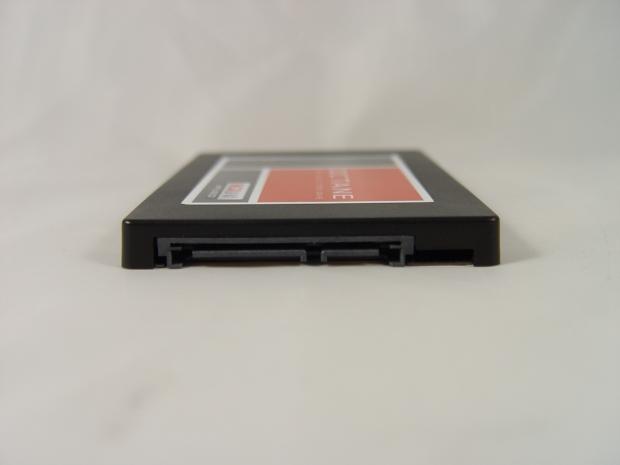 On the back we found the SATA power and data cables where they should be.
The Indilinx Everest controller uses an 8-channel configuration that has 16-way interleaving. The 512GB model we are looking at today uses sixteen synchronous flash chips from Intel; eight on each side. On this side of the PCB we also found DRAM cache from Micron.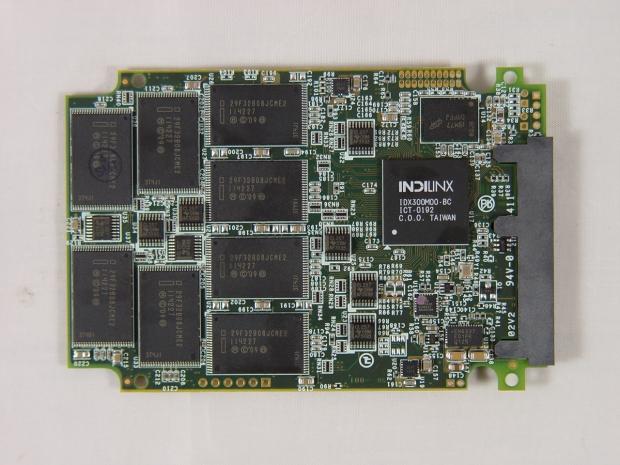 What we found interesting on this side is another DRAM cache buffer. This side is also where the Indilinx controller is and the additional eight flash chips.
Test System Setup and ATTO Baseline Performance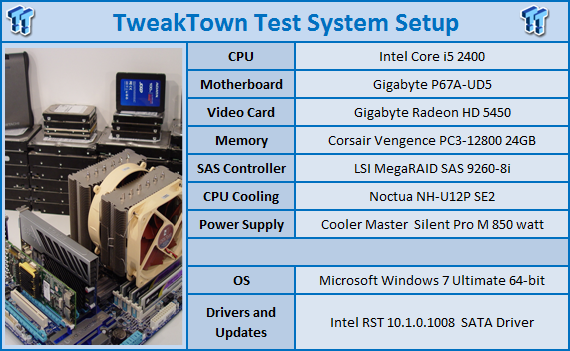 We would like to thank the following companies for supplying and supporting us with our test system hardware and equipment: AVADirect, GIGABYTE, Cooler Master, LSI, Corsair and Noctua.
You can read more about TweakTown's Storage Product Testing Workstation and the procedures followed to test products in this article.
In order to fully utilize SATA III, you need a system with native SATA III support. P67 and Z68 systems are preferred, but AMD has made advances in their newer SATA III systems as well. Older X58 systems with Marvell based SATA III do not deliver the same high levels of performance, so we recommend newer systems when available.
ATTO Baseline Performance
Version and / or Patch Used: 2.34
ATTO is used by many disk manufacturers to determine the read and write speeds that will be presented to customers.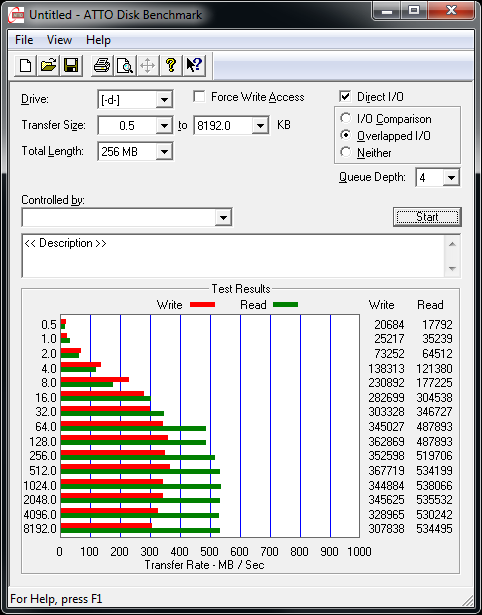 In ATTO we achieved a high read score of 538MB/s, just above OCZ's listed 535MB/s. The write tests, though, only showed a maximum speed of 363MB/s and this is shy of OCZ's 400MB/s claimed write speed. OCZ generally quotes performance with a queue depth of 10 and we run this test with a queue depth of 4, the default setting.
Benchmarks - HD Tune Pro
HD Tune Pro
Version and / or Patch Used: 4.00
Developer Homepage: http://www.efdsoftware.com
Product Homepage: http://www.hdtune.com
HD Tune is a Hard Disk utility which has the following functions:
Benchmark: measures the performance
Info: shows detailed information
Health: checks the health status by using SMART
Error Scan: scans the surface for errors
Temperature display
HD Tune Pro gives us accurate read, write and access time results and for the last couple of years has been gaining popularity amongst reviewers. It is now considered a must have application for storage device testing.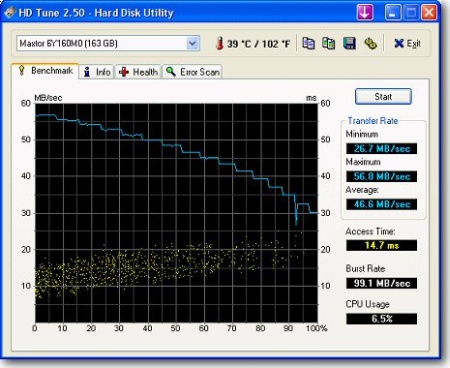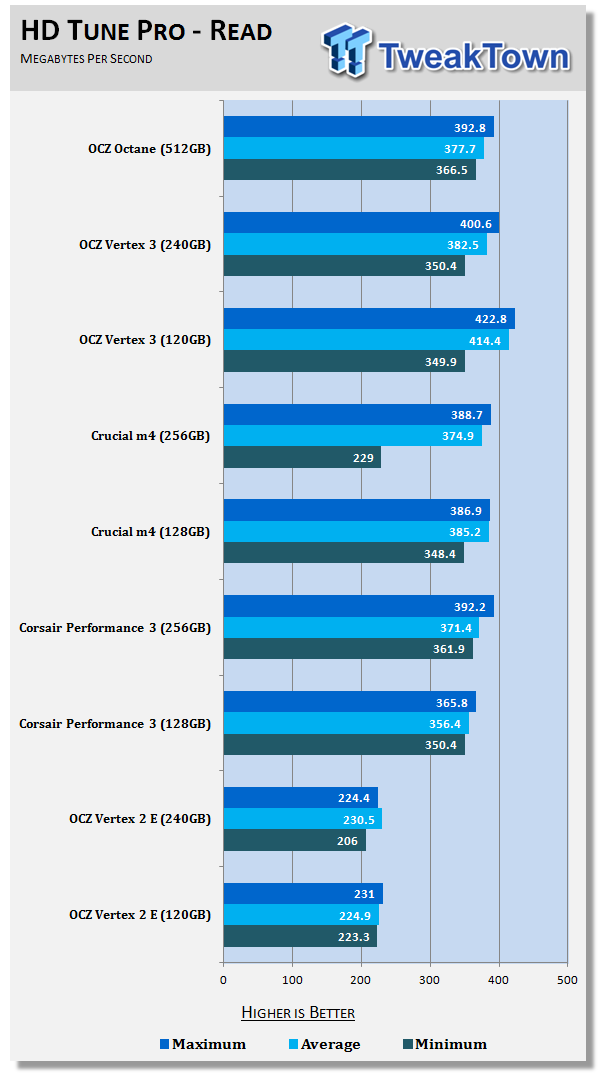 I have to admit, I wasn't expecting the OCZ Octane to perform at Vertex 3 levels. In HD Tune we see that the Vertex 3 still has a little more speed, but the Octane 512GB keeps pace nicely when reading across the drive.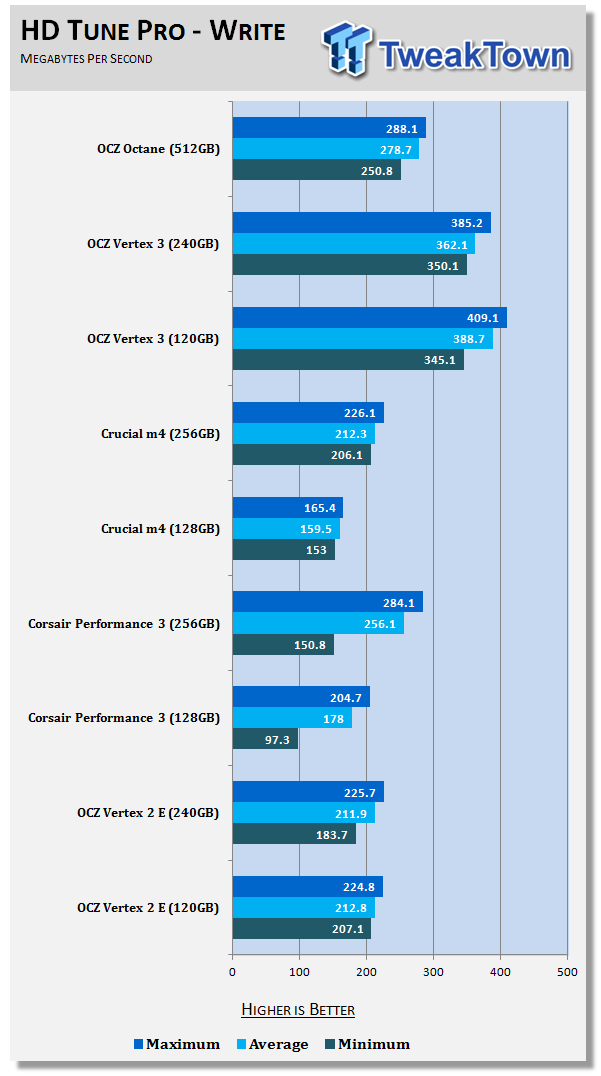 Write speed is another story. While writing across the drive we see that the Octane is around 100MB/s slower than the Vertex 3 models listed in the chart. More interesting, though, is how the Octane compares to other drives on the chart that use Marvell controllers. Once you remove the SandForce SF-2281 drives, Vertex 3 in this case, the Octane looks like a performance leader.
Benchmarks - AIDA64 Random Access Time
AIDA64 Random Access Time
Version and / or Patch Used: 1.60
Developer Homepage: http://www.aida64.com
Product Homepage: http://www.aida64.com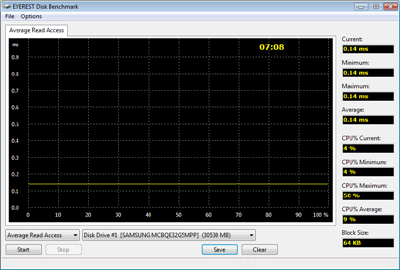 AIDA64 offers several different benchmarks for testing and optimizing your system or network. The Random Access test is one of very few if not only that will measure hard drives random access times in hundredths of milliseconds as oppose to tens of milliseconds.
Drives with only one or two tests displayed in the write test mean that they have failed the test and their Maximum and possibly their Average Scores were very high after the cached fills. This usually happens only with controllers manufactured by JMicron and Toshiba.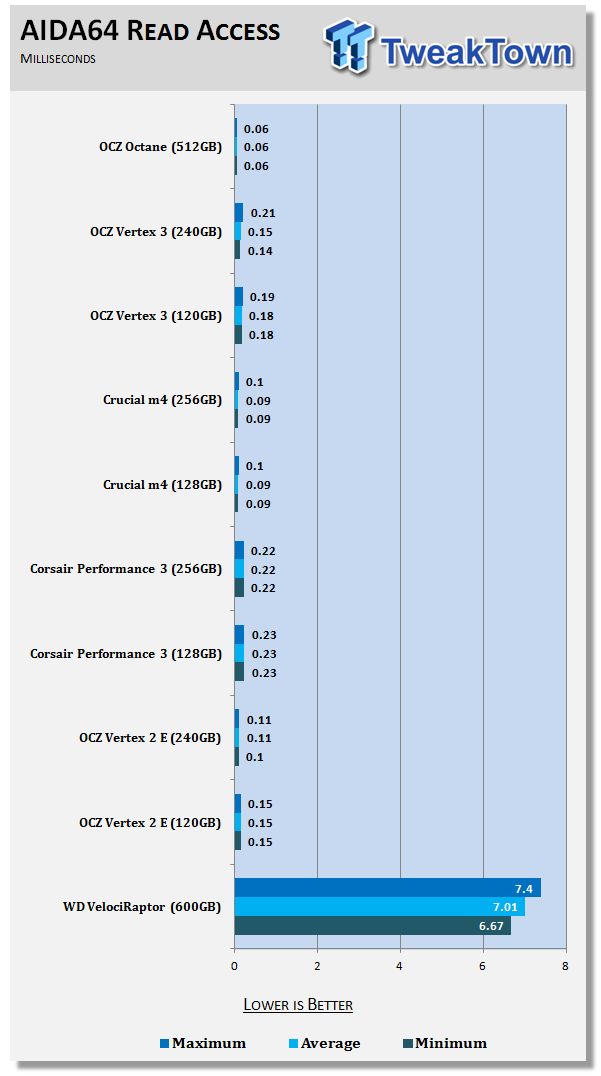 OCZ has been talking up Octane's remarkable access times and I have to agree with their analysis. The Octane we tested recorded a solid .06ms score across the test. This is a new record for this test. Access time is what gives users a snappy feel while opening new windows and applications.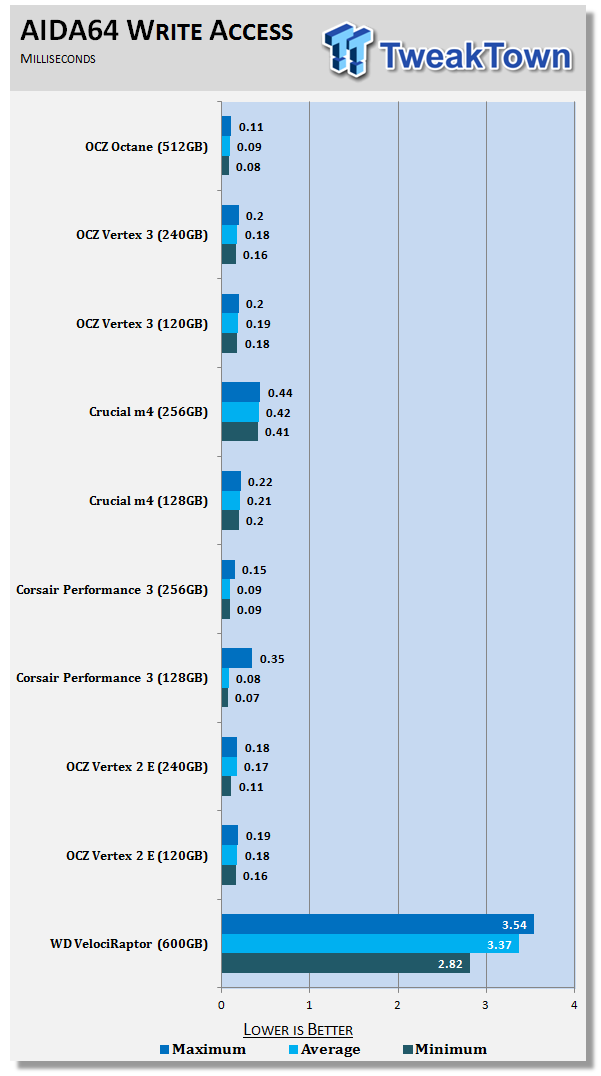 We recorded an average write access of .09ms, a very fast response time.
Benchmarks - CrystalDiskMark
CrystalDiskMark
Version and / or Patch Used: 3.0 Technical Preview
Developer Homepage: http://crystalmark.info
Product Homepage: http://crystalmark.info/software/CrystalDiskMark/index-e.html
Download here: http://crystaldew.info/category/software/crystaldiskmark
CrystalDiskMark is a disk benchmark software that allows us to benchmark 4K and 4K queue depths with accuracy.
Key Features:-
* Sequential reads/writes
* Random 4KB/512KB reads/writes
* Text copy
* Change dialog design
* internationalization (i18n)
Note: Crystal Disk Mark 3.0 Technical Preview was used for these tests since it offers the ability to measure native command queuing at 4 and 32.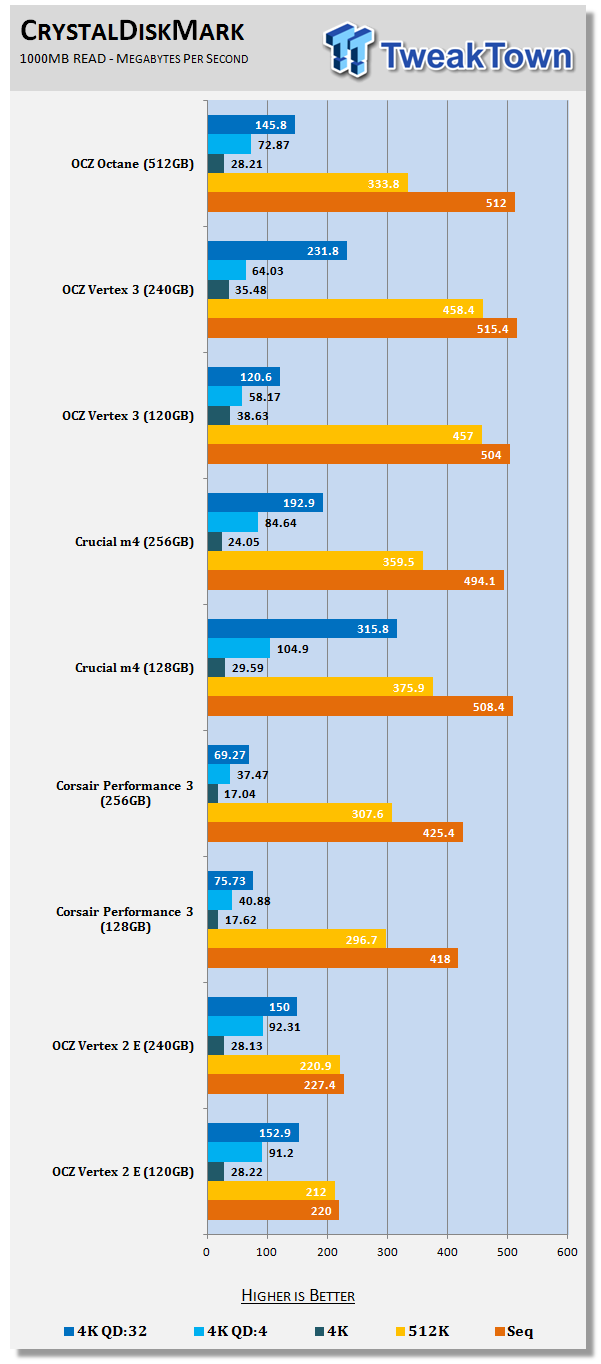 In CDM we're looking at 4K and native command queuing performance as the drive gets commands stacked on top of each other. The Octane starts out strong with 28MB/s on a single command. When scaled to four commands, Octane achieves nearly 73MB/s. That result is doubled at the 32 command rate.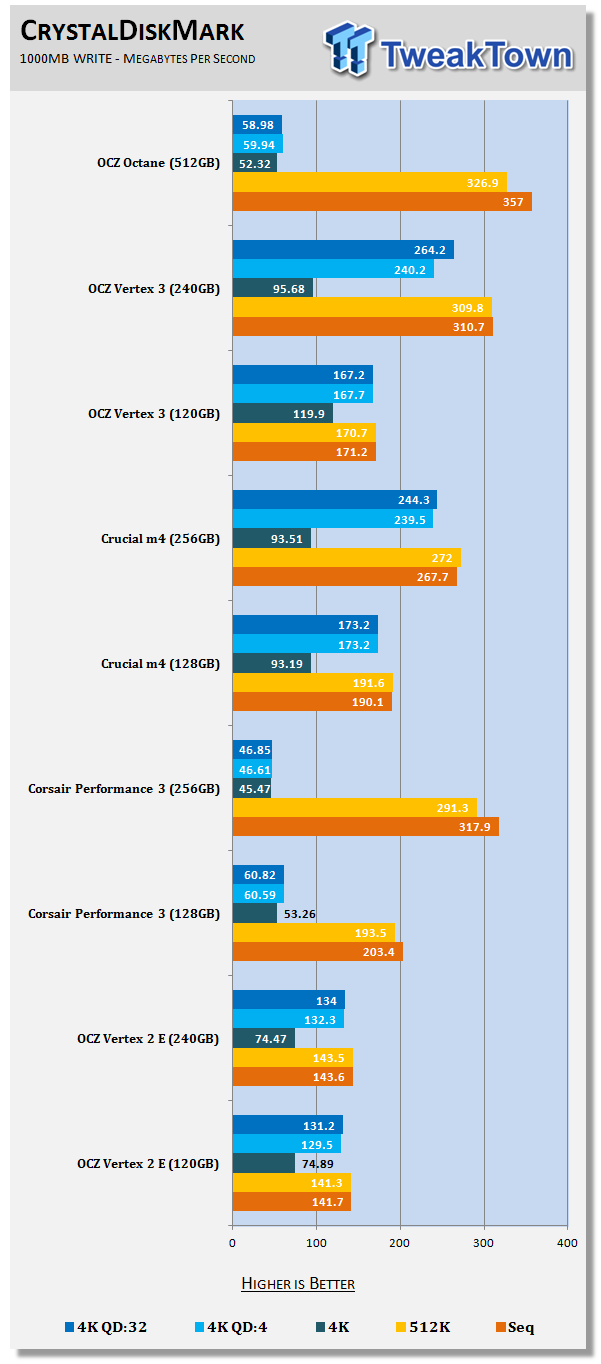 A majority of SSD controllers do not scale well when writing data. Most of those don't make our charts because they are built for value products that in many cases cost more than our performance leaders. JMicron and Toshiba controllers have routinely had issues in this area and so does the Indilinx Everest controller.
At 4K we hit nearly 60MB/s and that was the brick wall Octane couldn't get past.
Benchmarks - PCMark Vantage Hard Disk Tests
PCMark Vantage - Hard Disk Tests
Version and / or Patch Used: 1.0.0
Developer Homepage: http://www.futuremark.com
Product Homepage: http://www.futuremark.com/benchmarks/pcmark-vantage/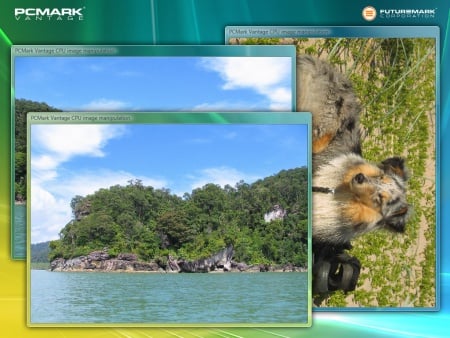 PCMark Vantage is the first objective hardware performance benchmark for PCs running 32 and 64 bit versions of Microsoft Windows Vista. PCMark Vantage is perfectly suited for benchmarking any type of Microsoft Windows Vista PC from multimedia home entertainment systems and laptops to dedicated workstations and high-end gaming rigs. Regardless of whether the benchmarker is an artist or an IT Professional, PCMark Vantage shows the user where their system soars or falls flat, and how to get the most performance possible out of their hardware. PCMark Vantage is easy enough for even the most casual enthusiast to use yet supports in-depth, professional industry grade testing.
FutureMark has developed a good set of hard disk tests for their PCMark Vantage Suite. Windows users can count on Vantage to show them how a drive will perform in normal day to day usage scenarios. For most users these are the tests that matter since many of the old hat ways to measure performance have become ineffective to measure true Windows performance.

HDD1 - Windows Defender
HDD2 - Gaming
HDD3 - Windows Photo Gallery
HDD4 - Vista Startup
HDD5 - Windows Movie Maker
HDD6 - Windows Media Center
HDD7 - Windows Media Player
HDD8 - Application Loading
With the synthetics in the rearview we can start to focus on real world performance. The fresh Octane managed to deliver much higher performance than we expected from Indilinx's first SATA III drive. These tests are run with the drive empty other than the data placed on the drive by the test.
PCMark Vantage - Drives with Data Testing
For a complete breakdown on the Drives with Data Testing please read this article. You will be able to perform this test at home with the files provided in the article - full instructions are included.
Brief Methodology
SSDs perform differently when used for a period of time and when data is already present on the drive. The purpose of the Drives with Data testing is to show how a drive performs in these 'dirty' states. SSDs also need time to recover, either with TRIM or onboard garbage collection methods.
Drives with Data Testing - 25%, 50%, 75% Full States and Dirty / Empty Test
Files needed for 60 (64GB), 120 (128GB), 240 (256GB)
60GB Fill - 15GB, 30GB, 45GB
120GB Fill - 30GB, 60GB, 90GB
240GB Fill - 60GB, 120GB, 160GB
Empty but Dirty - a test run just after the fill tests and shows if a drive needs time to recover or if performance is instantly restored.

HDD1 - Windows Defender
HDD2 - Gaming
HDD3 - Windows Photo Gallery
HDD4 - Vista Startup
HDD5 - Windows Movie Maker
HDD6 - Windows Media Center
HDD7 - Windows Media Player
HDD8 - Application Loading
Things change when data is added to the OCZ Octane and the drive falls between the Vertex 3 and Agility 3 when it comes to real world performance. One bright side is you get a steady state with data that doesn't decrease from 25% to 75% full. The only problem is that steady state is slower than we wanted to see.
Benchmarks - AS SSD
AS SSD Benchmark
Version and / or Patch Used: 1.2.3577.40358
Developer Homepage: Alex Intelligent Software
Product Homepage: Alex Intelligent Software
Download here: http://www.alex-is.de/PHP/fusion/downloads.php?cat_id=4&download_id=9
AS determines the performance of Solid State Drives (SSD). The tool contains four synthetic as well as three practice tests. The synthetic tests are to determine the sequential and random read and write performance of the SSD. These tests are carried out without the use of the operating system caches.
In all synthetic tests the test file size is 1GB. AS can also determine the access time of the SSD, the access of which the drive is determined to read through the entire capacity of the SSD (Full Stroke). The write access test is only to be met with a 1 GB big test file. At the end of the tests three values for the read and write as well as the overall performance will be issued. In addition to the calculated values which are shown in MB/s, they are also represented in IO per seconds (IOPS).
Note: AS SSD is a great benchmark for many tests, but since Crystal Disk Mark covers a broader range of 4K tests and HD Tune Pro covering sequential speeds, we will only use the Copy Benchmark from AS SSD.
- Copy Benchmark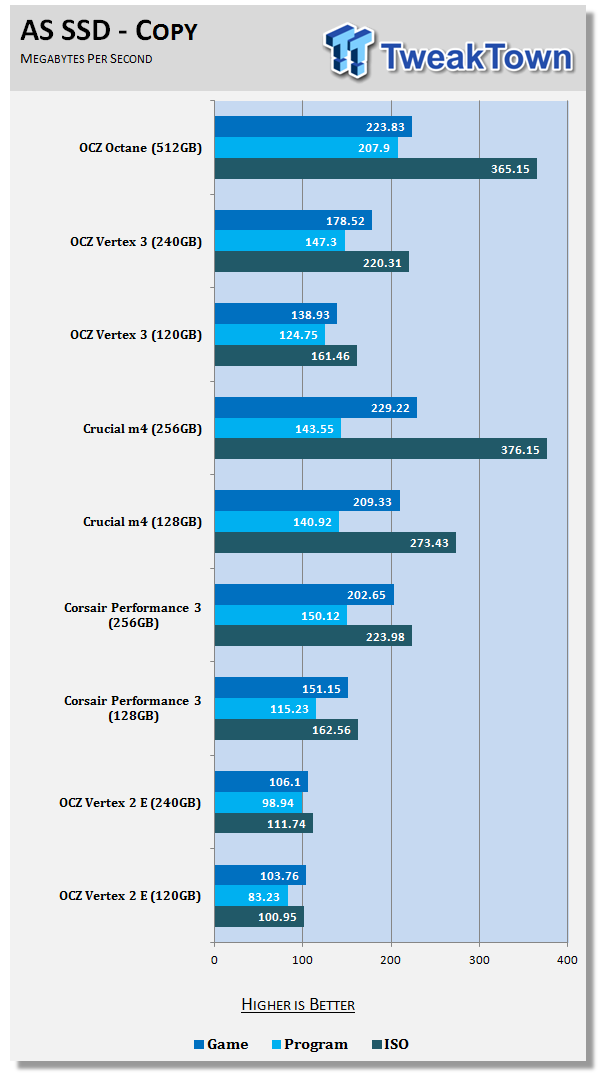 There are many reasons to buy a solid state drive and when you get into very specific needs one drive may be better than another. Many users will gladly give up some day to day performance if they can pick up file transfer performance.
The OCZ Octane does very good when transferring data, especially compressed data like A/V files.
Benchmarks - Passmark
Passmark Advanced Multi-User Tests
Version and / or Patch Used: 6.1
Developer Homepage: http://www.passmark.com
Test Homepage: http://www.passmark.com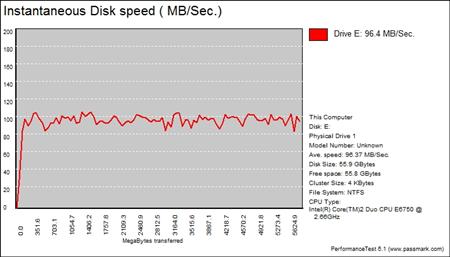 Many users complain that I/O Meter is too complicated of a benchmark to replicate results so my quest to find an alternative was started. Passmark has added several multi-user tests that measure a hard drives ability to operate in a multi-user environment.

The tests use different settings to mimic basic multi-user operations as they would play out on your server. Variances is read / write percentage as well as random / sequential reads are common in certain applications, Web Servers read nearly 100% of the time while Database Servers write a small amount of data.
The Workstation test is the only single user environment and will be similar to how you use your system at home.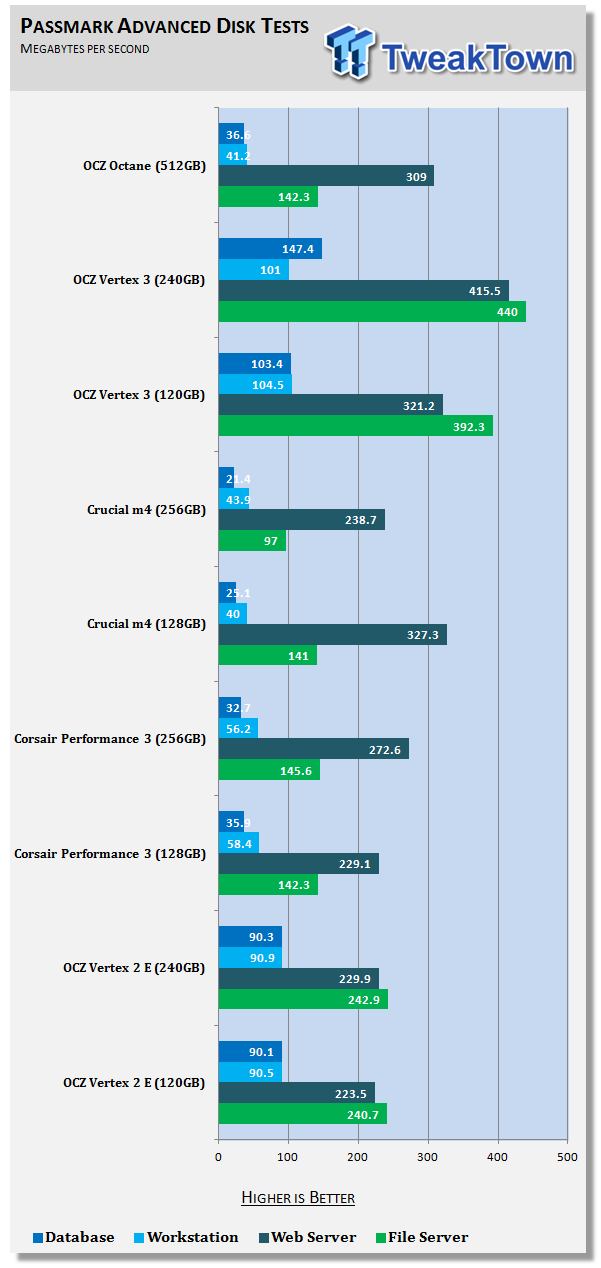 OCZ isn't listing the Octane as an enterprise SSD or even a low cost enterprise alternative, so we aren't going to analyze the server test. They are always fun to run and from time to time we find a diamond in the rough.
Final Thoughts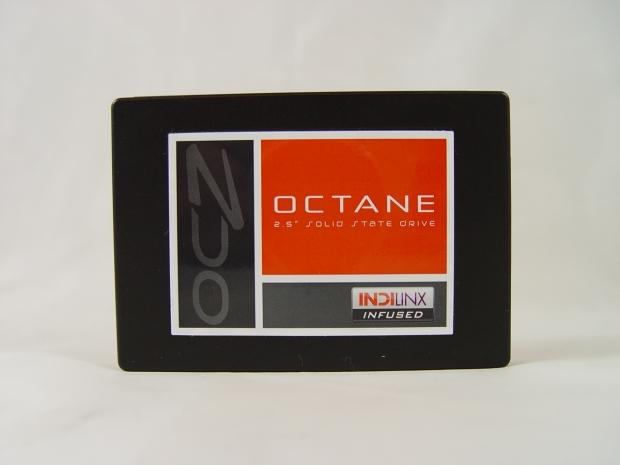 The SATA III OCZ Octane can easily be divided into two categories depending on what capacity you're looking at. The 128GB and 256GB models are clearly budget offerings based on their quoted performance numbers. Their MSRPs don't appear that way right now, but we'll get into pricing in a little bit. The larger 512GB and 1TB Octane drives are in a different league based on their performance, capacity and their price.
Let's tackle the two smaller drives first. Both the 128GB and the 256GB drives share the same read speed, 535MB/s. The write speeds are 170MB/s for the 128GB and 270MB/s for the 256GB model. The 170MB/s write speed is actually slower than what we recorded with an Indilinx Barefoot drive running firmware 1918. The 256GB models write speed of 270MB/s is just a little slower than what we recorded all last year from SandForce SF-1200 controlled drives. Granted, there is still that massive 535MB/s read speed hanging over head, but the write speeds are very limiting. We are looking forward to testing these two drives when available to see where they fall into the pyramid of SSD hierarchy. We also want to see what their price is listed at 30 days after launch. We are getting ahead of ourselves again.
The two larger Octane drives are the most interesting for most of you reading this. Today we tested the 512GB model with a quoted performance of 535MB/s read and 400MB/s write speeds. If you happened to have missed it the first fifteen times, 512GB! To date we've only tested two other drives at this capacity, the Crucial m4 and Kingston SSDNow V+. Anytime you start talking about large capacity SSDs, you have to include the small number of SandForce 480GB drives that have hit the market. There aren't many and the high cost all but guaranteed there wouldn't be too many. The OCZ Octane 512GB may be the first large capacity SSD to see a high adaption rate. Given the capacity size, many users will subscribe to the idea of losing some performance over the very fastest SSDs on the market in order to gain capacity. OCZ only has to do one thing to make this a real possibility, get the cost of ownership down.
Finally, now we can talk about the biggest hurdle for solid state drives. The OCZ Vertex 3 120GB had an MSRP of 249.99, a price set by OCZ and a price largely ignored by resellers at launch. The Vertex 3 on day 1 sold for around 300 Dollars and after a few weeks sold for the MSRP of around 250 Dollars. At the time of writing the Vertex 3 120GB was selling for around 165 Dollars after a mail in rebate at Newegg. Ignoring the initial price gouging, the V3 120GB went from an MSRP of 250 Dollars to 165 Dollars, a decline of 85 Dollars. If the OCZ Octane 128GB is able to shave 85 Dollars off its MSRP then we'll see these drives selling for around 115 Dollars. I can tell you that isn't going to happen, at least not until these parts hit the clearance isle. A more realistic price point is around 130 to 140 Dollars and that is a price we can get excited about. Even an Octane 128GB at 145 Dollars is exciting, but any more than that and you might as well get a Vertex 3 and don't look back.
The 512GB Octane is in a different league. Here you get very close to enthusiast class performance and a unique capacity size. To put the capacity into perspective, 2.5" mechanical drives didn't pass the 500GB mark until around a year and a half ago. 1TB 2.5" drives are on the market now, but SSDs are quickly catching mechanical 2.5" drives in capacity and outperform these drives by a large margin. OCZ is listing the Octane 512GB at 879.99 USD with their MSRP. The Vertex 3 480GB is listed at around 1,100 and the Crucial m4 512GB is listed at 750, both at Newegg. That is a very large divide and frankly we think the m4 is a better value when compared to the Vertex 3.
OCZ managed to get their 512GB Octane to m4 performance levels when both drives are filled to half capacity. The Crucial m4 has already dropped in price, but we think the Octane 512GB will sell for less than the m4 within 30 days of release. When this drive reaches the high 600 Dollar range, say 680 to 690 Dollars, it will obviously become much more appealing and start showing up on the radar of enthusiasts looking for great performance, massive capacity and of course a good price.
OCZ hasn't released pricing information on the 1TB Octane, so we aren't going to spend a lot of time on it. This capacity is unheard of for an SSD and matches the current 2.5" mechanical drive capacities. There isn't a big incentive for e-tailers to message the prices since the 1TB capacity size is unique and those that want one will pay based on need and not care as much about price. Bluntly, there isn't much of a difference between say 1,200 and 1,400 Dollars.
Personally I think the OCZ Octane will be a turning point for SSDs. OCZ owns Indilinx and that gives them a big advantage when it comes to pricing. The lower end models will be some of the first to hit $1 per GB before entering end of life. OCZ has delivered a product that forgoes high packaging costs and costly accessory add-ons. This is the starting line for bringing SSDs into mainstream and even upper entry level computers. This is the start of SSDs moving from luxury products to commodity products.
The timing couldn't be better either. With the flooding in Thailand mechanical drive manufacturers have publicly stated production won't ramp up again until the end of 2012; the time is right for SSDs to gain market share. In the coming months there will be two options available; spend 300 Dollars on a 1TB HDD or spend 140 to 300 Dollars on a 128GB or 256GB SSD.
I can't give the OCZ Octane a Value Award even though I believe it will be worthy of such an award very soon. The 512GB model we looked at today is certainly in a position to be awarded a Features Award given that it offers very good performance and has 512GB of capacity. Look for OCZ to get aggressive with pricing across the Octane line and at that point things will get really interesting.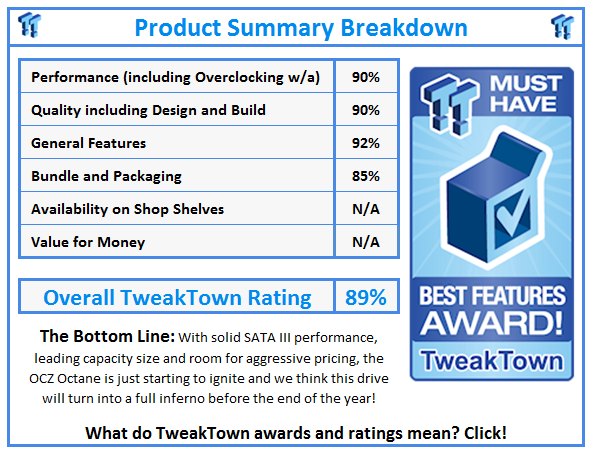 PRICING: You can find products similar to this one for sale below.

United States: Find other tech and computer products like this over at Amazon.com

United Kingdom: Find other tech and computer products like this over at Amazon.co.uk

Australia: Find other tech and computer products like this over at Amazon.com.au

Canada: Find other tech and computer products like this over at Amazon.ca

Deutschland: Finde andere Technik- und Computerprodukte wie dieses auf Amazon.de
We openly invite the companies who provide us with review samples / who are mentioned or discussed to express their opinion. If any company representative wishes to respond, we will publish the response here. Please contact us if you wish to respond.