Kingston SSDNow V+ Series SNVP325-S2B 512GB Gen 2 Solid State Drive
Continuing our look at next generation SSDs, today Chris shows us the new second generation V+ with a massive 512GB storage capacity.
Published Feb 19, 2010 7:41 AM CST
|
Updated Tue, Nov 3 2020 7:02 PM CST
Introduction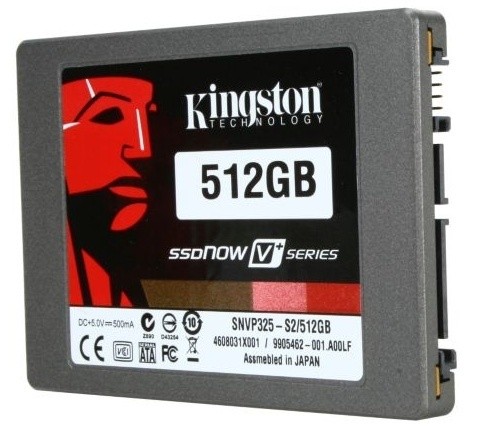 Over the last couple of months we discussed a lot about how next generation SSDs will get a speed boost compared to models that were considered speed kings just a month ago. At the same time we also touched on large capacity models that will hit store, but for the most part the speed has been the main story. That changes today.
Kingston Technology was very quick to jump on the solid state bandwagon. Their first offerings were more or less rebadged Intel products, but at the time Kingston chose the fastest drive we had ever seen and that strategy worked out well. Later Kingston chose to take what they learned from the Intel offerings and went to work on their own configurations. Right at the start Kingston showed promise as they finally were able to tame the Jmicron controller allowing for shudder free operation and then moving onto Samsung controllers in the V and V+ Series.
At CES we had a chance to sit down with Kingston and learned about a new Toshiba controller that was set to power the new Second Generation V+ Series of products. Toshiba invented NAND Flash and they have the experience to not only make the controller, but also the flash that runs seamlessly with it.
For over a year we heard about massive capacity solid state drives, but most of these have been concocted from two smaller drives sandwiched together with a low cost miniature RAID controller. The PhotoFast V5 is a good example and while it did show amazing speed, its short comings in price were more than most could handle. Even today the
512GB V5 costs 1999.00 USD
at DVNation; quite a bit more than what anyone I know wants to spend on a SSD. Even if they did plop down the dough, using two Indilinx Barefoot drives in RAID will kill all support for Windows 7 TRIM and this will eventually leave users needing to disassemble the drive to perform a wipe function.
Fast forward to today, the next generation is here and while the price is still above what most would consider, the hassle has been eliminated. Let's take a look at the Kingston SSDNow V+ 512GB Solid State Drive.
Specifications, Availability and Pricing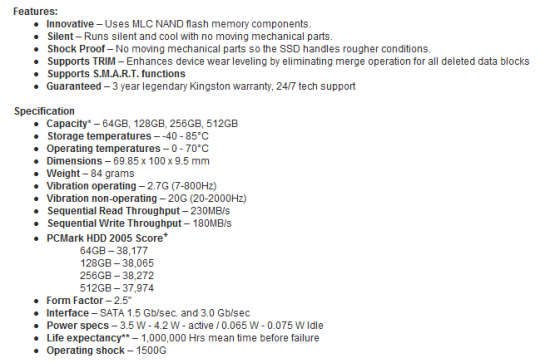 The Kingston SSDNow V+ is currently offered in four capacities ranging from 64GB to 512GB. Each of the four capacities is offered as a standard drive or in an easy to upgrade bundle that includes drive cloning software, external USB enclosure and drive rails, making it easier to install the 2.5" form factor drive in a 3.5" bay. There is an additional cost for the bundle, but hardly as much as you would think.
Diving right into the cost, we were able to find all of the latest second generation V+ drives at Newegg. The 64GB bare drive is available for 199.99 USD; oddly enough the bundle version is also available at Newegg for the same 199.99 price point. Our sample 512GB model with the bundle will reduce your wallet 1,439.00 USD with the bundle or 1,379.00 without. Obviously the 512GB model that we are reviewing today is the extreme end of the range, but we have been promised high capacity SSDs for far too long with little to show for it. Just a few months ago making a 512GB drive would have cost consumers 2000 USD, so no one was willing to take the gamble in actually making one. Now we have next gen hardware and while at the launch the price hasn't been cut in half, after the initial buzz subsides we could very well see sub 1200 Dollar 512GB drives!
Unlike the previous generation V and V+ Series products, the new second generation models bring the speeds that we are used to seeing on Indilinx Barefoot drives that are mainstream today. Essentially Kingston's Value Line of products now competes directly with other flagship models. The V+ Series now has a rated read speed of 230MB/s and a write speed of 180MB/s. When compared to platter drives, well, it really isn't a comparison; the fastest consumer drives really have nothing on solid state drives since the SSDs access times are so much lower due to the elimination of mechanical parts that add delay accessing data.
All of the other amenities of solid state are also found in the Kingston SSDNow V+ Series. The reduced power consumption is a big hit with notebook users since it gives more battery life. SSDs also are able to take more abuse than platter drives and the V+ has a shock rating of 20G while not operating.
Let's move on and take a look at the package.
The Packaging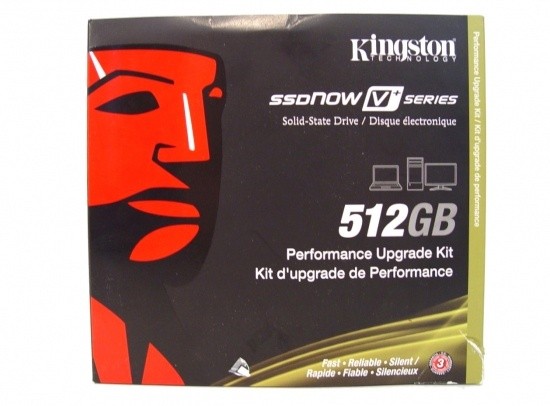 Kingston has a model specific package which is very nice after seeing so many generic packages where you have to look for a small sticker to find out what you have in the box. Here we see the capacity in large text as well as the series make.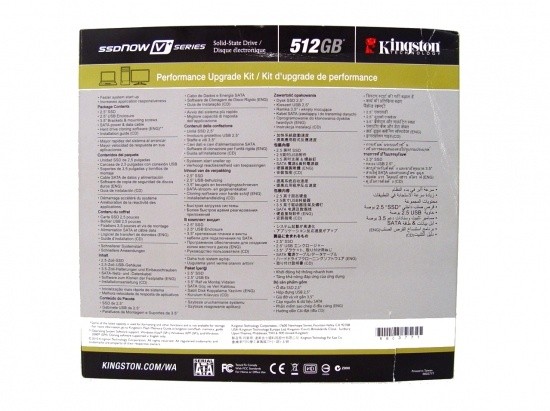 The back side of the package lists the package contents in several languages.

The label on the bottom gives us a lot of fine details like the firmware on the drive and exact model number. It would have been nice to see some performance information listed for the people shopping in retail stores so they could determine which product has a higher rated read and write speed.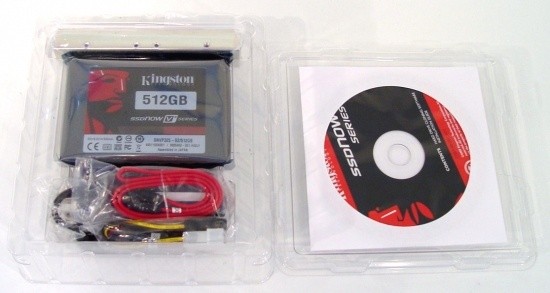 Kingston's inner package is impressive. Here we see that the entire bundle fits nicely in the box and the drive is secure as well as away from other parts that can't rub or scratch the drive.
The Kingston SSDNow V+ Series 512GB SSD Bundle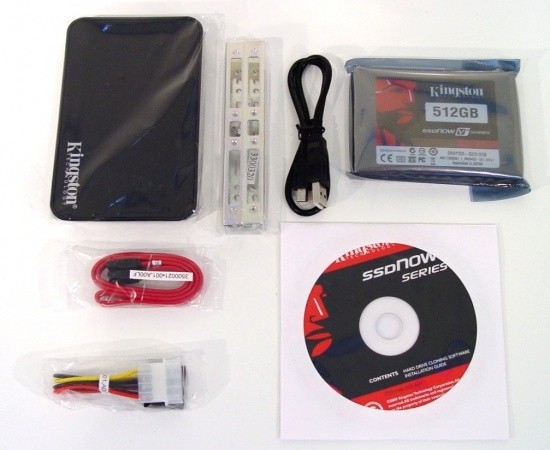 We will start out with the extensive bundle that Kingston supplies with their kit version. Here we see the included drive enclosure with the USB cable, SATA power and data cable as well as the disk with the manual and information. Also included are two rails that will allow you to install the SSDNow V+ in a standard 3.5" hard drive bay.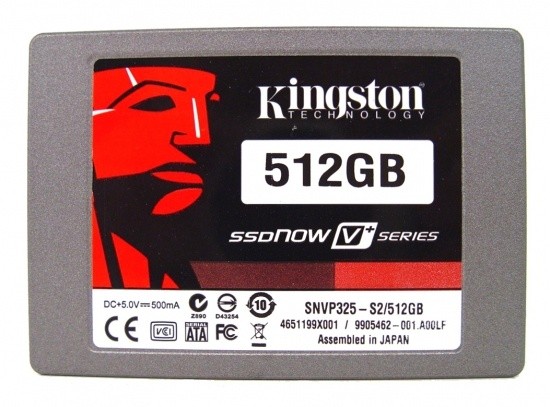 Here we get our first look at the drive. I noticed that it states Assembled in Japan. That leads me to think Toshiba had quite a bit of influence on the V+.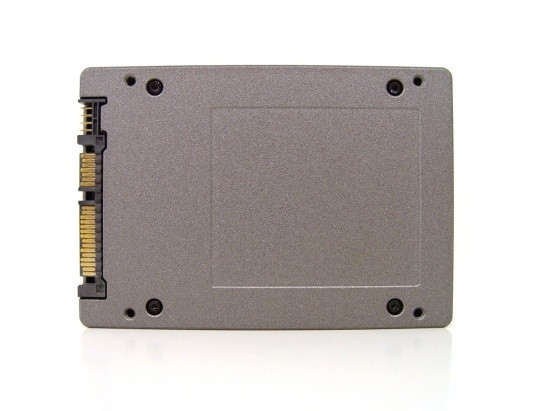 There is not a lot going on with the back of the drive since all of the information is on the top label.

On the side we see that the drive has all of the mounting locations where they should be, so you will not have a problem mounting the drive in your notebook or desktop.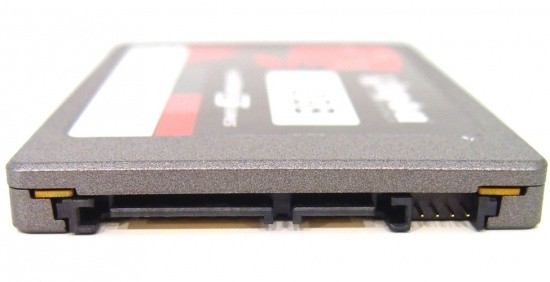 The power and data connectors are also where they should be; no problems here.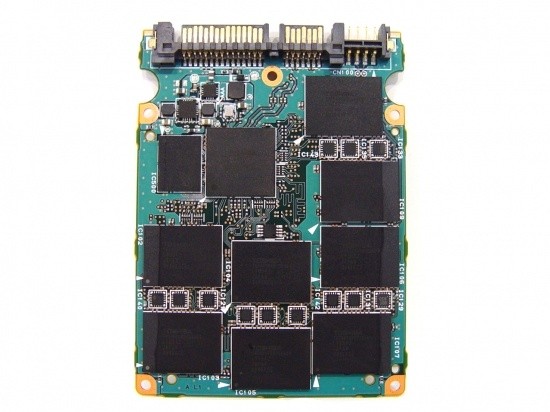 With the drive apart we found Toshiba parts all over the place. The only non Toshiba chip we found was the Micron cache.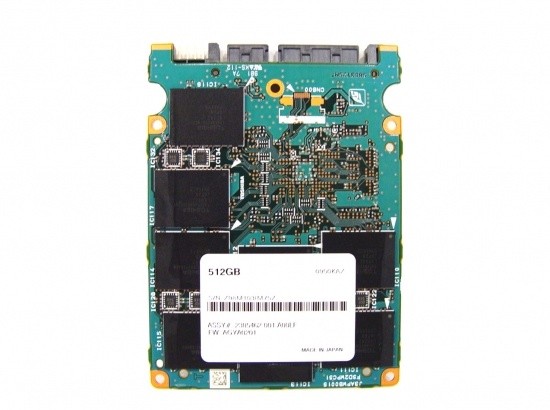 Being a 512GB drive, we expected to find flash on both sides of the PCB and here it is. There are 16 total flash chips that are BGA and single stacked.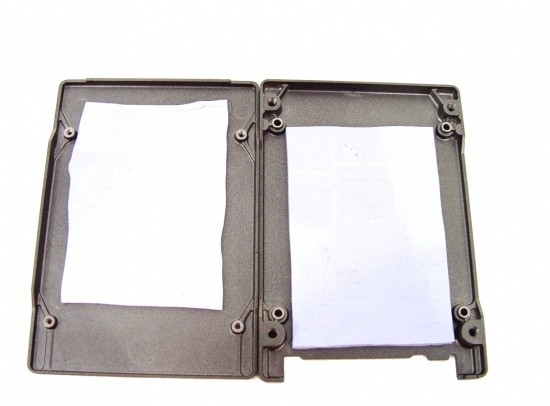 The drive case is lined with thermal transfer material. To my knowledge this is the first time an SSD has come this way, at least the first time I have received one. This will allow heat to move more efficiently from the chips to the drive case.
Test System Setup and ATTO Baseline
Test System
Motherboard
: ASUS P6T7 WS SuperComputer (Supplied by
ASUS
)
Processors
: Intel 975 EE (Supplied by
AVADirect
)
Memory
: Corsair Dominator 1600 MHz Triple Channel Kit
Graphics Card
: Leadtek Quadro FX1700 (Supplied by
Leadtek
)
Enclosure
: Lian Li V2000
Cooling
: Noctua NH-U12P SE2 (Supplied by
Noctua
)
SAS Controller
: LSI MegaRAID SAS 9260-8i (Supplied by
LSI
)
Operating System
: Microsoft Windows 7 Ultimate X64
You can read more about TweakTown's Storage Product Testing Workstation and the procedures followed to test products
in this article
.
In our benchmark comparisons we already have a couple of next generation solid state drives. The RunCore Pro V uses the SandForce 1500 enterprise controller and the Crucial RealSSD has the Marvell SATA 6G controller. For pricing we are told the Pro V will cost just a little less than the Kingston SSDNow V+ 512GB drive, but that is for only 100GB of storage capacity.
The Crucial C300 hits store shelves in just a couple of days and it runs 799.00 USD for only 256GB of capacity. Based in this information, I can determine that price wise the V+ Series 512GB costs right around where I expect it to be. The V+ 256GB drive is available at Newegg for 700 USD, around 100 less than the Crucial C300. Let's take a look at the performance and see if the price vs. performance ratio fits.
ATTO Baseline Performance
Version and / or Patch Used:
2.34
ATTO is used by many disk manufacturers to determine the read and write speeds that will be presented to customers.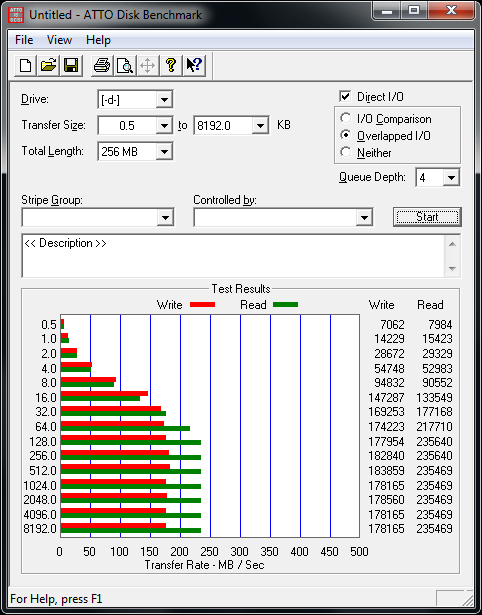 The ATTO test shows us what a drive is capable of doing under the best circumstances. Here we see the Kingston SSDNow runs identical numbers to what Kingston claims in their marketing material.
Benchmarks - HD Tune Pro
HD Tune ProVersion and / or Patch Used:
4.00
Developer Homepage:
http://www.efdsoftware.com
Product Homepage:
http://www.hdtune.com
HD Tune is a Hard Disk utility which has the following functions:
- Benchmark: measures the performance
- Info: shows detailed information
- Health: checks the health status by using SMART
- Error Scan: scans the surface for errors
- Temperature display
HD Tune Pro gives us accurate read, write and access time results and for the last couple of years has been gaining popularity amongst reviewers. It is now considered a must have application for storage device testing.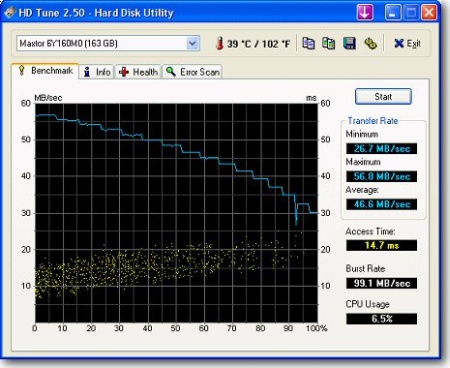 Read Tests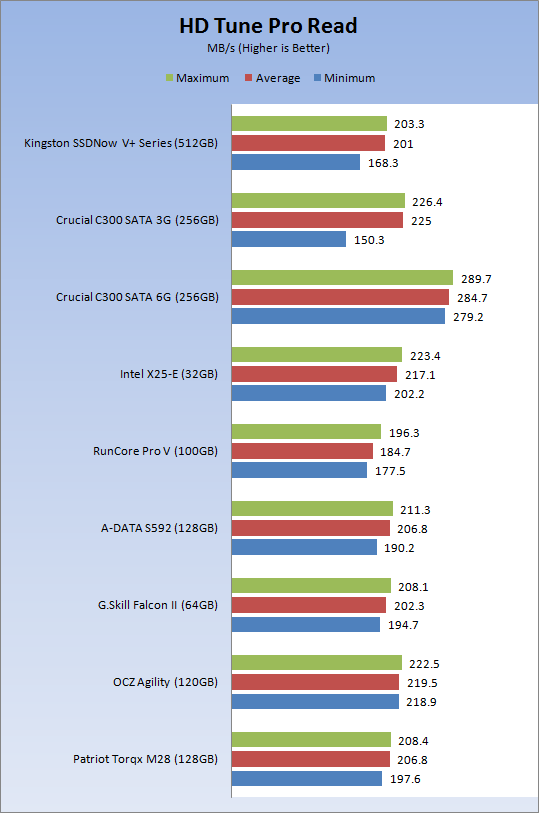 In our read test we see that the Kingston SSDNow V+ runs right around the same level as the Indilinx Barefoot drives at the bottom of the chart. The Patriot Torqx M28 uses a Samsung controller like the first generation V+ Series drives and is also comparable in this synthetic test.
Write Tests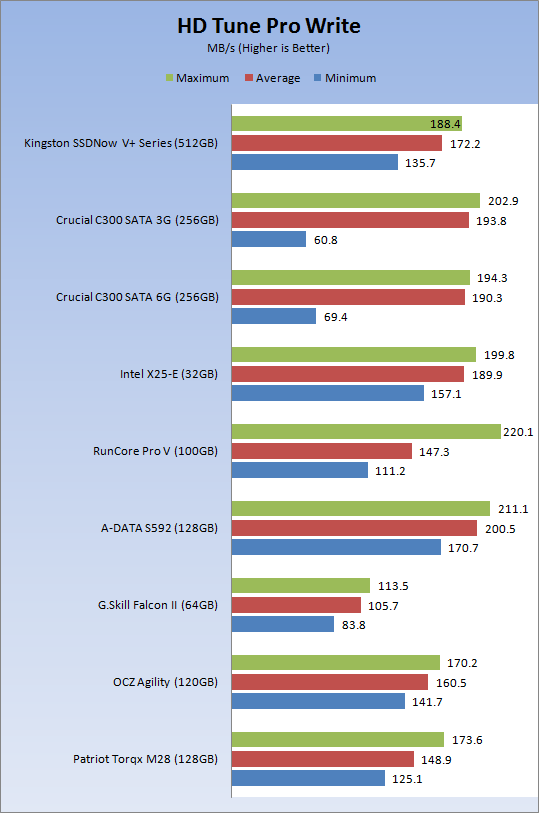 The write portion of this test shows the V+ Series drive mixing it up with the Barefoot drives ones again. Its 177MB/s average write speed is not that far behind the new Crucial RealSSD C300. Could the second generation V+ Series be a contender for the fastest drive of 2010?
Benchmarks - Everest Random Access Time
Everest Random Access TimeVersion and / or Patch Used:
4.60
Developer Homepage:
http://www.lavalys.com
Product Homepage:
http://www.lavalys.com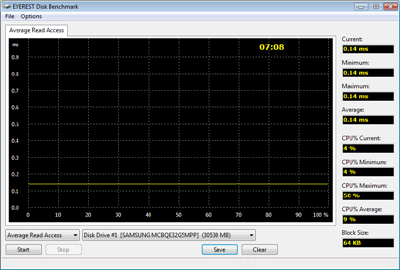 Everest Ultimate and Corporate Edition offer several different benchmarks for testing and optimizing your system or network. The Random Access test is one of very few if not only that will measure hard drives random access times in hundredths of milliseconds as oppose to tens of milliseconds.
Read Tests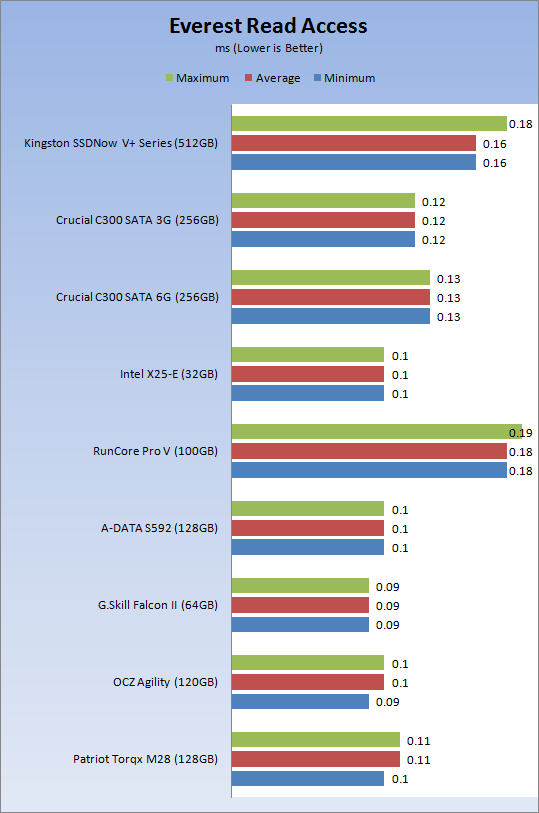 The read access time is a little higher than we like to see it, but as solid state controllers become more complex, the access times will also increase. Access time is where solid state drives give users the "feel of fast". When compared to platter based drives that are still running between 8-15ms, the Kingston SSDNow V+ is still able to wallop a platter drive.
Write Tests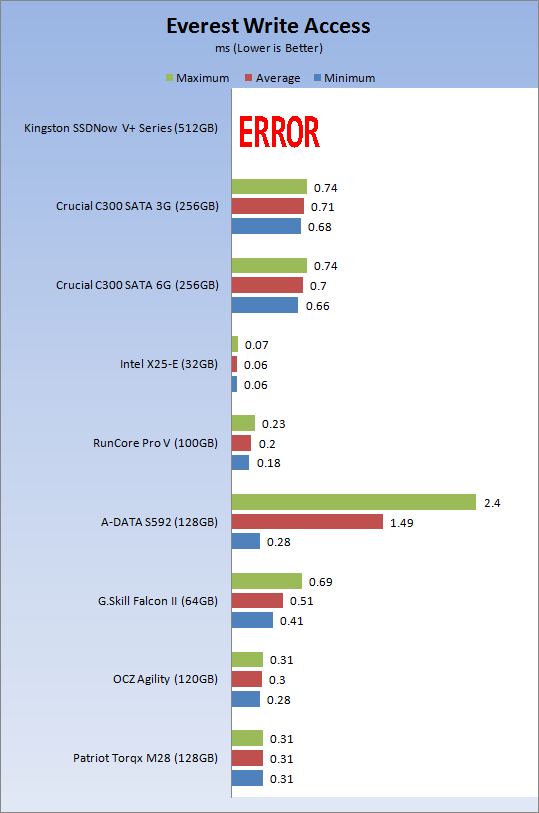 We tested the Kingston SSDNow V+ on three different motherboards and were never able to get consistent realistic numbers in Everest's Write Access Test. Looking around at other reviews and even our own numbers in other tests that measure write access and it was clear that Everest was not able to read the new Toshiba controller accurately.
Let's see how all of these synthetic benchmarks relate to real world applications.
Benchmarks - PCMark Vantage Hard Disk Tests
PCMark Vantage - Hard Disk TestsVersion and / or Patch Used:
1.0.0
Developer Homepage:
http://www.futuremark.com
Product Homepage:
http://www.futuremark.com/benchmarks/pcmark-vantage/
Buy It Here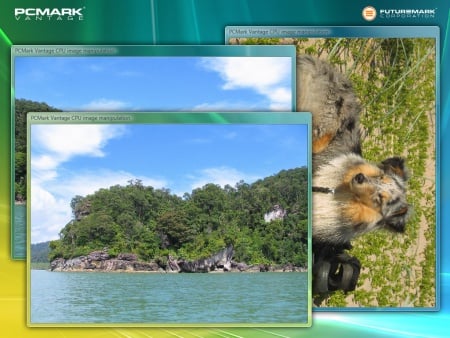 PCMark Vantage is the first objective hardware performance benchmark for PCs running 32 and 64 bit versions of Microsoft Windows Vista. PCMark Vantage is perfectly suited for benchmarking any type of Microsoft Windows Vista PC from multimedia home entertainment systems and laptops to dedicated workstations and high-end gaming rigs. Regardless of whether the benchmarker is an artist or an IT Professional, PCMark Vantage shows the user where their system soars or falls flat, and how to get the most performance possible out of their hardware. PCMark Vantage is easy enough for even the most casual enthusiast to use yet supports in-depth, professional industry grade testing.
FutureMark has developed a good set of hard disk tests for their PCMark Vantage Suite. These tests are based on real world applications that many of us use daily.

HDD1 - Windows Defender
HDD2 - Gaming
HDD3 - Windows Photo Gallery
HDD4 - Vista Startup
HDD5 - Windows Movie Maker
HDD6 - Windows Media Center
HDD7 - Windows Media Player
HDD8 - Application Loading
If you are planning on using the Kingston SSDNow V+ in your notebook or desktop in a Windows environment, then this is the set of benchmarks for you to pay close attention to.
I feel kind of bad for Kingston since I just reviewed the Crucial RealSSD C300 and its numbers have to appear right under the second generation V+ giving an optical illusion that the V+ is just average. If you look at the drives shown here, there are some really obscene performers here. The Intel drive is the X25-E, the enterprise drive, at one time the fastest drive money could buy (and you needed a lot of it). Also we have the RunCore Pro V, a SandForce 1500 controller that isn't even for sale yet and when you do finally see it, the casher will pull out a cleaver and ask if you want to cut the leg off or if you want him to do it.
So, looking past the current fastest drive in the world and the two enterprise drives, we are left with the Barefoot and Samsung controlled drives. In the conclusion we will break down the price, but for now let's focus on the performance.
Against the most common high performance solid state drives sold today, the second generation Kingston SSDNow V+ is able to outperform them by a fairly large margin and in some cases doubles the performance in a Windows environment.
Benchmarks - Passmark
Passmark Advanced Multi-User TestsVersion and / or Patch Used:
6.1
Developer Homepage:
http://www.passmark.com
Test Homepage:
http://www.passmark.com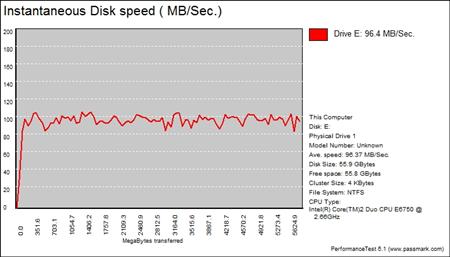 Many users complain that I/O Meter is too complicated of a benchmark to replicate results so my quest to find an alternative was started. Passmark has added several multi-user tests that measure a hard drives ability to operate in a multi-user environment.

The tests use different settings to mimic basic multi-user operations as they would play out on your server. Variances is read / write percentage as well as random / sequential reads are common in certain applications, Web Servers read nearly 100% of the time while Database Servers write a small amount of data.
The Workstation test is the only single user environment and will be similar to how you use your system at home.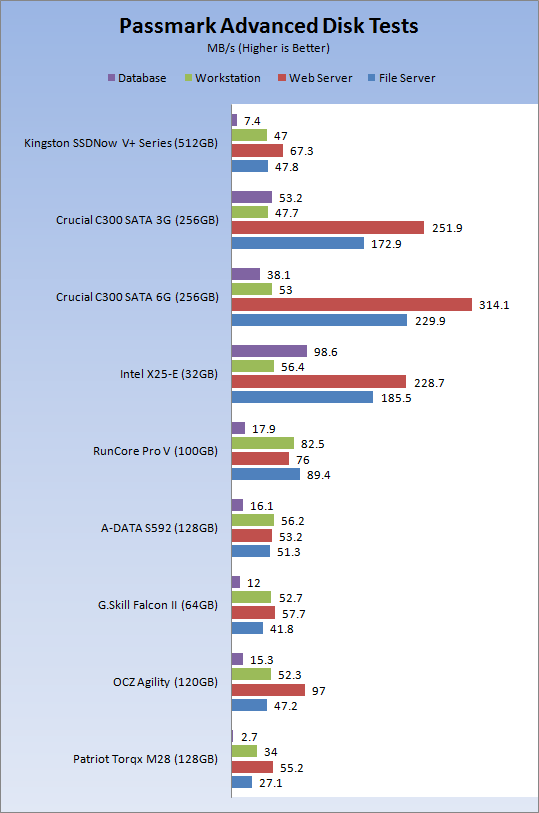 Here we see that the Kingston SSDNow V+ doesn't fair too well against pure server class drives, but is able to run with the Indilinx Barefoot drives in many tests. At this point we have seen Indilinx dial in their firmware; they have been doing so for over a year now and the Toshiba controller is still fresh so later firmware updates will surely increase performance in these and other tests.
Benchmarks - AS SSD
AS SSD BenchmarkVersion and / or Patch Used:
1.2.3577.40358
Developer Homepage:
Alex Intelligent Software
Product Homepage:
Alex Intelligent Software
Download here:
http://www.alex-is.de/PHP/fusion/downloads.php?cat_id=4&download_id=9
AS determines the performance of Solid State Drives (SSD). The tool contains four synthetic as well as three practice tests. The synthetic tests are to determine the sequential and random read and write performance of the SSD. These tests are carried out without the use of the operating system caches.
In all synthetic tests the test file size is 1GB. AS can also determine the access time of the SSD, the access of which the drive is determined to read through the entire capacity of the SSD (Full Stroke). The write access test is only to be met with a 1 GB big test file. At the end of the tests three values for the read and write as well as the overall performance will be issued. In addition to the calculated values which are shown in MB/s, they are also represented in IO per seconds (IOPS).
Note:
AS SSD is a great benchmark for many tests, but since Crystal Disk Mark covers a broader range of 4K tests and HD Tune Pro covering sequential speeds, we will only use the Copy Benchmark from AS SSD.
- Copy Benchmark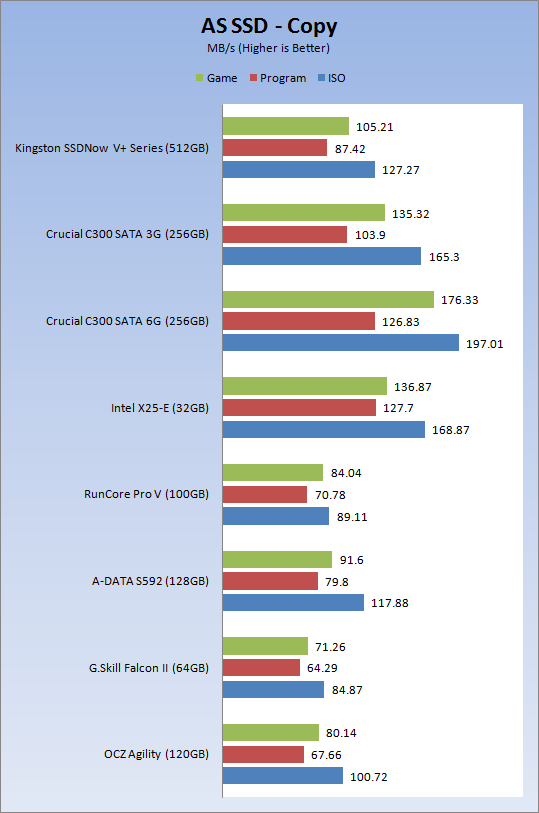 Here we see the Kingston SSDNow V+ making the Indilinx Barefoot drives look slow again, but when compared to the enterprise and C300, we are reminded that the V+ is a value class drive from the generation on the horizon.
Benchmarks - CrystalDiskMark
CrystalDiskMarkVersion and / or Patch Used:
3.0 Technical Preview
Developer Homepage:
http://crystalmark.info
Product Homepage:
http://crystalmark.info/software/CrystalDiskMark/index-e.html
Download here:
http://crystaldew.info/category/software/crystaldiskmark/
CrystalDiskMark is a disk benchmark software.
Key Features:-
* Sequential reads/writes
* Random 4KB/512KB reads/writes
* Text copy
* Change dialog design
* internationalization (i18n)
Note:
Crystal Disk Mark 3.0 is not available to the public yet, but the Technical Preview does allow us to test 4K performance at queue depths of 4 and 32 in addition to 1. The current release Crystal Disk Mark only shows us QD 1.
Read Tests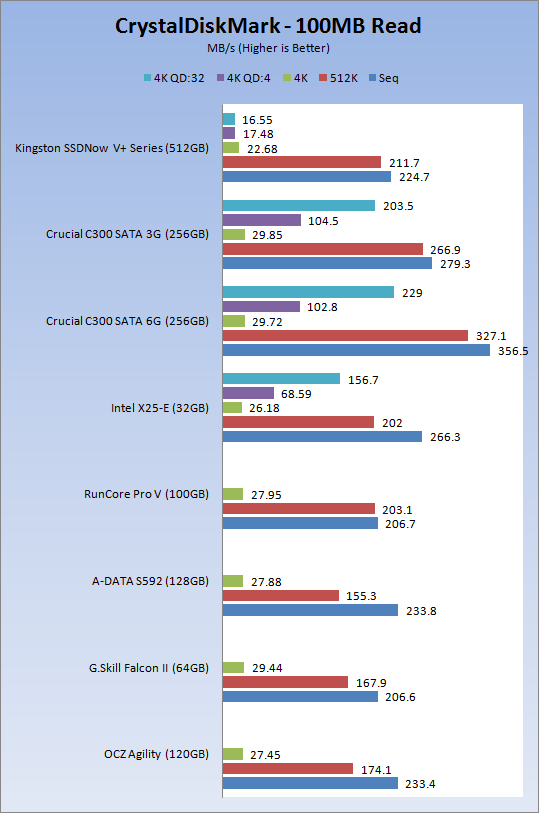 Here we see why the enterprise class drives do so well in the server tests. When piling on tasks they make really good use of the number of channels inside the controller. That said, the Toshiba controller found inside the Kingston SSDNow V+ Series seems to run dry of extra bandwidth when more tasks are put in line.
The older drives were not tested with version 3.0 Technical Preview.
Write Tests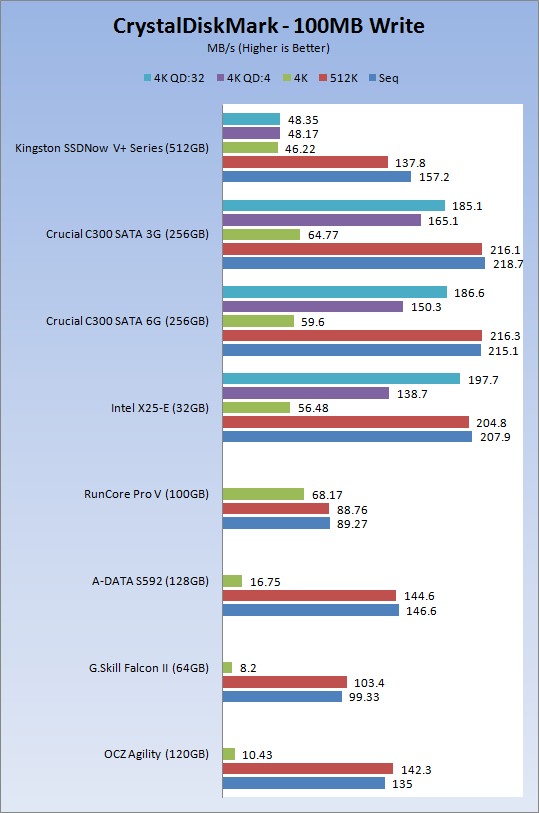 When it comes to writing data at 4K with various QDs, once again we see the V+ not effectively taking advantage of prioritizing traffic like the other next gen and enterprise drives. Looking at the 4K numbers of the Indilinx drives, we see that the V+ doubles and in a couple of cases quadruples the 4K write performance of the current industry standard.
Final Thoughts
I have to admit that I wasn't all that excited at first to see another drive from the value sector after testing the SandForce 1500 and Crucial C300. When I opened the box and found a 512GB drive, my ears perked up quickly, but the massive size was quickly displaced as the main story as soon as we started running benchmarks. Yes it is true, 512GB is massive for solid state; just a couple of months ago the largest traditional platter based 2.5" form factor drive was 512GB and it only changed when Western Digital launched their 1TB, 750GB and 640GB Scorpio Blue in 2.5 inch form factor. You can store a lot of data on 512GB and with a SSD you can move it around really, really fast.
Speaking of speed, this is the new story with the drive we tested. It is fast, really fast, but just not as fast as the other next generation solid state drives we have tested. At this point that fact matters since the V+ is priced a little higher than I thought it would be at, but let a little time pass and the market to settle down a little and we should see the V+ Series sitting well below Crucial's C300 and a lot less than the SandForce 1500 drives that are a hybrid mix between enterprise and enthusiast consumer. Our 512GB sample was able to perform on par with what we expect to see from the Intel X25-M in real world usage, so the speed is not going to disappoint no matter what you are using right now.
The real sticky thing at this point is the cost, but to explain the cost we first must discuss why Kingston would choose to launch their mid range product before their flagship. In our meeting with Kingston at CES they said nothing about SandForce or Marvell. To be more specific, they were asking me about the SandForce that I tested just hours before in my hotel room, a pair of drives hand delivered from the RunCore engineers. Everyone who was planning on offering a SandForce controlled drive was not keeping quiet about it and here Kingston sat staying mute about their flagship M Series line up. That pretty much means that Kingston will be in a holding pattern at the high end until Intel releases their next generation drive later this year. Waiting until Q2 or Q3 to launch updated models would have put Kingston at the very back of the pack, so that wasn't really an option. So, as it sits now, the V+ is new, exciting and fast; fast enough to contend with their flagship M Series drives and because of that Kingston has to keep the prices higher than what we would want to see at this point.
Looking at the prices, we see the Intel controlled X25-M's sitting at 245 USD for the 80GB and 486 USD for the 160GB. The second generation V+ Series is currently sitting at 369 USD for the 128GB and 719 USD for the 256GB model. If Kingston is looking to keep the V+ drives in the middle of their product lineup, they are going to have to lower the cost well before we see third generation X25-M products and that is going to work out well for consumers. At its current price the 256GB drive is running only 80 Dollars less than Crucial's C300 launched at and we have already shown how the two compete against one another. To keep the 256GB drive competitive, the price is going to have to go down another 50 to 60 USD, but then again, the second generation Intel drive is looking pretty good at less than 500 USD.
When it comes to the 512GB second generation V+, we are seeing drives available for 1300 to 1400, depending on if you purchase the bundle or not. I would love to see it at an even 1000, but since there are so few 512GB offerings from competitors, there is little reason for Kingston to lower the price at this time. Since we are mainly focusing on the 512GB model since that is what we took a look at today, I can firmly stand behind the drive on the price vs. performance ratio. The drive is very fast and offers more capacity than any other SSD we have tested to date. If it wasn't for the other next generation drives, the 512GB V+ would have been a contender for one of the fastest drives we have tested. Even with the SandForce and Crucial drives in house, the Kingston SSDNow V+ is still in the top three or four drives we have ever tested in a 2.5" form factor.
PRICING: You can find products similar to this one for sale below.

United States: Find other tech and computer products like this over at Amazon.com

United Kingdom: Find other tech and computer products like this over at Amazon.co.uk

Australia: Find other tech and computer products like this over at Amazon.com.au

Canada: Find other tech and computer products like this over at Amazon.ca

Deutschland: Finde andere Technik- und Computerprodukte wie dieses auf Amazon.de
We openly invite the companies who provide us with review samples / who are mentioned or discussed to express their opinion. If any company representative wishes to respond, we will publish the response here. Please contact us if you wish to respond.