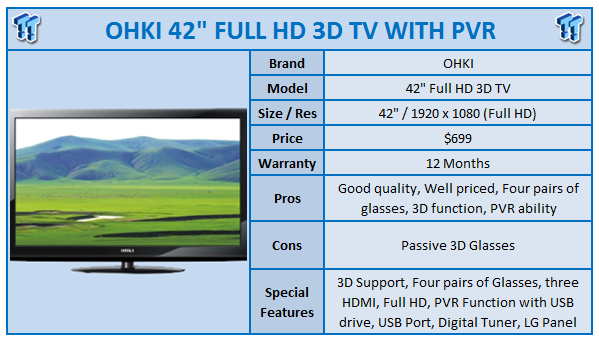 Earlier in the year we had a chance to have a look at the LED 42" TV from OHKI and it did a good job at impressing us. It managed to put a tick in the right boxes when it came to people who wanted a TV that could offer us a good quality picture in a slim LED Lit format at a really good price.
The latest offering from OHKI is yet another 42" TV, but this one carries with it support for 3D TV. So, what's on offer and how's it go? Well, there's only one way to find out, so let's see what's going on with the OHKI 42" Full HD 3D TV with PVR.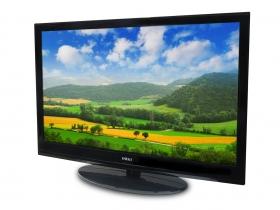 The first thing we noticed when pulling the OHKI 42" Full HD 3D TV out of the box is the fact that we haven't got that really thin "LED Lit" style we've seen more and more companies use lately, including OHKI who used it in the first TV we looked at from them.
Not making use of "LED Lit" technology, the TV comes in at 18Kg with the stand attached and the dimensions are 102cm / 26 cm / 70 cm. Outside of the TV, we've got a few other bits and pieces included like the manual, remote and AAA batteries.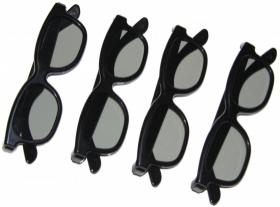 The extra that really stands out in the bundle is the fact that OHKI have included four pairs of 3D Glasses. The way they differ to a lot of other companies we see is that these are the passive kind that we're used to seeing at cinemas and not ones that require any extra power.
Like most 3D Glasses, they're hardly going to create any kind of fashion statement, but if your only 3D experience has been at the movies then you're going to be able to get used to these really quickly thanks to the overall look being almost identical. The fact they're passive ones as well means that while they're cheaper, if you want to go down the path of watching some 3D stuff with the family, you don't have to invest in multiple pairs of active glasses with most companies choosing to only include one or two pair with most TVs.
Along with the four sets of glasses, though, the other extra included in the bundle is a HDMI cable which is always nice to have. We still see a lot of devices not include them, so having one lying around the house is always handy.
On the feature front the OHKI we've got here today is pretty strong. Outside of the 3D feature that's on offer, we've got a built in digital tuner, USB input to read music and photos along with built in PVR function with the help of some external storage. The PVR function is something we've seen before and how it works is with the help of some USB storage you're able to pause, rewind and record TV.

On the connectivity side of things, we've got three HDMI, VGA, two Component, Composite, Optical and an antenna port. On the left side of the TV we've also got a few more connectors including a headphone, another composite and two USB ports; one mini and one full size.

On the other side we've got a couple of buttons that let us turn the TV on, change the volume, channel, input and access the menu. The chances are you'll opt to do most of this stuff with the remote included, though.

On to the remote; it's good. To be honest, one of the worst things about TVs that come with more aggressive price tags is that they tend to have really poor quality remotes. The one we've got with our 42" OHKI here today feels good; the buttons are responsive and everything reacts quickly.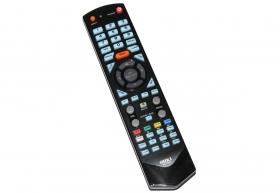 Firing up the OHKI and setting up the tuner, we start to get a feel for the quality of the TV and just like the last OHKI we looked at, it's strong. Checking out fast action sports, we've got a strong clear picture and feeding a 1080P image to it via Blu-ray shows the colours looking great in Toy Story and Avatar.
Getting into the 3D side of things, the TV doesn't do too bad of a job; the biggest issue I find is that the smaller the TV, the less immersive 3D is, as you can have a lot of distractions around the unit. Keeping it simple around the TV helps this, but you do continue to just get into 3D TV for the most part.
The issue with 3D, though, isn't that of the TV, but continues to be a personal one for most people. At the movies on a massive screen it's easy to get immersed, but on a TV, not so much and this is coming from someone who owns two 55" 3D TVs that don't ever get used in 3D.
What's great about the OHKI we've got here today, though, is the simple fact that it carries with it a $699 price tag which includes a free HDMI cable, four pairs of 3D glasses and free delivery Australia wide. One of my personal gripes with the original OHKI we looked at was the fact it also had this huge OHKI logo on the front. It's been toned down here and we can easily see the brand, but not to the point that it's distracting.
While you might find your 3D use short lived as you find yourself getting a little past it, you're not paying this high price tag for the privilege of it. Turned off as well, you get a really well priced TV that has a couple of little extras in the package and built in PVR functionality.
We're seeing OHKI offer us more products over time; unlike others they haven't just chosen to flood us with model after model, instead they've been a bit slower and methodical about it in making sure that what they bring to the market comes in at a good price and offers good quality. The 42" TV we're looking at today offers us 1080P support, built in PVR and 3D all at an excellent price point.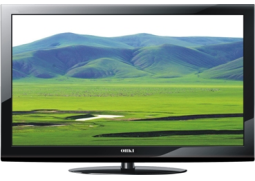 If you want a new TV, don't want to blow the bank and would like to see what all the 3D hoo ha is about, while at the same time getting something that runs your typical 2D image, well, this is a great offering from OHKI.