OCZ Technology RevoDrive 3 X2 PCI-E 480GB SSD Review
With a massive capacity and nearly unlimited performance, the RevoDrive 3 X2 will be a great addition to your workstation.
Published
15 minute read time
Introduction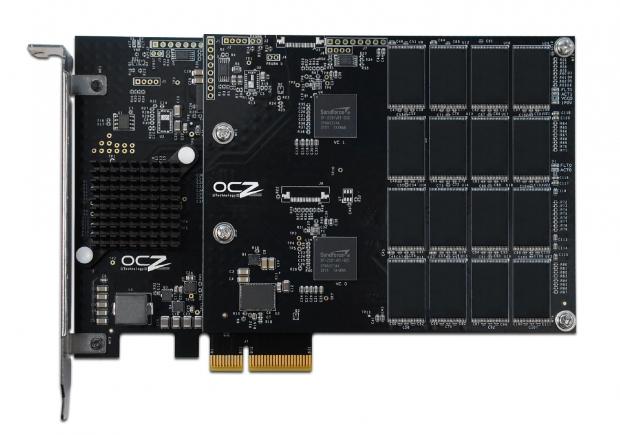 Several years ago I reviewed motherboards and video cards. At the time NVIDIA was still a major player in the motherboard market and with each new release they stressed the number of PCI Express lanes their latest and greatest chipset had available. They made it very clear that the future of computing would ride the PCI Express highway. If NVIDIA wouldn't have been pushed out of the chipset business, how many PCIe lanes would we be up to today?
At their technological peak of chipsets the nForce Professional 3600 MCP paired with a 3050 chip produced 56 PCIe lanes. The X58, the last true enthusiast class chipset produced by Intel gave us a staggering number of...36 PCIe lanes. One company knew where all of these amazingly fast interconnects were headed and the other wasn't ready to drive in the fast lane. The end result has been poorly implemented USB 3.0 that can't even achieve maximum performance and a roadblock on the number of available SATA III ports.
Intel hasn't been the only massive company to drop the ball with emerging technology, though. For at least two years solid state drives have been an area of rapid growth. No other technology has increased user experience or productivity in the last ten years like what has become our 200 Dollar, 128GB SSD. For years we went through cycles of adding more RAM and faster processors while our 50 year old traditional HDD design gained a few megabytes per second of performance. The HDD let us down with slow growth and moderate performance gains. A revolving digital image of an hourglass became the symbol of the storage product market's failure.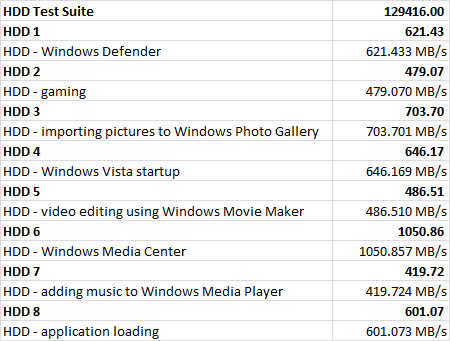 It isn't every day that I get to start off an article with a benchmark. The benchmark scores above are from an OCZ Technology RevoDrive 3 X2 480GB after a clean wipe from the latest OCZ Tool. The performance is so amazing that I can't really put it into words without pulling out the Four Letter Adjective Handbook and place three or four of those words in front of YEAH! - The problem is you're not going to see that level of performance in the real world until Microsoft delivers TRIM commands that can pass through RAID controllers or OCZ's new VCA 2.0.
Specifications, Pricing and Availability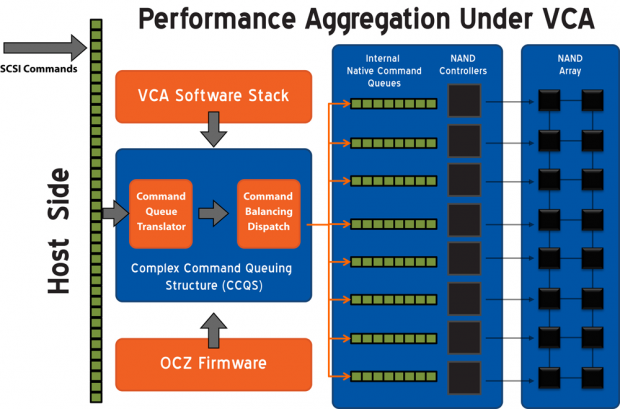 To get past Intel's P67/Z68 chipset's 2 SATA III port limit, OCZ Technology had to get creative and deliver the RevoDrive 3. Two versions are available; the RevoDrive 3 which uses two SandForce SF-2281 controllers and the larger RevoDrive 3 X2 that packs four SandForce controllers. Unlike previous RevoDrive branded products, the PCIe to PCI-X to SATA bridges have been burned and replaced with a new, proprietary technology that OCZ calls Virtualized Controller Architecture 2.0. VCA 2.0 comes straight from OCZ's new enterprise Z-drive R4 product class. Here is how OCZ describes it:
The RevoDrive 3 X2 provides unique benefits to users by incorporating features from the VCA 2.0 flash virtualization software that allow certain direct memory access (DMA) and data management functions. Included in this feature-set are OCZ's exclusive command queuing and queue balancing algorithms, which can be handled by the onboard processing core for higher performance and reduced burden on the host resources. VCA 2.0 is also the only virtualization layer in the industry with TRIM and SCSI unmap support to enhance sustained performance and provide greater endurance by significantly reducing the overhead associated with garbage collection. Furthermore, VCA also offers consolidated SMART support and provides system administrators with advanced features for monitoring, analyzing, and reporting device attributes.
You can read more about VCA 2.0 in OCZ's product brief here. The Cliff Notes sound like this; VCA 2.0 is a scaling architecture with unlimited potential and a solid foundation for a new class of products. OCZ Technology has managed to figure out TRIM, SCSI unmap and SMART monitoring in their new SuperScale Architecture which allows your RevoDrive 3 to deliver sustained performance without the need of garbage collection.
Garbage collection adds to the number of P/E cycles and isn't used on SandForce controllers. TRIM has become the best way to retain performance, but until now hasn't been supported in RAID and RAID like products like the RevoDrive Series. Actually, using TRIM is now the issue. Microsoft has yet to release a patch, but is working with OCZ to make it happen. How long you have to wait is going to be a big issue when making a purchasing decision.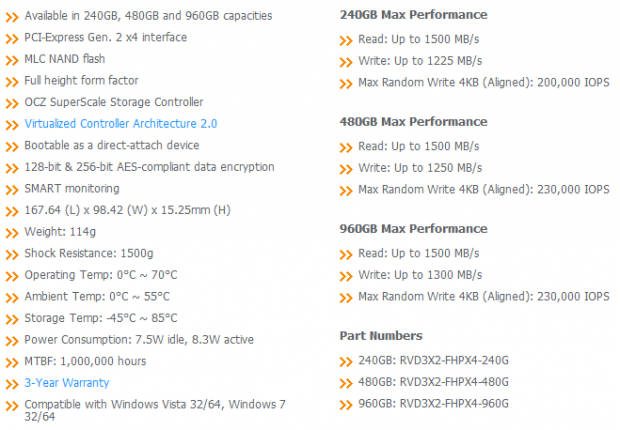 As we mentioned previously, there are two distinct flavors of the RevoDrive 3. The baseline RevoDrive 3 uses two SandForce SF-2281 controllers and is available in capacities of 120GB, 240GB and 480GB. The RevoDrive 3 X2 that we are looking at today is available in 240GB, 480GB and a massive 960GB capacity size (I think my heart skipped a beat while I typed it). All flavors use a PCIe 2.0 4-lane interface that has around 2GB/s bandwidth before ECC and various other bits that produce overhead which reduces actual performance. The 480GB RevoDrive 3 X2 that we are looking at today has a stated read performance of up to 1500MB/s read and 1225MB/s write. That is a massive amount of performance and well over the available performance offered by Intel's P67 / Z68 native two SATA III ports.
The RevoDrive 3 and X2 are full height PCIe cards, so 1U and 2U installations would be a bit tricky. For a half-height solution you'll have to turn to the enterprise class Z-Drive R4 products. The latest RevoDrive has been moved out of the Enthusiast Class Category on OCZ's website and placed in the newly formed Workstation category. I think most reading this article would agree that the line dividing workstation and enthusiast is fairly vague these days, but the current pricing digs a little deeper in the sand. OCZ has never had any real competition for their RevoDrive products other than paper launches and phantom products. There are enterprise PCIe solutions, but their cost per GB has always been well above any of the RevoDrive products.
The entry level RevoDrive 3 120GB is priced at just 399.99 at Newegg. This is the current price for two Vertex 3 120GB drives (after a small mail in rebate) which can be used in RAID 0 on a chipset with native Intel SATA III ports. The RevoDrive X2 240GB, the entry level for the X2 line will set you back 719.99 USD. The 480GB R3 X2 that we are looking at today has a true workstation price of 1,659 USD.
The OCZ Vertex 3 uses IMFT ONFi 2.0 synchronous flash, the preferred type for performance and sustained performance when data is populating a drive. The RevoDrive 3 Series uses ONFi 1.x flash, the same used on the Agility 3 line. We'll have to keep an eye on performance and how well the RevoDrive 3 X2 480GB scales when we start adding data into the equation.
The Packaging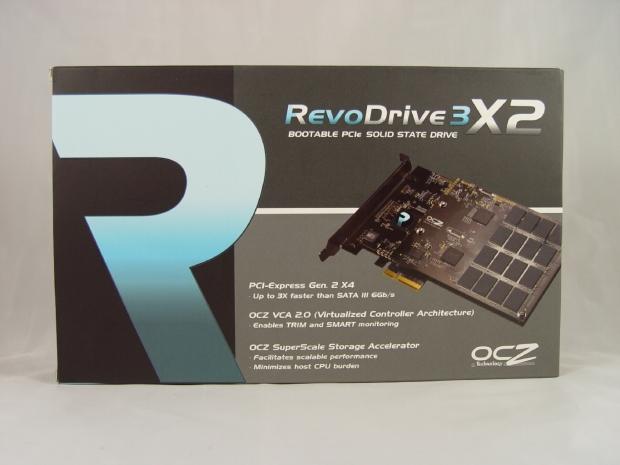 The RevoDrive 3 X2 packaging is quite attractive and lists some of the key technologies right on the front. The capacity size and performance specifications are missing on the front, though. I'm not sure how many of these will make it to store shelves; I think most will be sold on Amazon, Newegg and other e-tail outlets.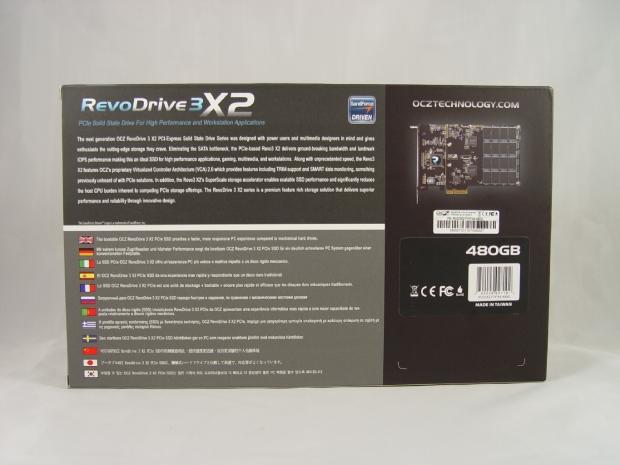 On the back we find the capacity information as well as some details about VCA 2.0.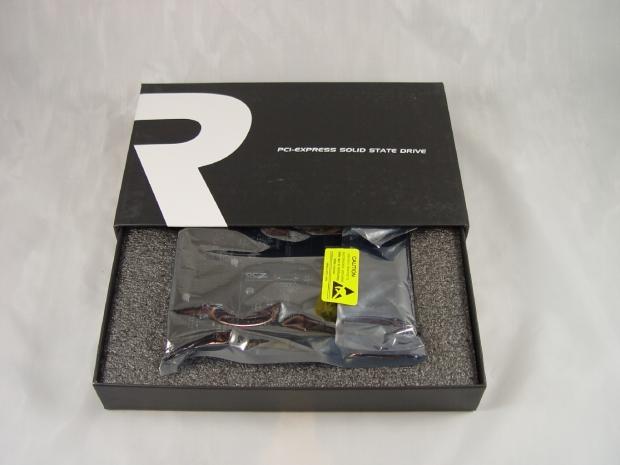 Unlike nearly destructible 2.5" SSDs, the RevoDrive 3 X2 needs protection and OCZ delivered a solid foam base that keeps your card secure in the package.
The OCZ RevoDrive 3 X2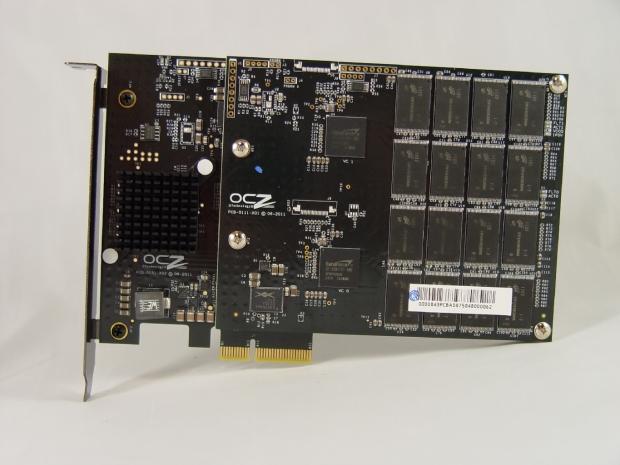 Here we get our first look at a full retail OCZ RevoDrive 3 X3. A heatsink covers the VCA 2.0 controller and the SandForce SF-2281 controllers are broken into two groups. A set of SSD controllers are located on the main card with the accompanying flash and a second set are on the daughterboard.
The card itself uses a PCIe 2.0 4-lane connector that fits in your motherboard.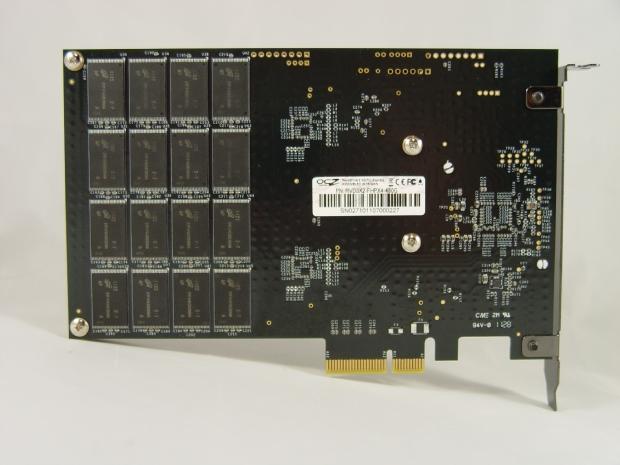 Each SandForce controller gets sixteen 8GB asynchronous flash chips. The best comparison we can give is four 120GB Agility 3 drives running on a software RAID controller. Just this RAID controller has special magic for TRIM and SMART data....and fits in a single PCIe slot. It's also the coolest looking SSD we'll likely see all year.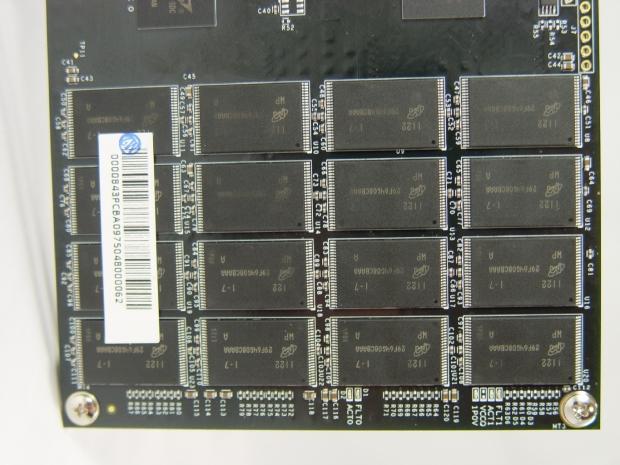 Micron flash was used and there are a total of 64 individual flash chips total.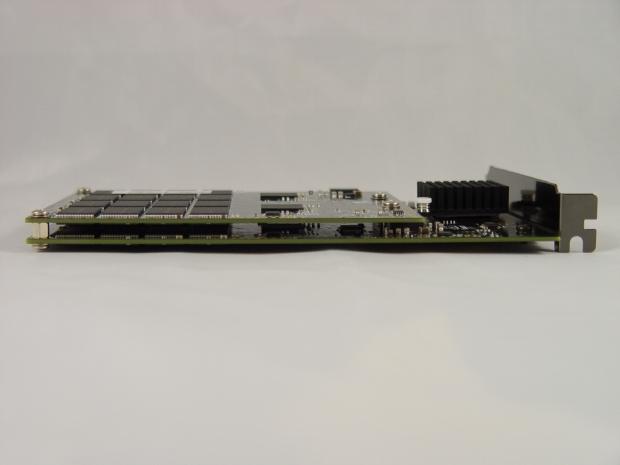 Looking at the card from the side, it reminds me of an old ISA modem I used to have.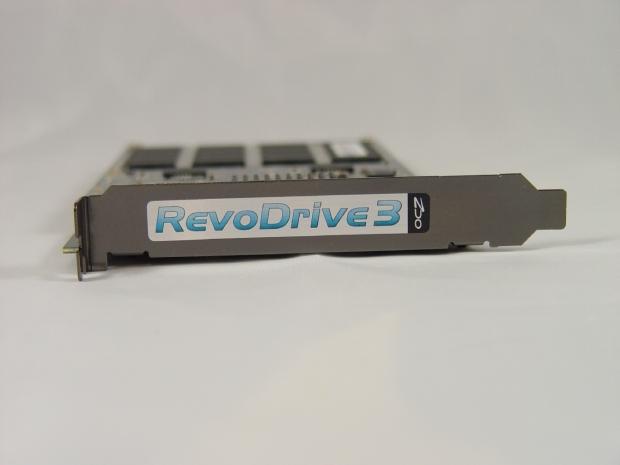 The RevoDrive 3 can actually move 56K of data faster than you can think AOL. I did find this sticker interesting. When the drive is installed in most computer cases the sticker is upside down.
Test System Setup and ATTO Baseline Performance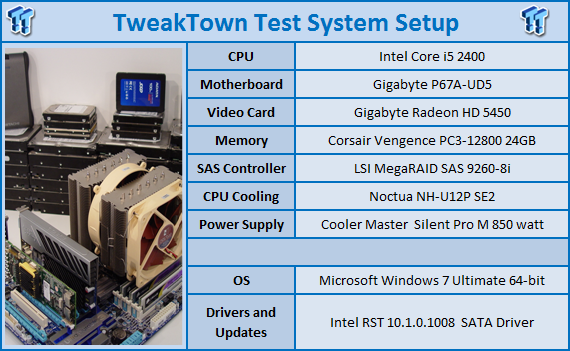 We would like to thank the following companies for supplying and supporting us with our test system hardware and equipment: AVADirect, GIGABYTE, Cooler Master, LSI, Corsair and Noctua.
You can read more about TweakTown's Storage Product Testing Workstation and the procedures followed to test products in this article.
The OCZ Technology RevoDrive 3 X2 is capable of delivering massive performance. Windows 7's lack of TRIM support for this specific product means performance will be reduced sharply as soon as the drive starts being used. We'll break down the end result throughout the article and in the conclusion.
Furthermore, OCZ's choice to using asynchronous flash is heartbreaking since we've concluded that async flash robs performance when data is present on a SandForce SF-2281 controlled drive.
ATTO Baseline Performance
Version and / or Patch Used: 2.34
ATTO is used by many disk manufacturers to determine the read and write speeds that will be presented to customers.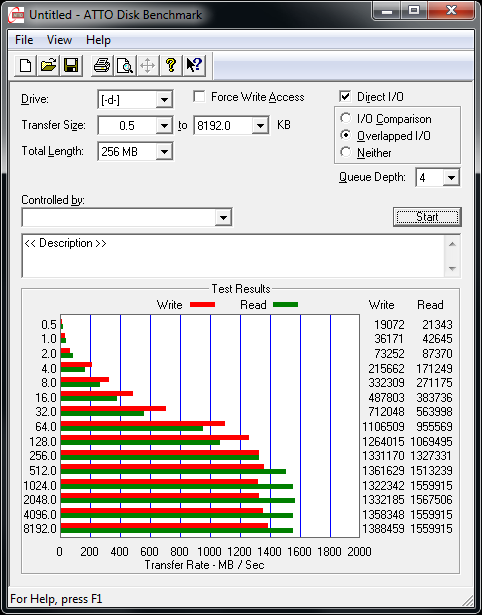 This is very good news. It appears OCZ went conservative on their performance ratings. We were able to achieve over 1550MB/s read and 1384MB/s write speeds in our base ATTO test. ATTO uses compressible data which is very fast on SandForce based products, so let's move on and unravel the rest of the performance information.
Benchmarks - HD Tune Pro
HD Tune Pro
Version and / or Patch Used: 4.00
Developer Homepage: http://www.efdsoftware.com
Product Homepage: http://www.hdtune.com
HD Tune is a Hard Disk utility which has the following functions:
Benchmark: measures the performance
Info: shows detailed information
Health: checks the health status by using SMART
Error Scan: scans the surface for errors
Temperature display
HD Tune Pro gives us accurate read, write and access time results and for the last couple of years has been gaining popularity amongst reviewers. It is now considered a must have application for storage device testing.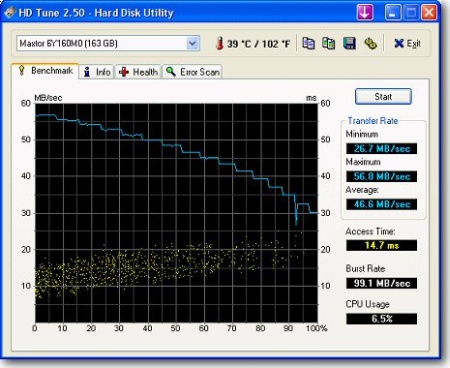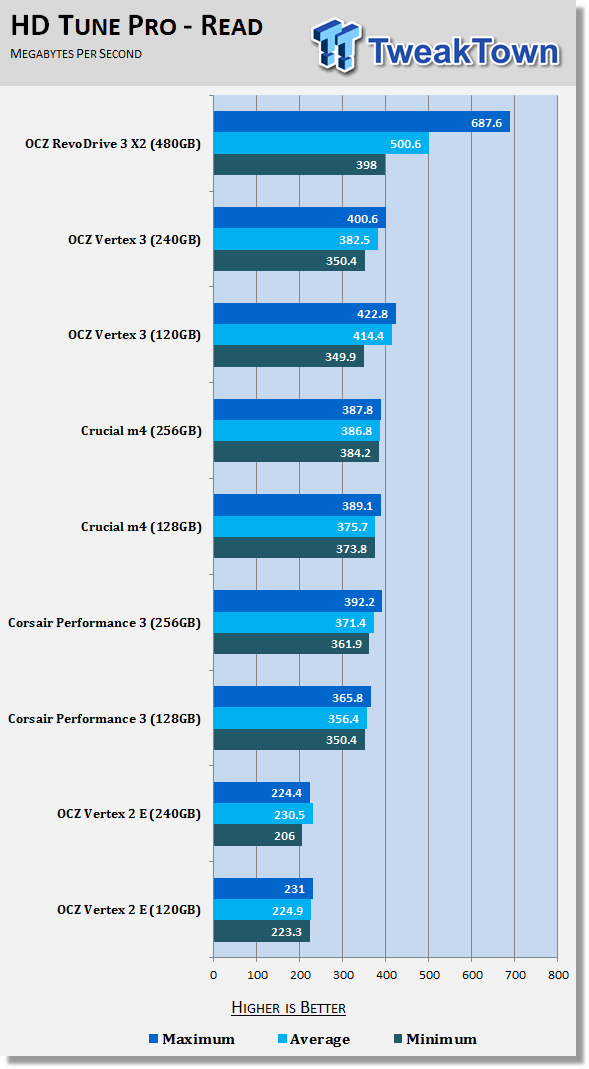 HD Tune has never been too kind to RAID arrays since it tests at a single queue depth. SandForce controllers love high queue lengths and the RevoDrive 3 X2 uses four of them.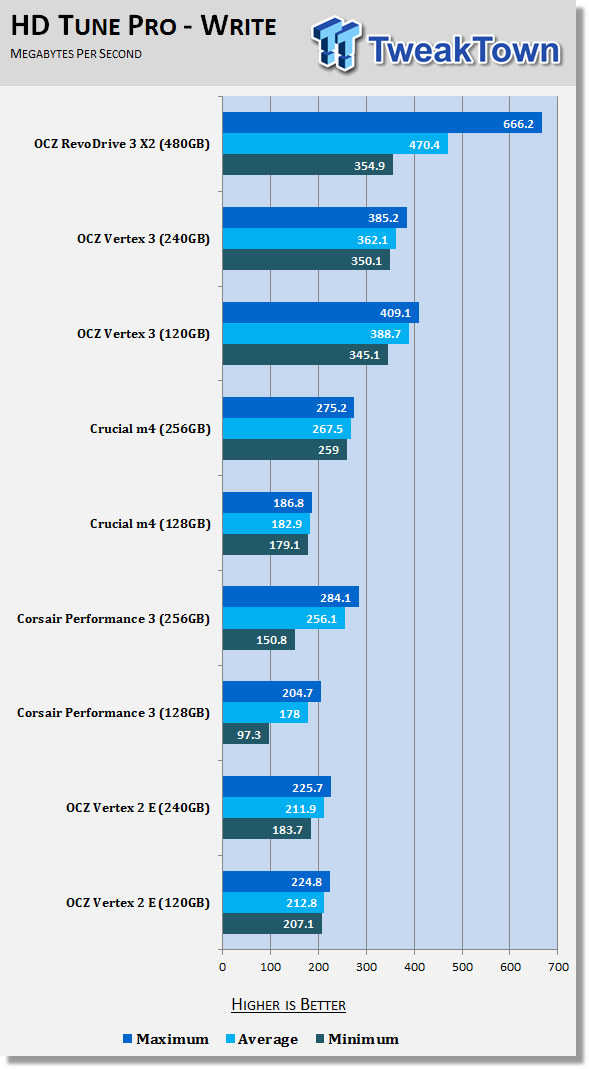 The same is true for the write test. The low queue depth really hurts performance and doesn't allow the RevoDrive 3 X2 to really take flight.
Benchmarks - AIDA64 Random Access Time
AIDA64 Random Access Time
Version and / or Patch Used: 1.60
Developer Homepage: http://www.aida64.com
Product Homepage: http://www.aida64.com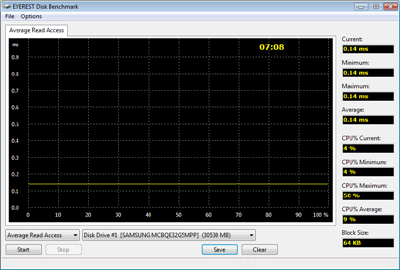 AIDA64 offers several different benchmarks for testing and optimizing your system or network. The Random Access test is one of very few if not only that will measure hard drives random access times in hundredths of milliseconds as oppose to tens of milliseconds.
Drives with only one or two tests displayed in the write test mean that they have failed the test and their Maximum and possibly their Average Scores were very high after the cached fills. This usually happens only with controllers manufactured by JMicron and Toshiba.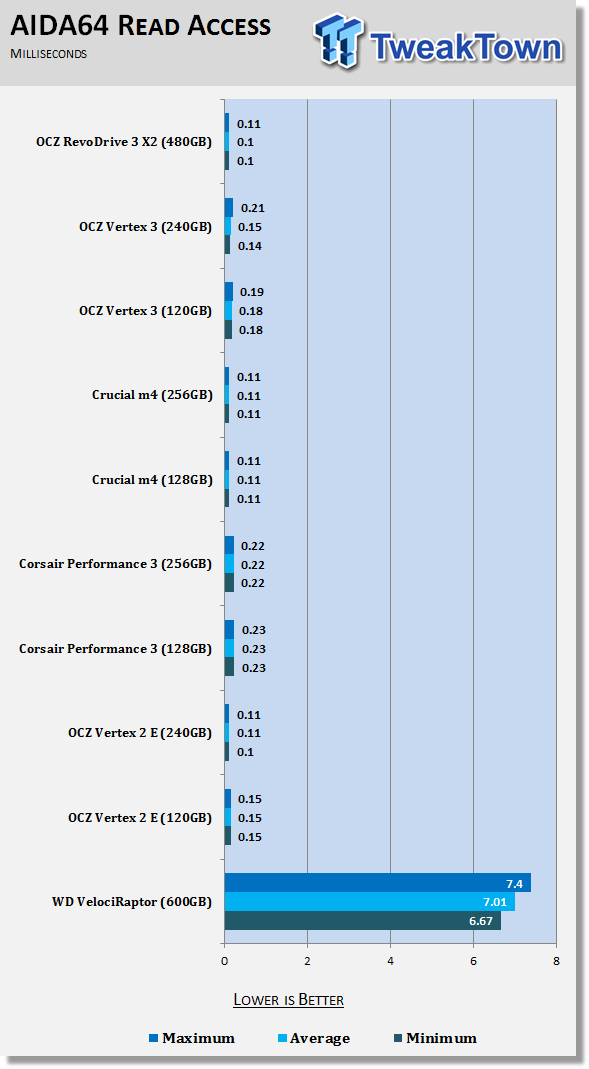 The VCA 2.0 controller keeps latency very low and we were able to achieve read access times lower than a single Vertex 3.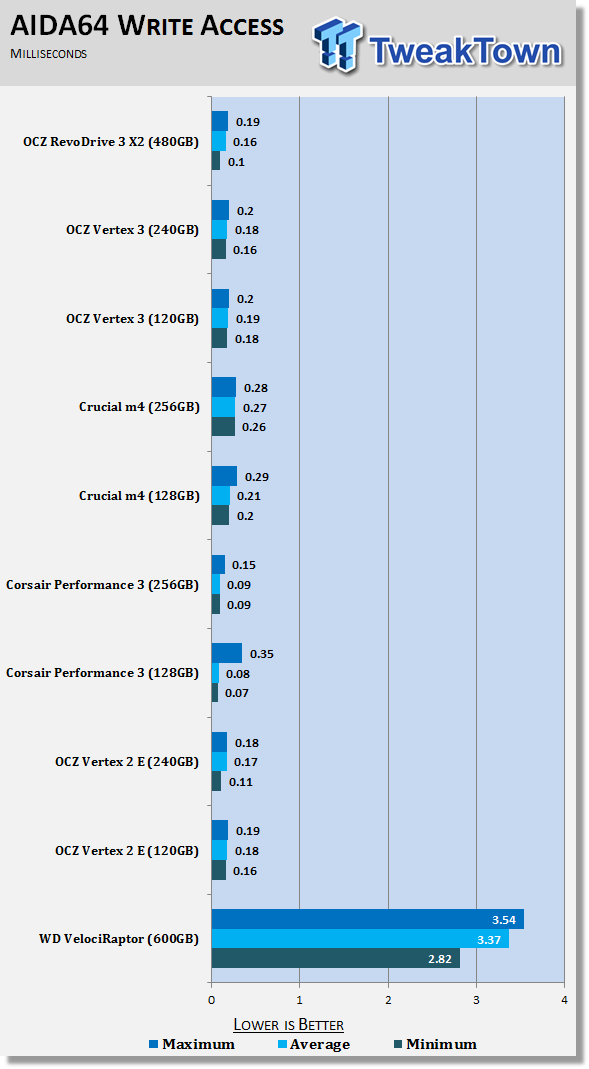 The write latency is in line with what we expected to see. There isn't a performance penalty when using the VCA 2.0 architecture.
Benchmarks - CrystalDiskMark
CrystalDiskMark
Version and / or Patch Used: 3.0 Technical Preview
Developer Homepage: http://crystalmark.info
Product Homepage: http://crystalmark.info/software/CrystalDiskMark/index-e.html
Download here: http://crystaldew.info/category/software/crystaldiskmark
CrystalDiskMark is a disk benchmark software that allows us to benchmark 4K and 4K queue depths with accuracy.
Key Features:-
* Sequential reads/writes
* Random 4KB/512KB reads/writes
* Text copy
* Change dialog design
* internationalization (i18n)
Note: Crystal Disk Mark 3.0 Technical Preview was used for these tests since it offers the ability to measure native command queuing at 4 and 32.
In CDM we are using incompressible data (data that is already compressed) to achieve the test results. Asynchronous flash has issues with this type of data, so there is a steep performance hit when compared to using data that isn't compressed.
When using high queue depths the RevoDrive 3 X2 really shines even when using incompressible data. Here we see a result of 511MB/s which was actually faster than the sequential write performance with this data type at low queue depths.
Benchmarks - PCMark Vantage Hard Disk Tests
PCMark Vantage - Hard Disk Tests
Version and / or Patch Used: 1.0.0
Developer Homepage: http://www.futuremark.com
Product Homepage: http://www.futuremark.com/benchmarks/pcmark-vantage/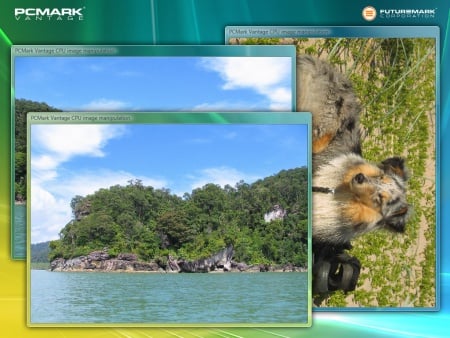 PCMark Vantage is the first objective hardware performance benchmark for PCs running 32 and 64 bit versions of Microsoft Windows Vista. PCMark Vantage is perfectly suited for benchmarking any type of Microsoft Windows Vista PC from multimedia home entertainment systems and laptops to dedicated workstations and high-end gaming rigs. Regardless of whether the benchmarker is an artist or an IT Professional, PCMark Vantage shows the user where their system soars or falls flat, and how to get the most performance possible out of their hardware. PCMark Vantage is easy enough for even the most casual enthusiast to use yet supports in-depth, professional industry grade testing.
FutureMark has developed a good set of hard disk tests for their PCMark Vantage Suite. Windows users can count on Vantage to show them how a drive will perform in normal day to day usage scenarios. For most users these are the tests that matter since many of the old hat ways to measure performance have become ineffective to measure true Windows performance.

HDD1 - Windows Defender
HDD2 - Gaming
HDD3 - Windows Photo Gallery
HDD4 - Vista Startup
HDD5 - Windows Movie Maker
HDD6 - Windows Media Center
HDD7 - Windows Media Player
HDD8 - Application Loading
We use a standard method of testing products that allows us to rate each drive under identical conditions. This involves running each test in a specific order to achieve an equal steady state for each test. This is where things really get interesting and where we start to see issues with the RevoDrive 3 X2.
In the chart you'll notice that the RevoDrive 3 X2 has two areas. The first is fresh performance; a test ran right after a cleaning from OCZ's SSD Tool software. We can all agree that the TRIMed R3 X2 is a bad boy that has the ability to dominate the fastest 2.5" SSDs available today.
The next sets of results are from our standard benchmark cycle, PCMark Vantage being the 15th test performed on the drive. The results for the RevoDrive 3 X2 are faster than the Vertex 3 240GB, but not by a large margin in many cases.
PCMark Vantage - Drives with Data Testing
For a complete breakdown on the Drives with Data Testing please read this article. You will be able to perform this test at home with the files provided in the article - full instructions are included.
Brief Methodology
SSDs perform differently when used for a period of time and when data is already present on the drive. The purpose of the Drives with Data testing is to show how a drive performs in these 'dirty' states. SSDs also need time to recover, either with TRIM or onboard garbage collection methods.
Drives with Data Testing - 25%, 50%, 75% Full States and Dirty / Empty Test
Files needed for 60 (64GB), 120 (128GB), 240 (256GB)
60GB Fill - 15GB, 30GB, 45GB
120GB Fill - 30GB, 60GB, 90GB
240GB Fill - 60GB, 120GB, 160GB
Empty but Dirty - a test run just after the fill tests and shows if a drive needs time to recover or if performance is instantly restored.

HDD1 - Windows Defender
HDD2 - Gaming
HDD3 - Windows Photo Gallery
HDD4 - Vista Startup
HDD5 - Windows Movie Maker
HDD6 - Windows Media Center
HDD7 - Windows Media Player
HDD8 - Application Loading
The first time we ran into asynchronous flash paired with a SandForce SF-2281 was when we tested the OCZ Agility 3. The Agility 3 and RevoDrive 3 X2 share the same flash type, asynchronous ONFi 1.x. On the chart we can see how async flash affects the performance of the SF-2281 controller by comparing the Agility 3 to the Vertex 3. When data is populating the async flash the drive slows considerably.
Moving on to the RevoDrive 2 X3, we see a double whammy hit, the first from the lack of TRIM and the second from the choice of asynchronous flash. With the RevoDrive 3 X2 populated with 50% data capacity the drive slows to below a single OCZ Vertex 3 240GB drive. This is a really big problem for users looking for ultimate performance and paying a premium price for it.
Benchmarks - AS SSD
AS SSD Benchmark
Version and / or Patch Used: 1.2.3577.40358
Developer Homepage: Alex Intelligent Software
Product Homepage: Alex Intelligent Software
Download here: http://www.alex-is.de/PHP/fusion/downloads.php?cat_id=4&download_id=9
AS determines the performance of Solid State Drives (SSD). The tool contains four synthetic as well as three practice tests. The synthetic tests are to determine the sequential and random read and write performance of the SSD. These tests are carried out without the use of the operating system caches.
In all synthetic tests the test file size is 1GB. AS can also determine the access time of the SSD, the access of which the drive is determined to read through the entire capacity of the SSD (Full Stroke). The write access test is only to be met with a 1 GB big test file. At the end of the tests three values for the read and write as well as the overall performance will be issued. In addition to the calculated values which are shown in MB/s, they are also represented in IO per seconds (IOPS).
Note: AS SSD is a great benchmark for many tests, but since Crystal Disk Mark covers a broader range of 4K tests and HD Tune Pro covering sequential speeds, we will only use the Copy Benchmark from AS SSD.
- Copy Benchmark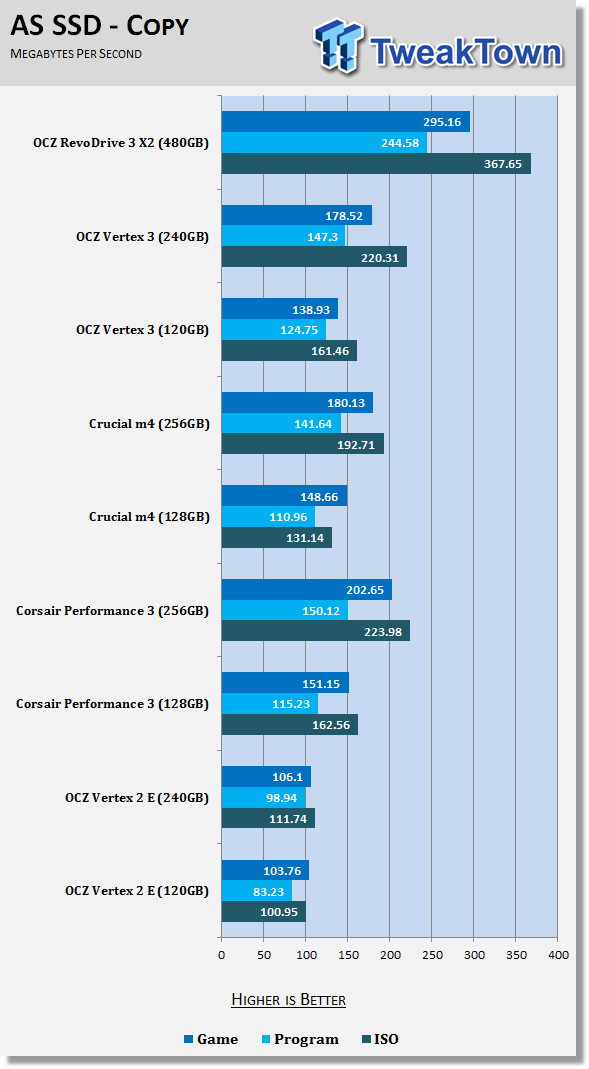 In the copy tests we see the high sequential speed of the RevoDrive 3 X2 making the other drives in the chart appear slow.
Benchmarks - Passmark
Passmark Advanced Multi-User Tests
Version and / or Patch Used: 6.1
Developer Homepage: http://www.passmark.com
Test Homepage: http://www.passmark.com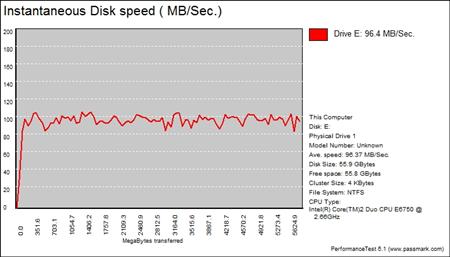 Many users complain that I/O Meter is too complicated of a benchmark to replicate results so my quest to find an alternative was started. Passmark has added several multi-user tests that measure a hard drives ability to operate in a multi-user environment.

The tests use different settings to mimic basic multi-user operations as they would play out on your server. Variances is read / write percentage as well as random / sequential reads are common in certain applications, Web Servers read nearly 100% of the time while Database Servers write a small amount of data.
The Workstation test is the only single user environment and will be similar to how you use your system at home.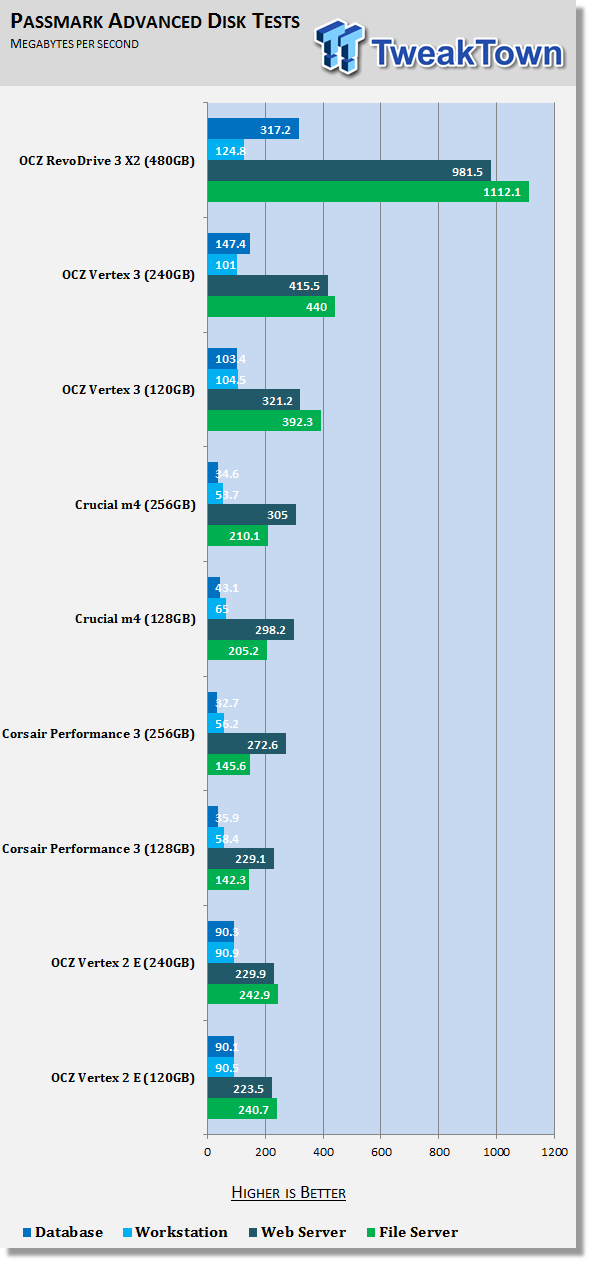 The RevoDrive 3 X2 is a full height card, so fitting it into a 1U or even a 2U server will be tricky, but once TRIM is enabled I can see a number of people looking at this product for server use. From what we can tell in these tests it may be a really good fit for a low cost, high performance server.
Final Thoughts
On the hardware side of things OCZ has put together a good package that will be able to deliver solid performance when all of the pieces are in place. We found a few short comings, though, some of which we haven't discussed yet.
The new VCA 2.0 architecture has some issues with some motherboards. A fairly good sized list is available of boards that work. This list also shows a number that do not work and as you can imagine with the massive amount of motherboards on the market, several are not listed in either category. I went through and starting plugging the RevoDrive 3 X2 in boards I had sitting around and it was hit and miss when it came to the older X58 boards even after firmware updates. My P67 and Z68 boards all worked fine which is really good news for those that buy new motherboards often. The X58 was the last real enthusiast motherboard and many users are still holding on to them until X79 shows up, me including on my own gaming system.
For the life of me I can't figure out why OCZ would choose to pair the RevoDrive 3 products with asynchronous flash. The only thing I can guess about it is that everyone over there bought into the idea that async flash only has an adverse effect on compressed data performance and no effect on how a drive performs when data is populating the drive. No matter the reason, this is the RevoDrive we have for 2011 and at least half of 2012.
The final issue is of course with TRIM. Even with async flash the RevoDrive 3 X2 480GB that we tested today is damn fast. You are going to need TRIM to keep it that way or you'll be running OCZ Tool to keep the drive running well. Microsoft, please make it happen and make it happen before Windows 8.
Even with the issues mentioned above, there are some really good uses for the RevoDrive 3 Series as they sit right now. This is a workstation product after all, so you don't need to boot from it and without TRIM you might want to keep it as a secondary drive anyhow. Doing so will allow you to keep the data and files you're working with at the time, like say an audio production or video files for splicing and editing sequences together. When you are finished with one project you can purge the data or put it back in long term storage (NAS server), clean the drive with OCZ Tool and then start on the next. This will allow you to keep the performance high while also keeping your RevoDrive 3 uncluttered.
Once TRIM or SCSI unmap is ready for prime time, nearly all the limitations are taken off the table and you are left with one very fast SSD that fits nicely into a PCIe slot and runs without wires. The performance offered is quite a bit more than you can get from a motherboard /RAID array alone and the cost is comparable when you add an add-on RAID controller like the LSI 9265 Series into the mix.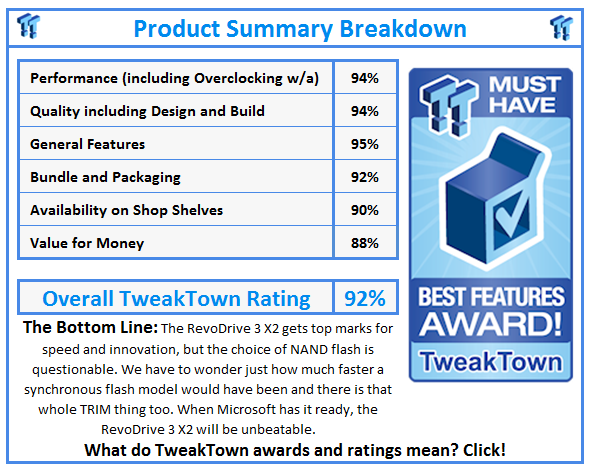 PRICING: You can find products similar to this one for sale below.

United States: Find other tech and computer products like this over at Amazon.com

United Kingdom: Find other tech and computer products like this over at Amazon.co.uk

Australia: Find other tech and computer products like this over at Amazon.com.au

Canada: Find other tech and computer products like this over at Amazon.ca

Deutschland: Finde andere Technik- und Computerprodukte wie dieses auf Amazon.de
We openly invite the companies who provide us with review samples / who are mentioned or discussed to express their opinion. If any company representative wishes to respond, we will publish the response here. Please contact us if you wish to respond.