Just recently we took a look at Patriot's Wildfire SSD that uses a SandForce SF-2281 controller and Toshiba Toggle flash to deliver amazing performance. Today we are looking at the Wildfire of the portable flash drive world, the Supersonic Magnum USB 3.0. This new and improved Magnum offers big capacity sizes just like last year's model, so you can carry entire movie and music collections with you, but the new 8-channel controller paired with USB 3.0 allows you to transfer those files at very high speeds.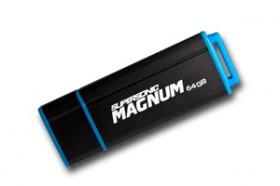 Of course, features like 8-channel controllers, USB 3.0 capability and SSD like capacity sizes do come with a steep price and that is going to be a big factor in your purchasing decision.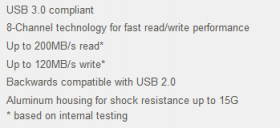 The Patriot Supersonic Magnum is available in just two capacity sizes; 64GB and 128GB. Patriot claims read speeds can reach up to 200MB/s and write speeds up to 120MB/s when used in conjunction with a USB 3.0 host.
Just like last year's award winning Magnum product, the new Supersonic Magnum uses aluminium for the casing. Even the cap is made mainly from aluminium. Patriot did make some changes to the accessory package this year, though, the lanyard and USB extension are missing, both features that helped propel the 2010 Magnum ahead of the competition.
We've seen a lot of USB 3.0 flash drives over the last year. Some have been good, some have been very good and some have performed worse than lower priced USB 2.0 drives. Let's take a look at some benchmarks and see where the Supersonic Magnum fits in this group.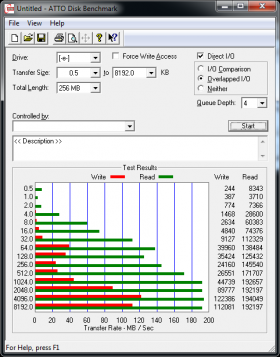 The Supersonic Magnum uses an 8-channel controller which is also the same number of channels as the new SandForce SF-2281 controller used in Wildfire. The Supersonic unfortunately doesn't deliver the same performance. In testing we did manage to get 192MB/s read on our GIGABYTE Z68 motherboard and 112MB/s write speed. The highest we've ever scored was 220MB/s read and that was with an actual SSD using a USB 3.0 interface on a drive that cost twice as much.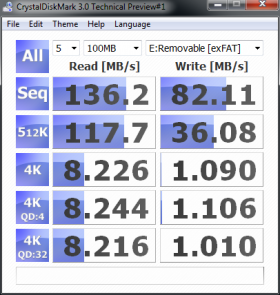 In CrystalDiskMark we get to see the 4K read and write performance of the Patriot Supersonic Magnum 64GB thumb drive. The 4K read speed held in the 8MB/s which is some of the highest we've seen on a pure thumb drive, but the 4K write speeds stumbled down to just over 1MB/s. This means you're going to be able to read data back from the drive much faster than you'll be able to write to it when working with several small files.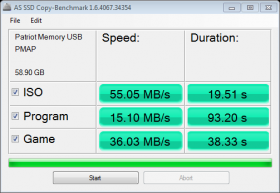 It also means our standard file transfer test that reads and writes data to and from the drive gives us an artificial result that is now just an average between the two and not a true representation of the read back speed you'll actually get. The margin of difference is quite large and I found that out first hand when moving a set of files used for the SSD Fill Test. Writing the 15GB of data to the drive took around 9 minutes, but moving it to another computer from the Supersonic Magnum took just over 5 minutes.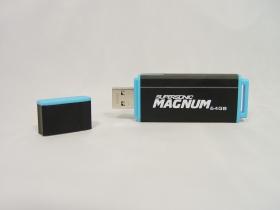 The Patriot Magnum Supersonic USB 3.0 64GB that we tested today is available now for 199.99 at Newegg. The larger 128GB model is available at Newegg for 299.99 which is about the same price as the Patriot Wildfire 120GB SSD. The price is quite a bit more than what most would spend on a thumb drive, but there are not many of these ultra-high capacity drives on the market so you don't get the benefit of price reduction due to competition.
At the time of writing Newegg listed just six USB 3.0 64GB drives, one a SSD. Of the five true thumb drives, Patriot manufactured three of them. Patriot is really trying to help push USB 3.0 technology, but I think the prices will need to come down before we see a high adaption rate. The Supersonic Magnum is Patriot's flagship flash drive, so we expect the price to be a bit higher, but at this price point you may just look for a used tablet.