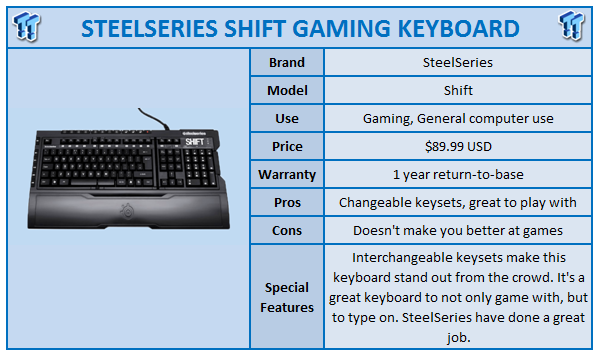 Upon receiving the SteelSeries Shift, I wasn't too excited to tell you the truth. I don't know why, but I think it just might be the amount of marketing power Logitech have. But it all disappeared once I looked at the box and started playing with it.
The SteelSeries Shift box is actually quite attractive. Upon taking the keyboard out, you start to admire the look and feel of it. It's not too heavy or too light; the color feels just right (and that is my first rhyme for the day!).
How does it feel to type on? Amazing! Compared to the mechanical-based gaming keyboards, this is a large step up. I could type as fast as I could and I never felt restricted and gaming wise? Well, wow! No issues and it will now be my standard, everyday keyboard.
I tested out the Shift in various games like Crysis 2, Team Fortress 2, Bad Company 2 and just this morning, Duke Nukem Forever. It is responsive as hell, instant-response to key presses and just a joy to use.
It also includes 2 x USB 2.0 ports for headphone/flash drive access and 2 x 3.5mm jacks for headphone/mic inputs. I'm used to this on my older Razer Tarantula, but it's great to see this on new keyboards. For gamers - this is it.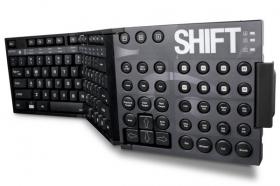 One of the unique features SteelSeries have on the Shift is the interchangeable keysets (say what?!). Which means you can actually pull the keys out of the keyboard and install a different keyset for specific games such as World of Warcraft.
Personalization wise, every single key is customizable; you are able to define each key to any command from the SteelSeries software - another great addition. Macro wise we have advanced macro support delays; very nice.
One of things I found hard to get used to on the Shift was the height of the keyboard, but it includes three different height levels for adjustment which calmed my insta-rage quite quickly.
[img]2[/img]
The build quality of the Shift is second-to-none; it feels in a word; perfect. The included wrist-rest is a nice addition for those long gaming sessions when you're pwning up those newbs in your game of choice.
The first thing I didn't like was the split in the spacebar. I'm not used to this. After a few days of typing and gaming, I got used to it. It looks weird and feels weird on my left thumb, but I find I only press the far left side of the spacebar when typing. For some users - this may be an issue and this is why I'll include it in the review.
[img]3[/img]
I think the thing that pulls this keyboard apart from the rest of the market is the keysets; being able to install a new keyset for a game like Starcraft II or World of Warcraft is just genius. Absolute genius. There are millions of users who would only play those games and if that's so, the keyset change is a godsend. Great work SteelSeries!
I would go as far as saying this would be one of the most perfect, well-rounded, best-suited MMO keyboards on the market. If you play MMOs, please, seriously take a look at the Shift; I have a strong feeling you'll fall in love with it.
FPS gamers, it is a great keyboard, SteelSeries have done everything right - it's just the unique feature sets of this keyboard seem to be built for MMO gamers, but that doesn't mean it's not a great FPS-based keyboard.
The SteelSeries Shift was a lot better than my expectations. For MMO-based gamers this is a sure thing. For everyone else, it is an amazing keyboard and deserves a chance to be considered for your desk and games.