Introduction, Specifications, Availability and Pricing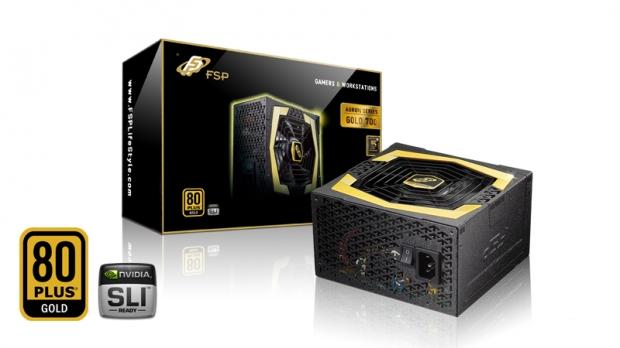 Introduction
Once again we have another brand of power supply on the test bench that many of our readers will know little to nothing about. FSP Group has been around for quite some time and produces a very wide variety of power supplies for consumer, professional and industrial uses all across the world. Those that have been around long enough might also recognize the brand known as Fortron Source. We've been told that some of their latest power supplies boast great performance and efficiency, so we gladly accepted the offer when FSP asked if we would like to sample a unit.
FSP sent us the AU-700 power supply, the largest of four models in the AURUM lineup. FSP claims that the AURUM family of power supplies meets the 80Plus Gold standard with 90% efficiency and goes on to say that they are also "a perfect combination of premium quality and efficiency."
Let's start taking a look at the features that our AU-700 offers and then we'll see if it has the performance to back up what it boasts on paper.
Specifications, Availability and Pricing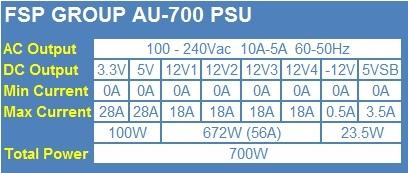 On the surface, the AU-700 seems like it should deliver plenty of power all the way around. It has some relatively high output minor rails and a total of four 12V rails. The 3.3V and 5V rails are both capable of 28A each with a combined output of 100W. Many would think that four 18A 12V rails would be enough, but few have probably done the math in their heads. This is only 216W of power on each rail.
Considering that a GTX 570 requires 219W and a GTX 580 requires 244W of power, a single rail of power will more than likely not be enough to power a single high-end GPU. This is just something to keep in mind when matching the AU-700 to your system's components.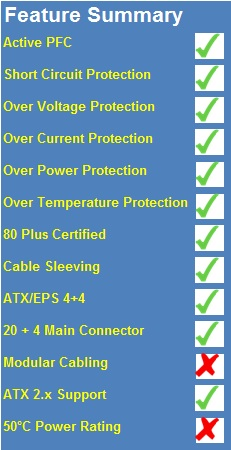 The AU-700 comes with a very modest set of features. While it doesn't have everything that we check for in a power supply, it does include the most important features. A full range of protections are packed inside the FSP AU-700, even the somewhat elusive OTP. Since all of the cables are natively wired on the AU-700, we see a big X for modular cables. It doesn't affect the power supply's performance and is really more of a personal preference.
One thing that we don't find present is a 100% continuous output at 50C rating. The unit is rated for 40C, however. FSP claims the unit to be both SLI and CrossfireX certified and they seem relatively proud about the efficiency rating as well. since the unit performs towards the upper end of the 80Plus Gold rating.
FSP is quite an established brand and as such, their power supplies are readily available at most of your major online outlets. Newegg lists the unit for
$124.99 with $1.99 shipping
for a grand total of $126.98. It certainly isn't the cheapest unit available, but it does have a rather decent list of features going for it.
FSP backs the AURUM AU-700 power supply with a five year warranty.
The Packaging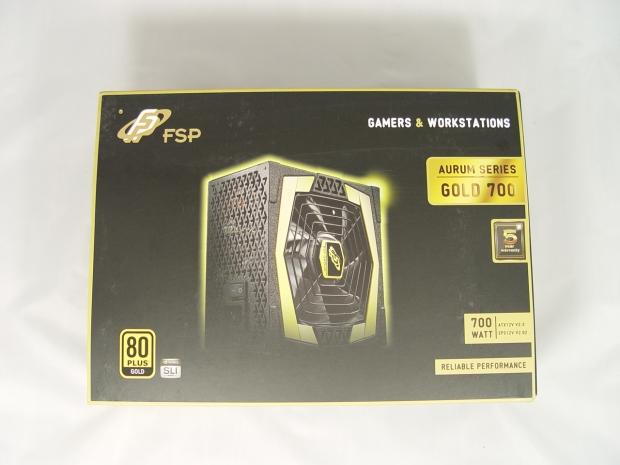 FSP gives you a good look at the AU-700 right on the front of the box. It has some rather unique design features as far as aesthetics are concerned.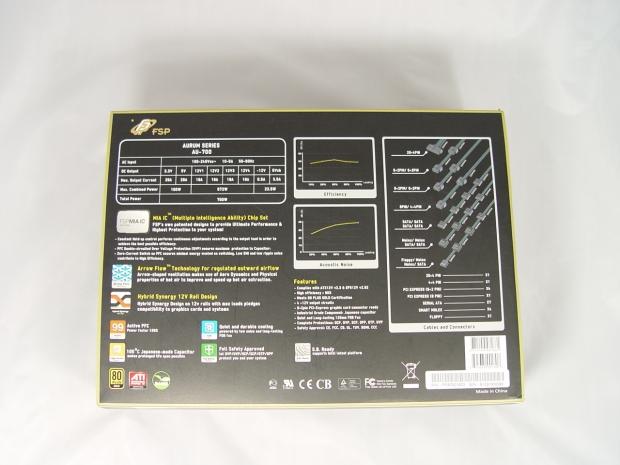 FSP does a great job of giving you information on the back of the box. Specifications, cable lengths, connector availability and features are all here without too much marketing...until we looked closer and we spotted the section on their Arrow Flow Technology.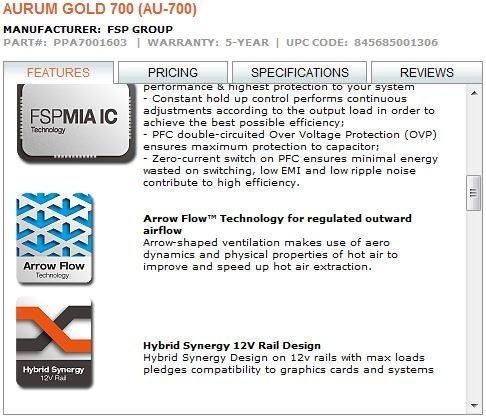 Arrow Flow has a catchy ring to it, but their explanation gave us the best laugh we had in a while.
Arrow-shaped ventilation makes use of Aero Dynamics and Physical properties of hot air to improve and speed up hot air extraction.
That was taken from their website and is also listed on the back of the box. Someone in marketing needs to realize that Arrow Dynamics and Aero Dynamics are two totally different things and air doesn't flow in a specific direction just because you have an arrow pointing in the direction you want it to go.
The rest of the box contains no other useful information.
Inside the Box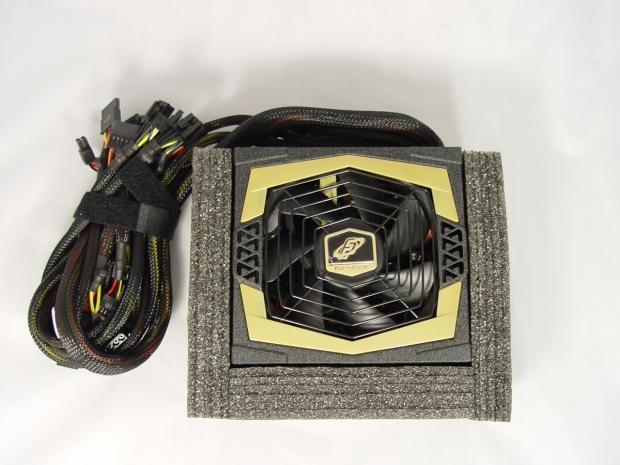 This is the AU-700 as packed inside the box. There was also a layer of foam over the top to protect it as well. The unit arrived in excellent condition with no damage.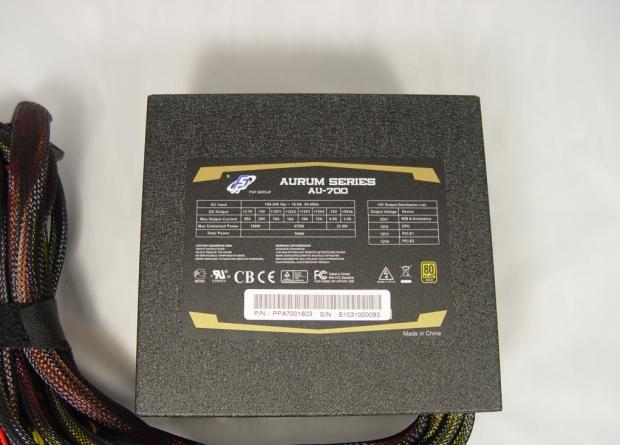 FSP has placed the I/O Specification label for the AU-700 on the top of the power supply.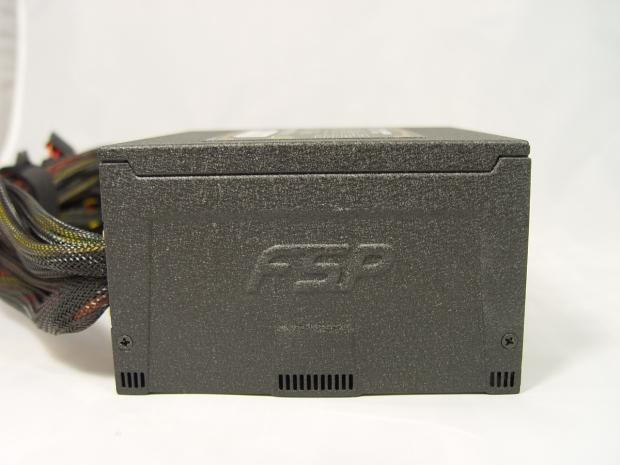 Both sides of the power supply display the same FSP logo and there are a few vents on each side.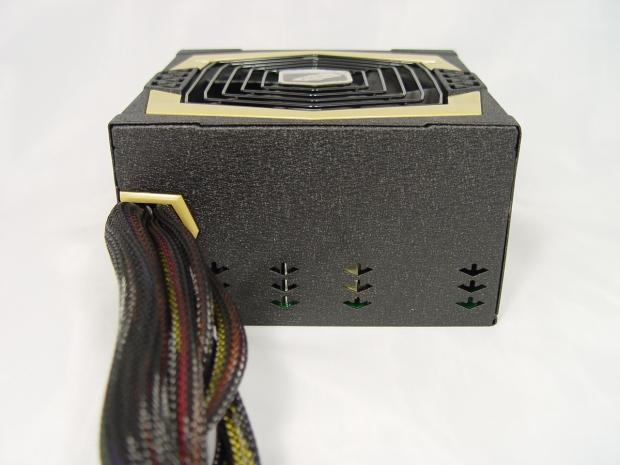 The front of the AU-700 has a few
Arrow Dynamic
vent holes directing air upward towards the top of the power supply.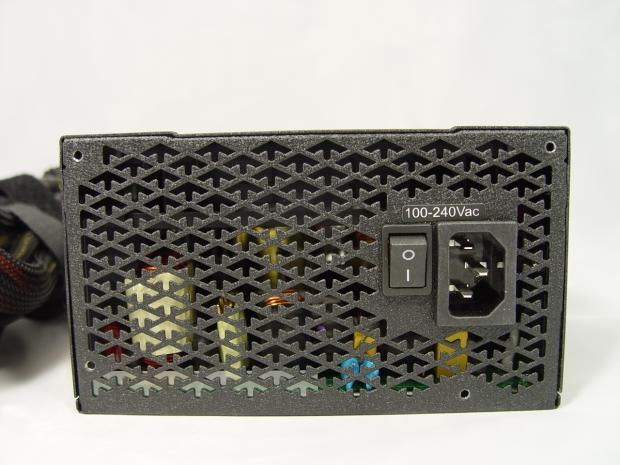 On the back we see more Arrow Dynamics going on here. The funny thing is that the power supply is actually upside down in the picture. One of the first rules of Aero Dynamics is that heat rises. Apparently Arrow Dynamics can easily change this and defy the laws of physics....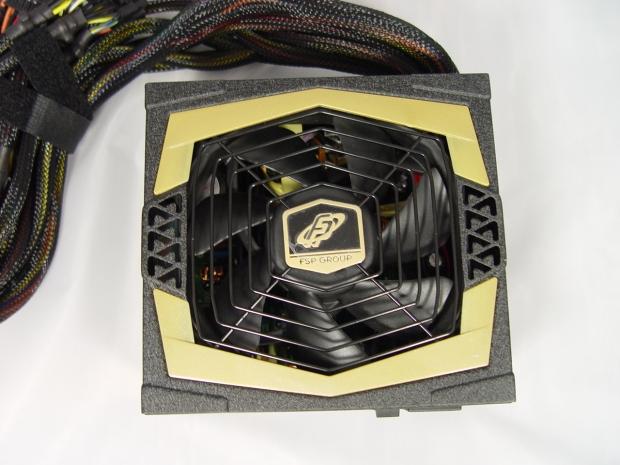 The bottom houses the 120mm fan for cooling the unit. If you haven't noticed yet, the AU-700 is somewhat shorter than most power supplies by almost half an inch. Most power supplies measure in at 5.9 inches wide and 5.9 inches deep. The AU-700 is still 5.9 inches wide, but only 5.51 inches deep. It doesn't seem like much on paper, but it is certainly noticeable while in your hands and could certainly come in handy with a smaller case.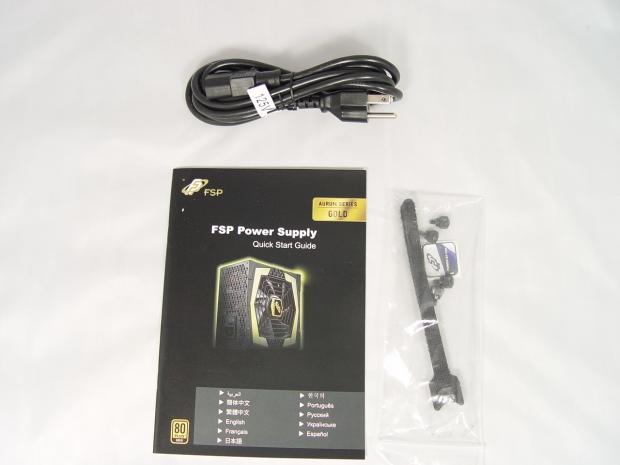 Also included with the AU-700 is an instruction manual, AC input cord, a few Velcro cable ties, thumb screws and a case badge.
Cabling Arrangement & A Look Inside
Cabling Arrangement

The AU-700 has a good selection of cables and connectors available, especially for a non-modular power supply. On top of the obligatory 24-pin Main connector is a single cable that supplies both an ATX 4+4 and an EPS12V connector. PCI-E connectors are handled by a pair of cables that each have two 8-pin connectors. Peripheral connections are split up between three cables with a total of seven SATA connectors, four Molex connectors and a single FDD connector.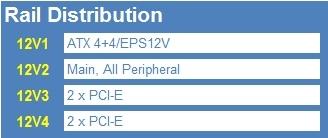 Rail distribution is about as simple as it can get with four separate rails for the 12V power. 12V1 handles all the power for the ATX 4+4/EPS12V cable. 12V2 takes care of both the Main connector and all of the peripheral cables. The remaining two rails are each dedicated to a pair of PCI-E connectors.
A Look Inside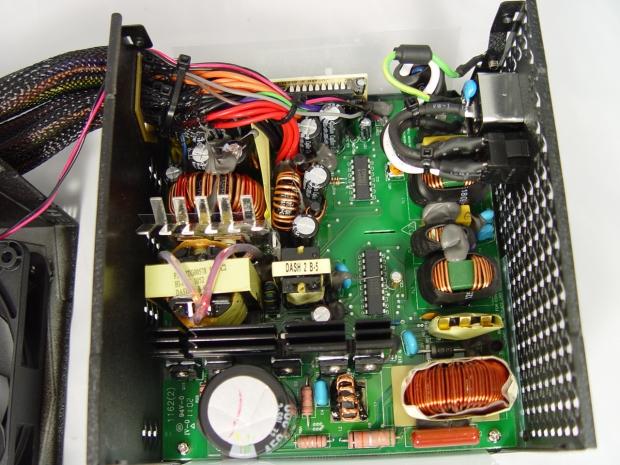 Opening up the AU-700 reveals a bit less cooling than you would expect out of a 700W power supply. It must be the additional
Arrow Dynamics
that help keep everything cooled off.....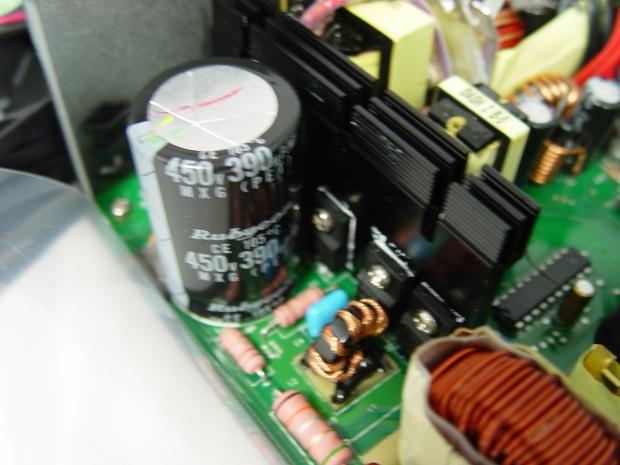 For the primary side of FSP's AU-700, we have a single Japanese made Rubycon capacitor.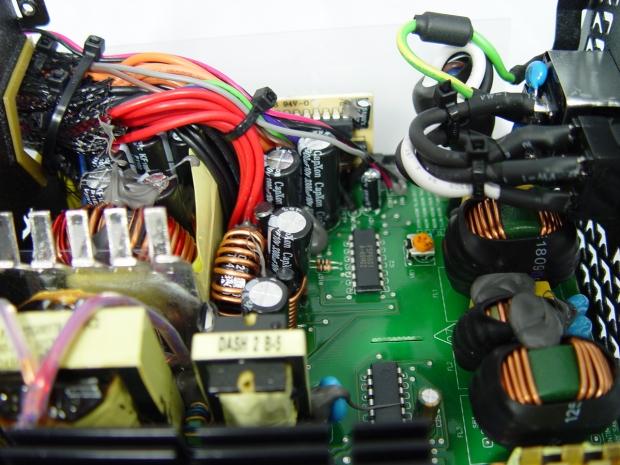 The secondary side doesn't boast the Japanese capacitors like the primary side does. It is instead packed with Chinese made CapXon capacitors.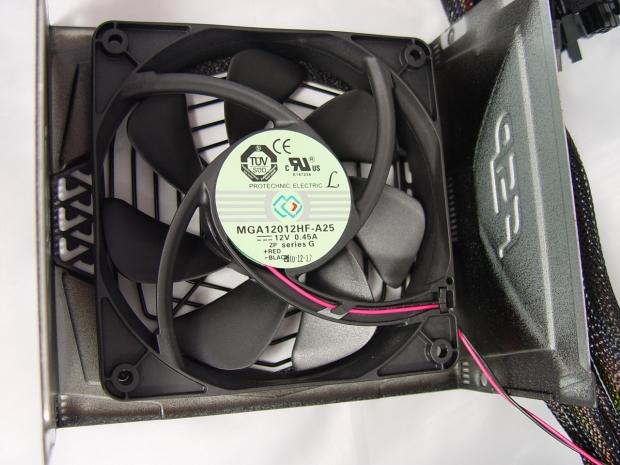 Keeping the internals of the AU-700 cooled off is a 120mm fan. It is manufactured by Protechnic Electric and the model is MGA12012HF-A25.
Test Results & Final Thoughts
Test Results
Our load tests utilize a couple of FAST ATE active load testers and a variety of other equipment such as an oscilloscope, power conditioner, temperature probe and a power consumption meter. You can read more about our standard testing approach
here
.
The tests performed are based around six conceivable setups that are out there and progressively load down the PSU up to the power supply's limits or 1000W, whichever comes first. Since our test equipment's limits are greater than that of the FSP AU-700 PSU, we can test it to the maximum.


FSP's AURUM AU-700 passes all of our tests with ease. Voltage readings started within 2% regulation across the board on all 12V rails and both minor rails. All readings started off a tad higher than we would have liked to have seen, but settle down right where they should be as soon as you get a decent load on the AU-700. All voltage drops were consistant and expected as the loads were increased and once the unit is under full load, the readings are almost perfect.
Ripple on the 12V rail started out at 18mV peak to peak and slowly crept up from there as the loads were increased. Increasing the loads to that of Test 2 brought the ripple up to 26mV, and moving up to Test 3 nudged things just a tad higher to 32mV. We saw the largest increase in noise on the 12V rails when we put the AU-700 power supply under full load, reaching a maximum of 41mV peak to peak. While this certainly isn't an exceptionally low reading on the scope, it is still in the good range.
Efficiency is certainly something that the FSP AU-700 excels at. Starting things off during the first test, we saw over 89% efficiency out of the AU-700. Efficiency peaked at 91.1% during Test 2 and slowly fell from there as the loads were increased. Eventually the efficiency settled in at 88.2% under full load. It is great to see that the AU-700 is very efficient from start to finish.
Final Thoughts
Overall, we were very pleased with the performance out of the FSP AU-700. The unit has good voltage regulation and does a good job of keeping the noise down on the 12V rails as well. FSP also gives you a good selection of cables and connectors which is quite important considering that all of the cables are native to the AU-700. Where the AU-700 really excels is in the efficiency department. Unless you plan on torturing this power supply with a continuous full load the entire time, it is going to spend most of its time in a state of 89% efficiency or higher.
FSP's AU-700 is far from being the cheapest unit on the market in the 650W-750W range, but at under $130, it isn't the most expensive either. It's priced perfectly for just what you get; a solid power supply all the way around, lacking just a couple bells and whistles. The high efficiency will help offset some of the initial cost of the unit over time and the five year warranty helps make it worthwhile too. Just don't go around bragging to your friends about how cool your new PSU is because it has better '
Arrow Dynamics
' than a Formula 1 car.