Introduction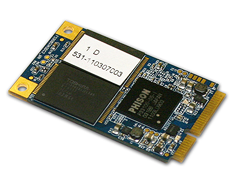 mSATA is about to blow up this year. This tiny form factor that was once an enabler of small netbook devices is starting to make its way into notebooks and even desktop systems. For the most part notebooks ship with a single 2.5", notebook standard HDD, but these days informed users want a SSD for their OS and a large HDD for their long term storage needs. To make this happen, manufacturers are turning to the mSATA standard so users can install a small, yet high speed SSD and still retain their 2.5" space for a higher capacity HDD.
Just recently we
previewed the Patriot Torqx
and introduced you to the new Phison PS3105-S5 SSD controller. This new product from Phison has been talked about quite a bit around the virtual water cooler and is a contender for the mainstream budget minded consumer SSD crown for 2011. The controller packs some impressive specifications for its price range and target market. More impressive, though, is that manufacturers are already starting to get creative with the controller and MyDigitalSSD has taken this controller to mSATA land.
MyDigitalSSD, part of the MyDigitalDiscount e-tail group is the first to offer an mSATA Phison based SSD. This product is designed to replace slow SSDs that are currently shipping in notebooks and to add an SSD in notebooks that ship with an unpopulated mSATA dock. So far I've come up with this list of compatible products. This list is not a complete list, but it's a starting point.
- ASUS Eee Slate EP121
- Dell: M4500, M6400, M6500
- Fusion Garage JOOJOO
- Google: CR-48 Chrome
- Lenovo: K26, K47A, K47G
- Lenovo IdeaPad: Y460, Y560
- Lenovo ThinkPad: T420S, T420, T520, L420, L520, W520
- Lenovo ThinkPad Edge: E220s, E420s, Y460, Y560
As you can see, the list is already impressive and filled with products from quality manufacturers. mSATA is just starting to get off the ground, but this is a very good start.
Specifications, Pricing and Availability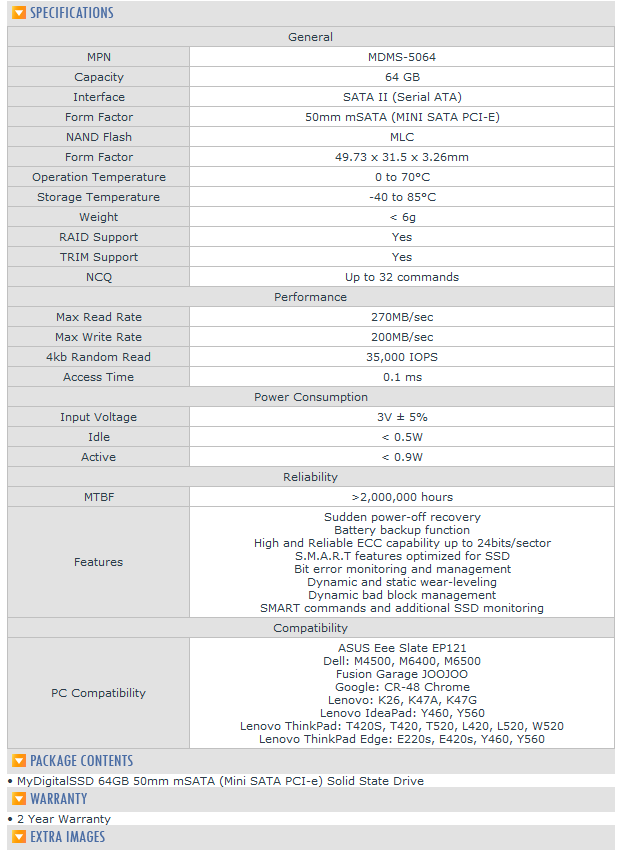 The MyDigitalSSD 50mm Bullet Proof mSATA SSD uses the Mini SATA PCIe bus and scales up to 128GB capacity. Today we are looking at the 64GB size that offers up to 35K IOPS and 270MB/s read and 200MB/s write speeds.
We found the MyDigitalSSD Bullet Proof at
MyDigitalDiscount.com
. The pricing is quite attractive for such a small high speed SSD; the 32GB model starts the list out at 79.99, the 64GB that we are looking at today costs 139.99 and the largest of the family, the 128GB sells for 279.99. The 128GB and 64GB drives were out of stock at the time of writing, but we're told MDD expects a new shipment in the next few days.
The MyDigitalSSD 50mm Bullet Proof mSATA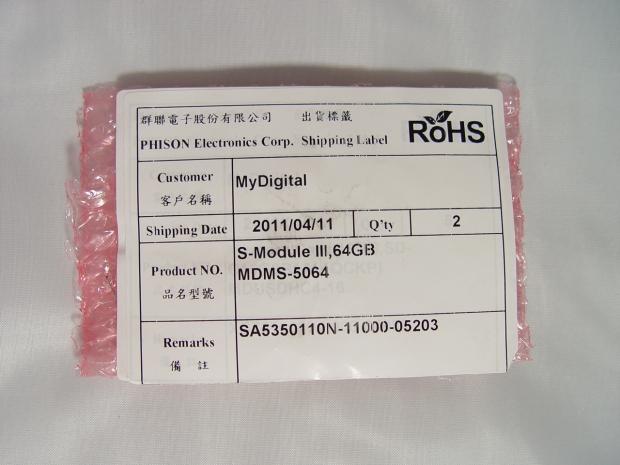 The MyDigitalSSD MDMS-5064 arrives in a bubble wrap package with a Phison label on it.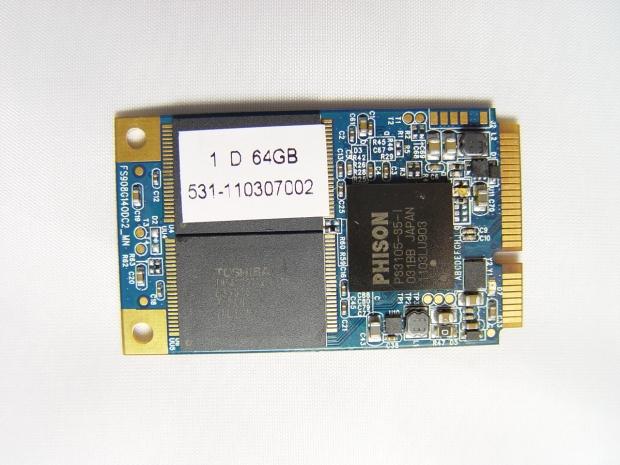 The package isn't too difficult to open. Once inside we see the 50mm mSATA drive. On this side of the drive we see the Phison PS3105 controller and two Toshiba flash chips. The holes on the left side are used to secure the drive in the machine and the pins on the right are for the socket.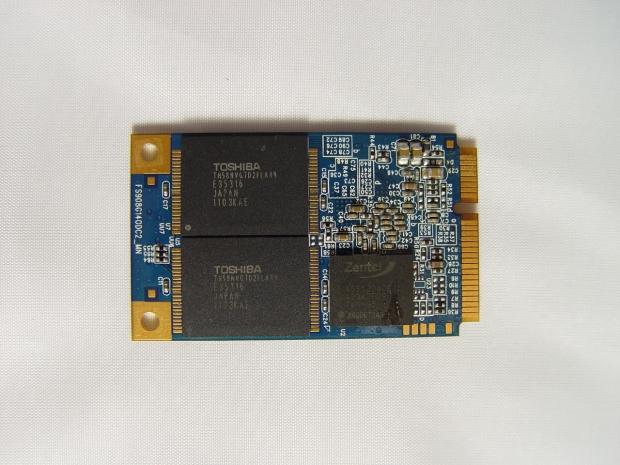 The other side of the mSATA drive has two additional Toshiba flash chips and a Zentel cache buffer.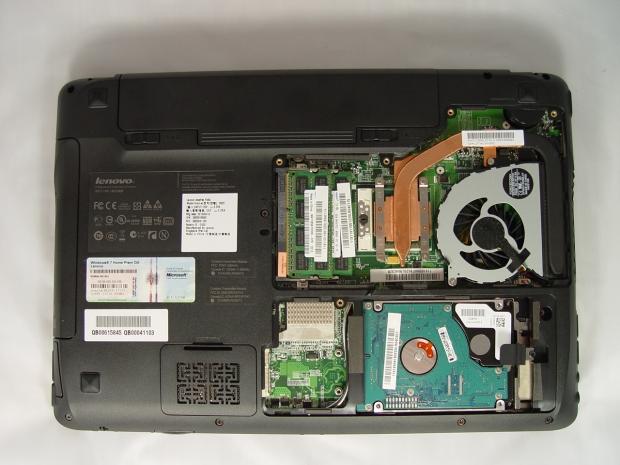 MyDigitalDiscount.com sent along a Lenovo notebook that normally ships with a 2.5" spinner but has an mSATA port in the middle, lower edge.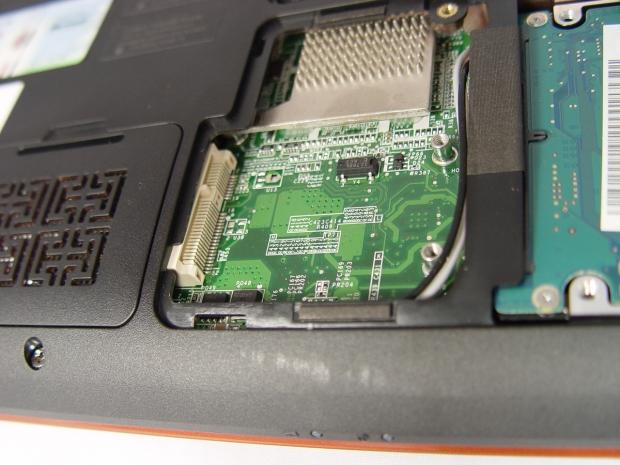 Here we see the typical 50mm mSATA port. I should note that some devices use 70mm mSATA ports, so be sure to verify if you need a 50mm part or a 70mm part.
Test System Setup and ATTO Baseline Performance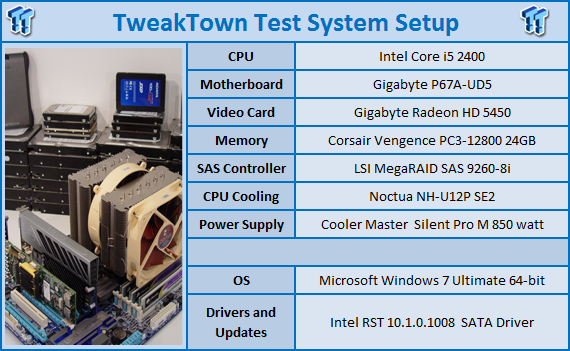 We would like to thank the following companies for supplying and supporting us with our test system hardware and equipment:
AVADirect
,
GIGABYTE
,
Cooler Master
,
LSI
,
Corsair
and
Noctua
.
You can read more about TweakTown's Storage Product Testing Workstation and the procedures followed to test products
in this article
.
In our next mSATA product review we'll be looking at the Renice K3vlar which is based on a SandForce SF-1200 controller. The K3vlar ships with an mSATA to 2.5" adapter bracket, so we can connect these two 50mm drives provided by My Digital Discount to our standard storage product workstation.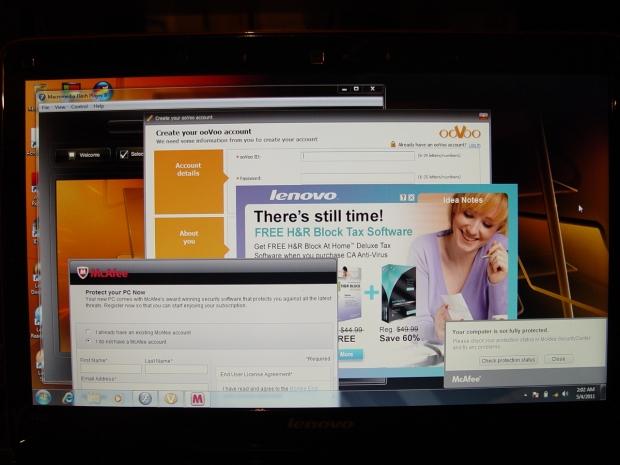 We also tested both mSATA SSDs in a Lenovo notebook. Some may question the need for a SSD in a notebook ,but the above image should give you an indication as to how much bloatware comes on OEM notebooks these days. With the standard 2.5" spinner the notebook was slow to respond to commands and took quite a while to boot up.
We cloned the existing drive to our MDD Bullet Proof and the user experience went from miserable to mesmerizing. Anyone who is used to the SSD feel will have a difficult time going back to a spinner and users coming from spinners to SSDs are amazed at the performance offered and the enhanced user experience that comes with instant actions.
ATTO Baseline PerformanceVersion and / or Patch Used:
2.34
ATTO is used by many disk manufacturers to determine the read and write speeds that will be presented to customers.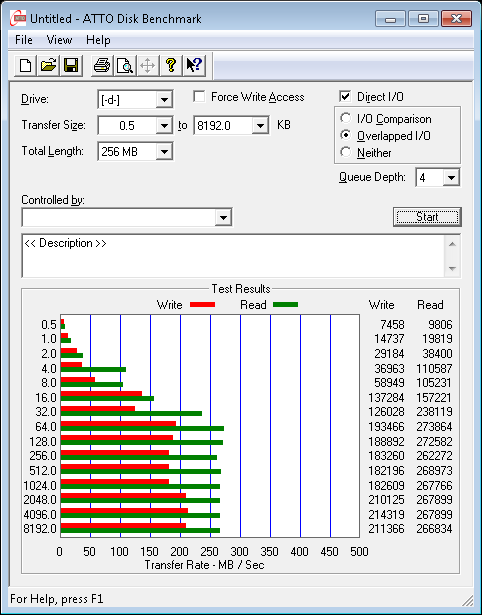 Using our standard Core i5 system with a Sandy Bridge chipset, we achieved read speeds in excess of 270MB/s and write speeds just under 215MB/s. This level of performance was more than that quoted by MyDigitalSSD and a massive improvement over the platter drive that shipped with the Lenovo notebook.
Benchmarks - HD Tune Pro
HD Tune ProVersion and / or Patch Used:
4.00
Developer Homepage:
http://www.efdsoftware.com
Product Homepage:
http://www.hdtune.com
HD Tune is a Hard Disk utility which has the following functions:
Benchmark: measures the performance
Info: shows detailed information
Health: checks the health status by using SMART
Error Scan: scans the surface for errors
Temperature display
HD Tune Pro gives us accurate read, write and access time results and for the last couple of years has been gaining popularity amongst reviewers. It is now considered a must have application for storage device testing.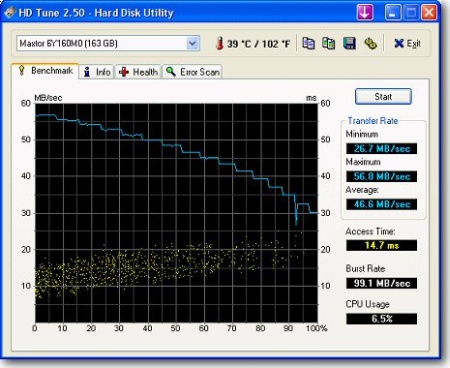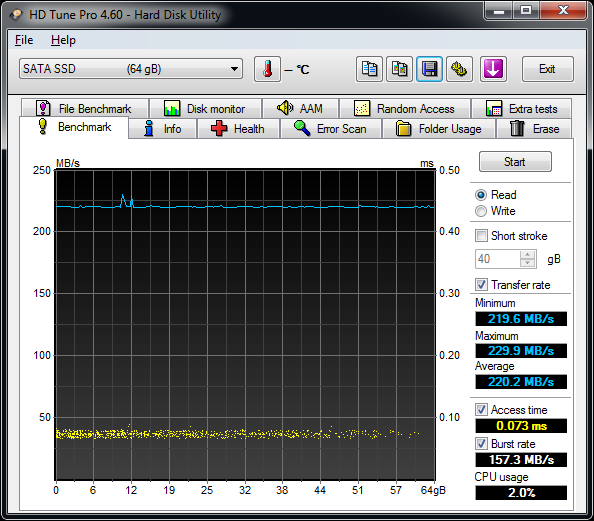 Since mSATA drives are a new category for us, we are just going to show the raw benchmark files, but next round we will use charts to compare our mSATA devices.
In HD Tune Pro we saw the MyDigitalSSD Bullet Proof delivering a solid line of performance across the drive. The average speed was just over 220 MB/s. This is a large improvement over a typical 5,400 RPM spinner that averages just under 100MB/s.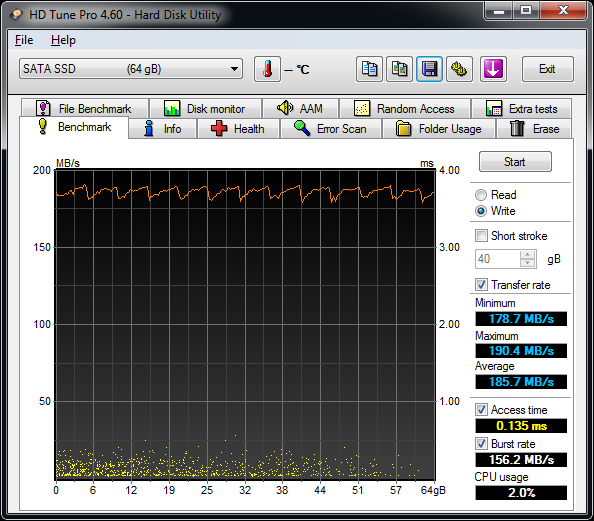 The Phison based Bullet Proof delivered a maximum write speed across the drive of just over 190MB/s and an average speed of 185MB/s.
Benchmarks - AIDA64 Random Access Time
AIDA64 Random Access TimeVersion and / or Patch Used:
1.60
Developer Homepage:
http://www.aida64.com
Product Homepage:
http://www.aida64.com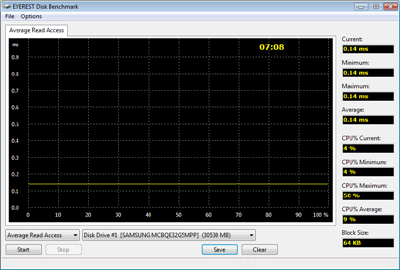 AIDA64 offers several different benchmarks for testing and optimizing your system or network. The Random Access test is one of very few if not only that will measure hard drives random access times in hundredths of milliseconds as oppose to tens of milliseconds.
Drives with only one or two tests displayed in the write test mean that they have failed the test and their Maximum and possibly their Average Scores were very high after the cached fills. This usually happens only with controllers manufactured by JMicron and Toshiba.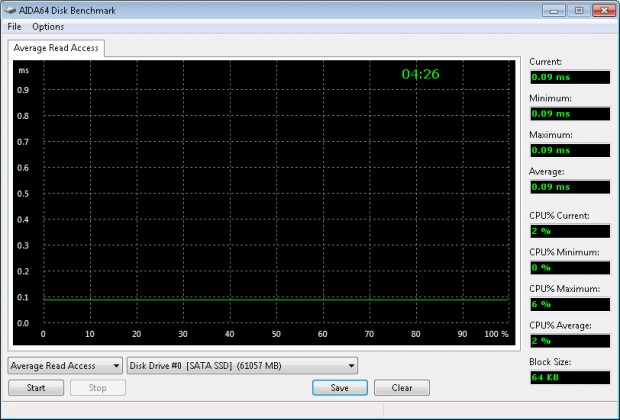 Those new to SSDs might think that the massive improvement to transfer speeds is what makes SSDs so fast, but it's the access times that give you the feeling of speed. Platter drives have to wait for the moving parts to move to position, but SSDs can access data much faster since they have direct access to the data.
The MyDigitalSSD we are looking at today can read data in .09ms. A typical platter drive running 5,400 RPM platters takes around 20ms to read the same block of data.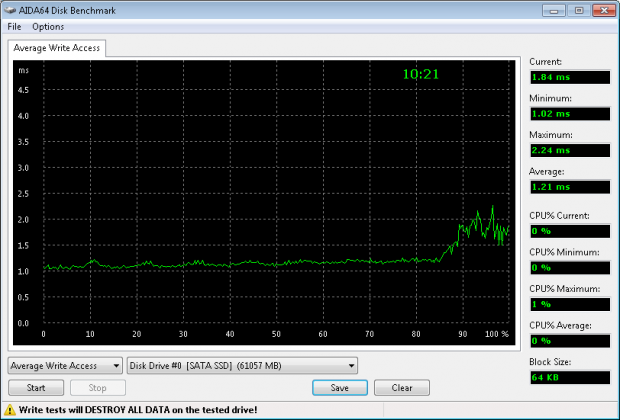 The write access time for the MyDigitalSSD was a little bumpy due to the cache buffer, but the drive still performed with an average time of 1.21ms.
Benchmarks - CrystalDiskMark
CrystalDiskMarkVersion and / or Patch Used:
3.0 Technical Preview
Developer Homepage:
http://crystalmark.info
Product Homepage:
http://crystalmark.info/software/CrystalDiskMark/index-e.html
Download here:
http://crystaldew.info/category/software/crystaldiskmark
CrystalDiskMark is a disk benchmark software that allows us to benchmark 4K and 4K queue depths with accuracy.
Key Features:-
* Sequential reads/writes
* Random 4KB/512KB reads/writes
* Text copy
* Change dialog design
* internationalization (i18n)
Note:
Crystal Disk Mark 3.0 Technical Preview was used for these tests since it offers the ability to measure native command queuing at 4 and 32.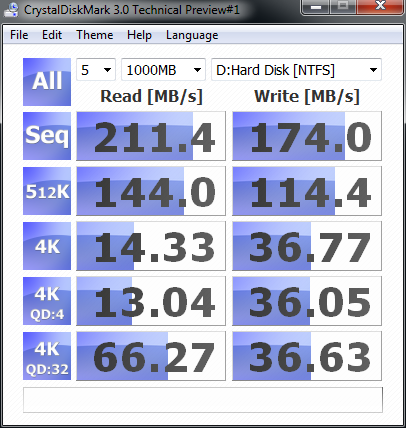 In CDM we are looking at the 4K and Native Command Queuing speeds. The Bullet Proof read just over 14MB/s at 4K and wrote almost 37MB/s. This is a large improvement over the Lenovo's spinner that read and wrote 4K data at just under 1MB/s.
NCQ was non-existent when it came to writing data to the Phison based drive, a hardware limitation of the controller. 4 command reads were actually shower on the Phison controller, but when you scale the commands to 32 the 4K read speed increases to 66MB/s.
Benchmarks - PCMark Vantage Hard Disk Tests
PCMark Vantage - Hard Disk TestsVersion and / or Patch Used:
1.0.0
Developer Homepage:
http://www.futuremark.com
Product Homepage:
http://www.futuremark.com/benchmarks/pcmark-vantage/
Buy It Here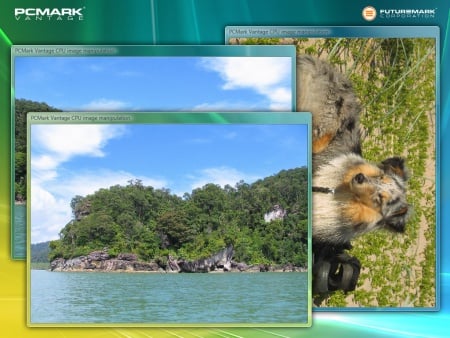 PCMark Vantage is the first objective hardware performance benchmark for PCs running 32 and 64 bit versions of Microsoft Windows Vista. PCMark Vantage is perfectly suited for benchmarking any type of Microsoft Windows Vista PC from multimedia home entertainment systems and laptops to dedicated workstations and high-end gaming rigs. Regardless of whether the benchmarker is an artist or an IT Professional, PCMark Vantage shows the user where their system soars or falls flat, and how to get the most performance possible out of their hardware. PCMark Vantage is easy enough for even the most casual enthusiast to use yet supports in-depth, professional industry grade testing.
FutureMark has developed a good set of hard disk tests for their PCMark Vantage Suite. Windows users can count on Vantage to show them how a drive will perform in normal day to day usage scenarios. For most users these are the tests that matter since many of the old hat ways to measure performance have become ineffective to measure true Windows performance.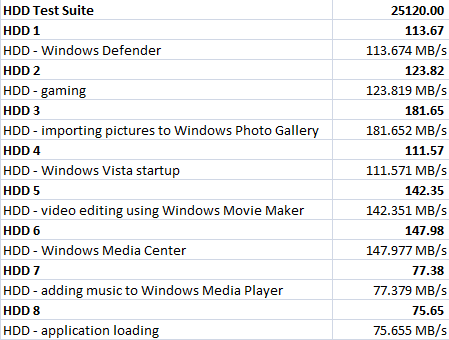 The overall score in PCMark's Vantage HDD tests was 25,120 with the Bullet Proof and around 4,000 for the Lenovo notebook default drive. The MyDigitalSSD ran over the Lenovo drive and didn't look back. With the MyDigitalSSD, applications were able to load at 75MB/s which is very good for a product in this price category. Importing pictures into Windows Photo Gallery ran at 181MB/s. This is one of the most difficult tasks for spinners, but the SSD was able to perform very well at this task.
Benchmarks - AS SSD
AS SSD BenchmarkVersion and / or Patch Used:
1.2.3577.40358
Developer Homepage:
Alex Intelligent Software
Product Homepage:
Alex Intelligent Software
Download here:
http://www.alex-is.de/PHP/fusion/downloads.php?cat_id=4&download_id=9
AS determines the performance of Solid State Drives (SSD). The tool contains four synthetic as well as three practice tests. The synthetic tests are to determine the sequential and random read and write performance of the SSD. These tests are carried out without the use of the operating system caches.
In all synthetic tests the test file size is 1GB. AS can also determine the access time of the SSD, the access of which the drive is determined to read through the entire capacity of the SSD (Full Stroke). The write access test is only to be met with a 1 GB big test file. At the end of the tests three values for the read and write as well as the overall performance will be issued. In addition to the calculated values which are shown in MB/s, they are also represented in IO per seconds (IOPS).
Note:
AS SSD is a great benchmark for many tests, but since Crystal Disk Mark covers a broader range of 4K tests and HD Tune Pro covering sequential speeds, we will only use the Copy Benchmark from AS SSD.
- Copy Benchmark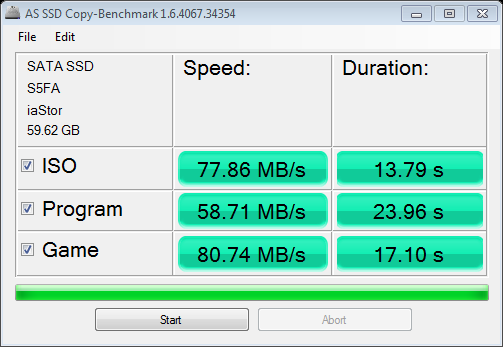 When transferring data to and from the drive we found that the more sequential the data, the faster the MyDigitalSSD performed the task. Here we see the ISO transfer getting very close to 80MB/s, but the program transfer just under 60MB/s.
Final Thoughts
mSATA is here already, but over the next few months you'll hear more about it. GIGABYTE is ready to launch desktop motherboards with mSATA slots onboard and more notebook manufacturers are preparing products with mSATA on board. By this time next year mSATA will be a common sight and should even start to appear in consumer electronic devices. The mSATA PCIe standard offers a high speed data interconnect coupled with a small foot print. This will allow small devices to shrink in size even further.
The MyDigitalSSD 50mm Bullet Proof offers a surprising amount of performance at a price that is affordable for SSDs. Users looking for ultimate performance will want to wait to read our Renice K3vlar review coming soon, but you will need to open your wallet a little further to achieve SandForce performance levels. If you are looking for a lower cost solution that still achieves 200+ MB/s performance, you will be happy with the MyDigitalSSD Bullet Proof.
At the time of writing, our sample 64GB Bullet Proof is available world-wide from MyDigitalDiscount.com for 134.99 USD. The price is on par with many 2.5" SSDs in this capacity size; you aren't paying a large premium for an mSATA part. For me, being able to add a second drive to a notebook is a premium feature, but one that we are going to see become common in the future with the mSATA standard.
Booting from a high speed solid state drive is the easiest way to increase your computers performance and get the best user experience possible. Having a spinner to hold your long term data like music, movies and such is a big plus as well since these files don't see a performance increase when running off of an SSD (they are static speed files; you don't watch a movie at 50x speed).
In the near future we'll have the Renice K3vlar mSATA drive article published and will start to look at price vs. performance when comparing these two new unique products.