Introduction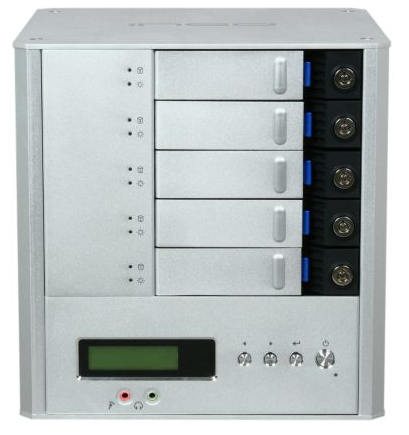 For a long time we've been looking for a high quality NAS server to compete on the market with the same speed and abilities as the QNAP and Thecus products. What we've needed to find is a "QNAP-lite" product that allows users to store their data redundantly, allow for high speed file transfers and still use the DLNA protocol to connect to DLNA enabled devices. Many contenders have come and gone, yet all of them have either cost more than they should or performed so poorly that file transfers have taken too long. QNAP and Thecus make great products; sometimes they are too good. It would be very hard for either company to make a high capacity NAS with all of their bells and whistles and still deliver it at under 600 USD.
We've been reviewing ineo Technology products for the last year and been amazed at the price points they've hit with each and every product we've reviewed. At CES ineo told us about their bold plans for an ATOM based NAS server that has a handful of bells and whistles, but has a price point lower than their competition. Today we finally get to see the ineo NA559N Pro 5-Bay NAS and run it through our test lab.
Before you click off the screen thinking that the NA559N Pro 5-Bay NAS is a stripped down unit or one that costs 1000 USD, let me set you straight. The NA559N Pro 5-Bay NAS is a 650 USD NAS with a lot of software extras. The NAS is also very quick, delivering over 100MB/s in some cases of transfer performance on your Gigabit network.
Now that I have your attention, let's take a look at the specs.
Specifications, Availability and Pricing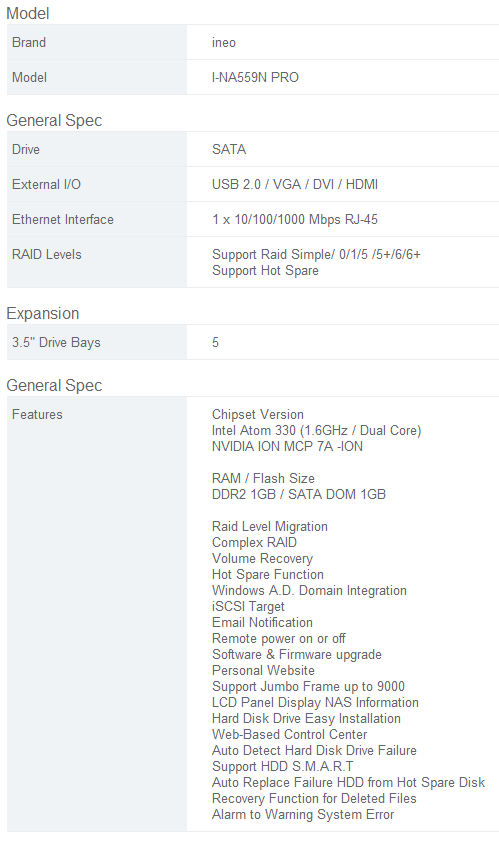 Right off the bat, the biggest selling point for the ineo I-NA559N Pro 5-Bay is the price.
At 649.99 USD from Newegg
you are still spending a lot of money, but to put the price in comparison to units we normally look at, the QNAP TS-559 Pro+ costs 1,087 USD at the time of writing. Both have 5 bays, both deliver over 100MB/s over a Gigabit network, but the QNAP has a very refined software / firmware package.
The QNAP has a few other little goodies as well like dual Gigabit Ethernet, an established software add on collection and a name that is considered the best in the industry. The ineo has a single Ethernet port, high speed data transfers and an easy, yet no frills software collection.
When it comes to NAS appliances, users are always going to get more features than they need. These are basically small computers with enough processing power to be used as a desktop and to be honest, most are more powerful than your work notebook. Many users really only want their NAS to hold their data securely and to play that data back to their TV, PC, PS3, Xbox and so forth when asked to do so. The ineo I-NA559N Pro 5-Bay can do all of those things and more. It can do it at a very attractive price as well.
When it comes to the hardware, the ineo NAS uses an Intel Atom processor and 1GB of DDR2. ineo plans to offer 3, 4 and 5 bay systems, but today we are looking at the 5-bay model. Our 5-bay has all of the RAID array options that a consumer could ask for. Even though RAID 6 is offered, I think most users will opt for RAID 5 since you get more storage space and still retain a 1 drive lead before disaster.
Software Features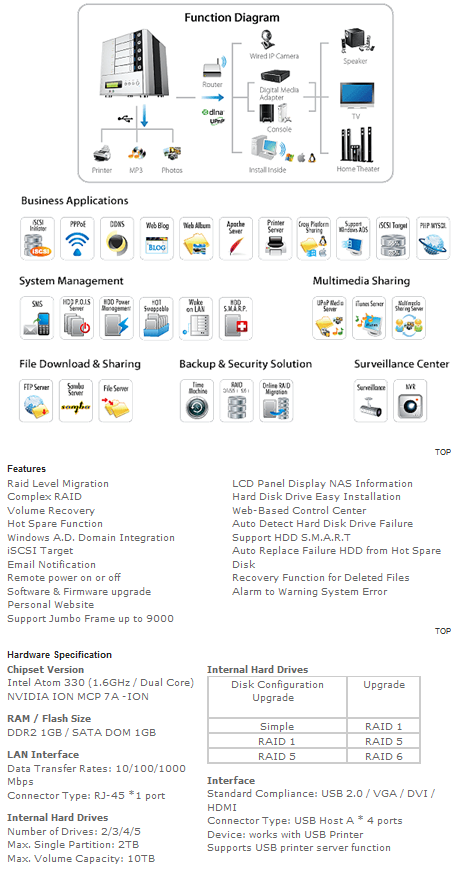 So far I've told you that the little ineo NAS doesn't have many of the features found on QNAP and Thecus's highly refined products. Now it's time to show you what it does have. Most users are never going to use a Torrent download function, but the ineo has one. Few home users could actually care about iSCSI, but it's in there too. Truth be told, most of the features a technology accepting family would want to use is actually included with the 649.99 USD ineo NAS. That also includes the single option that everyone wants, DLNA!
DLNA is a feature built by a genius. It allows your DLNA devices to read directly from the storage device, play music, movies and picture slideshows all from your remote control from the couch. Forget getting up to grab a disc, mess with a mouse or change settings for this and that, DLNA is where it's at.
What's even better is that ineo is still adding features, even taking suggestions. I've spoken with an ineo engineer on several occasions and they are thrilled with this little NAS. They are working on more features, more software and more functionality. I suggested a Usenet download function; when it comes out in the next release you can thank me :)
The Packaging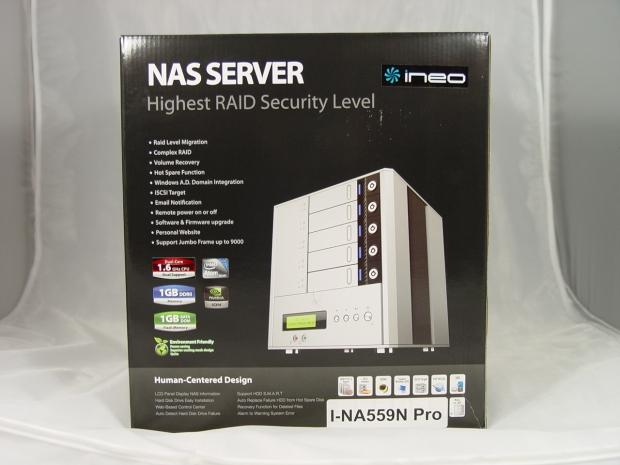 The front of the package lists several of the key features of the NAS. You will also find some of the specifications listed in this area.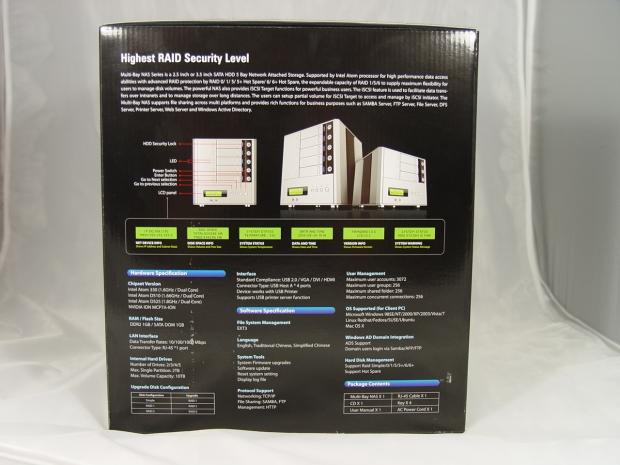 The side of the package gives the full specifications list and has a detailed diagram of the hardware features at the top.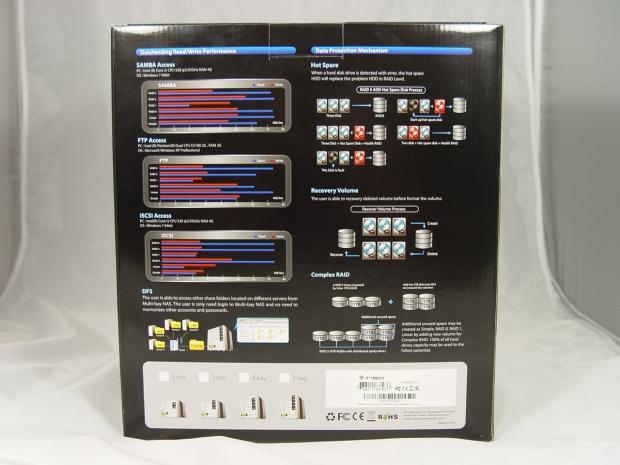 The back of the package gives us a lot of information on different RAID arrays that are possible with the unit and even gives some performance data.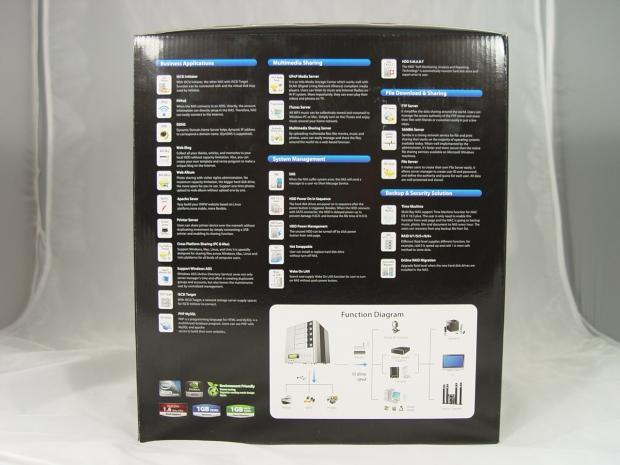 The software features are listed on the other side of the NAS; ineo has pretty much covered everything.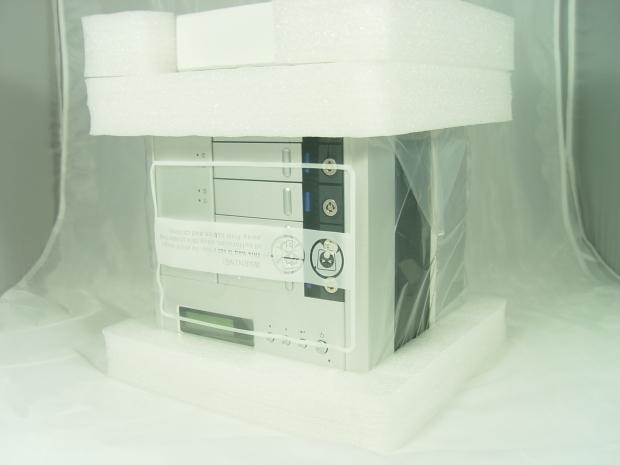 With the unit out of the box we found that the inner packaging was setup very well and will keep the NAS safe during shipping.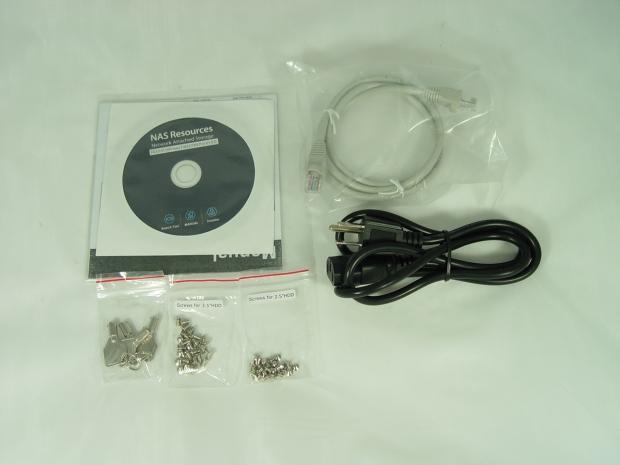 In many ways we are already impressed with the ineo NA559N Pro. Little touches make a big impression. Here we see that ineo has included both coarse and fine thread screws. One set is used on 3.5" form factor drives and the other is for 2.5" drives. We have yet to see this from Thecus or QNAP.
ineo also includes a software disc, power and CAT5 cable.
The ineo I-NA559N Pro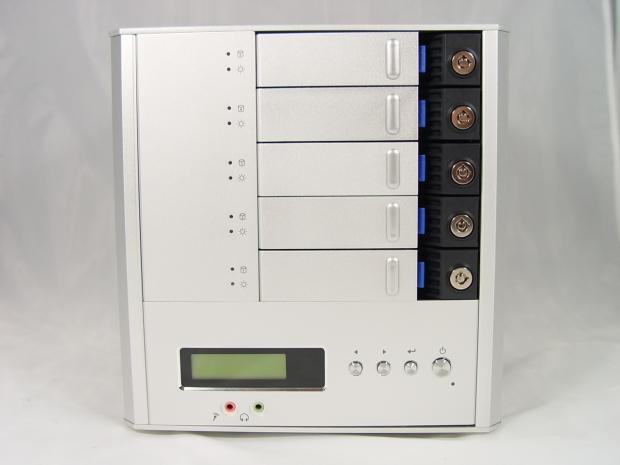 For the most part, everything on the outside of the ineo NA559N Pro is made of aluminum. The front even has aluminum buttons. Each drive has two LEDs dedicated to showing their activity and status. You can also lock each drive in place since each drive bay has a lock. At the bottom a display shows the status of the NAS. There are also a set of buttons that allow you to manage several aspects of the NAS.
I really have no idea why ineo would include an audio out and in on the front of the NAS. This system is based on the ION platform so the motherboard used will have these features, but it's not a feature used on NAS appliances.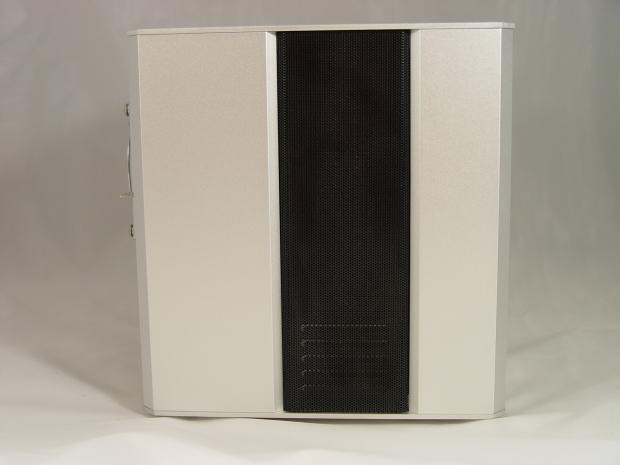 The side of the unit uses the same thick aluminum as the front of the NAS, but there is a mesh area that allows air to circulate to the vital components.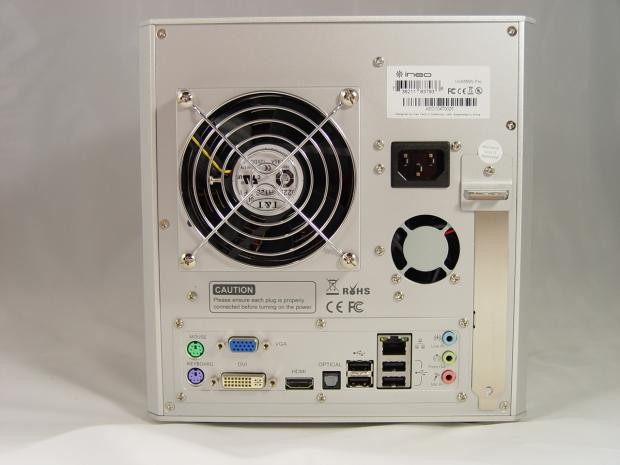 The back is where things really get interesting. This is the first NAS that I know of to come with a HDMI output. You can add to that a DVI and optical out! You aren't going to need these, just plug in the power and the Ethernet and walk away.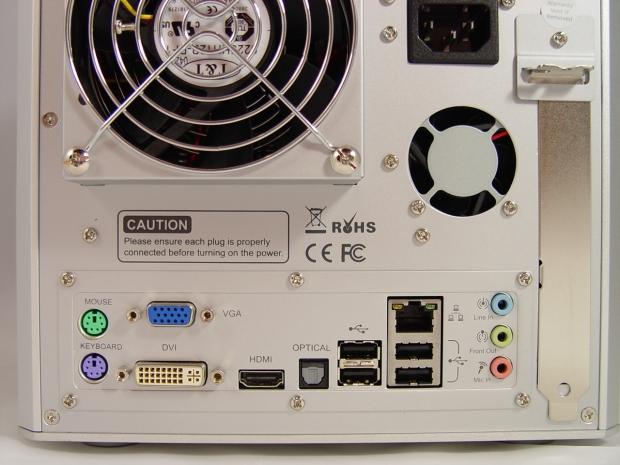 Here is a closer look. I'm sure the modding community will have fun turning the ineo I-NA559N Pro into a full on PC.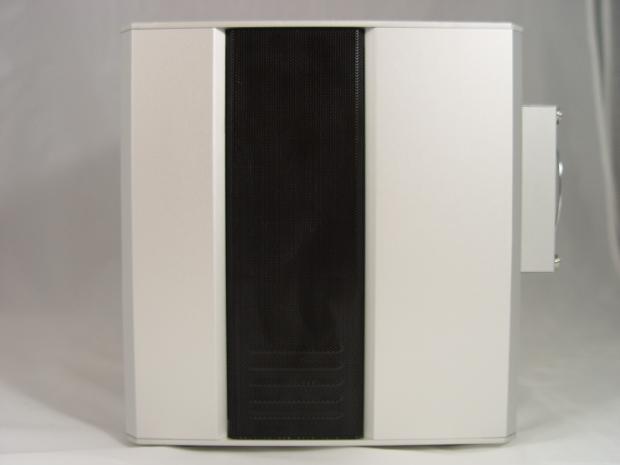 The other side uses the same aluminum mesh to allow cool air to cool the system.
Test System Setup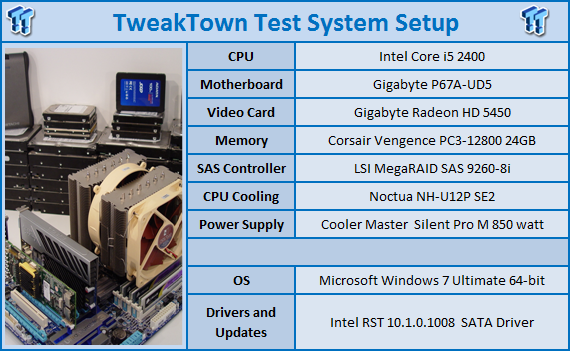 We would like to thank the following companies for supplying and supporting us with our test system hardware and equipment:
AVADirect
,
GIGABYTE
,
Cooler Master
,
LSI
,
Noctua
,
Seagate
.
Crucial
and
Corsair
.
Intel NASPT
The Intel NAS Performance Toolkit (NASPT) is a file system exerciser and analysis tool designed to enable direct measurement of home network attached storage (NAS) performance. Designed to emulate the behavior of an actual application, NASPT uses a set of real world workload traces gathered from typical digital home applications. Traces of high definition video playback and recording, office productivity applications, video rendering/content creation and more provide a broad range of different application behaviors.
Benchmarks - HD Playback
HD Video Play - 720p HD stream from Windows Media Player* 256kB reads
2HD Video Play - 2x playback
4HD Video Play - 4x playback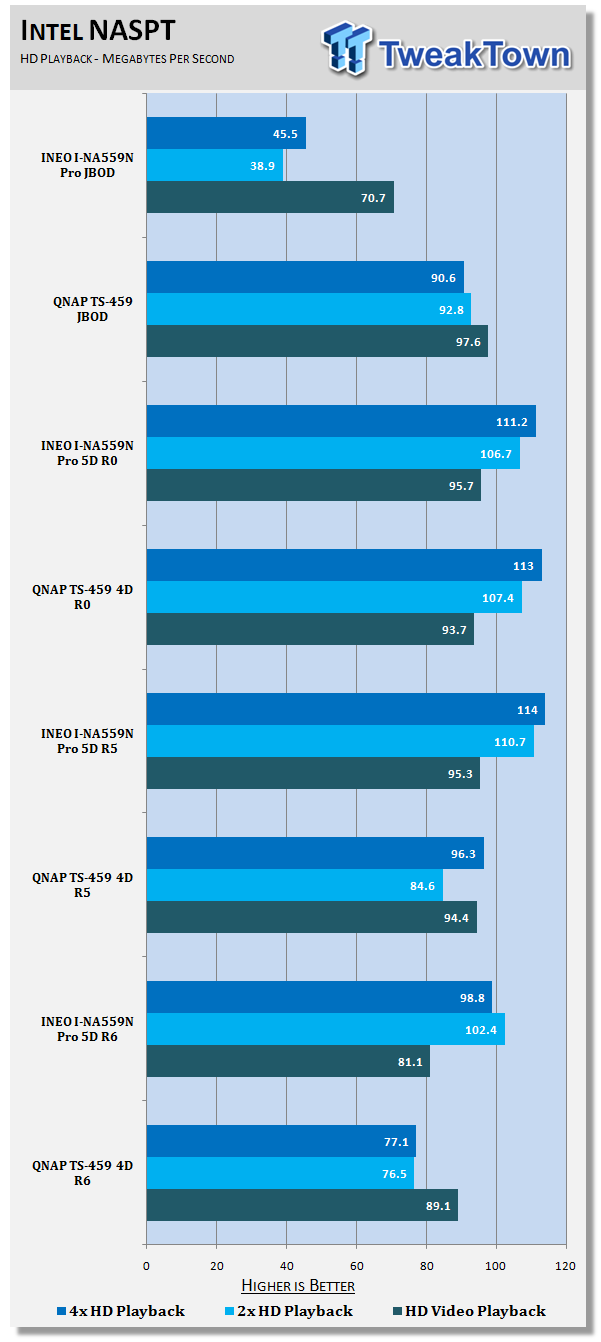 For comparison today we are using the QNAP TS-459, a unit that currently sells for around 800 USD; a full 200 Dollars more than ineo's unit. To be honest, we only expected the ineo to keep up with the TS-459, but were completely blown away to see ineo outperforming the QNAP in RAID 5 and RAID 6.
For users looking to play back their digital content on DLNA devices, these tests are easily the most important. Digital streams play at a fixed rate and it isn't difficult to play a single stream to one device, but with so many DLNA devices it is common to stream several things at once. For this you need a NAS capable of high transfer rates.
Benchmarks - HD Record
HD Video Record - 720p HD stream, 256kB writes
HD Video Play & Record - 1 playback, 1 record simultaneously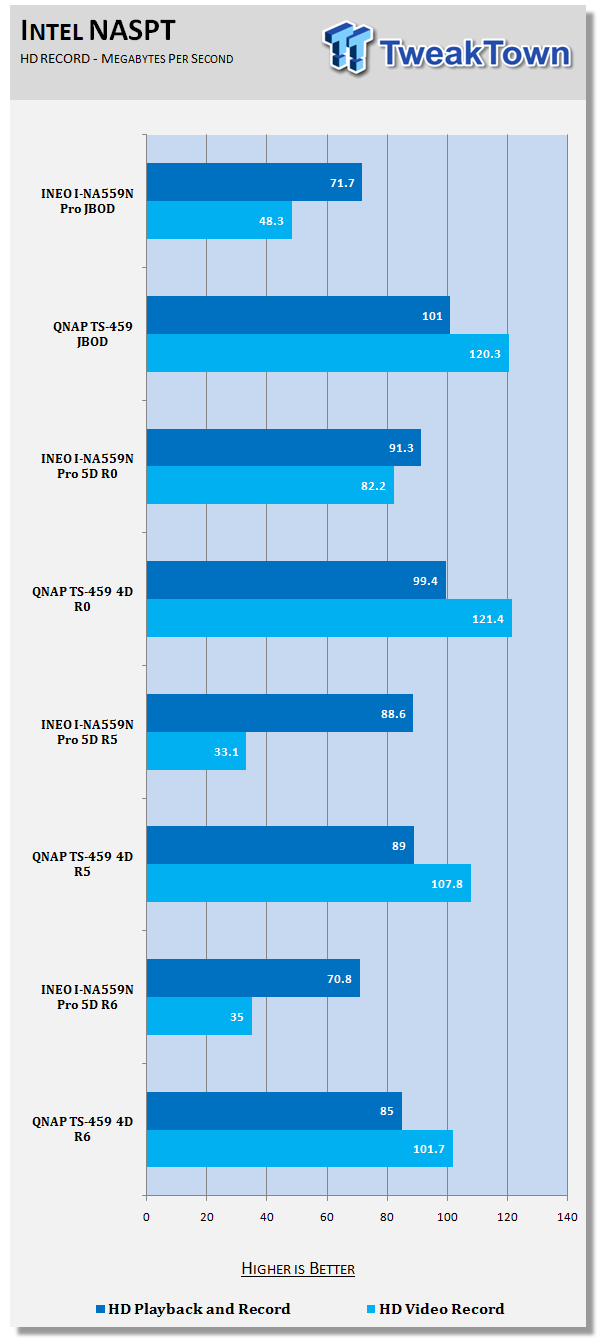 Users looking to record digital content to their NAS from Windows Media Center or a set top box will be able to do so from a few places at the same time. This is the ineo I-NA559N Pro's weak point, though. In RAID 5 and RAID 6 the ineo can record around 35MB/s, but the QNAP is able to record at 3x that rate.
Benchmarks - Content
Photo Album - All reads - wide distribution of sizes
Office Productivity -
Content Creation - 95% writes; 1k, 4k & little reads; Writes up to 64kB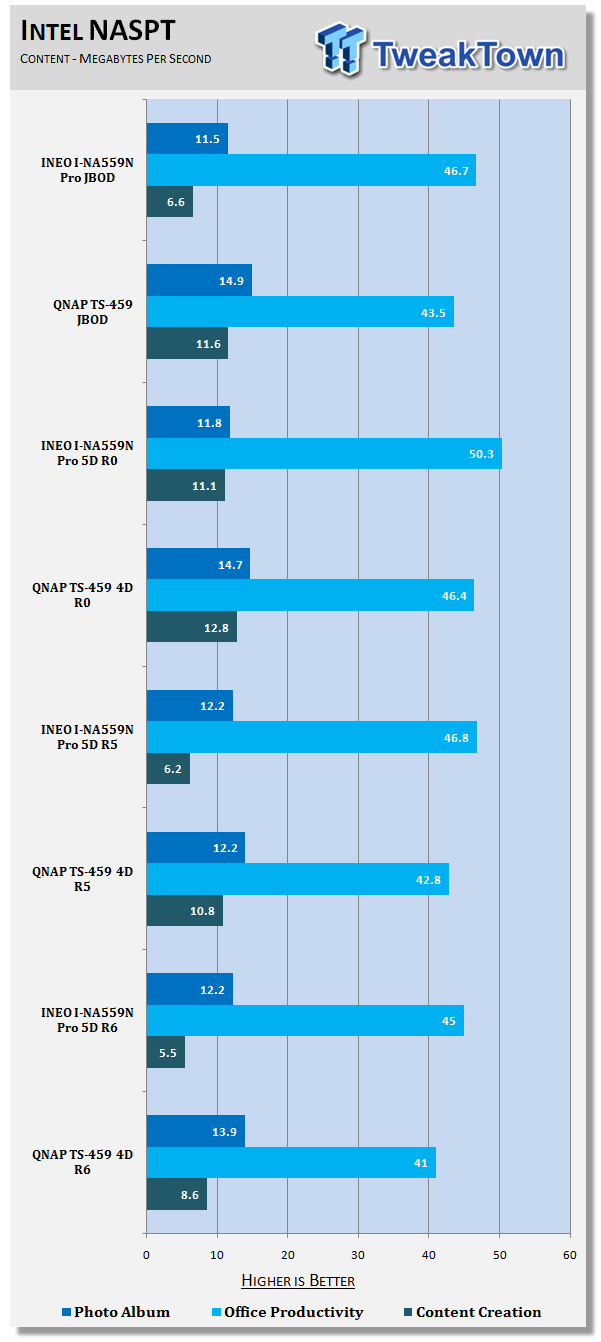 The ineo NAS is built mainly for consumer use, but it handles small office workloads very well. The Photo and Content Creation tests also ran very well on the ineo NAS and were very close to the performance of the QNAP example.
Benchmarks - Copy
Directory Copy From NAS - 64kB reads
Directory Copy To NAS - Predominantly 64kB writes, wide scattering under 16kB
File Copy From NAS - 4GB file copy, 64kB reads
File Copy To NAS - 64kB writes

The most used feature on all NAS servers is the simple file transfers to and from the system. Here we see the ineo doing very well, but not as well as the QNAP. Still, with transfer rates as high as 85MB/s when reading content from the NAS, you will get files from your NAS very quick. The RAID 5 and RAID 6 write performance, though, is still very limited, so it will take you three times as long to write data to the ineo than it does to read it back.
Final Thoughts
Over the years I've seen several digital tragedies. Family, friends and even friends of friends bring their computers over when tragedy strikes. Normally a virus or other undesirable has infected a computer, but from time to time a complete HDD failure has occurred and the person with the computer starts to freak out with the thought of lost data. It's actually very rare to hear that the data was backed up somewhere else. Obviously there is a need for low cost NAS servers that offer data redundancy. It really doesn't matter who you are or what you do, if you keep important data on your computer hard drive, you need to protect it.
Till now the thought of a high performance, low cost NAS has been an oxymoron. The two just don't go well together. NAS appliances these days are mini computers; they have several components and have to be fast to handle the required tasks. Additional costs like the drive sleds, backplane and software development add to the build of materials list and thus the final price. We've seen several 4 and 5 bay NAS appliances priced in the 800 Dollar plus range, but the ineo I-NA559N Pro is one of the first to hit the 600 Dollar mark. 600 Dollars seems like quite a bit, but it sure sounds better than 800 Dollars. When you start to calculate the value of the data being protected on your NAS, that Dollar figure starts to fade away.
The ineo I-NA559N Pro 5-Bay NAS delivers where it counts the most to home users, reading back and streaming digital data. It would be really hard to fathom how much your life changes when you've got the power to watch recorded episodes of Top Gear in any room while at the same time the kids are occupying their time watching an old episode of Wrestlemania and your wife is occupying her time looking for the right picture to use in a new picture frame. This might sound like a once in a lifetime thing, but it was mine last night, last week and most likely my upcoming weekend. The best thing is that with RAID 5 and RAID 6 all of that digital content is safe.
The ineo NAS is very good at reading data, but in RAID 5 and RAID 6 write performance is around 3x slower than the read speed. The ineo I-NA559N Pro has enough write speed for you to send a couple of HD streams at the same time to the NAS. This is more than what most people do, but when sending files from a PC to the NAS you will notice the transfers being limited to around 35MB/s.