Logitech Ultimate Ears 100 Noise Isolating Earphones Review
Logitech has a worldwide reputation for its 'Ultimate Ears' line of professional grade in ear monitors. Today we have the Ultimate Ears 100, which form part of Logitech's entry into the product line.
Published Tue, May 3 2011 10:26 PM CDT
|
Updated Tue, Nov 3 2020 7:02 PM CST
At the moment there are so many different types of earphones on the market that we are not even going to begin to try and recall what's out there. Even the most seasoned audio enthusiast would be stumped trying to pick just one. Due to the relative ease in design and construction, nearly every company offering an audio product now also offers an earphone solution.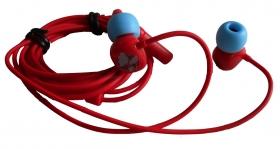 Logitech are super veterans of the PC industry and have basically covered every type of audio product and PC peripheral known to man. And it's initially here that we must plead ignorance to the success Logitech have been having all over the world with their Ultimate Ears product range. Because put simply, we had never heard of Ultimate Ears until the '100' series were delivered to us.
The Ultimate Ears range spans a huge number of different models, starting with the most basic which we received coming in at a mere $29 AUD. The series moves along through to the real high end model that sports a very inviting price of $529 odd dollars. However, these are the ones that music sensations such as 'Lights' whom adorns our '100' series earphones use presumably. And no, we have never heard of this person either.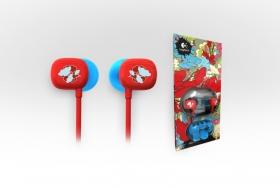 - Specifications
* Cable length: 115 cm
* Product weight: 12 g
* Sensitivity: 105 dB/Mw, 1KHz
* Frequency Response: 20 Hz - 20 KHz
* Impedance: 16 ohms
* Noise Isolation: 24 dB
* Connector: 1/8 in (3.5 mm)
The Ultimate Ears 100 series come in a variety of completely nonsensical colour designs ranging from 'grey blurry thing with white stripe' through to the ones we received, which are 'sheep floating on sea of red'. Well, they do provoke intrigue if nothing else.
Among this ocean of intrigue are also some key features such as noise isolation which helps block out those extra noises from a busy environment and added durability; aptly illustrated on the website with a workman's helmet. So, running with this logic, there should be no issues at all with dropping a hammer on them.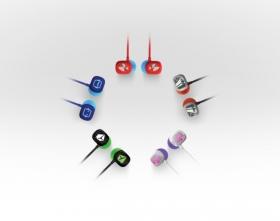 All of this design work has paid off, though, because these earphones work really well and form a nice tight fit inside the ear. And most importantly, they stay in the ear once fitted. Ear buds falling out is a big complaint with earphones and is certainly something that will want to be avoided during the design phase, if possible.
Unfortunately there is no in-line volume control included here, so it's going to be a matter of using your system's control in order to make adjustments to the volume. This did not present itself as an issue to us during our testing, although this was done using an iPod, so bear that in mind.
As mentioned above, the fit of the earphones is top notch and it gets better because there are some different sized spare rubber ends included. We really like it when these extras come included and it seems to be a trend at the moment, so let's hope it continues.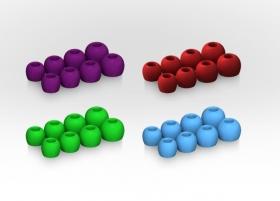 In terms of how they sounded during our testing, well, as you will read on to see in a minute, it was a bit of a mixed bag. But that's just fine, because these little earphones are not going to break anyone's budget.
First up, we noticed some nice deep bass relatively speaking; this was aided we suspect by the nice tight fit inside the ear. After a little bit of listening we found things to be pretty smooth and easy going on our ears, which we always like. The low end was not really deep or loud compared to other solutions out there, but the overall quality was good, and for everyday listening there should be plenty of bass on offer here. The rest of the spectrum of sound also sounded pretty good too, with a decent amount of mid range clarity and detail. Most types of music should come across pretty well, although some genres with really intense mid bass and low end might lose out a little bit.
Having said this, though, these earphones could easily be also used for all types of media including gaming and movie watching, although if a Mic is going to be needed, then one should be sourced independently from this product.
After about a week of wearing the 100's outdoors during periods of heavy labor and vigorous activity, they were honestly a pleasure to wear and managed to stay securely inside the ear just about 100% of the time. But most of all, what really impressed us for such a small price was the noise isolation, which is able to block out enough of the high frequency noises made by a chainsaw to be audible while playing back some low volume radio. And I should note this was without the use of a set of ear muffs; just these little things on their own. What a great idea, and they do not even brag about this on the website anything more than a glancing mention.
So what do we get for $29 AUD? Let's recap. A good tight fit inside the ear, a decent length of cable, very affective noise isolation and good audio quality. Looks very much to us like another brilliantly designed and top value for money Logitech product.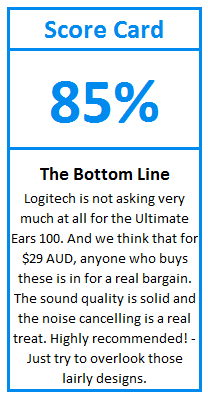 PRICING: You can find products similar to this one for sale below.

United States: Find other tech and computer products like this over at Amazon.com

United Kingdom: Find other tech and computer products like this over at Amazon.co.uk

Australia: Find other tech and computer products like this over at Amazon.com.au

Canada: Find other tech and computer products like this over at Amazon.ca

Deutschland: Finde andere Technik- und Computerprodukte wie dieses auf Amazon.de