At the start of the year we took a look at the very first speaker system from Corsair,
the SP2500
. And if you managed to catch the review, you would have seen that we were really very impressed with the level of performance on offer.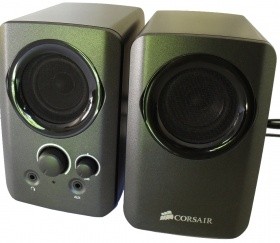 Never before had we tested a 2.1 speaker system that addressed
all
of the component stages involved in making a great system. From individually amplifying each and every driver used, through to designing a subwoofer that actually included
Sub
sonic frequencies within its performance attache; this is something that no doubt left many competing engineers nervously glancing from left to right, hoping that this moment would never arise.
Given all of this, there should be plenty of reason to be excited about the new SP2200's we are looking at today, which form part of Corsairs lower-end audio product range. To our disappointment, though; there isn't really.
Gone are the lush high-end plastics used to cast the SP2500's. Gone are the thick sturdy cables used to rout the system. Instead, what we are presented with is the budget conscience, limited equivalent thereof. It's obvious even to the most feeble amongst us that this was all masterfully crafted to offer a cheaper, more sensible version for those with less too spend.
But all of that isn't exactly moving us to feel emotion, is it? - No, rather, it's the dreary sort of stuff Corsair spoke about avoiding when originally designing the SP2500. And...they did completely, but that was then. However, this is now, and we are sorry to report that the dreariness has struck the SP2200's.
- The System Specifications
* Frequency response: 40Hz - 20kHz +5/-5dB, -10dB @ 35Hz
* Total power: 46 Watts total power measured via FTC "RMS" method
* Subwoofer dimensions: 9.1" x 9.9" x 7.1" (23.1cm x 25.2cm x 18cm)
* Satellite dimensions: 5" x 3.6" x 5.6" (12.7cm x 9.1cm x 14.2cm)
Subwoofer:
* 6" (15.24cm) side-firing, ported subwoofer suitable for desk or floor placement
* Subwoofer power: 30 Watts, measured via FTC "RMS" method
Satellites:
* 2" (5cm) drivers
* Volume and subwoofer output controls integrated in right satellite
* Up-front auxiliary input and headphone output
* Satellite power: 8 Watts per satellite, measured via FTC "RMS" method
I/O and Controls:
Three inputs for maximum flexibility:-
* 3.5mm stereo PC input
* RCA stereo auxiliary input for gaming consoles
* 3.5mm stereo auxiliary input on right satellite for MP3 players
* 3.5mm headphone output
* Main volume and subwoofer output control dials on right satellite
The new sub design for the SP2200 is quite small and has a 6" driver inside of a side firing port loaded bass reflex enclosure. Space is clearly the number one goal here as Corsair has tried to shrink the enclosure down to an impossibly small size. The satellite speakers use a very compact 2" unit on its own inside of both speakers.
Corsair has stuck with its impressive power measurement methods from the SP2500's and as such the smaller SP2200 come with 46 watts. Control over the system is handled by two small dials located on the 'control speaker' which features a different connection from the other.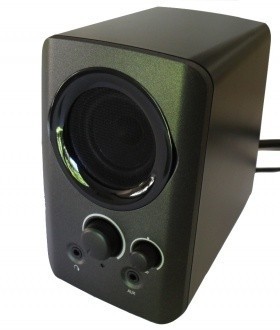 There is also a second set of terminals to allow for a second device to be connected as well as a set of headphones if required. The usual Corsair paperwork is again present and a warranty is offered for two years. Well done to Corsair here for including a warranty; always good to see.
Installation was fairly straight forward, although we did manage one gaff, which was to wire the system up without looking at the terminals properly and only have one speaker working until we found out why. This was a very stupid mistake that we are sure no one reading will be silly enough to repeat. The reason this happened was because the right satellite routes its power through the large multi-pin connector used for the controls. And as such it does not receive a signal separately from the amp.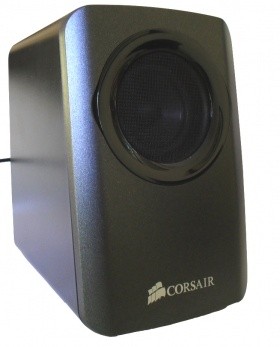 The SP2200 from Corsair is capable of some surprising volume and can certainly fill a room with sound. In fact, the way this system is powered probably is its best feature. Overall sound quality will vary from sources, however, the SP2200 will be naturally suited with instantly gratifying game audio more so than intricate movie or music audio.
- Games & Movies
At a reasonable volume level the SP2200 comes together quite well to provide an enjoyable multimedia experience. Overall tonality it not bad with the actual drivers themselves being of a decent quality. We would say that gaming would be the best use for the SP2200's overall because of the amount of power they pack.
- High End
The use of the very small drivers in the satellite speakers allows for a reasonable amount of high-end to make it into the mix. The sound overall has a bright quality that will suit some applications better than others no doubt. A good built-in EQ will be able to dampen some of this out when not wanted at the users discretion.
- Mid Range
The Mid suffers a grim cold death by the hands of those 2" drivers sadly enough, although someone did tell the subwoofer that it was now in charge of these frequencies, which can make the whole mix feel overly fortified around the 150Hz mark, especially when listening to male voices.
- Low End
Overall the subwoofer spends a lot of its time pretending to be the mid-range because the latter's drivers are way undersized. And if that were not the case, then the natural roll-off point for the 2" drivers would leave a huge hole in the frequency spectrum.
The actual power and tonality of the driver itself is not bad by any stretch. In fact, given an extra inch the mid-range driver could sound a whole lot better we think, because a lower crossover frequency could be used between those components.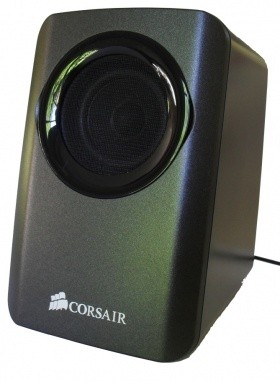 Basically, as a final thought we think that for the extra $130 US you would be crazy not to buy the SP2500, because the jump in performance is far greater than the jump in price, and that's speaking conservatively.
However, that is not the answer to the question we are
really
here to ask today.
Why should I buy this system over something else at the same price?
- And the simple answer is because you get a quality brand for just over a hundred dollars, and at this pricing point that's what we would recommend you look for., because the risk of buying something really bad for a hundred dollars in the PC speaker game is greater than it would be for a few hundred. This is a price range where most of the 'steer clear' companies are not prepared to invest.