Introduction, Specifications, Availability and Pricing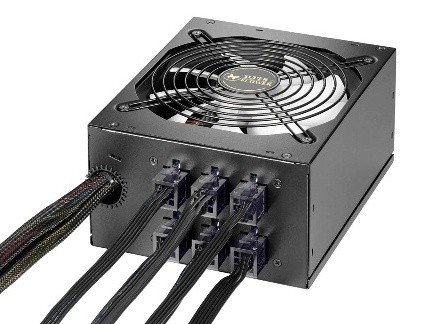 Introduction
Most of the time we focus on enthusiast and gaming power supplies here at TweakTown. Occasionally, when a product warrants it, we will cover other power supplies as well. The unit we are taking a look at from Super Flower today is one of those units that warrants taking a good look at. It is the Super Flower Golden King SF-550P14PE 550W power supply. After taking a look at the
Super Flower Golden Green 800W PSU
last month, we were quite interested in seeing what else they had to offer, so we had them send one over.
At this point you're probably wondering just what is so special about a 550W power supply. Well, ladies and gentlemen, this is one of the first 80Plus Platinum power supplies to come to market. You heard that right,
Platinum
efficiency. Up until now, the 80Plus Platinum logo has just been a myth that nobody has really seen it. For those unfamiliar with the certification, 80Plus Platinum certification requires that the power supply be able to achieve 90%, 92%, and 89% efficiency at 20%, 50%, and 100% loads respectively.
At the time of writing this article, there are only 18 power supplies listed with Platinum certification on the
80Plus.org website
. Super Flower has designed six of these. Let's check this thing out and see what Platinum is all about.
Specifications, Availability and Pricing

The Golden King 550W power supply certainly doesn't have the high amperage rails that we are used to seeing, but it still has some respectable outputs. The 45.5A single 12V rail has enough power to run a moderately powered graphics card or even a pair of low end CrossFireX/SLI cards. Both of the 3.3V and 5V rails are capable of 20A each and have a combined output of 100W. This should be plenty of power, but probably won't allow for much, if any, overclocking.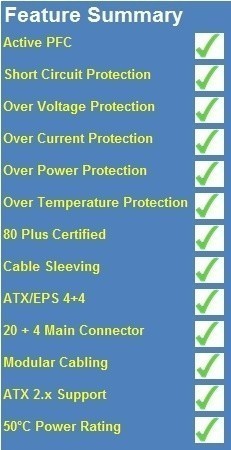 Even though the Golden King 550W power supply isn't capable of powering a fully featured enthusiast rig, it is still packed full of features. All of the protections are here for current, power, and voltage as well as Short Circuit Protection. The four natively wired cables are sleeved while the modular cables that come with the Golden King 550W are all of the ribbon type and do not need to be sleeved. Super Flower even rates the Golden King 550W for 100% continuous output at 50C.
Availability in the U.S. is very poor because Super Flower doesn't directly sell power supplies in the United States. Super Flower lists the Golden King 550W for $159.99, making it one of the most expensive power supplies in the 500W-600W bracket. About the only power supply in this range that is more expensive is the Kingwin LZP-550 which is listed for $169.99 on Newegg. This unit is identical to the Golden King, inside and out, as it is manufactured by Super Flower as well. Doing some searching will yield the Golden King 550W available overseas for €149.
The Packaging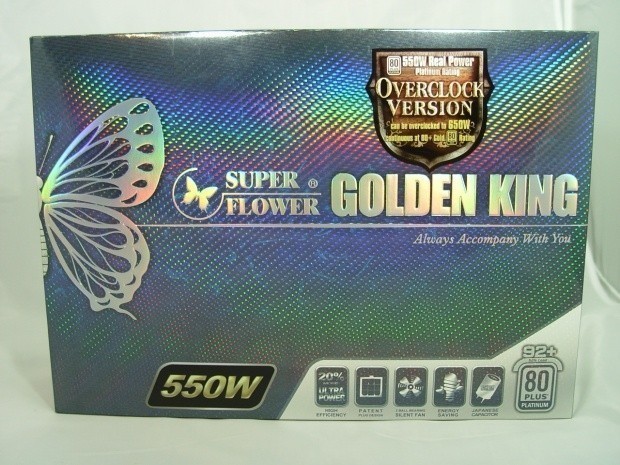 If Super Flower is trying to catch your eye with something sitting on the shelf, this should certainly do it. The reflective packaging gives you a quick look at what the power supply is capable of. Ignore the "Overclock Version" sticker on the front. It is just a marketing ploy. While the Golden King is capable of 650W, it is peak power that cannot be sustained and shouldn't be something you rely on.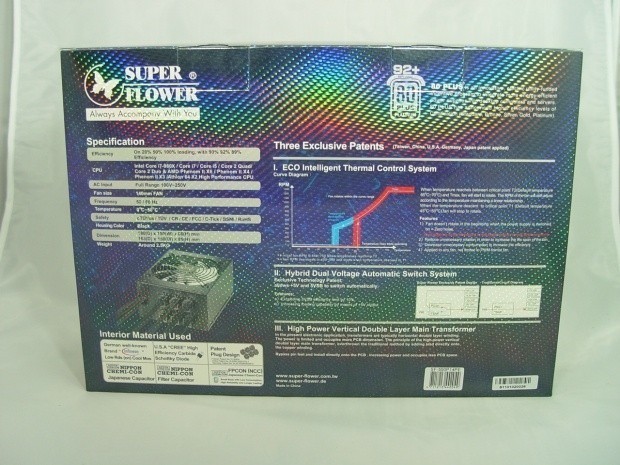 Taking a look at the back shows some more marketing as well as some specifications and our first look at the power supply. Many will like the "Interior Material Used" section down in the bottom left corner letting you know what some of the components used inside the power supply are. Not only are Japanese capacitors used, but they let you know they are Nippon Chemi-Con caps.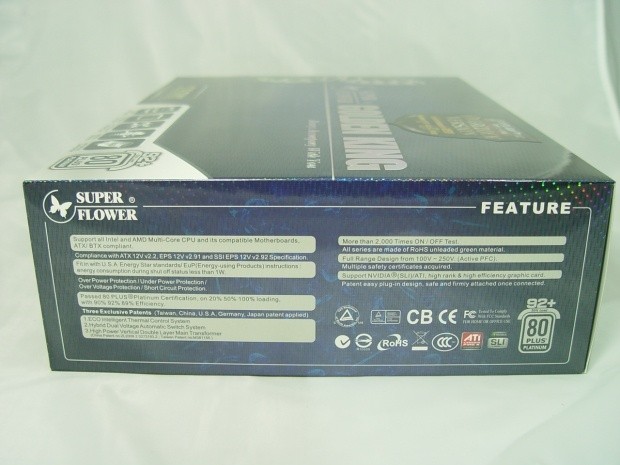 One side of the box is blank, but the other has some more information displayed to give you a little more insight into the Golden King. The top and bottom of the box are also blank and just continue the highly reflective pattern.
Inside the Box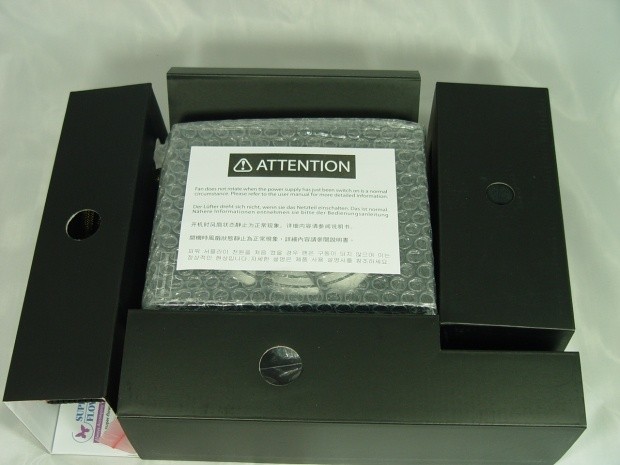 Sliding things out of the box we find the Golden King 550W power supply wrapped in bubble wrap and surrounded by cardboard and all of the various cables for the unit. Not exactly the greatest protection we have seen to protect the unit during shipping and handling, but it obviously works well since the unit arrived undamaged.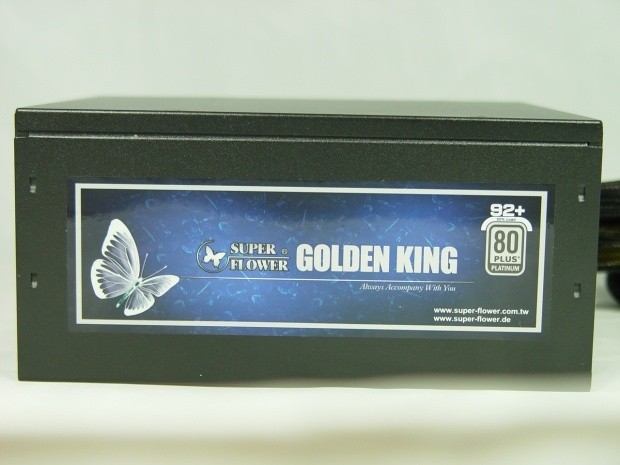 The Golden King comes in the standard matte black finish that a majority of power supplies come in these days. On this side of the PSU, we find the Golden King logo paired with the 80Plus Platinum logo and Super Flower's web address.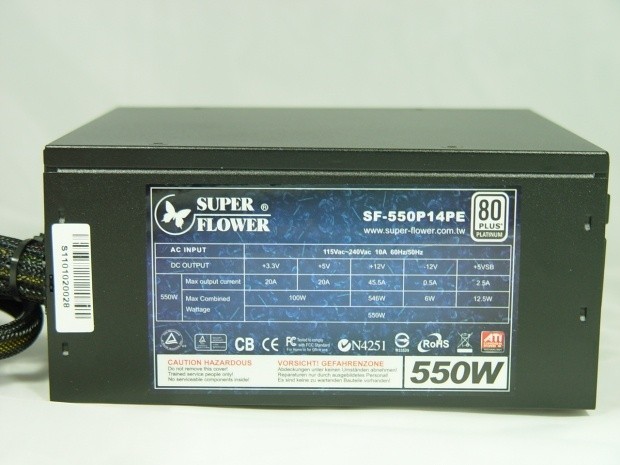 The other side has the I/O specification label and serial number.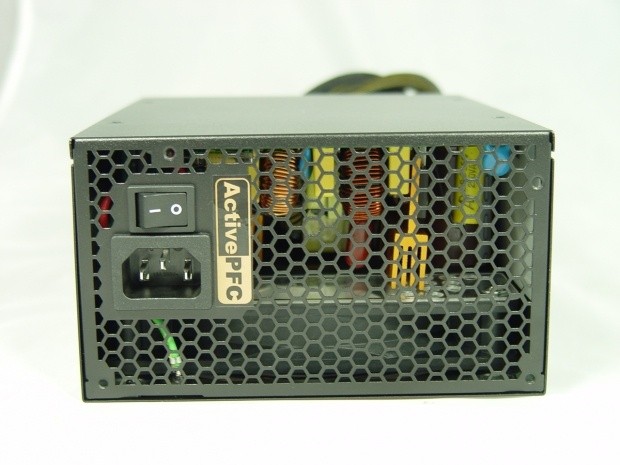 On the back, we have a very large honeycomb mesh grill allowing for maximum airflow to vent the heat.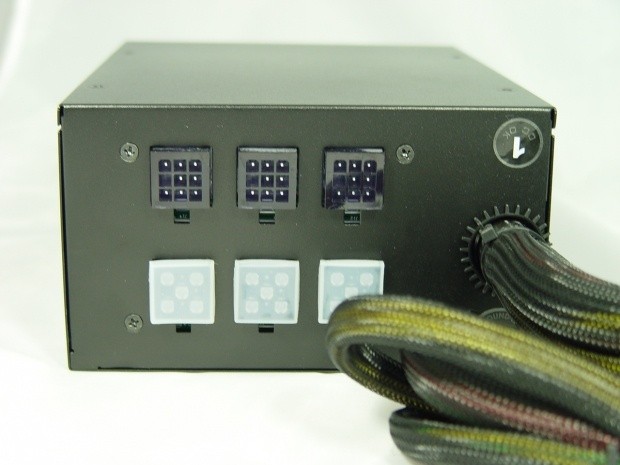 Moving to the front, we find the modular connections. All of these are universal so that any modular cable can be plugged into any connector. Note that the bottom three connections have rubber plugs covering them. The unit ships with all six of them covered and we removed the top three so you could see the difference. For those that are in dusty conditions, this should help keep unused connectors clean and dust free for future use.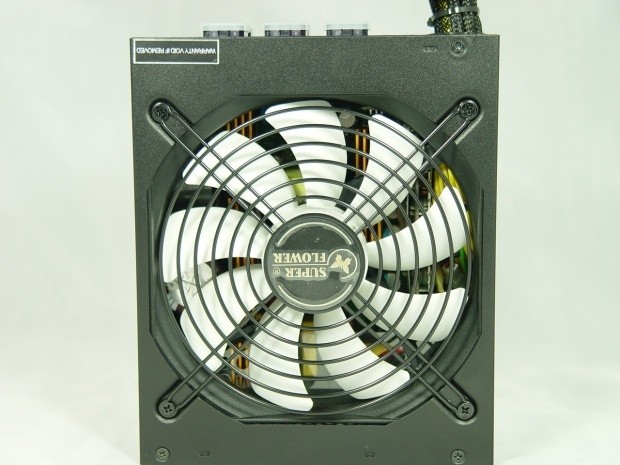 While the top is just a blank slate, the bottom houses the large 140mm fan that cools the unit. It contrasts with the unit quite well.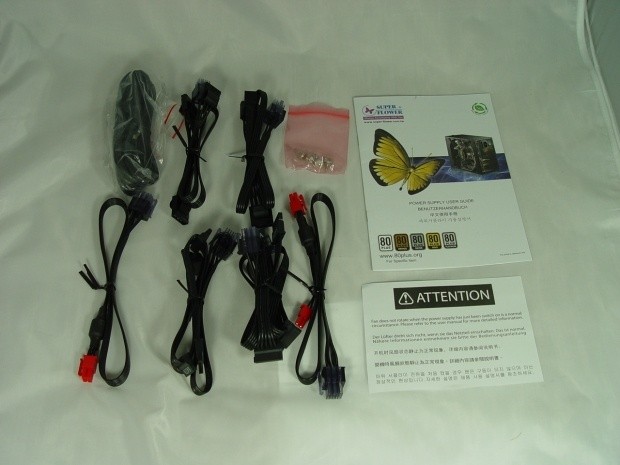 Also included in the box are the modular cables, AC input cord, mounting screws, user manual, and a note telling you that it is normal for the fan not to start running immediately upon the power supply switching on.
Cabling Arrangement & A Look Inside
Cabling Arrangement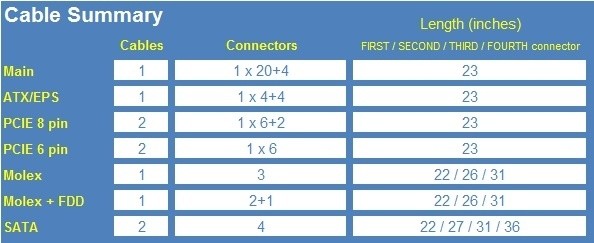 The cable summary isn't that extensive, but should be quite sufficient for any task this power supply is meant for. On top of the mandatory 20+4 pin Main and ATX 4+4 connectors, we have one 8-Pin PCIE cable and one 6-Pin PCIE cable natively wired to the power supply. Modular cables consist of another 8-Pin PCIE cable, one 6-Pin PCIE cable, two Molex cables with five Molex connectors and a single FDD connector, and two SATA cables offering eight SATA connections.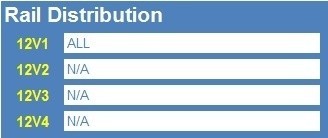 Rail distribution is as simple as it gets with a single 12V rail. No load balancing to worry about here.
A Look Inside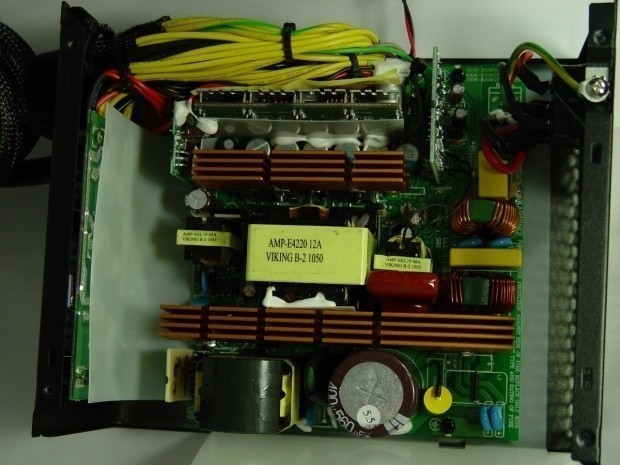 Opening up the inside of the Golden King reveals two rows of heatsinks cooling off the power supply. Everything is laid out in quite the orderly manner which should allow for efficient airflow and sufficient permeation of fresh air throughout the power supply.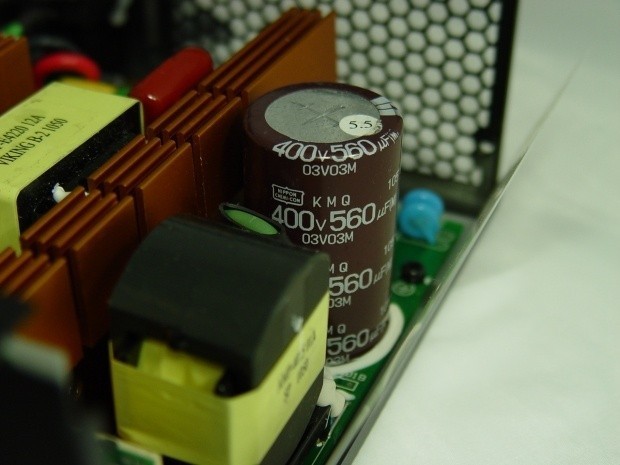 Taking a look at the capacitors, we find a Nippon Chemi-con capacitor adorning the primary side of the power supply. Looks like they were giving accurate information on the back of the box.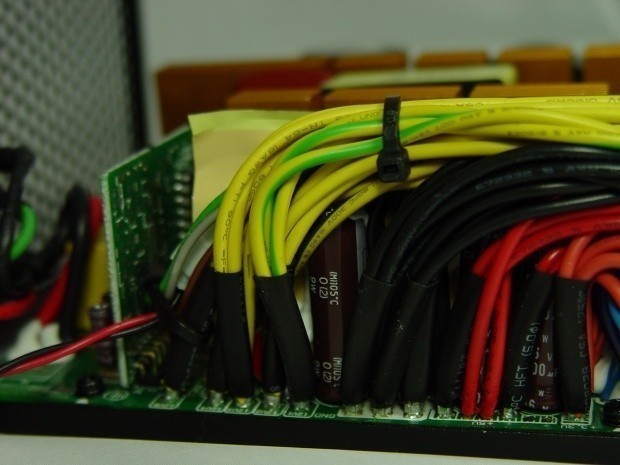 While it is almost impossible to get a good shot of the secondary capacitors, they are in fact Nippon Chemi-con caps, too.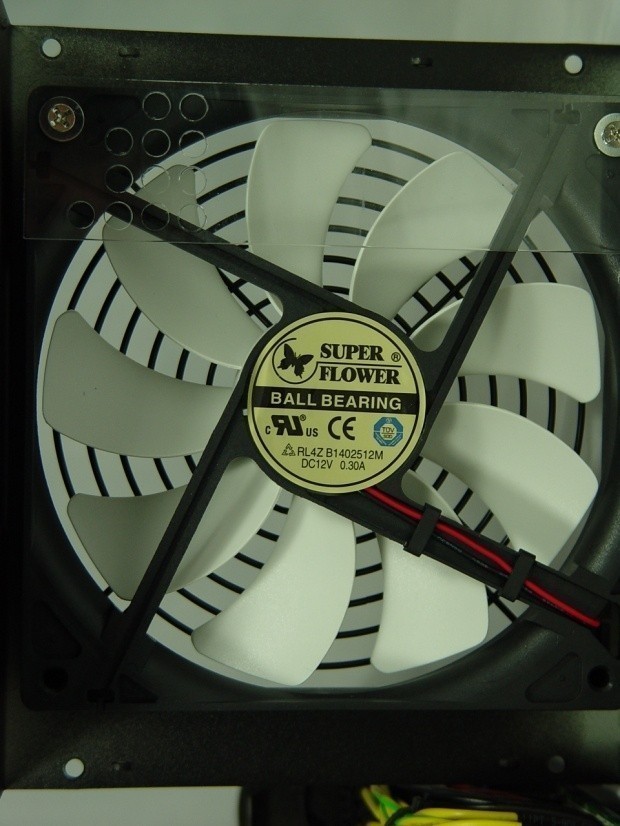 Taking a look at the fan gives us a part number to find out who makes it. It is manufactured by Globe fan and is a 140mm, 1200RPM fan.
Test Results & Final Thoughts
Test Results
Our load tests utilize a couple of FAST ATE active load testers and a variety of other equipment such as an oscilloscope, power conditioner, temperature probe and a power consumption meter. You can read more about our standard testing approach
here
.
The tests performed are based around six conceivable setups that are out there and progressively load down the PSU up to the power supply's limits or 1000W, whichever comes first. Since our test equipment's limits are higher than that of the Golden King 550W, we can only test it to the maximum.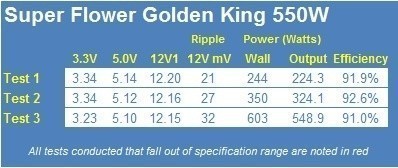 While there isn't too many results to look at as there are only three different tests in our test methodology, there is still plenty of data to tell how the Golden King performs. Voltages are quite stable, with very little droop throughout testing. All voltages are well within specifications. Both 12V and 5V readings are within 3% of tolerance while the 3.3V readings prove to be within 2%.
Ripple on the 12V rail is great as well. Starting out, we see only 21mV which increases to a maximum of 32mV under full load. While this isn't something super spectacular, it is still an excellent result and also well within specifications.
Moving on to what most of us are probably interested in with the Golden King 550W, we see some great efficiency numbers from the Golden King 550W power supply. Remember that in order to get Platinum certification, the power supply must achieve 90%, 92%, and 89% efficiency at 20%, 50%, and 100% loads respectively. The Golden King 550W power supply hits the mark here, staying above 91% efficiency the entire time. It's good to see that the unit isn't barely squeezing into the Platinum level, but instead it has some room to spare.
Final Thoughts
Well, there we have it folks, our first Platinum power supply at TweakTown. Super Flower has a winner with the Golden King 550W power supply in all aspects. The solid voltages combined with the relatively low noise should insure that your system stays up and running when you need it most. Combine with the 91% or better efficiency that the unit provides and you should save a little bit of money on your electric bill as well.
Of course, you'll have to cough up a little bit extra cash from the start to grab it, but the rising costs of electricity surely make it worth the money if it has enough power for your build. The only trouble the Golden King will give you is getting your hands on one. If it wasn't for the availability, the Golden King 550W would have received one of the highest overall ratings a power supply has ever received at TweakTown.