Sony VAIO VPCZ125GX 13.1-inch Notebook
Sony offers up an expensive ultraportable for business users with astounding battery life. But is it worth the money? Read on to find out!
Published Thu, Sep 9 2010 9:40 PM CDT
|
Updated Tue, Nov 3 2020 7:02 PM CST
Rating:

97%
Manufacturer: Sony
Introduction, Specifications and Pricing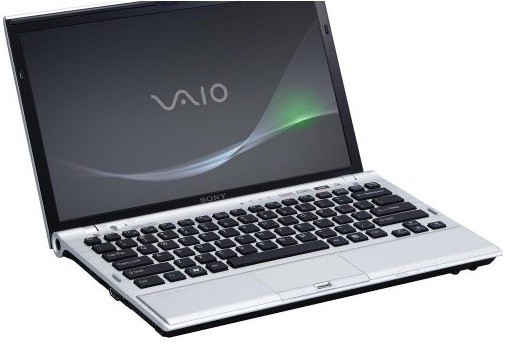 Introduction
When you are dealing with a name like Sony, you know that you will pay a premium for the brand. Sony offers a wide variety of notebooks and other computers that are broken into machines for the consumer and machines for the business users. Today I am going to take a look at one of the machines for the business users out there.
The notebook on my test bench today is the Sony VAIO VPCZ125GX ultraportable. This machine is small and is physically only a bit larger than some of the big 12.1-inch netbooks I have tested recently. The main difference between the Sony VAIO VPCZ125GX and the netbooks that are close to its size is under the hood.
The Sony VAIO VPCZ125GX may be small, but this notebook packs in some serious hardware and carries a big price tag to match. This is the sort of machine that a busy business executive would want to pull out for a meeting. It looks good, has oodles of performance and is expensive. The real question is whether the rig is worth its lofty price tag.
Specifications, Availability, and Pricing
The Sony VAIO VPCZ125GX has been around for a while now and is one of the higher-end ultraportables from Sony aimed at business users. This rig is small, but jam packed with high-end hardware despite its small size. The MSRP for the notebook is $2,349, but it can be had on Amazon in silver for $2,099. The full specifications are below: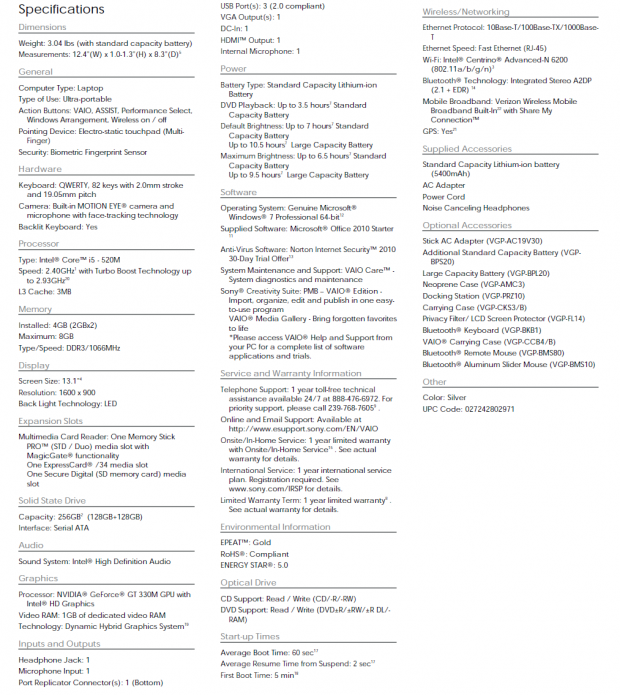 Sony VAIO VPCZ125GX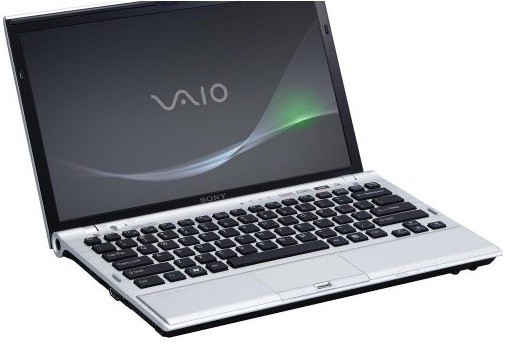 The good news is that the screen on this notebook is not as glossy as some other notebooks I have tested, so you get less glare than you might expect. It's hard to see in this picture, but the front edge of the machine has the headphone and mic ports, wireless on/off switch, and the memory card reader.
[img]2[/img]
The Sony VAIO VPCZ125GX is offered in black or silver. My test unit was a matte black finish that hides fingerprints and smudges well.
[img]3[/img]
The Sony VAIO VPCZ125GX has a lot of space between the keys. Sony could have made the keys considerably larger, but the right shift key is the right size. You can also see the fingerprint reader between the track pad keys and the control for the power sipping Hybrid Graphics System.

The left side of the machine has the power adapter port in the hinge area, a cooling grate, Kensington lock port, Ethernet port, HDMI out, a pair of USB ports and the expansion card slot.

The right side of the machine has the power button in the hinge area, VGA output, USB port and the optical drive.
Performance - A/V Encoding, Battery Life and Boot Time
Below is the CPU-Z screen shot so you can see what VAIO is working with.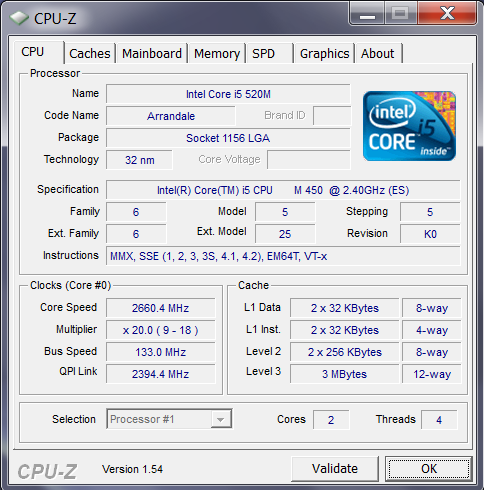 A/V Encoding and Battery Life
The Sony VAIO VPCZ125GX will be run through the standard notebook/netbook test regime here at TweakTown. This includes iTunes Encoding and Media Transcoding plus Battery Eater Pro for battery life estimation. This machine will also be put through our new expanded benchmark regime with the addition of boot time, PCMark Vantage, SuperPi and Cinebench.
All systems are tested "as is", which means operating systems and drivers can and do vary and some come pre-installed with applications that may or may not affect performance. Any anti-virus or security applications are disabled and uninstalled before any testing is started as they can affect test numbers.
For the iTunes encoding test I take
Stone Temple Pilots - Core
CD album in MP3 format and encode it to AAC format using iTunes and time the results with a stopwatch.
All tests are performed with the system in High Performance mode with minimum CPU set to 100%.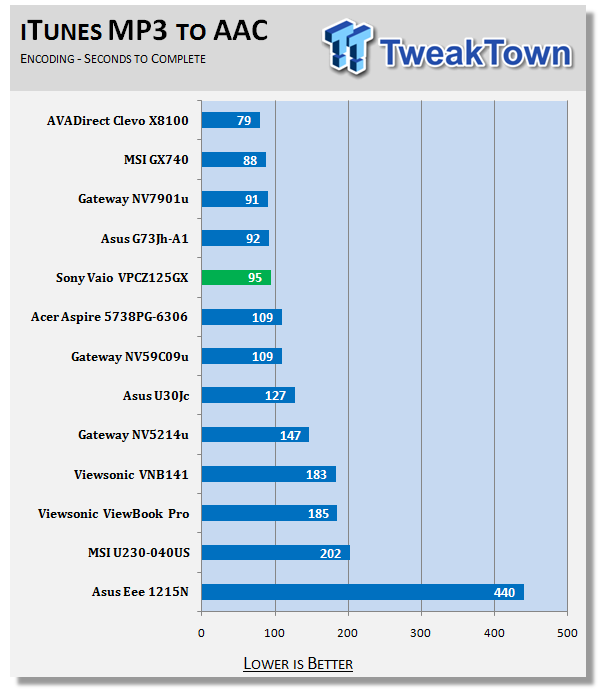 The Sony VAIO VPCZ125GX was in the top five in performance and all of the machines ahead of it in this benchmark were gaming notebooks. The performance in this benchmark considering this is an ultraportable is excellent.
For the movie encoding test I take the
Microsoft Magic of Flight
VC-1 WMV video with six channel audio (1080p HD) and transcode it to XviD (1080p HD) with LAME MP3 two channel audio and a MP4 container using MediaCoder 0.7.3.4616 32-bit edition.
All tests are performed with the system in High Performance mode with minimum CPU set to 100%.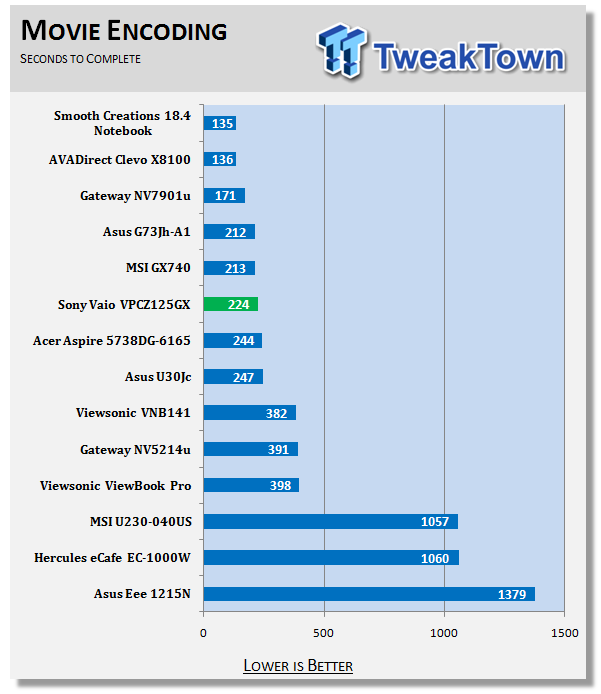 The Sony VAIO VPCZ125GX was sixth place in this test, and again all the other machines that placed ahead of it were gaming notebooks.
Battery Eater Pro is very hard on batteries, so you are likely to get more run time in the real world, depending on how you use the machine. Since we compare all laptops and netbooks the exact same way though, it creates a fair and balanced playing field for our comparisons.
For the power saving mode test I run the machine in 'Power Saver' mode with turn off display disabled and brightness set to 50%, sleep mode disabled, HDD turn off disabled and minimum CPU set to 5%.
For the performance mode test I run the machine in 'High Performance' mode with turn off display disabled and brightness set to 100%, sleep mode disabled, HDD turn off disabled and minimum CPU set to 100%. Do note that some systems even when set to 100% CPU may force drop down the clock speed when AC power is lost.
Wireless is kept enabled during all tests and nothing else unusual is disabled. Time is rounded up to the nearest minute.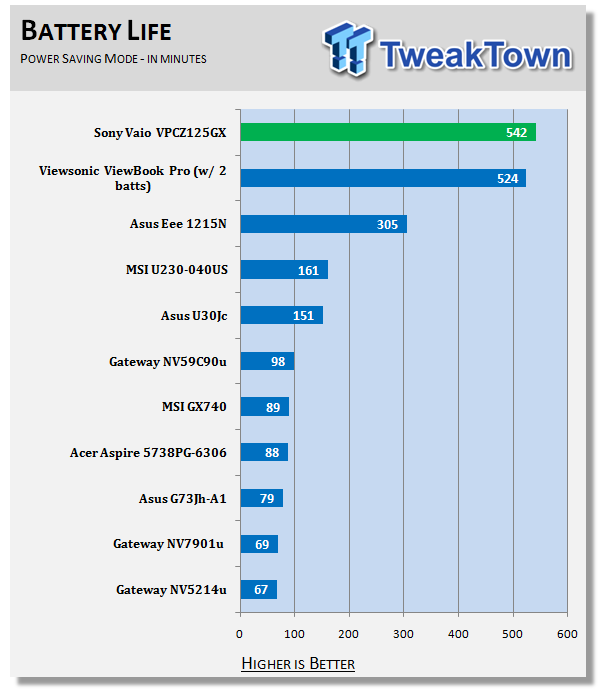 The Sony VAIO VPCZ125GX put down battery life results on my Battery Eater Pro benchmarks that actually beat the ViewBook Pro that had
TWO
batteries. The VAIO is simply the best notebook I have ever tested when it comes to battery life.
We measured boot time using a stopwatch and timed from the point we turned the system on until the very first point the desktop was reached and fully loaded.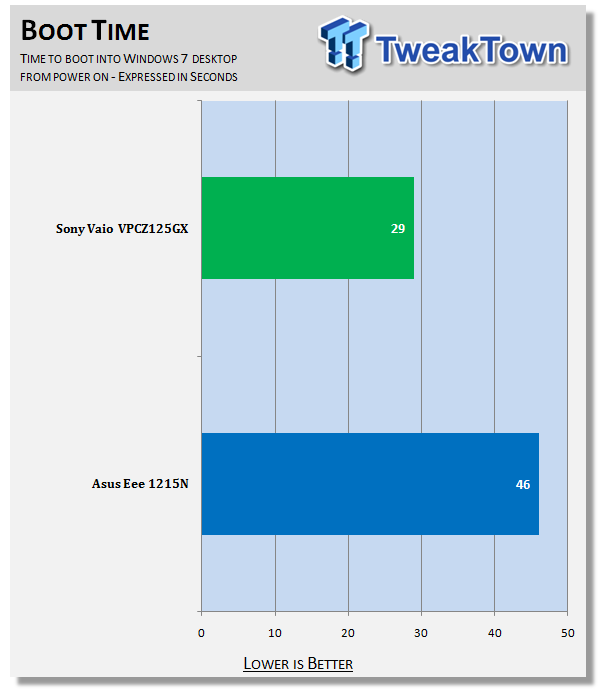 This is a new benchmark we'll be including hereon in all notebook and AIO desktop reviews. The SSD certainly helped the VAIO in this benchmark.
Performance - PCMark Vantage, CINEBENCH and Super Pi
PCMark Vantage 64-bitVersion and / or Patch Used:
Nov 2007 Hotfix
Developer Homepage:
http://www.futuremark.com
Product Homepage:
http://www.futuremark.com/benchmarks/pcmark-vantage/
Buy It Here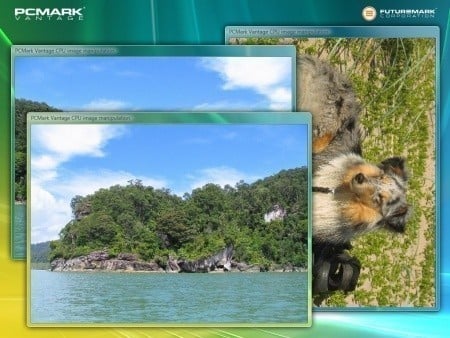 PCMark Vantage is the first objective hardware performance benchmark for PCs running 32 and 64 bit versions of Microsoft Windows Vista. PCMark Vantage is perfectly suited for benchmarking any type of Microsoft Windows Vista PC from multimedia home entertainment systems and laptops to dedicated workstations and high-end gaming rigs. Regardless of whether the benchmarker is an artist or an IT Professional, PCMark Vantage shows the user where their system soars or falls flat, and how to get the most performance possible out of their hardware. PCMark Vantage is easy enough for even the most casual enthusiast to use yet supports in-depth, professional industry grade testing.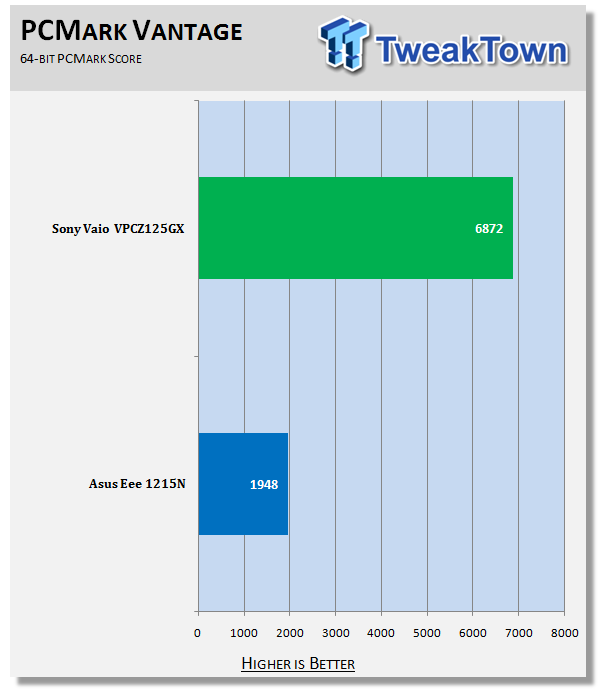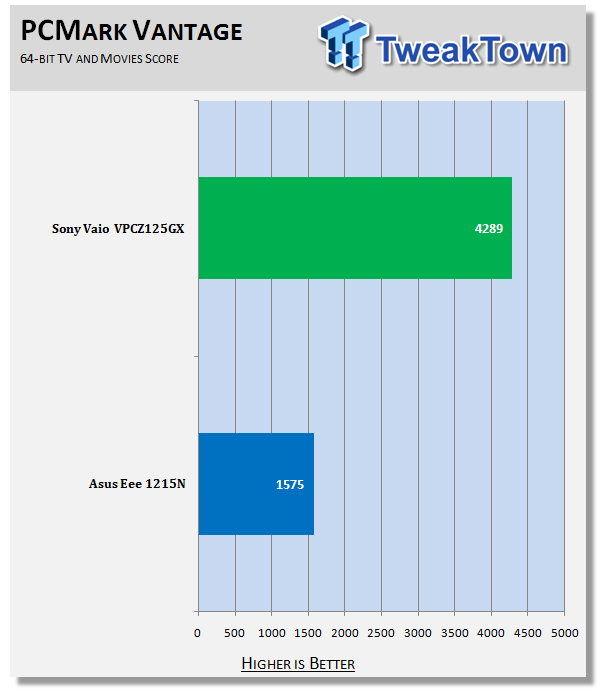 The VAIO beat the only other machine I have run through this benchmark so far by almost 5,000 points on this. I expect the VAIO to be the machine to beat in the ultraportable category moving forward.
CINEBENCH R11.5 64-bitVersion and / or Patch Used:
Release 11.5
Developer Homepage:
http://www.maxon.net/
CINEBENCH is a real-world test suite that assesses your computer's performance capabilities. MAXON CINEBENCH is based on MAXON's award-winning animation software, CINEMA 4D, which is used extensively by studios and production houses worldwide for 3D content creation. MAXON software has been used in blockbuster movies such as Spider-Man, Star Wars, The Chronicles of Narnia and many more.
MAXON CINEBENCH runs several tests on your computer to measure the performance of the main processor and the graphics card under real world circumstances. The benchmark application makes use of up to 16 CPUs or CPU cores and is available for Windows (32-bit and 64-Bit) and Macintosh (PPC and Intel-based).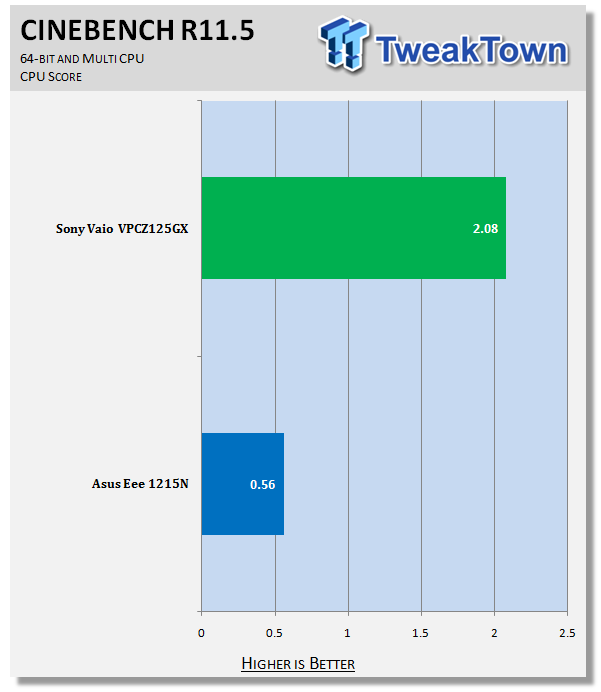 CINEBENCH is another of the new benchmarks in my test regime and the VAIO stomped a hole into the Asus Eee 1215N in this test. The Core i5 CPU in the VAIO is powerful.
Super PiVersion and / or Patch Used:
1.5 Mod XS
Developer Homepage:
http://pw1.netcom.com/~hjsmith/Pi/Super_Pi.html
Product Homepage:
http://pw1.netcom.com/~hjsmith/Pi/Super_Pi.html
Developed by some folks from the University of Tokyo (yes, Japan), Super PI is a small utility that does just as the name implies. It figures PI to a set number of decimal places. Since PI is an infinite number to the right of the decimal point, the utility measures the time it takes to figure a set number of places. It runs the calculations a set number of times and gives a time for the completion of the task. This is a simple and effective way to measure the raw number crunching power of the processor being used to compile the results.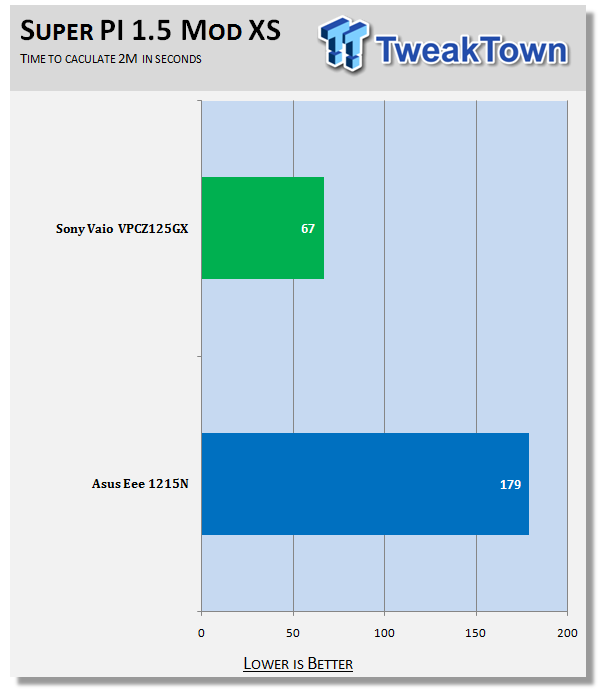 Comparing the VAIO to the Eee 1215N is hardly fair, but at this point with the new benchmark that is the only comparison we have.
Hands On Use and Final Thoughts
Hands On Use
Wow, after all the benchmarks were finished the Sony VAIO VPCZ125GX is an exceptionally impressive ultraportable. Stand back and consider that in all the benchmarks that I put this machine through it was only beaten by much larger gaming machines in performance, yet it beat all comers in battery life, and it's hard to not be impressed. It's hard to believe this little notebook packs in so much performance, yet can run on a single charge so long.
Impressive performance aside, what matters as much as how well the machine performs and how long the battery lasts is how usable the notebook is. I can happily say that the Sony VAIO VPCZ125GX is very nice to work on. The keyboard is a bit odd with keys that have more space between them than some other notebooks I have used. Sony could have made the keys considerably larger than they are and still had room. Despite having more room to spread out that goes unused, the wide spaced keys are arranged well and are very comfortable to use. I am happy to work with keys that might be a bit smaller than they need to be in exchange for the excellent typing feel and feedback the Sony VAIO VPCZ125GX keyboard offers. I am also happy to see that Sony uses a right shift key that is the same size as the left. Too many notebook makers cram a tiny right shift key onto the keyboard to save space.
Under the keyboard is the trackpad that is placed well and has good accuracy and sensitivity. The buttons are easy to press and offer good tactile feel. Between those two trackpad buttons is a fingerprint reader for the machines security system that you can use or skip altogether. One of the best features of the VAIO that you don't always see on an ultraportable is an optical drive. The Sony VAIO VPCZ125GX has an optical drive and it will be welcome by most pros since CDs and DVDs are still common in the business world. Moreover, you can watch your favorite DVDs while you are on those long flights.
One of the things that impresses me so about the battery life that the Sony VAIO VPCZ125GX mustered is that it has a discrete GPU inside. That NVIDIA GPU makes mince meat out of all the video I threw at it. Watching video on Hulu is smooth and simply perfect. Colors are good, blacks are crisp and dark, and the skin tones are natural. The Sony VAIO VPCZ125GX might be aimed at the business pro that should be working, but this little notebook will entertain you when the day is done.
One thing that I don't like about the Sony VAIO VPCZ125GX when it comes to watching movies or streaming video is the sound system. The volume is too low and you will be hard pressed to hear in an environment with much noise. You will want a set of headphones or external speakers to remedy what is really the only deficiency in the Sony VAIO VPCZ125GX's bag of tricks. It's also important to point out that the Sony VAIO VPCZ125GX has an integrated Verizon 3G modem in case you missed that in the specs earlier on. This little notebook is fully loaded.
Final Thoughts
I can sum up my thoughts about the Sony VAIO VPCZ125GX in one explicative - WOW! This machine really impressed me. It has the sort of power I would never have expected in an ultraportable and at the same time offers better battery life than anything I have ever tested.
What you are getting in the Sony VAIO VPCZ125GX is an ultraportable notebook with the power of many gaming notebooks and with battery life that can't be beat by some machines packing in two batteries. This is far from a cheap notebook; I will certainly give you that. You could buy four of the ASUS Eee 1201N netbooks I reviewed recently for the price of this one Sony VAIO VPCZ125GX. It would also take several of those netbooks to give you the battery life and performance the VAIO manages.
Impressed is an understatement with the Sony VAIO VPCZ125GX. If you can pony up the loot this notebook is perfect for any one, pro or consumer, that wants loads of performance and phenomenal battery life. If the VAIO is in your budget, you just can't go wrong.
PRICING: You can find products similar to this one for sale below.

United States: Find other tech and computer products like this over at Amazon.com

United Kingdom: Find other tech and computer products like this over at Amazon.co.uk

Australia: Find other tech and computer products like this over at Amazon.com.au

Canada: Find other tech and computer products like this over at Amazon.ca

Deutschland: Finde andere Technik- und Computerprodukte wie dieses auf Amazon.de