TweakTown's Rating: 94%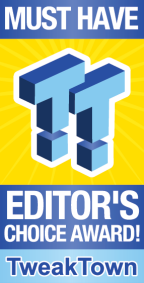 The Bottom Line
If you are looking for an ultra-light notebook, there really is no competing with the X1 Carbon.
Pros
+

Thunderbolt 4

+

Value

+

Extremely lightweight

+

Performance
Cons
Should you buy it?
Avoid
Consider
Shortlist
Buy
Introduction, Specifications, and Pricing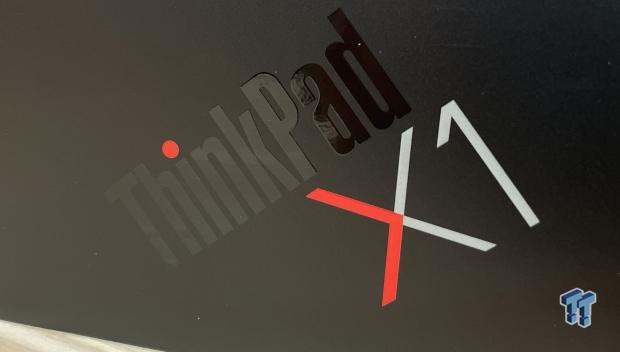 Before the 13th Gen Intel notebooks began to take center stage, I wanted to mention our last review on a 12th Gen mobile platform with the Lenovo Thinkpad X1 Carbon. The Carbon is now in its 10th Generation and has gotten a reputation over the years for being an ultra-lightweight productivity machine.
Specifications
This 10th iteration of the Carbon starts with the 12th Gen Intel Core i7 1265u CPU; this model can also be configured with the higher tier 1260 or 1270p or even a lower tier Core i5 1240p. Memory is soldered onto the board, so choose wisely. Our sample was sent with 16GB of LPDDR5 at 5200MHz. The display is a 14" 16:10 1200p panel using IPS technology, brightness rated at 400 nits, and to drive this, we have Iris Xe integrated into the CPU. The display has an FHD 1080p front-facing camera with what Lenovo calls ThinkShutter.
Connectivity on this machine includes dual Thunderbolt 4 ports, an HDMI output, and two USB 3.2 ports. It does also have a 3.5mm audio output and Kensington lock. Internal connectivity includes a single M.2 2280 slot and an M.2 2242, Wi-Fi is the AX211 but is embedded on this laptop, so it is not upgradeable.
As configured, the Thinkpad X1 Carbon Gen 10 is currently priced at $1849.
Notebook Overview
Lenovo Thinkpad X1 Overview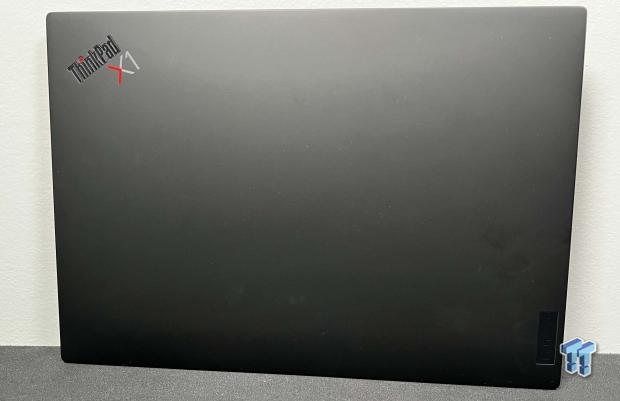 Unboxing the X1, we have a nearly identical design to last year's Gen 9, with the Lenovo logo tucked away bottom right and the large X1 branding top left. The notebook has that smooth, almost rubberized feel to it.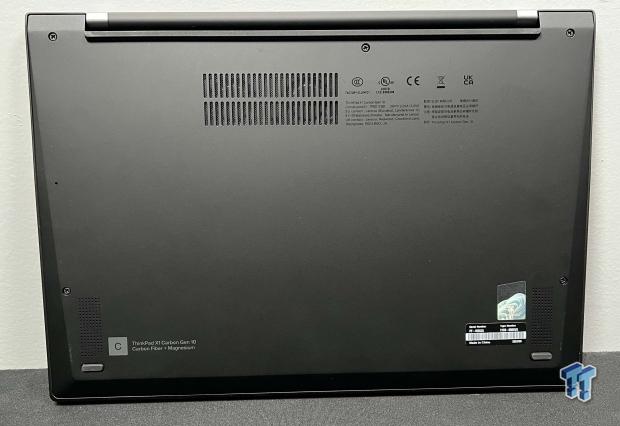 On the bottom, we have minimal venting, just around the fan assembly. Bottom left, we have the chassis materials noted.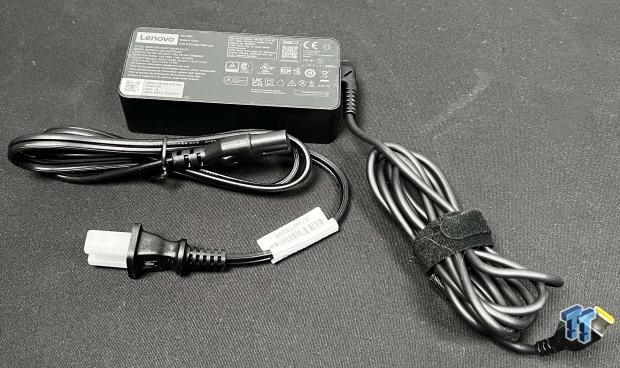 The included power adapter is a 65W Lenovo unit using a USB-C connection.

I/O includes dual Thunderbolt 4 on the notebook's left side, along with the HDMI and USB 3.2 port.

The right side offers a single USB 3.2 and 3.5mm audio output.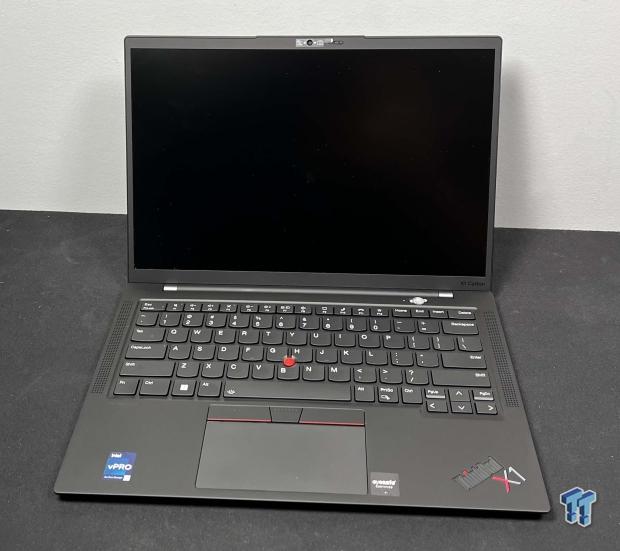 Opening up the X1, we have the trackpad offset slightly to the left above the standard Lenovo keyboard with intellipoint. The power button is its own button with a built-in fingerprint reader.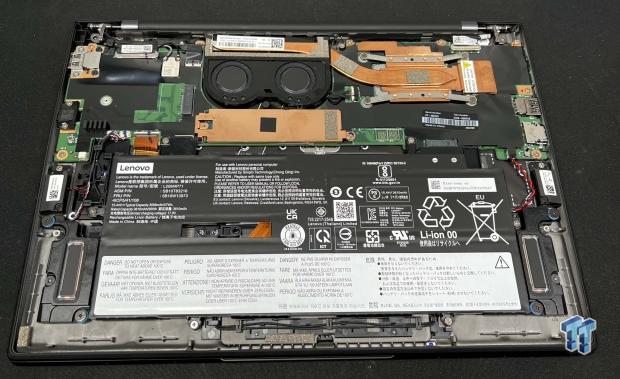 Internally, we have a 57Wh battery taking up the bottom half of the chassis. Above, the NVMe lives under the center copper heat spreader, and above that, a larger heatsink and fan combo for the CPU and GPU.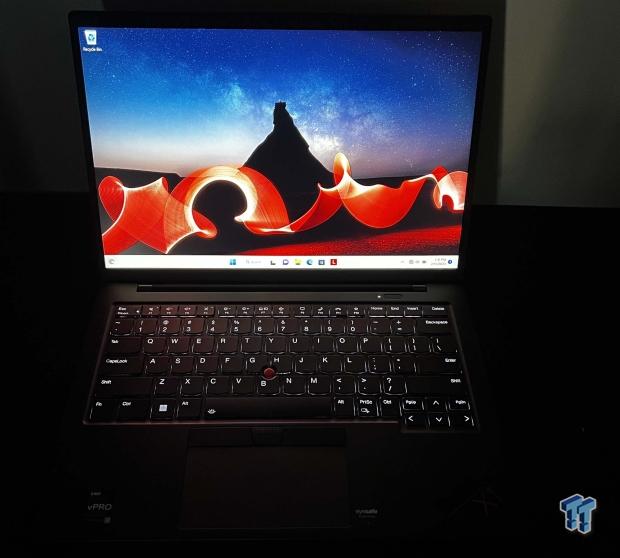 Dimming our room lighting, you can get a better look at the keyboard backlight; a Fn+space combo triggers this.
BIOS/UEFI and Software
UEFI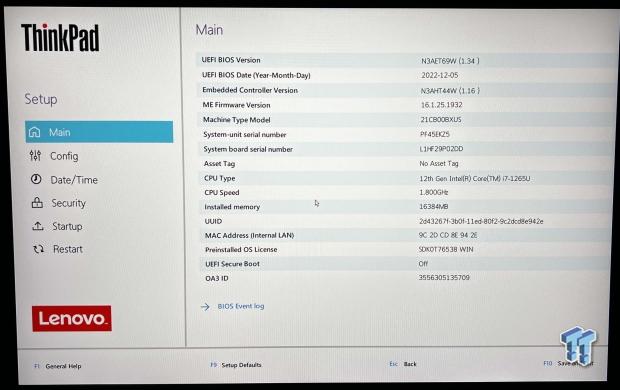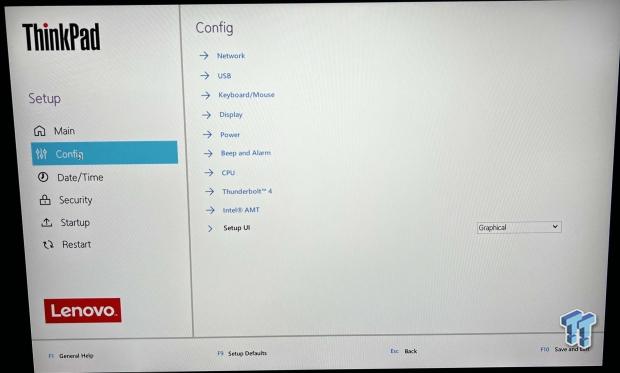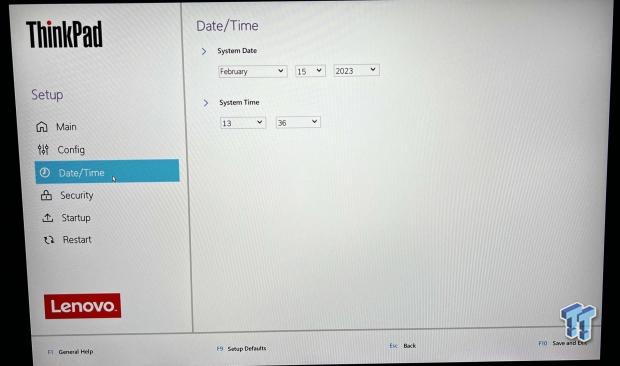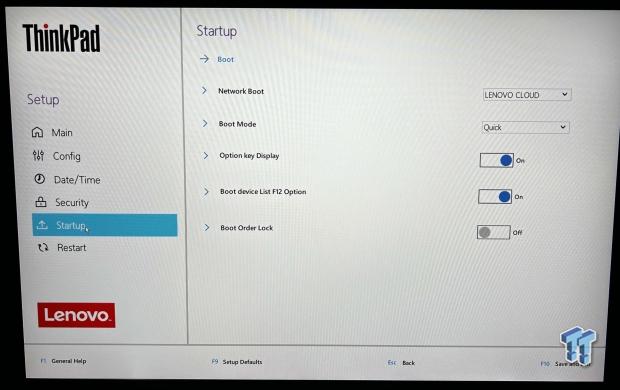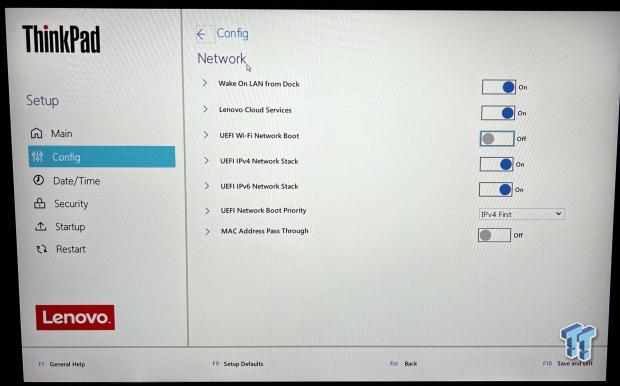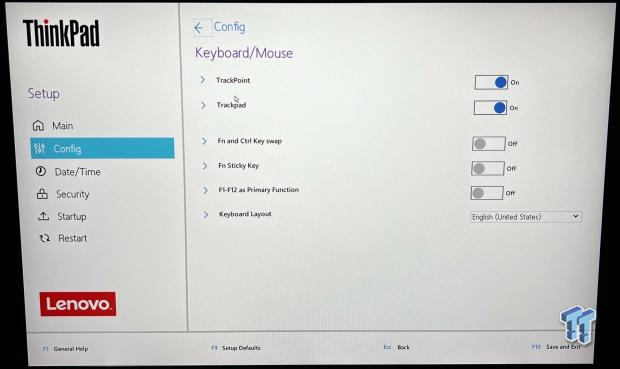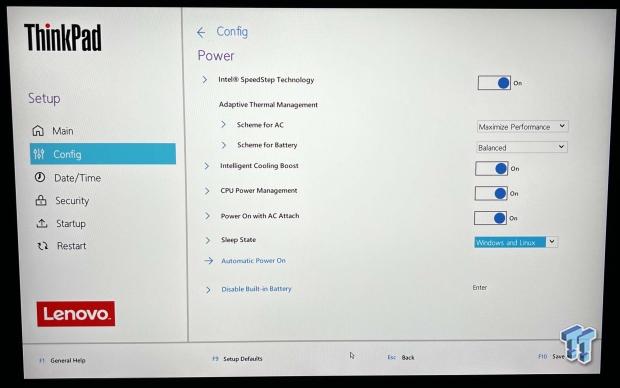 The setup for the Thinkpad X1 Gen10 does offer mouse support with a friendly GUI. The main page will provide insight into the installed hardware, CPU, memory, and NVMe. The configuration menu includes support for networking, USB, and display configuration, along with CPU power options and Thunderbolt at the bottom.
Further options include support for USB boot and keyboard mouse setup and power options such as Speedstep and c states. Security offers options for setting up fingerprints and passwords, memory protection, virtualization, and I/O ports.
Software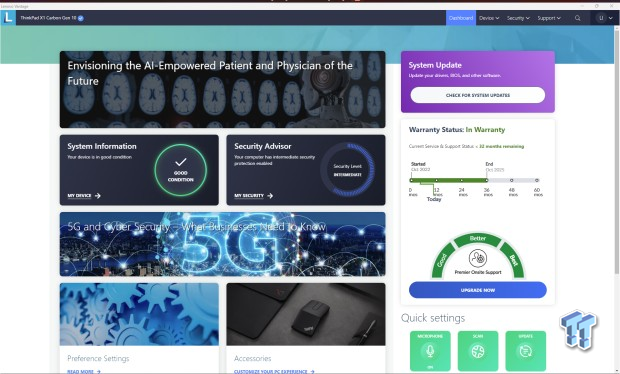 Included software for the Thinkpad X1 is called Vantage. From here, the initial screen will offer warranty information on the right side with quick settings along the bottom.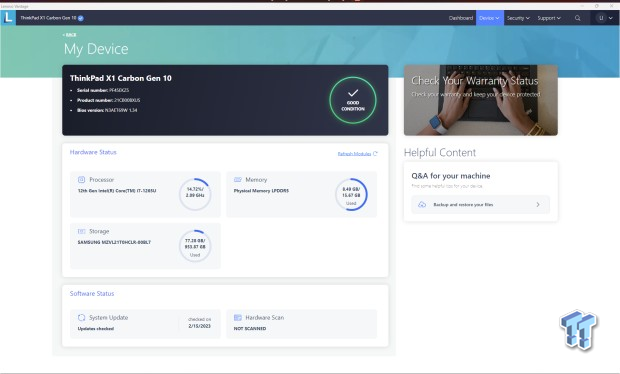 Device will show you the hardware of the notebook and its available resources.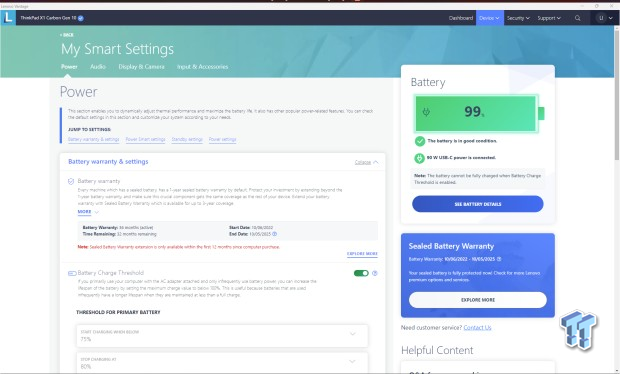 Power allows you to configure the battery charge and its status on the top right.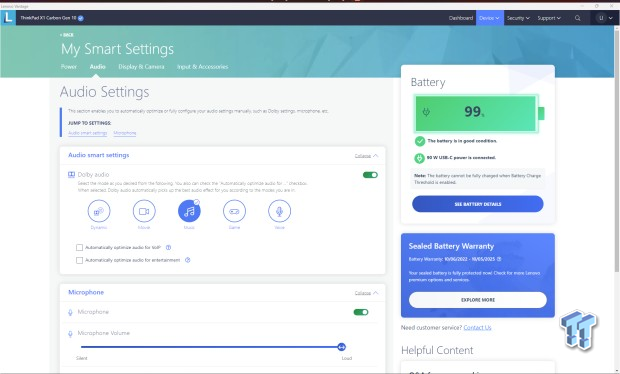 Audio settings offer configuration on the integrated speakers and microphone.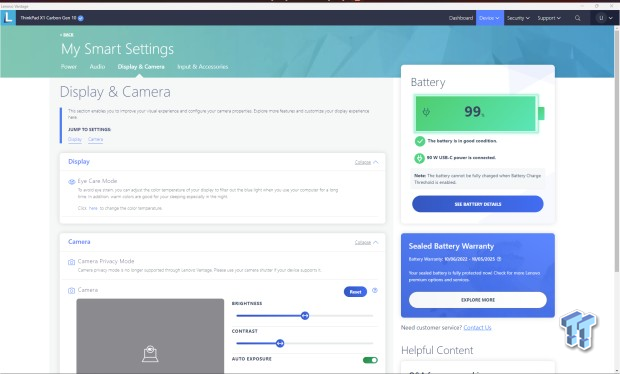 Display offers settings for lowering the blue light of the panel and, below that, options for the FHD camera.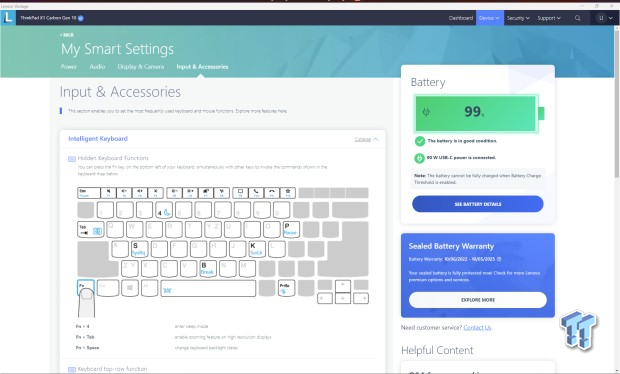 Last, we have input, which offers shortcuts on the keyboard.
System/CPU Benchmarks
Cinebench
Cinebench is a long-standing render benchmark that has been heavily relied upon by both Intel and AMD to highlight their newest platforms during unveils. The benchmark has two tests, a single-core workload that will utilize one thread or 1T. There is also a multi-threaded test that uses all threads or nT of a tested CPU.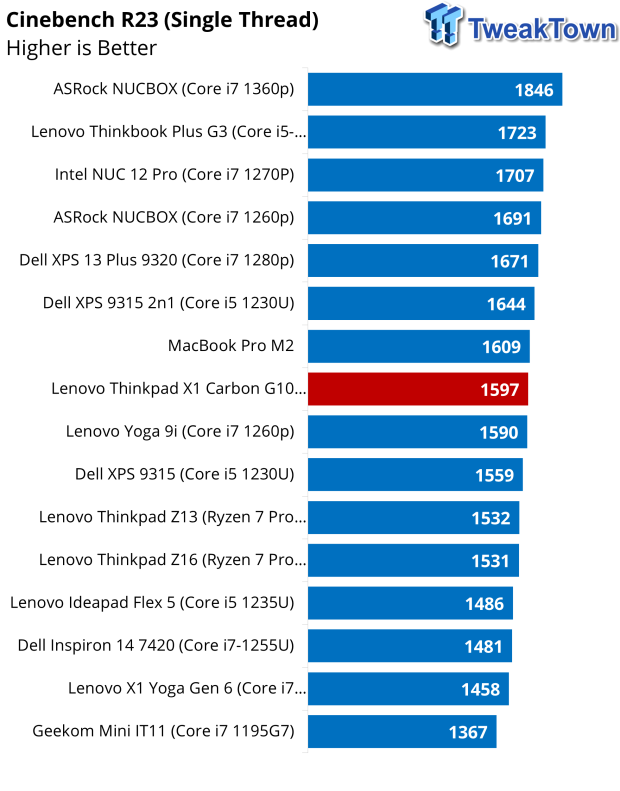 Starting with R23, the X1 lined up right in the middle of our chart, scoring 1597 in single thread.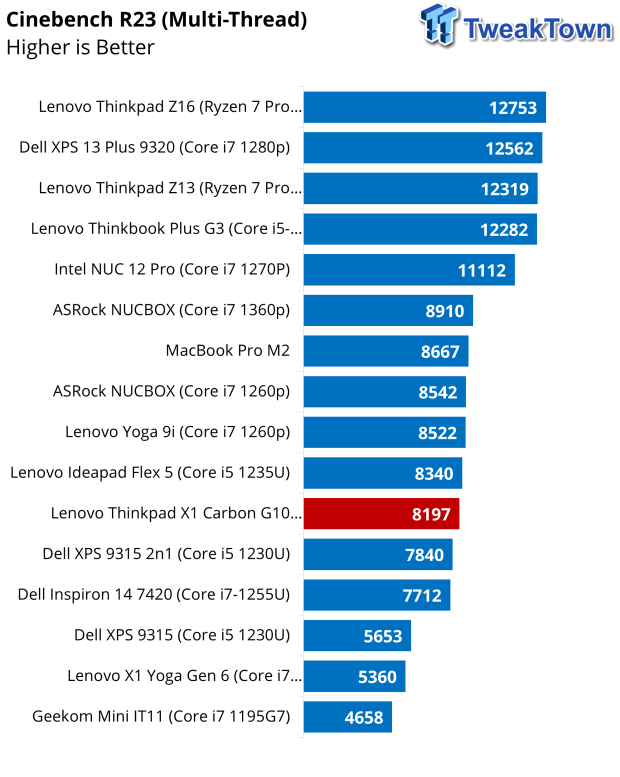 Multi-thread picked up 8197 points, in line with other 12th Gen U-Series CPUs.
BAPCo CrossMark
CrossMark™ is an easy-to-run native cross-platform benchmark that measures overall system performance and responsiveness using real-world application models. CrossMark™ supports devices running Windows, iOS, and macOS platforms.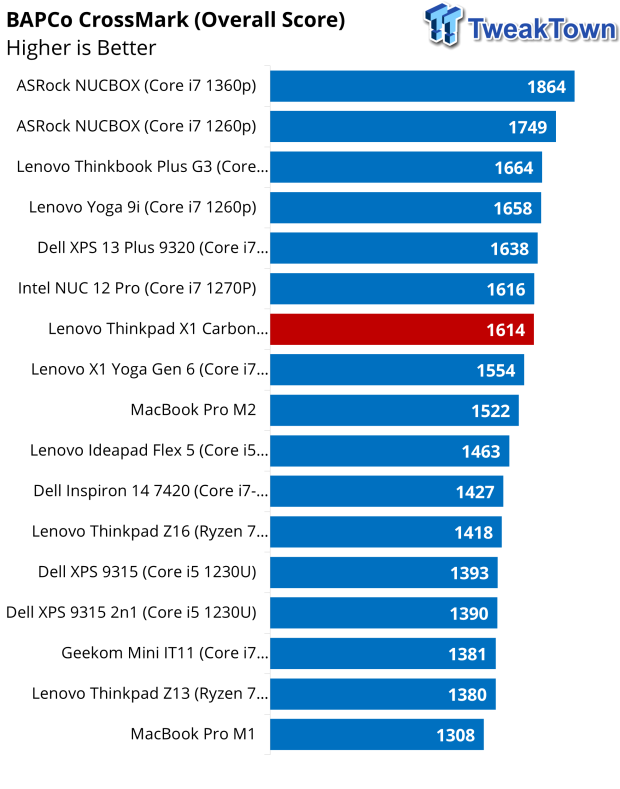 CrossMark picked up an overall of 1614, putting it just above the Gen6 Yoga and just below our 1270p powered NUC 12 Pro.
AIDA64 Memory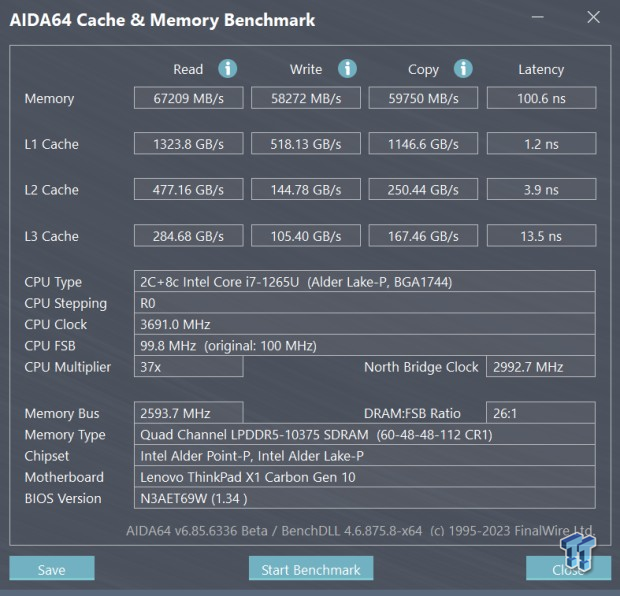 Memory performance on the X1 Carbon gave us 67K read, 58K write, and 59K copy. Latency was high at 100ns.
3DMark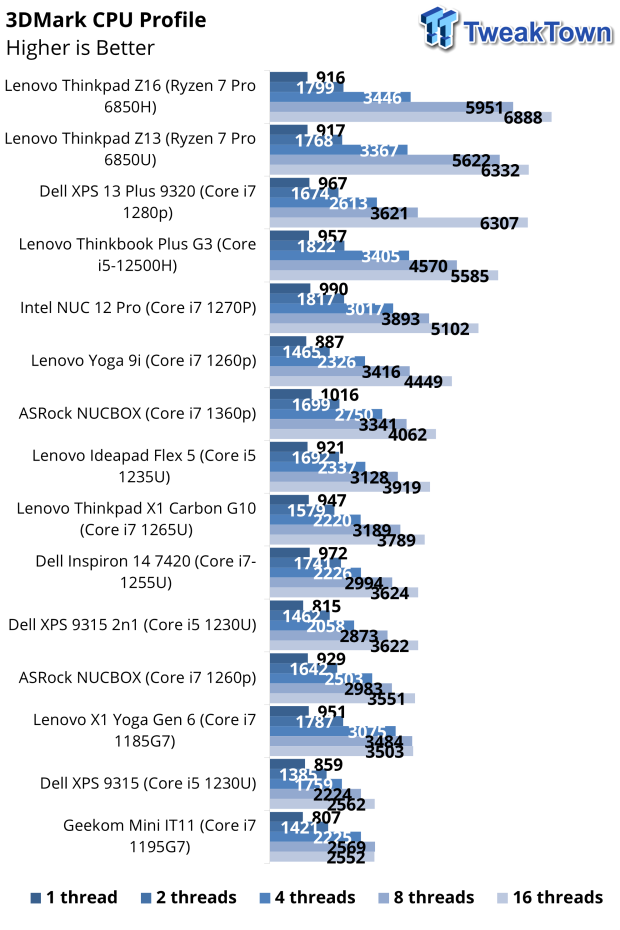 CPU Profile offered a single core score of 947 and sixteen thread score of 3789, which landed it 9th on our chart, just above the Dell Inspiron 7420.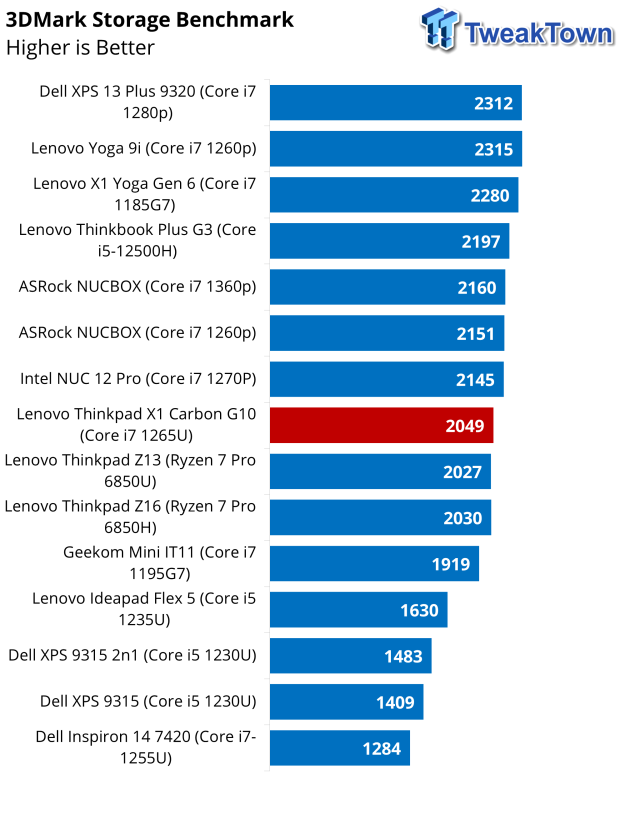 Storage landed the X1 middle of the pack with a score of 2049.
UL Procyon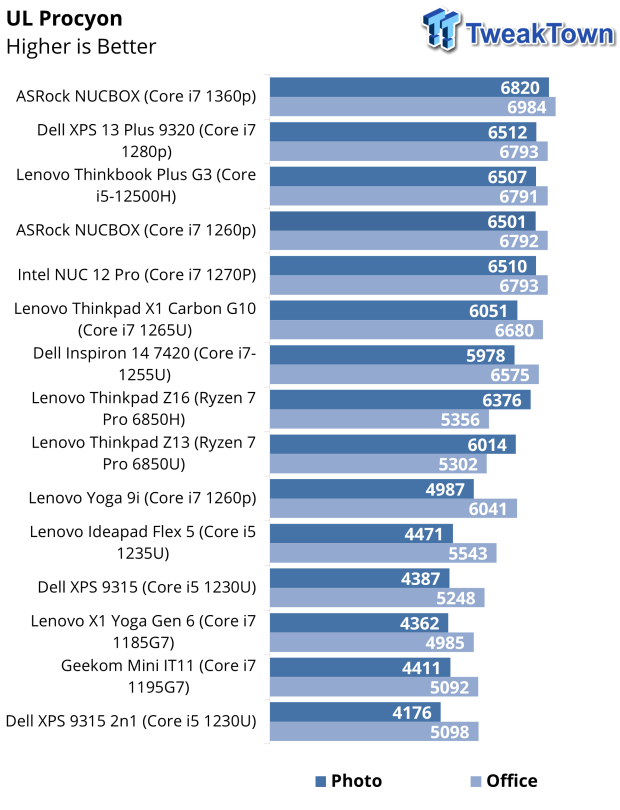 Procyon landed our X1 in 6th, just under the NUC 12 Pro. Photo scored 6051, while Office came in at 6680.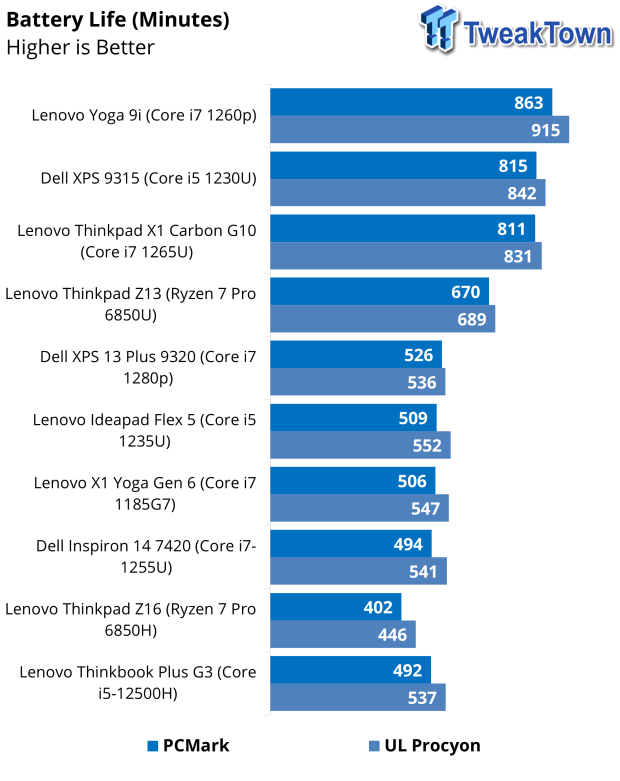 Battery testing showed impressive numbers, PCMark testing it at 811 minutes while Procyon showed 831 minutes.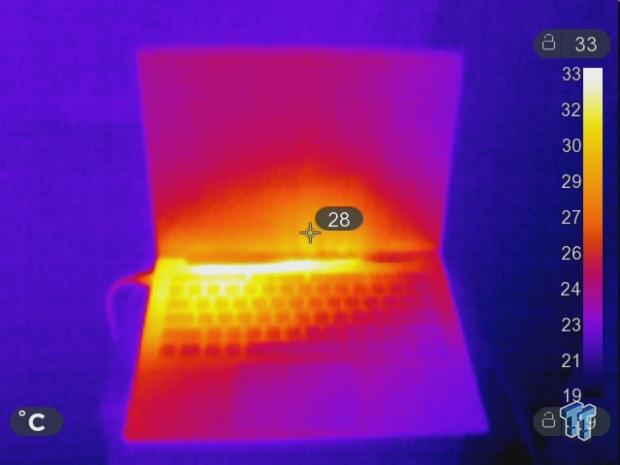 Above, we have the X1 during testing. The majority of the heat comes from the left side of the notebook.
Value and Final Thoughts
Value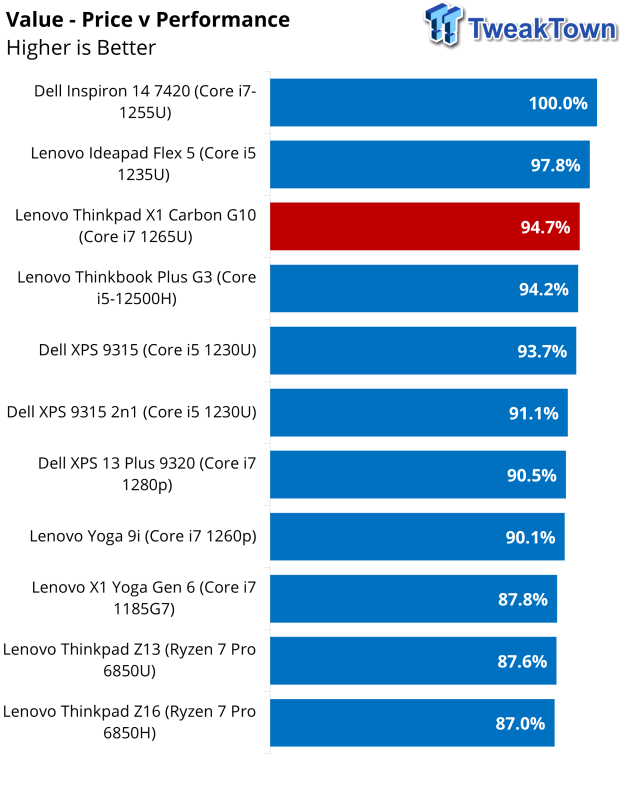 With Value, we take the notebook's performance in several testing areas and put it against the cost at the time of writing. In this scenario, the X1 came in at a solid 94.7%.
Final Thoughts
With the 10th Generation of the Thinkpad X1 Carbon, it's the first I have seen Lenovo offer a U-Series 15W option for this SKU. Initially, I thought this would be a subpar option for performance, but surprisingly it did pretty well as we ran through the benchmarks. In many scenarios, you will note the 1265U outperforming the 11th Gen 1185G7, which was damn near top of the range in its day, and it also manages to keep up with the 1260p in some cases.
Its single-core performance was 150 points higher than 11th Gen in R23, and nT showed an even bigger boost of nearly 3000 points. In application testing, we saw a near 200 points jump in both Office and Photo workloads using the UL Procyon benchmark.
All of this makes for a potent combo, as the Gen10 Carbon, if configured with the 1265U, is an ultra-light machine that uses even less power than its 28W counterparts giving you more battery life; this is evident in our power chart where a 1280p powered XPS Plus shows nearly 300 minutes less battery life with a similar 55wH battery.
The Thinkpad X1 Gen10 overall hasn't changed much in its design over the years, this is something Lenovo is likely keen to continue, but we were hoping to see an improved cooling design in this new iteration as the center-mounted fan is easily blocked if you use this on your lap without a lap desk. In turn, this can severely degrade the performance, especially if you have a P-Series SKU.