Ultra X4 1600 Watt Full Modular Power Supply
As we welcome our new power supply guru, Ken Graff to the team, first on the list to be reviewed is a 1600 Watt monster from Ultra Products.
Published Mon, Feb 8 2010 2:44 AM CST
|
Updated Tue, Nov 3 2020 7:02 PM CST
Introduction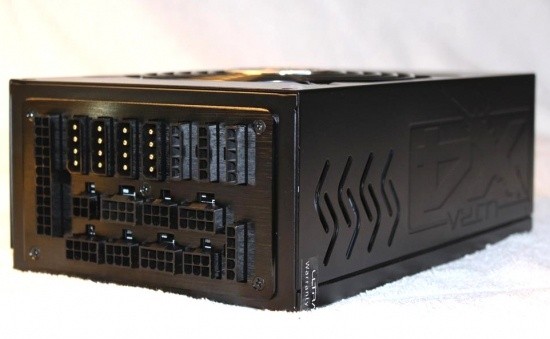 Power supplies are important and often overlooked components. Ultra Products understands that case-proud PC enthusiasts do not overlook the PSU. In fact, hard-core hardware geeks demand not just performance, but style to complement not just their ass kicking hardware, but their beautifully lit cases. Thus, Ultra has released the new X4 Series in a range of wattages starting at 500 watts. The model we are taking to task in this review is the totally modular 1600-watt version.
This block of power weighs a respectable 15 pounds, measures 240mm x 150mm X 87mm and features a 135mm fan. And, it is 80 Plus Certified. One note about the 1600-watt rating; this PSU is rated at 1600 watts when connected to a 20-amp plug using the special 120 volt 20 AMP cable (included). When you use the included 120 volt 15 AMP cord to connect to a typical outlet, the PSU operates at 1200 watts.
One more note; this is not a typical ATX size form factor and will be too large for some cases. Be sure to measure your case carefully before acquiring this PSU.
So, let's find out just how good a PSU this 1600-watt X4 is. We'll get to the test results shortly, but first let's cover the specifications.
Specifications, Availability and Pricing
Specifications, Availability and pricing

To speak about the power rating of this unit, we must first refer to the Manual included. There are two power cords provided in the box. The reasoning is simple. A standard 15amp outlet can only handle 1200 watts, so you get a 15 amp cord with special built in breaker. In order to fully utilize all 1600 watts, you must use the 20 amp cord included and obviously you'll need a 20 amp breaker.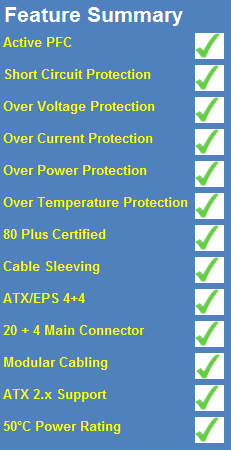 As seen in the above feature summary, this PSU has everything covered, including a Bronze 80% efficiency rating and 50 degrees Celsius power rating, amongst the standard features such as Active PFC, Short circuit protection and over temperature protection. Take a look at the above graphic for the entire summary.
The $399.99 MSRP seems pricey, but for a 1600-watt unit, it is really on par with similar models.
This PSU features a modular design. Ultra pioneered modular power supplies in the middle of this past decade, and their patented technology reduces case clutter, increases airflow, and makes service and upgrades easier all while leaving a polished and professional appearance.
The package claims that the "X4 line received the coveted 80 Plus Bronze certification meeting a stringent energy efficiency performance specification." Well, there is no reason to think this isn't true (until we get to the test results), but they might be pushing the envelope when they choose to use the word "coveted". The "80 Plus" cert is designed to promote energy efficiency, and being 80 Plus certified is surely a good thing. However, there are five levels of certification and Bronze is actually the fourth level from the top (which is Platinum).
To boil it down, a PSU rated Bronze running at a 100% load capacity is running 82% efficient. At 50% load, it runs 85% efficient. That's actually not too bad, I suppose, but it isn't really cause for celebration.
The 1600-Watt Ultra X4 features short circuit protection, in-rush current protection, and thermal overload cutoff protection. Those things all sound pretty important. In fact, they are. They work together to prevent damage to your computer's expensive internal components that can be caused by under voltage, surges, and brown outs. Frankly, everyone who operates a desktop PC should have a battery backup system featuring voltage regulation (especially when you can buy them so cheaply) because the power grid in the US is dirty, and because everything from lightning storms to a faulty compressor connected to a circuit can cause a surge that could damage an unprotected PC. That the Ultra X4 has built in extra protection measures is laudable and appreciated.
The box boasts "simple installation." Well, it is a power supply. Seemingly all PSUs can be installed in minutes with a Philips screwdriver. However, as I said before, Ultra pioneered modular design, and that makes a world of difference in building PCs. Plus, they toss in thumb screws, zip ties, and Velcro straps to help the build. So in this case, I think the words "simple installation" are actually meaningful.
The X4 is designed to reduce noise. It features a 135mm dual bearing-cooling fan providing increased airflow for longer life. It also includes a silicone chassis bracket intended to reduce vibration noise. The X4 series features a lifetime warranty.
The Packaging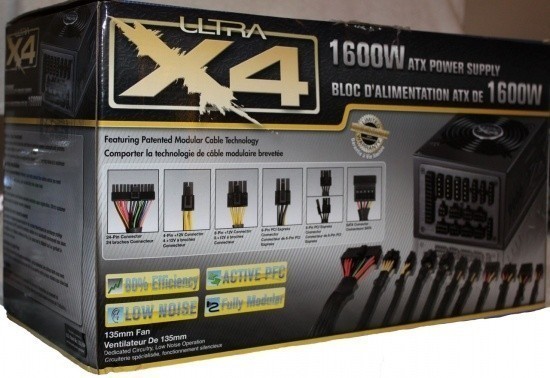 Upon seeing the box, I got very excited about opening it up and testing. That has less to do with the box's attractive design and more to do with me being a nerd, but it is fair to say that the box conveys a lot of information with liberal use of specs and plenty of illustrative photographs. There is little left to the imagination, which is exactly what you want when you are selecting PC hardware.
The front shows you a nice picture of the PSU; a couple of different views of the modular cables (of which there are plenty) and displays that 80% efficiency they are so proud of.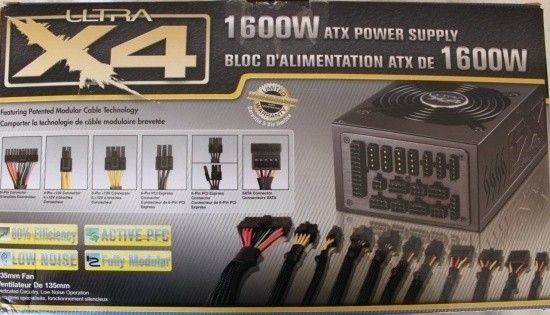 The back shows the PSU again and the handy nylon accessory bag, as well as the power specifications.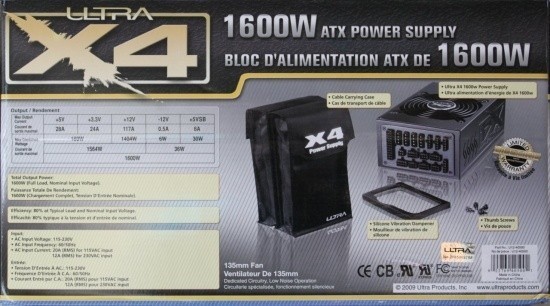 The side panels have the contents of the box and warranty information.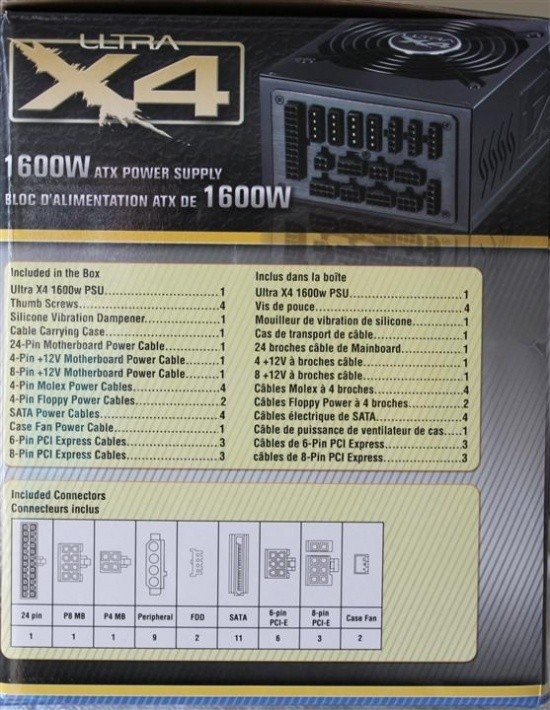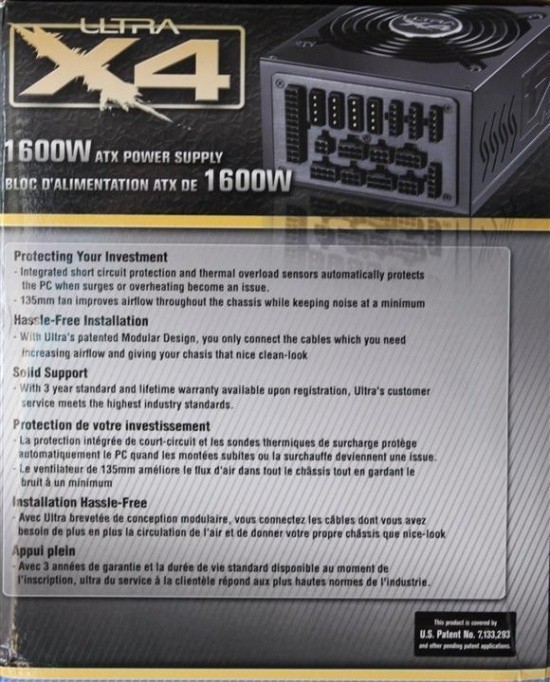 Inside the Box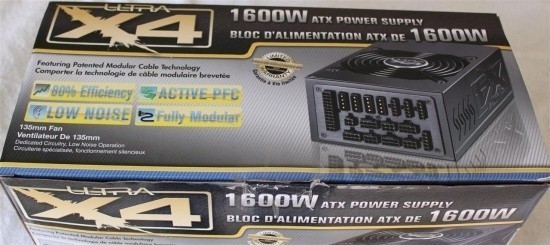 Finally, the moment of truth, I broke the seal and unpacked the Ultra X4 1600-watt power supply.
When the box is first opened, out comes the user manual and registration card followed by the silicone vibration dampener which is bundled with the zip strips, the thumbscrews, and a black box.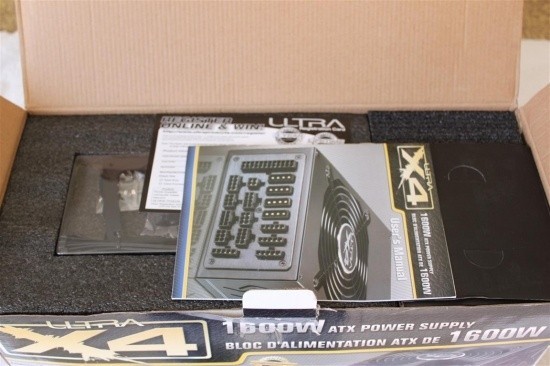 Pull out the dampener and the sturdy foam packaging material and you unveil the PSU. The black box contains a nylon bag holding all the modular cables and the two power cords (one 15 amp,and one 20 amp cord).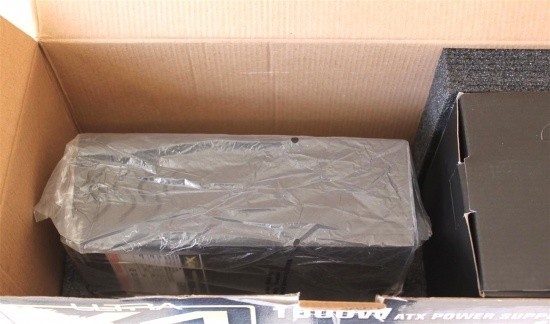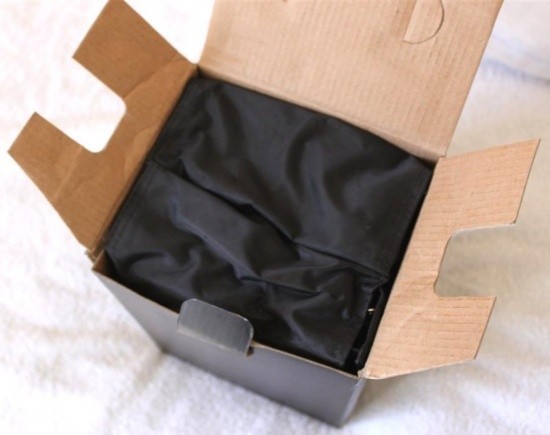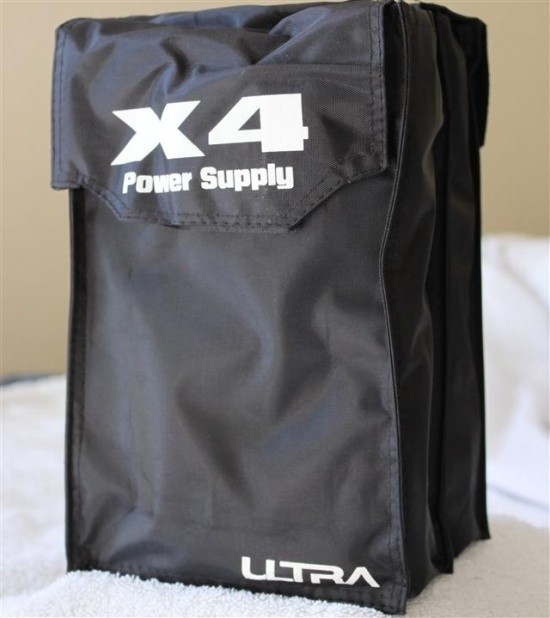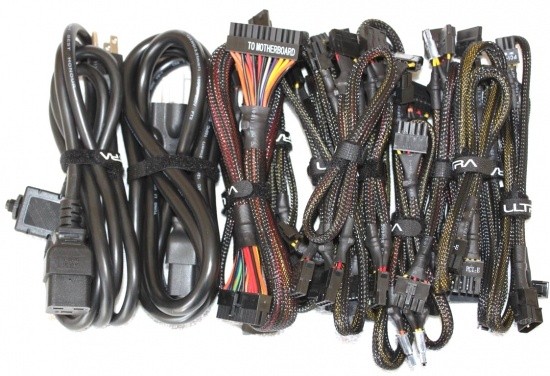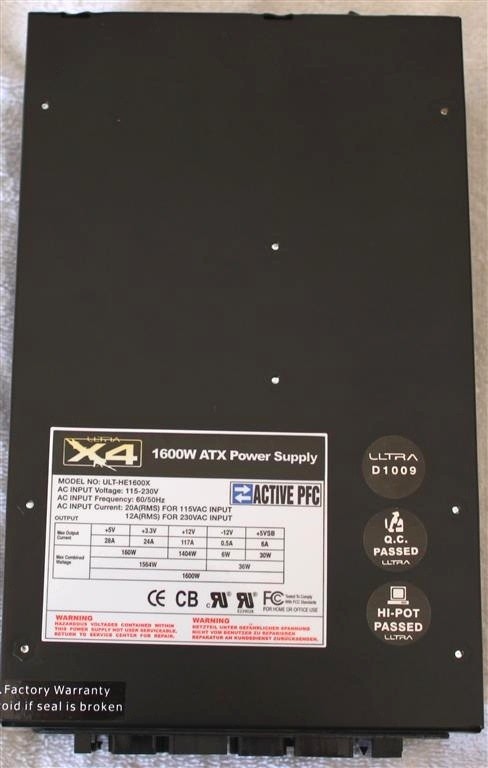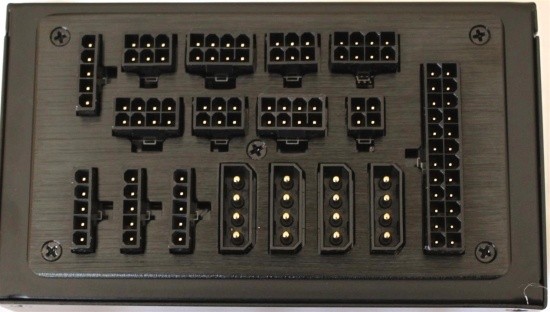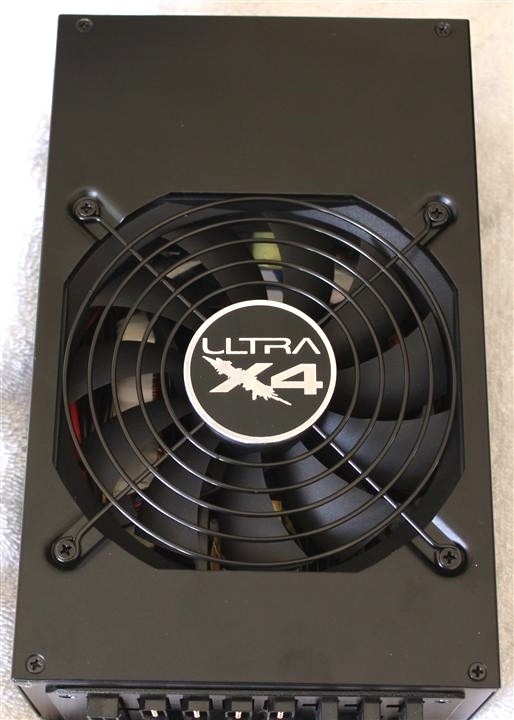 Cabling Arrangement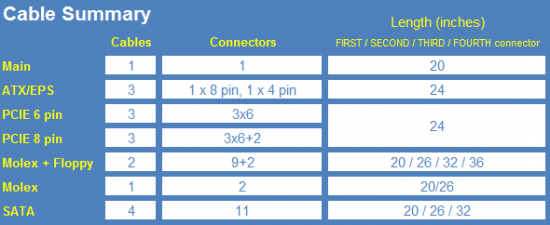 To say this PSU came with plenty of connectors would be an understatement, but then we are speaking of 1600 Watts. As shown in the graph above, you can see that every modern connector is represented here; even the floppy drive.
First and foremost, it comes with 24-pin motherboard connector followed by an 8pin and 4pin ATX connector, (3) PCIE 6pin, (3) PCIE 6+2 pin, (2) Molex + floppy (totaling 9 Molex + 2 floppy), (1) Molex (2 connections) and finally (4) SATA (11 total connections) cables.
Also to be noted here, the cable lengths seem to be standard; ranging between 20 and 24 inches, with extended ranges due to the number of connections reaching 36 inches in 1 instance.
A Look Inside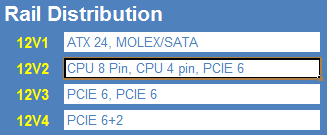 The rail distribution is as follows. The 24 pin ATX and the SATA/molex are on 12v1. 12v2 feature the CPU 4 and 8 pin as well as PCIE-6 and finally 12v3 and 12v4 both have the remainder of PCIE 6 and 6+2 covered.
With this distribution it seems that this PSU can handle just about any configuration thrown at it. We'll take a look at those results next.
Test Results
Our load tests leverage a couple of FAST ATE active load testers and a variety of other equipment such as a hotbox, oscilloscope, power conditioner, temperature probe and a power consumption meter. You can read more about our standard testing approach
here
.
Our three tests represent incrementing classes of modern gaming systems, with the last test catered to the full spec of the power supply at up to about 1 kW. We measure voltage output at each load, ripple and efficiency. Since anyone investing in a 1600 Watt power supply would not be using an entry level system, we are starting the loads out with a couple of mid-range graphics cards like the 9800GTX in SLI to represent Test 1 and then increase loads to represent higher end cards and quad configurations for which this PSU was designed.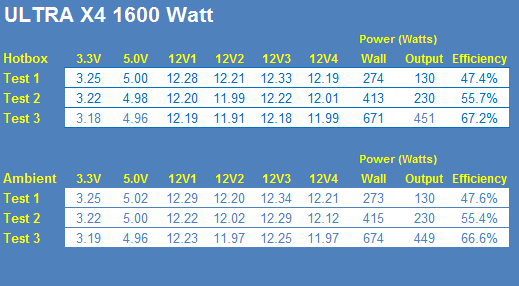 Remember earlier when I noted that the 80 Plus Bronze certification was not really a cause for celebration? Well, that is especially true here as unfortunately this particular PSU did not achieve it under any of our tests. In fact, the only time it got close was under our most stressful test. This is Test 3, which represents the most strenuous power loads of a triple SLI or quad SLI/Crossfire system, and then we only saw 67% efficiency. These results are far from the best we have seen in recent months.
It's a shame that I cannot recommend this PSU for those looking to "go green" by using less power, but with the box boasting 1600 Watts in giant silver characters, I doubt anyone was really expecting eco-friendliness.
Final Thoughts
Although the Ultra X4 1600 Watt PSU was not able to live up to the 80% efficiency claim, this power supply does offer a ton of potential for the serious gamer who hungers for two, three, even four video cards in today's pixel pushing SLI and Crossfire configurations.
This fully modular system can push serious power (not too efficiently, but a lot of power) for any case that can handle the size of this beast. The design contributes better airflow as well.
All that said, the God's honest truth is that 1600 watts, even 1200 watts, is serious overkill for the vast majority of PC enthusiasts, regardless of how much lust fills our techno-hearts when we read the specs. There are plenty of 800 to 1000 watt standard ATX PSUs, including models made by Ultra that may better serve the typical hard core gamer.
PRICING: You can find products similar to this one for sale below.

United States: Find other tech and computer products like this over at Amazon.com

United Kingdom: Find other tech and computer products like this over at Amazon.co.uk

Australia: Find other tech and computer products like this over at Amazon.com.au

Canada: Find other tech and computer products like this over at Amazon.ca

Deutschland: Finde andere Technik- und Computerprodukte wie dieses auf Amazon.de
We openly invite the companies who provide us with review samples / who are mentioned or discussed to express their opinion. If any company representative wishes to respond, we will publish the response here. Please contact us if you wish to respond.