A-DATA S592 128GB Solid State Disk
A-DATA jumps into the SSD market with an Indilinx Barefoot controlled drive. Let's see if it can do anything to stand out amongst the pack.
Published Wed, Jan 6 2010 7:48 AM CST
|
Updated Tue, Nov 3 2020 7:02 PM CST
Rating:

91%
Manufacturer: A-DATA
Introduction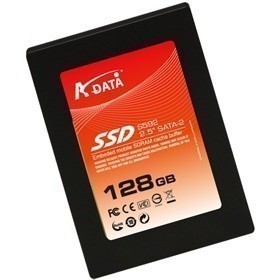 Just when we thought our run of Indilinx Barefoot SSDs was over, one last drive popped up. A few months ago A-DATA announced in a press release that the S592, an Indilinx Barefoot controlled drive, would be made available with full Windows 7 TRIM support and come from their factory with a new firmware update. For a short time the S592 was on the market with older non-TRIM firmware, but those days have passed.
I was unable to find the A-DATA S592 listed for sale at any of the US e-tailers that we normally check, but did find it all over Europe and Asia. A few sellers even list drives for sale on EBay USA. It looks like you are going to have to spend around 435 USD to get a 128GB drive like the one we are testing today. The EU and APAC regions will pay less since the shipping costs are greatly reduced.
I can't begin to count the number of Indilinx Barefoot drives we have tested this past couple of years, but when it comes to buying a low cost, high performance drive with a lot of capacity, the Barefoot controlled SSDs come out on top every time. Not long ago we spoke with a representative from Indilinx and were told that the new Jetstream controller with SATA 6G was delayed until early Q2 2010. Because of this I think more companies will look to refresh the Barefoot controller and rehash it under new model names, like what we found in the G.Skill Falcon II. SATA 6G buyers are just going to have to wait a little longer.
A-DATA has long been known for making high quality products that are sold at a great price. In the US it is sometimes difficult to find A-DATA products, but from time to time they tip up at the big e-tail stores. Newegg carries a lot of A-DATA products, but only lists the X25-M SSD, an A-DATA branded Intel X25-M 80GB drive, as being in stock at this time.
Specifications, Availability and Pricing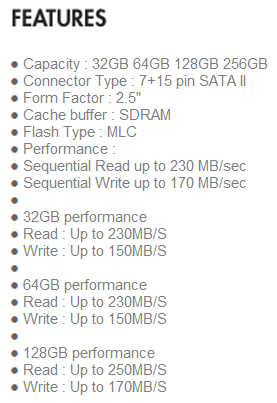 The advertised numbers for the A-DATA S592 are pretty standard for base Barefoot drives. Our 128GB sample has a claimed rating of up to 250 MB/s read and 170 MB/s write speeds. A 256GB model is listed on the spec sheet, but we were unable to find the model in the wild or on A-DATA's order list that is on their website.
If you follow TweakTown and our solid state drive reviews, then you already know that solid state drives are much faster than platter based traditional drives. The S592 is a 2.5 inch form factor drive so it is perfect for use in nearly all notebooks. Enthusiasts also like to use SSDs in their desktop systems; the S592 uses standard SATA data and power connectors so this is a possibility, too.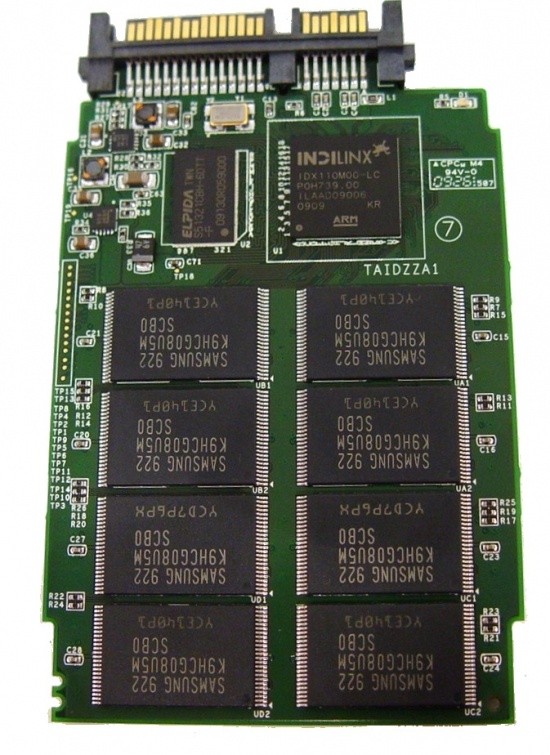 On the inside we found a standard Indilinx Barefoot controller paired with Samsung flash memory. The S592 doesn't use the new ECO Barefoot that we found on the G.Skill Falcon II, so it does not support the latest 32nm flash memory. The new flash memory lowers the build cost, but so far the Falcon II is the only drive we have found to use the ECO. The good thing is that the original Barefoot appears to be a little bit faster in our testing, so no harm no foul, we will take the extra speed.
As mentioned previously, the S592 isn't available in the US through standard sources but it is possible to order the drive from EBay sellers in Hong Kong and Taiwan. I was able to find the 64 and 128GB drives all over Europe and Asia. A-DATA is a much larger player in those markets than they are in the US, so it is reasonable that they would release the drive there first.
This will be the first solid state drive we have tested this month, so I am really excited to get started. Let's take a look at the packaging.
The Packaging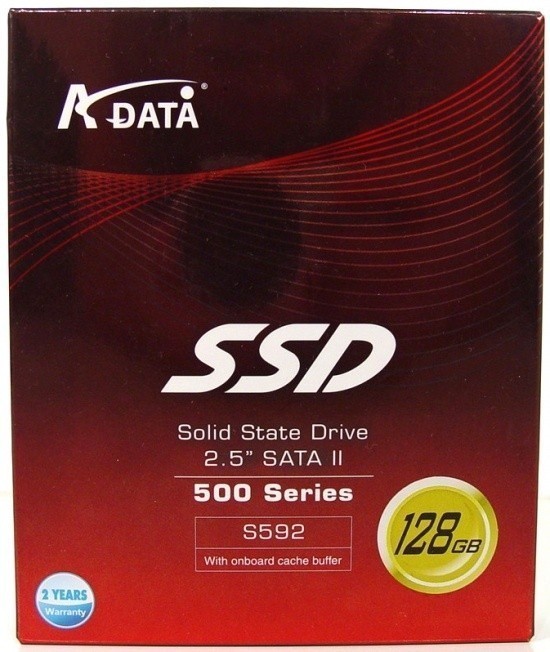 A-DATA uses a full retail package for their S592 solid state drive. It is nice to see a real printed box for the drive with all of the information in print and not a sticker. On the front we see the drive model number, the 2 year warranty logo and a quick shot about the drive having cache on board.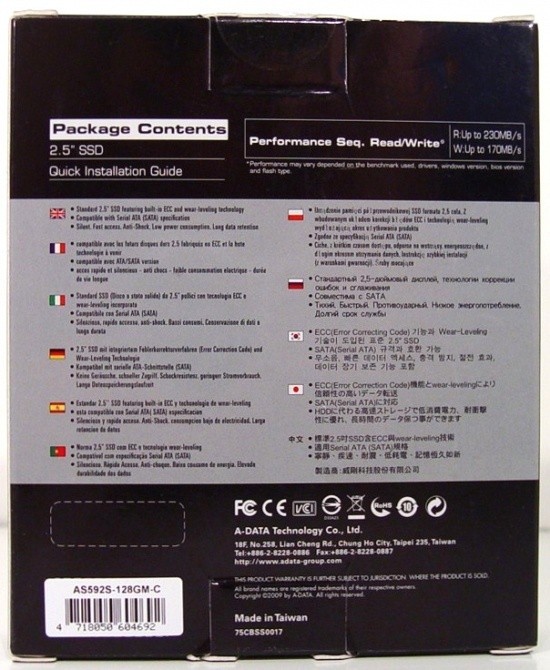 The back of the package has some general information about the drive, but shows the lower 64GB performance numbers. If you are looking at the drive in the store and compare the printed numbers from the A-DATA S592 to another Barefoot drive with the correct speed numbers from an equally sized drive, you might find yourself putting the A-DATA drive back on the shelf since the other drive will appear to have higher performance numbers. We will see how it goes in the benchmarks later in this article, but be aware that the 128GB S592 box lists the advertised read numbers of the smaller, slower 64GB drive.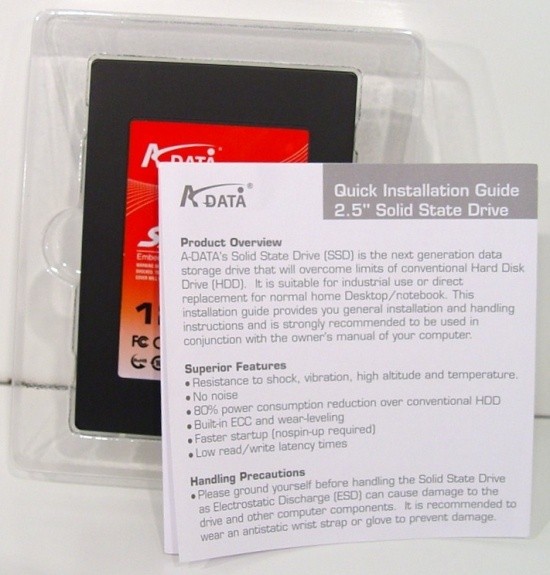 The inner packaging is very simple with the drive, but as we have told you about before, SSDs are very resilient to damage from drops or vibration, so we are safe here. The S592 does come with a manual that covers installation.
The A-DATA S592 SSD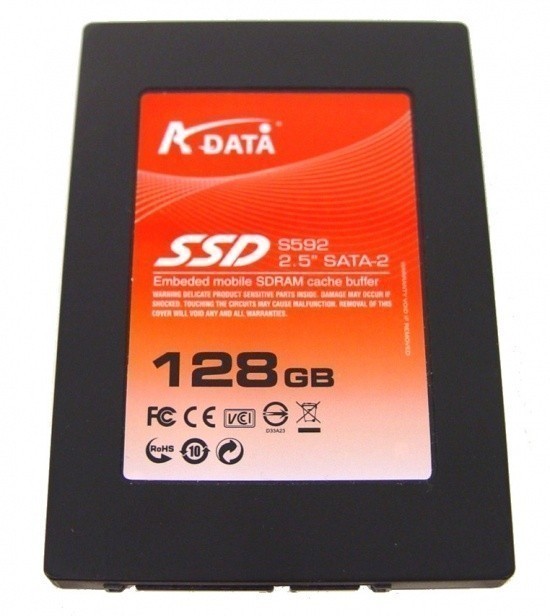 The front cover of the drive has the model number on a sticker and the capacity is clearly shown.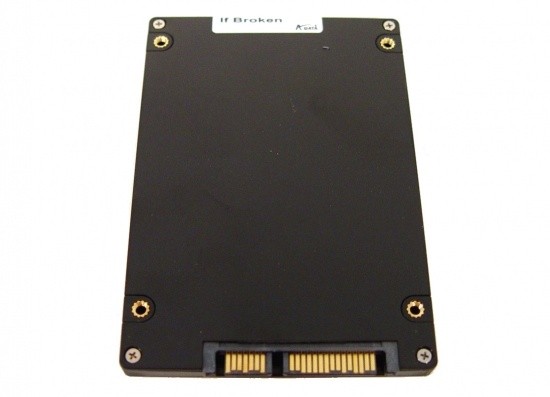 We are used to seeing an additional label on the back of the drives with part and serial numbers, but you will not find it on the back of this drive. One thing that did stand out right from the start was the screw plugs that are on the drive. Normally we see these machined into the aluminum housing, but the S592 doesn't use aluminum. The drive is made from ABS plastic. This was the first SSD we have tested that uses a plastic case.
The drive is by far the lightest SSD we have tested and I can only assume that is due to the plastic. Holding the S592 in one hand and a RunCore Pro IV in the other really gave me a sense of just how light the drive is. It is actually quite shocking just how much less the drive weighs.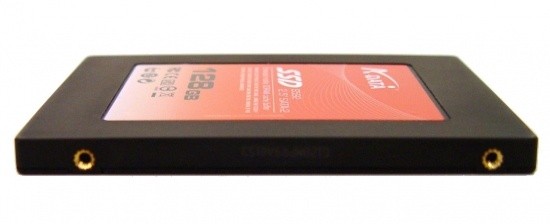 It is difficult to see, but the serial number is laser inscribed on the side of the drive. Here we also see that the drive has all of the standard mounting holes so it will be very easy to install the S592 in your notebook or with the use of an adapter plate, your desktop.
The SATA power and data connectors are in the standard locations so this also goes to make installation very easy. One thing to note is the lack of a USB port or jumper. The new S592 has an updated firmware so you don't need to bridge a jumper to update the firmware.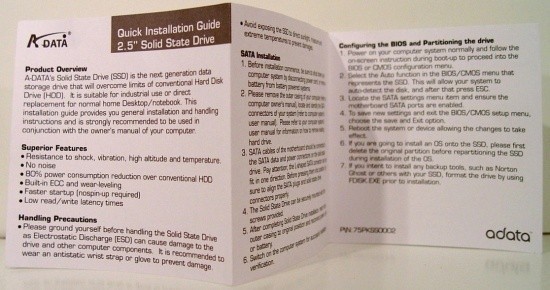 The A-DATA installation manual is clearly written and will aid in helping novice users install the drive in their notebook.
Test System Setup and ATTO Baseline
Test System
Motherboard
: ASUS P6T7 WS SuperCoputer (Supplied by
ASUS
)
Processors
: Intel 975 EE (Supplied by
AVADirect
)
Memory
: Corsair Dominator 1600 MHz Triple Channel Kit
Graphics Card
: Leadtek Quadro FX1700 (Supplied by
Leadtek
)
Enclosure
: Lian Li V2000
Cooling
: Noctua NH-U12P SE2 (Supplied by
Noctua
)
SAS Controller
: LSI MegaRAID SAS 9260-8i (Supplied by
LSI
)
Operating System
: Microsoft Windows 7 Ultimate X64
You can read more about TweakTown's Storage Product Testing Workstation and the procedures followed to test products
in this article
.
Shipping Firmware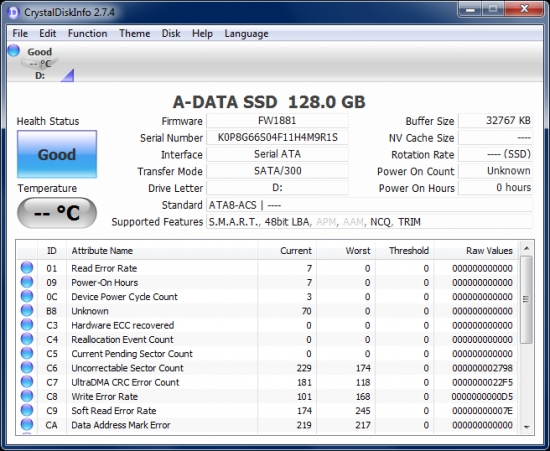 We found that our sample drive came with firmware version 1881. This is the latest Barefoot firmware and this is the first time we have tested a drive with this revision. Many companies are still shipping drives with firmware 1819 or even older firmware. We have heard of some issues with 1881, but in our testing we didn't find any issue.
I am really glad to see someone actually shipping drives with the latest and greatest firmware; this is a big plus for A-DATA. The only way they could make things better is if they would actually post firmware 1819 on their website just in case someone has problems with 1881.
ATTO Baseline Performance
Version and / or Patch Used:
2.34
ATTO is used by many disk manufacturers to determine the read and write speeds that will be presented to customers.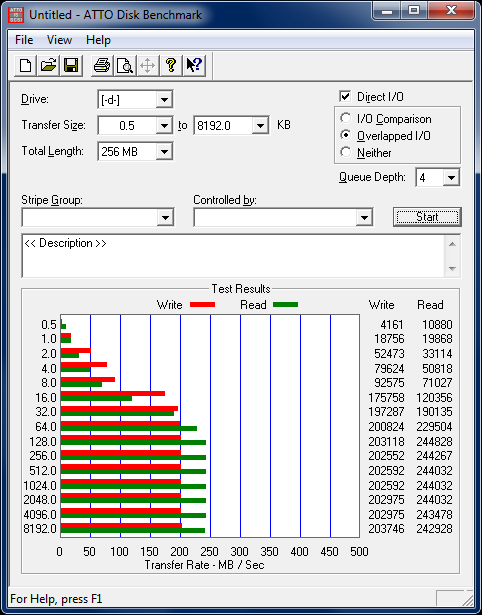 ATTO shows the A-DATA S592 performing better than A-DATA's advertised numbers! This is another big plus for the drive. Let's move on to see some of the other benchmarks.
Benchmarks - HD Tune Pro
HD Tune ProVersion and / or Patch Used:
3.00
Developer Homepage:
http://www.efdsoftware.com
Product Homepage:
http://www.hdtune.com>
HD Tune is a Hard Disk utility which has the following functions:
Benchmark: measures the performance
Info: shows detailed information
Health: checks the health status by using SMART
Error Scan: scans the surface for errors
Temperature display
HD Tune Pro gives us accurate read, write and access time results and for the last couple of years has been gaining popularity amongst reviewers. It is now considered a must have application for storage device testing.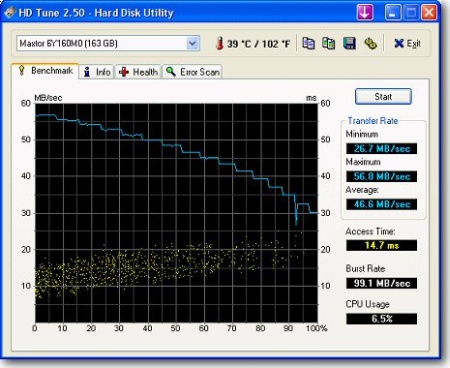 Read Tests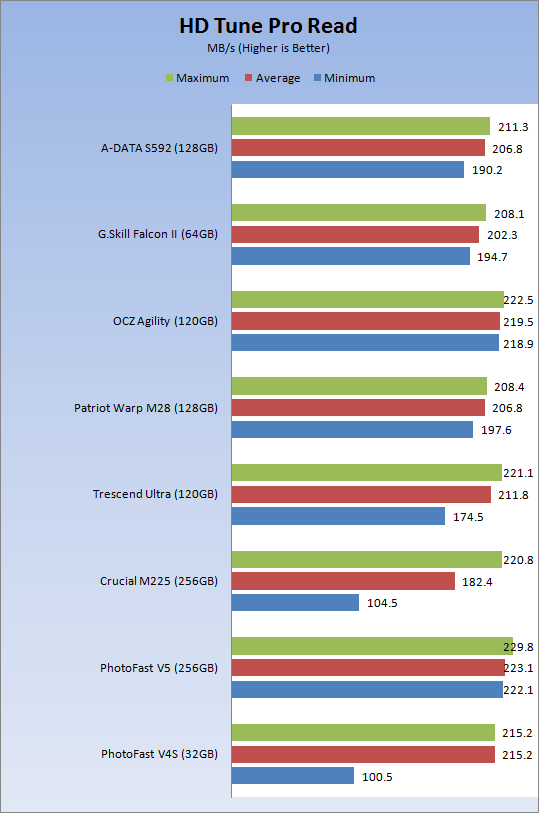 The STR numbers look very good. The new firmware appears a little slower than the 1819 that was on the OCZ Technology Agility, but the numbers are close enough to not be noticeable under real world conditions.
Write Tests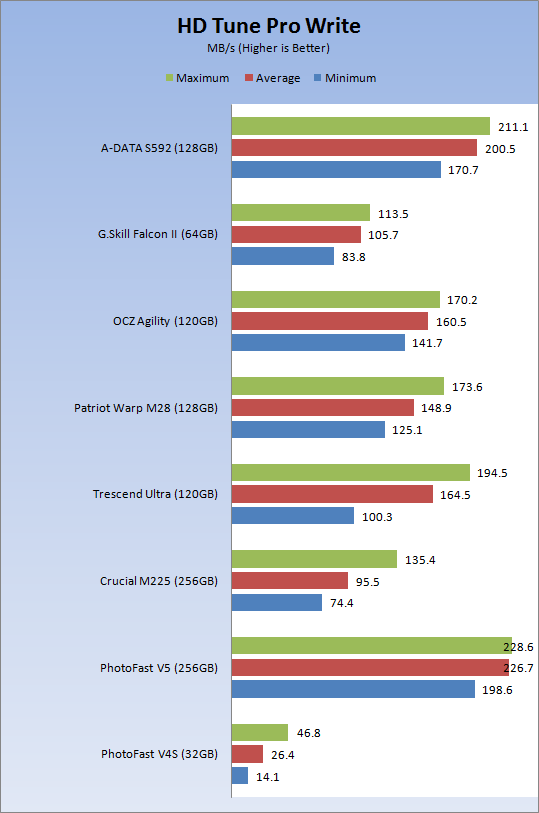 The new firmware is very favorable to the write speeds across the A-DATA S592. Here we see the drive writing much faster than all of the standard Barefoot drives. The PhotoFast V5 uses two mini Barefoot drives with a JMicron controller and the S592 is able to get very close to the RAID V5. This is very impressive!
Benchmarks - Everest Random Access Time
Everest Random Access TimeVersion and / or Patch Used:
4.60
Developer Homepage:
http://www.lavalys.com
Product Homepage:
http://www.lavalys.com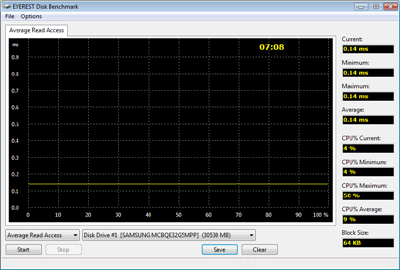 Everest Ultimate and Corporate Edition offer several different benchmarks for testing and optimizing your system or network. The Random Access test is one of very few if not only that will measure hard drives random access times in hundredths of millisECOnds as oppose to tens of millisECOnds.
Read Tests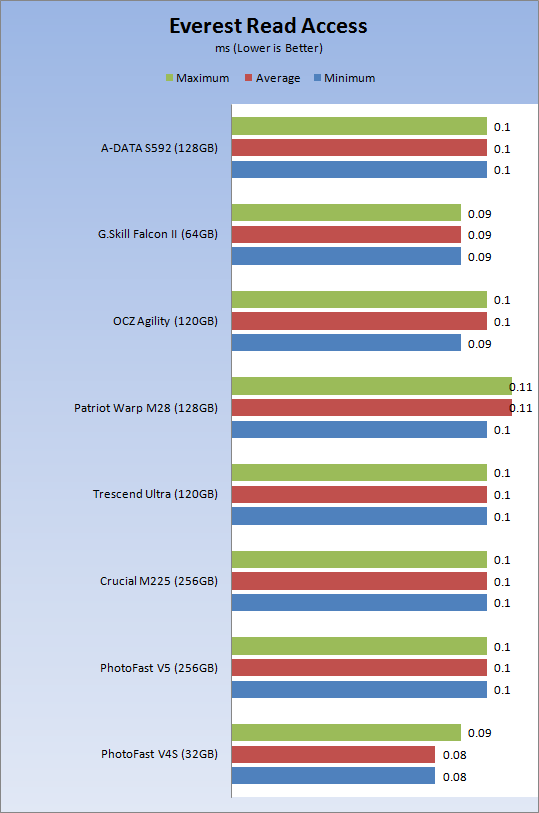 The read access times are exactly what we expect from a Barefoot controlled drive. Here we see that all of the MLC drives perform right around the same.
Write Tests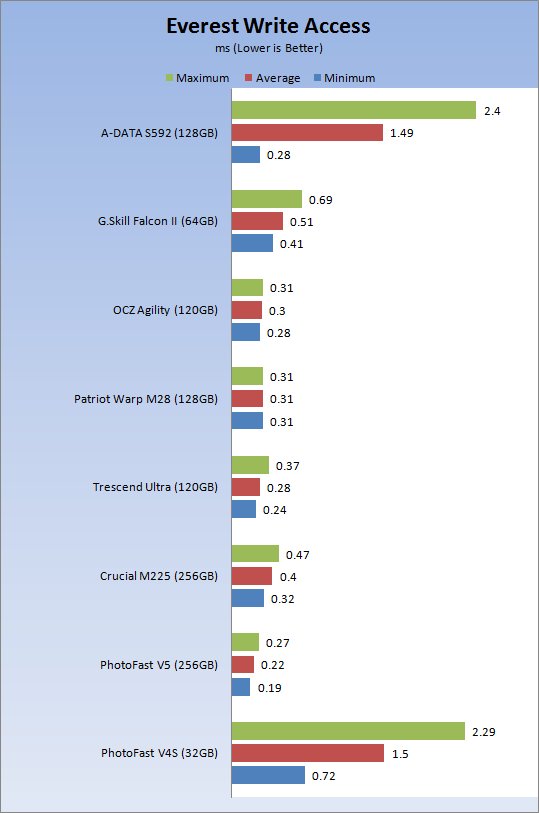 This is one area that we have read where the new 1881 firmware changes the game. Here we see that the A-DATA S592 bounces around a little with the write access time. The write access times are still much lower than the fastest enterprise platter based drives, but we don't really like to see the graph as choppy as it looked. The highest point on the graph was an isolated spot, but we were able to repeat it over and over by retesting the drive with this benchmark.
Let's see how all of these synthetic benchmarks relate to real world applications.
Benchmarks - PCMark Vantage Hard Disk Tests
PCMark Vantage - Hard Disk TestsVersion and / or Patch Used:
1.0.0
Developer Homepage:
http://www.futuremark.com
Product Homepage:
http://www.futuremark.com/benchmarks/pcmark-vantage/
Buy It Here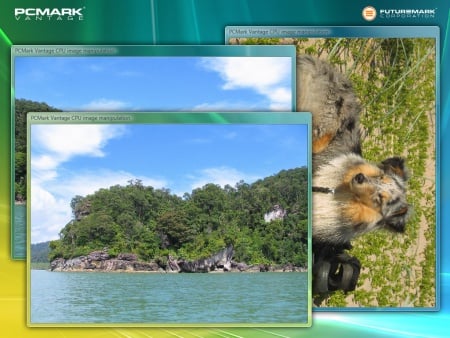 PCMark Vantage is the first objective hardware performance benchmark for PCs running 32 and 64 bit versions of Microsoft Windows Vista. PCMark Vantage is perfectly suited for benchmarking any type of Microsoft Windows Vista PC from multimedia home entertainment systems and laptops to dedicated workstations and high-end gaming rigs. Regardless of whether the benchmarker is an artist or an IT Professional, PCMark Vantage shows the user where their system soars or falls flat, and how to get the most performance possible out of their hardware. PCMark Vantage is easy enough for even the most casual enthusiast to use yet supports in-depth, professional industry grade testing.
FutureMark has developed a good set of hard disk tests for their PCMark Vantage Suite. These tests are based on real world applications that many of us use daily.

HDD1 - Windows Defender
HDD2 - Gaming
HDD3 - Windows Photo Gallery
HDD4 - Vista Startup
HDD5 - Windows Movie Maker
HDD6 - Windows Media Center
HDD7 - Windows Media Player
HDD8 - Application Loading
The real world Windows tests show the numbers that we are used to seeing with Barefoot controlled drives. I was hoping to see the increased write speeds shown in the HD Tach test result in more of a boost in the real world tests, but it never panned out that way. When compared to the Agility we see some nice increases in most of the tests, but nothing that is really large enough to make a big deal about. Still, the S592 is a little faster.
Benchmarks - Passmark
Passmark Advanced Multi-User TestsVersion and / or Patch Used:
6.1
Developer Homepage:
http://www.passmark.com
Test Homepage:
http://www.passmark.com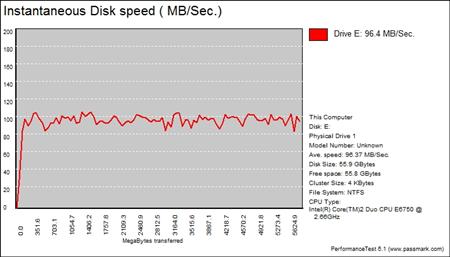 Many users complain that I/O Meter is too complicated of a benchmark to replicate results so my quest to find an alternative was started. Passmark has added several multi-user tests that measure a hard drives ability to operate in a multi-user environment.

The tests use different settings to mimic basic multi-user operations as they would play out on your server. Variances is read / write percentage as well as random / sequential reads are common in certain applications, Web Servers read nearly 100% of the time while Database Servers write a small amount of data.
The Workstation test is the only single user environment and will be similar to how you use your system at home.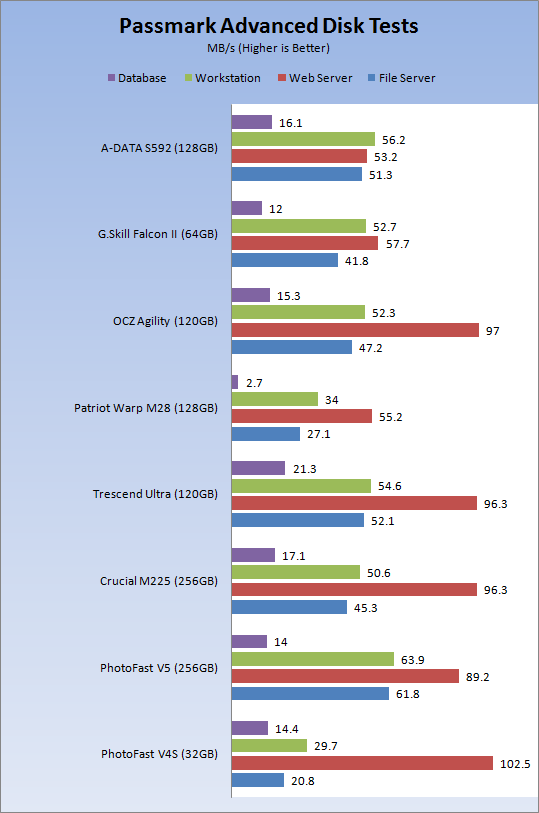 The last two firmware updates for the Barefoot controller has evened these tests out quite a bit. Gone are the really high Web Server numbers, but gained is support for TRIM that makes the consumer user experience more pleasant. Still, SSDs are able to run circles around the fastest enterprise platter drives and the A-DATA S592 holds true to that statement.
Final Thoughts
We have seen a lot of Indilinx Barefoot drives and there are even more on the market. A-DATA has done well in making their latest revision of the S592 stand out from the crowd. This was achieved by using the latest firmware available and making the lightest 2.5 inch form factor SSD we have tested to date.
On the performance front the new firmware is able to give us some performance increases, but it does add some latency to the write cycle. Still, this is a Barefoot drive and the performance to value ratio is very high. I would like to see A-DATA release other firmware options for power users who can make an educated decision on which firmware works best for their needs. Very few companies are doing this so it is not like we are asking for something that is common place in the market at this time.
Speaking of price vs. performance, even buying the 128GB S592 off of a seller on EBay and paying for shipping to the US from Hong Kong or Taiwan, the S592 is right in line with what we see the US e-tailers selling 128GB Indilinx Barefoot controlled drives for. In Asia and Europe where the drives are plentiful, you can buy the drives at a lower cost than what I have seen other Barefoot drives sold for. Newegg does list one A-DATA SSD as being in their inventory and I would really like to see the S592 added as quickly as possible to see how the pricing would stand up to the competition.
The A-DATA S592 is a solid product that performs very well. Users looking to replace traditional platter drives will be amazed at just how fast the S592 really is. I have moved all of my home desktop and work notebooks over to solid state drives and it pains me to work on a computer without an SSD now. You will be just as impressed with the A-DATA S592.
PRICING: You can find products similar to this one for sale below.

United States: Find other tech and computer products like this over at Amazon.com

United Kingdom: Find other tech and computer products like this over at Amazon.co.uk

Australia: Find other tech and computer products like this over at Amazon.com.au

Canada: Find other tech and computer products like this over at Amazon.ca

Deutschland: Finde andere Technik- und Computerprodukte wie dieses auf Amazon.de
We openly invite the companies who provide us with review samples / who are mentioned or discussed to express their opinion. If any company representative wishes to respond, we will publish the response here. Please contact us if you wish to respond.