Thecus N5500 Five-Bay NAS Server
Thecus has kept a heavy launch schedule this year. Today we look at the successor to the N5200, the Dual DOM N5500.
Published Fri, Oct 2 2009 3:54 AM CDT
|
Updated Tue, Nov 3 2020 7:03 PM CST
Rating:

90%
Manufacturer: Thecus
Introduction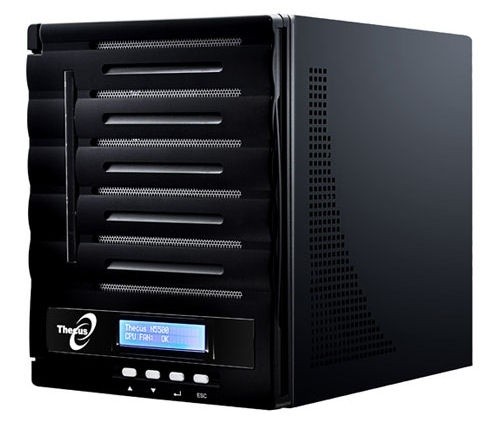 Thecus has been on a roll in 2009 launching one product after another. Some of the new products are just updates of previously released ones like the N7700 SAS and N8800 SAS, while others are redesigned from the ground up. The Thecus N5200 Pro was an amazing product but its time has now come to pass. The successor to the N5200 Pro is the N5500, another 5 SATA bay NAS server.
The N5500 is powered by an Intel Core2Duo processor and 1GB of DDR2 memory. The N5500 as you may have guessed from the model name is a 5 drive NAS server, just like the model it's replacing. New from Thecus this year is the AJAX software interface that makes setup and configuration changes much easier. The updated hardware should make backup operations go faster, an area that the N5200 could have used a boost in.
Specifications, Availability and Pricing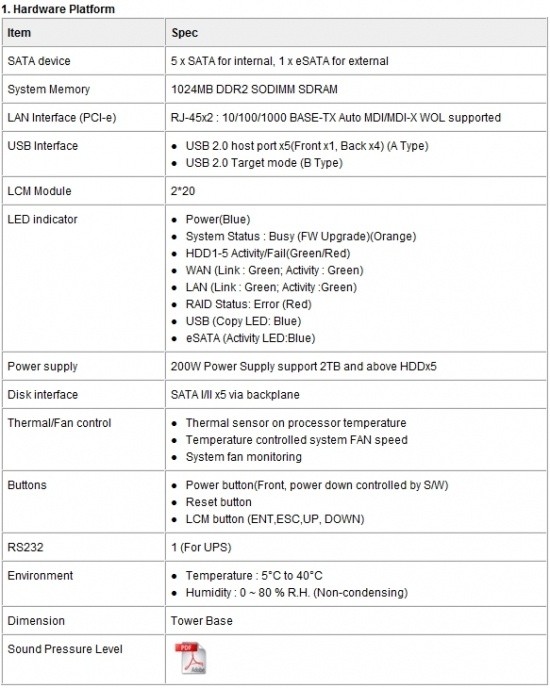 When it comes to the hardware the Thecus N5500 is top notch. The system uses a Core2 processor with a full 1GB of memory and gigabit Ethernet. The dual Ethernet ports support Link Aggregation (802.3ad) for load balancing or fail over redundancy.
Connectivity is the N5500s strong suit. The NAS is able to function as a NAS or DAS. The Direct Attached Storage feature is worked in through the eSATA port but there is also a USB option for direct attachment to your PC. The N5500 also supports iSCSI and this make the N5500 the first storage device to support NAS, DAS and iSCSI all in one.
For storage the NAS supports 2TB drives making it capable of serving up to 10TB of data with its five internal SATA ports. There is also an eSATA port so you can connect up to 6 drives total, but most users will opt to just use the internal five.

When it comes to software the N5500 has every base I can think of covered. The new AJAX based interface is fairly smooth, but not as refined as the software QNAP released just a few months ago. In my opinion the Thecus software is easier to setup but it feels a little clunky at this time. Given Thecus' past successes it won't be long before they get the browser interface running smooth.
Newegg lists the N5500 as
in stock and with a cost of 849.99 USD
. Newegg also lists the N5200 at 569.99 since it is close to end of life. With the N5200 being the lowest cost 5 drive NAS at Newegg you can start to guess where the N5500 is sitting at. Thecus' closest competitor is QNAP and these guys have been battling it out for years now. As it sits today the QNAP TS-509 Pro costs 50 Dollars more than the N5500 so Thecus has won the battle at this price point.
The Packaging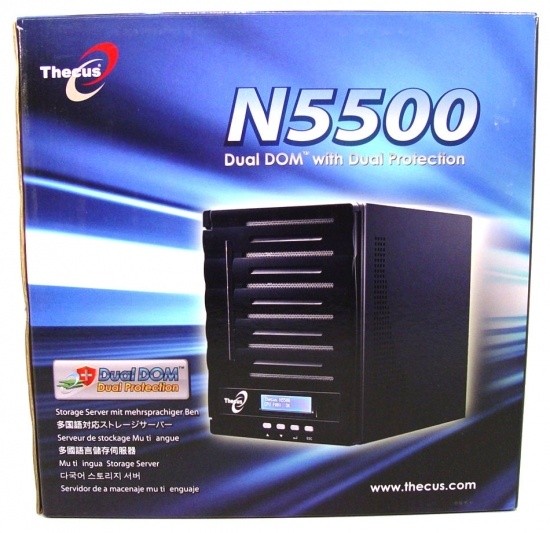 Thecus has used a full retail package with the N5500. On the front they show the Dual DOM logo that keeps data safe and is an important feature for this release.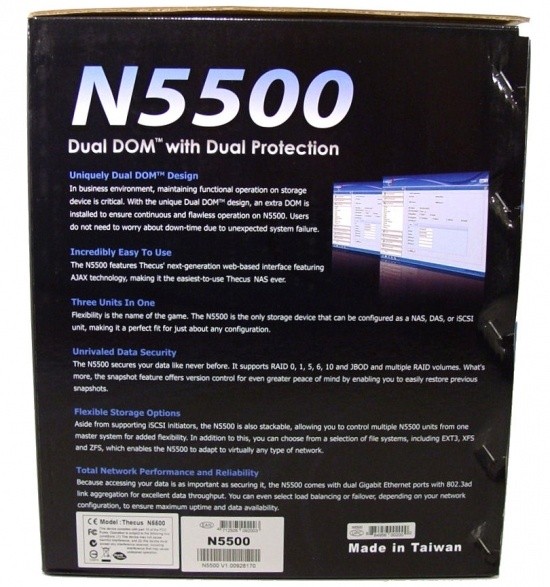 The side of the package has some of the features listed as well as the model number and bar code.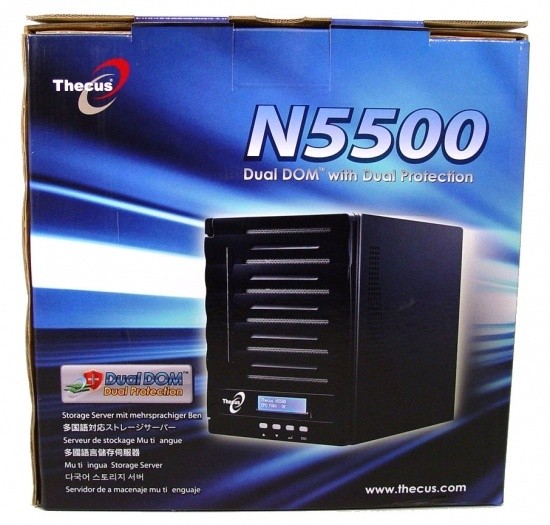 The back of the package is nearly an exact copy of the front.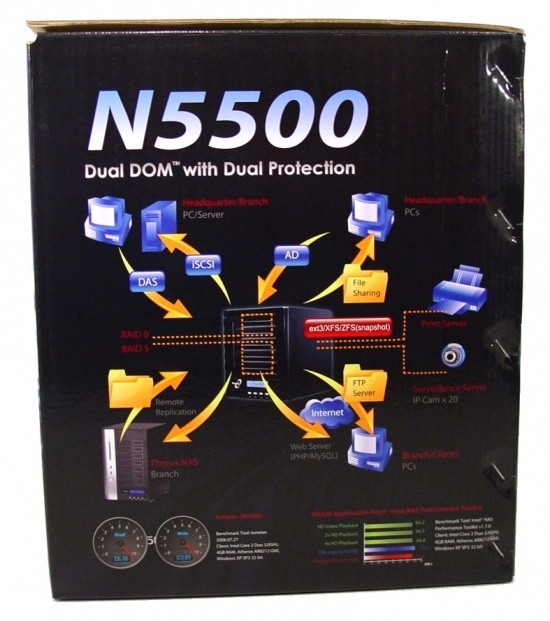 The other side of the package shows a typical usage scenario with some of the other features of the N5500.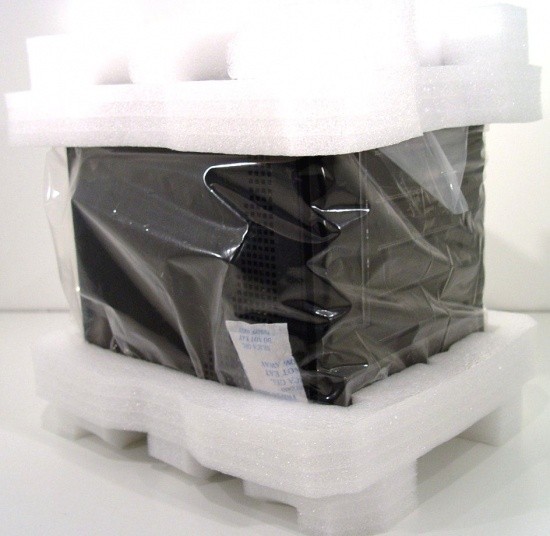 Here we see the inner packaging for the N5500. Thecus has done a good job keeping the NAS safe in the package.
The Thecus N5500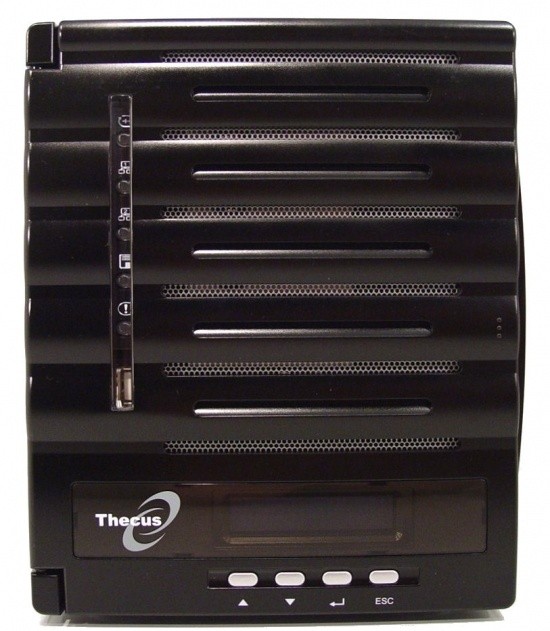 I have to admit, this is the ugliest NAS I have tested to date. The good thing is that a NAS doesn't get or in this case lose points for style. At the bottom of the N5500 Thecus has placed a 2x20 display that shows the servers status. The buttons below give the user an interface to setup the NAS without a PC.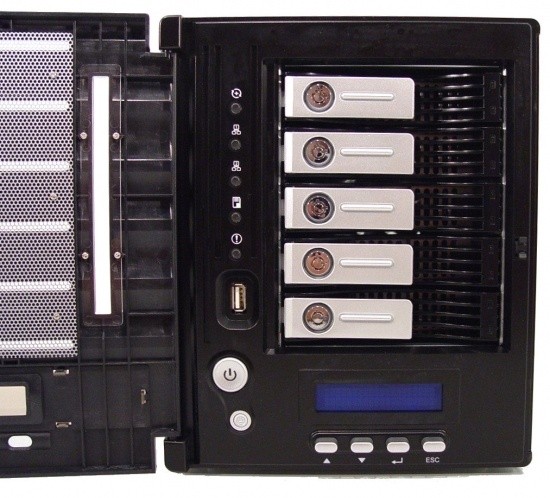 Once you open the door the N5500 becomes the kind of NAS we like to see. I can see a need to be able to lock the front door and have the power button on the inside. There is also a USB port mounted on the front of the NAS for easy access to a free port. Also note that each drive bay has its own lock.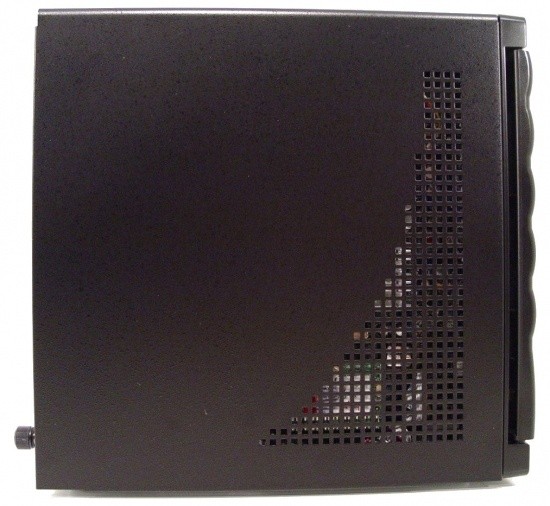 On the side of the NAS you will find vents that keep the unit cool.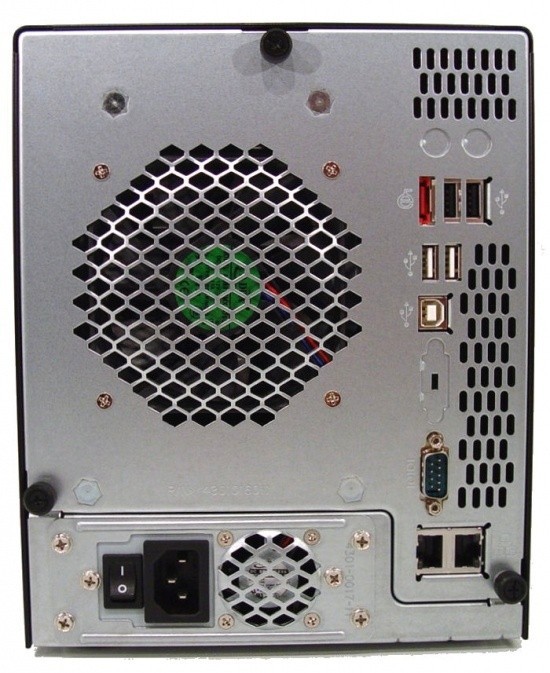 On the back we found connections galore; five USB, an eSATA, comm and dual Ethernet. The entire NAS is cooled by a large fan that runs at different speeds depending on the cooling needs. Never during our testing did the NAS get hot or loud.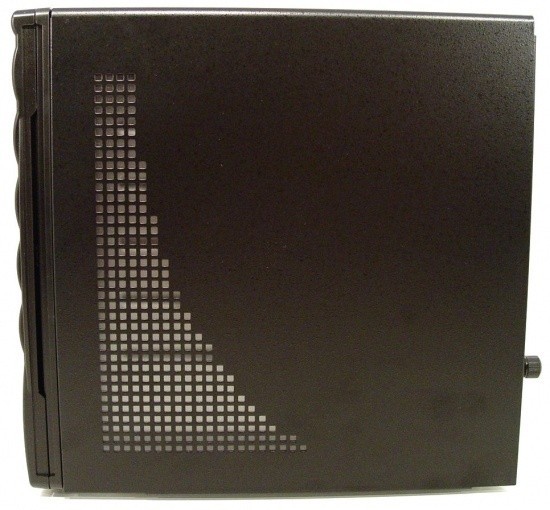 The other side of the NAS has more ventilation.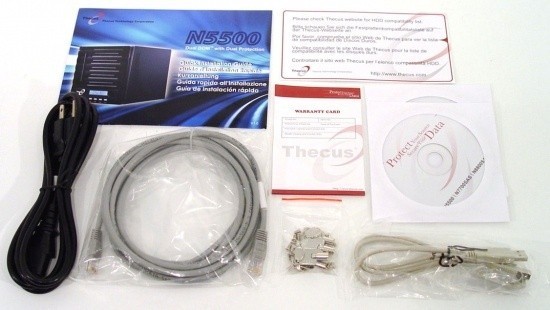 Thecus has always delivered a nice accessory package with their servers. Here we see the N5500's pack.
Test System Setup
Test System
Motherboard
: ASUS P6T7 WS SuperComputer (Supplied by
ASUS
)
Processors
: Intel 975 EE (Supplied by
AVADirect
)
Memory
: Corsair Dominator 1600 MHz Triple Channel Kit
Graphics Card
: Leadtek Quadro FX1700 (Supplied by
Leadtek
)
Enclosure
: Lian Li V2000
Cooling
: Noctua NH-U12P SE2 (Supplied by
Noctua
)
SAS Controller
: LSI MegaRAID SAS 9260-8i (Supplied by
LSI
)
Operating System
: Microsoft Windows Vista Ultimate X64
Today we are going show the results of testing the Thecus N5500 on the new Storage Product Test System. To spice things up we will also include the results of the N5200 Pro tested on a similar system.
Intel NASPT
The Intel NAS Performance Toolkit (NASPT) is a file system exerciser and analysis tool designed to enable direct measurement of home network attached storage (NAS) performance. Designed to emulate the behavior of an actual application, NASPT uses a set of real world workload traces gathered from typical digital home applications. Traces of high definition video playback and recording, office productivity applications, video rendering/content creation and more provide a broad range of different application behaviors.
With the latest version of NASPT, users may even add their own custom traces. NASPT reproduces the file system traffic recorded in these traces onto whatever storage solution the user provides, records the system response, and reports a rich variety of performance information.
As far as our testing methods go, we test in several different configurations because most users will start out with one or two drives and add them as needed, migrating the RAID array along the way.
Benchmarks - HD Playback
HD Video Play - 720p HD stream from Windows Media Player* 256kB reads
2HD Video Play - 2x playback
3HD Video Play - 3x playback
4HD Video Play - 4x playback
Thecus N5500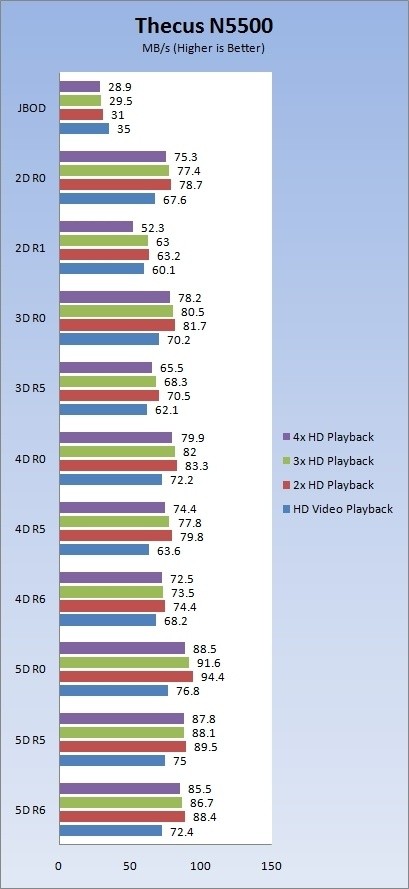 Thecus N5200 Pro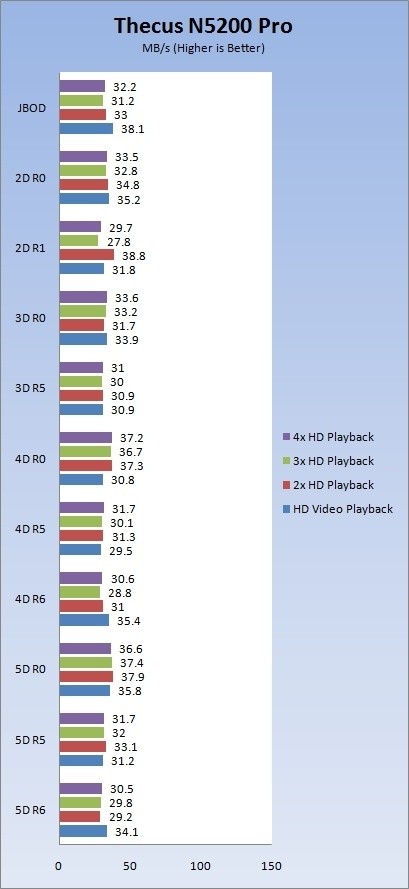 Wow, other than the JBOD the N5500 really kicks the N5200's butt up and down the benchmark table.
Benchmarks - HD Record
HD Video Record - 720p HD stream, 256kB writes
HD Video Play & Record - 1 playback, 1 record simultaneously
2HD Video Play & Record - 2x playback, 2x record
HD Play with Office Apps - Playback concurrent with office productivity
HD Play with Backup - Playback concurrent with backup
Thecus N5500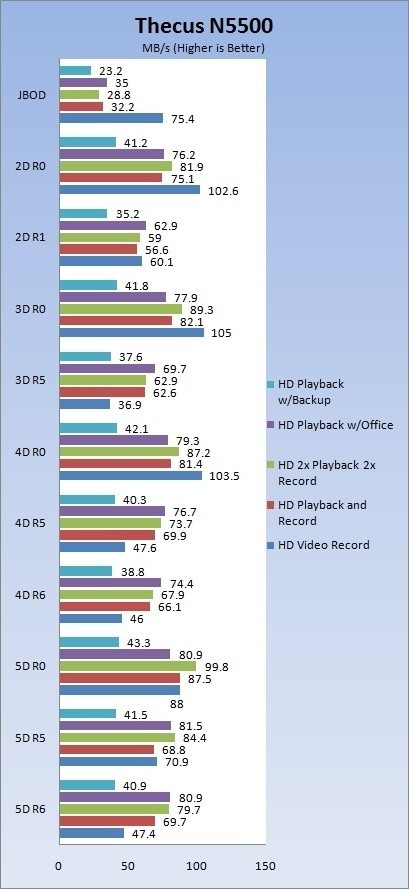 Thecus N5200 Pro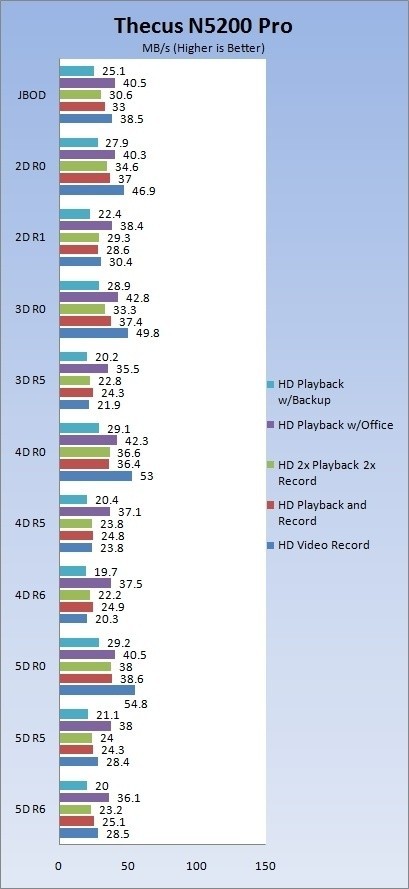 In this set of tests we see similar results with the N5500 doing a number on the N5200. There are nearly identical numbers to what we saw in the QNAP TS-803 Pro Turbo NAS, a near 2,000 USD NAS server using 8 HDDs.
Benchmarks - Copy
Directory Copy From NAS - 64kB reads
Directory Copy To NAS - Predominantly 64kB writes, wide scattering under 16kB
File Copy From NAS - 4GB file copy, 64kB reads
File Copy To NAS - 64kB writes
Thecus N5500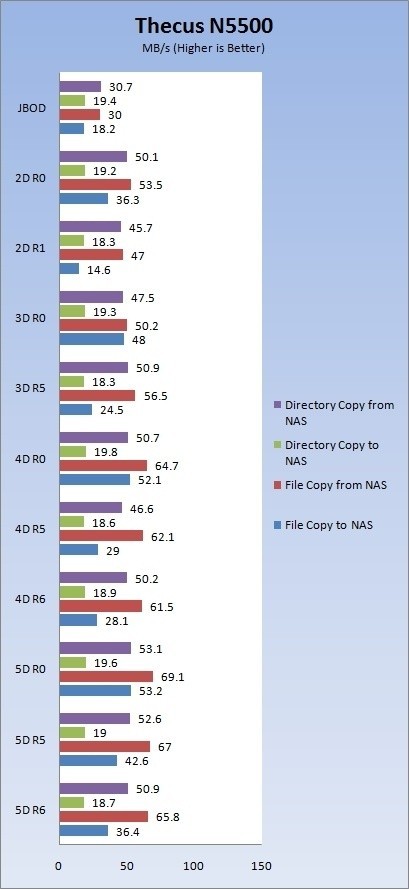 Thecus N5200 Pro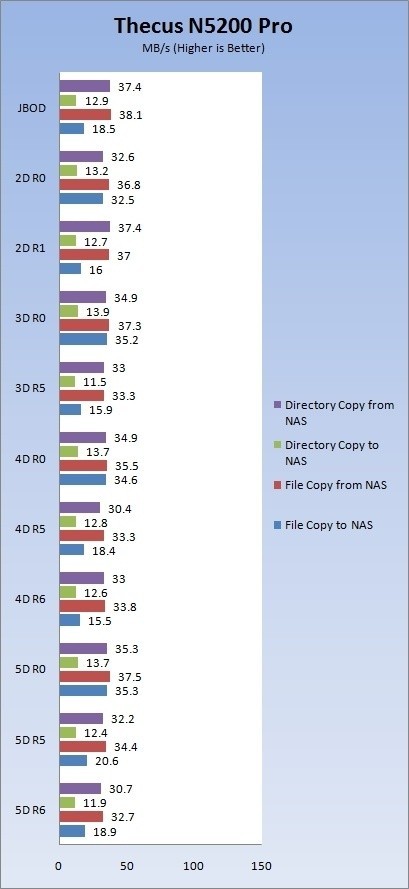 This is getting repetitive, the N5500 with its Core2Duo processor and 1GB of memory make a great successor to the N5200 Pro.
Page 9 [Benchmarks - Backup / Content]
Benchmarks - Backup / Content
Restore - 30GB restore from above backup, 1MB reads
Backup - 30GB backup using Windows* built-in utility; 8kB writes
Photo Album - All reads - wide distribution of sizes
Content Creation - 95% writes; 1k, 4k & little reads; Writes up to 64kB
Thecus N5500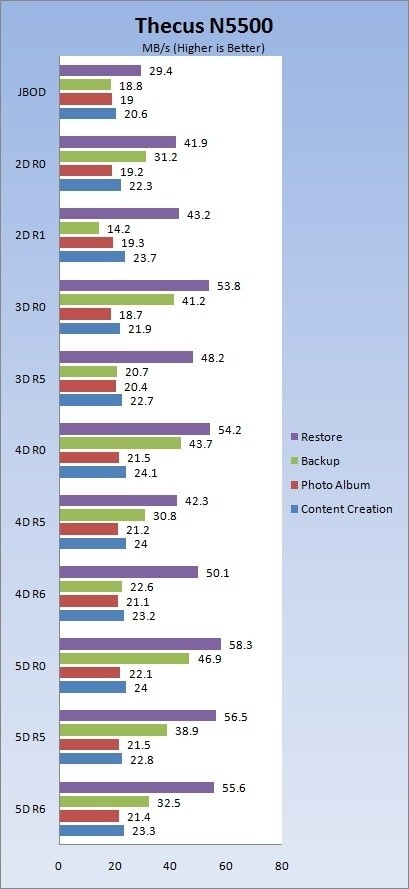 Thecus N5200 Pro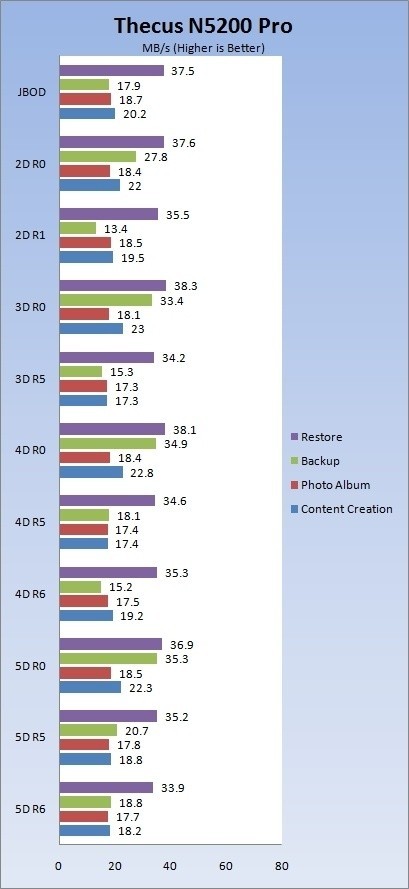 The backup feature plays an important role for businesses and the N5200 had some issues with completing a backup in an acceptable amount of time. The N5500 has really improved in this area and is now a real option for larger user groups.
Final Thoughts
Today we have shown you how the N5500 performs against Thecus' previous generation N5200 Pro. The Intel Core2Duo processor coupled with 1GB of memory really makes for a strong storage solution for consumers, prosumers and small business users. The transfer performance we saw today is close to what we have seen in some of the more expensive seven and eight drive NAS servers that cost at least a grand more.
In today's economy everyone is looking to stretch each dollar as far as they can. This works out well for Thecus in more ways than one. For those looking to really get the most bang for the buck the N5200 Pro is still available at a laughable 569.99 USD. Coming in second on the price scale is the N5500 that we tested here today at 849.99, a full 50 USD cheaper than QNAP's TS-509.
The new AJAX user interface is an upgrade to the previous software but it still needs a little work to smooth the actions. Right now it feels like an internet connection with higher than normal latency. This is something that I am confident Thecus will get sorted in future firmware upgrades.
PRICING: You can find products similar to this one for sale below.

United States: Find other tech and computer products like this over at Amazon.com

United Kingdom: Find other tech and computer products like this over at Amazon.co.uk

Australia: Find other tech and computer products like this over at Amazon.com.au

Canada: Find other tech and computer products like this over at Amazon.ca

Deutschland: Finde andere Technik- und Computerprodukte wie dieses auf Amazon.de
We openly invite the companies who provide us with review samples / who are mentioned or discussed to express their opinion. If any company representative wishes to respond, we will publish the response here. Please contact us if you wish to respond.