Introduction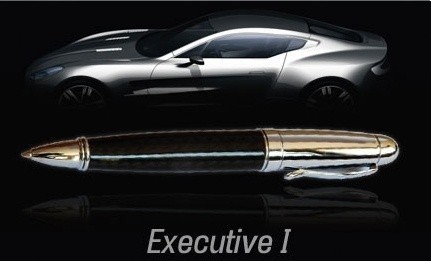 Carbon Fiber is the new chrome.
Forget shiny things; give me the dull finish of dry, pre-preg, and autoclave cured carbon fiber. Carbon fiber has many uses, from 95% of the parts found on Formula One cars to the entire body work of my prized treasure, a Ducati 999R. This stuff is everywhere and many people are drawn to it like bees to honey.
Pens have many uses that go far beyond writing instruments. For a few, a nice pen is the new Rolex. Since cell phones are the new standard for telling time many people have found a new accessory to remind them of their accomplishments.
USB drives are everywhere and everyone has at least a few sitting around. In business showing up to a meeting without a pen or USB thumb drive pretty much makes you look like an unorganized slob.
Active Media Products has managed to merge a writing instrument with a USB thumb drive and wrapped it up in an attractive carbon fiber package. I had to have one!
Specifications, Availability and Pricing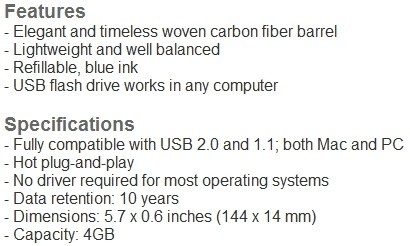 For the most part we are going to look at this as a novelty USB drive that just happens to be a pen. The P4G-EXEC1 is only available in 4GB capacity and is available now at Amazon for less than 15 USD.
As far as the pen goes, it is a ball point that comes with blue ink. The cartridge is a standard design so you will not have any problems finding replacement ink at your favorite office supply store.
Active Media Products Executive I

The packaging is done in flat black and is void of writing. I was kind of expecting a box that is a little more presentable, but let's face it, for 17 USD you are not going to get a wooden box with a leather wrap.

The pen just rests inside of the box, no silk or felt, just cardboard.

Here we get our first good look at the writing instrument. The body type is wide with a chrome top, carbon fiber barrel and a steel clip.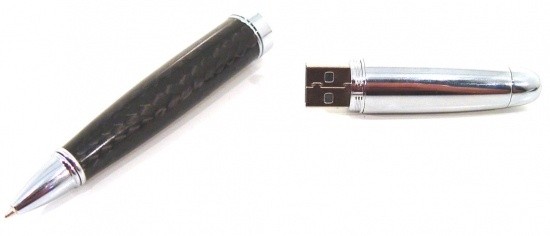 The top unscrews to reveal the 4GB USB thumb drive and a twist of the tip reveals the writing portion of the pen.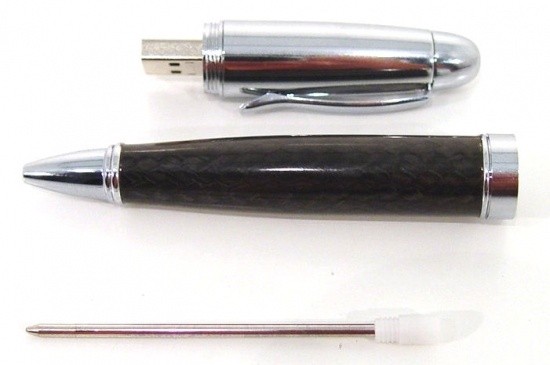 Here we see everything disassembled. The ink container is quite small, but it is a standard size making replacement easy.

The carbon fiber is average quality with a thick layer of epoxy on the outer surface. It appears to be a wet lay so it is not like what you would find on an exotic R Series Ducati. Still it is carbon fiber and for 15 dollars you are not going to get something that has sat in an autoclave for 24 hours.

For a size comparison here is the Executive I next to a Mont Blanc Starwalker.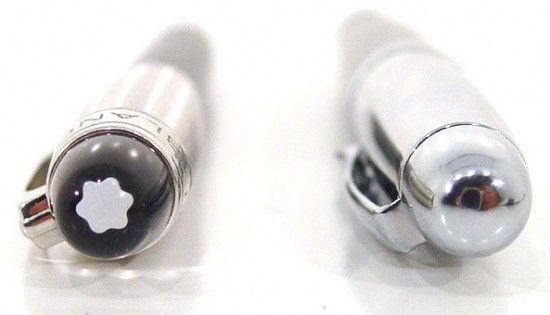 For an extra 400 USD you can have one with a White Mountain top that doesn't have a USB drive.
Test System Setup and ATTO Baseline
Test System
Notebook
: Lenovo T61p
Operating System
: Microsoft Windows Vista Ultimate X64
ATTO Baseline Performance
Version and / or Patch Used:
2.34
ATTO is used by many disk manufactures to determine the read and write speeds that will be presented to customers.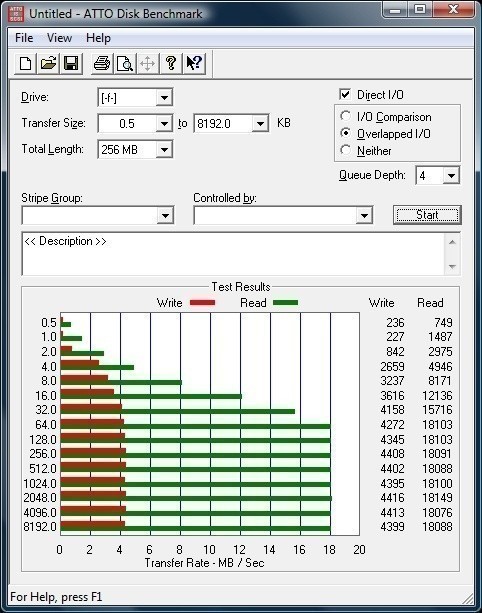 As you can see from the ATTO test the Active Media Products Executive I 2-in-1 Carbon Fiber Pen doesn't break any records when it comes to transfer speeds.
Benchmarks - HD Tach
HD TachVersion and / or Patch Used:
3.0.4.0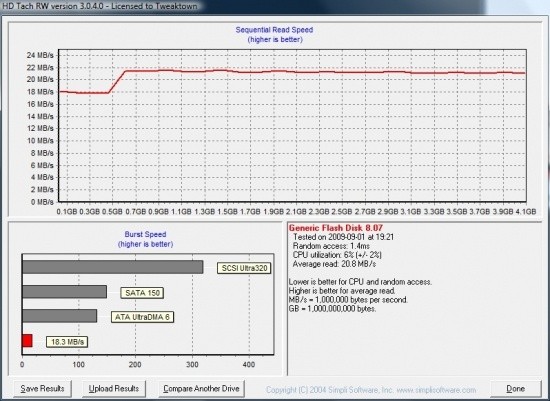 HD Tach confirms what we saw in ATTO for the read speeds.
Final Thoughts
If we were comparing watches, I would have to say the Active Media Products Executive I 2-in-1 Carbon Fiber Pen is more like a Timex than a Rolex.
After writing with the pen for a while, it feels good in my hand, but the roller ball is hard and kind of scratchy when on paper. Of course I was comparing the Executive I to a Mont Blanc that writes very smooth, but to be honest, the test subject feels like I am writing with a disposable Bic and not something marketed as a precision writing instrument.
On the USB side of thing the speed is in between a floppy disk and the cheap disposable USB drives that are handed out at trade shows, so don't expect real high performance from this one.
As long as you consider the Active Media Products Executive I 2-in-1 Carbon Fiber Pen a novelty item and are fine with it, you will be satisfied with your 15 USD purchase. Some people may chose to purchase this as a gift and that will be fine as well, just make sure you are giving it to someone for a birthday that isn't all that special.