Thecus N7700 7 Drive NAS Server
Thecus updates their prosumer NAS server line. Let's see what the N7700 has to offer.
Published Mon, Apr 27 2009 12:38 AM CDT
|
Updated Tue, Nov 3 2020 7:03 PM CST
Rating:

94%
Manufacturer: Thecus
Introduction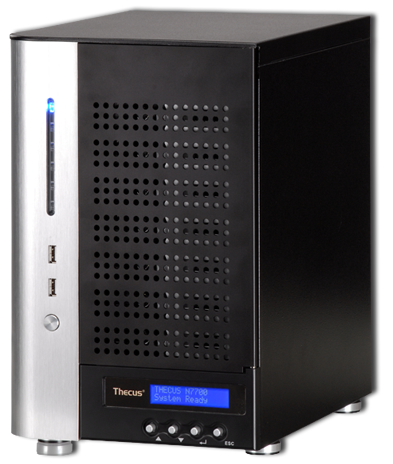 Speed without compromise; that is Thecus' slogan for their latest enterprise NAS servers, the N7700 and N8800. These new products are a step up from the SOHO N5200 Pro
we reviewed
a year ago and are geared specifically for the large office, mid level enterprise market. Thecus has a long history of making NAS Servers for both consumer and enterprise markets and their cost has always remained within reach for enthusiasts looking to add enterprise hardware to their home network.
Today we will be focusing on the Thecus N7700 model, a 7 drive NAS server that has more features than a single office could hope to take advantage of. Thecus has worked very hard to ensure that every possible check box can be ticked when it comes to the features of their products.
Newegg currently lists the N7700
at a hair under 1,100 U.S. Dollars
, the same price as their nearest competitors 4, 5 and 6 drive NAS servers. At this time the N7700 is the only 7 drive NAS server at or even close to this price point; the largest capacity at the best price is where Thecus is placing this model. Let's not play around in the intro; it is time to check out the specifications of the robust NAS server.
Hardware and Software Specifications
Hardware Specifications
If we look at all of the specifications all at once it gets a bit overwhelming, so we are going to break them down into two groups, hardware and software.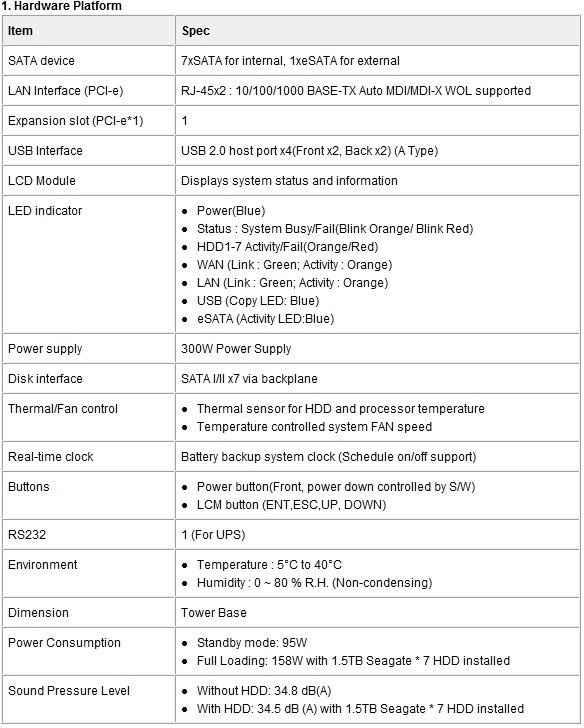 Here we see that the N7700 is designed to use seven hard drives and has an option to use an eighth via an eSATA port on the back. The unit features two gigabit ethernet ports that can be "teamed" with Link Aggregation to nearly double the throughput to the network.
The N7700 uses a genuine Intel Celeron processor and comes with one of its two memory slots filled. It is possible to add more DDR2 memory to the unit as you so desire, but as you will soon see the N7700 performs very well in the stock configuration.

As with all of the Thecus products we have looked at, Thecus is always improving upon their initial firmware release. It seems like every three to six months they update the products firmware and include new features. You can see the latest improvements to the software code on
this page
.
As far as the initial firmware that the N7700 has installed out of the box, it is pretty much flawless. We didn't have any issues at all and were surprised at first to see so many consumer friendly options available on this enterprise product. The multimedia options were carried over and improved upon from the N5200 and N5200 Pro; our test Playstation 3 recognized the N7700 right away and we were blasting tunes in the living room within minutes of setup.
Setup on many NAS servers has always been the Achilles heel , but not with the Thecus products we have looked at. The N7700 is the same way; nothing could be easier to configure the NAS as long as you have a basic understanding of the way networks work. When I say basic, I really do mean basic. Out of the box the NAS is configured to pull an IP address and the included PC software allows you to instantly set the NAS up for elementary functions.
Server Capabilities, Availability and Cost
Server Capabilities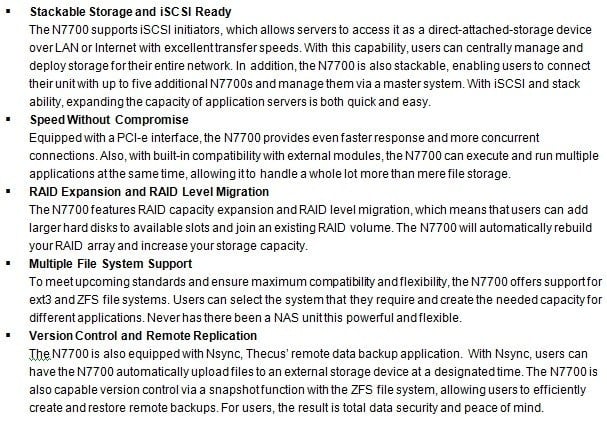 Thecus has a good etail and retail presence in the US market. I was easily able to find the N7700 Pro at several major online venders and one local to me retail shop. Currently Newegg lists the N7700
for 1099.99 with free shipping
.
After looking around at competing products at Newegg, one thing stood out very clearly. The competitors products in this same price range were only 4, 5 and 6 drive NAS servers. It seems that the 7 drive system from Thecus is really in a class by itself and when compared to other offerings it is simply outperforming the competition by offering more storage capacity.
The Packaging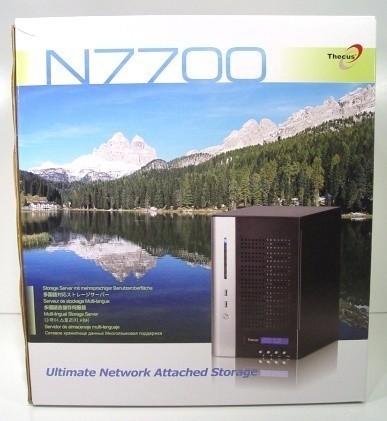 The front of the package has that nice tranquil look and had us thinking about planning a trip to the country side.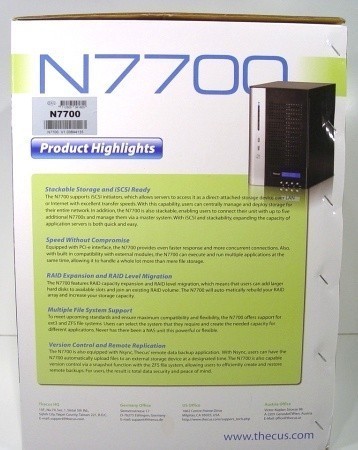 On the side we get to some useful information about the product. Here we see a features list.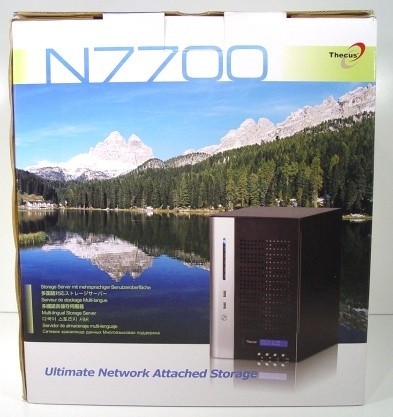 The back of the package is identical to the front; time to find my fishing pole and call up the travel agent.
The other side shows with graphics some typical uses of the N7700 and aids the features list with specific examples.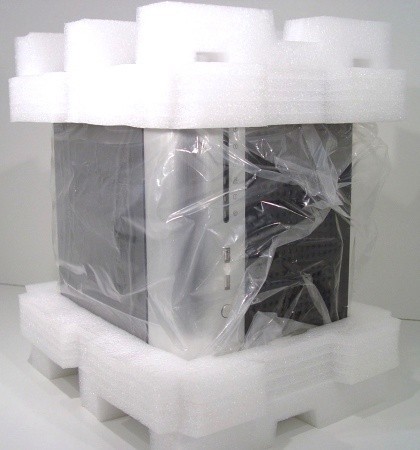 When it comes to packaging we see that Thecus literally has the N7700 covered from all angles to protect the NAS during shipping.
The Thecus N7700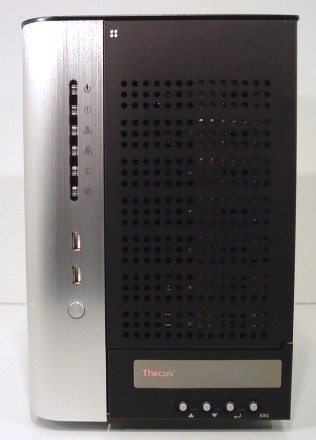 I have to admit that the N7700 is one of the better looking NAS servers on the market. On the left side there is a brushed aluminum cover where the LEDs, power button and USB ports are located. The rest of the front is covered with an aluminum door that hides the drive sleds.
On the bottom a mirror window covers the LED display that you can use to configure the N7700. The system also displays status updates.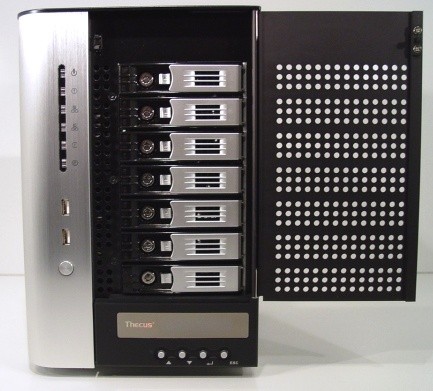 Here we see the seven drive sleds with the door open.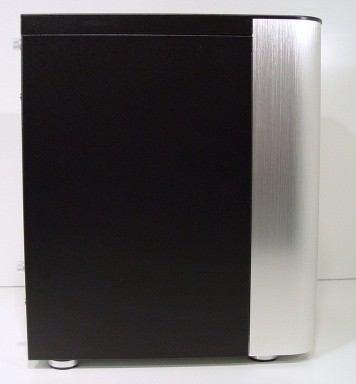 On the left side we see that the brushed aluminum carries over to the side.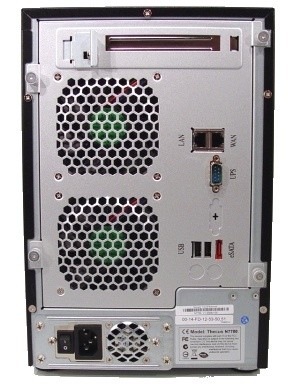 For me the back is where all of the real action is. Here we see the LAN and WAN ports, one to connect the NAS to the internet and the other to connect to your company's network, if you chose to use the N7700 as a gateway device.
At the top Thecus has included a PCIe port for expansion and there are also two USB ports that can be used for printers or storage devices. In the middle of it all Thecus has placed a serial port that will allow the N7700 to communicate with a battery backup device.
Accessories and Documentation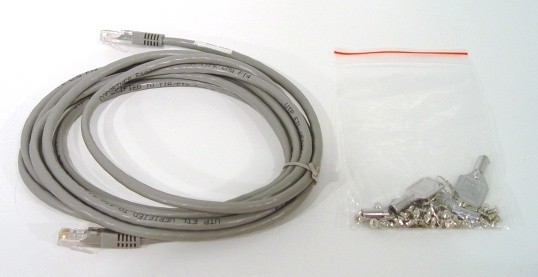 The N7700 comes with an Ethernet cable as well as all of the screws needed to mount your drives in the sleds and a set of keys to keep everything from walking away.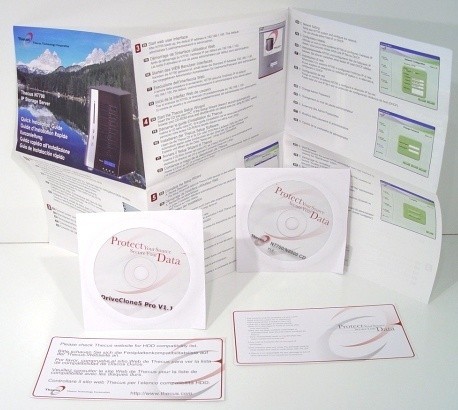 The documentation is spread between a quick install guide on paper and the full manual on the software disk. Thecus also includes a copy of DriveClone5 Pro with the N7700. After flipping through the PDF and quick install guide, I determined that the documentation is very well written and informative, even for us old school enterprise network guys.
The Software Basics
Form over function, or is it function over form? Either way, a NAS server needs to be both feature rich and user friendly at the same time. If a consumer or network administrator cannot setup a function of the system, it will most likely go unused.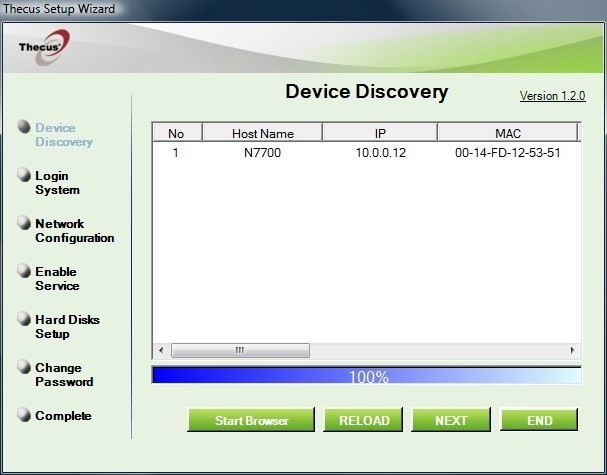 Using the Thecus Setup Wizard that you install on the host computer, you can easily find and configure the initial steps of the N7700, even if it is not set on the correct subnet.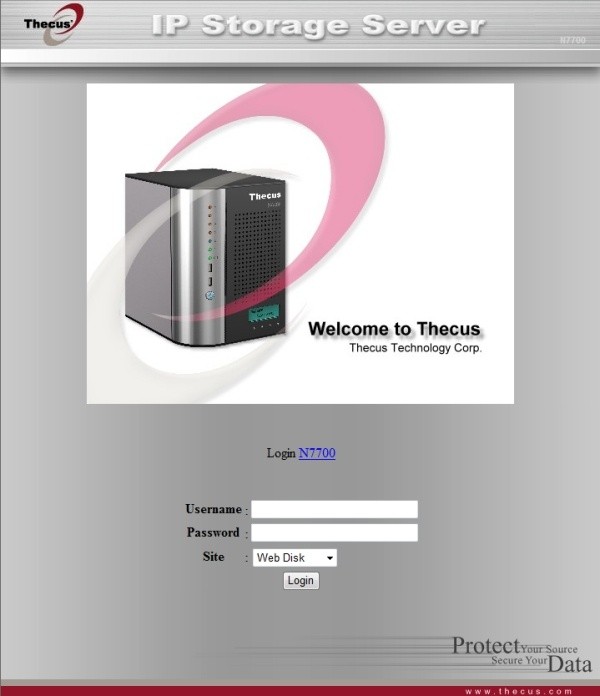 Once the early configuration stuff is out of the way you can log into the N7700. Here we see the full log in screen that takes us to full menu.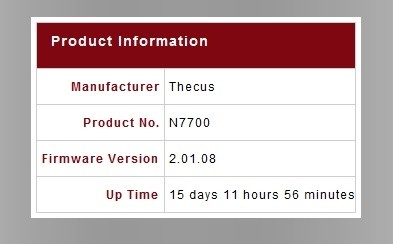 Once inside you are presented with the menu system and a quick display of the NAS status.
The Menu System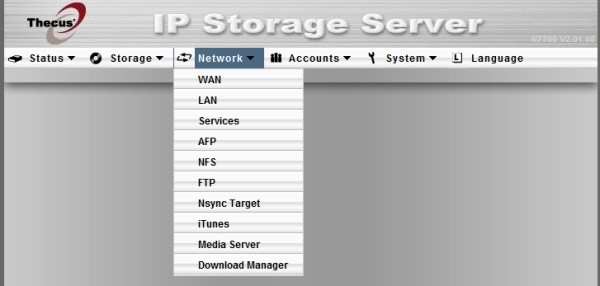 The menu system is setup just like the other Thecus NAS servers we have looked at in the past. Here we see just one of the drop down menus that make up the navigation side of the NAS.
Testing Methodology
Test System
Processors
: Intel QX6700 2.66GHz OCed to 2.93 GHz (Supplied by
Intel
)
Motherboard
: GIGABYTE X38-DQ6 (Supplied by
GIGABYTE
)
Memory
: Thermaltake / Geil RAM Orb PI (Supplied by
Thermaltake
)
Graphics Card
: XFX 8800 GTX (Supplied by
XFX USA
)
Disk Drives
: 3x Western Digital 150GB Raptors in RAID 0
Enclosure
: Cooler Master Cosmos (Supplied by
Cooler Master
)
Cooling
: Thermaltake MAX Orb (Supplied by
Thermaltake
)
Operating System
: Microsoft Windows Vista Ultimate X64 (Supplied by
Microsoft
)
NAS Control Drives
: Seagate 1TB Barracuda ES.2 ST31000640SS (Supplied by
Seagate
)
Intel NASPT
The Intel NAS Performance Toolkit (NASPT) is a file system exerciser and analysis tool designed to enable direct measurement of home network attached storage (NAS) performance. Designed to emulate the behavior of an actual application, NASPT uses a set of real world workload traces gathered from typical digital home applications. Traces of high definition video playback and recording, office productivity applications, video rendering/content creation and more provide a broad range of different application behaviors.
With the latest version of NASPT, users may even add their own custom traces. NASPT reproduces the file system traffic recorded in these traces onto whatever storage solution the user provides, records the system response, and reports a rich variety of performance information.
As far as our testing methods go, we test in several different configurations because most users will start out with one or two drives and add them as needed, migrating the RAID array along the way.
I chose the Thecus N5200 Pro BR 5-Drive NAS for the control to show how the N7700 compares to it in the performance tests.
Benchmarks - HD Playback
HD Video Play - 720p HD stream from Windows Media Player* 256kB reads
2HD Video Play - 2x playback
3HD Video Play - 3x playback
4HD Video Play - 4x playback
Thecus N7700

Thecus N5200 Pro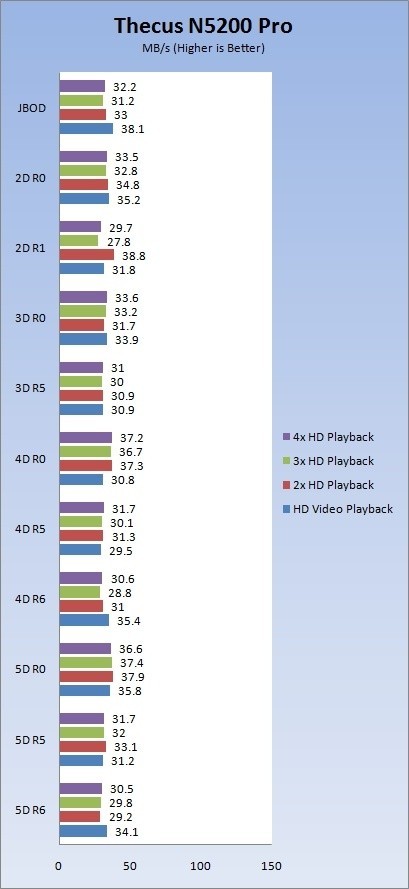 As soon as we get past JBOD we see how the faster processor and extra memory help the N7700 sail past the N5200 Pro. There is no doubt; the N7700 is wicked fast at playing back video content in all RAID modes.
Benchmarks - HD Record
HD Video Record - 720p HD stream, 256kB writes
HD Video Play & Record - 1 playback, 1 record simultaneously
2HD Video Play & Record - 2x playback, 2x record
HD Play with Office Apps - Playback concurrent with office productivity
HD Play with Backup - Playback concurrent with backup
Thecus N7700

Thecus N5200 Pro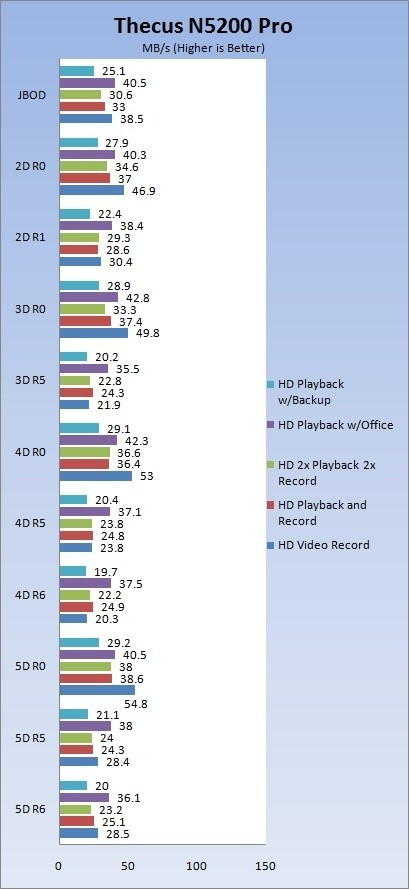 Mixed mode playback also shows the N7700 moving data at an incredible rate. The chart does spot one weak point with the system, however. Here we see that Playback with Backup operations do not scale with the number of drives added. The transfer hovers just a little over 40 MB/s; we have noticed this occurrence with all of the NAS servers tested using this method. It should be said that the Thecus N7700 does have the highest transfer rate in this test thus far, though.
Benchmarks - Copy
Directory Copy From NAS - 64kB reads
Directory Copy To NAS - Predominantly 64kB writes, wide scattering under 16kB
File Copy From NAS - 4GB file copy, 64kB reads
File Copy To NAS - 64kB writes
Thecus N7700

Thecus N5200 Pro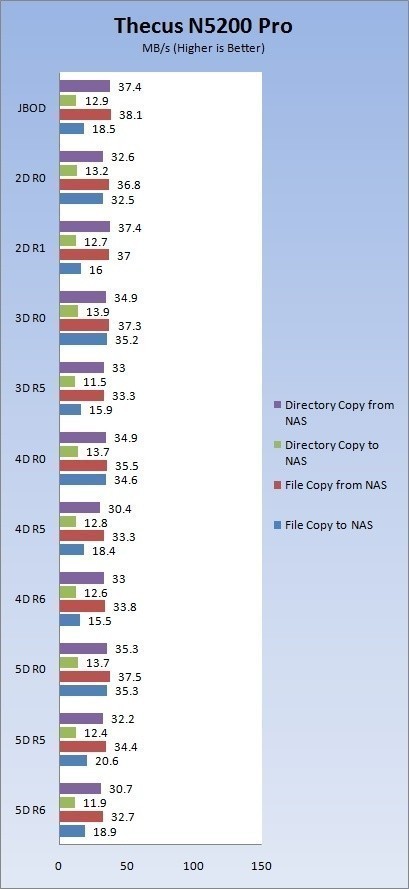 For most users the File Copy to and from the NAS is the most relevant test in this review. Here we see the N7700 nearly doubling the transfer speeds of the N5200 Pro.
Benchmarks - Backup / Content
Restore - 30GB restore from above backup, 1MB reads
Backup - 30GB backup using Windows* built-in utility; 8kB writes
Photo Album - All reads - wide distribution of sizes
Content Creation - 95% writes; 1k, 4k & little reads; Writes up to 64kB
Thecus N7700

Thecus N5200 Pro

Here we see that the Thecus N7700 does not scale in these tests when the number of drives is increased. Don't get me wrong, the N7700 is the fastest NAS we have tested to date, but these tests show that there's stillpotential for improvements, most likely with more memory and a faster processor.
Final Thoughts
When companies like Thecus release products they are usually trying to target a specific price point. The N7700 is logically placed right between the N5200 Pro and N8800. I am not really sure if it was planned or just happened, but when looking around at other products priced within 100 USD below and above the 1100 USD N7700, I found many NAS servers but none that matched the capacity or features of this unit.
The SOHO NAS and entry level enterprise market has really heated up in the last couple of years and evidence of this can be seen in Netgear's acquisition of Infrant, Western Digital starting to make higher capacity NAS servers and Dlink moving beyond basic consumer products. Even with so many competitors starting to take aim of this market, Thecus has been able to hold their own and show that their innovative planning (or just luck) has kept them standing tall with their heads above the crowd.
It is not a secret that Thecus has impressed me with their NAS servers. I have been using one in my own network for at least three years now and every time a new model is released it is like Thecus takes a step forward in both design and functionality.
The N7700 is a nice progression from the N5200 Pro, but the benchmarks show that there is still room for performance improvements. Thecus is really in a catch 22; add a faster processor and more memory and the cost of the build goes up, plus they would also need to improve cooling to cope with the added MHz. As it sits right now, the N7700 is silent from 6 feet away in my computer room and to be honest I would prefer a silent solution over a 10% improvement in transfer speeds. Even as it sits right now, the N7700 is the fastest NAS server we have tested to date.
Moving beyond the typical benchmark results, the feature list of the N7700 is jam packed with everything from a multimedia client to a full web server with built in Joomla support. Enabling these advanced features is as easy as checking a box in the systems easy to navigate web control panel.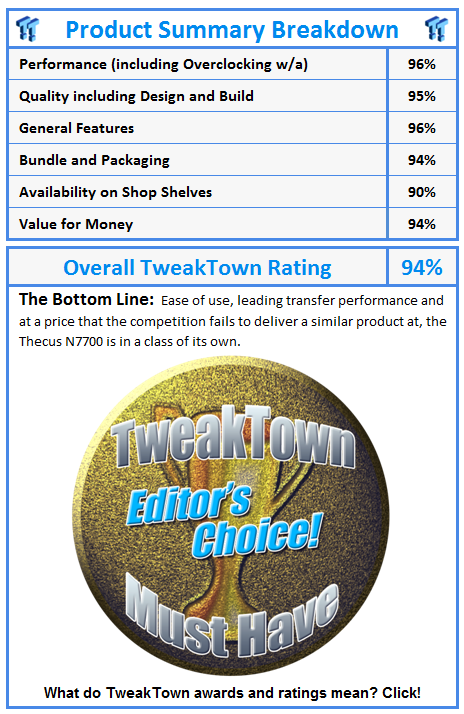 PRICING: You can find products similar to this one for sale below.

United States: Find other tech and computer products like this over at Amazon.com

United Kingdom: Find other tech and computer products like this over at Amazon.co.uk

Australia: Find other tech and computer products like this over at Amazon.com.au

Canada: Find other tech and computer products like this over at Amazon.ca

Deutschland: Finde andere Technik- und Computerprodukte wie dieses auf Amazon.de
We openly invite the companies who provide us with review samples / who are mentioned or discussed to express their opinion. If any company representative wishes to respond, we will publish the response here. Please contact us if you wish to respond.
Related Tags