Introduction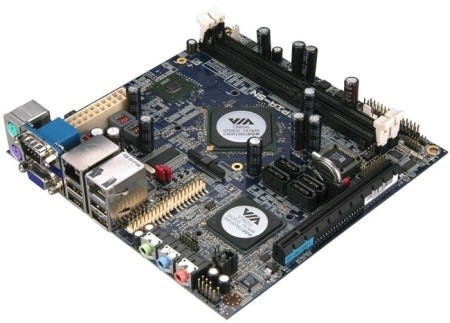 It's that time again where we move from our high-end overclocking kings to the other end of the spectrum, the miniature PC segment; and no one has a hold of this area quite like VIA.
VIA was once the biggest chipset supplier for AMD when Slot A was the go; AMD Athlon was here and Intel was all about threats. VIA was one of the few to initially support AMD in its quest to remove Intel as the top CPU, and through the years VIA's chipsets were amongst the best; that was until NVIDIA moved in and brought out some killer chipsets that couldn't be beat. This was when things went downhill for VIA in terms of chipsets.
While this may discourage some people, VIA did manage to move onto other ventures which began by picking up the aging 3D graphics chipset company S3. All of VIA's integrated graphics chipsets have been made using graphics controllers from the S3 company which solely produces IGP based solutions; these have made their way into previous generations of EPIA boards.
Our first look at the EPIA boards really opened our eyes; while others were criticizing the board for its lack of CPU power, EPIA was never intending to take the place of high-end CPUs. In fact, its aim is to make its way into the silent PC and HTPC market, and with the newest generation of features.
Today's test candidate is VIA's newest EPIA kid on the block. For quite some time there has been criticism that no graphics card upgradability was offered, but today that changes thanks to the EPIA-SN.
Specifications
Specifications of the EPIA-SNCPU
VIA C7 1.8GHz CPU
Chipset
VIA CN869
CN869 Northbridge
VT8351Southbridge
V-Link @ 1GHz
System Memory
2 DDR2 SDRAM 240pin DIMM Sockets
Supports DDR2-533/667/800MHz
64/128Bit Dual Channel
Supports up to 4GB Total Memory (2x 2GB)
Bus Frequency
200MHz Internal Bus
800MHz External Bus
V4 Bus Architecture
Expansion Slots
1 PCI Express x16
1 Mini-PCI
1 Compact Flash Card Reader
Connectivity
1 Parallel ATA port supporting 2 IDE Drives
4 Serial ATA ports
2 Gigabit Ethernet Ports
Expansion Ports
1 PS2 Keyboard Port
1 PS2 Mouse Port
6 USB 2.0 Ports (4 rear accessible, 2 via expansion bracket)
3 Stereo Audio Ports
1 CRT Video Port
1 Serial Port
The Box and What's Inside
Package and Contents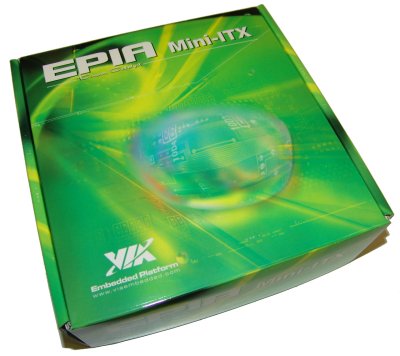 First off is the box that VIA ships the board in. The box line-up for the EPIA Series is identical. There are no markings on the box apart from the VIA logo and the EPIA name. A sticker is placed on each box with the info of the board, and all the boxes are coloured green with yellow through it.
On the back there is no info for you either; VIA does need to put a bit more into its packaging, that way you can tell what one you're getting. Some stores have more than one line of EPIA boards, and it can be confusing with identical boxes!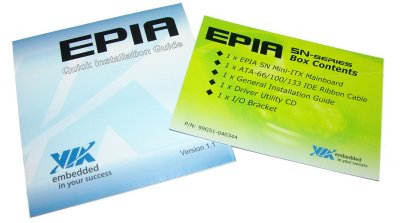 The reading material for the board is extremely light. A two page user manual gives you basic setup and location instructions for the onboard headers, but that's about it. If you want more info you need to read the PDF user manual on the included CD.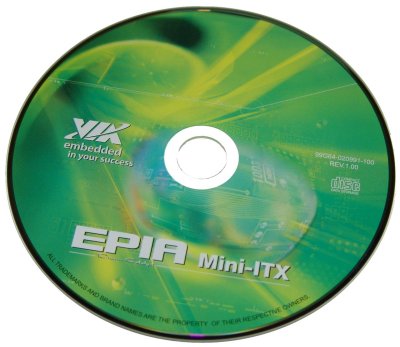 The driver CD included comes with Windows XP and Vista drivers along with quite a good selection of Linux drivers for the audio, video and SATA controller, so you're pretty well up to full speed for any OS you choose (apart from OS X of course).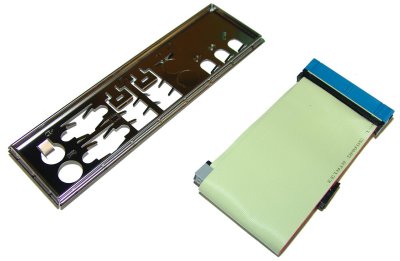 The accessories are extremely poor, only a single IDE cable and I/O shield are included. We would like to see at least one or two SATA data cables included in future packaging so you don't have to go out and buy more stuff to get this one up and running.
The Motherboard
The Board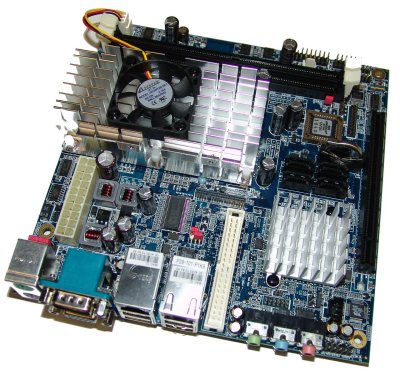 Now we move onto the board, and one thing that never disappoints us with VIA's EPIA Series is the amount of features packed onto the small space that the VIA Mini-ITX standard allows for. Being based on Mini-ITX, the size of the board is 17/17cm, just a bit larger than a standard CD jewel case. Like all of the EPIA series, the board is designed to be up and running with only two major add-in components; memory and storage.
Thanks to VIA's design of the C series of CPUs that they have, the amount of voltage required to get the CPU running is very low with minimal heat being generated. For this reason, the layout and placement of connectors on the board isn't as critical as a board designed for enthusiasts where heat is the enemy, especially when overclocking.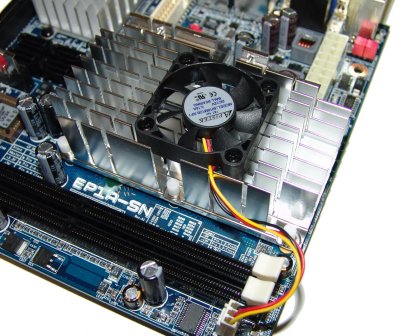 The CPU included on the board is a VIA C7 1.8 GHz CPU, the latest and fastest C7 processor from VIA. Our last look at the C7 impressed us to no end. While VIA's C3 Series of CPU was a step up from the older Samuel and Samuel 2 cores which we previously tested, the C7 is a new design with power saving features and a much faster ALU and FPU engine, this allowing the CPU to perform with a far better "per clock" cycle as well as being able to handle multimedia decoding much faster than its predecessors. The CPU is given its power from a 2 phase voltage regulation system that also supplies power to the Northbridge chip. The CPU and Northbridge are cooled by a single large heatsink that has a 40mm active fan on top.
The chipset used on the new EPIA-SN Series is the VIA CN869 chipset. Again, this is the newest chipset from VIA designed to run its C7 Series of processors, which also happens to have support for Core 2 processors. The CN869 chipset is designed around the IGP principal allowing you to use the onboard graphics to run the system if that is all you're requiring. However, if you're planning on upping the ante, the chipset comes with a built-in PCI Express root controller with 16 lanes for a single graphics card slot.
VIA has finally gotten rid of the aging VT8237 chipset and replaced it with the new VIA VT82351 Southbridge chipset that now includes four Serial ATA ports and PCI Express lanes on the Southbridge which connect the onboard Gigabit LAN controller.

The rear I/O ports are pretty standard, even for a Mini-ITX board. There are no digital ports like S/PDIF audio ports or DVI video ports which is a bit of a disappointment, but at least the arrangement is efficient.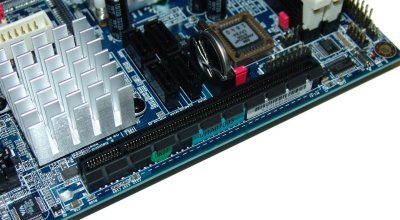 The board only has one expansion slot on the front; this is a single PCI Express x16 slot that is designed for any expansion cards, you can throw in a graphics card, PCI Express RAID controller or a TV tuner if you wish.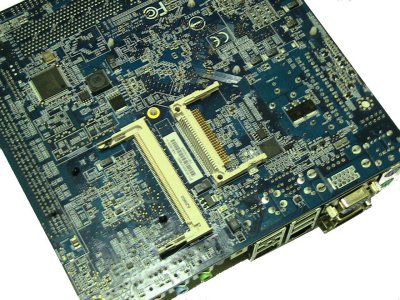 On the back of the board VIA has put a 32-bit mini PCI slot which you can place any number of mini PCI devices into, these including wireless network controllers and even some TV tuners. On the back is a standard Type II Compact Flash slot that you can install any size Compact Flash or Micro Drive into; this can be useful if you want to store a Linux based OS on a flash drive for quick access and boot-up, or for POS systems that run a set operating system stored on CF cards. Either way, it's a great addition to the system and is tied into one of the IDE channels on the Southbridge; this is why you only get one IDE port usable on the front.
Test System Setup and Memory Performance
Test System
Memory
: 2x 1GB DDR2-1186 Geil (Supplied by
Geil
)
Hard Disk
: 500GB Seagate 7200.9 (Supplied by
Seagate Australia
)
Graphics Card
: MSI GeForce 8800GTS 640MB (Supplied by
MSI
)
Cooling
: GIGABYTE Neon775 (Supplied by
GIGABYTE
)
Operating System
: Microsoft Windows XP SP2
Drivers
: VIA Hyperion, Forceware 163.21
Today's test systems are based around two VIA EPIA platforms; the EPIA-SN which is our new one and the older EPIA-EX. The EPIA-EX runs with a 1.5GHz C7 CPU and the EPIA-SN uses a 1.8GHz CPU with new generation graphics system.
The EPIA-EX uses a single 2GB generic DIMM and its onboard graphics were set to a 256MB frame buffer. The EPIA-SN used 2x 1GB DIMM modules to run dual channel and the onboard graphics were set to 256MB. When running discrete we only used our 8800GTX graphics card on the EPIA-SN, as it was the only board that supported the discrete graphics option.
EVEREST Ultimate EditionVersion and / or Patch Used:
2006
Developer Homepage:
http://www.lavalys.com
Product Homepage:
http://www.lavalys.com
Buy It Here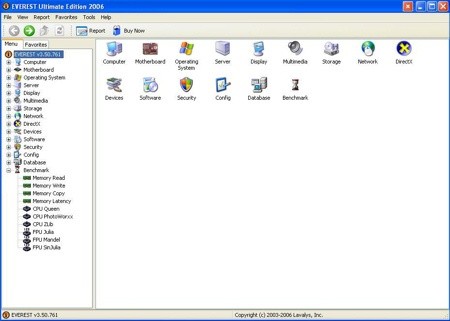 EVEREST Ultimate Edition is an industry leading system diagnostics and benchmarking solution for enthusiasts PC users, based on the award-winning EVEREST Technology. During system optimizations and tweaking it provides essential system and overclock information, advanced hardware monitoring and diagnostics capabilities to check the effects of the applied settings. CPU, FPU and memory benchmarks are available to measure the actual system performance and compare it to previous states or other systems.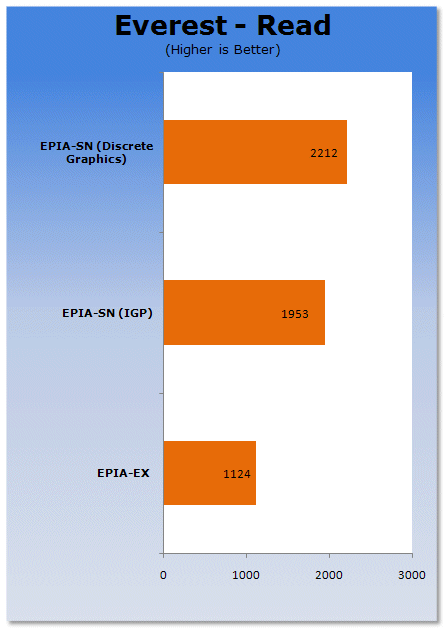 With the dual channel memory controller of the EPIA-SN Series we see a marked increase in memory bandwidth, and even better when we use external graphics.
Benchmarks - PCMark05
PCMarkVersion and / or Patch Used:
1.2.0
Developer Homepage:
http://www.futuremark.com
Product Homepage:
http://www.futuremark.com/products/pcmark04/
Buy It Here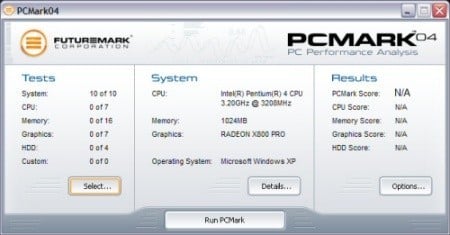 PCMark is a multipurpose benchmark, suited for benchmarking all kinds of PCs, from laptops to workstations, as well as across multiple Windows operating systems. This easy-to-use benchmark makes professional strength benchmarking software available even to novice users. PCMark consists of a series of tests that represent common tasks in home and office programs. PCMark also covers many additional areas outside the scope of other MadOnion.com benchmarks.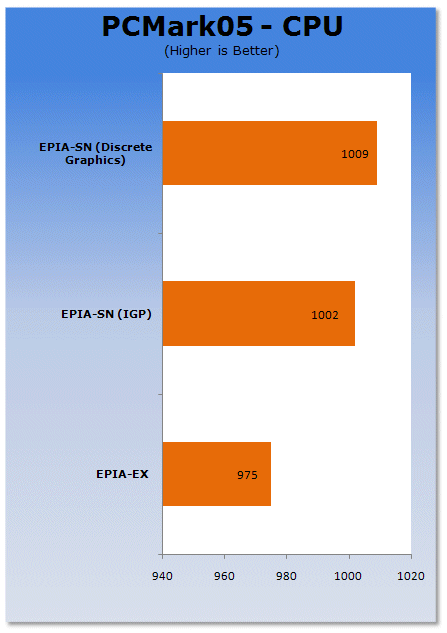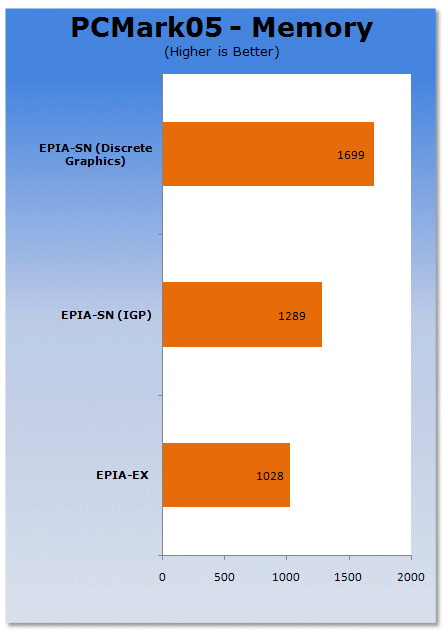 PCMark05 wouldn't complete its tests on the EX series as it doesn't support the SM2.0 setup, so we didn't have a full test run, but the SN did complete it and show that its graphics core is much better than the EX Series onboard solution.
Benchmarks - MPEG Playback Tests
MEPG2 Playback
Our MPEG-2 playback tests were done using CyberLink Power DVD version 7 with Video Acceleration enabled to get the best possible video quality. Playing back a documentary on the making of a movie (not going to say which nerdy movie it is), we measured with Throttle Watch over the course of a 20 minute documentary the average CPU usage as well as describe how the playback went, for a real-world summary.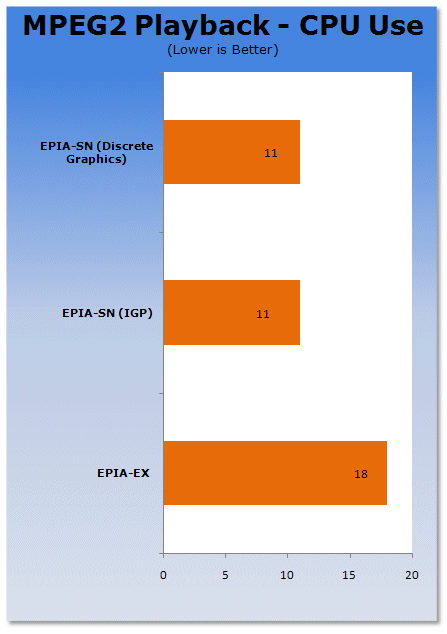 MPEG2 playback is identical across the board here, we can see that there isn't much improvement in MPEG2 playback on the 2 setups, however the discrete graphics helps take a lot of the load of the system.
MPEG4 Playback
MPEG-4 playback was done with Media Player 11. We used the same MPEG-2 video that was encoded to DivX 6.4 with our regular test bed so we could have the same 20 minutes run. Again Throttle Watch was used to measure the CPU usage over the 20 minutes and give us a percentage.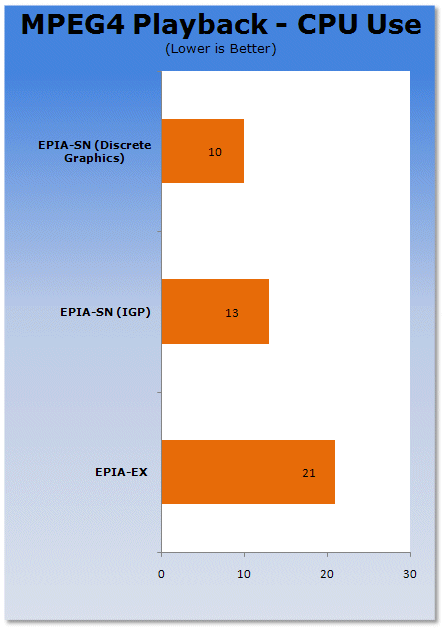 MEPG4 playback improved on the EPIA-SN; even more so when the onboard graphics was shut off and the GTX was used.
Benchmarks - HDD Performance
HD TachVersion and / or Patch Used:
3.0.1.0
Developer Homepage:
http://www.simplisoftware.com
Product Homepage:
http://www.simplisoftware.com/Public/index.php?request=HdTach
Buy It Here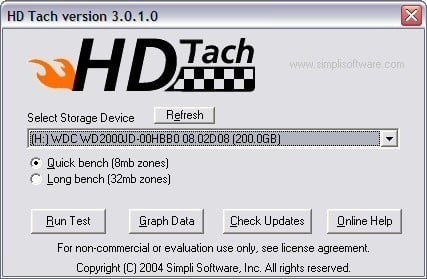 HD Tach has been around for a long time and is excellent when it comes to testing hard drive performance. It is also a very handy program when it comes to testing the controller used on particular motherboards. Tests such as Read, CPU Utilization and Burst are available at a click of the button and give you a good idea of how the hard drive can perform from system to system.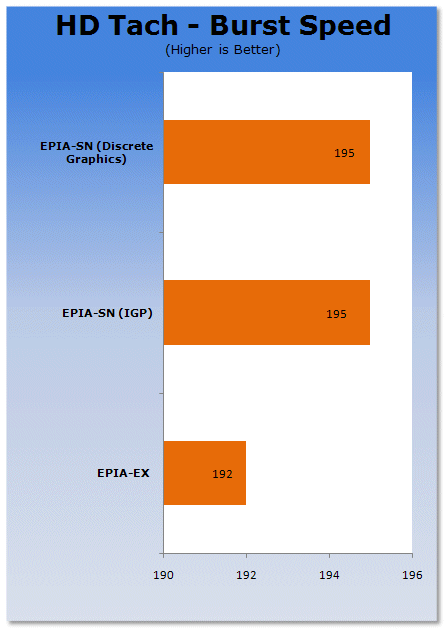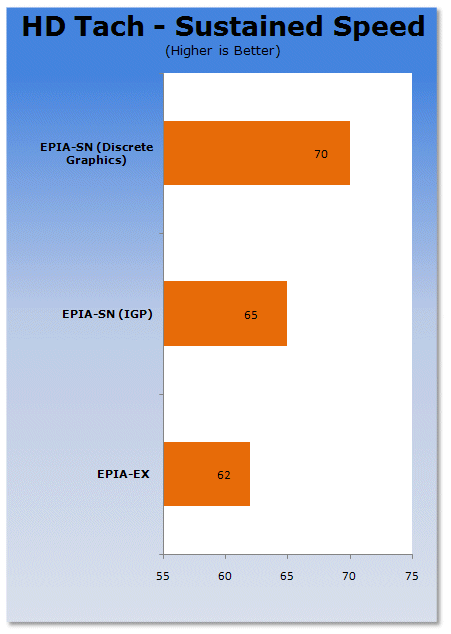 Between the two setups the storage controller performance was identical.
Power Consumption Tests
Power Consumption
We are now able to find out what kind of power is being used by our test system and the associated graphics cards installed. Keep in mind; it tests the complete system (minus LCD monitor, which is plugged directly into an AC wall socket).
There are a few important notes to remember though; while our maximum power is taken in 3DMark06 at the same exact point, we have seen in particular tests the power being drawn as much as 10% more. We test at the exact same stage every time; therefore tests should be very consistent and accurate.
The other thing to remember is that our test system is bare minimum - only a 7,200RPM SATA-II single hard drive is used without CD-ROM or many cooling fans.
So while the system might draw 400 watts in our test system, placing it into your own PC with a number of other items, the draw is going to be higher.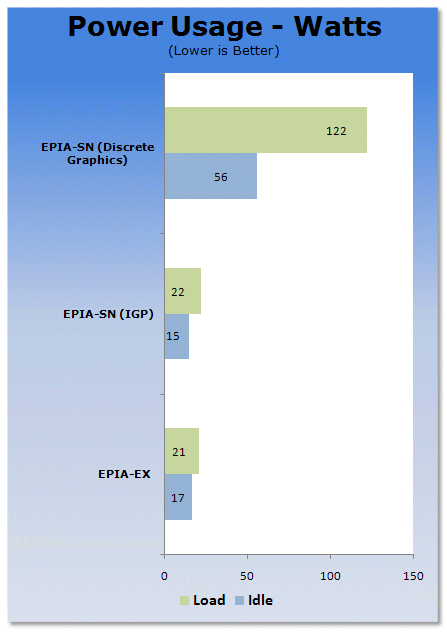 The EPIA-SN with onboard graphics runs at the same voltage level as the EPIA-EX; considering it runs faster and has more memory this is quite a feat.
Final Thoughts
VIA's EPIA line just keeps getting better and better, and VIA doesn't show any signs of slowing down in this area. VIA's next-gen platform technology is due to arrive very soon with a new 64-bit CPU, even lower power consumption, new chipsets/features and an even better graphics controller for onboard usage. It's not hard to see why we love these tiny pocket rockets.
The EPIA-SN Series adds the latest C7 processors along with the newest chipsets designed to take full advantage of the C7's power saving features; also adding in PCI Express connectivity to boot. The SN Series of boards is set to be VIA's best product, and with the amount of stylish Mini-ITX cases available the SN Series is worthy to be put up on the top hardware list.
The only things we managed to find were a minus about this series is the lack of HDMI, DVI and digital audio ports; this making it a bit of a pain for digital home users.