TweakTown's Rating: 95%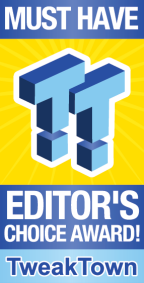 The Bottom Line
GIGABYTE's Z790 AORUS Xtreme X is one of the most complete motherboards we have ever tested. If you want it all and have the funds, this is certainly one to look at!
Pros
+

Powerful VRM

+

Fast memory support

+

Storage and NVMe options

+

10Gbe + Wi-Fi 7 networking
Cons
Should you buy it?
Avoid
Consider
Shortlist
Buy
Introduction, Specifications, and Pricing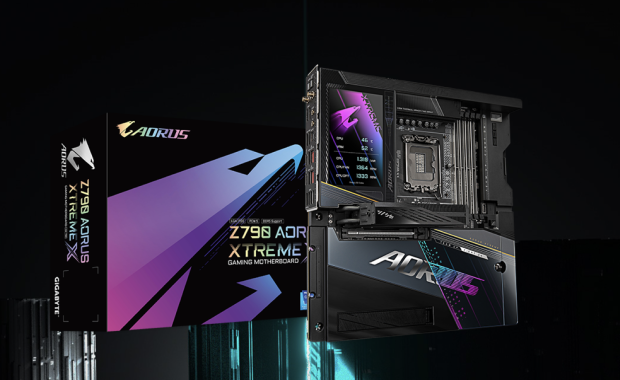 With the launch of Intel's 14th-generation processors in October came a sizable refresh from vendors looking to rework and upgrade many of their motherboards. For GIGABYTE, this includes an entirely new series of "X" labeled solutions that include the Elite X, Pro X, Master X, and today's board on the bench, the AORUS Z790 Xtreme X.
The Xtreme X features a 24+1+2 phase VRM and supports 13th and 14th Gen CPUs on the LGA1700 socket. Memory support extends now from DDR5 4800MHz all the way up to DDR5 8266MHz with support for XMP 3.0 across four slots.
The expansion gives us a single PCIe 5.0 pulling lanes from the CPU and a secondary slot at PCIe 3.0 x4. Storage includes a huge amount of NVMe slots, with two pulling CPU lanes, the M2C offering Gen 5 support, sharing bandwidth with the top x16 PCIe slot. We also have a secondary M2A NVMe slot that runs at Gen4. Additionally, there are three NVMe slots pulling off the chipset, M2P and M2Q offering Gen 4 support, while slot M2M supports both Gen 4 NVMe and SATA solutions. Legacy connectivity still makes an appearance on the Xtreme X, with four SATA ports available.
Connectivity is quite good on this solution as well. The Xtreme X supports both 10Gbe and 2.5Gbe LAN along with Qualcomm WiFi7. As for USB 3.2, the Xtreme X supports ten type-A ports on the rear I/O alongside two Thunderbolt 4 using Type-C that double as DisplayPort 1.4 connections for those using integrated graphics. Internally, you can add four USB 3.2 Gen 1 and four USB 2.0, assuming your chassis supports it. Audio is supplied via a combo of ESS ES9280AC DAC and dual ES9080 controllers.
Pricing
As for pricing, the AORUS Z790 Xtreme X comes at the flagship price of $999.
Packaging, Accessories, and Overview
Packaging and Accessories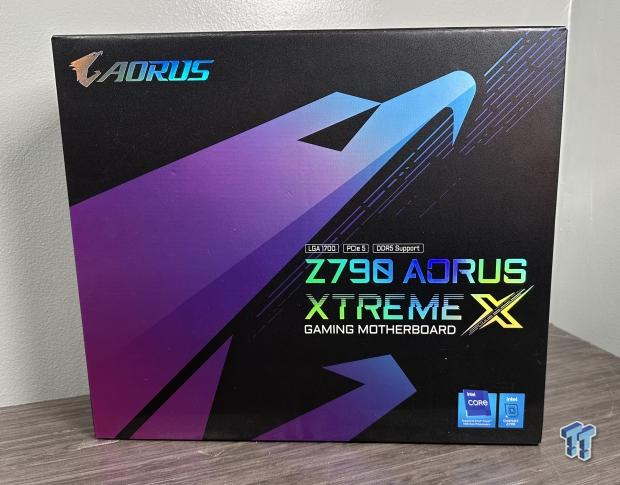 The Xtreme X keeps with the traditional AORUS box design, featuring branding on the top left and chipset/CPU support noted on the bottom right.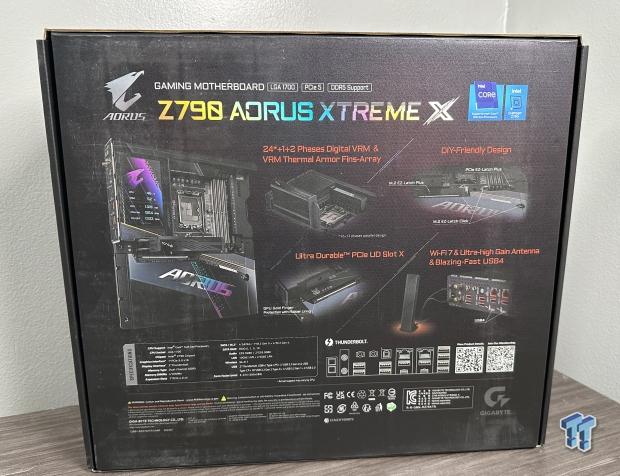 On the back, we have features listed across the top, with a diagram and specs below.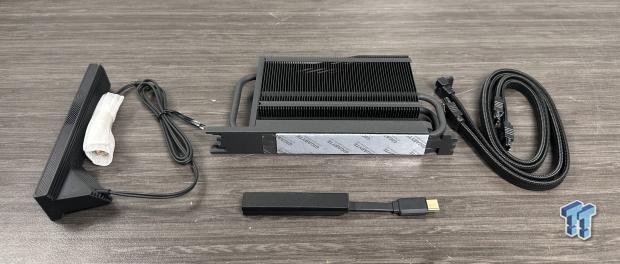 The scope of delivery includes the Wi-Fi antenna, USB DAC, and a nice M.2 cooling solution for Gen 5 drives.
Motherboard Overview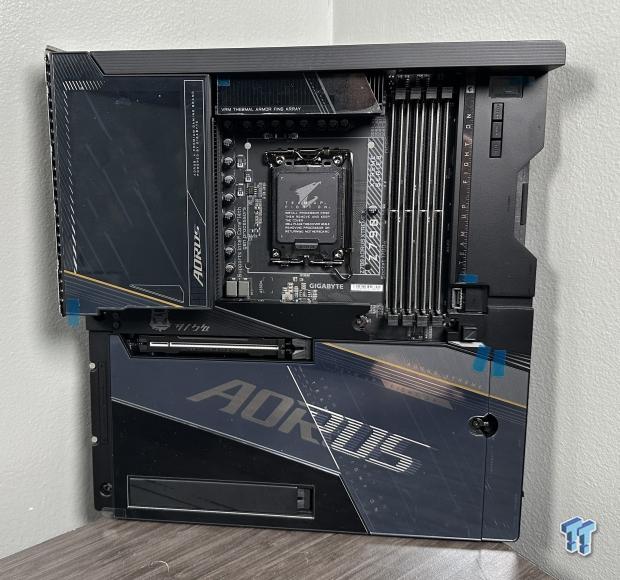 The Xtreme X is an EATX solution featuring the LGA1700 socket. This board features an OLED panel as part of the rear I/O shield, along with legit VRM heatsinks.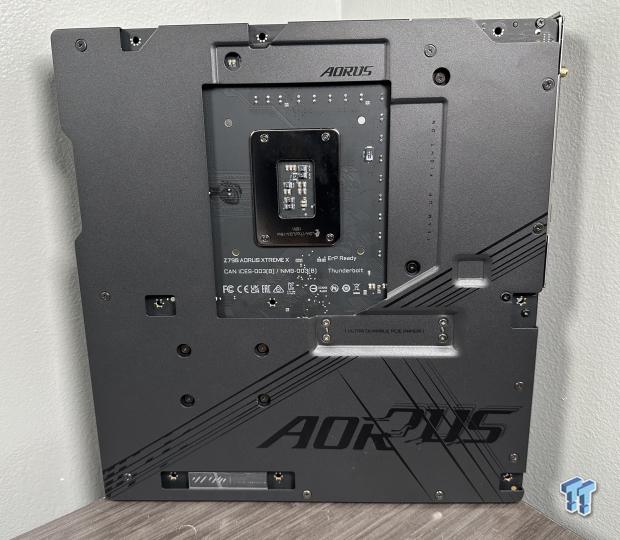 On the back of the board, we have armor as well.

The rear I/O includes SMD antenna connections at the top, followed by dual 3.5mm audio jacks and optical audio. Ten USB-A ports are also supplied, all supporting USB 3.2 Gen 2. Flanking these are the 10Gbe and 2.5Gbe LAN ports and dual Thunderbolt 4.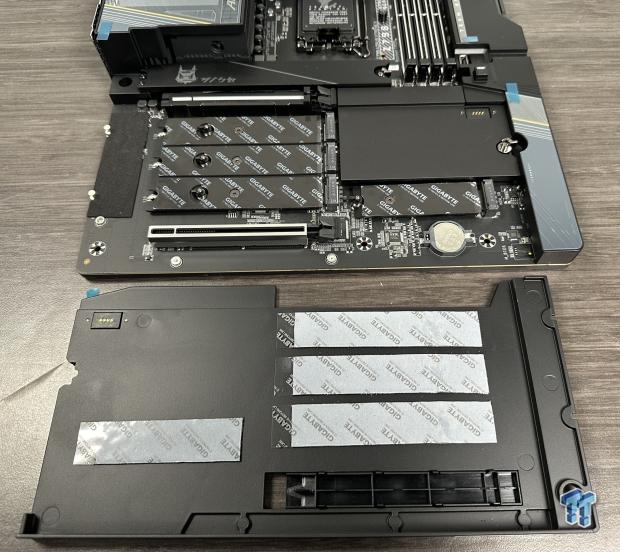 The board layout is unique for four of the M.2 slots, including a new "EZ-Latch Plus" design that allows you to remove the entire board heatsink system with one mechanism.

Moving into the ports, the Xtreme X tucks them all away on the board's side. Left to right, we have front panel connections, four SATA, and two USB 3.2 Gen 1 headers. Further down, we see the USB 3.2 Gen 2x2 header.

Continuing, we have the 24-pin power input and more header connections.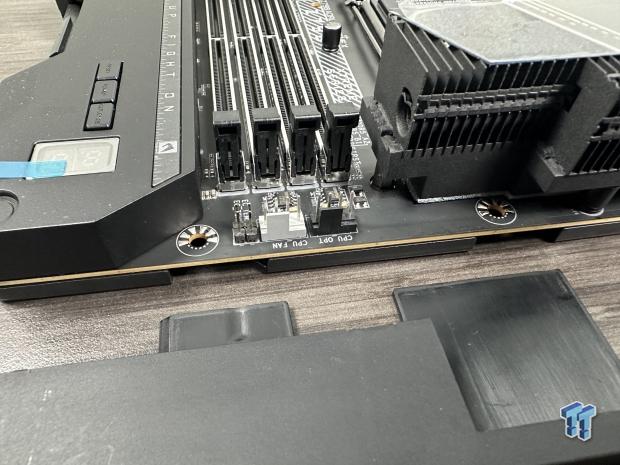 Getting to the top of the board, we have several fan headers.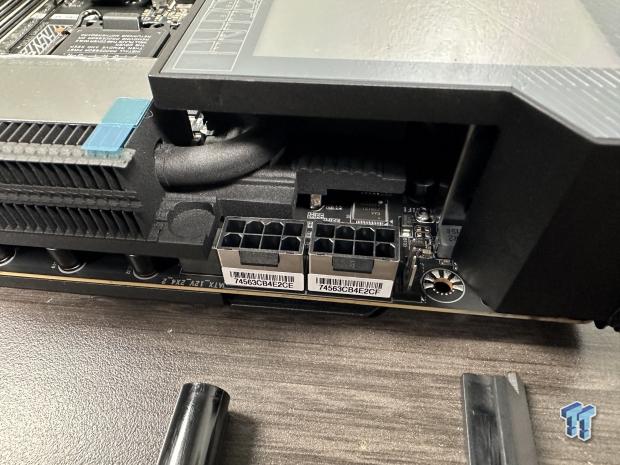 To wrap up connections, we have dual 8-pin EPS connections.
UEFI, Software and Test System
UEFI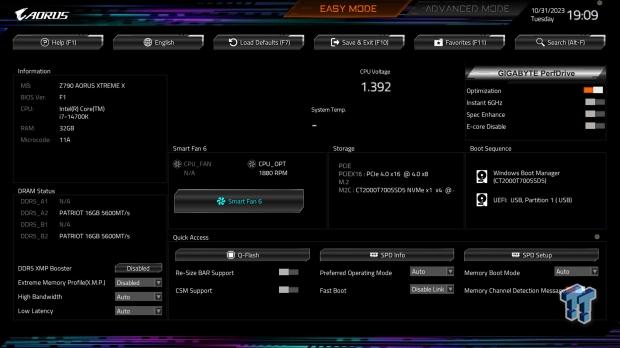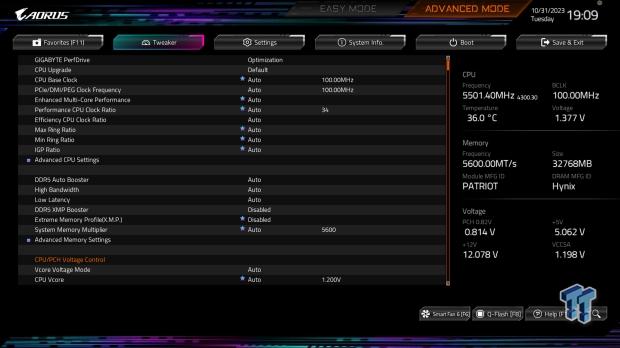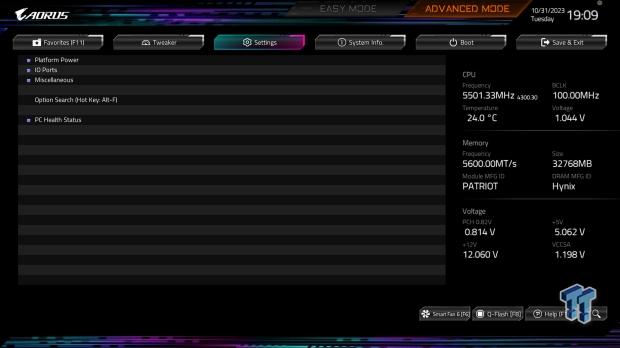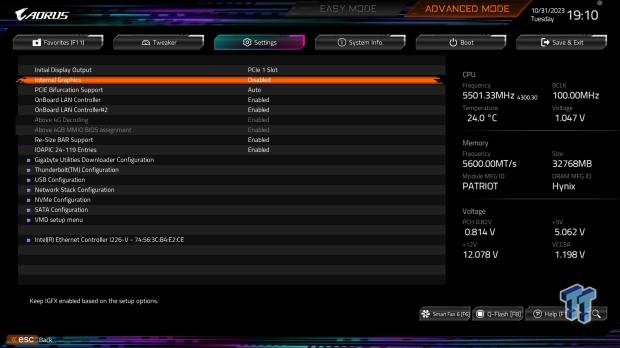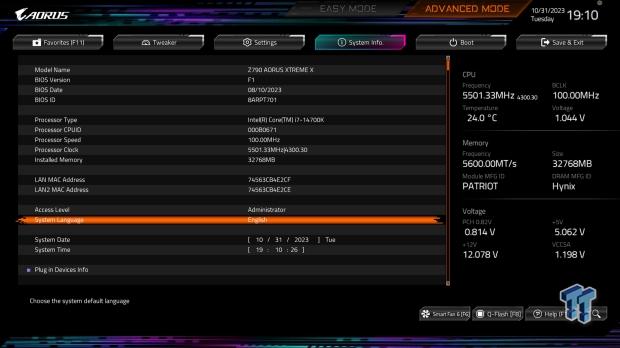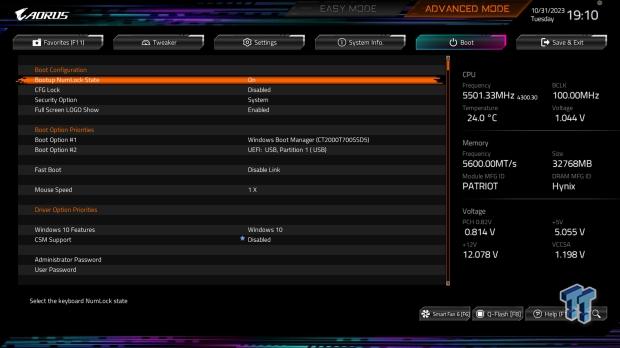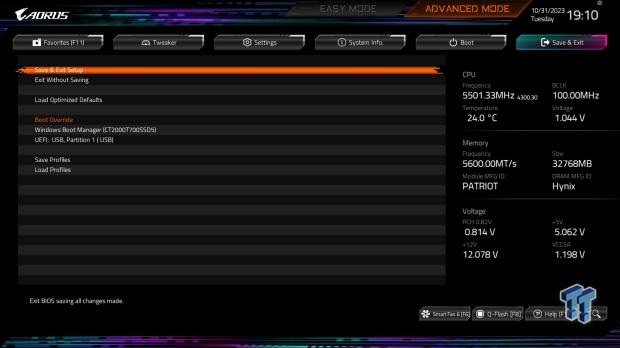 This BIOS should look familiar to anyone who has used an AORUS motherboard in the last few generations. However, this iteration is more colorful and laid out better than past solutions. EZ-Mode provides access to hardware information and presets within GIGABYTE's "Perf Drive" technology. We also have memory and storage options along the bottom and the boot order.
Advanced mode starts with a favorites section that includes all of the most commonly visited sections of the BIOS. We then have the Tweaker menu for those wanting more advanced tuning. The settings section includes platform power configurations and an I/O port menu for users to configure everything from initial display output to settings like Re-Bar and Bifurcation support.
Motherboard Software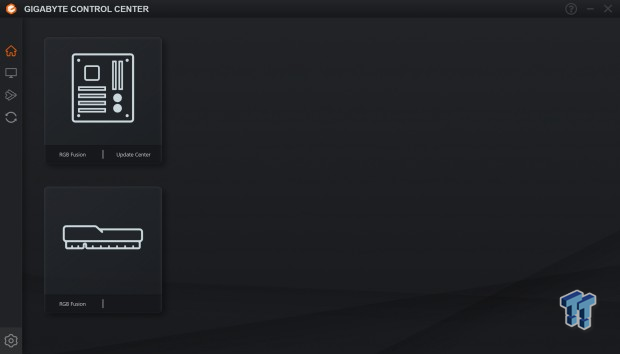 GIGABYTE Control Center offers software support for the motherboard, which includes RGB Fusion control for the board and memory modules.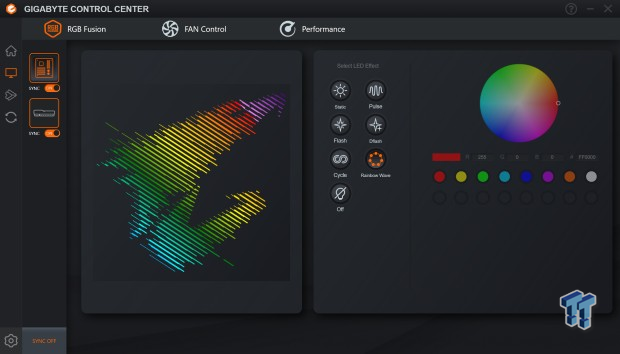 RGB Fusion options include a set of preset profiles and the ability to customize all the RGB functionality of the board.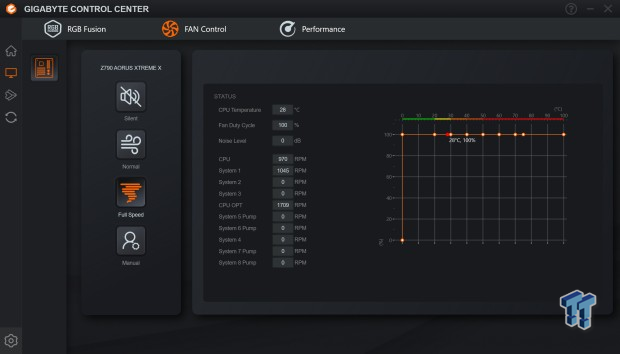 GCC also enables fan control. Three presets are available on the left sidebar, and a custom preset for those wanting to tune their fans.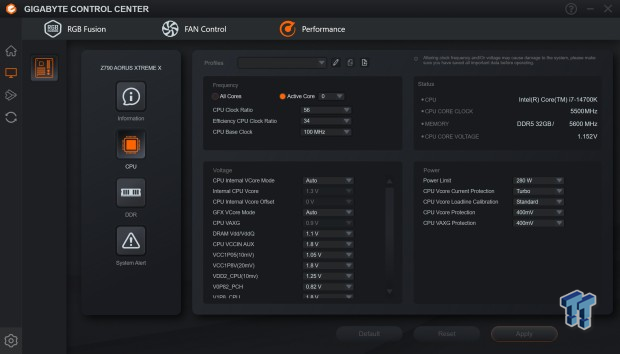 Last, we have the performance tab, which includes the ability to tune the power limits, clock ratios, and even the base clock of your CPU. Voltages, too, are something you can change within the control center.
Intel Motherboard Test System
Cinebench R23 and AIDA64
Cinebench 2024
Cinebench is a long-standing render benchmark that has been heavily relied upon by both Intel and AMD to highlight their newest platforms during unveils. The benchmark has two tests: a single-core workload utilizing one thread or 1T. There is also a multi-threaded test that uses all threads or nT of a tested CPU.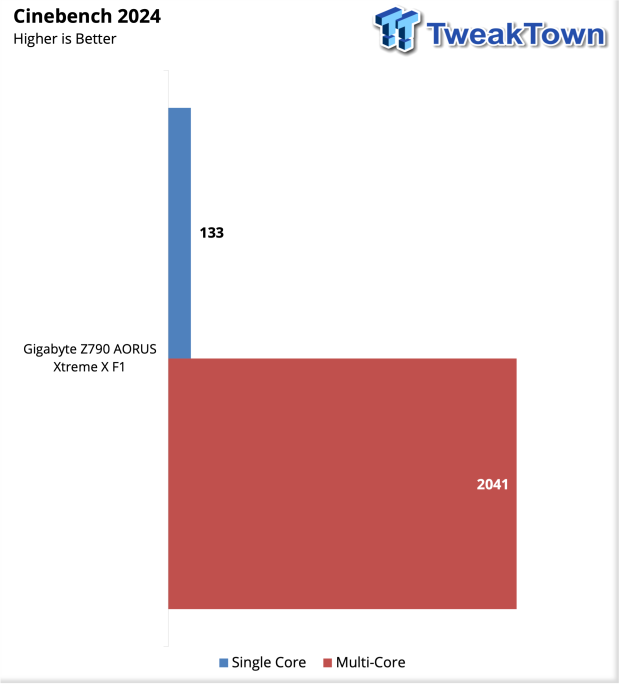 Starting with a fresh set of charts, we move this generation and moving forward with Cinebench 2024. The Xtreme X was one of the first boards we had in for testing with this new bench, and with our 14700K, we landed a 133 single core score while multi-thread came in at 2041.
CrossMark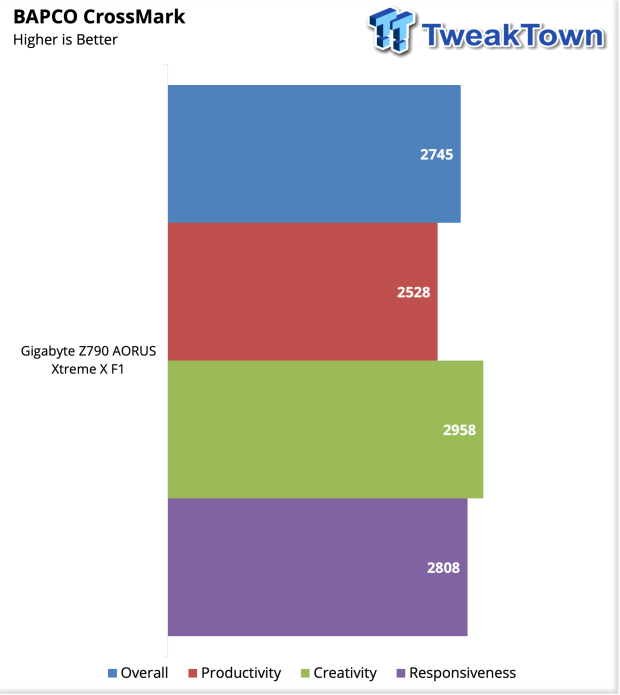 Crossmark turned in a score of 2745 overall. Creativity is still one of the better workloads for 14th Gen CPUs, coming in at 2958 on the Xtreme X.
AIDA64 Memory
AIDA was recently updated to version 6.6, which improved performance in both AES and SHA3 workloads for Alder Lake CPUs. You will notice this performance jump in the charts below compared to earlier Intel Z690 reviews.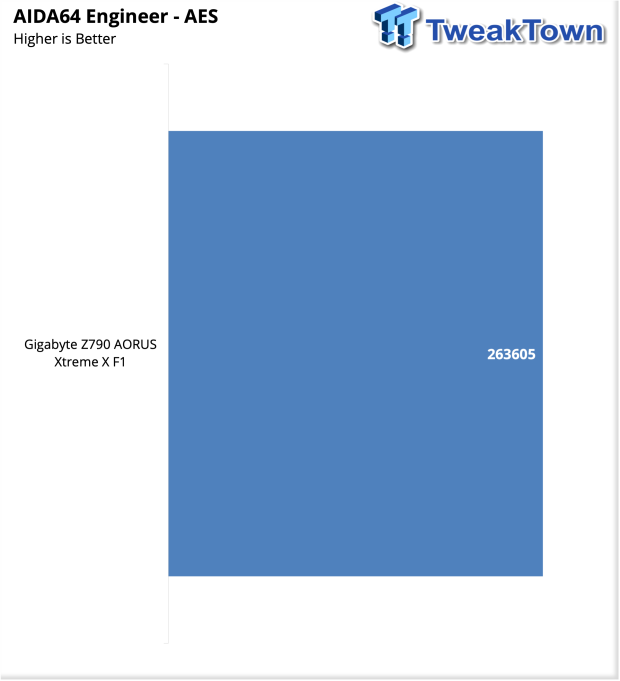 In AES, we picked up 263K with the Xtreme X.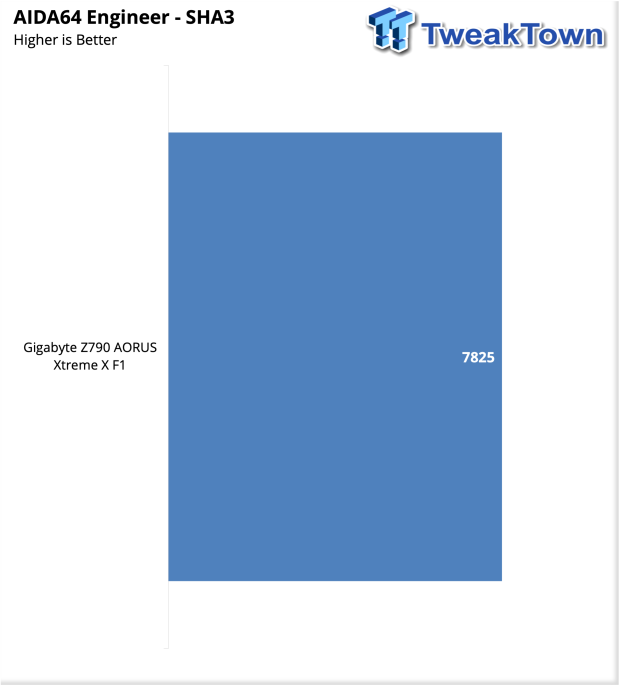 SHA3 comes in at 7825.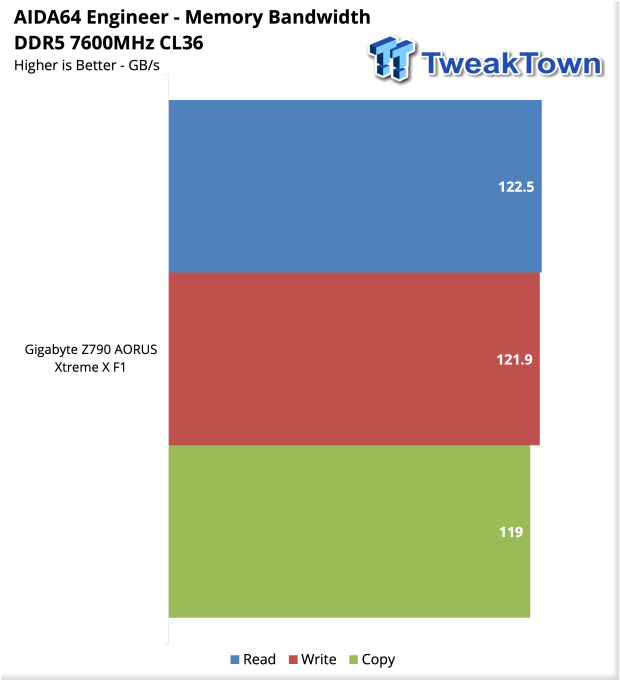 Memory bandwidth is tested at DDR5 7600MHz, the Xtreme X giving us 122K in read, 121K in write, and 119K in copy.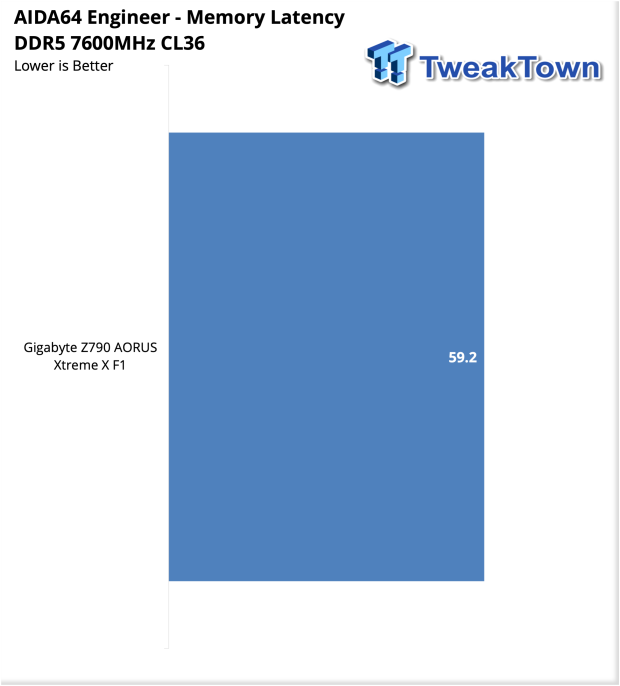 Memory latency for the Xtreme X was 59.2ns.
UL Procyon and 3DMark
UL Procyon Suite
The UL Procyon Office Productivity Benchmark uses Microsoft Office apps to measure PC performance for office productivity work.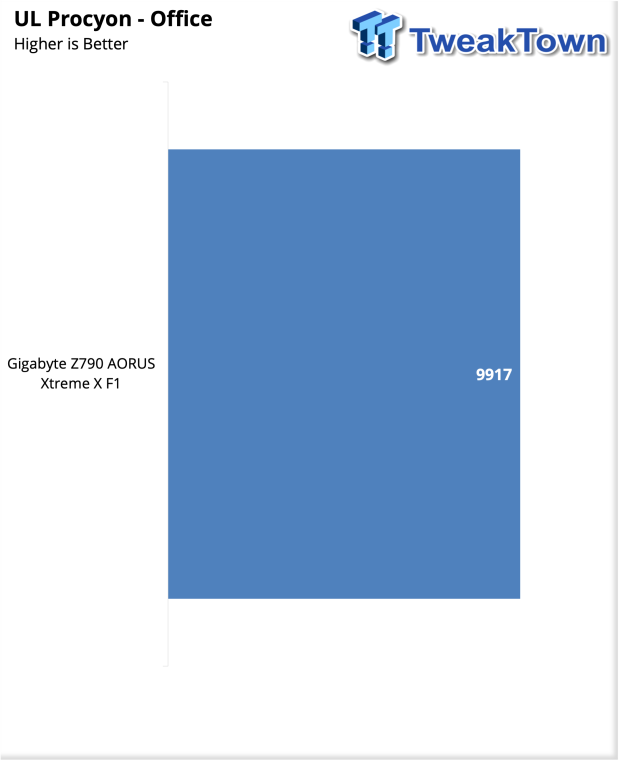 UL Procyon Office gave us an overall score of 9917 for the Xtreme X.
3DMark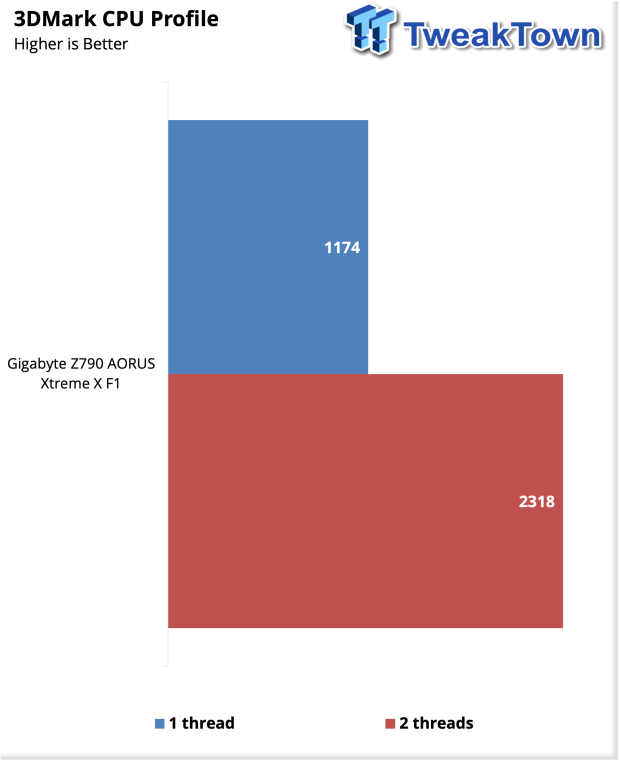 CPU Profile for one and two threads gave the Xtreme X scores of 1174 and 2318, respectively.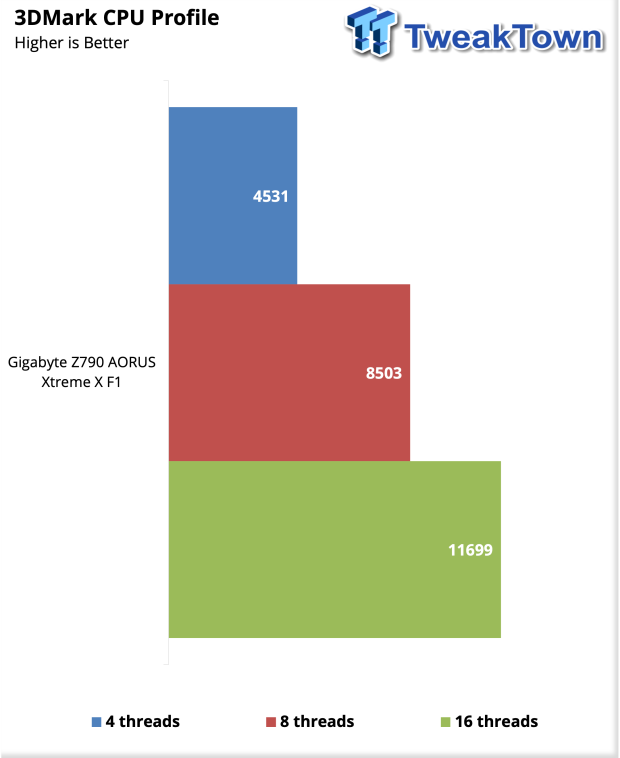 Looking at four, eight, and sixteen threads, the Xtreme X wraps this workload with a 11699 score.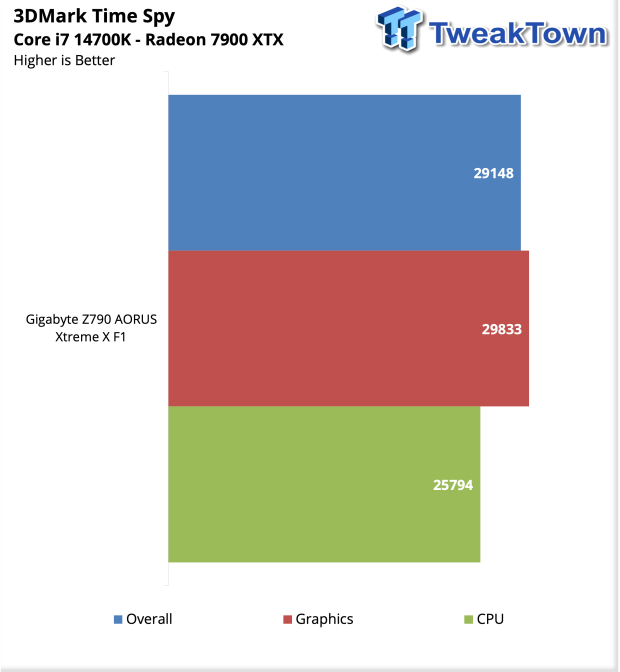 Time Spy was up next. With our 14700K + 7900 XTX combo, the Xtreme X pulled an overall score of 29148 - 29833 for the graphics alone and 25K going to the CPU.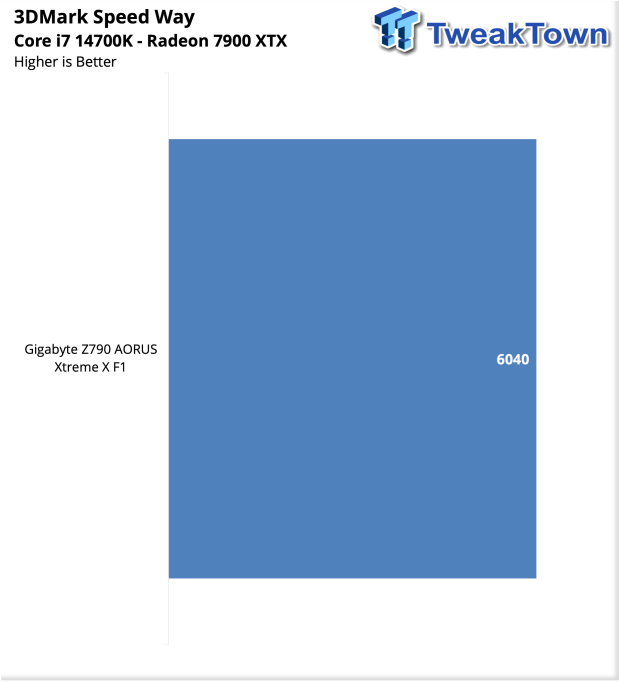 Speed Way scored 6040 overall with our setup on the Xtreme X.
Storage Benchmarks and Final Thoughts
3DMark Storage Benchmarks
UL's newest 3DMark SSD Gaming Test is the most comprehensive SSD gaming test ever devised. It is superior to testing against games themselves because, as a trace, it is much more consistent than variations that will occur between runs on the actual game itself. This test is the same as running the real game without the inconsistencies inherent in application testing.
In short, this is the world's best way to test an SSD's gaming prowess and accurately compare it against competing SSDs. The 3DMark SSD Gaming Test measures and scores the following:
Loading Battlefield V from launch to the main menu.

Loading Call of Duty Black Ops 4 from launch to the main menu.

Loading Overwatch from launch to the main menu.

Recording a 1080p gameplay video at 60 FPS with OBS (Open Broadcaster Software) while playing Overwatch.

Installing The Outer Worlds from the Epic Games Launcher.

Saving game progress in The Outer Worlds.

Copying the Steam folder for Counter-Strike Global Offensive from an external SSD to the system drive.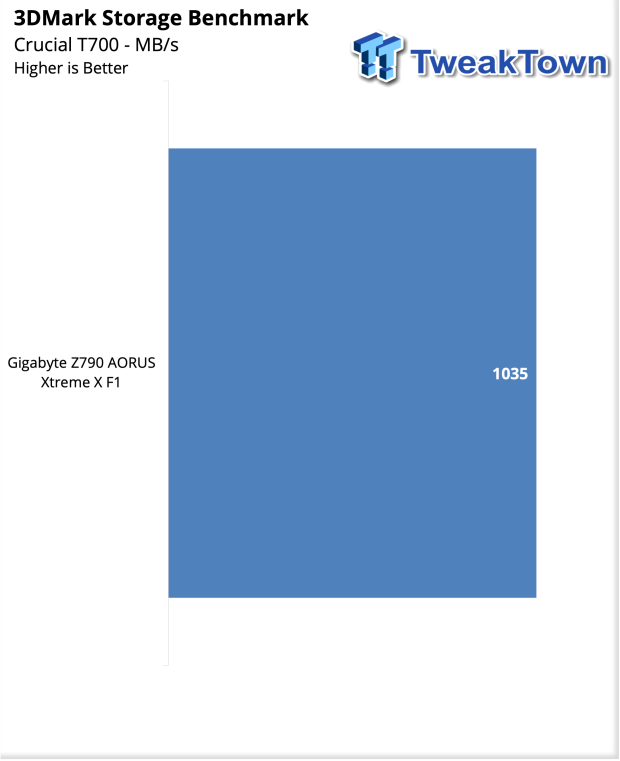 Storage for the Xtreme X offered the highest bandwidth we have seen in a motherboard review. 1035 MB/s for the Xtreme X.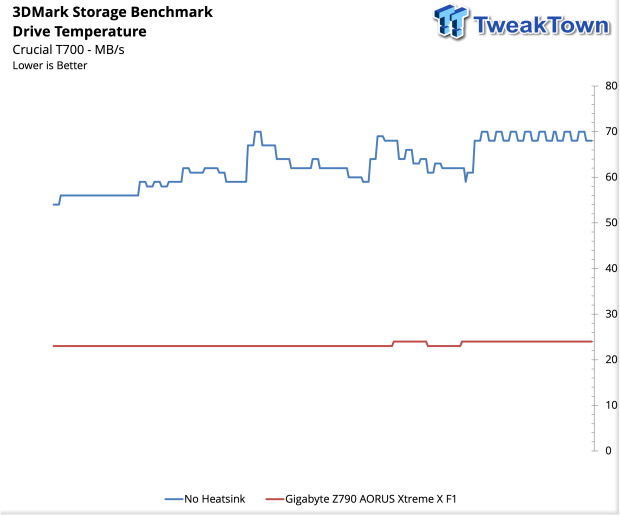 Testing the motherboard's Gen 5 NVMe cooling solution, we have deployed our T700 from Crucial. As seen in the chart above, we have the drive compared to not running a heatsink at all. The Xtreme X is clearly a fantastic solution holding steady a touch above ambient.
Final Thoughts
The Xtreme X is one hell of a motherboard. Starting from the top, the design is one of the best we have tested. The 24+1+2 VRM is easily powerful enough for extreme overclocking for those seeking a legit top-tier offering. Adding to this, Intel's 14th Gen brings extreme memory capacities. We could boot DDR5 8000 easily on this motherboard, even with us testing on BIOS F1.
Aesthetically, the board is gorgeous. The OLED panel built into the rear I/O plate eliminates the need for a second monitor or sensor panel within the chassis to monitor board and CPU temperatures. The new EZ Latch Plus system makes installing your NVMe drives a completely tool-less operation.
The software on this motherboard includes the GIGABYTE Control Center and RGB Fusion, allowing for control of any board RGB functionality, including the four DIMM slots and supported GPUs. The performance tab offers further tubing within Windows, not quite to the extent one can accomplish with Intel XTU, but you could potentially control voltages and all clocks within Windows. Additionally, GIGABYTE Control Center offers several preset fan controls within the software and a custom option for those who want to tune their fans.
The performance of the board was quite good. With several new benchmarks entering our testing and new CPU generation, we have no comparisons for the Xtreme X. That said we do have a full slate of boards in the lab for testing so this will change soon. With that, we land at pricing. All things considered, the Z790 Xtreme X is a flagship offering from GIGABYTE, so it is priced accordingly. At an MSRP of $999, it is quite expensive in the grand scheme, but for those wanting an all-out board, this solution delivers a top-tier VRM, Thunderbolt 4, 10Gbe, Wi-Fi 7, and a massive amount of storage capability to the DIY market.