TweakTown's Rating: 92%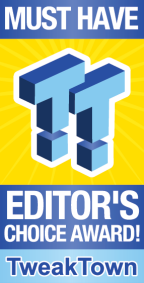 The Bottom Line
Razer's first hot-swappable mechanical gaming keyboard is a surprising move for the company, but one that has paid off. The new Razer BlackWidow 75% delivers across the board and offers an excellent entry point into DIY keyboard modding.
Pros
+

Hot-swappable switches

+

Versatile and compatible with different switch types

+

New tactile Razer Orange switches feel great and sound wonderful

+

Comfortable, customizable, and affordable
Cons
-

ABS keycaps instead of double-shot PBT

-

It is not as weighty as some due to the plastic underside

-

Razer Synapse could use an overhaul
Should you buy it?
Avoid
Consider
Shortlist
Buy
Introduction & Specification Details and Close-up
The new Razer BlackWidow V4 75% looks like a shrunken-down version of the Razer BlackWidow V4 Pro mechanical keyboard we reviewed earlier in the year. Per the naming, this is a 75% form-factor keyboard that keeps the function row and arrow keys in a more compact size. But the new Razer BlackWidow V4 75% is much more than this; it's Razer's first hot-swappable mechanical gaming keyboard - with switches you can swap out with whatever you prefer. With a level of customization on offer that we're not used to seeing, the result is an excellent choice for those looking to get in on keyboard customization and modding.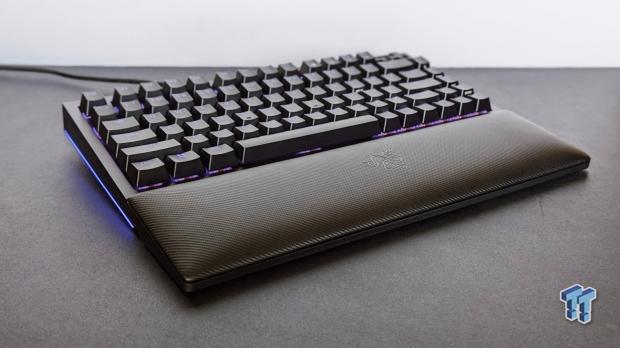 The DIY market for keyboards is booming right now; you've got quite a large number of people buying individual kits and switches or complete packages and then lubing up switches and putting it all together in a way that feels in step with the custom PC market as a whole. As a brand, Razer has always offered a broad range of products to suit various needs. Its keyboards cover several wired and wireless models with different materials and switch types.
Of course, this doesn't mean that the Razer BlackWidow V4 75% isn't a plug-and-play keyboard; it is; it's just that Razer has based a lot of the design on community feedback and input - right down to the new Razer Orange Tactile Mechanical Switches that come installed by default.
Still, even with a hot-swappable approach, a lot of the design philosophy from the full-sized Razer BlackWidow V4 Pro carries across to the new Razer BlackWidow V4 75%, including the excellent media controls, lighting, and comfortable detachable wrist rest. Let's dig in.
Specifications & Close Up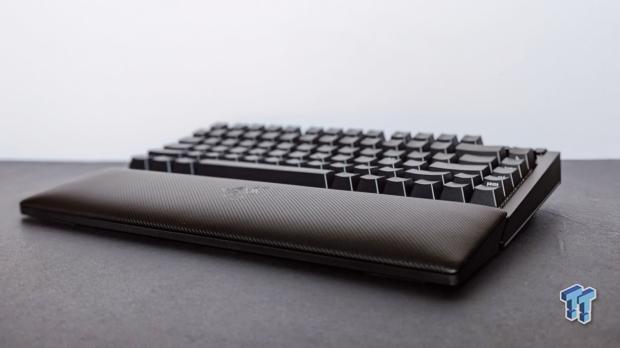 Product Name: Razer BlackWidow V4 75%
Product Type: Wired Gaming Keyboard
Size: 75% with function row and arrow keys
Switch: Razer Orange Tactile Mechanical Switches
Actuation Point/Force: 2.0mm/50g
Polling Rate: Up to 8000 Hz
Interface: USB Detachable Type-C Cable
Lighting: Razer Chroma
Dimensions: 321 x 155.5 x 24 mm
Weight: 815 grams (keyboard)
What's in the Box: Razer BlackWidow V4 75%, Magnetic plush leatherette wrist rest, USB Type-A to Type-C cable, 2-in-1 keycap and switch puller, Information guide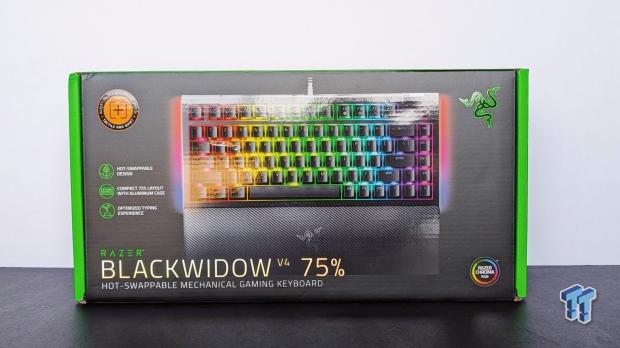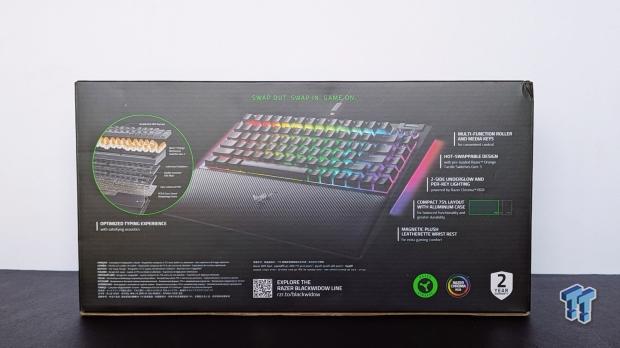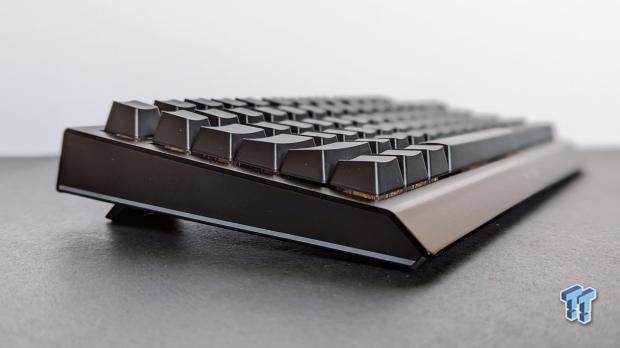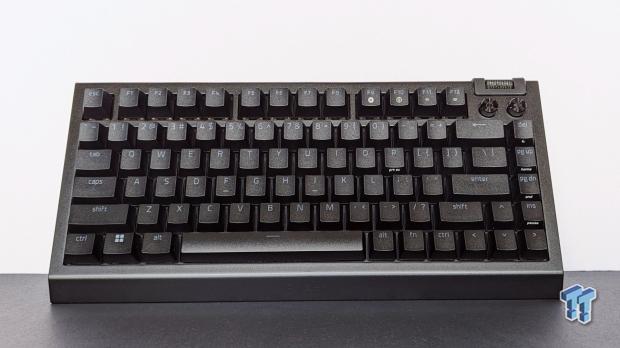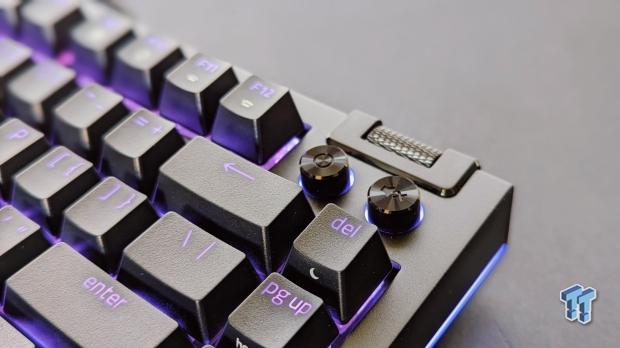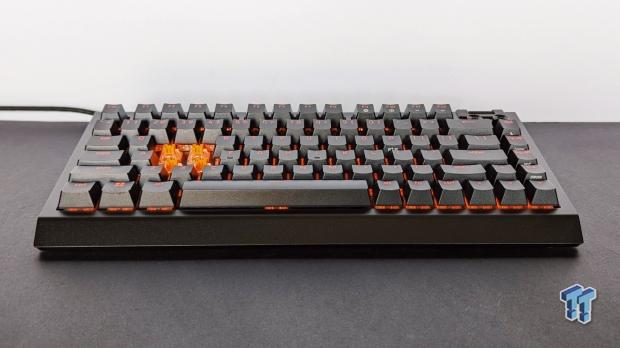 Kosta's Test System Specifications
Motherboard: MSI MPG X670E Carbon Wi-Fi
CPU: AMD Ryzen 9 7900X
GPU: NVIDIA GeForce RTX 4090 Founders Edition
Cooler: Corsair iCUE H100i RGB PRO XT Liquid CPU Cooler
RAM: 64GB (2x32GB) Corsair DOMINATOR PLATINUM RGB DDR5 DRAM 5200MHz
SSD: Sabrent Rocket 4 Plus-G M.2 PCIe Gen 4 SSD 4TB, Sabrent Rocket 4 Plus Plus M.2 PCIe Gen 4 SSD 8TB
Power Supply: Thermaltake Toughpower GF1 850W
Case: Thermaltake Core P3 Tempered Glass Snow
OS: Microsoft Windows 11 Pro 64-bit
Design & Software
Design
The overall physical design of the Razer BlackWidow V4 75% follows in the BlackWidow footsteps, with an all-black finish typical of the lineup and the Razer brand. As a smaller version of the BlackWidow V4 Pro, some concessions are made, including reducing the size of the volume dial and reducing the dedicated media control buttons from four to two - one for mute/unmute and one for play/pause. The biggest omissions are the absence of that keyboard's very cool Command Dial and dedicated Macro controls.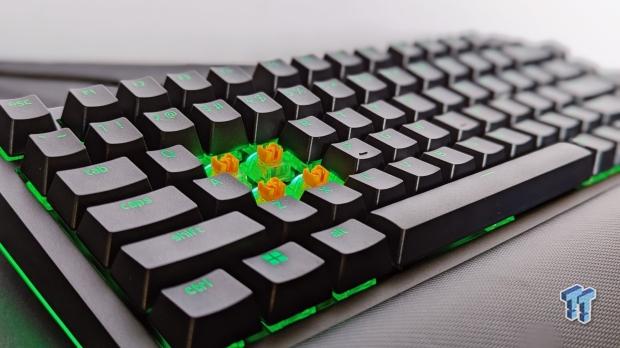 However, there are major differences in the overall physical design and hardware to make room for the hot-swappable switch functionality and to improve the overall sound and feel of using the Razer BlackWidow V4 75%. In addition to an aluminum top case, Razer has made several improvements to the PCB, shifted to a gasket-mounted design, and added multiple layers of sound-dampening foam with extra room for you to add stabilizer mods. There's even support for both 3 and 5-pin switches - which makes the Razer BlackWidow V4 75% more than live up to the promise of being the company's first fully customizable and versatile DIY keyboard.
All of that exists within the BlackWidow V4 aesthetic, which includes programmable Razer Chroma per-key lighting with a side underglow, and the company's double-shot ABS keycaps that have a great feel but are prone to develop a shine over a certain amount of time. In the case of the RGB underglow, it's quite impressive how much it adds to the overall aesthetics of the Razer BlackWidow V4 75% - but unlike the V4 Pro, it doesn't extend to the wrist rest.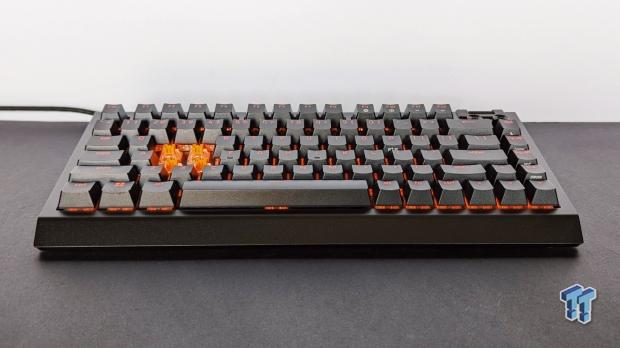 With support for many different switches, the Razer BlackWidow V4 75% ships with the new Razer Orange Tactile Mechanical Switches. Moving away from the linear style is surprising for the company - especially when its products are designed with gaming front and center. Tactile switches like the ones deployed here are mostly associated with general typing due to the feedback you get from each key press. Still, with a 2.0mm actuation point, the Razer Orange Tactile Mechanical Switches are perfectly fine for gaming.
But it has to be said that they are easily Razer's best-sounding switches we've used - delivering a consistent and satisfying clack with each press that always feels smooth and natural.
Software
Like all Razer products, the Razer BlackWidow V4 75% uses the Synapse software suite that is powerful but a little bland in its UI design, which hasn't changed or evolved all that much over the past decade. Granted, it is straightforward to use, and you've got access to save up to five different profiles with the ability to choose from basic lighting presets or dive into the Chroma Studio to sync and customize your entire rig.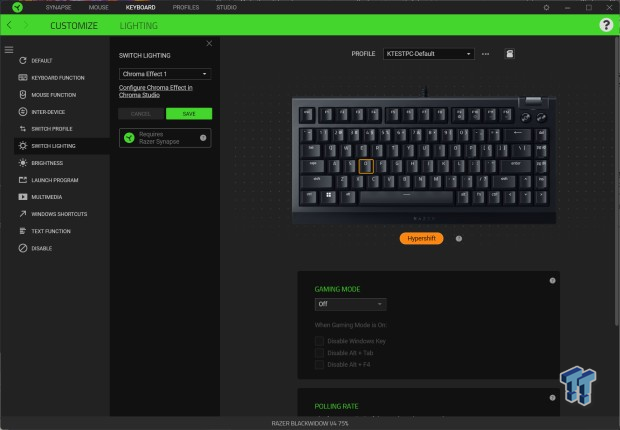 One of the best features, especially regarding its ease of use and the doors it opens, is Razer HyperShift, which allows you to change and add a secondary function to each key. What makes the whole process impressive is that pressing the HyperShift key (which by default is the function key) offers you a separate lighting profile where only the keys with actual secondary functions light up. It's a nice visual layer to remind you which keys or areas of the keyboard you've set up to perform different actions.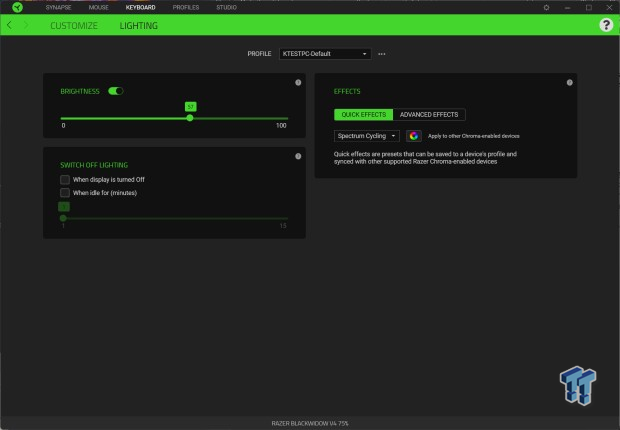 Keeping all of the customizations to a single screen is commendable, and it's here where you can also adjust the Polling Rate up to an overkill 8,000 Hz - which feels more like a flex than something you'd need to enable as it does result in the keyboard taking up more system resources. Still, it lowers the overall latency - which is never a bad thing to have as an option.
Gaming Performance and Productivity
Gaming Performance
The pre-lubricated Razer Orange Tactile Mechanical Switches offer a satisfying bump with each key press. They sound better than the switches found in the Razer BlackWidow V4 Pro, and the result is very good for gaming. Testing with Call of Duty: Modern Warfare II, Apex Legends, and even some Baldur's Gate 3, I didn't come across any issues in terms of accuracy or latency, and it didn't take long at all to adjust to the tactile feel after mainly using linear switches for several years.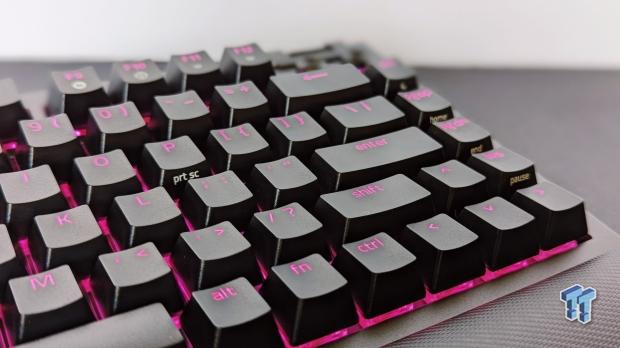 With keyboards designed to deliver pure linear speed for competitive shooters, the actuation point of 2.0mm and the tactile bump might not be up there. Still, you've always got the option to swap Razer's new Orange switches with something else - either from Razer's line-up of switches priced at USD 24.99 for a set of 36 keys or from any number of vendors and switch makers. Part of the fun of buying something like the Razer BlackWidow V4 75% is that you can put in new switches and even swap out keycaps, depending on what you're after.
Productivity
The productivity chops here are very strong with the arrow keys and function keys, and not all that much is lost in the transition to shrinking things down to a 75% form factor. Even though Razer's products are seen as predominantly for gamers, the great feeling tactile switches of the Razer BlackWidow V4 75% make it an excellent choice for straight-up typing - to the point where it probably excels in this department over others. Especially when Razer HyperShift can be customized to add all the app-specific functions and triggers you might need to call on.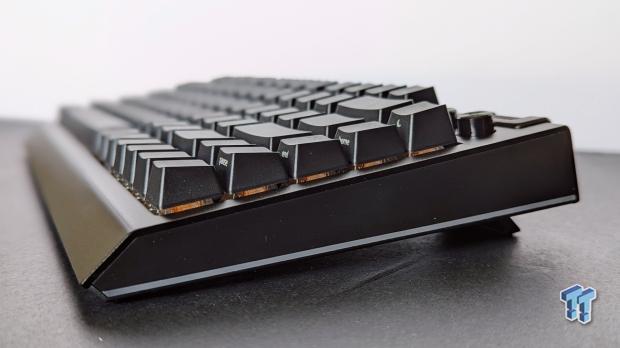 A full-sized keyboard will always be able to pack on additional features. However, with Razer's great-feeling ABS keycaps (sure, double-shot PBT would have been nice to see on a BlackWidow keyboard), comfy wrist rest, and the new levels of physical customization you can do with the new BlackWidow V4 75% - this isn't something you'd consider "for gamers" only even though the branding on the underside makes it seem like that's the case.
Keyboard Click Sound Level
To test a keyboard's overall sound level, we use the Ozito Digital Sound Level Meter, capturing the sentence "the quick brown fox jumps over the lazy dog" multiple times and recording the maximum dB level. This indicates how "loud" the switches used are for everyday usage. The following chart showcases where the Razer BlackWidow V4 75% sits.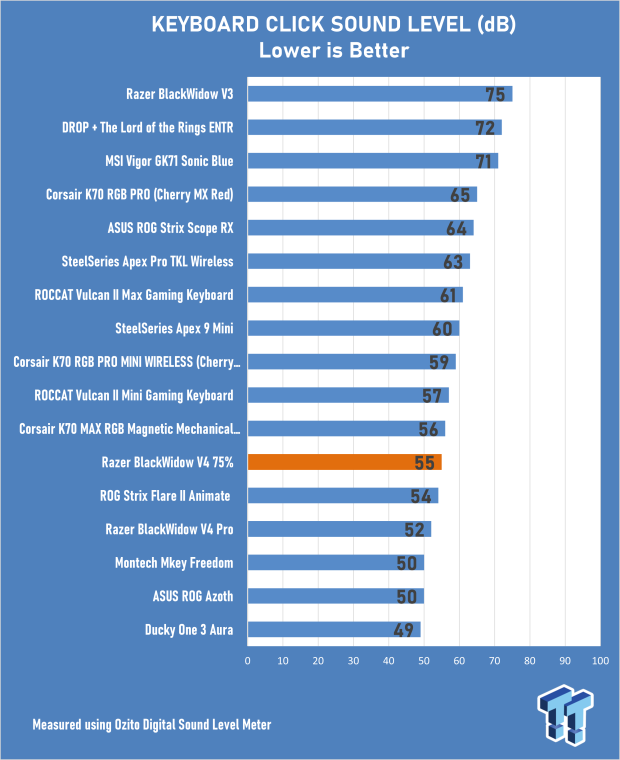 Final Thoughts
Priced at USD 189.99, the Razer BlackWidow V4 75% is an affordable entry into keyboard customization and modding. However, it must be pointed out that any modifications made after you open up the keyboard void the warranty. Still, putting together a keyboard using parts and kits from some of the most well-known DIY brands that specialize in hot-swappable switches is not cheap. So it's cool to see Razer entering this sector with something as robust, well-built, and easy to use as the Razer BlackWidow V4 75%.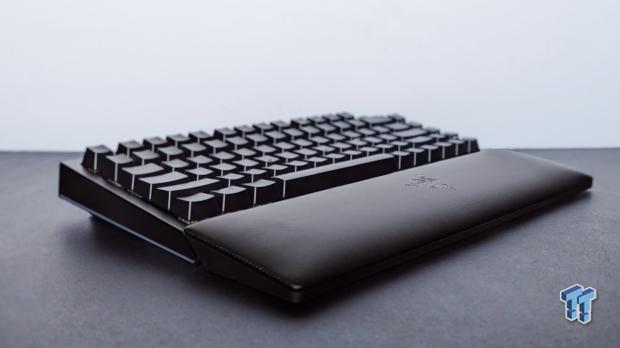 It's not perfect by any means, and it would have been nice to see Razer go all out with aluminum on the underside and the top layer, with double-shot PBT keycaps and a few other bells and whistles. But those things aren't deal breakers, and even as a plug-and-play keyboard, the new Razer Orange Tactile Mechanical Switches are supremely satisfying to use - and you can feel the difference that multiple layers of foam, the gasket-mounted design and revamped PCB have brought to the table. As a robust 75% form factor keyboard, it excels, and if you're looking to get into the world of keyboard modding, it's a downright winner.