TweakTown's Rating: 93%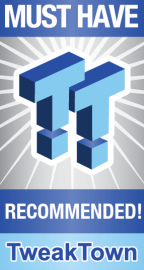 The Bottom Line
Phanteks' NV7 is a showroom-ready case that focuses on massive water cooling support. If you are looking for a case that no one has, the Phanteks NV7 should be on your shortlist.
Pros
+

Massive support for water-cooling

+

Beautiful tempered glass side panels

+

Interesting design

+

Tasteful ARGB integration

+

Fantastic cable management
Cons
-

Support for 140mm fans limited to the bottom bracket

-

Very heavy at 37.25 lb / 16.9kg
Should you buy it?
Avoid
Consider
Shortlist
Buy
Introduction, Specifications, and Pricing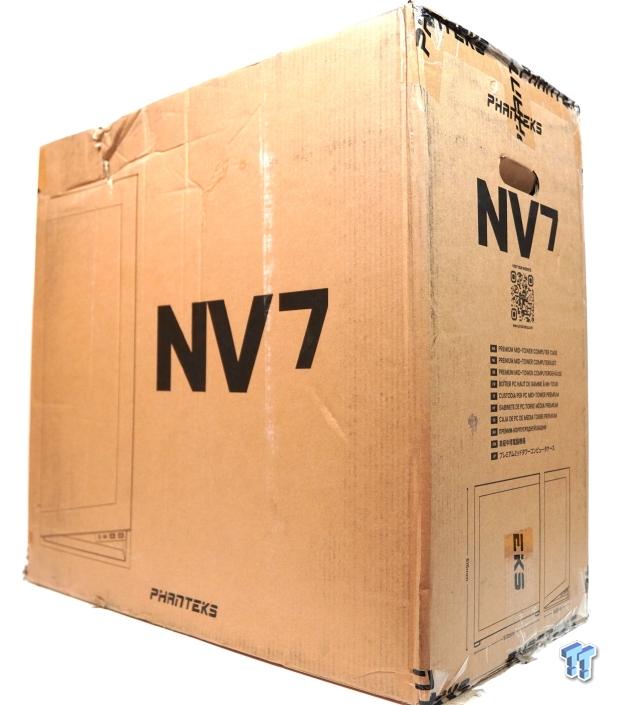 Today we are going to take a look at a big full-tower case from Phanteks. Phanteks are familiar with the large full-tower case market. Can anyone remember the Entho series, specifically the Pro, Luxe, Primo, and Elite?
Which new case, you may ask? Well, it's the NV7 which is a full ATX tower, tempered glass beauty. Pricing for the NV7 has an MSRP of $219.99, which is quite high considering there are no included fans. There will also be two colors available - black and white.
Packaging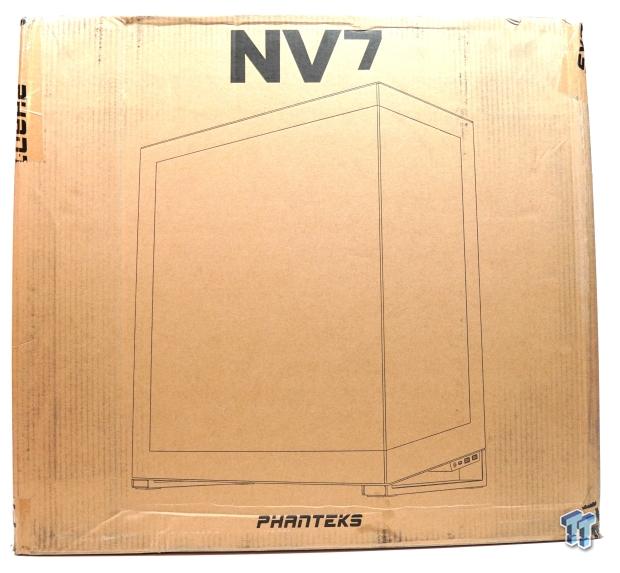 The outside packaging that Phanteks has used here for the NV7 is understated, which helps conserve costs.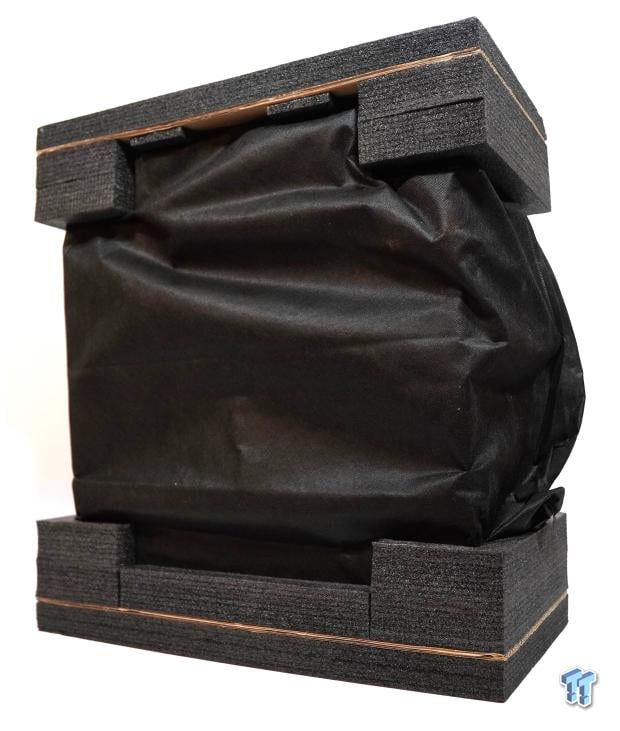 Inside is one of the best packaging, with two pieces of high-density foam and a black cloth covering. This material helps ensure the NV7 gets to you in the best condition.
Outside the Phanteks NV7 Full Tower Case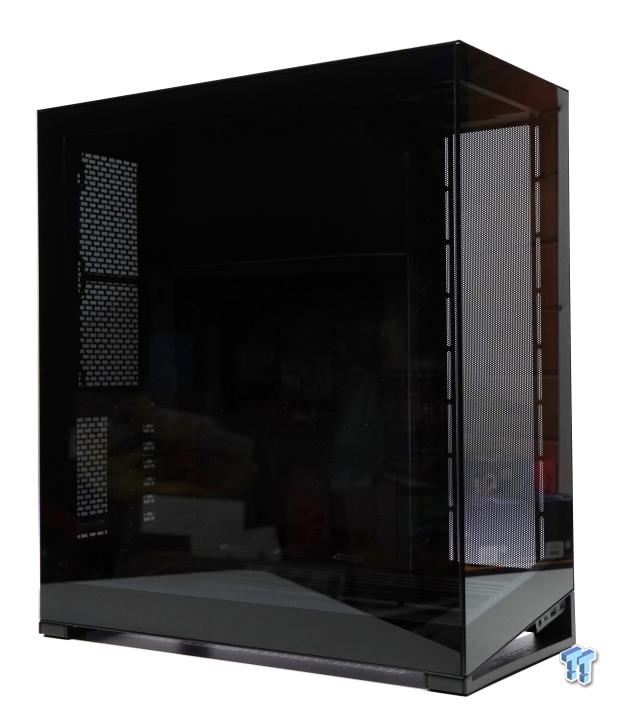 The stance of the NV7 is very sleek and has a large footprint, measuring 532 x 253 x 586 mm. Right off the bat, the front angle design will raise some questions, and rightfully so. This design choice intends that the NV7 be placed on a desk instead of the floor. Also, both tempered glass pieces can be removed for installation, making installing water cooling gear much easier.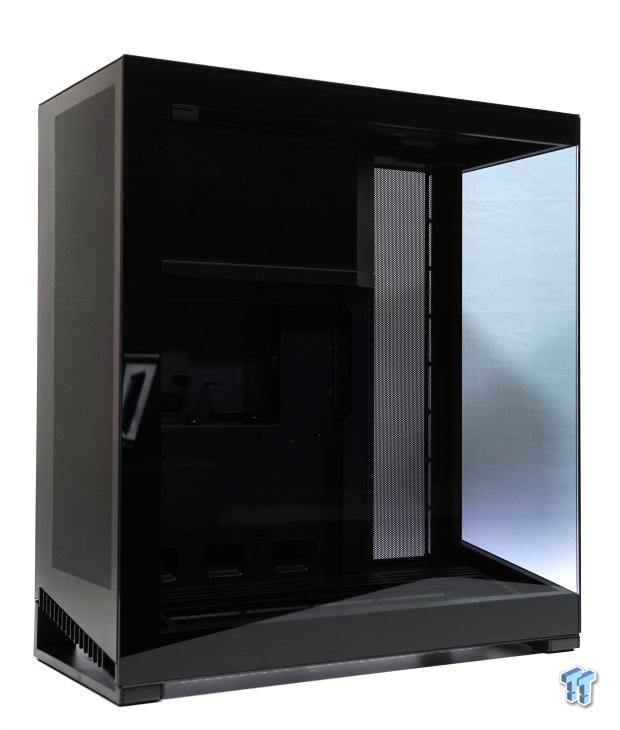 The back cable I/O section, which is almost as beautiful as the front section, has a removable swing out door. Cables are kept out of sight and managed with the cable routing bit on the bottom.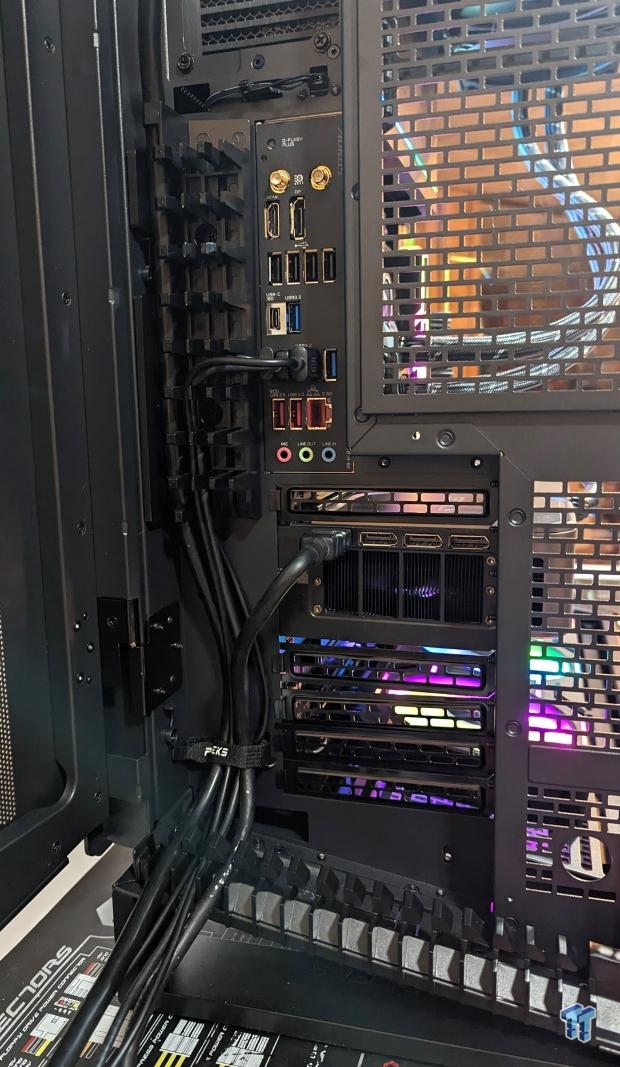 The rear I/O section with the back door opened shows more cable routing that Phanteks has included with the NV7.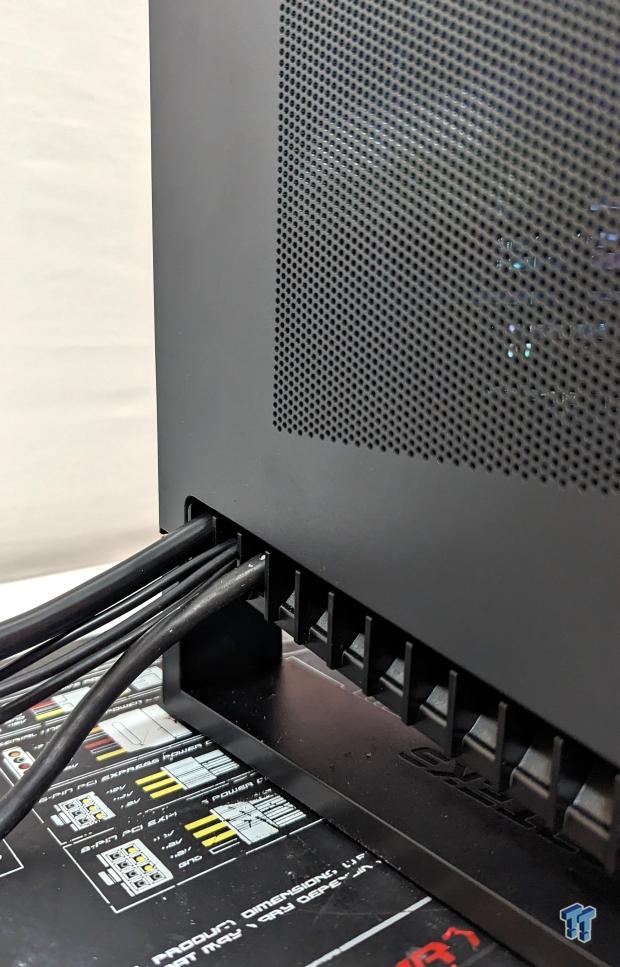 Here the rear door is shut with all the cables neatly tucked away.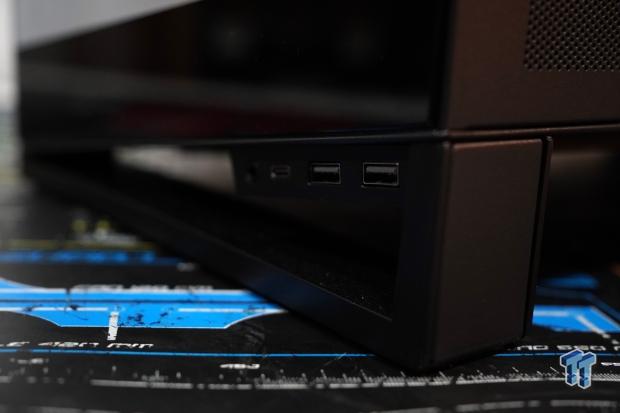 The front I/O consists of two USB 3.0 Type-A ports and a USB 3.2 Type-C port. A combo microphone and headphone 3.5mm jack is also present. The front I/O can also be moved to the rear of the NV7 to give a cleaner aesthetic.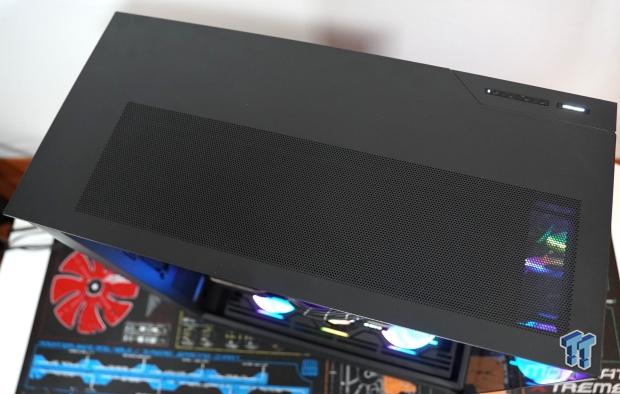 A removable panel via two thumbscrews is on the top of the NV7, the rectangular power button, followed by controls for the included two-channel D-aRGB controller.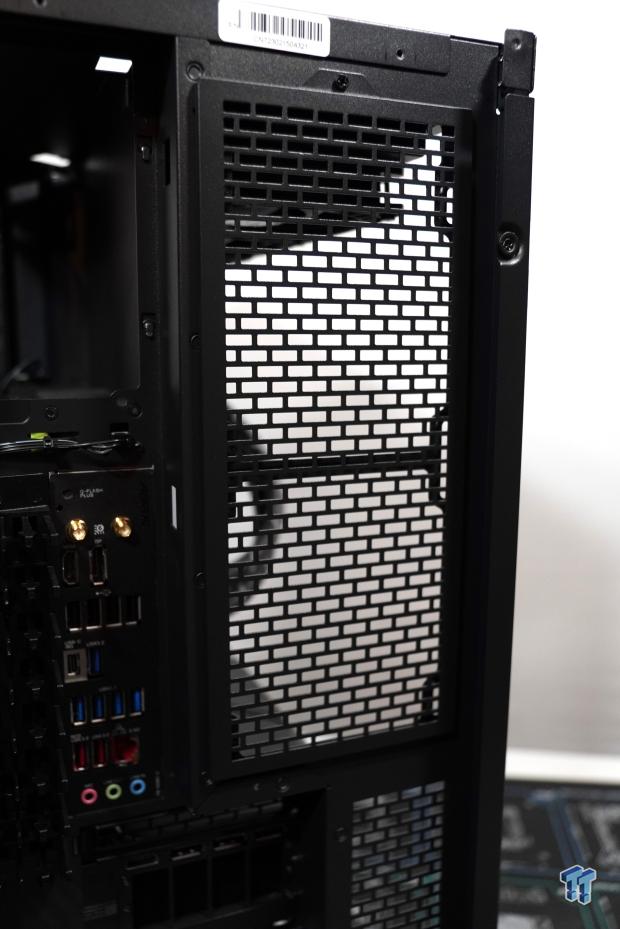 The rear fan locations accommodate two 120mm fans or a 240mm radiator. The fan grille can be removed to allow the 120mm fans or 240mm radiator to be mounted outside for a cleaner-looking aesthetic.
Inside the Phanteks NV7 Full Tower Case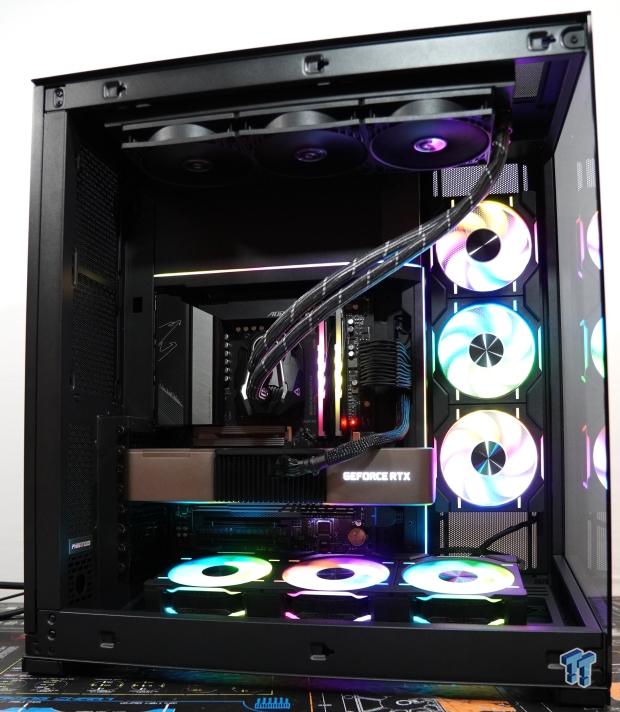 Taking off the large tempered glass side panel, gets one inside the Phanteks NV7. It's pretty wild how much space is available with the endless water-cooling possibilities. Motherboard support is up to an eATX, with the ability to move the right side aRGB strip/bracket just by removing it and rotating it 180 degrees to allow for additional clearance.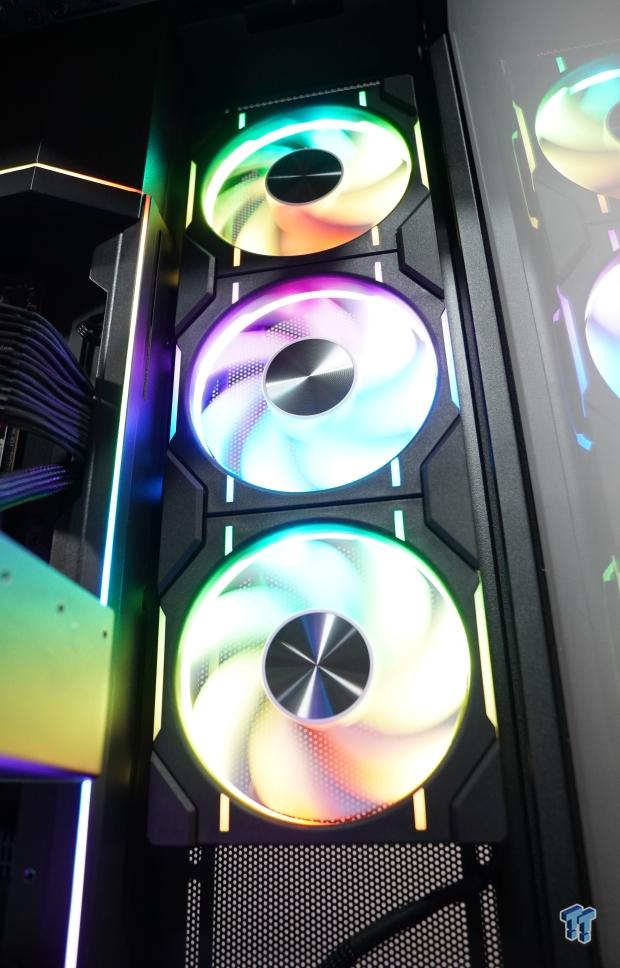 The side fans, which up to four 120mm fans are supported here, can also have a 360mm radiator installed. This bracket can be removed for easier installation outside of the NV7 with just a single thumbscrew by removing the top panel. Also, thanks to Phanteks for providing the additional D30 fans for this build.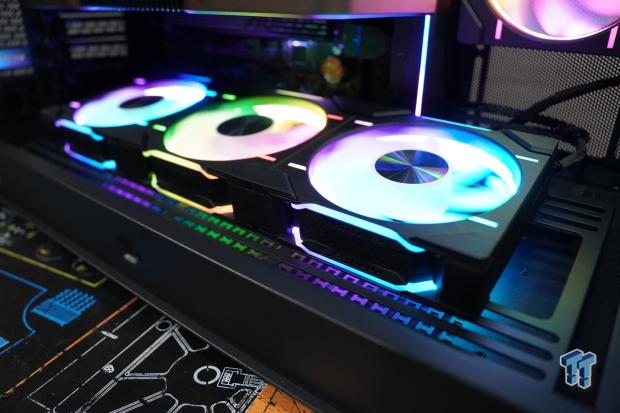 The bottom mount, which is removable, can support up to three 120mm fans, three 140mm fans, or a single 280mm or 360mm radiator. This bracket can be orientated two ways, angled or at 90 degrees.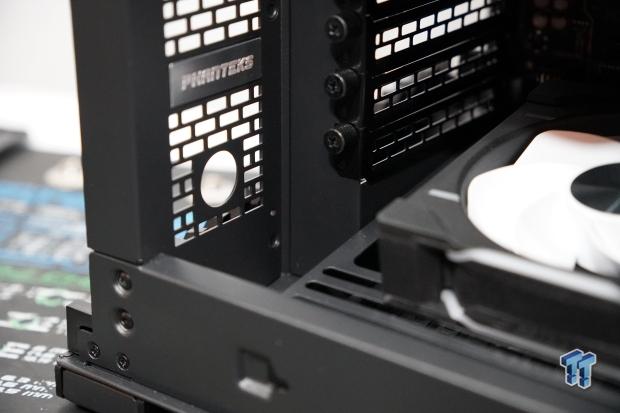 A drain port is another thing Phanteks thought of, which is great for water coolers who want to maintain their system properly.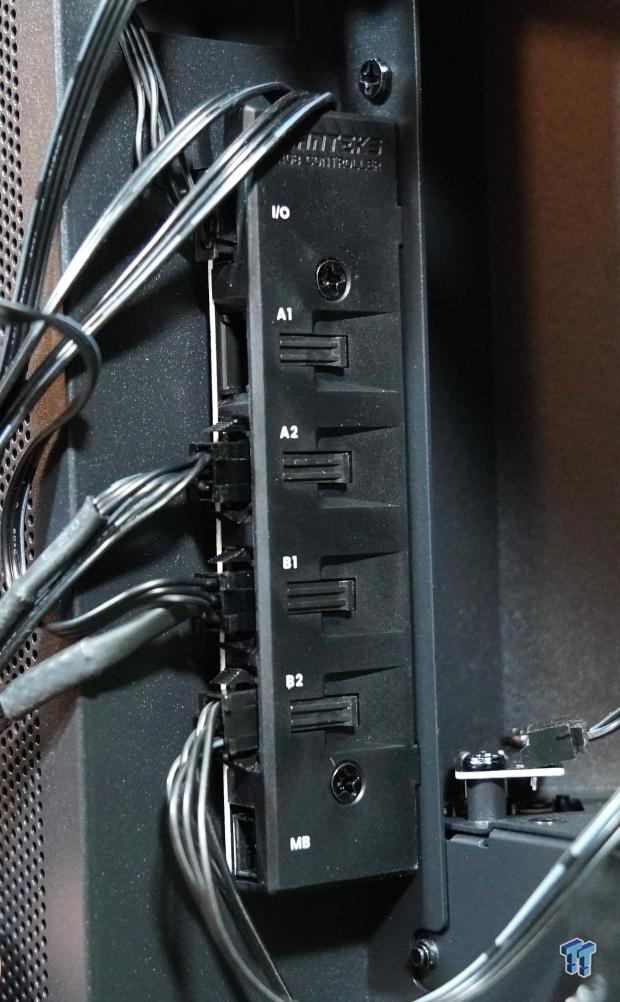 The D-aRGB controller can control two different color zones for mixed effects. Optional control from RGB-supported motherboards is supported as well.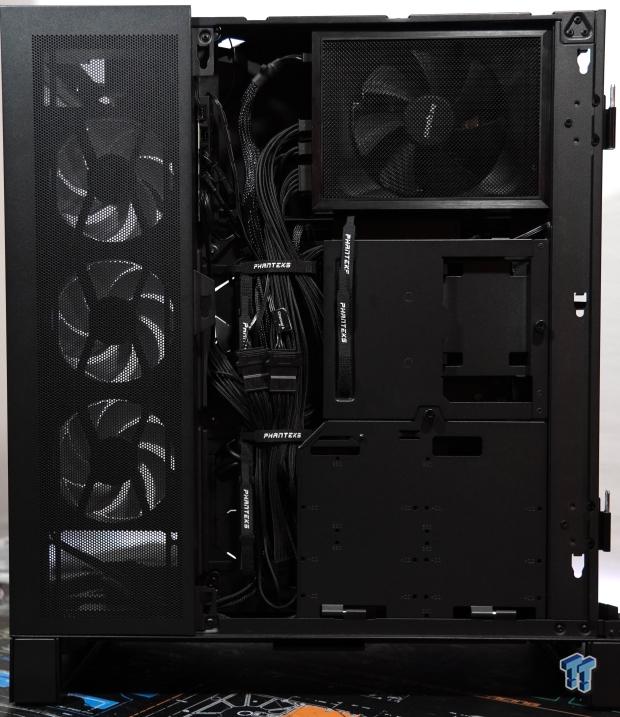 Taking the back panel off, which a single screw on the top holds in, shows a few areas for HDD/SSD support and cable management. Running cables couldn't have been easier with the included velcro tie-down points. The panel, located right behind the CPU, swings out to accommodate two 2.5" HDDs or SSDs. The bottom panel drops down to support two 3.5" HDDs. The panel to the left is not removable but has a finer mesh to allow for airflow to be set up as intake or exhaust. On the bottom, angled upwards, is access to the full-length fan filter.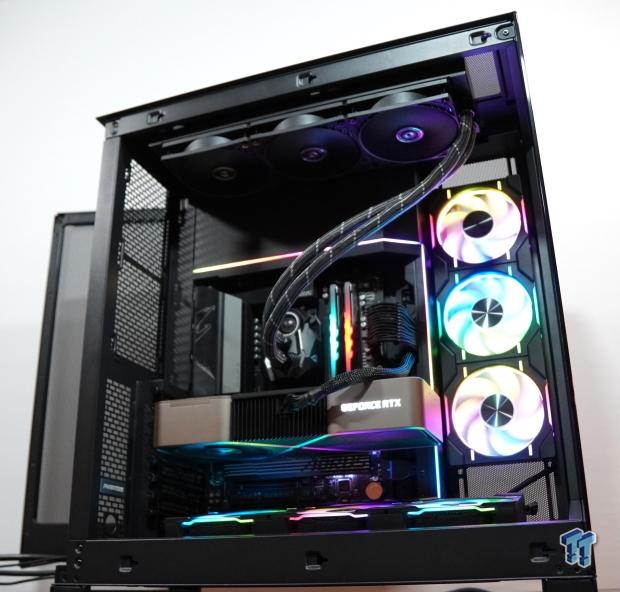 This bad boy is begging for the full liquid-cooled treatment; stay tuned.
Test System, Installation, and Finished Product
Final Thoughts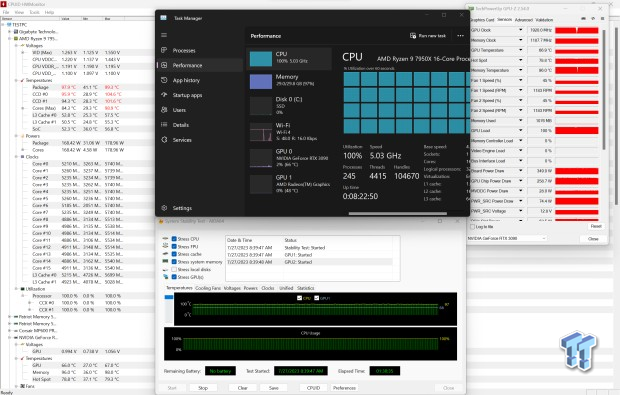 Building inside the Phanteks NV7 was an absolute dream. I could not ask for more in terms of buildability. The amount of flexibility that Phanteks has thought of is truly something to consider. Installing the test system, which was recently updated to an AMD Ryzen 9 7950X CPU, a B650 AORUS Elite AX motherboard, and a GPU, an NVIDIA RTX 3090 Founders Edition.
Running a fully loaded system via Aida64 Engineer's System Stability Test for over an hour to ensure that every component and the chassis were fully saturated in a 19C ambient temperature environment found a few conclusions. First, the AMD Ryzen 9 7950x runs hot; AM5 CPUs run hot no matter what kind of cooling you throw at them; it's designed to run hot.
That said, idle temps sat at 43C while load temps hit a staggering 99C; however, 5GHz was the normal speed the 7950X ran at, so that's something. However, the NVIDIA RTX 3090 Founders Edition ran at a chilly 27C idle and only hit 67C at full tilt. So having the bottom as intake fans set of the NV7 directly correlates with the low GPU temperatures.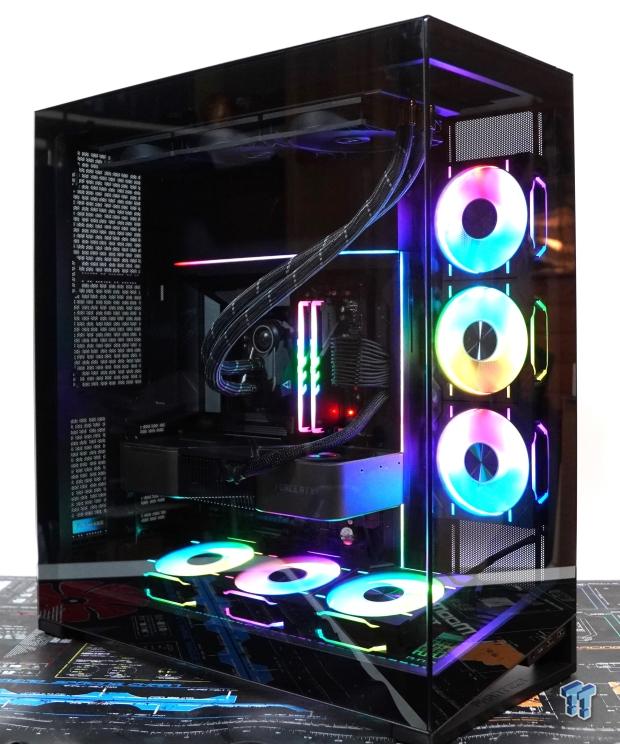 The Phanteks NV7 full-tower chassis makes me look forward to reviewing the recently announced NV5 and NV9 chassis coming out later this year. Does this mean that the NV7 is the case for everyone? No, I would have to give this one to a water cooler that can fill up the space more effectively and can make use of the radiator space to cool high-end components enough, otherwise sticking an air cooler on a CPU and using a large GPU might not fill up the room enough.
Back to pricing, the NV7 is alright at $219.99 for what you get. If any higher than $220, three D30 120mm fans would have to be included to justify a higher price point. Competitors to the NV7, like NZXT's H9 Elite, include four 120mm aRGB fans, albeit for $20 more. Lian Li has O11D variants like the XL and EVO, which are priced slightly lower.
So, in conclusion, Phanteks has done a wonderful job with the NV7. This approach to dual chamber PC cases is a design that punches above its weight in style and performance. I would have liked better support for 140mm fans, specifically in the rear two locations. Lastly, weight is something that is a give and take. The tempered glass side panels make up most of the mass, so one should consider that closely.