TweakTown's Rating: 95%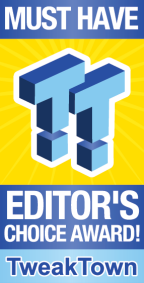 The Bottom Line
MSI has hit the jackpot with the Radix GRAXE66 gaming router, offering consumers a fantastic interface and a plethora of performance.
Pros
+

Performance

+

2.5Gbe WAN/LAN

+

Software/OS

+

Price
Cons
Should you buy it?
Avoid
Consider
Shortlist
Buy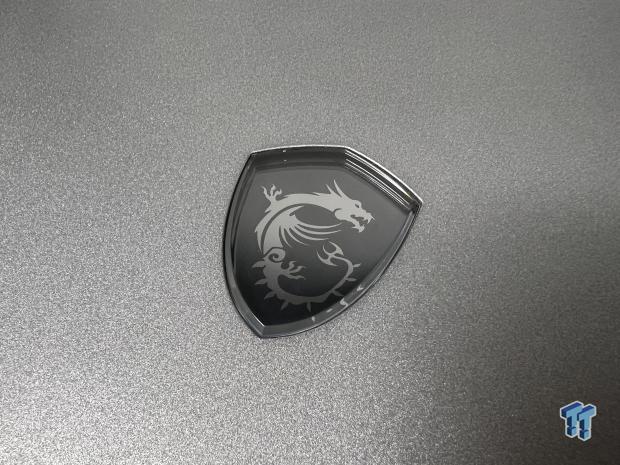 As the RadiX AX6600 review mentioned, MSI recently re-joined the consumer networking market with two Wi-Fi router offerings alongside their very own USB Wi-Fi Adapter. After reviewing, we were pretty happy with the performance and reliability of the GRAX66 but were a bit puzzled at the decision to release a WiFi6 solution so late. WiFi6e is currently the big player in the market, and WiFi7 is officially here, with TP-Link announcing their solutions earlier this month, so let's dig into the GRAXE66.
The GRAXE66 is a nearly identical solution to the GRAX66 we recently reviewed. Physically, they appear similar in design, antenna placement, and ports. Internally, we have the IPQ6010 at heart, a quad-core SoC operating at 1.8GHz. It includes 512MB of DDR4, 256MB flash, and a 32MB ROM.
Additional hardware includes the Qualcomm QCN9024 Wi-Fi radio, which allows for 2.4GHz support up to 574Mbps, while the 5GHz band is capped at 1200Mbps. The 6GHz band, on the other hand, offers full throughput with 4804Mbps available. On the wired side, we have four gigabit LAN ports alongside a single 2.5Gbe WAN/LAN. We also have a USB 3.0 port for storage.
The MSRP for the MSI RadiX AXE6600 comes in at $319 with a one-year warranty.
Packaging and the Hardware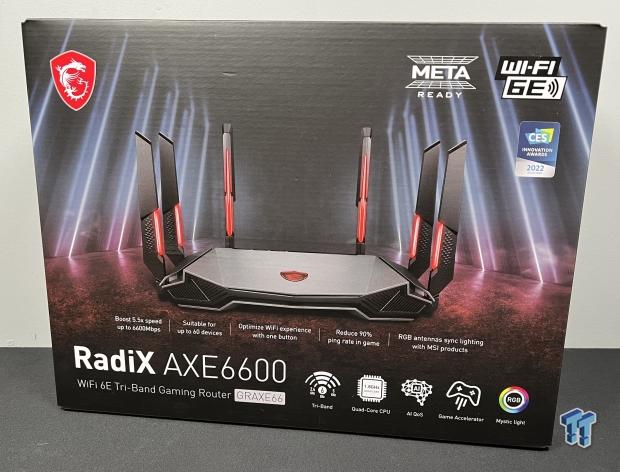 The RadiX arrived in quite a colorful packaging, slightly different from the AX6600 model. Supported features are listed across the bottom, with MSI branding top left.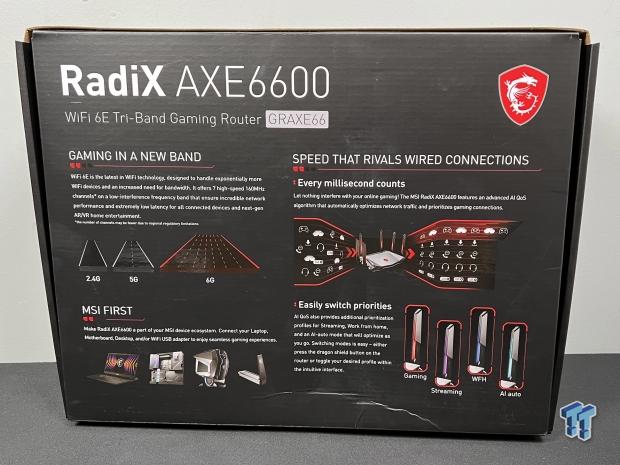 We have detailed additional features on the back, including support for WiFi6e, MSI First, and QoS.
Included, we have a power adapter and ethernet cable.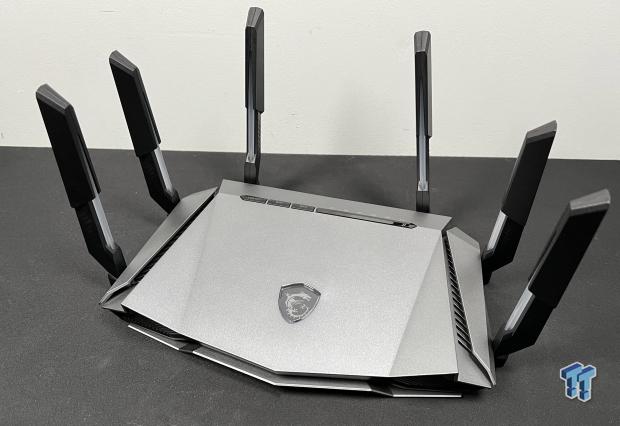 Here's our first look at the router. The GRAXE66 is nearly identical to the GRAX66. One of the first things we noticed was RGB lighting on the antennas with Mystic Light. Outside of that, we have an MSI Gaming badge in the center, venting on either side, and a row of LEDs across the top.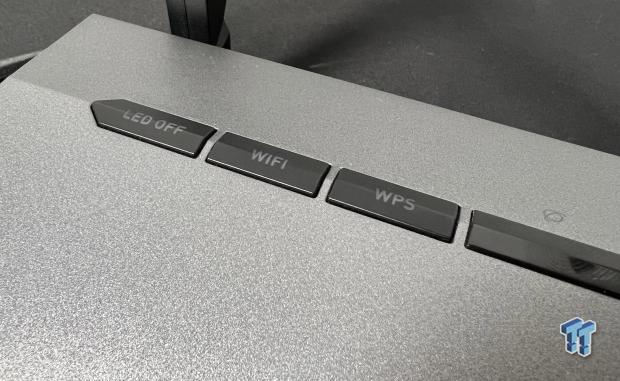 A closer look at the buttons included alongside the LED panel, we have a Wi-Fi switch, WPS, and the ability to disable the LEDs.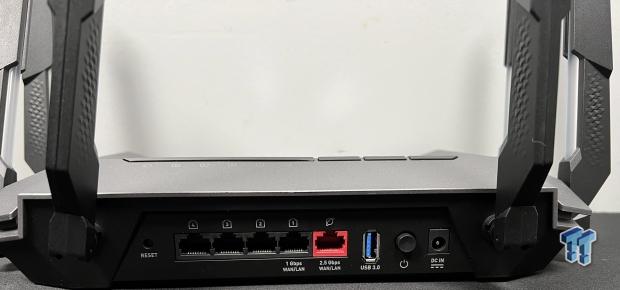 On the back, the GRAXE66 offers reset far left, followed by four LAN ports in black. One 2.5Gbe in red and the USB 3.2 port in blue. Far right, we have the power button and input.
MSI Router App and Setup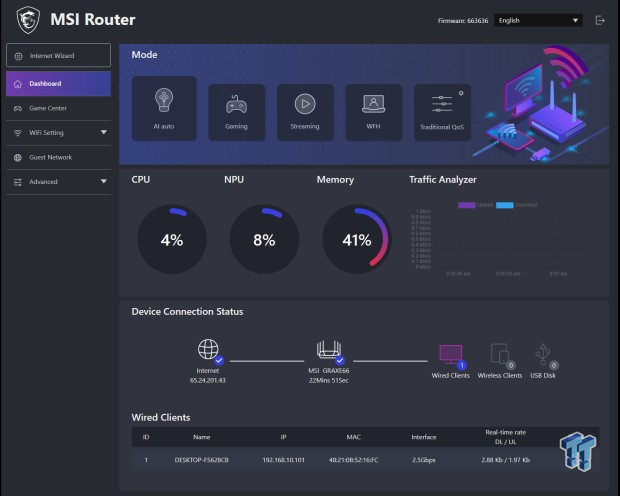 Once again, MSI has used MSI Center as a template for this router, which gives us a fantastic dashboard with hardware information, status, and connected clients.

Game Center offers several tools for increasing the performance of the interface, like Turbo Booster, Port Forwarding, and VPN.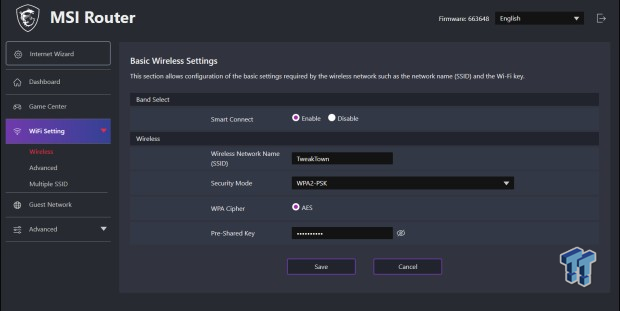 Wi-Fi options allow for a smart connect feature for those wanting simple connectivity. You can also separate all three bands with different SSIDs.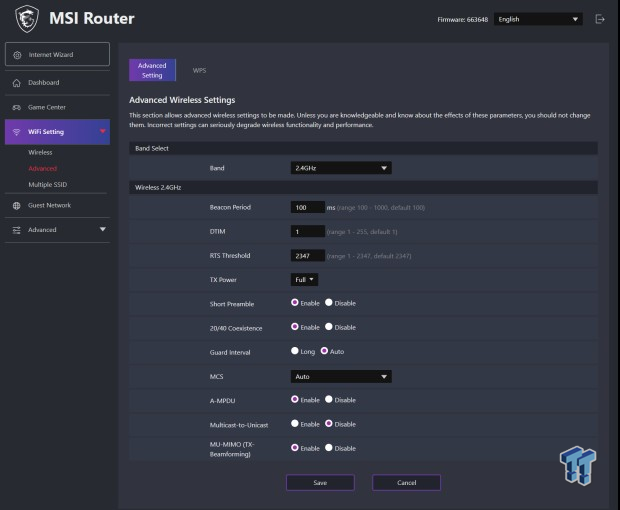 Advanced Wi-Fi allows you to tune each band's settings.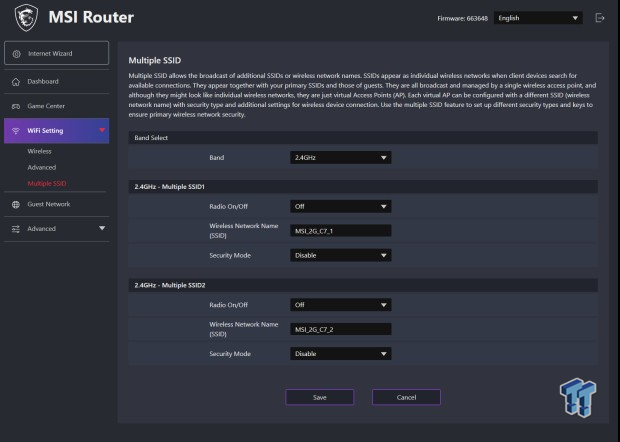 Becoming more popular, RadiX does allow you to use multiple SSIDs within a band.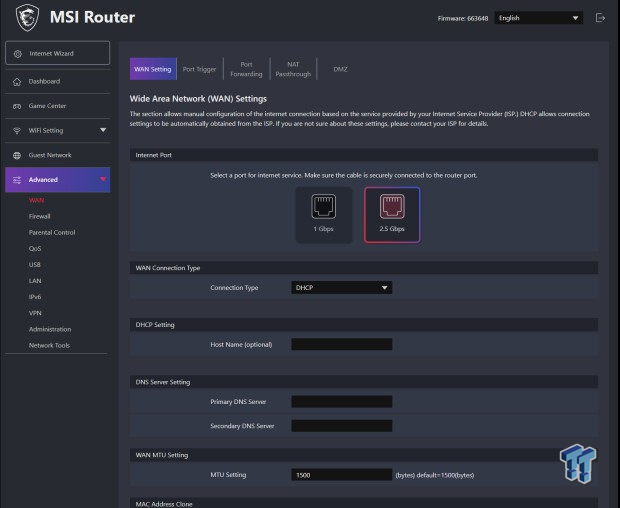 The advanced menu offers options for changing the WAN port or connection type. You can also tune the router further with port triggering and DMZ.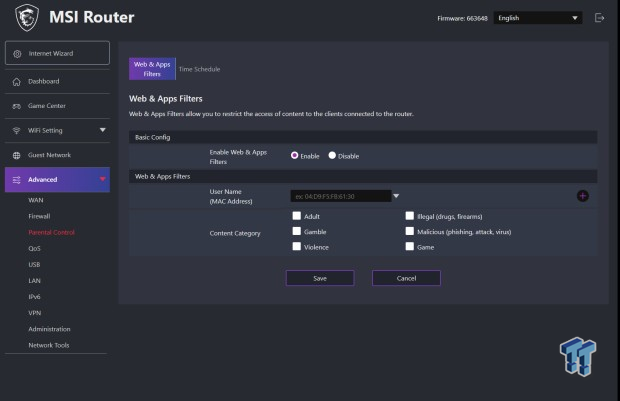 Parental Controls allow for filters based on content and/or a time schedule.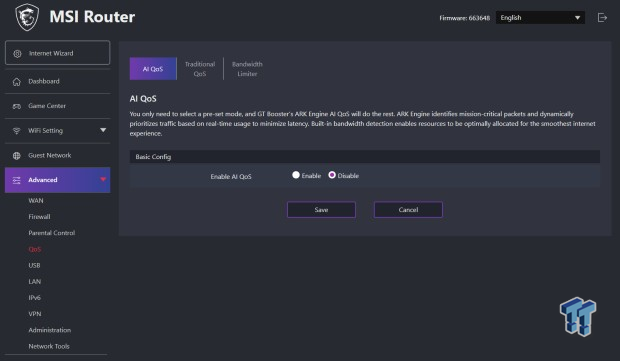 QoS options include a traditional model or MSI's AI option that allows the router to adapt based on traffic.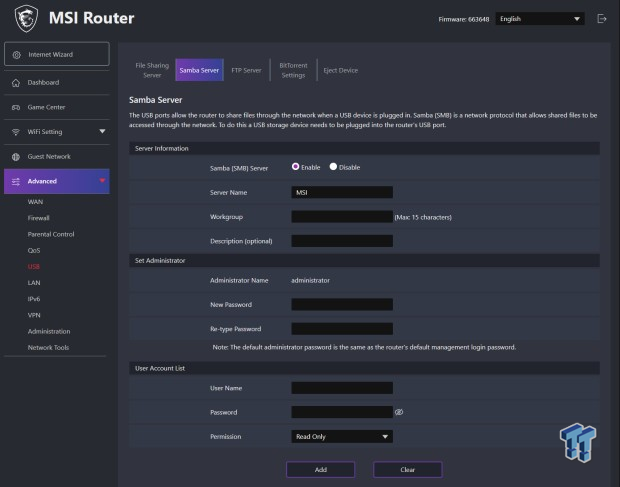 USB settings allow you to configure an external storage device as a network server via SMB or FTP. You can set up BitTorrent as well.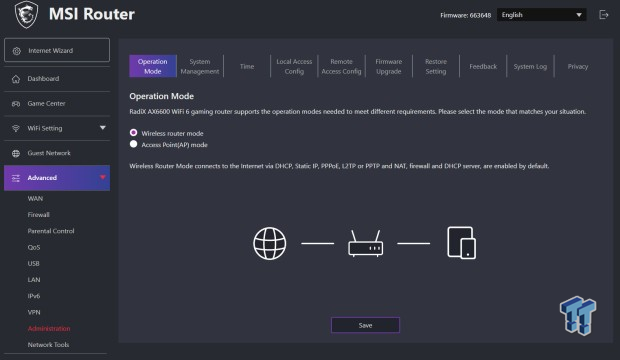 Last, we have administration that lets you use this router as an AP if needed. Additionally, there are options for updating firmware, time, or enabling remote access.
Test System and Results
System: Lenovo ThinkStation P360 Ultra
OS: Microsoft Windows 11 Pro (buy from Amazon)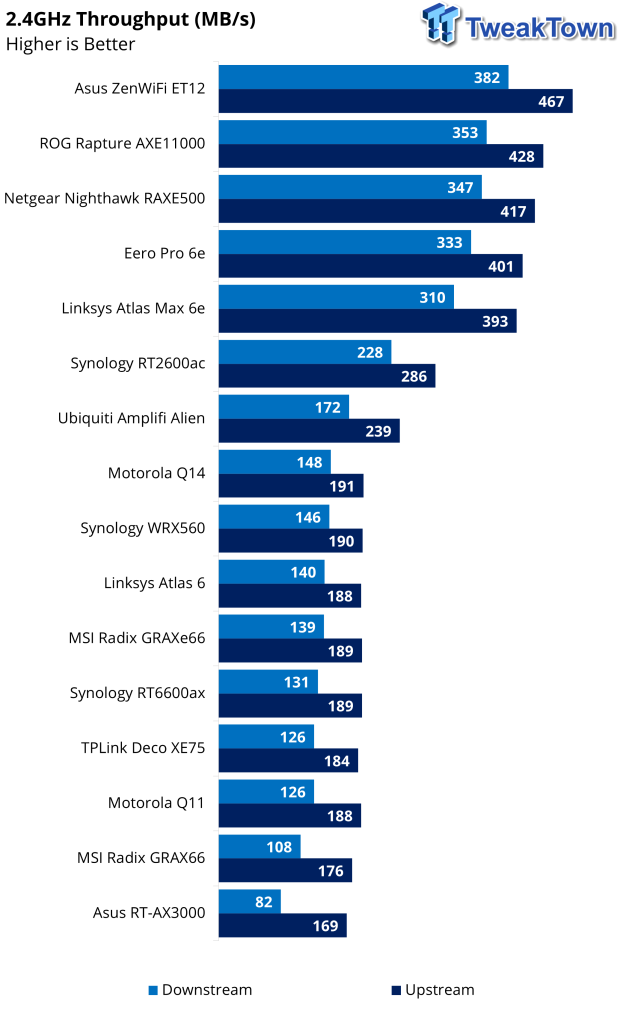 We begin testing on the 2.4GHz band. With the GRAXE66, we picked up a little more performance - 139Mbps downstream and 189Mbps upstream.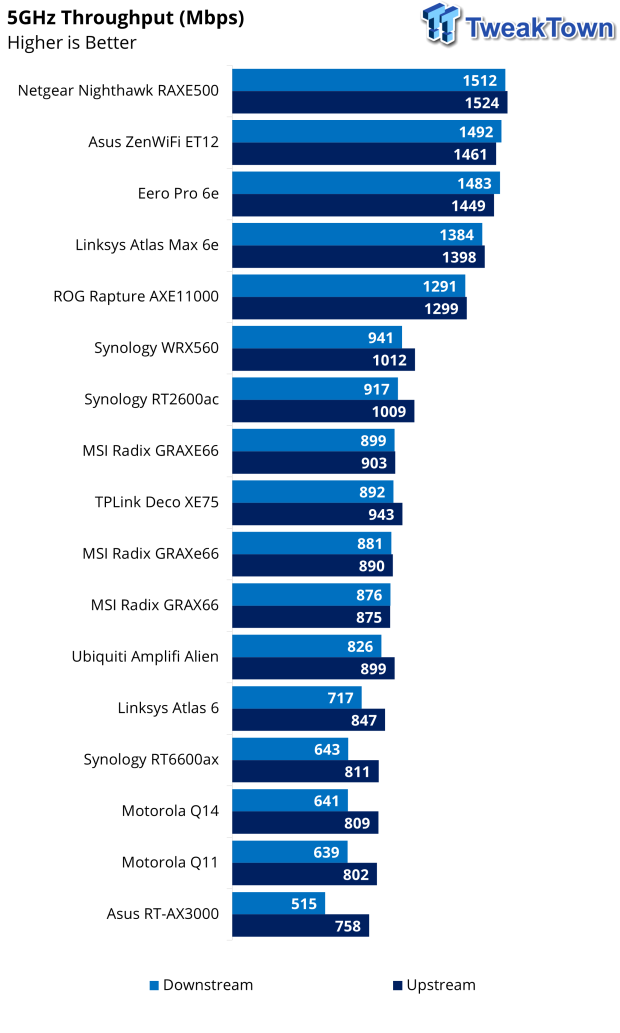 5GHz was slightly better with the GRAXE66. This time around, we grabbed 899Mbps down and 903Mbps upstream.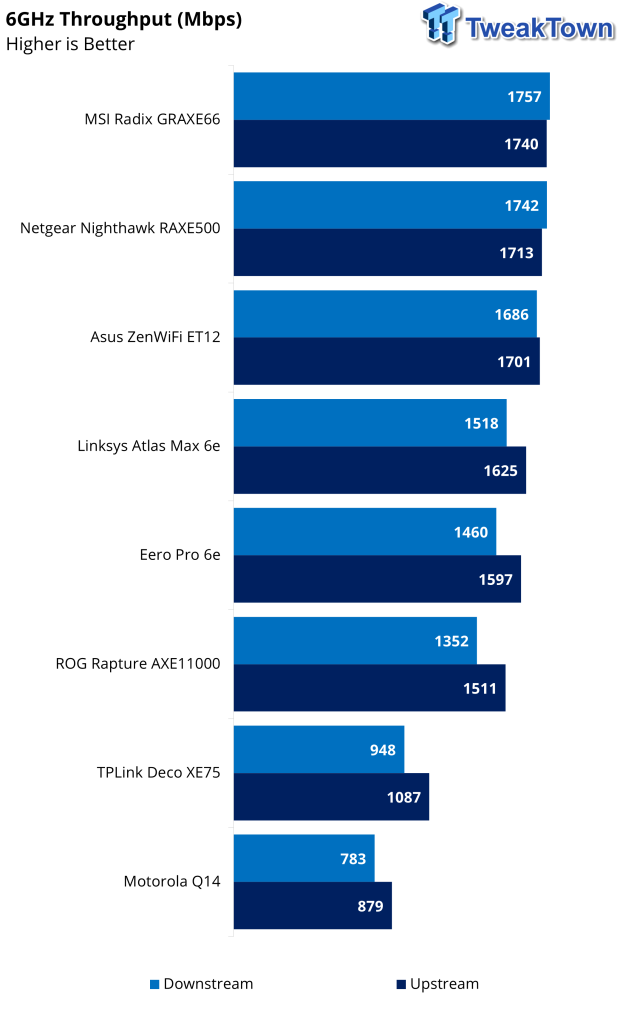 6GHz, we actually topped our charts, 1757Mbps downstream and 1740Mbps upstream.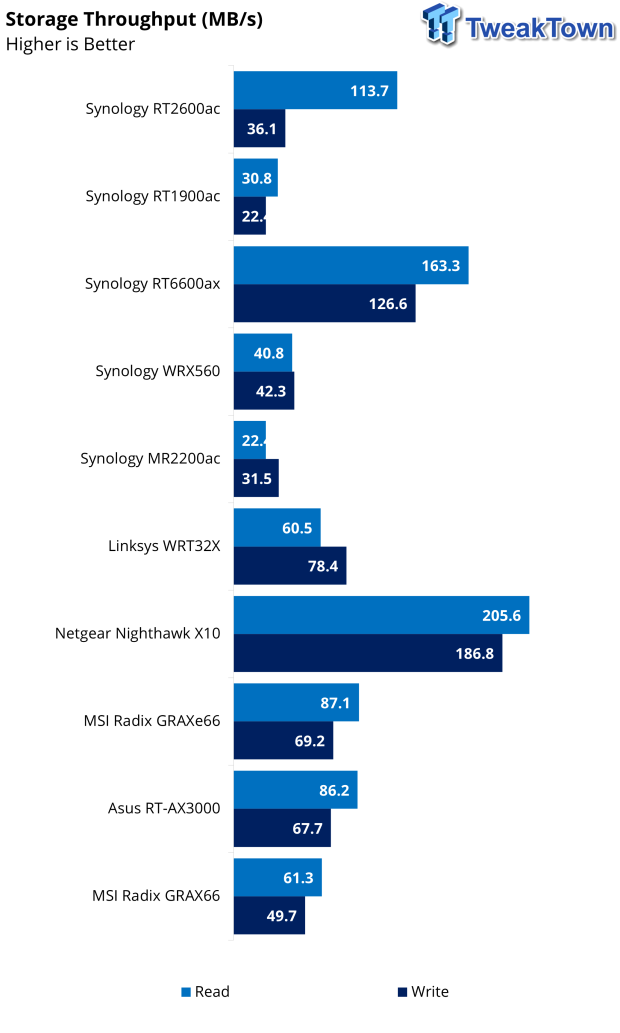 Storage was similar to the GRAX66, with the same SMB1 issues at testing time. That said, we did grab 87 MB/s read and 69 MB/s write.
Final Thoughts
As stated in the GRAX66 review, I've become a fan of MSI's interface on these routers. Using MSI Center was a genius move; integrating a platform from their systems and motherboards into a router makes the interface very familiar, especially for someone that goes through many of their motherboards and systems every generation.
As for performance, we picked up quite a bit overall. The main portion comes from adding the 6GHz band, which MSI decided needed a 4x4 radio. This certainly offers maximum performance, as we saw in our charts. At 1757Mbps real-world, it is the quickest we have seen to date. Though, we must mention we only test with 2x2 client devices, as that seems to be the standard at this time. With that, we have seen rumblings of 4x4 modules on the market.
Pricing of the GRAXE66 at $319 MSRP throws it into a bit of competition with the likes of the Hydra Pro 6e from Linksys. That said, I have caught this router on sale from several online retailers, so it's worth shopping around if you are in the market.