TweakTown's Rating: 87%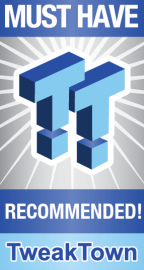 The Bottom Line
The ROCCAT Vulcan II Mini is a 65% form factor keyboard that delivers impressive gaming performance, with the addition of some impressive RGB lighting that also happens to be functional.
Pros
+

TITAN II linear switches are great for gaming

+

Vibrant and functional RGB

+

Lightweight and stylish

+

Smart layout with arrow keys and system keys on the right

+

Dual LEDs so you can see secondary functions is a brilliant addition
Cons
-

Software required for smart key functionality

-

The software could use an update as well as be a little bit more intuitive

-

The smooth keycap finish is prone to grease buildup
Should you buy it?
Avoid
Consider
Shortlist
Buy
Introduction & Specification Details and Close-up
ROCCAT has been in the gaming peripheral business since 2006, offering products in the mice, keyboards, and headset categories for some time now. The company was acquired by Turtle Beach in 2019 to the tune of USD 19.2 million, now representing Turtle Beach's PC brand for high-performance peripherals designed for gamers.
The Vulcan series of mechanical keyboards from Roccat represents the company's flagship products in the category, and the new ROCCAT Vulcan II Mini Gaming Keyboard is the latest version arriving in the popular 65% form factor. The underlying hardware is sound, using the company's TITAN II optical switches that promise "no debounce delay" and a 100-million keypress life cycle.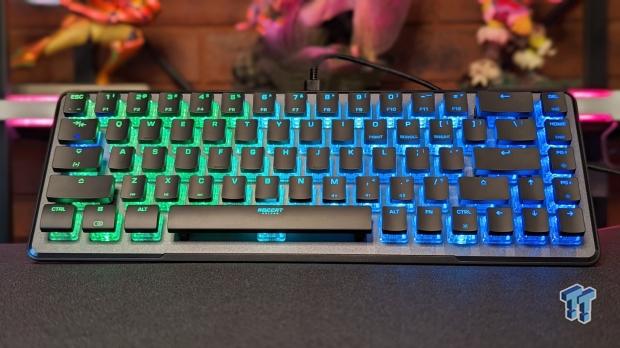 The most striking thing about the physical design of the ROCCAT Vulcan II Mini Gaming Keyboard is its use of floating keys and vibrant LED lighting that features Dual-LED action for intelligent keys and secondary functions. It's also lightweight and portable, with a single detachable USB connection and the ability to take it on the go.
Of course, one of the significant factors in looking at a mini keyboard with a 65% form factor is how it feels when the overall physical real estate is shrunk. For a gaming keyboard, that's important, as the last thing you want is for things to feel cramped and prone to accidentally hitting the wrong key. Let's dig in.
Specifications & Close Up
Product Name: ROCCAT Vulcan II Mini Gaming Keyboard
Product Type: Wired Gaming Keyboard
Size (Full/TKL): TKL 65%
Switch: TITAN II OPTICAL RED (Linear)
Actuation Point/Force: 1.4mm/45G
Interface: Detachable USB-C to USB-A cable (1.8m)
Platforms: Windows 7 and above (PC)
Lighting: RGB per-key illumination + 30 smart keys
Dimensions: 324 x 116 x 31 mm
Weight: 500 grams (keyboard)
What's in the Box: ROCCAT Vulcan II Mini Gaming Keyboard, Detachable USB-C to USB-A cable (1.8m), Quick-Start Guide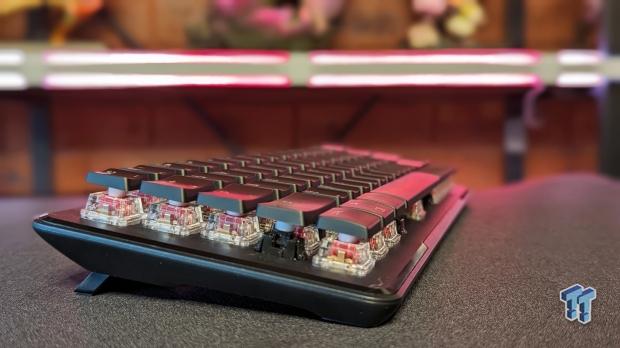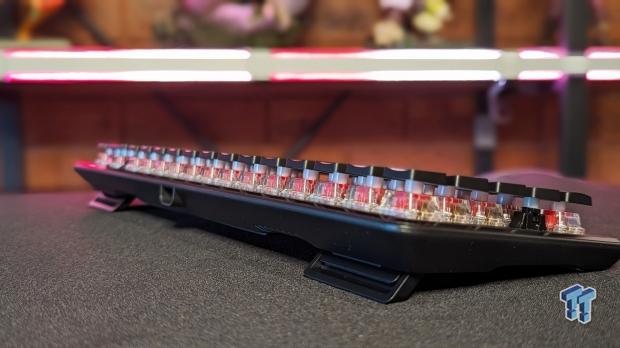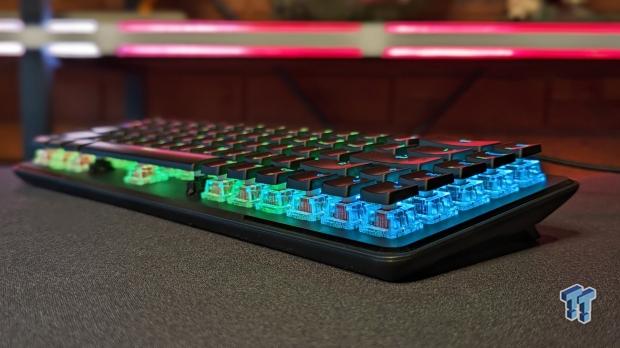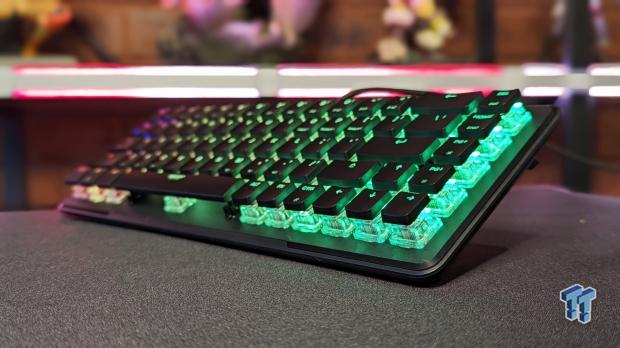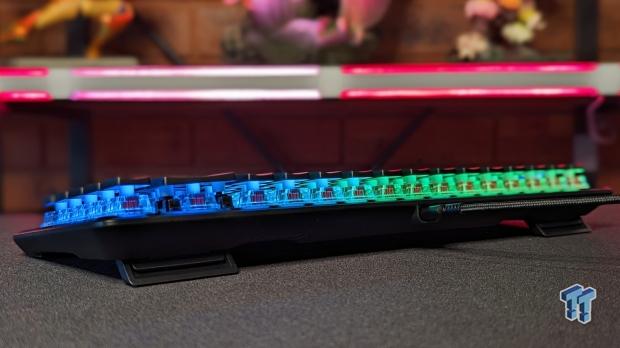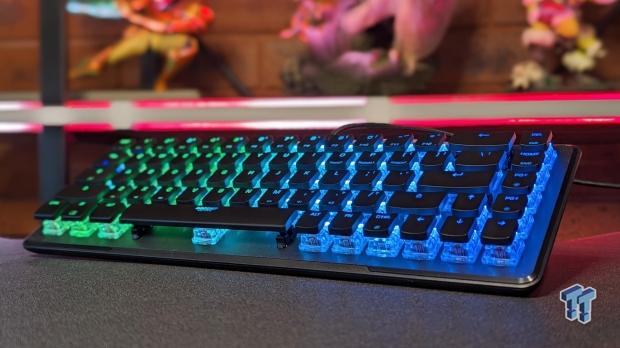 Kosta's Test System Specifications
Motherboard: MSI MPG X670E Carbon Wi-Fi
CPU: AMD Ryzen 9 7900X
GPU: NVIDIA GeForce RTX 4090 Founders Edition
Cooler: Corsair iCUE H100i RGB PRO XT Liquid CPU Cooler
RAM: 64GB (2x32GB) Corsair DOMINATOR PLATINUM RGB DDR5 DRAM 5200MHz
SSD: Sabrent Rocket 4 Plus-G M.2 PCIe Gen 4 SSD 4TB, Sabrent Rocket 4 Plus Plus M.2 PCIe Gen 4 SSD 8TB
Power Supply: Thermaltake Toughpower GF1 850W
Case: Thermaltake Core P3 Tempered Glass Snow
OS: Microsoft Windows 11 Pro 64-bit
Design & Software
Design
The ROCCAT Vulcan II Mini Gaming Keyboard does away with the numpad, which is to be expected for a 65% form factor keyboard. It retains the arrow keys and fits the DEL, HOME, PG UP, and PG DN keys on the right-hand side with secondary functionality for INS, END, and RGB brightness controls. So even though you're losing out on 35% of the physical space of a full-sized keyboard, you're not losing out on key functionality.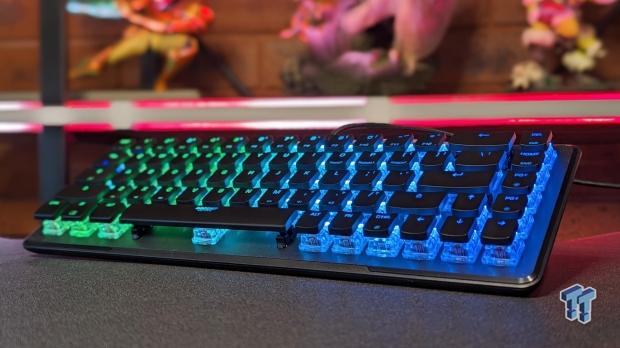 Plugged in the ROCCAT Vulcan II Mini is gorgeous, and even though that's a purely subjective take, the vibrant lighting and keycap design are lovely. Weighing in at 500 grams for the keyboard sans cable, it's also remarkably lightweight for a peripheral where it's not unusual to push into 1,000 grams and above territory. Although mostly plastic, the aluminum top plate adds some durability to the high-quality switches.
It may be lightweight, but it doesn't feel cheap. Generous rubber on the underside also helps keep the Vulcan II Mini in place when in use. Still, compared to some of the more robust mechanical keyboards, it might feel too slight for some.
The ROCCAT Vulcan II Mini uses ROCCAT's TITAN II optical switches, with linear RED versions featured in the model tested here. These linear switches offer a brisk 1.4mm actuation travel distance with only 45G of force required. The result is snappy, to say the least, with the claims of "no debounce delay," as mentioned in the intro ringing true. The keycaps have a great overall feel and a smooth finish, coupled with the rapid response, making this an excellent choice for PC gaming.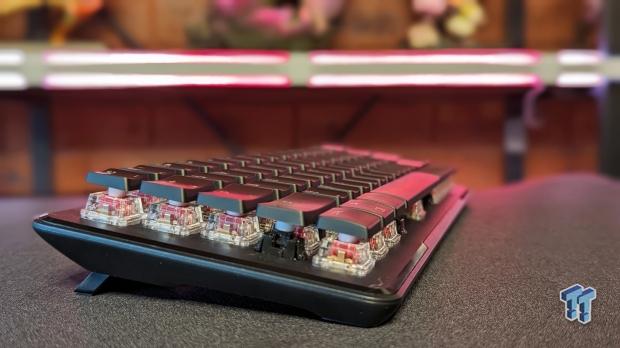 One standout feature of the ROCCAT Vulcan II Mini is the implementation of Dual-LEDs for smart keys with secondary functionality - giving you visual feedback for when that function is active. All of that is managed via ROCCAT's Swarm software, but it means that things like media controls all light up and are visible in a way that we haven't seen in another 65% form factor keyboard. RGB that isn't just for show is a nice touch.
Software
ROCCAT Swarm is the company's software interface for managing and customizing its peripherals while also being the place to update device firmware. Although the design itself is clean and easy to follow, the button and font sizes are relatively small and not scalable - so it feels like it's due for an update.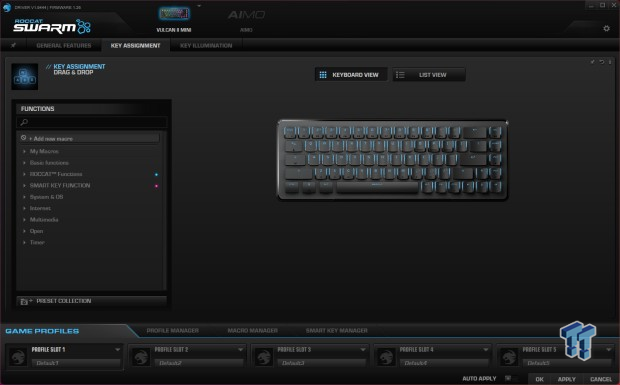 With the ROCCAT Easy Shift smart key functionality, it is relatively straightforward to make adjustments or go through each key to see what's what. But it does take some getting used to. With a visual representation of the ROCCAT Vulcan II Mini keyboard, clicking on each key gives you a readout of its primary 'Game Mode' function and its 'Easy Shift' function.
You can see the media controls under the Easy Shift section for the Z, X, and C keys, whereas something like the S key leaves the Easy Shift section blank. How you add or change the Easy Shift functionality is that you need to drag the option from the left-hand side and then drop it onto the selected key's functionality. It's simple, but the problem is that this isn't immediately apparent in the software, so there is a learning curve for customizing the ROCCAT Vulcan II Mini.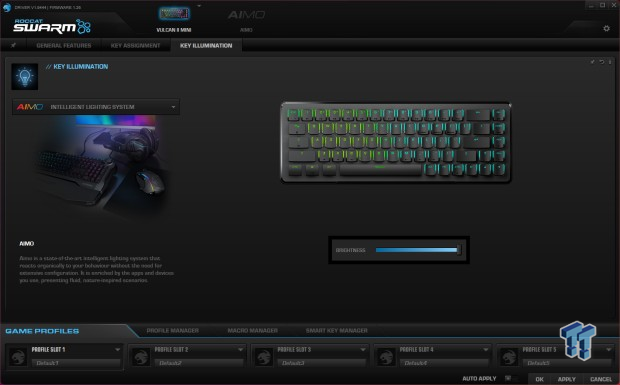 Even though the ROCCAT Vulcan II Mini features per-key RGB for its Dual-LED smart keys, you are limited to four lighting zones when customizing the overall lighting. This might seem strange for a somewhat pricey mini keyboard, but ROCCAT's default AIMO lighting and multiple profiles are uniformly excellent. If RGB is a big deal for you when choosing what keyboard to pick, AIMO's dynamic reactive lighting will fit the bill.
Gaming Performance and Productivity
Gaming Performance
As a wired gaming keyboard, the ROCCAT Vulcan II Mini is responsive, and the TITAN II optical switches are fast and equally impressive. The 1.4mm actuation point and total travel distance of 3.6mm are shorter than some linear switches found elsewhere but continue a trend we've seen in the gaming keyboard space with a shift towards near-instantaneous feedback.
For FPS titles like Apex Legends, Call of Duty, and DOOM Eternal - the ROCCAT Vulcan II Mini has a great feel. Even though the 500-gram is relatively light for a gaming keyboard, we didn't encounter any movement or rattling issues when testing.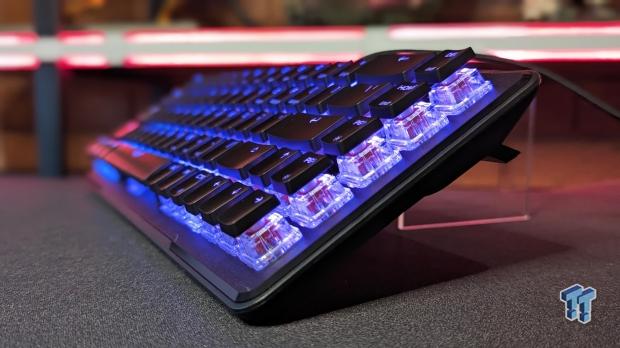 Adding multiple profile support directly onto the keyboard is a nice touch, which can store any number of customizations and adjustments made on a per-game or per-application basis. Also, it's worth reiterating that the AIMO lighting can be pretty impressive when gaming and you can see sections like WASD light up intuitively.
Productivity
Productivity with a smaller 65% form factor keyboard will always be a compromise if you're of the sort that regularly uses the numpad and is used to clear separation of things like the arrow keys and nice-to-haves like dedicated media controls. As someone who has used a smaller TKL keyboard on and off for a few years, the ROCCAT Vulcan II Mini is acceptable as a day-to-day keyboard.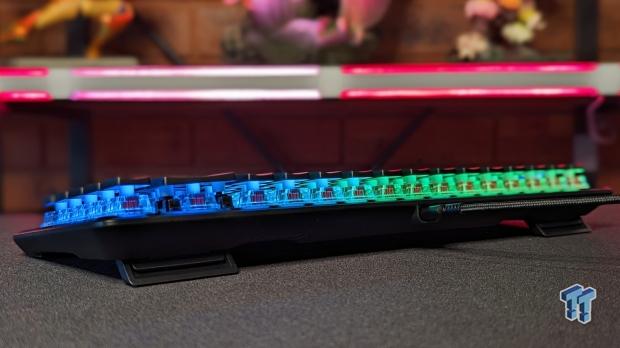 Most of the appeal in the productivity stakes comes with the minimal physical space, the lightweight build, and the ease at which it can be unplugged and moved around. The Easy Shift functionality and its integration with the dynamic AIMO lighting is a definite plus. It allows for simple access to functions and features you'd find on most full-sized premium keyboards.
Keyboard Click Sound Level
To test a keyboard's overall sound level, we use the Ozito Digital Sound Level Meter capturing the sentence "the quick brown fox jumps over the lazy dog" multiple times and recording the maximum dB level. This indicates how "loud" the switches used are for everyday usage. The following chart showcases where the ROCCAT Vulcan II Mini Gaming Keyboard sits.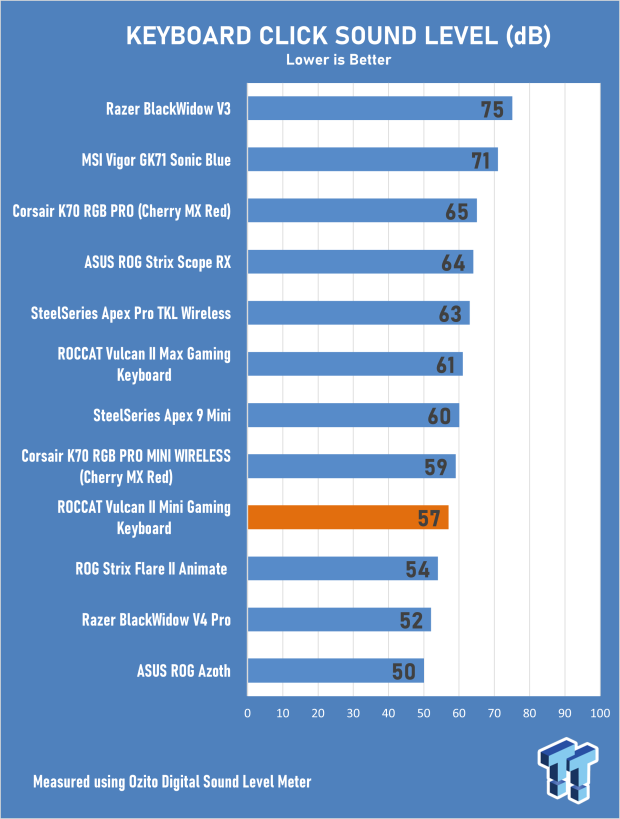 Final Thoughts
With its USD 119.99 and AUD 259.95 price points, the ROCCAT Vulcan II Mini Gaming Keyboard is an impressive 65% form factor TKL keyboard with some stunning RGB lighting highlighting some of its advanced Easy Shift multi-function features. ROCCAT's TITAN II optical switches also prove excellent for fast linear gaming performance. However, that mileage may vary depending on how you feel about fast switches when it comes to productivity.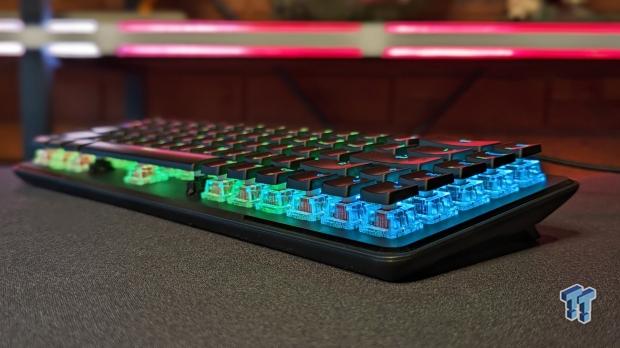 The build quality is excellent too, and even though an aluminum plate bolsters the lightweight build, it's mostly plastic and still looks and feels this good. The only downside is that the keycaps are smooth plastic, prone to grease and other build-up. Even though the ROCCAT Vulcan II Mini uses ROCCAT's custom-designed switches, the keycaps are compatible with third-party keycaps, so there is the option to swap those out or add a bit more custom flair.
If you're a fan of dynamic RGB lighting and are looking for a 65% form factor mechanical keyboard for gaming, then the ROCCAT Vulcan II Mini is worth checking out.