TweakTown's Rating: 85%
The Bottom Line
MSI's Radix AX6600 performs quite well and offers a fantastic software platform, but it's just a little late to a market that's moved to WiFi6e and is ready for WiFi7.
Pros
+

2.5Gbe WAN/LAN

+

Software/OS

+

Price

+

Decent performance
Cons
-

USB storage uses SMB1

-

Doesn't support WiFi6e

-

A little late to market
Should you buy it?
Avoid
Consider
Shortlist
Buy
As MSI looks to rejoin the consumer networking market, they have come out of the gate with two new wireless routers and even a USB Wi-Fi adapter for those wanting to upgrade all within one vendor. The first of these solutions that we will look at is the RadiX AX6600, a tri-band WiFi6 offering.
Specifications for this router start with an IPQ6018 from Qualcomm, a quad-core SoC that MSI has paired with 1GB of memory and 256MB of flash. The three available radios offer 574Mbps on the 2.4GHz band, while the 5GHz low band offers 1201Mbps, and the 5GHz high band comes in at 4804Mbps.
Wired networking support includes four LAN ports and one WAN, the first being a combo WAN/LAN that supports 2.5Gbe. We also have USB 3.0 support for storage devices. The MSRP for the MSI RadiX AX6600 comes in at $209 with a one-year warranty.
Packaging and the Hardware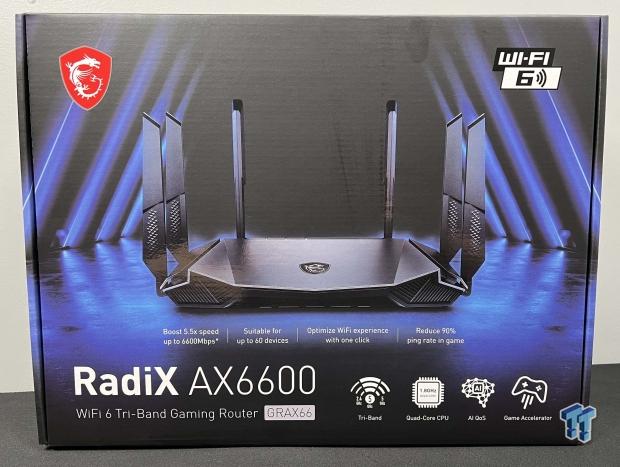 The RadiX arrived in quite a colorful packaging, with MSI Gaming branding top left and featured technologies listed along the bottom.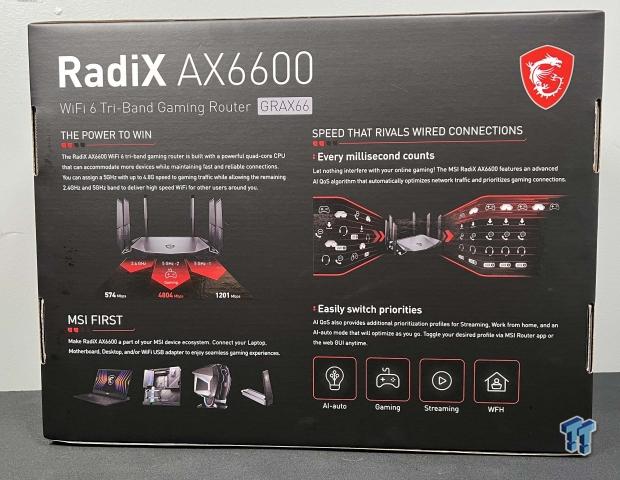 On the back, MSI details the software features of this router.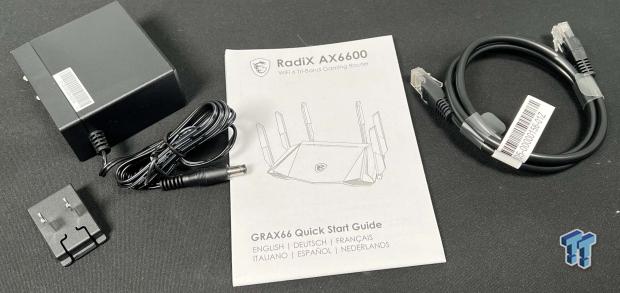 Included, we have a power adapter and ethernet cable.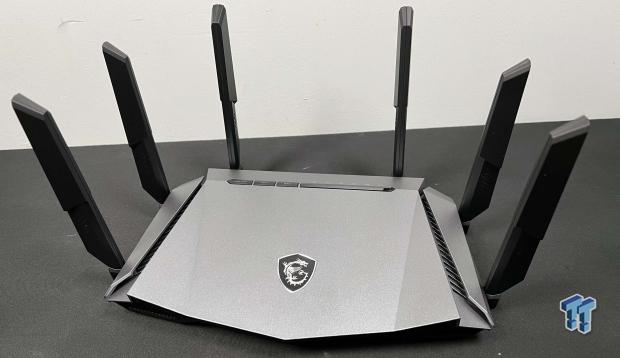 Here's our first look at the router. MSI has used a traditional "gaming" design, something that started with the Netgear Nighthawk years ago. This router uses six antennas, ventilation on either side and an LED panel across the top.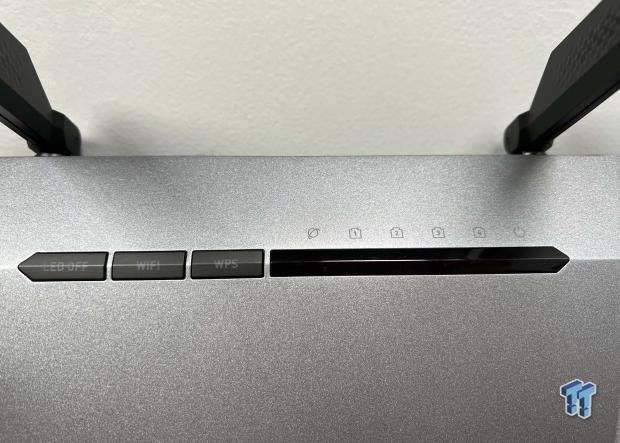 Above, we have a closer look at the LED panel, which includes three buttons to the left for disabling LEDs, Wi-Fi, and using WPS. To the right, we have LEDs for each wired port, power, and internet connectivity.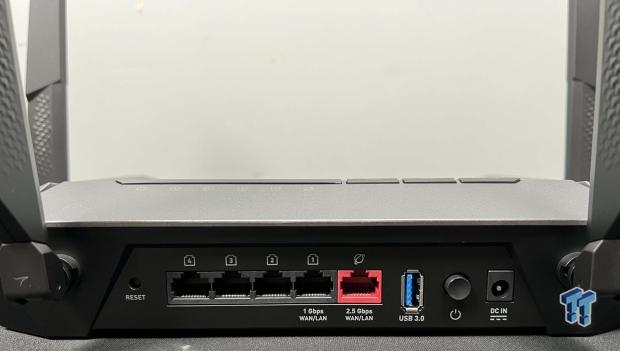 Moving to the back of the unit, the RadiX houses four LAN ports and one WAN port in red. The WAN can also be used as a 2.5Gbe LAN if you need to output to a switch. USB 3.0 is available for storage, and further to the right, we have the power input and switch.
MSI Router App and Setup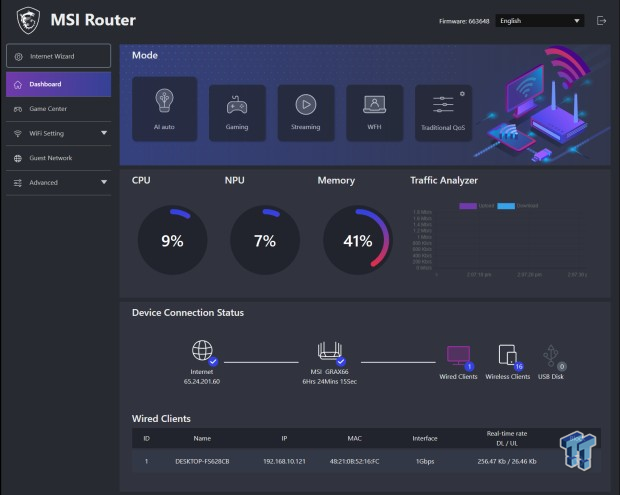 Diving into the WebGUI, MSI has chosen to design its router UI with MSI Center in mind. This gives us a fantastic dashboard to work with that offers several QoS modes at the top, hardware diagnostics in the middle, and connected devices in the middle.

Running through the menu items, we turn to Game Center, which allows you to tune your connection for a specific game, forward any ports or set up VPN.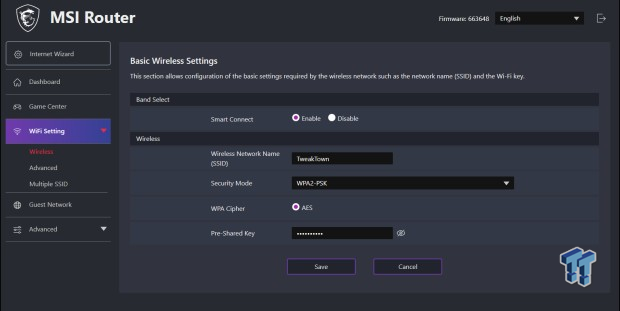 Wi-Fi settings can be basic or advanced depending on whether you use smart connect with one SSID or split your network by band.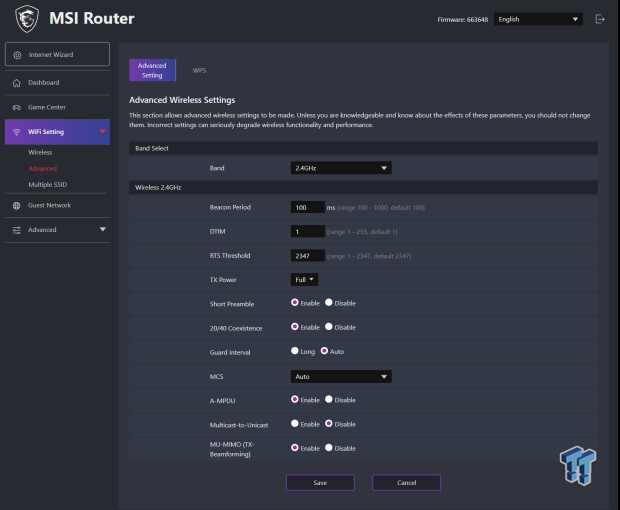 Advanced Wi-Fi settings allow you to tune each band to your liking.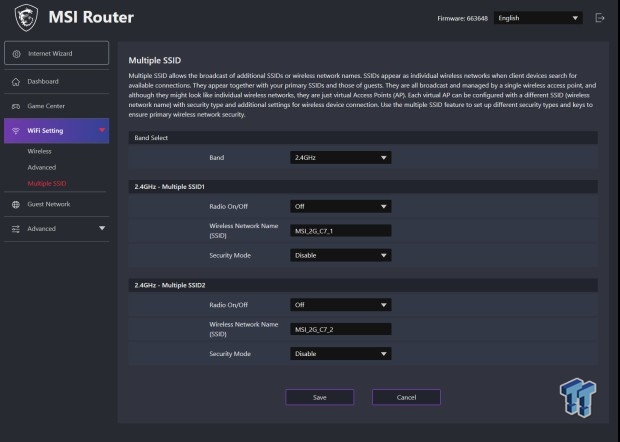 Becoming more popular, the RadiX does allow you to use multiple SSIDs within a band.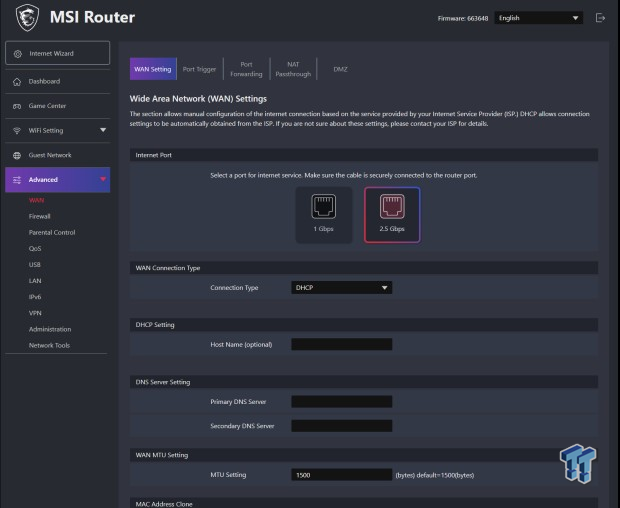 Advanced options allow you to tune port triggering, forwarding, and DMZ settings. This is also where you will set up which port you use for WAN.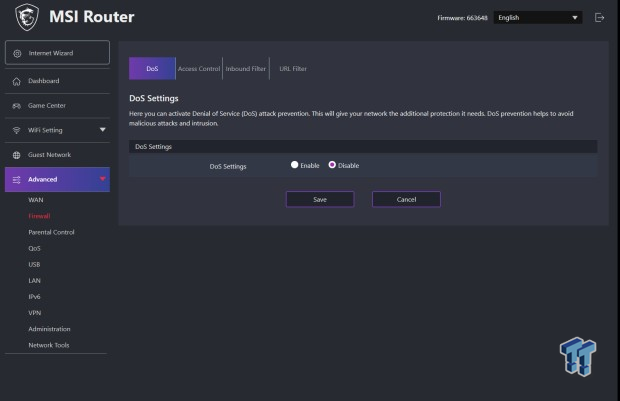 Firewall settings offer protection from outside attacks with both inbound and URL filters and even access control.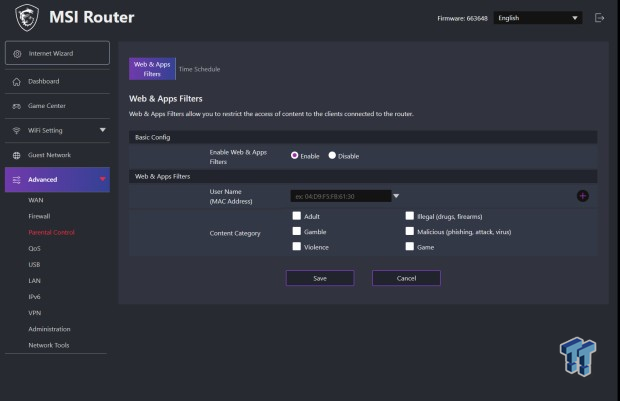 Parental Controls include web and app filters and the ability to set up a time schedule.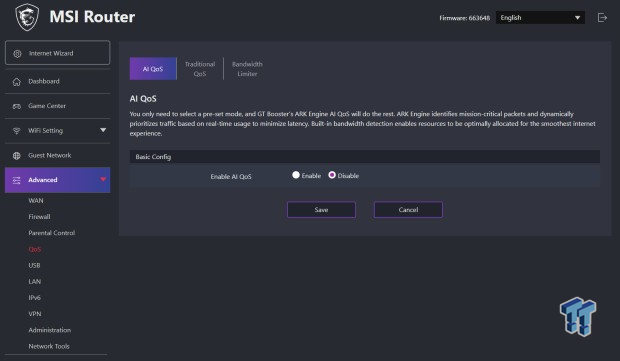 QoS settings allow for an AI QoS that allows the router to use your traffic data to tune the QoS settings. You can also use a traditional QoS or Bandwidth Limiter if needed.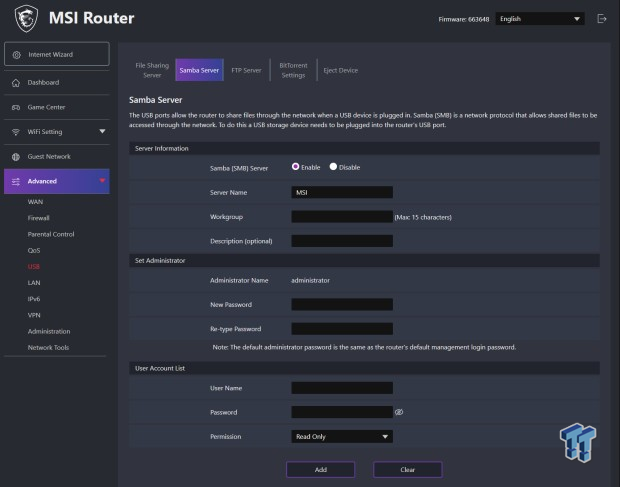 USB settings include the ability to set up File sharing, Samba, and even FTP servers. Additionally, you can connect to BitTorrent.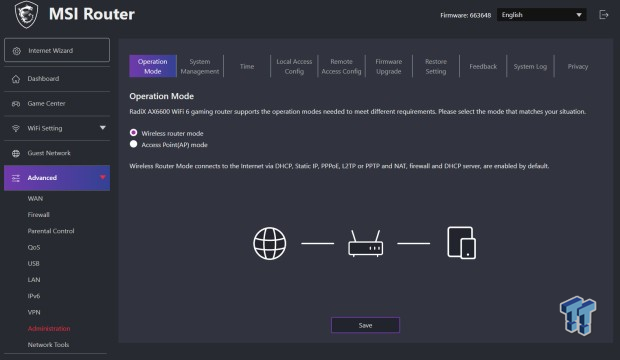 Administration allows you to manage the system with firmware updates, time settings, and operation mode.
Test System and Results
System: Lenovo ThinkStation P360 Ultra
OS: Microsoft Windows 11 Pro (buy from Amazon)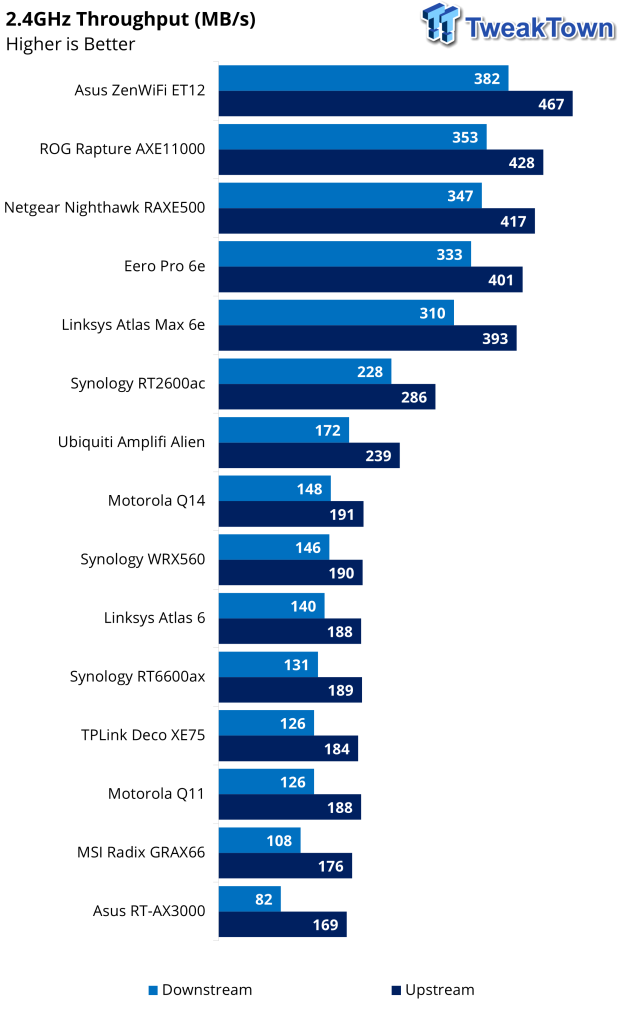 I started testing, first on the 2.4GHz band. The RadiX AX6600 brought in 108Mbps downstream and 176Mbps upstream.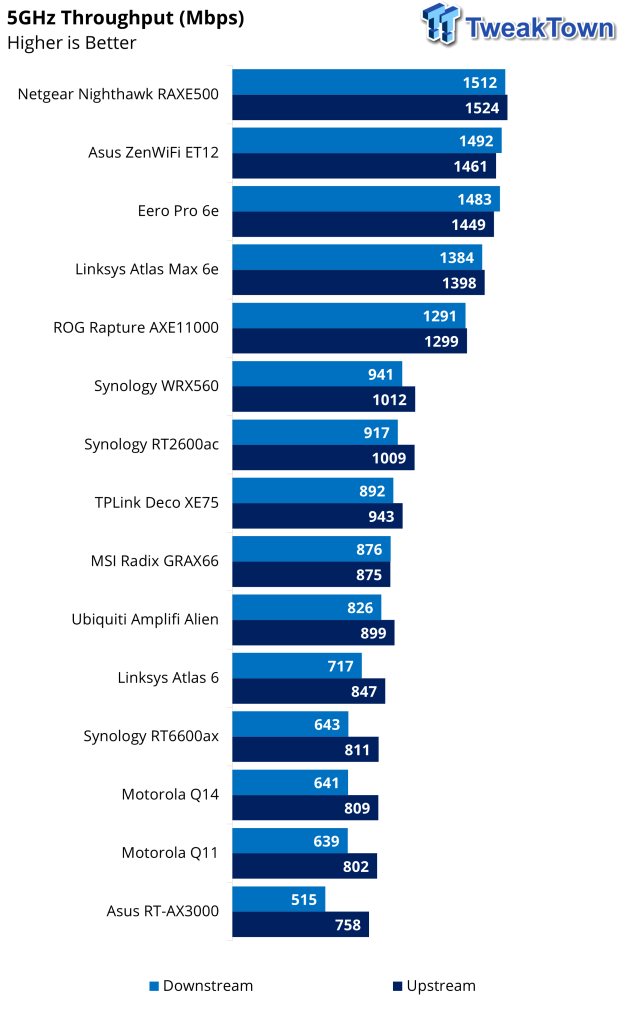 Moving over to 5GHz, we used the high band for testing. This grabbed 876Mbps downstream and 875Mbps upstream.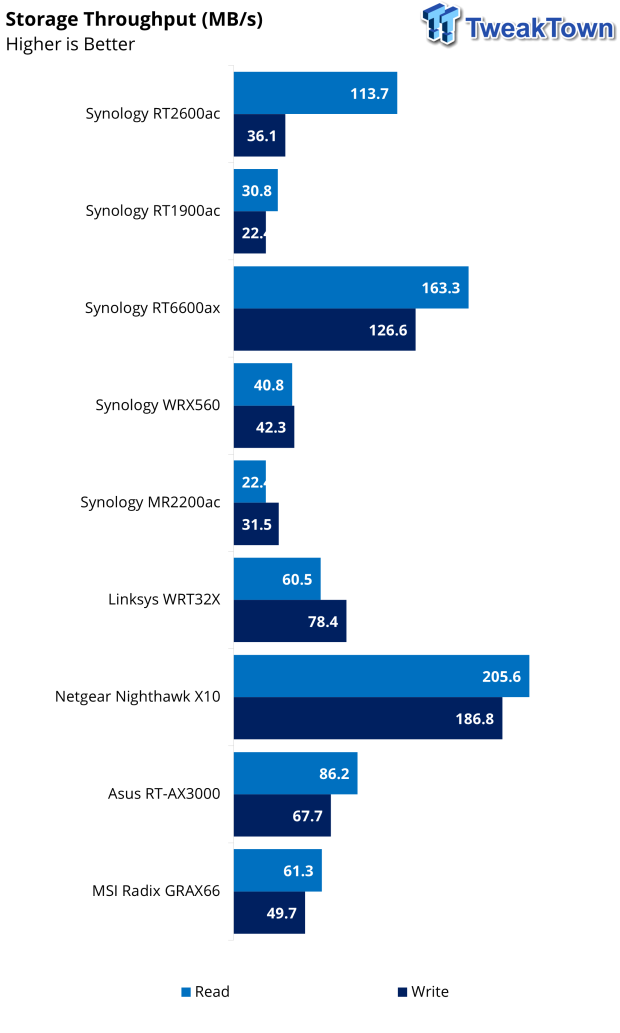 Testing storage on the RadiX was more than a chore as it requires you to modify your Windows install to add support for SMB1. After this was done, we fought with permissions before we finally got it set up enough to grab 61 MB/s read and 49 MB/s write.
Final Thoughts
Despite the many hours of fighting with this router's storage capabilities, I did come away from testing liking this unit. The software gives us one of the better dashboard implementations we have seen in a while, and MSI choosing to use MSI Center as a template made it a familiar platform without ever having used it.
On the hardware front, this router offers a lopsided tri-band setup, but if you have any 5GHz 4x4 devices, they could theoretically take advantage of a hefty 5GHz band. In contrast, most of our devices that use 2x2 radios will stick to the 5GHz low band for connectivity.
Overall, the performance was as expected. Seeing as this router uses an identical board to the Synology RT6600ax, we knew how it would perform. We peaked at 176Mbps on the 2.4GHz band, while the 5GHz high band offered 876Mbps.
Overall, this is a solid router. I did like the software, and the performance was satisfactory, but it's an odd time to launch a WiFi6 platform when WiFi7 is around the corner, and this solution doesn't even support 6e. This makes me think MSI was looking to pad its portfolio on this launch to offer a cheaper option than the GRAXe66 we will look at in our next review.