TweakTown's Rating: 89%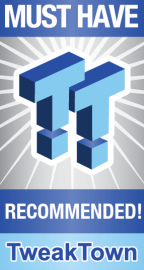 The Bottom Line
MSI's Clutch GM51 Lightweight Wireless features a high-end sensor capable of delivering excellent performance. The physical design and build back this up, but spotty software support holds it back from being a true classic.
Pros
+

Powerful sensor

+

Robust physical build and comfortable design

+

Excellent RGB lighting

+

Outstanding wireless performance and battery life

+

It comes with a charging dock
Cons
-

Side-button design is awkward

-

Software is functional but also unintuitive at times
Should you buy it?
Avoid
Consider
Shortlist
Buy
Introduction & Specification Details and Close-up
The charging dock is an underrated add-on for many wireless devices, as companies usually don't bother adding them to products to keep costs down. This doesn't mean that the charging dock is a luxury add-on for wireless charging; it's helpful and handy when the alternative is physically plugging a cable in to charge. Or, in many cases, unplugging a line from one end and then plugging it into a device. In a perfect world, there'd be a dock for everything. You can probably guess from this charging dock talk that the new MSI Clutch GM51 Lightweight Wireless comes with one; it does.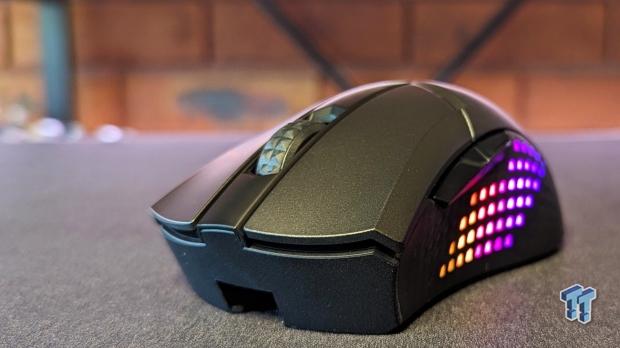 Even though the up to 150-hour battery life means that you won't have to charge it every day, it's super easy placing the MSI Clutch GM51 onto its charging dock at the end of the day like an old-timey worker hanging their hat on a rack on their way to the dinner table.
The MSI Clutch GM31 Lightweight Wireless we reviewed earlier this year also arrived on the scene with a charging dock. It was unusual when you factored that it was an affordable wireless mouse with a decent but not fantastic sensor. As a pricier option, it would have been weird if the MSI Clutch GM51 didn't also come with a little dock. But, with a far more advanced sensor and the addition of Bluetooth wireless and high-speed 2.4GHz, the higher-end USD 99.99 price point brings several non-dock changes to the table, including some impressive RGB lighting around the rubberized grips.
Specifications & Close Up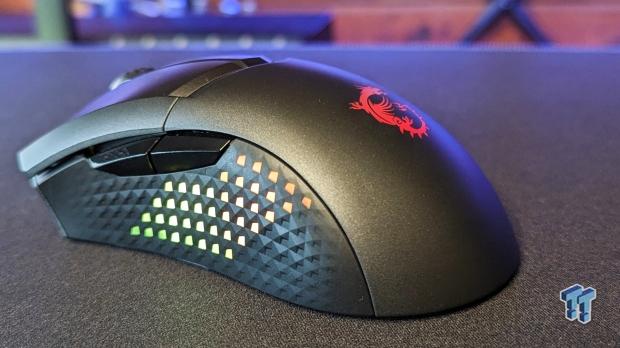 Product Type: Gaming Mouse
Interface: Wireless (2.4GHz), Bluetooth, Wired (USB)
Sensor: PixArt PAW-3395 Optical Sensor
DPI: 26000
Polling Rate: 1000Hz
Switch: OMRON, rated for 60 million clicks
Buttons: 6
Lighting: 3 Zone RGB
Dimensions: 122 x 65 x 45 mm
Weight: 85 grams (w/out cable and dongle)
Battery Life: Up to 150 hours
In the Box: MSI Clutch GM51 Lightweight Wireless Mouse, USB Dongle, USB Cable (MSI FriXionFree Type-C), Guide/Warranty Booklet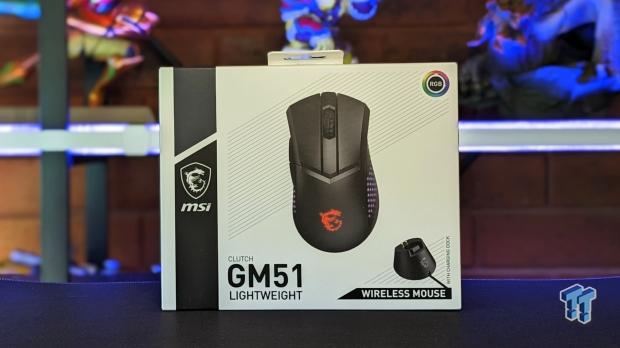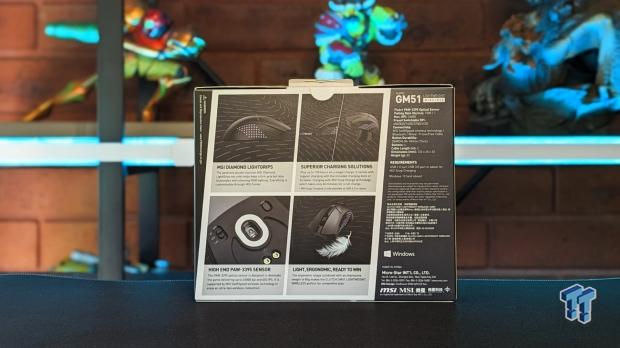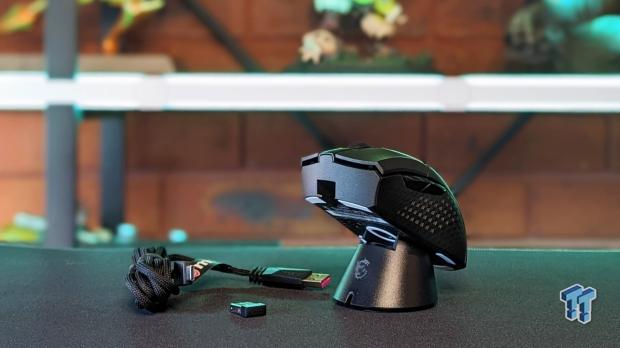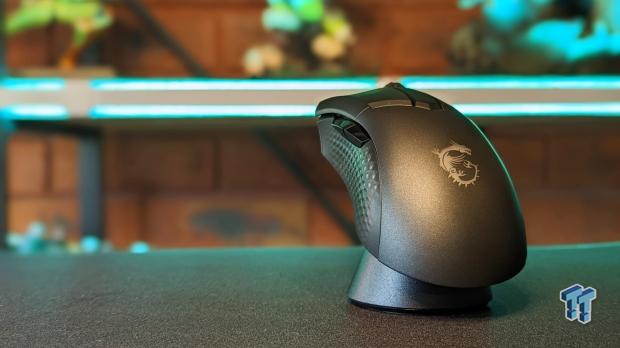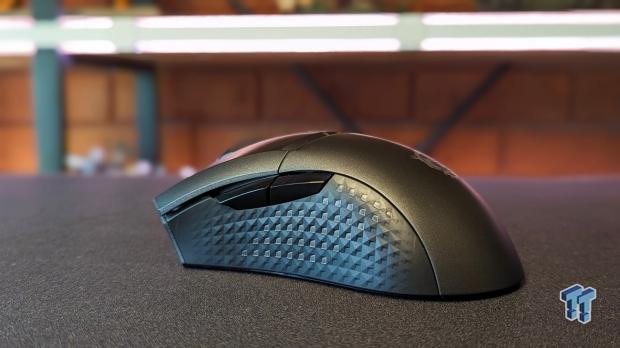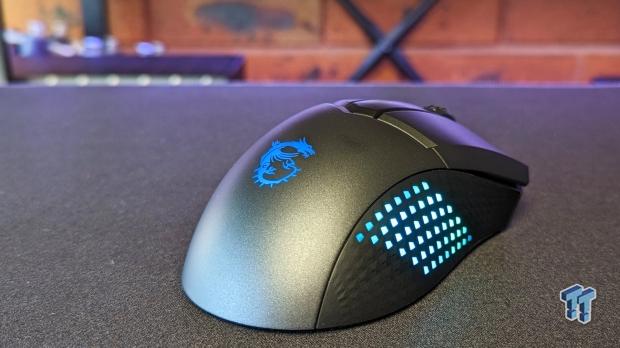 Kosta's Test System Specifications
Motherboard: MSI MPG X670E Carbon Wi-Fi
CPU: AMD Ryzen 9 7900X
GPU: NVIDIA GeForce RTX 4090 Founders Edition
Cooler: Corsair iCUE H100i RGB PRO XT Liquid CPU Cooler
RAM: 64GB (2x32GB) Corsair DOMINATOR PLATINUM RGB DDR5 DRAM 5200MHz
SSD: Kingston FURY Renegade PCIe 4.0 NVMe M.2 SSD 2TB
Power Supply: Thermaltake Toughpower GF1 850W
Case: Thermaltake Core P3 Tempered Glass Snow
OS: Microsoft Windows 11 Pro 64-bit
Design, Sensor, & Software
Design
The MSI Clutch GM51, like the GM31 before it, comes in wired and wireless variants. As per the introduction, the MSI Clutch GM51 Lightweight Wireless could also be called the charging dock model. As the wireless option, it's also heavier - weighing in at 85 grams versus the wired MSI Clutch GM51's 75-gram weight. Even so, you could still consider it lightweight in the traditional sense, but it sits on the edge of the term based on where we are with lightweight peripherals in 2023.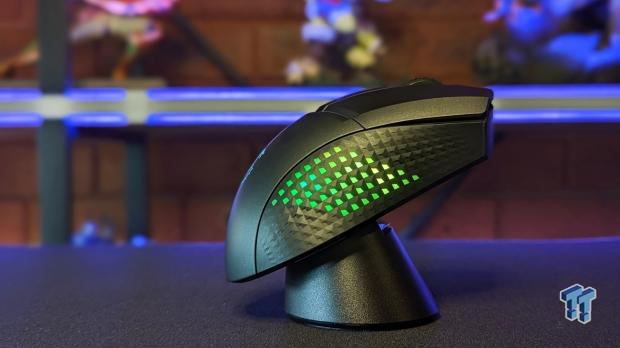 The MSI Clutch GM51 Lightweight Wireless might look like a more premium version of the MSI Clutch GM31; there are enough changes to the physical build and overall design to make it a unique product. The overall shape differs; the MSI Clutch GM51 features a wider body and a more ergonomic and comfortable right-hand grip. The rubberized grips return, but the addition of robust RGB lighting on the left and right side of the mouse does add quite a bit of depth to the Deus Ex-style texture added to the grip pattern.
The side button design is a little weird, though, and the jury is out on the pointy design implemented by MSI here. It forces you to press the side buttons using the side of your thumb while it's still on the grip - which might not be for everyone. I like to move my thumb up and down whenever I need to use the side buttons, so the design here didn't quite gel with what I'm used to. It doesn't take long to get accustomed to them, as with most different things.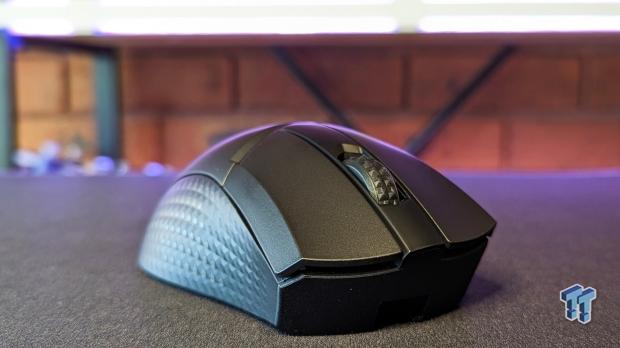 The scroll wheel has a similar rubberized finish to the side grips and has a premium and precise feel that accounts for slight step-based movement. On the underside, you've got generous PTFE feet, the wireless mode switch, and the DPI switch button. Overall the build quality is excellent, and the MSI Clutch GM51 Lightweight Wireless looks great when placed on the charging dock - with the RGB lighting changing to confirm it's in "charge mode." You can also play and charge via the flexible USB-C cable provided, where you can get up to 27 hours of playtime after only 15 minutes.
Sensor
Inside the MSI Clutch GM51 Lightweight Wireless sits the powerful PixArt PAW 3395 optical sensor, a massive step up from what was paired with the wireless MSI Clutch GM31. It features a max DPI setting of 26000, and you've also got 650 IPS (inches-per-second tracking) and 50G acceleration. It's the same sensor found in the wired version of the mouse, with the only difference being that the Polling Rate is "limited" to 1000 Hz - which equates to 1 ms, which is still the standard for premium gaming peripherals.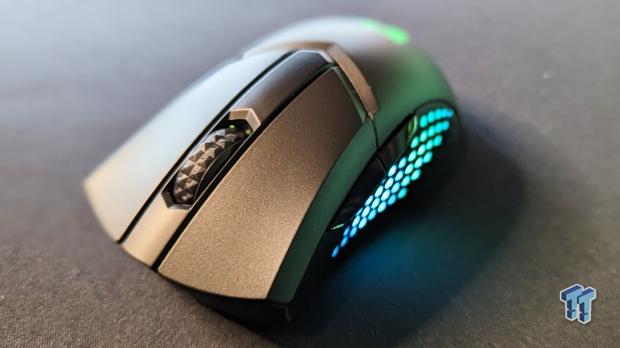 The PixArt PAW 3395 also comes with a togglable Motion-Sync mode you can enable or disable via the MSI Center software. It improves tracking accuracy by keeping the signal between the PC and the mouse "in sync." It's a great little feature, and the only reason you can disable it is that it does take up resources. Compared to the more affordable GM31 model from MSI, the MSI Clutch GM51 Lightweight Wireless sensor delivers a premium gaming experience backed up by OMRON switches rated at 60 million clicks.
Software
MSI Center is an "everything" app in that any bit of MSI gear can be customized, tweaked, or otherwise tinkered with from this catch-all program. As MSI makes motherboards, GPUs, keyboards, and other peripherals, keeping everything together makes sense. Especially if you're rocking more than one piece of MSI gear.
And for the most part, MSI Center is impressive and stable, and it's something I've used to manage display settings on an MSI display, in addition to tweaking gaming and silent CPU cooling profiles and syncing up various bits of RGB lighting. How it handles mouse customization leaves a lot to be desired.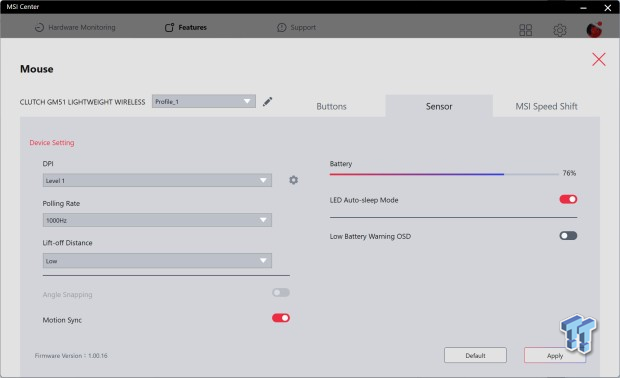 Thankfully the MSI Clutch GM51 Lightweight Wireless is a straightforward gaming mouse in that you've got six buttons that you probably won't need to change or reprogram. Assigning different functions to buttons, recording macros, or swapping between three profiles is serviceable and decent enough. It's limited in secondary functionality outside of media controls, but it works fine.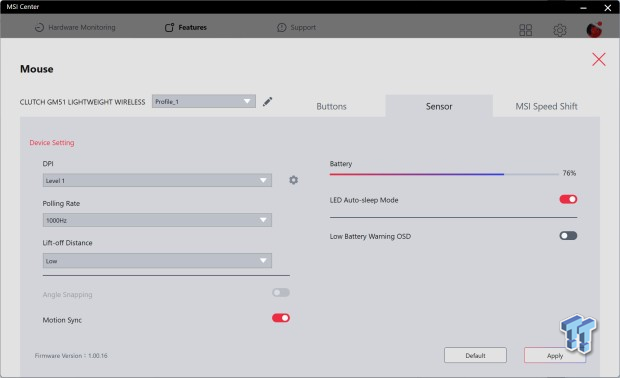 It gets clunky with changing the varying DPI settings; it's just not intuitive. You need to select each Level manually, click on the setting icon and then use a slider to set the DPI setting. There's no way to see all of the DPI settings simultaneously, which you'd want, nor does it indicate what that Level's DPI setting was before changing it. It's a shame because the MSI Clutch GM51 Lightweight Wireless is a more than capable gaming mouse, and you can adjust the Poling Rate, lift-off distance, and enable Motion Sync.
There are also some wireless-specific features where you can see the current battery life and enable or disable LED Auto-sleep mode and some Low Battery Warning settings, which is nice to see.
Also, MSI Mystic Light remains a great little RGB lighting tool for making changes too, and it's wonderful when you can sync up the MSI Clutch GM51 Lightweight Wireless Mouse with other MSI gear.
Gaming Performance and Productivity
Gaming Performance
There used to be a big difference in performance between a wireless gaming mouse and a wired gaming mouse. That's no longer the case, and even though 2.4 GHz wireless isn't exactly full-proof in terms of interference or stability, the chances you'd experience some wireless drop-out while playing a heated competitive first-person shooter like Call of Duty: Warzone 2.0 are astronomically low.
The wireless mouse is great for gaming because it also eliminates the drag and weight of a cable - as seen in the wired version of the MSI Clutch GM51. Though there, you've got an excellent flexible cable with minimal or no perceivable drag or weight for the most part.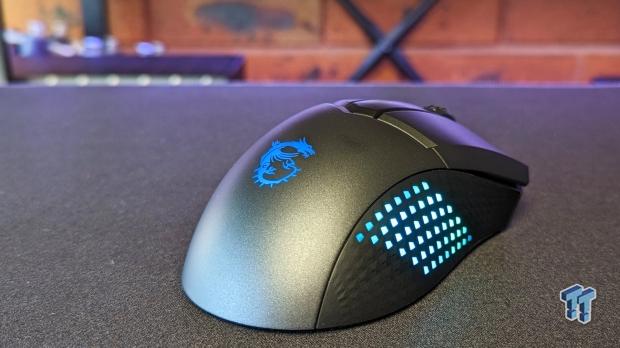 Testing with a wide range of games, including the recent RTS release of Company of Heroes 3, the MSI Clutch GM51 Lightweight Wireless performed flawlessly and without issue. It's comfortable for extended sessions, and the 85-gram weight isn't an issue. You will notice the difference if you are used to the ultralight feel when playing shooters.
Productivity
The MSI Clutch GM51 Lightweight Wireless features Bluetooth support, significantly improving its versatility. This means you can keep the 2.4 GHz USB dongle attached to the charging dock and switch to Bluetooth mode when switching to a laptop or secondary device. With the mighty PixArt PAW 3395 optical sensor and the traditional six-button design with comfortable, rubberized grips, the MSI Clutch GM51 Lightweight Wireless is a more than capable productivity mouse, even though it's been built primarily for gaming.
Final Thoughts
The MSI Clutch GM51 Lightweight Wireless delivers a premium wireless mouse experience with a price point - of USD 99.99 - below some of its competitors. Although the software side is a bit of a letdown in that mouse customization in MSI Center can be clunky, the straightforward design, comfort, and excellent optical sensor more than makeup for this shortcoming.
If MSI can improve the peripheral stuff within MSI Center, something like the MSI Clutch GM51 Lightweight Wireless would be practically flawless. Software support is important, so it's a shame that MSI is behind the competition regarding gaming mice.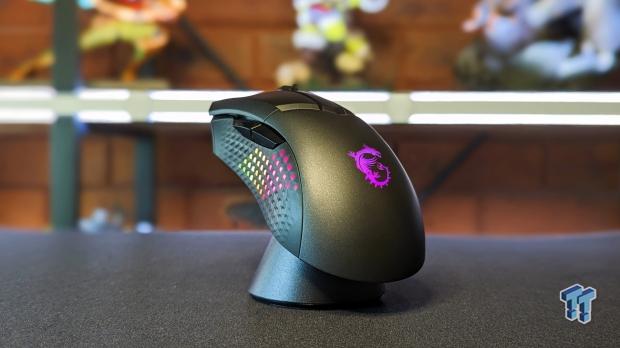 The combination of a stylish and comfortable physical design with a high-end sensor and impressive wireless performance is precisely what we like to see. With that, the MSI Clutch GM51 Lightweight Wireless - like its wired counterpart - comes highly recommended.