TweakTown's Rating: 81%
The Bottom Line
The Corsair Darkstar Wireless Gaming Mouse is pricey, but it delivers a great option for those looking for a customizable mouse for MMOs, MOBAs, or even Diablo 4. It even features gesture controls! Ultimately, it's held back by a few notable shortcomings.
Pros
+

Impressive sensor and switches

+

Comfortable to use

+

15 buttons to configure

+

Gesture controls are a fun addition

+

Slick RGB lighting and presentation
Cons
-

Requires extensive customization to get the most out of it

-

No USB dongle extender or flexible charge cable

-

Battery life is disappointing

-

Pricey
Should you buy it?
Avoid
Consider
Shortlist
Buy
Introduction & Specification Details and Close-up
When Nintendo launched the Wii console in 2006, many people were confused about using motion to play video games. Fast-forward a few months (this was still a thing people did on DVD players, and the few people still using videotapes), and motion controls with gyroscopic sensors were seen as the future of all things interactive. In 2023 we know how this played out, but stuff like gyroscopic sensors can still be found in consoles like the Nintendo Switch. However, it's more of a value add rather than this is how things should be.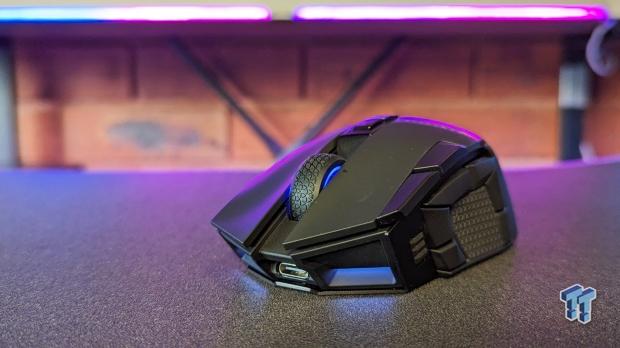 You might be wondering what a trip down Waggle Lane has to do with a review of a wireless mouse aimed at MMO and MOBA players, especially when the new Corsair Darkstar Wireless MOBA/MMO Gaming Mouse is stacked with 15 programmable (and physical) buttons. Well, you've probably guessed that it includes some form of gyroscopic motion controls - and it does. Accurate tilt sensing for lifting the mouse from the left, right, front, and back. And this tilting can be set to any degree and then programmed to perform any action, ala programming any of the other buttons found on the Corsair Darkstar's side panel.
The Corsair Darkstar is very much a MOBA and MMO mouse; the left side panel has six buttons surrounding a rubberized grip that can be programmed for skills and abilities in a game like World of Warcraft or The Elder Scrolls Online. For me, it was testing the Corsair Darkstar by playing countless hours of Diablo 4 - purely for research purposes. And to try and find some rare, Unique drops.
With the Razer Naga V2 Pro we reviewed late last year being one of the very best gaming mice for MMO and MOBA players, how does the equally pricey Corsair Darkstar Wireless Gaming Mouse (which costs USD 169 or AUD 249) stack up? Let's dig in.
Specifications & Close Up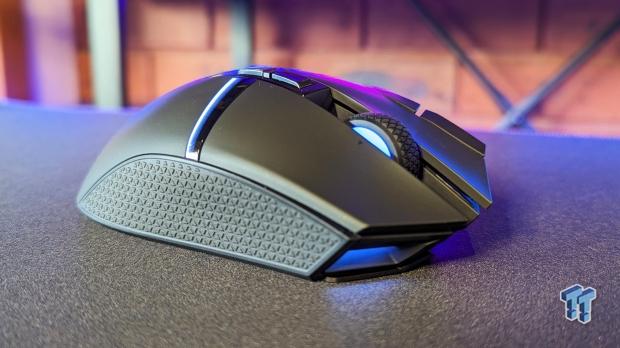 Product Type: Gaming Mouse
Product Name: Corsair Darkstar Wireless MOBA/MMO Gaming Mouse
Interface: Wireless (2.4GHz SLIPSTREAM), Wired (USB), Bluetooth
Sensor: MARKSMAN 26K
DPI/CPI: 26000
Polling Rate: Up to 2000Hz
Tracking/Acceleration: 650 IPS/50G
Buttons: 15 (programmable)
Lighting: 7-Zone RGB
Weight: 96 grams
Battery Life: 2.4GHz SLIPSTREAM: Up to 65hrs w/out backlighting, Bluetooth: Up to 80hrs w/out backlighting
In the Box: Corsair Darkstar Wireless Gaming Mouse, USB Dongle, USB Cable, Warranty Booklet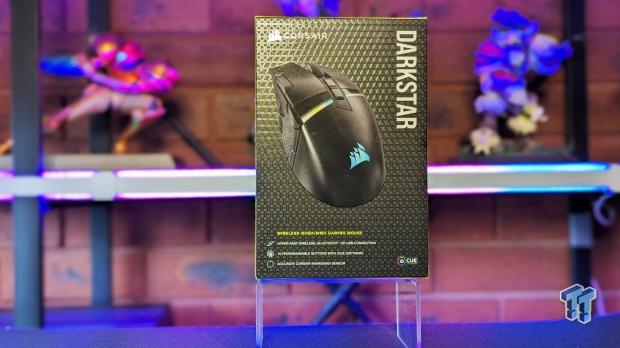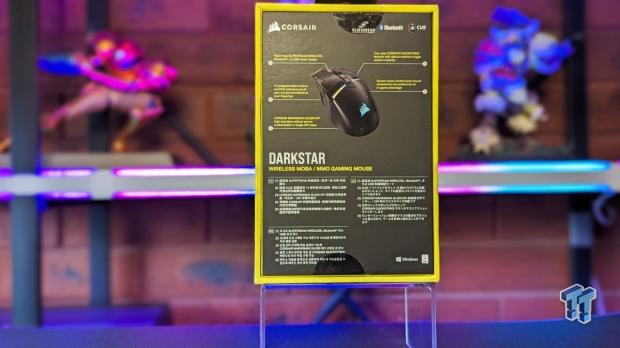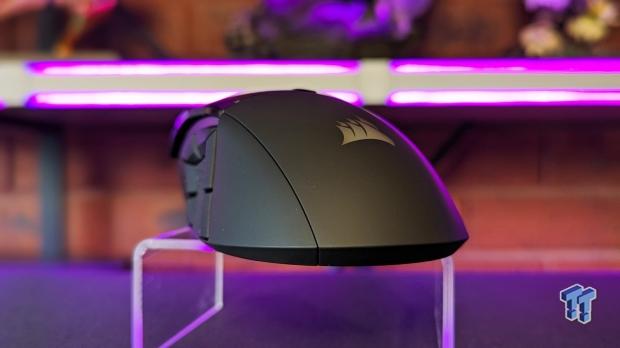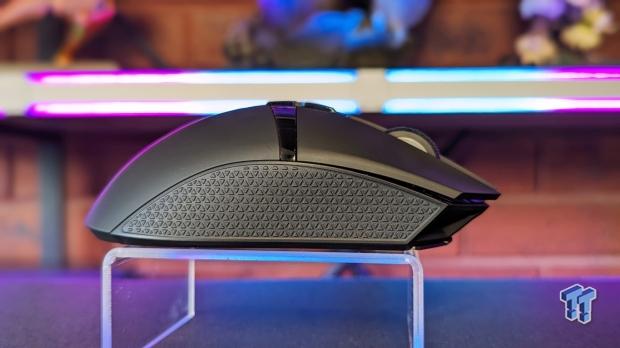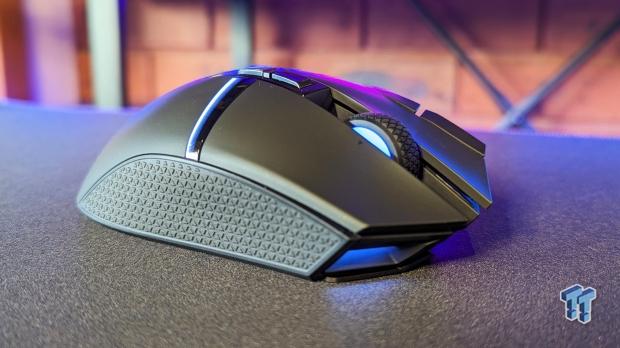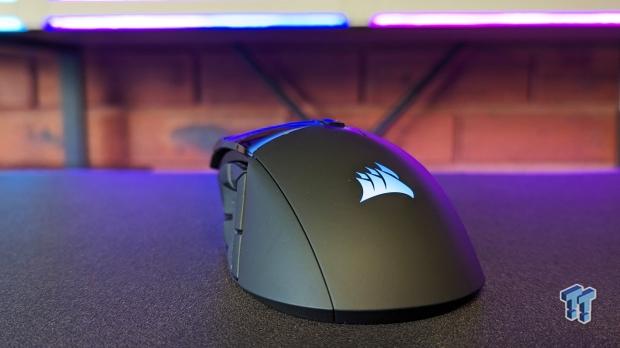 Kosta's Test System Specifications
Motherboard: MSI MPG X670E Carbon Wi-Fi
CPU: AMD Ryzen 9 7900X
GPU: NVIDIA GeForce RTX 4090 Founders Edition
Cooler: Corsair iCUE H100i RGB PRO XT Liquid CPU Cooler
RAM: 64GB (2x32GB) Corsair DOMINATOR PLATINUM RGB DDR5 DRAM 5200MHz
SSD: Sabrent Rocket 4 Plus-G M.2 PCIe Gen 4 SSD 4TB, Sabrent Rocket 4 Plus Plus M.2 PCIe Gen 4 SSD 8TB
Power Supply: Thermaltake Toughpower GF1 850W
Case: Thermaltake Core P3 Tempered Glass Snow
OS: Microsoft Windows 11 Pro 64-bit
Design, Sensor, & Software
Design
As a MOBA and MMO mouse, the Corsair Darkstar is built for customization; it has 15 programmable buttons that are meant to be programmed and saved across various profiles to call upon depending on what you're playing or doing. And with that, it's not the sort of ultra-lightweight gaming mouse with minimal flourishes designed for first-person shooters. However, 96 grams is much lighter than expected, probably because it features gyroscopic tilt controls. Paired with the generous PTFE feet on the underside and the rubberized grips, the Corsair Darkstar is a pleasure to use and carries a premium feel to match the high-quality build.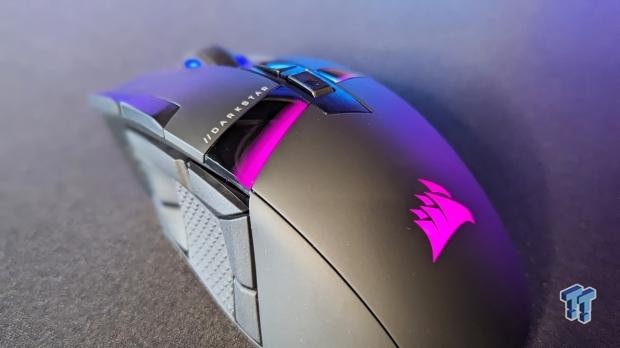 This is good news because the USD 169.99 is nothing to sneeze at, making it the most expensive wireless gaming mouse in Corsair's stable - alongside the Nightsabre Wireless. Everything here is high-quality, from the left and right click buttons to the optical sensor to the rubberized grips, fantastic RGB lighting zones, scroll wheel, and more.
This makes some strange omissions glaring in what they remove from the equation. First, there's no USB dongle extender, so if you need to charge, you must unplug the tiny Slipstream Wireless USB Receiver and then plug in the USB cable to play and charge - unless the Darkstar takes up two ports. And even then, the cable itself is stiff and not flexible, which is baffling.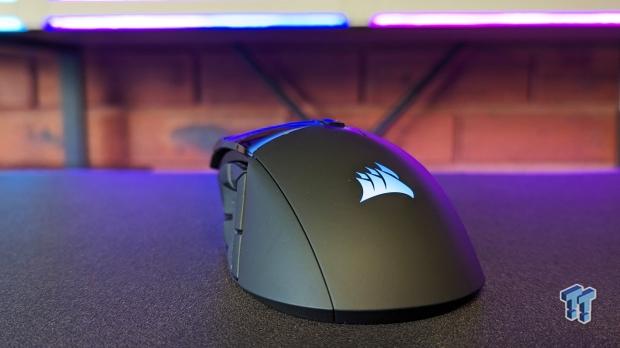 These are minor issues in the grand scheme of things, but the Corsair Darkstar is an impressive wireless gaming mouse with fantastic hardware held back by a few omissions, quirks, or design choices.
On the wireless front, the low-latency Slipstream Wireless delivers better performance than using the Corsair Darkstar in wired mode, with the option to increase the polling rate up to an impressive 2,000 Hz as well as sync multiple devices to a single dongle - very cool and forward thinking. On the button front, the left and right click feel is wonderful, thanks to Corsair's 'Quickstrike' optical switches designed to deliver an instantaneous response. And then there's the sensor.
Sensor
The Corsair Marksman optical sensor supports DPI adjustments up to 26K and up to 650 IPS tracking speed, and 50G of acceleration - impressive. Paired with the 2,000 Hz Hyper-Polling when used in wireless mode (and you can set this to 1,000 Hz to extend battery life), overall latency is kept below 1 ms. The sensor and overall feel of the mouse can be calibrated for various surfaces too, and the result is smooth and precise. Using Corsair's iCUE software to calibrate the surface improved the feel of the Darkstar's motion, which was very cool to witness.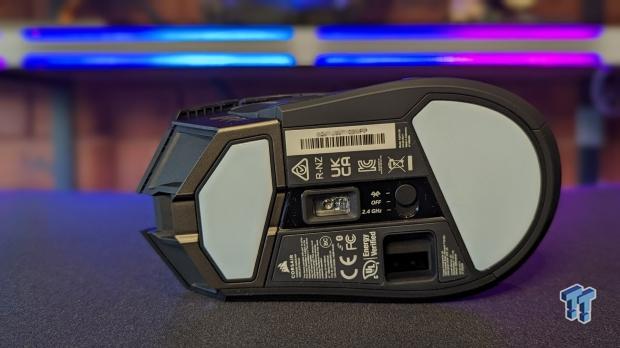 The downside to all of Corsair Darkstar's impressive hardware is that battery life isn't quite up there with some competing wireless offerings in that you're only looking at up to 65 hours without any RGB lighting and not using the more high-end 2,000 Hz polling. Switch everything on, and battery life is drastically cut by over 50%, which makes the lack of a dongle extension or more robust wired mode a little disappointing.
Software
As expected, the Corsair Darkstar's customization and software support are all handled via Corsair's powerful and extensive iCue platform - which recently saw an update to make it more of a modular package with improvements to speed and functionality. With on-board profiles, though, iCUE lets you setup assignments on the Darkstar under software as well as hardware headings, which was a little confusing at first but means that once configured and setup with multiple profiles, the Corsair Darkstar can be used (right down to custom lighting) without the need for iCue to be open. Very cool.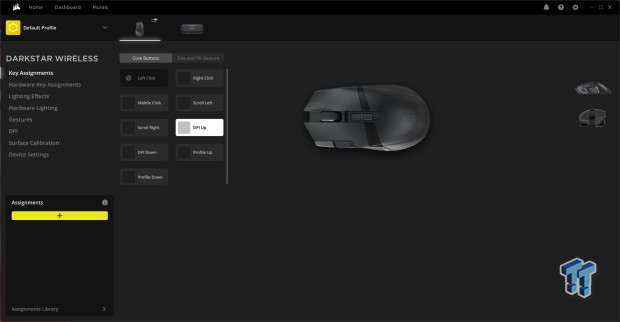 Like any powerful software package, the interface takes some getting used to, but once you get the hang of all the customization, it's relatively easy to make changes. As a MOBA and MMO wireless gaming mouse, you must fire up iCue to get the most out of the Corsair Darkstar because, by default, only the top two of the five side buttons are programmed to do anything.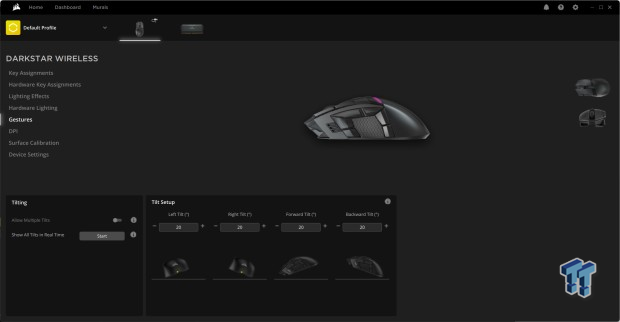 Setting this up only takes a few minutes. With that, you can get to a point where the buttons under the scroll wheel can get you from WoW mode to Diablo 4 mode to desktop browsing mode with different lighting and customization and even DPI settings and steps - powerful stuff. It's in iCue where you can also set up the tilting, which I wasn't sure what to use for the outside of maybe leaning in a first-person shooter. That's not what I programmed it for, however. Instead, I made the left tilt the use potion option in Diablo 4. And it worked.
Gaming Performance and Productivity
Gaming Performance
The gesture and motion controls of the Corsair Darkstar aren't exactly the main reason you'd go out and pick one up. Still, they're a nice value add if you can foresee a situation where tilting and lifting the mouse slightly from either side could be helpful in a game. Per above, it was fun to use it in Diablo 4 to drop a health pot when elemental damage got a little hairy when going up against a pack of Elite monsters, but it wasn't a game changer. There are enough buttons here to make playing any MOBA, MMO, or skill-heavy action RPG like Diablo 4 super immersive.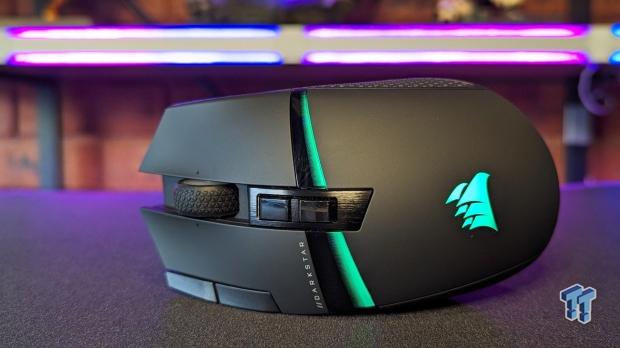 In addition to the five side buttons, you've also got two additional buttons next to the left click, which would be more than enough for most gamers. As mentioned earlier, the Corsair Darkstar isn't a plug-and-play mouse for MOBAs; there is a setup and customization period you need to endure - but with its 96-gram weight, comfortable side grips, and excellent switches and sensor, it's a definite performer when it comes to PC games.
Productivity
Bluetooth support and 15 programmable buttons make the Corsair Darkstar Wireless Gaming Mouse something you could use as your main productivity driver - especially if you're a designer or programmer and could use the extra buttons for app-specific commands. And you don't mind the 96-gram weight. Like gaming, there's a setup required to get to that point. Unfortunately, Corsair doesn't offer custom profiles for existing games and apps in iCue. The only real drawback for the Corsair Darkstar, when viewed from this angle, is the price point of USD 169 - you have to use its customization and even motion controls to justify the cost of entry.
Final Thoughts
The new Corsair Darkstar is an impressive wireless gaming mouse built for MOBA, MMO, and Diablo 4 gamers. The underlying hardware backs up the premium price point, with Corsair's Marksman 26K optical sensor offering a 2,000 Hz polling rate over wireless with an IPS value of 650 for tracking. Throw in impressive RGB lighting with multiple zones to configure and 15 buttons ready to be assigned to spells, abilities, and potions; there are even gyroscopic gesture controls you can program. The customization options are as extensive.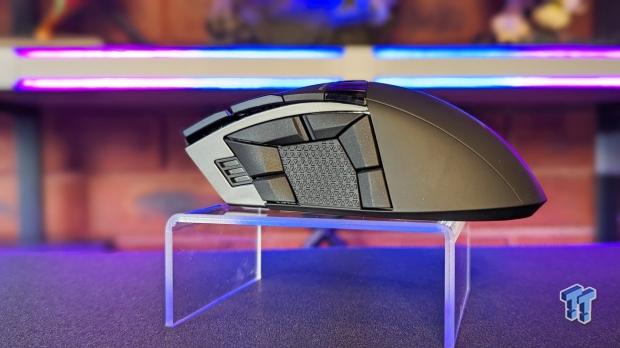 Some things could be improved, from battery life which is a letdown to the wired USB cable being stiff and no dongle extender. These aren't deal breakers but bring down what is otherwise an excellent choice for those looking for a gaming mouse that offers plenty of buttons and customization for modern PC gaming. And, even though it's not the sort of gaming mouse you'd recommend to everyone - if you make the most of its features, it will help you make the most of your PC gaming.